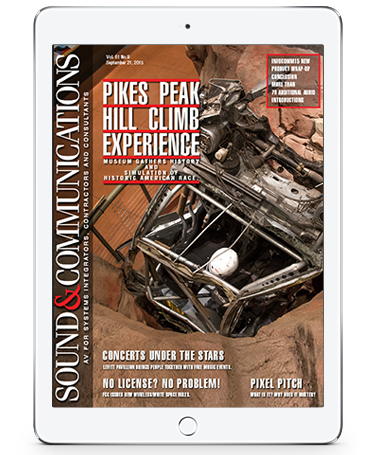 Audio
Sound Advice: Loop Gain—With A Difference
Studies have shown that 10%-14% of the population of the US and Northern Europe alone suffer from a noticeable degree of hearing loss. Audio professionals are uniquely positioned to help make life easier for these millions of people with hearing impairment. To that end, we take a look at how to more effectively harness the power of assistive listening systems.
By Peter Mapp, FASA, FAES
---
Digital Signage, Video, IT/AV, Business
Sign Age: Museum Musings
The Editor of IT/AV Report and Sound & Communications' resident digital signage expert interviews John Shaw, Director of Experience Production at Columbus OH's Center of Science and Industry, about the museum's recent digital signage installation that is featured in the Fall 2015 issue of IT/AV Report.
By Shonan Noronha, EdD
---
House of Worship, Video, Business
HOW: Business: Live Streaming
More and more churches are turning to live streaming video as a way to expand their reach and spread their message. However, just because HOW leaders understand the need for live streaming services, that doesn't mean they actually understand the technology behind streaming video or how best to use it. We offer some suggestions as to how integrators can help fill in these blanks.
By David Lee Jr., PhD
---
Business
The Commish: Toyota And GM's NUMMI Plant
In 1984, Toyota and GM joined forces to open the NUMMI car plant, on the condition that GM adopt the Toyota Production System (TPS). Thanks to the TPS, production and quality at the plant skyrocketed. But despite the obvious benefits, the TPS never caught on at other GM plants, chiefly because of concerns from middle management. Our columnist points out several lessons that the AV industry can learn from this story.
By James Maltese, CTS-D, CTS-I, CQT
---
Business
What Would You Do? Work Smarter, Not Harder
When information isn't gathered in its entirety at the head end of a project, or when process and procedure are not followed, it can lead to major headaches as the project moves forward. Our columnist shares a real-life example that illustrates how such communication breakdowns can negatively impact all parties involved in a project and offers suggestions on how to avoid these situations.
By Douglas Kleeger, CTS-D, DMC-E, XTP-E, KCD
---
Business
NSCA POV: Are You Listening?
It's easier than ever to get feedback from your customers, but are AV professionals really seeking out customer feedback? And if they do, are they really listening to it? NSCA's Executive Director offers some suggestions on how AV companies can best implement customer feedback. He also explains how NSCA's efforts to solicit feedback from its members have led to some major changes at this fall's Integration Business Survival Conference & Technology Showcase.
By Chuck Wilson
---
Business, IT/AV
Down To Business: The Mobile Conundrum
Mobile AV continues to boom, but what are the implications for AV integrators, who are mainly concerned with fixed AV installations? We examine some current trends that are driving the mobile revolution and offer some suggestions as to how integrators can embrace mobile technology.
By Daniel Newman
---
Business, Audio
Consultant's POV: Shameful
A recent encounter with a nightmare consultant package got our columnist to wondering just how the state of consulting services became so dire. Too many consultants turn in sub-par work, and count on sound contractors being able to pick up the slack and redesign their initial systems. This approach is not only unethical, but costly. He offers some suggestions on how to do away with the "unaccountability cloak" some consultants unfairly rely on.
By John Mayberry
---
IT/AV, Video, Audio, Business
Consultant's POV: It's Not Just The Gear… Conclusion
The AV industry is rapidly gravitating toward business models based on software, solutions and knowledge as hardware increasingly becomes a commodity component in many systems. Our columnist examines some current trends in hardware, with particular emphasis on pricing, and offers suggestions on how paying attention to scale can help companies lower costs, bring more value to clients and distinguish themselves in an increasingly homogenized market.
By Brad Gallagher
---
Business, Digital Signage, Video, Audio, IT/AV
Industry POV: 'We Won't Fund What We Can't Measure'
Digital technology boasts inherent measurement, tracking and analytic capabilities that have made it easier than ever before to produce quantitative proof of the effectiveness of marketing and advertising efforts. We examine how the ability to measure the effectiveness of digital marketing has changed the way integrators interact with number-crunchers.
By Adrian Weidmann
---
Audio, Business
Industry POV: Are They Smarter Than A Fifth Grader?
Industry jargon can often make communicating system concepts to clients harder than it needs to be. Our columnist has devised a brilliant way of simplifying communication with clients: If his kids can understand it, odds are the client will, too. In this first part of a series, he offers suggestions on how to simplify discussions of audio systems.
By Rob Ziv, CTS
---
Install, Video, Audio, IT/AV
Pikes Peak Hill Climb Experience
Colorado Springs' El Pomar Penrose Natural History Museum's latest exhibit, the Pikes Peak Hill Climb Experience, chronicles the history of the Pikes Peak International Hill Climb, one of America's most death-defying sporting traditions and the country's second-oldest motorsport event. We got the inside story of this AV-rich exhibit directly from museum personnel and integrator Houlton Audio/Video Applications.
By Dan Daley
---
Install, Audio
Concerts Under The Stars
Arlington TX is home to the Levitt Pavilion for the Performing Arts, an outdoor concert venue that hosts more than 50 nights of free music each year featuring professional musicians from around the world. The venue recently underwent an audio upgrade to build an outdoor sound system that would deliver superior performance while standing up to the elements. We got all the details on the installation from integrator Electro Acoustics, Inc.
By Jim Stokes
---
Video, Digital Signage
Pixel Pitch
Some confusion remains around the proper terminology to use when discussing LED display technology. In this article, we break down everything you need to know about pixel pitch and why it matters. Plus, we run down some of the most common questions clients have about LED displays and how to answer them, including what the terms "High Definition" and "High Resolution" really mean when it comes to LEDs.
By Brett Farley
---
Business, Audio, Video
No License? No Problem!
The FCC recently released new rules concerning wireless microphones, white space devices and television broadcast bands. These new rules are intended to accommodate and encourage innovation in unlicensed device usage in advance of the upcoming wireless spectrum auction. We tell you everything you need to know about these latest rulings.
By Anthony Vargas
---
Audio
InfoComm15 New Product Wrap-Up
We conclude our coverage of the hottest product debuts from InfoComm15 with more than 70 new audio products.
Compiled by Anthony Vargas
---
IT/AV, Video
AVent Horizon: Where Did All The Wireless Go?
As recently as eight years ago, there was a whole crop of new, exciting wireless video products entering the consumer electronics market. Fast forward to today, and development of wireless AV technology has largely plateaued. Our columnist traces the demise of some of these once promising new technologies and forecasts some possible future developments in wireless video.
By Pete Putman, CTS, ISF
 [button type="large" color="black" link="https://www.soundandcommunications.com/back-issues/" target="_blank" ]Magazine Archive[/button]