For roughly 18 months, we've come to know the benefits and pitfalls of the work-from-home world. We've upgraded microphones and webcams, greatly improved our screen presence and become far more tolerant of the technical hiccups that accompany working with videoconferencing tools. Simply put, a side effect of the global pandemic has been that working from home—perhaps the more accurate term would be "working from anywhere" (WFX)—has become a vastly more accepted and effective tool in the corporate world.
Is it, therefore, all doom and gloom for the traditional boardroom, huddle rooms and presentation spaces in our offices? Hardly! The reality is that, as we reintroduce workforces into our offices, we will quickly remember that these spaces serve as the beating heart of creativity, teamwork and critical presentations.
The WFX model hasn't shattered the onsite paradigm of work; rather, it has helped transform the office into a more robust AV environment. Of course, that means there are new and different needs in such a space. And that requires us to rethink how these locations will best be used—and what technology goes into them.
Workflow Considerations
The primary requirement of accommodating WFX is to be flexible. The advantages of face-to-face meetings in traditional conference rooms needn't be tethered to the technologies of the past…to technologies designed around static assumptions.
Yes, having high-quality microphones and displays in every space is essential. However, the ways in which this gear can be used are just as important. Can feeds be shared with other spaces? Can additional microphones, displays or cameras be employed easily? Will those additions require redesigning the room and its wiring? Can participants easily bring their work to the table, regardless of the device they're using? Here is where the workflows differ from earlier times.
Keeping Technology Streamlined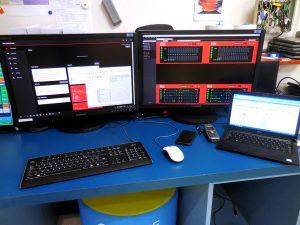 Naturally, each room should provide ample video and audio I/O that is clearly labeled and of multiple types. Remember when you had to carry a video graphics array (VGA) adapter to give a presentation? Nobody needs that anymore. Remember when everyone gathered around a tinny-sounding laptop to try to talk with the CEO? We don't need that anymore, either.
I/O for user devices should be forward-thinking and as universal as current technology will allow. Thus, High-Definition Multimedia Interface (HDMI), analog audio, universal serial bus (USB), Ethernet and wireless network streaming should be considered standard, alongside built-in pan-tilt-zoom (PTZ) room cameras and beam-forming ceiling microphones. In-room support for popular collaboration platforms, such as Zoom and Microsoft Teams, makes it easy for people to assemble without bringing their computer problems to the entire group. Moreover, it allows external participants to easily join the discussion.
Utilizing AV-Over-IP
Most of these devices are already connected to an enterprise network; this makes AV-over-IP (AVoIP) the obvious and cost-effective choice.
AVoIP lets devices connect anywhere on the network instantly, using intuitive control software, and it allows audio from PC-based collaboration tools to be used directly with no extra hardware. AVoIP video is finally as easy to connect as audio, running over the same wires and with robust network standards.
What follows is one example of the flexibility of AVoIP in the corporate world. It also illustrates how AVoIP enables WFX workers to remain a part of critical onsite activities.
Multiple Feeds Managed Easily
The Organisation for Economic Co-operation and Development (OECD), based in Paris, France, is an international organization composed of 37 member countries. More than 1,000 gatherings are organized annually in the OECD conference centers (La Muette and Boulogne), including around 30 conferences and major events. The OECD Conference Centre offers 32,300 square feet of modern and modular conference rooms and a range of facilities.
Web Conferencing At High Volumes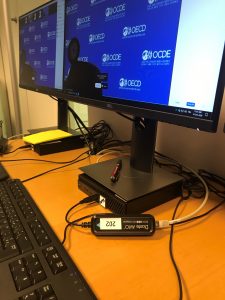 OECD manages around 250 daily web conferences. Most high-level meetings offer interpretation in at least both official languages of the OECD and rely on collaboration, meaning interactions among participants are dynamic.
AV services (audio, video and web conferencing) have been used for several years in OECD. However, with the significant increase in remote-participation requests, and given the massive virtualization of OECD events, communication needs have evolved. Many meetings take place in a virtual (remote participants) or hybrid (simultaneous presence of onsite and remote participants) fashion.
Further, a meeting held at the OECD can actually be in a myriad of different languages. Such a situation requires real-time interpretation services to be routed out appropriately to meet the correct participants' linguistic needs. OECD has a total of 47 interpretation booths that can be operational at any given time.
Multiple Signals On An AVoIP Network
By using AVoIP, OECD can quickly route feeds from interpreters as their audio comes into the videoconferencing platform that the organization uses. The signals of interpreted audio are placed into the system over microphones connected to a routing matrix. The matrix sends the signals to an AVoIP bridge, making all signals IP-native.
To use the audio in the videoconferencing software, the signals are routed to AVoIP adapters, which are connected to PCs. These adapters can connect nearly any piece of equipment with an audio signal to an IP-backed system. The PCs are used to supply audio to remote meetings. In addition to this, the OECD also uses several IP-native matrix processors to process all its audio signals. Finally, all feeds are sent into the videoconferencing platform.
Making Collaboration Easy With IP
The preceding example illustrates how many feeds can be used effectively to enable robust and complex meetings. With intuitive management software for the system, these feeds can also be made observable and manageable—a capability that, once again, is only possible by using AVoIP infrastructure.
By taking the complexity of many feeds and making them quickly available on the videoconference, the OECD ensures that no one is left out of a meeting, regardless of language spoken or geographic location. And although many organizations won't require such complex workflows, this layout can be quickly and easily scaled down.
Adding More Components With Ease
What's more, because the system uses IP infrastructure, adding a remote-participation component is an elegant process. As noted in the preceding OECD example, onsite audio and video can be added to videoconferencing software quickly and easily. That means WFX is quickly made more effective and intuitive with the proper onsite AV workflow.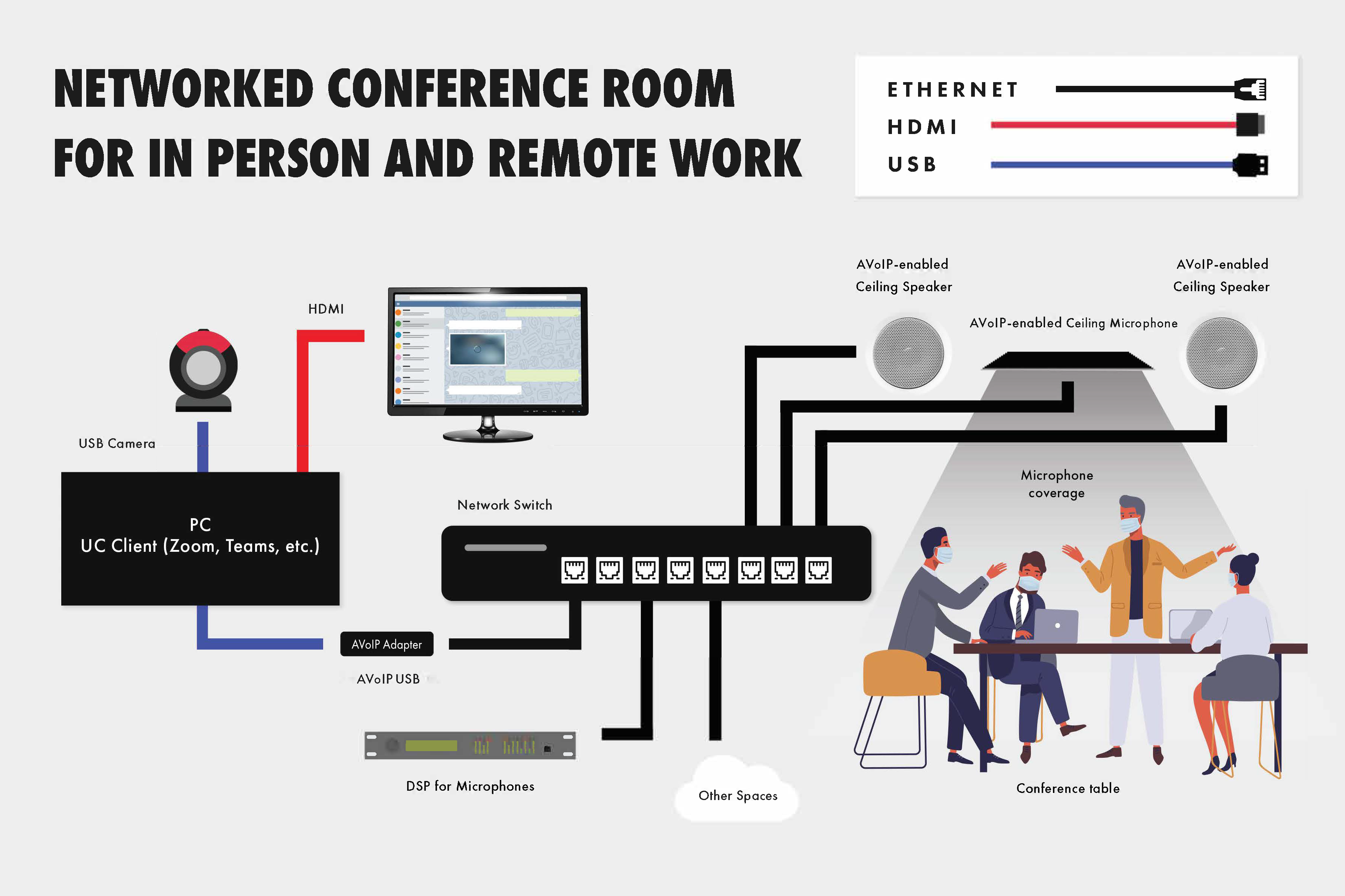 Look at Figure 1, which is a system diagram. This build-out makes sense for many of the world's conference rooms. Have to add a microphone? No problem. Have to add a camera? Plug it in. Have to work with a videoconferencing platform to bring in WFX participants? IP-native workflows are easily added to the most common videoconferencing software in use today.
This system of observable and manageable AV feeds means that the WFX paradigm can also be shifted to the interior of the building. By linking all spaces within a campus through standard 1Gb networks, you can quickly bring together multiple rooms, offices, and even outdoor areas or common spaces.
The True Promise Of AVoIP Systems
This flexibility is the true promise of AVoIP systems. It is the lifeblood of our corporate spaces, regardless of their size or use. It not only ensures that you can change the shape, use and dynamic of a room, as we now return to our office spaces, but also enables quick, elegant and effective alterations at a moment's notice.
To ensure this capability, it is critical to utilize an AVoIP system that speaks the same language across a large ecosystem of physical and software products. As mentioned, it must be a system that is observable and manageable. Look for solutions that provide a full system (i.e., hardware and software) and that the industry has widely adopted.
A Shift Toward Technology
By rethinking the way that we view our meeting spaces—and by embracing the shift to IP—we will quickly and effectively reinvigorate the onsite boardroom, huddle room and overall onsite work experience. In turn, we enable the new WFX paradigm without having to abandon the critical infrastructure that exists in our physical spaces. This means better meetings, more effective discussions and more creative ideas being shared, regardless of where participants might be when they join the meeting room!
To read more from Sound & Communications, click here.