Even by Silicon Valley's speedy narrative arcs, Twitch came on fast. The livestreaming service was founded in 2011, at a time when streaming was just establishing itself as the content-distribution format of the future. Spotify was poised to take over the music business, whereas Netflix, which had already hounded video stores mostly out of existence using the post office to ship DVDs, had begun to transition itself to streaming other production companies' movies. (A guidepost along the way to becoming a Hollywood studio itself.) Twitch dabbled in a range of media content, but it found its footing in two digital darlings of the next iteration of content: esports and competitive video gaming. The service mushroomed and, in 2014, it was acquired by Amazon for $970 million in cash.
Like all iconic Silicon Valley enterprises, Twitch had a fabulous headquarters. Described by Business Insider as "a gamer's paradise" when it opened, the San Francisco CA location offered six-person competitive gaming rooms, with stadium seating in each one from which audiences could watch; two livestreaming rooms; a coffee bar for its signature "Kappucinos"; and, of course, a full arcade.
New York Says Hello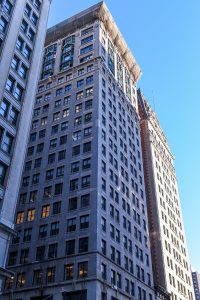 Twitch's newest office —its east coast headquarters, which is known internally as HQ 2.0—combines an enthusiast's passion with an even sharper business edge. Located on Manhattan's Park Ave. S., a few blocks from Madison Square Park and Union Square, the office officially opened in November 2020. Workers, however, have been able to return to work over the spring and summer, as novel coronavirus (COVID-19) conditions improved, government regulations loosened and personal situations changed. It's likely the first time that Twitch has ever done anything at something other than a breakneck pace.
Twitch's new office reflects the environment in which it's situated. You can have a lot of fun in New York, but business comes first. (And with a nearly 19-percent vacancy rate in office space1—more than double the pre-pandemic rate—Manhattan is surely happy to see Twitch arrive.) "The New York office is very sales forward—it's a space to entertain our clients and our customers," Greg Deye, Twitch's Real-Estate Project Manager, explained. "So, having AV forward was important to us." He added that the office's aesthetic reflects the city's steel-spined skyline, with art installations like one that evokes the cables of its many bridges.
First Impressions Matter
"[The] first impression when you walk into the lobby needs to capture the attention of the visitor," Deye continued, "and the AV is the first thing you see: Twitch streaming on the monitors in the lobby. And, as you get up to floors 19 and 20, you're immersed into the Twitch culture. We have streaming rooms for employees and visitors, a live-entertainment café, and a showcase-led monitor to entertain our customers and clients."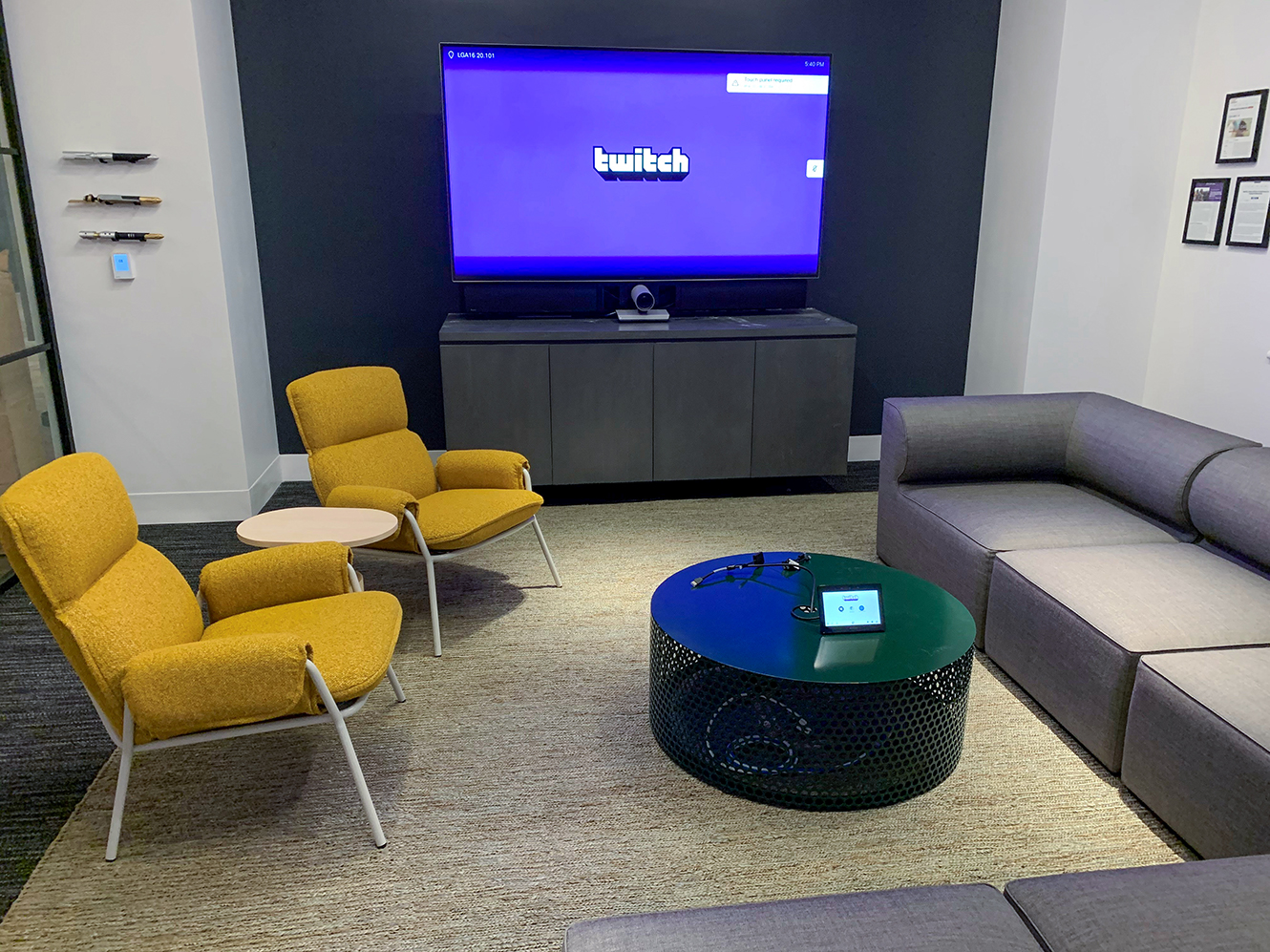 It represents a contrast with the San Francisco office's more public-facing demeanor, he said. It also relies more on the lifeblood of the tech business: data. "We took a lot of data from the [Twitch] customer base, as well as from Amazon," Kevin Little, Twitch's Collaboration Services Manager, said, referring to the parent company. " We have a lot of cross-pollination between the two working styles [of] an Amazon employee and a Twitch employee. So, we leaned into a standard that Extron helped us with [for] our large to medium conference rooms." That involves integration of elements that include Shure microphones, Cisco codecs and Extron processors. He said that allowed the team more easily to create a user-friendly user interface (UI), as well as enabling live, "white-glove" remote support across all Twitch corporate locations using Network Device Interface (NDI). "We can actually do a lot of the events from home now," Little added.
Even though AV is front and center in the office's infrastructure—where it's also part of the company's branding strategy—it must be more muted as part of the interior design. "[Our] goal is to make AV invisible," Little stated. Although, to be more precise, the AV is not so much hidden as it is deftly integrated—both in appearance and in functionality. "We've all been in a pandemic in the last year and a half, and everyone knows how to work their phones and their laptops," Deye observed. He then expressed a refrain familiar to pretty much every AV client in the world today: "When you walk into a conference room, it just works. How does it work? The user doesn't need to know. It just launches meetings and you're ready to go. That's what the user wants."
Floor By Floor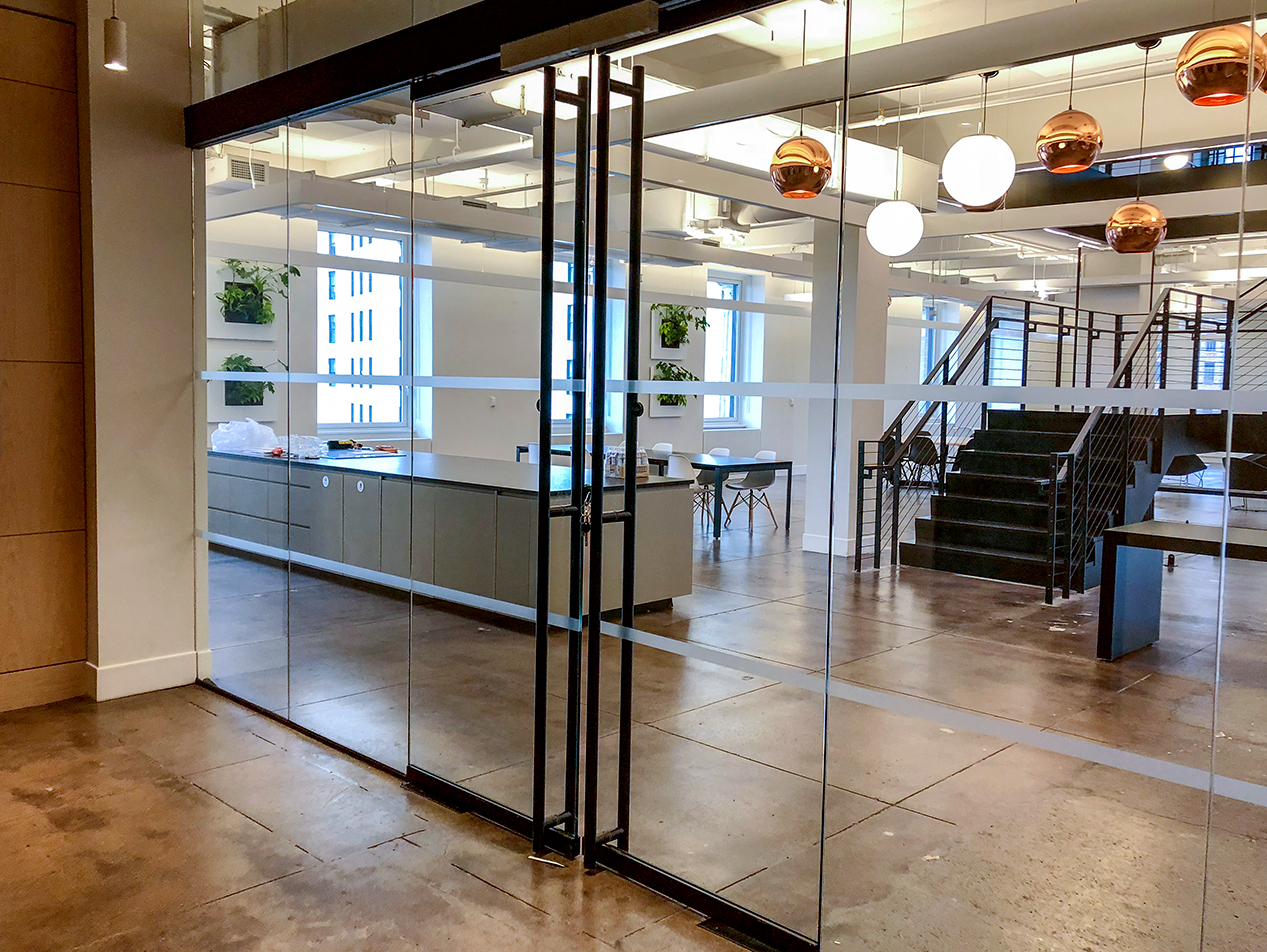 Twitch's new facility is spread across two floors. The 19th floor hosts four huddle rooms, two "standard" conference rooms and All Hands event space. The 20th floor is home to seven more huddle spaces and three conference rooms, as well as the Executive Boardroom. Each huddle room has a Samsung QM55R 55-inch display and a Logitech Google Meet kit with built-in camera and integrated soundbar, as well as a TAP touchpanel interface controller and rally bar. "The integrated nature of the AV kit and the small form factor made these a great choice for the huddle rooms. It makes it easy for anyone to start the meeting, mute the audio and everything else," Scott Huntley, Senior Designer for Diversified, noted. The well-known AV-integration firm was a key player in bringing the project to fruition.
Type 2 Conference Rooms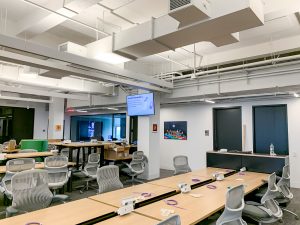 The standard conference rooms—these are known as Type 2 rooms internally—are centered on Samsung 85-inch displays and Cisco P60 cameras that work with the Cisco codec and Chromeboxes for videoconferencing. Meeting audio is captured by ceiling-mounted Shure MXA910 Dante-networked microphones. (Their LED indicator is programmed to show as purple for unmuted, reflecting Twitch's signature hue, and standard red for muted.) Playback is through Extron SB 33 A adjustable-width soundbars that are mounted below the displays.
Control is now via a Cisco Room Kit Mini, a change made after the initial buildout. That was one of several changes that took place late in the process; another was a change in the huddle rooms, going to the Cisco Room Kit Mini from the Logitech TAP kits that had been installed initially. Some of the updates were handled by Twitch's own AV specialists. "Twitch tends to move at the speed of technology," Little said. "The pandemic gave everyone an opportunity to evaluate some new things."
The Executive Boardroom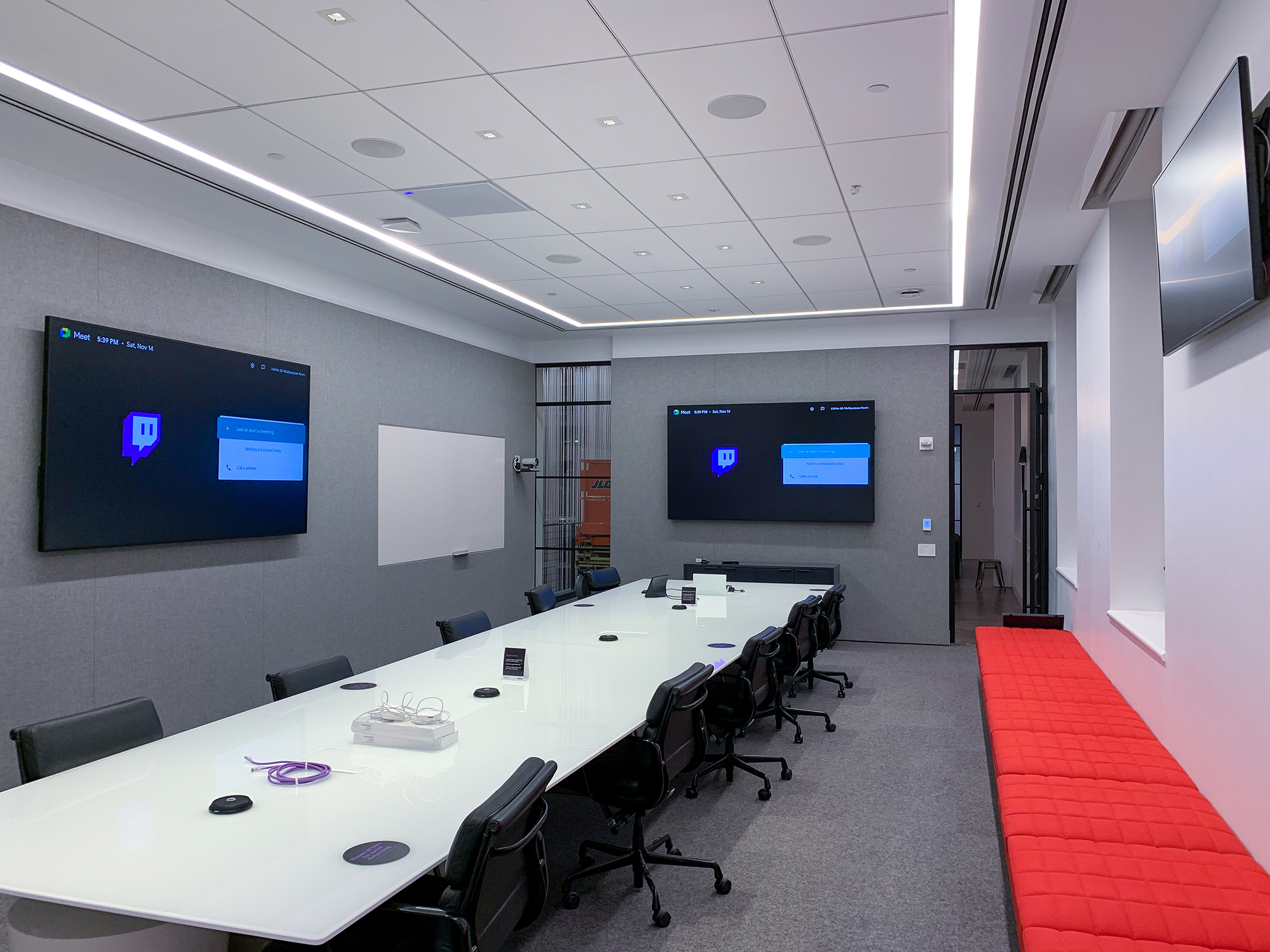 With an Extron DTP CrossPoint matrix switcher as its backbone, the Executive Boardroom amps up the AV. It boasts a pair of 98-inch Samsung LED displays—one at the front of the room and the other on one side—with a Samsung 55-inch display used to fill in a visibility-challenged part of the area. Two Cisco P60 pan-tilt-zoom (PTZ) cameras are shared with a Cisco Webex Codec Plus, as well as an Extron MediaPort 200 HDMI-to-USB bridge. An NAV decoder is used to receive the video from the All Hands space for overflow.
Audio comes through Extron six-and-a-half-inch ceiling speakers. Padded fabric was attached to two interior walls by the general contractor; it serves as acoustical treatment to offset any sonic reflections. The Executive Boardroom also features an Extron OCS 100C ceiling-mounted occupancy sensor, which senses someone entering the meeting space. Using both ultrasonic and passive infrared (IR) detection technologies, it activates a series of automated functions, such as turning on the lights and powering up the displays.
The All Hands Event Space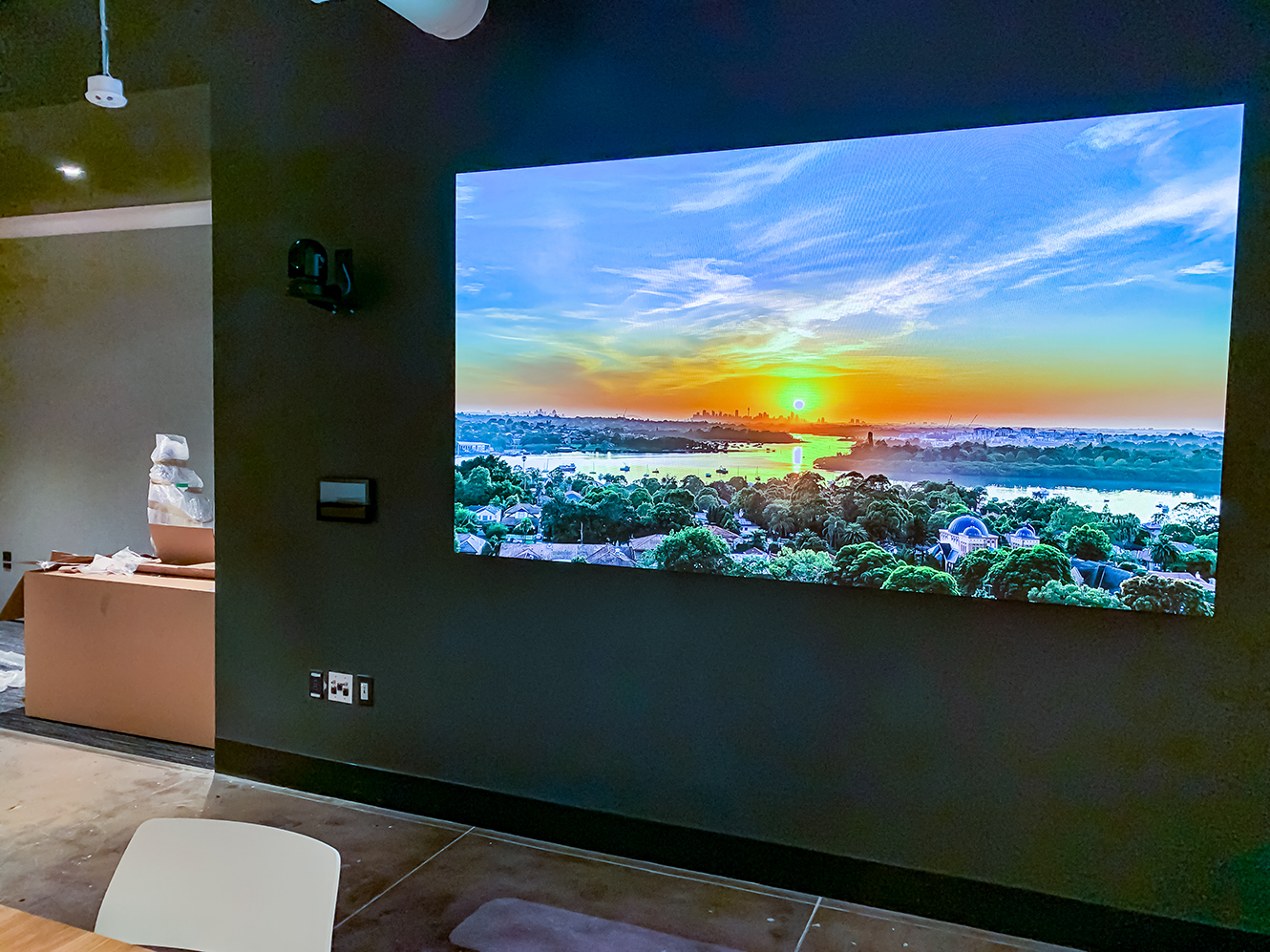 The All Hands event space centers on a 3×3, 110-inch-diagonal videowall from Samsung. There are two additional 55-inch displays attached to interior support columns; they assure good viewing from all seats. (These displays otherwise are used for digital signage.) The videowall's specifications also reflect the nature of the city in which HQ 2.0 is situated—a city where space is always at premium. A very tight 1.2mm pixel pitch allows images to be viewed clearly even from very close up. "We had initially quoted 1.5mm, but we saw that people were going to be pretty close to the wall in this space and they needed a much finer pitch," Deborah Klein, Diversified's key account manager for Amazon and Twitch nationally and globally, stated.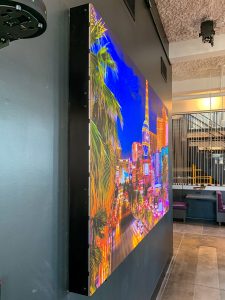 The videowall required a custom plywood backing; it's used to create a smooth, level surface for installation. Two BirdDog P400 4K PTZ cameras in the front and back of the space are integrated via the Extron DTP CrossPoint matrix switcher with the videowall. They're used for videoconferencing and web conferencing, as well as to allow other Twitch offices to pull in NDI video from this space. Huntley said that, after the videowall's initial installation, other considerations—for example, sightlines, due to furniture placement—came into play, and the team raised its elevation slightly but significantly. However, after the videowall was moved, its original electrical outlet had become visible and had to be repositioned, as well. Naturally, the whole process took longer to coordinate because of COVID-19-related limitations of onsite presence.
Extron six-and-a-half-inch pendant speakers are used in this open-structure room. "Two of the Shure MXA910 ceiling array microphones were used in the All Hands space to provide participant coverage during a video/web conference call," Huntley explained. "Additionally, Shure MXW Series handheld and lavalier microphones were provided for presentation voice lift. And DTP transmitter wallplates for the Extron DTP CrossPoint matrix switcher are located at the front and rear of the space, with an additional DTP receiver wallplate provided for a portable confidence monitor for local presentation support and flexibility."
There is no control room, per se, in the project; however, Twitch selected Extron's server-based GlobalViewer Enterprise (GVE) for remote system management. GVE is used to monitor the systems in real time and generate reports. Those metrics support usage of devices, including inputs, maintenance schedules and time in use.
Collaboration With Key Vendor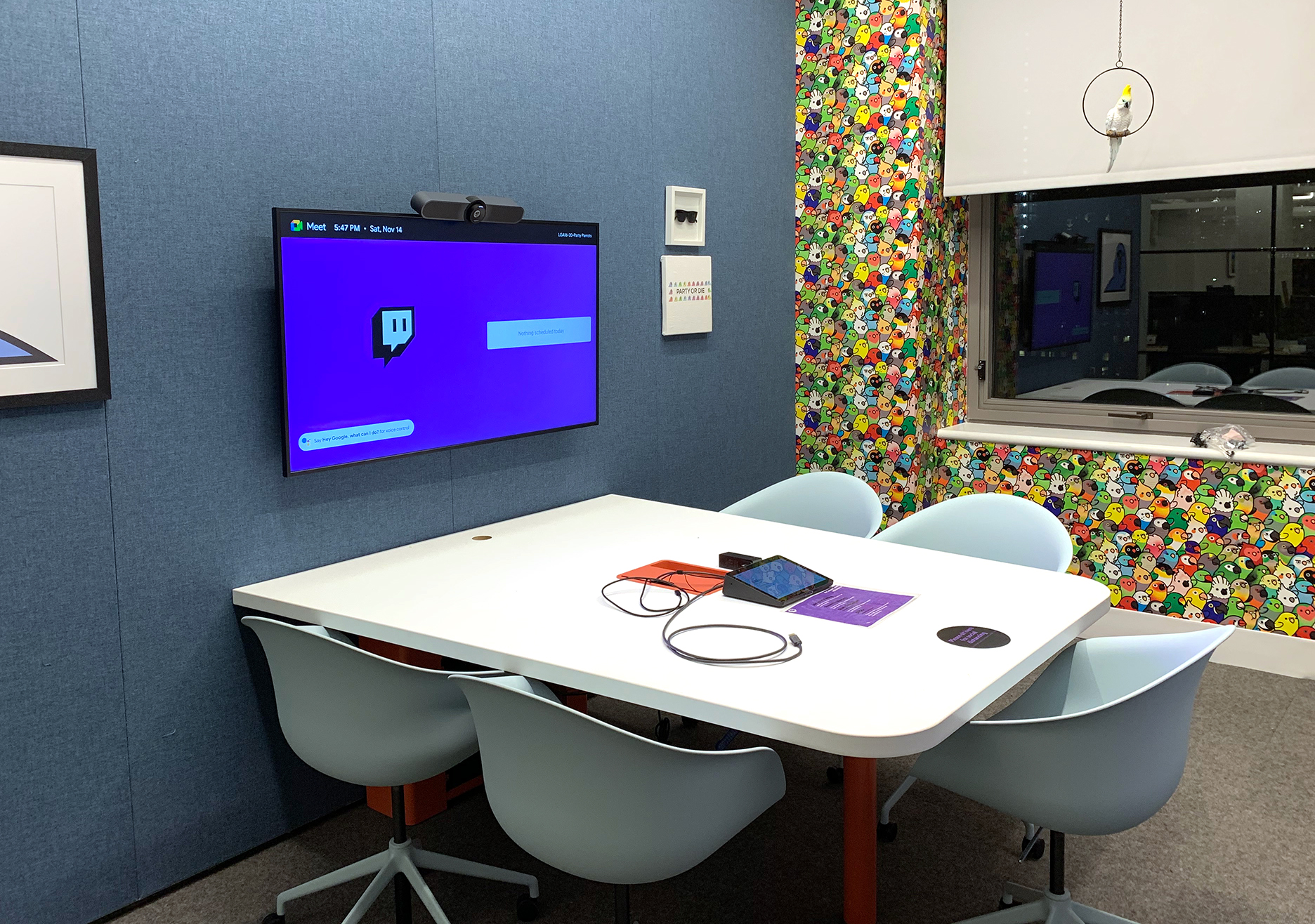 A signature aspect of the Twitch office design is how a common AV backbone is used to scale from the huddle rooms through the largest of the conference rooms. "We used the HC 404, which combines video switching, scaling, signal extension and system control, as well as a standardized selection of sources and displays, as a single solution for these spaces," Keith Holmlund, Extron's Applications Design Engineer on the project, stated. "Twitch liked that we could take the same control environment and adapt it to larger spaces and across two floors, with the user experience and UI being seamless between them." Each space provides DTP matrix switching or point-to-point presentation systems that work within Twitch's infrastructure and organizational requirements. The size and use of the space determined the number of sources and displays deployed, as well as the type of systems installed. Systems include wired and wireless connectivity, and the Extron HC 404 system also encompassed capabilities for session recording, sound reinforcement and videoconferencing.
Extron's extensive collaboration on the project is notable, although it also reflects a growing trend in which clients and integrators alike look to vendors with comprehensive AV-systems solutions to, as Holmlund put it, "fill in the gaps" between disparate systems from a range of brands on a single project. Although Extron products are well represented on the equipment list for HQ 2.0, they're also often used as bridges between other manufacturers' systems and products. For example, Twitch has been a "Google house" for some time, relying on Chromebox mini-PCs for its Google Meet and Zoom environments during the pandemic. However, Twitch also uses Cisco for its videoconferencing codecs in New York, as it does in its other offices.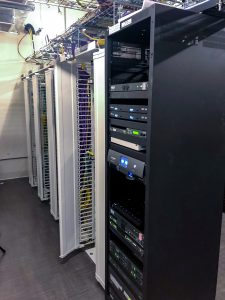 "Twitch asked us to adapt our systems to those platforms," Holmlund explained. He noted that, for instance, it's possible to integrate control of third-party products with Chromeboxes via keyboard emulation; another option is to use Extron's MediaPort 200 as a USB bridge for HDMI and audio for Twitch's Google Meet applications, and Extron's newer NAV Pro AV-over-IP system to facilitate content overflow into other areas. "These keep Google and Cisco at the center of their user environment but also let us bring Extron elements into it," he said. Holmlund added that Google presents a particular challenge as the company itself seeks to become a one-stop solution for corporate AV; naturally, that makes interfacing with its components a more intricate proposition.
Klein said that the extensive collaboration with a key manufacturer—in this case, Extron—was useful. She also said it isn't as rare as it might once have been, as more corporate end users (and those in other AV verticals) look for broad, single-vendor solutions. In the case of Twitch, Extron was already an embedded vendor with Amazon, although not yet for system-control solutions. That changed with Twitch's HQ 2.0. A combination of Extron's GlobalViewer Enterprise remote-system-management platform and networked TLP Pro touchpanels—for example, the TLP Pro 1025M 10-inch touchpanel wallmounted near the main display in the event space and the TLP Pro 725T seven-inch tabletop touchpanel—provide similar functionality in the boardroom and the conference rooms.
Another aspect of corporate systems design—in particular, for high-tech companies—is that AV designs can be less permanent as compared to those in some other verticals. The high-tech sector is particularly concerned with being responsive to evolutions in AV and IT technology. (The late room-kit changes in this project attest to that.) Holmlund, who has had several tech-company clients in his 12 years at Extron, says the phrase "sharpen your pencil" has become code for preparing to update systems. It's something he has also seen more and more in recent years in AV projects for the military. (Those, incidentally, tend to be among the least-flexible clients, due mainly to very stringent security regulations that, among other things, significantly limit the integration of personal mobile devices.) "'Sharpen your pencil' means get ready to come up with some new ideas," Holmlund concluded.
Integration: Consistency Of Platforms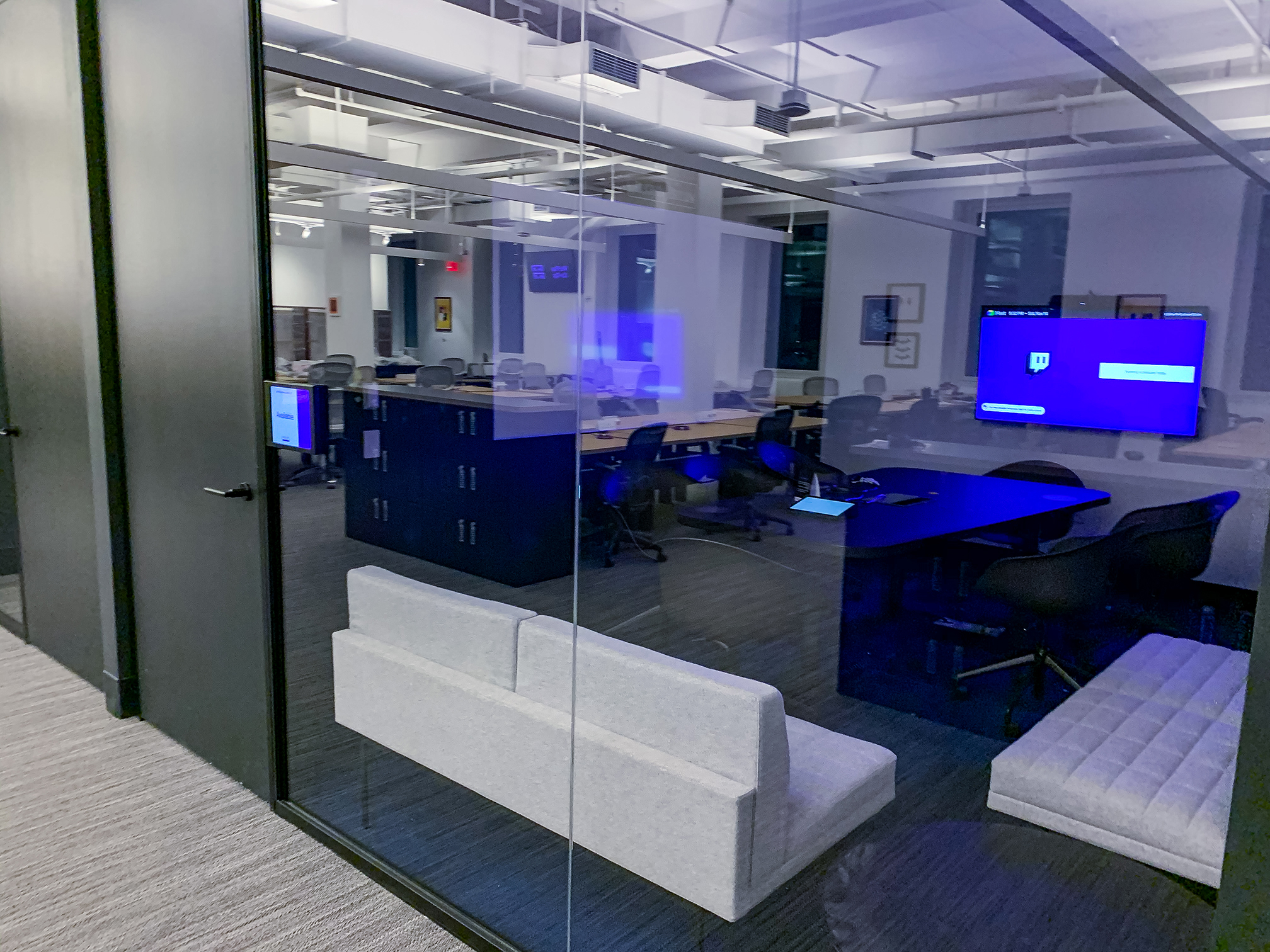 Diversified has a substantial history with both Amazon and Twitch, having integrated AV in both of their California offices in the past. Twitch specified that it again wanted to work with Huntley, who had worked on its San Francisco headquarters. It was clear from the beginning, however, that the New York location would differ from the San Francisco office just by the nature of the respective cities. "In San Francisco, the main lobby is right off the street—as soon as you walk in, you see the interactive videowall," Klein described. "But, in New York, you first have to take the elevator to the 19th floor," a reflection of the city's vertical nature. "But once you're in there, a Twitch employee would see the similarities between the offices, such as the videowalls and the open All Hands space," she continued. "However, there were some differences: For instance, Amazon doesn't typically use room schedulers, while Twitch does. They wanted to have their own room schedulers for every single room. So, that's something that was unique to them."
The equipment choices for the project were largely based on certain products and platforms that both Twitch and its parent company have used before; among those are Samsung displays paired with Chief mounts. That's in the interest of maintaining technical consistency throughout much of the Amazon/Twitch ecosystem. "The interesting part was the UI," Klein explained. "While Amazon is a Cisco house, Twitch at the time was a Google Meet house. So, Diversified went through several revisions of the [conference-room] designs to make sure that they not only maintained their own standards but also began to adopt the Cisco standard, which was Webex."
Pandemic Necessities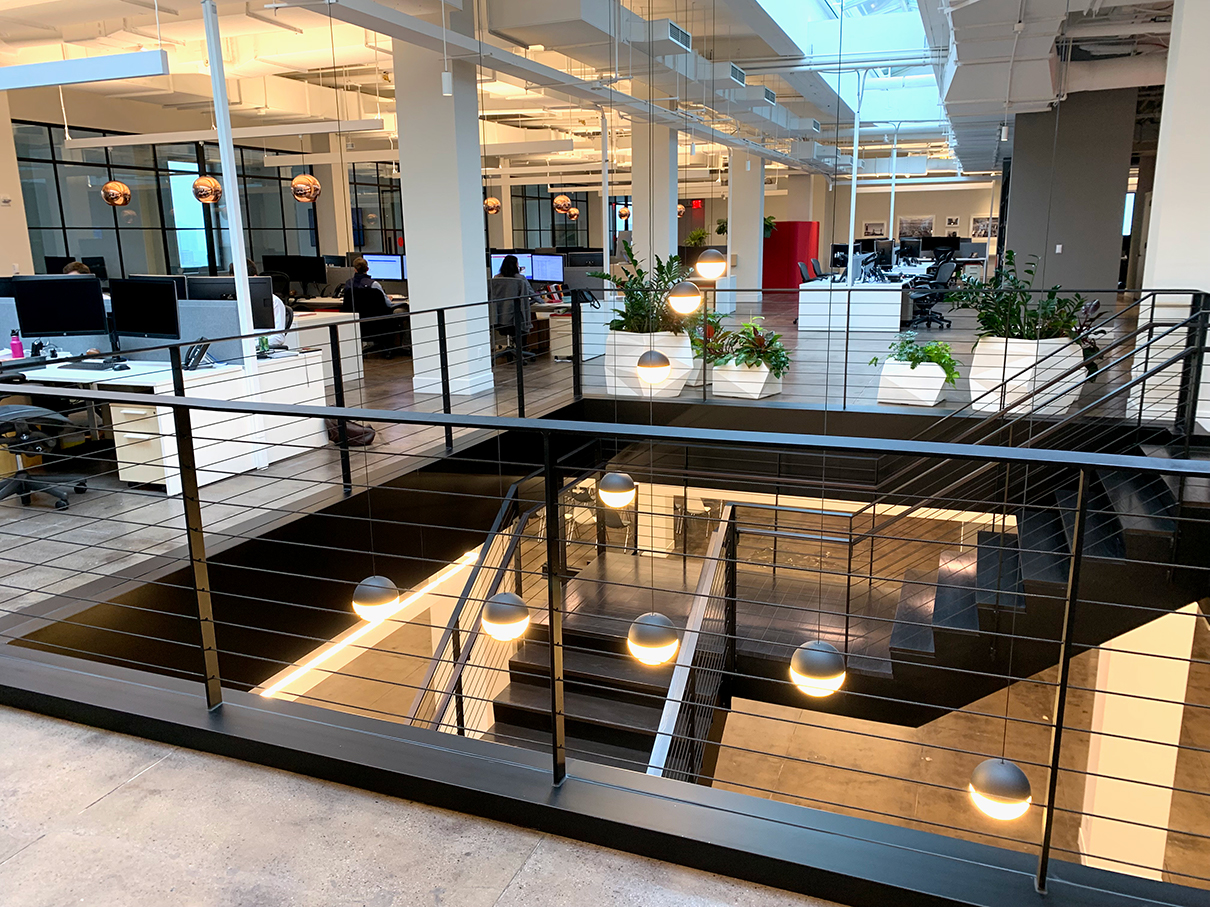 Working during the pandemic posed its own challenges, especially in New York—the city that was initially hit the hardest of any US urban area by the virus. Deye said much of the collaboration between Diversified, Extron and Twitch took place over video calls. Another strategy was to have the general contractor walk through the facility, sending live video via a smartphone. "That provided live coverage of how the building was coming along," he said. "We were able to pick up the coordination a lot better than I had anticipated. It was the first Twitch workplace, I think, that [we] built without ever being onsite the entire time. So, we really had to lean on and trust our vendors." Deye added, "The general contractor did a good job of coordinating back to us on any issues with video walk-throughs." That extended to some minute details of the installation, including checking on video displays' height placements to ensure Americans with Disabilities Act (ADA) compliance.
"We were all there for a week of the commissioning, testing and provisioning stage," Little recalled. "That was kind of like 'all hands on deck'…everybody working together. It was a great partnership between the three different parties."
Klein said that the various teams tried to resolve as much as possible ahead of time, using online collaboration and resources. "We were smack in the middle of a pandemic, so everything had to be done virtually through Webex or [Microsoft] Teams, so the communication process wasn't typically what we'd like it to be," she conceded, "which would be onsite meetings and box walks." Klein continued, "So, the challenge was, how do we [virtually] resolve some of the details that we usually resolve in the field? Things like network addresses and topology, which are not usually resolved prior to installation." Ultimately, she recounted, the entire design went through nine separate iterations.
Twitch's HQ 2.0 in New York is, like the city itself, a blend of old and new. Here, "old" refers to earlier offices, dating back a whole decade—an epoch in tech time. And the "new" part will remain so, Huntley pointed out, because Twitch is constantly looking at technology refinements in collaboration and meeting logistics. "It was a learning experience—that's for sure—and [it] was helped by having great input from Extron and Twitch itself," Huntley concluded. "But what you really learn is change never stops."