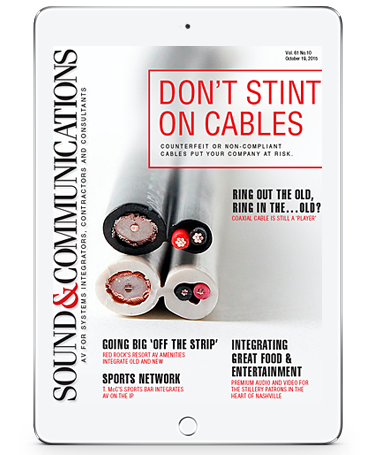 Audio
Sound Advice: Loop Gain—x2
Merely installing an assistive listening system is only half the job. As many people with hearing impairment can attest, existing systems often either do not work or are not effective. Our columnist offers some suggestions on how to make your assistive listening systems useful and convenient for the people who actually need them.
By Peter Mapp, FASA, FAES
---
Digital Signage, Business
Sign Age: ¿Comprendes Español?
Attempting to target a particular ethnic group with your digital signage content? Then you'll need to go beyond simple language fluency. The best ethnic-oriented signage systems rely on an understanding of the deeper cultural and social preferences of the communities they hope to reach. To illustrate this point, we examine how Spanish-language signage network Admirable tailors its content to America's many varied Spanish-speaking communities.
By Shonan Noronha, EdD
---
House of Worship, Business, Audio, Video
HOW: Business: A New Frontier
Many houses of worship also operate private schools, and more and more of these schools are creating athletic programs in an attempt to attract more students. And, as AV professionals know, audio and video systems have become integral parts of today's sports viewing experience. We offer some suggestions on how to capitalize on the opportunities presented by the increased presence of sports in private schools.
By David Lee, Jr., PhD
---
Business
The Commish: Cost Of Quality
Many commercial AV professionals believe the "Quality in AV" movement will not catch on until clients are willing to pay more for systems installed in adherence to a quality-management system. However, these doubters may be missing the big picture. Our columnist makes the case for why hiring a Third Party Commissioning Agent to ensure a system meets quality-management standards can save money in the long run.
By James Maltese, CTS-D, CTS-I, CQT
---
Business
What Would You Do?: Home Alone! Not Likely
More and more Americans are working from home and starting home businesses. For integrators considering starting their own home businesses, our columnist shares some important considerations to keep in mind, as well as some of his own experiences running a home office.
By Douglas Kleeger, CTS-D, DMC-E
---
Business, Video, IT/AV
InfoComm POV: Conversation Starters
The commercial AV industry is all about creating awe-inspiring, immersive, multi-sensory experiences. The Executive Director/CEO of InfoComm reflects on how creating these experiences led to the development of a $100 billion global AV industry, and how AV/IT convergence can expand the industry even further.
By David Labuskes, CTS, RCDD
---
Business
NSCA POV: Today's Best Leaders Embrace Their Soft Side
While it is important for today's business leaders to keep up with the latest technology developments and best practices, they should also have highly developed soft skills, or the ability to build a rapport with clients and inspire innovative thinking in employees. NSCA's Executive Director highlights some of the organization's efforts to cultivate these soft skills, and offers some suggestions as to how leaders can win at the people side of business.
By Chuck Wilson
---
Business, IT/AV
Down To Business: Digital Disruption & The AV Integrator
Rapid changes in technology use and adoption over the past several years have transformed the commercial AV industry. People are more connected than ever thanks to our almost pathological attachment to mobile devices, and the networking and videoconferencing needs that a few years ago could only be served by AV systems can now be satisfied by free apps and services. We explain why AV companies need to stay ahead of the curve if they expect to survive in an increasingly connected world.
By Daniel Newman
---
Business, Audio
Consultant's POV: Validation
Poor Test and Adjustment under real-world conditions can be the undoing of any well designed audio system. Far too many audio systems are annoyingly bad, and it all comes down to poor Test and Adjustment team practices, and project managers with low standards. Our columnist offers his take on these troubling realities of the commercial AV industry.
By John Mayberry
---
In the conclusion of our 60th anniversary celebration, members of the commercial AV industry share what Sound & Communications has meant to them and their companies over the years.
---
Install, Video, Audio, IT/AV
Going Big 'Off The Strip'
Las Vegas' Red Rock Resort recently completed a $35 million renovation, and features luxury suites packed with cutting-edge AV tech, four new restaurants and an upgraded sports book. We got the details on the resort's new systems from integrator National Technology Associates.
By Dan Daley
---
Install, Video, Audio, IT/AV
Sports Network
An $8 million expansion for Harris MI's Island Resort & Casino saw the transformation of its former Island Sports Bar into T. McC's Sports Bar, which uses AV tech to create the area's only "True Sports Bar Experience." We got the inside scoop on the venue's new systems from integrator ESG.
By Jim Stokes
---
Install, Audio, Video, IT/AV
Integrating Great Food & Entertainment
Nashville is known for two things: music and food. No one gets this more than The Stillery, a dual-level bar/restaurant/music venue that relies on music to enhance the dining experience, and vice-versa. Integrator South Central AV took us on a deep dive into the audio and video systems that help create the venue's distinct vibe.
By Dan Daley
---
Business, Video, Audio
Ring Out The Old, Ring In The…Old?
In the brave new world of digital AV and wireless connectivity, the commercial AV industry is always looking for the next big thing. But, in our zeal for the flashy new game changers, we may be neglecting our most tried-and-true standbys. We make the case for why coaxial cable isn't quite ready to be consigned to the garbage heap of history just yet.
By Pete Putman, CTS, ISF
---
Business
Don't Stint On Cables
Although wireless technology is on the rise, many AV systems still rely on cabling, and lots of it. Unfortunately, the market is flush with imitation and counterfeit cabling that can cause serious problems from a cost and safety standpoint for integrators and their clients. In this article, the Founder/CEO of ICE Cable Systems tells you how to identify and avoid these counterfeit and non-compliant cables.
By Brian Rizzo
---
Business, Video
AVent Horizon: Guess What? Hotcakes Aren't As Popular As We Thought
Larger and larger screens are the current trend in smartphones, but if you'd listened to the market analysts a few years ago, you would have never seen it coming. Simply put, analysts don't always get it right, and so-called game changers sometimes don't develop into the impact players they're supposed to be. With that in mind, our columnist takes a look at some of the more surprising trends in today's mobile device market.
By Pete Putman, CTS, ISF