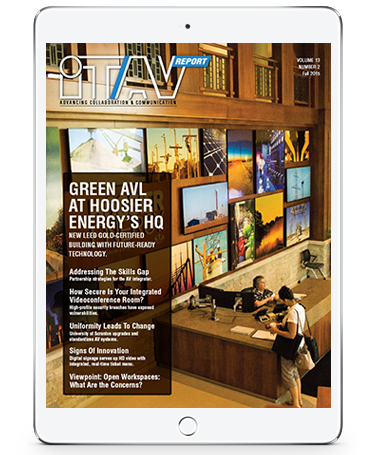 Business, IT/AV
ITopia: Tech Enablers!
The days of "Change Agents," who helped businesses implement and acclimate to new technology, are gone. Today, intuitive user interfaces and control systems are expected to make technology accessible to all users of all levels of expertise. However, even these systems can lead to questions, concerns and business disruptions after they're implemented. It's up to technology professionals to play the role of tech enablers and anticipate these problems before they arise.
By Shonan Noronha, EdD
---
Business, IT/AV
InfoComm: Revisiting Managed Services
As the need for collaboration technology in business increases, so does the demand for centralized technology management. Consequently, many businesses are looking for managed services from their service providers in an attempt to cut costs and counteract the complexity of modern AV systems. The Executive Director/CEO of InfoComm highlights some ways AV companies can stand out in the IoT era by offering these services.
By David Labuskes, CTS, RCDD
---
Business, IT/AV, Digital Signage
Business: Addressing The Skills Gap
AV products and services are projected to become a $114 billion global industry by 2016. This continued market growth presents opportunities for AV integrators. However, in order to fully capitalize on this potential, AV companies must make up ground in the IT skills gap. We offer some suggestions on how AV companies can bolster their IT aptitude through strategic partnerships with IT service providers.
By Todd Thibodeaux
---
IT/AV, Business, Video
Technology: How Secure Is Your Integrated Videoconference Room?
AV systems designed with multiple discrete components that ride on an IP network leave organizations vulnerable to malware attacks and security breaches. And with several high-profile internet security breaches in the news as of late, the writing is on the wall for the current model of integrated collaboration systems. We run down some of the security issues facing today's videoconferencing systems and offer some suggestions for new, improved best practices.
By David Danto
---
Install, IT/AV, Video
Corporate: Green AVL At Hoosier Energy's HQ
Sustainability and a minimal environmental impact were chief concerns for Hoosier Energy Rural Electric Cooperative Inc. when it broke ground on its new 83,000-square-foot HQ in Bloomington IN. AV features of the new space include four 4×4 videowalls, 20 office spaces with videoconferencing and BYOD compatibility throughout the facility. We take an in-depth look at this installation by Sensory Technologies and Wright Consulting Services.
By Derek Paquin, CTS
---
Install, IT/AV, Video, Digital Signage
Education: Uniformity Leads To Change
The benefits of standardizing classroom technologies are well documented, but many schools are hesitant to do so, citing costs. However, the Univeristy of Scranton is not one of them, having prioritized standardization of its AV systems for years. We take you inside the university's AV systems to illustrate the benefits of standardization.
By Robert Kennedy, MS, & Duane Hammaker
---
Install, Digital Signage, Video, Audio, IT/AV
Museum: Signs Of Innovation
Columbus OH's Center of Science and Industry recently integrated its 28-screen digital signage network with its ticketing database. We detail how the system was built, and how this approach keeps patrons up to date on the museum's latest events.
By Craig Miller & Brandon Codispoti
---
Business, Video, Audio, IT/AV
Viewpoint: Open Workspaces: What Are The Concerns?
Open-plan workspaces continue to dominate office renovations and new construction, although the format is not without its issues. In this roundtable discussion, we asked designers, integrators and manufacturers for their opinions on the benefits and shortfalls of open-plan offices, and the impact of this format on architectural design, AV installations, collaboration, and efficiency.
By Shonan Noronha, EdD