The retail sector had been taking it on the chin for some time before the novel coronavirus (COVID-19) hit. Two decades of relentless online-shopping growth, epitomized by Amazon's four-figure stock surge during that time, saw any number of retail giants fall by the wayside. From Barney's to Bloomingdale's to Borders, and from RadioShack to Toys "R" Us to Fry's, shoppers found that they increasingly preferred the virtual to the actual. The arrival of the pandemic in March 2020 only accelerated that unpleasant dynamic. Since then, Pier 1, the Gap, Victoria's Secret, Bath & Body Works, Sears and scores of other retailers have either shuttered for good or significantly cut back on their physical locations.
But like the immigrant entrepreneurs who built much of the foundations of large-scale retailing almost two centuries ago—names like R.H. Macy, Herbert Marcus and A.L. Neiman, James Cash Penney, and Richard Sears and Alvah Roebuck—many of today's retailers aren't ready to throw in the towel. Indeed, the National Retail Federation (NRF)'s President and CEO, Matthew Shay, contends that the economic fundamentals are still strong. "As the pandemic subsides in the US and around the world, as we get a vaccine distributed, then I think consumers are poised for a rebound, and economies are poised for a rebound and growth," he told an NRF podcast. "It will take some time, but I think we should be optimistic."1
Shay's confidence is supported by the data. US consumer spending has rebounded this year amid a surge in income, as households received additional pandemic-relief stimulus funds and families began to spend the savings that they accumulated during a year of retail and travel lockdowns. There was a 9.8-percent rise in March alone (the one-year anniversary of most restrictions). AV integrators have been aware of this shift, and they're ready to help retailers leverage what might prove to be a historic inflection point in the often-unpredictable arc of retail sales.
Tech Tells The Story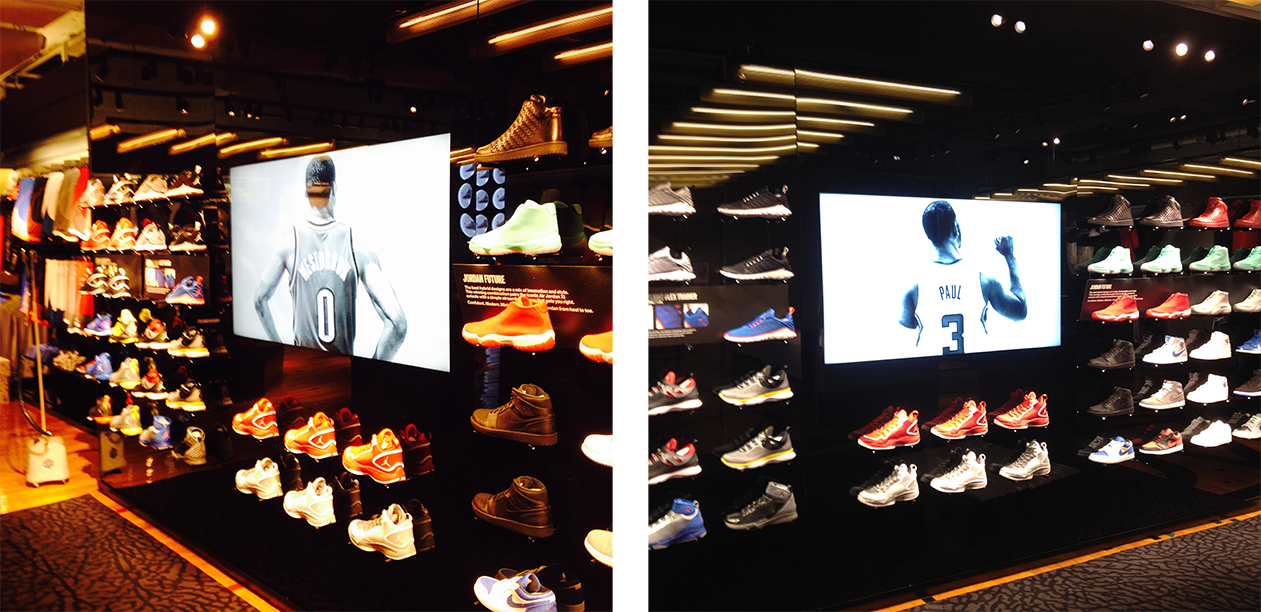 Guy O'Hazza, Co-Owner and Director at Decibel Studios in Los Angeles CA, has worked on numerous well-known, high-end attractions. He's also contributed to fashion-forward retail properties like Michael Jordan's Jordan Brand and one of Nike's Jumpman logo offerings. The commonalities between the two verticals were substantial even before the pandemic, and O'Hazza believes the way that both use AV technology will become even more linked as COVID-19 recedes. That, he said, will be especially true for retail. "What we use AV technology for in both of these applications is to tell a story," O'Hazza explained. "When you [experience] "Pirates of the Caribbean" at Disney, you're being told a story and you take that story home with you. Retail shouldn't be any different."
In retail environments, the narrative takes the form of an experience—something that AV is good at delivering. Offering an example, O'Hazza cited the small screens placed near athletic-shoe displays at Jordan Brand stores. A radio-frequency identification (RFID) tag in the shoe triggers a video when a shopper picks it up. The act of picking up the shoe essentially pulls the shopper into the narrative and a McLuhanesque transformation occurs: Instead of the medium becoming the message, the shopper becomes part of the narrative; his or her curiosity about the product prompts the (prerecorded) story to play out.
In the case of the shoes, audio is also called into play in the form of appropriate sound effects—for example, a dribbled basketball for a Jordan signature basketball shoe, the thwack of a Top Flite XL off a tee in the Tiger Woods section, or the sound of running feet for jogging shoes. Those sounds emanate from JBL Control 25 speakers, which are aimed at the acoustically reflective floors—made of concrete or other hard materials—to add an authentic aural ambience. Effects such as these subliminally (but effectively) reinforce the narrative.
According to O'Hazza, the size of the screen is less important than what's on it and what's in the sound system. Content has to create a story with some resonance for shoppers. It can also be a bit more behavioral. For example, he noted an interactive mirror in one well-known brand's stores. When a young girl tried on a certain dress for sale, waved a wand and looked, it would summon a "prince." O'Hazza elaborated, "The RFID sticker on the price tag is what set the process in motion. And you know Mom had to buy that dress!"
Not About Replicating The Web Experience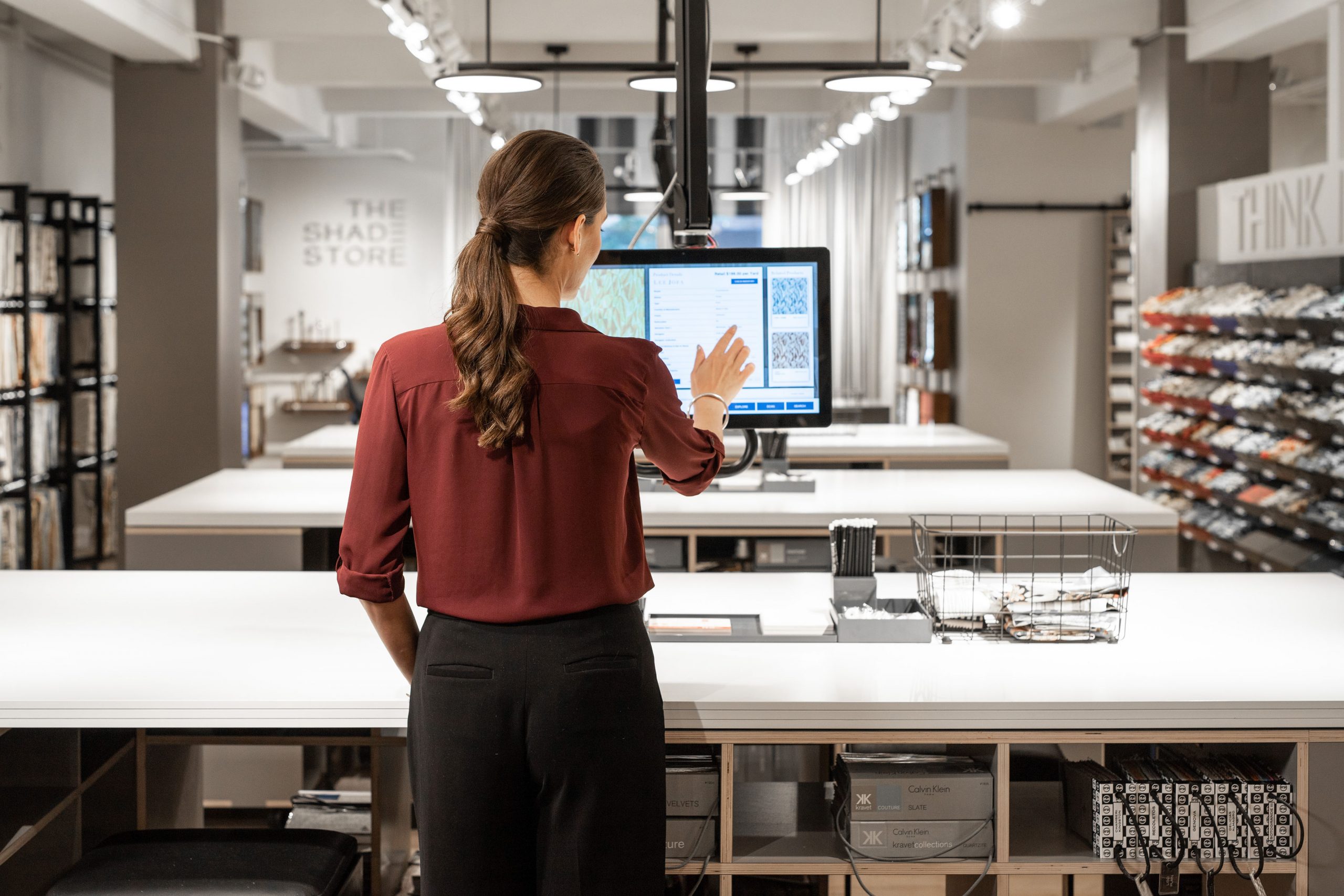 Kravet has catered to upscale interior-design professionals and shoppers in New York NY for five generations. However, even that staid market has felt disruption, with sites like Decorist and Havenly striving to replace the white-gloved hand holding forth the brocade fabric swatches. Kravet, though, fights fire with fire—or at least video with video—and uses its content to entice buyers into its showrooms. There, designer/integrator OpenEye Global has created a hybrid of actual and virtual experiences; it uses touchscreens as interfaces between shoppers and the stores' digitized inventories.
The process starts at the Pegboard, a wall-mounted, portrait-oriented touchscreen that lets users see photos and descriptions of furniture, fabrics and other items. With it, they can call up further information. Then, shoppers, designers and others can collaborate over a large table—a table of the same sort that fabrics have been draped across for examination since R.H. Macy started his business. But the twist is that displays, which are attached to articulated brackets and tethered to the ceiling, can be pulled around the tables as the participants move around. This enables them to compare items' colors and textures, as well as to call up digitized elements, as needed.
Bryan Meszaros, OpenEye Global's CEO, uses terms—for example, "frictionless discovery" and "efficient curation"—that are more often heard in conjunction with tech startups than in connection to retail stores. "It's about shrinking the design-center concept to a more retail-like environment, but still keeping all of its resources," he said. "That's what AV can do."
Kravet had already digitized much of its inventory. OpenEye Global took that data and combined it with a custom framework that it developed to make it accessible through the displays; standard barcode optics are used to call up items onscreen. "We didn't want to replicate the web experience," Meszaros said. "We wanted to bring [shoppers] into the space where they could discover new ideas and use the inventory to make suggestions that are pulled from the store's asset-management system."
'Wow Factor' Still A Thing
The experiential elements of retail environments tend to focus on "wow factors" like massive LED screens and bone-rattling subwoofers; however, there are other aspects of experience that, although more quotidian, might have deeper implications for AV integration. Dennis Pappenfus, CEO at Fluid Sound, a San Diego CA-based AV integrator, said that he's been receiving a growing number of calls from clients who are looking to AV—in particular, large-scale LED walls—to make a definitive statement to retail customers in sectors such as hospitality and cinema, where quick-stops and boutiques are integrated into the larger entity. The message is "We're back and open for business!"
But it was Pappenfus' own experience with surface avoidance during the COVID-19 pandemic that made him realize that, although the virus is in retreat, some of the behavior that it engendered will be sticking around. Specifically, he's found that being able to use quick-response (QR) codes on his phone to look through a restaurant menu, then use that same portal to order and pay—all while in the restaurant—represents the best of both worlds. It allows people to be in a social, interactive environment, while still enjoying the convenience of automated interfaces.
'We're no longer using the matrix-switching model at all, really. AVoIP's scalability and ability to change the system design as needs change has become necessary.'

—Dennis Pappenfus, CEO, Fluid Sound
"The amount of my time that gets freed up by that is amazing," he said, "and I find I want that kind of experience in more of the environments I'm in." That includes retail stores. He cited how Home Depot has applied that kind of personal mobile-device technology to searching out items in their cavernous warehouse stores, using QR codes. They can even tell you if an out-of-stock product is in stock elsewhere! "It's not what you think of when you think of traditional AV integration," Pappenfus acknowledged, "but the cabling and network has to be put in by someone. I think it's an area that AV integration should be looking at intensely."
Pappenfus noted that the AV-over-IP (AVoIP) infrastructure necessary to support that kind of service is now the sole distribution topography that Fluid Sound deploys for virtually all its projects. And that knowledge base can be applied to a wide range of networked applications. "We're no longer using the matrix-switching model at all, really," he declared. "[AVoIP's] scalability and ability to change the system design as needs change…has become necessary."
That's not to say that big, impressive video has lost its luster for shoppers. Pappenfus cited a recently finished library project with its own retail area that incorporates a large, U-shaped, LED-lined tunnel leading to it. "It's the kind of thing that brings people in…that gets the conversation started," he said. "Scale is making a difference as people come back into retail environments."
Apple—The Chip, Not The Store
Brian Edwards is CEO of Edwards Technologies, which has developed systems for and integrated AV into projects that have retail aspects, including boutiques at the International Spy Museum and the Kansas City Royals Hall of Fame. He believes that AV in the retail environment is now at an inflection point based on how specific platforms—notably, Apple's M1-chipped generation of computers and the complementary macOS 11—will be able to be used to create enterprise-level AV-system designs more easily.
Edwards is working with large retail chains that plan to use this technology to immerse guests in their brands, personalize the shopping experience and even customize the clothing. Moreover, they plan to control the environment based on data points that can be curated using machine learning, point-of-sale (POS) data, vision data, etc. "It's the combination of the AV with the operations data that will help unify the brick-and-mortar with the online," he said. "Initial tests are showing promising trends."
According to Edwards, "In big-picture terms, the trend we see is AV isn't a standalone system, as it has been in the past. AV is a spoke in a wheel that includes multiple data points that control it, much like an air conditioner uses a thermostat to control temperature. In a decade of operating in entertainment-based retail, we see that energy and mood has an impact on shoppers, so we have to think bigger picture."
Speaking of big-picture thinking, Edwards alluded to one apparel chain that's now installing iPads inside and outside fitting rooms. Shoppers who want another size or color of a particular garment (which is RFID-chipped) can use an iPad to message a clerk. He or she will receive the message either on an iPad or on a smartwatch and bring the garment to the shopper.
Speaking more broadly, Edwards said that the capabilities of the nascent M1/macOS 11 combination will allow the stores' cameras to analyze the demographics of its population constantly; as such, it can change the background music (BGM) accordingly, adjusting by volume, genre and even beats per minute (BPM). According to Edwards, who did systems for McDonald's restaurants years ago, BPM is a subtle but effective tool to help the restaurant achieve its goal of turning over tables every 12 minutes.)
"AV in and of itself isn't the point anymore, [as] it used to be." Edwards explained. "AV is like a laptop or an iPad—it's the edge of a larger system…a network…that also will leverage new tools like Apple's Big Sur [OS]." He added that those Apple elements can be looked at as a combination of Software-as-a-Service (SaaS) and Hardware-as-a-Service (HaaS), which has the added benefit of remote updates via Apple Business Manager services.2 "The goal of all of this is to create a personalized experience for shoppers. Get them into the store and make them feel like it's about them," Edwards concluded.
Other Things To Consider
Mary Meeker is President of Mary Meeker Design Inc., a Las Vegas NV-based AV-design firm. She said that, as retail comes out of its pandemic-induced funk, it will be looking for ways to engage customers. AV technology is a great way to do just that. But doing so is going to require new levels of awareness. The systems used for in-store customer tracking, which incorporate cameras, video displays and networked elements, such as mobile apps, are seemingly a perfect fit for AV integrators. However, the privacy issues that these systems bring to the fore have created some liability landmines for integrators.
"Before I design or install a system, I need to know what the message is that the store is trying to communicate, and what they want to know about their customers," she explained. "The message drives the design and the budget, but it also drives how you approach sensitive issues around privacy."
'Customers want assistance, but they don't want the store to be "in your face." It's a balance that stores and designers have to achieve.'

—Mary Meeker, President, Mary Meeker Design Inc.
Explaining another landmine, Meeker cited a retailer that she noticed was playing music from an iTunes account through its Sonos audio system. It's important to know that statutory copyright-infringement penalties of $150,000 per incident are a danger. And lawsuits will look to include as many parties as possible as respondents. The proliferation of music-streaming services has made what was once a fairly simple process of obtaining a retail license from the American Society of Composers, Authors and Publishers (ASCAP) or Broadcast Music, Inc. (BMI), much more complex. Unfortunately, there is no Section 230 for AV systems.3
However, the upsides that AV presents in the post-pandemic retail landscape are worth careful navigation so as to avoid potential litigation. "People are on Facebook and other social media, so they know they've already given up some of their privacy," Meeker said. What the film "Minority Report" once portrayed in dystopian fashion has lately found far more acceptance, with shoppers and fliers readily lining up in front of cameras with digital thermometers to have their temperatures read and pictures taken to gain access to events and activities. "Customers want assistance, but they don't want the store to be 'in your face,'" Meeker observed. "It's a balance that stores and designers have to achieve."
Another aspect of retail these days is the problem that shops and stores are having finding workers. "Staff is very lean right now, and that's an opportunity for AV," Meeker declared, noting that companies like Amazon and Costco have expanded automated checkout and other systems.
Wasn't The Future Great?
Like much else that comes out on the other side of COVID-19, retail has and will remain changed. But for those who advocate for the vertical to embrace AV technology more tightly, the change will be positive—if retailers are open to it.
O'Hazza feels that AV is going to become more important than ever to help entice shoppers to return to stores. He cited Round 1, a Japan-based sports/amusement chain that has opened dozens of locations in the US in recent years and that offers retail in the form of redemption of play-accumulated points for merchandise and other offerings. One of his clients, the chain is notably taking over mall spaces that have been vacated by former retail anchor stores like Sears and JCPenney. These Round 1 locations, needless to say, are teeming with video and sound, and it's exactly that sort of brightly lit cacophony that's bringing shoppers back to the malls and boosting retail sales overall.
CoStar Group, a commercial real-estate data firm, indicates that malls now devote nine percent of their occupied space to entertainment and dining tenants. That equates to 100-plus-million square feet of the collective 1.1-billion square feet that the firm tracks. "Overall retail sales have increased in malls where Round 1 is present," O'Hazza confirmed. "It's hard to factor that into individual retail ROI [return on investment], but it's very real, and retailers need to pay attention."
'We're no longer using the matrix-switching model at all, really. AVoIP's scalability and ability to change the system design as needs change has become necessary.'

—Bryan Meszaros, CEO, OpenEye Global
Meszaros acknowledged that not all retailers will understand how important integrated AV has become for sales. And if you exclude Apple Stores, Nike and Adidas shops, and other brands that have created dazzling AV-laden in-store experiences, it might even look somewhat dreary. He expects to see more experience-focused one-off stores crop up—locations in which the AV can generate as much buzz as actual sales. Brands like Bonobos and Sonos have taken that approach with so-called "experience centers." Those can be looked at as extensions of the pop-up stores that brands sponsor for holiday sales or to introduce products. Meszaros said he expects to see more of that as retail resurges and as AV-technology costs continue to decline. "The transition is that brands are no longer investing in long-term leases," he said. "Instead, they're investing in shorter-term engagements, and AV will be important for that."
---
May The Mall Be With You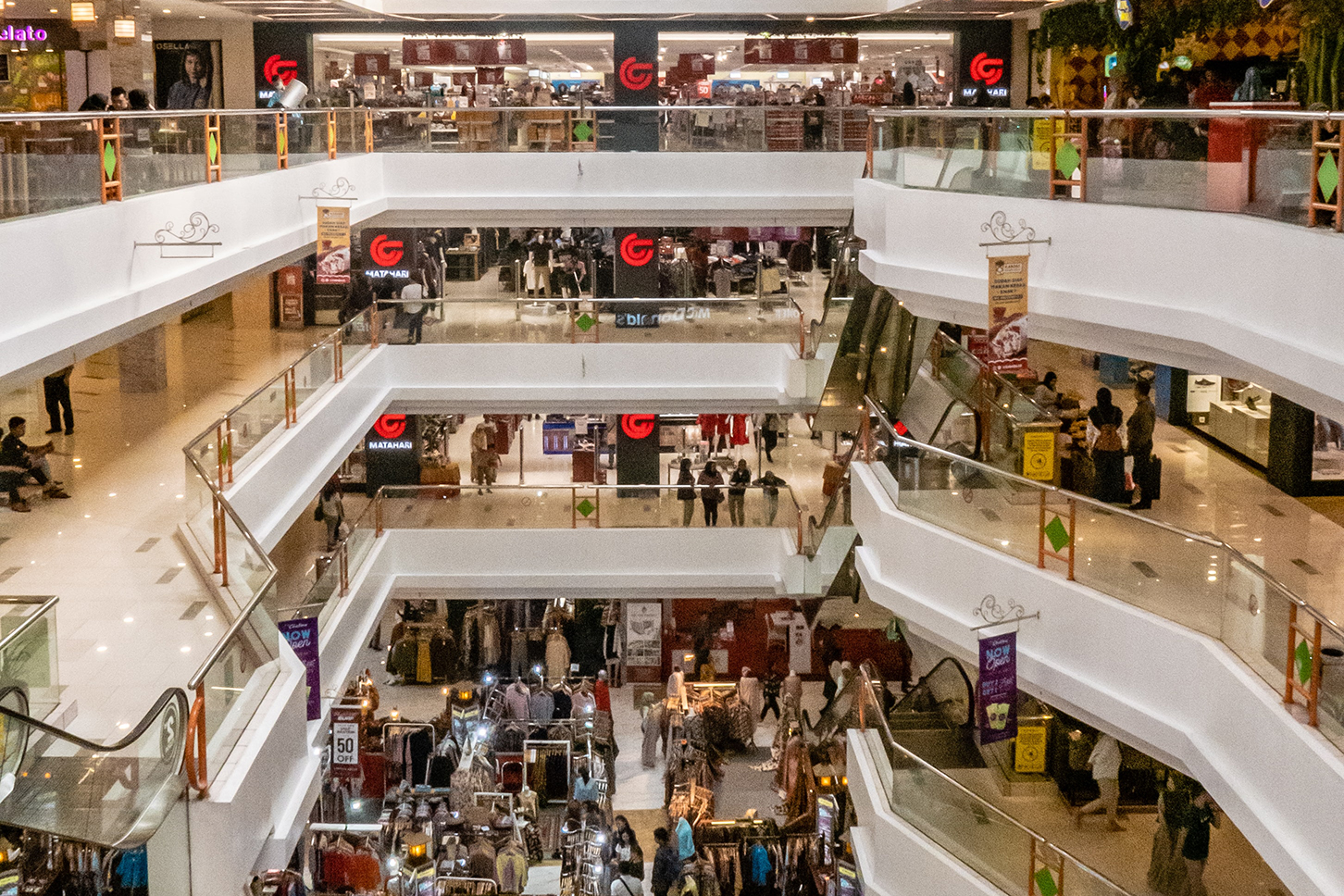 Shopping malls have been failing for some time. However, retail's loss might be a gain for some other key AV verticals. For instance, houses of worship (HoWs) figured out early on that they were a good fit for unused retail space. With most retailers closed on Sunday mornings, which his when churches do most of their "business," they began leasing space in malls in earnest this century—right around the time that malls' own business began to falter. Mars Hill Bible Church moved into the deserted Grand Village Mall in Granville MI after it was donated in 2000; the church converted one of the anchor stores into a huge, open chapel nicknamed "The Hangar." Similarly, after the Euclid Square Mall in Euclid OH closed its shops that same year, some of its interior storefronts were quickly filled by 24 different Christian congregations.
More recently, medical enterprises such as hospitals, imaging services and outpatient clinics have found malls' vast interior space, huge parking lots and proximity to population centers to be a good fit. For example, M Health Fairview opened a 2,300-square-foot space at the Mall of America in 2020. It features exam rooms, a laboratory testing site, a radiology room and pharmacy dispensing services. The same year, the Dana-Farber Cancer Institute in Massachusetts opened a 34,000-square-foot building at Patriot Place, a Foxborough MA retail center, for an outpatient oncology and hematology satellite.
Another market—namely, corporate AV—is following suit. The nation's largest mall operator, Simon Property Group Inc., has been in talks with Amazon about converting mall space into fulfilment centers for the ecommerce goliath,4 which might utilize nearly as many light-emitting diode (LED) displays for its pickers and packers in those warehouses as it sells to consumers.5
So, what's the next frontier of verticals for former retail spaces?
Hospitality: In 2018, Simon Property Group announced its plans to open at least five Marriott International hotels at its mall properties over the next several years.
Education: Students at Vermont's Burlington High School this year went to class in an abandoned Macy's department store in an outdoor pedestrian mall. Meanwhile, students at Austin (TX) Community College's Highland campus attended classes in a 200,000-square-foot former JCPenney location.
Endnotes
1 https://nrf.com/blog/state-retail-industry-heading-2021
2 https://support.apple.com/guide/apple-business-manager/what-is-apple-business-manager-apdd344cdd9d/web
3 www.theverge.com/21273768/section-230-explained-internet-speech-law-definition-guide-free-moderation
4 www.wsj.com/articles/amazon-and-giant-mall-operator-look-at-turning-sears-j-c-penney-stores-into-fulfillment-centers-11596992863
5 www.engadget.com/walmart-automated-fulfillment-centers-132500980.html
To read more from Sound & Communications, click here.