Digital communications in hospitals and healthcare facilities make for a better, safer patient experience.
Hospitals and other healthcare institutions have experienced a truly unprecedented surge in demand during the novel coronavirus (COVID-19) pandemic. In the last few months, many have not only continued to treat coronavirus patients but also had to shift operations and resources to proactively support national vaccination rollouts—in addition to still providing ongoing accident and emergency triage and outpatient services.
During the COVID-19 crisis, the requirements for communication technologies that help healthcare authorities and facilities adjust have grown exponentially. Track and trace systems via smartphone apps and the management of vaccination schedules for entire populations have relied on digital tools to enable better communication between healthcare services and the communities they serve. Amid ongoing social distancing requirements and other restrictions, many healthcare institutions are finding new ways to interact with visitors and patients through innovative IPTV and digital-signage technologies.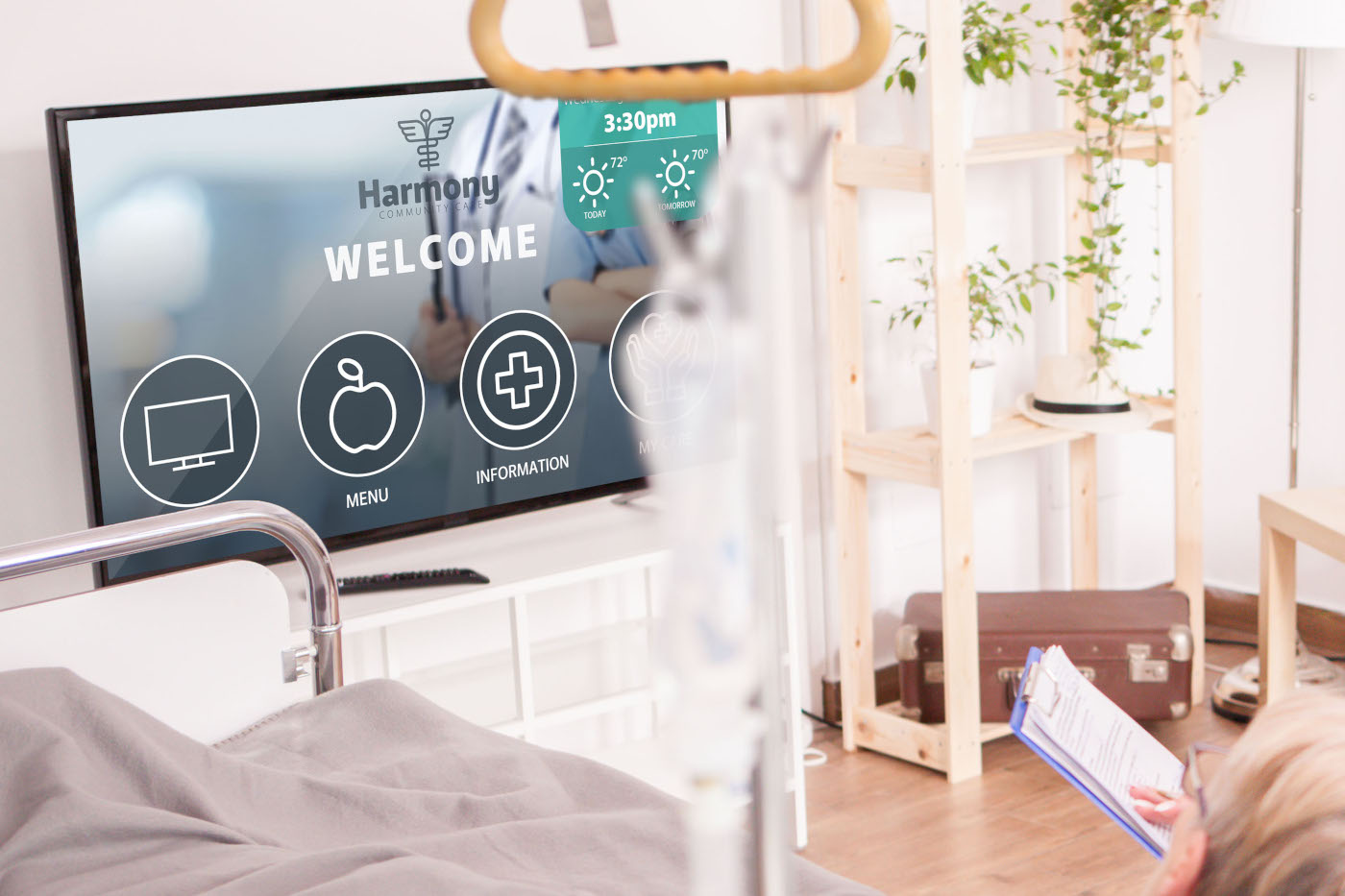 IP Video In Action
The need for and use of these innovative communication tools to help keep all personnel and onsite visitors informed efficiently has been a global phenomenon. For example, the TOBB University of Technology and Economics (ETÜ) Hospital in Ankara, Turkey has an IP video system in patient rooms, clinic waiting areas, visitor waiting rooms, and its onsite restaurants and cafes. The system facilitates the delivery of broadcast programming—including the news and educational material to 85 patient rooms, six public areas and 28 staff desktops. Staff can access prepared presentations and training videos from a desktop computer. This public- and staff-facing deployment allows all parties to stay abreast of the latest requirements and developments around the pandemic.
What more, digital-signage and IPTV systems can display health-related information in multiple languages or even through graphical representations—a powerful tool for hospitals dealing with culturally diverse populations.
Smart Communication With Dynamic Tools
In hospitals and clinics, digital signage can help improve the overall patient and visitor experience while minimizing interaction with staff. Their capabilities can include informing people where and how to begin the check-in process on arrival and host various other valuable messages, including visitation hours, where to line up, directions to departments and facilities such as vending machines and restrooms. In the age of COVID, hospitals can also employ digital signage to direct people to handwashing and sanitizer stations, as well as provide instructions on masks and distancing protocols.
Patients staying in hospital can also benefit from enhanced communication tools and TV entertainment. For example, at Qatar's state-of-the-art Hamad Medical Corporation (HMC), IPTV and digital-signage technologies help patients feel connected to the outside world. Deployed throughout the hospital and in individual patient rooms at the specialist Tertiary Communicable Disease Center, the IPTV system facilitates the delivery of 120 live and Video on Demand channels to inform, entertain and support the patients and guests while throughout a hospital stay. The digital-signage solution also enables the HMC to create, manage and display dynamic signage across a site, communicating important updates on COVID-19 safety compliance measures.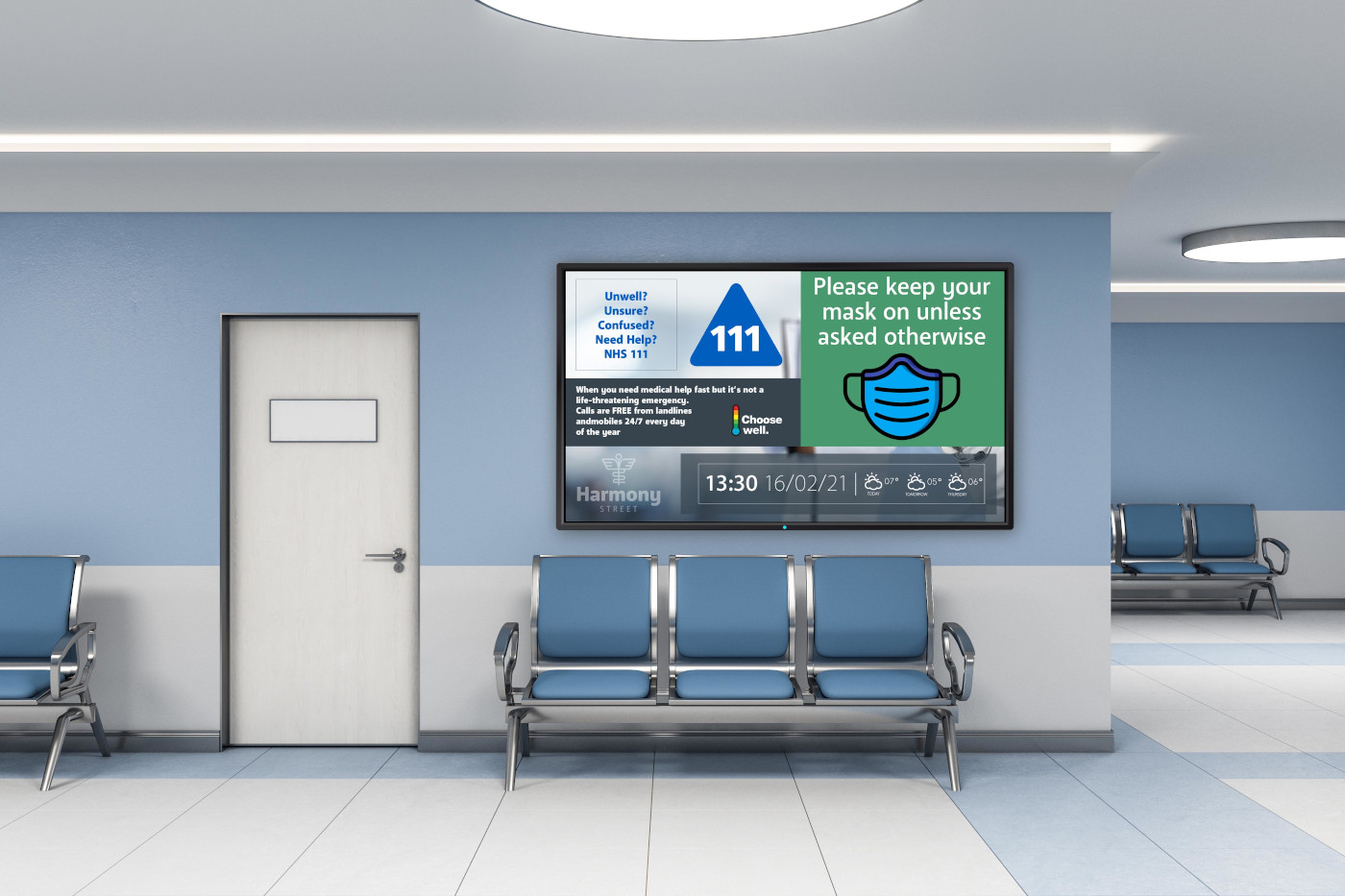 Technology That's Fit For Purpose
Digital signage and IP video can also help hospitals and healthcare facilities to overcome common communication hurdles for staff working within the healthcare environment. To get around issues such as static notice board updates or reliance on email, an increasing number of facilities use digital signage to efficiently update staff throughout large-scale facilities and across various locations. These displays can quickly distribute critical information like policy changes, patient information, staff rosters, operation schedules, ongoing training opportunities, human resources information and, perhaps most critically, patient-intake statuses.
A significant advantage of digital-signage solutions is that critical updates can be created dynamically and displayed on screens with little human intervention, ultimately saving healthcare professionals time and effort—and potentially saving lives during the pandemic. With the healthcare facilities operating at full capacity, digital signage and IP video have also been used to display necessary training and work protocols for staff, including instructions on cleaning communal equipment, new procedures for deliveries, and using cafeterias, kitchens and other facilities shared by frontline staff. Additional benefits of digital signage include adding more screens anywhere on the network easily and the ability to update signage screens remotely in real time. Vitally, they can also be used to trigger emergency alerts and related messaging across all hospital screens visible to staff.
Vigilance Is Key
Although vaccination programs are progressing worldwide, the prospect of a new variant changing circumstances, or another type of outbreak, is a real concern. As such, being prepared to quickly adapt to future challenges and communicate effectively to staff, patients, and others onsite will remain of critical importance—and remains high on the agenda of senior leaders throughout the healthcare sector.
To read more from Sound & Communications, click here.