In this Weekend Wire: University of Tampa students get an up-close look at Diamondview Studios' virtual LED set, Arista and DigiMap Projections form projection-mapping partnership, PSNI Global Alliance completes first virtual Supersummit, and Tokyo's Narita Airport tests facial recognition for international check-in.
Multimeter Readings
(A measure of current news.)
Arista Corporation Forms Projection-Mapping Partnership With DigiMap Projections
Arista Corporation and DigiMap Projections have formed a strategic partnership to address the challenges and misconceptions common in video projection-mapping technology.
Registration For cavlo 2021 Opens
Registration for the cavlo trade show opened last week.
PSNI Global Alliance Highlights Service And Support At Virtual Supersummit
PSNI Global Alliance recently completed its first virtual Supersummit by bringing its worldwide network together in an online experience.
Uplink Port
(Your connection to AV-relevant topics discussed online.)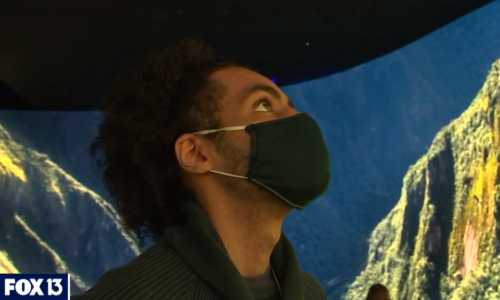 Students Get Experience In Virtual Production At Cutting-Edge Tampa Studio
Students from the University of Tampa are getting an up-close look at the future of virtual production: Diamondview Studios' LED volume-equipped set.
By FOX 13 News Staff
Source: Fox 13 Tampa Bay

Tokyo Narita Airport Begins Trialing Facial Recognition Boarding
Tokyo Narita Airport began trialing the use of facial recognition for international travelers. When rolled out in July, the system known as Face Express will allow passengers to register their passport and boarding pass at a self-check-in machine.
By Linnea Ahlgren
Source: Simple Flying
Integrator Essentials
(Industry resources vetted by our editorial staff.)
Integrated Systems Europe 2021
The essential destination for the AV channel and the end users that it serves. For the first time, ISE 2021 will also have a digital offering, enabling remote participation from anywhere in the world. Barcelona, Spain, Jun. 1-2; Munich, Germany, Jun. 8-9; London, England, Jun. 23-24; Amsterdam, Netherlands, Jun. 15-16. Enter the free registration code FAMQIKF0.
D=SIGN Power Hour: Queuing and Crowds by AVIXA and DSF
A rising focus on enhanced customer service is prompting verticals like hospitality and retail to study investments in interactive and LED screens, according to AVIXA's IOTA report. Get the latest on new trends, technologies, and applications for digital signage systems. Apr. 20, 1:00pm EDT.
Introduction: Stardraw Design 7.3 by Stardraw.com
This webinar introduces the Stardraw Design 7.3 design/documentation application and is ideal for those evaluating the software and new users who want to get up to speed quickly. Apr. 28, 12:00pm EDT.
Six Critical Room Video Decisions That Can Make Or Break Your UC Investment by Poly
This guide will help you explore the major categories and various approaches of in-room video conferencing solutions, including pros and cons and key considerations.
Click here to view previous editions of the Weekend Wire.
You can also receive this content, plus more, in email format by signing up for our Weekly Wire newsletter. It will arrive in your inbox on the first, second and third Wednesdays of each month. Click here to sign up!