Given the latest economic gyrations in tariff-torn business landscape, it would be sensible for your advisor to recommend something to stiffen your nerves. It turns out, however, that, these days, your doctor might be the one to ask for stock tips. Although the merger-and-acquisition (M&A) activity swirling around the tech and media sectors has been sucking up much of the oxygen in newsrooms lately, that same bustle has been kicking up dust around healthcare technology, as well. Nowhere is that more evident than with WellSky, a corporate portmanteau made up of a slew of equity-capital-funded acquisitions over the last several years. WellSky provides software for back-end services, such as billing and management, for hospitals, labs, nursing homes, rehabilitation centers and hospice facilities globally. In 2018 alone, the company acquired a half-dozen med-tech companies, with each move aimed at expanding its reach and digital-provider offerings. All this drove revenue to $260 million. (That number is expected to top $300 million this year.)
So as better to manage the more than 30 brands under its umbrella, WellSky this past summer moved its headquarters to a new, 66,000-square-foot corporate campus in Overland Park KS. From there, it will serve more than 10,000 customer sites worldwide. They encompass various types of healthcare, focusing on platforms such as home healthcare, scheduling, medication management and cellular therapy. Underlying everything, however, is a technology theme that relies as much on AV as it does on the software that is WellSky's bread and butter.
"At WellSky, we're using innovative technology to connect once-disparate care settings to ensure patients receive seamless quality care, regardless of how they transition during their care journeys," Bill Miller, CEO of WellSky, said in a statement. This underscores how the company views its mission: to be the connective tissue between medical technology and the community it's meant to serve.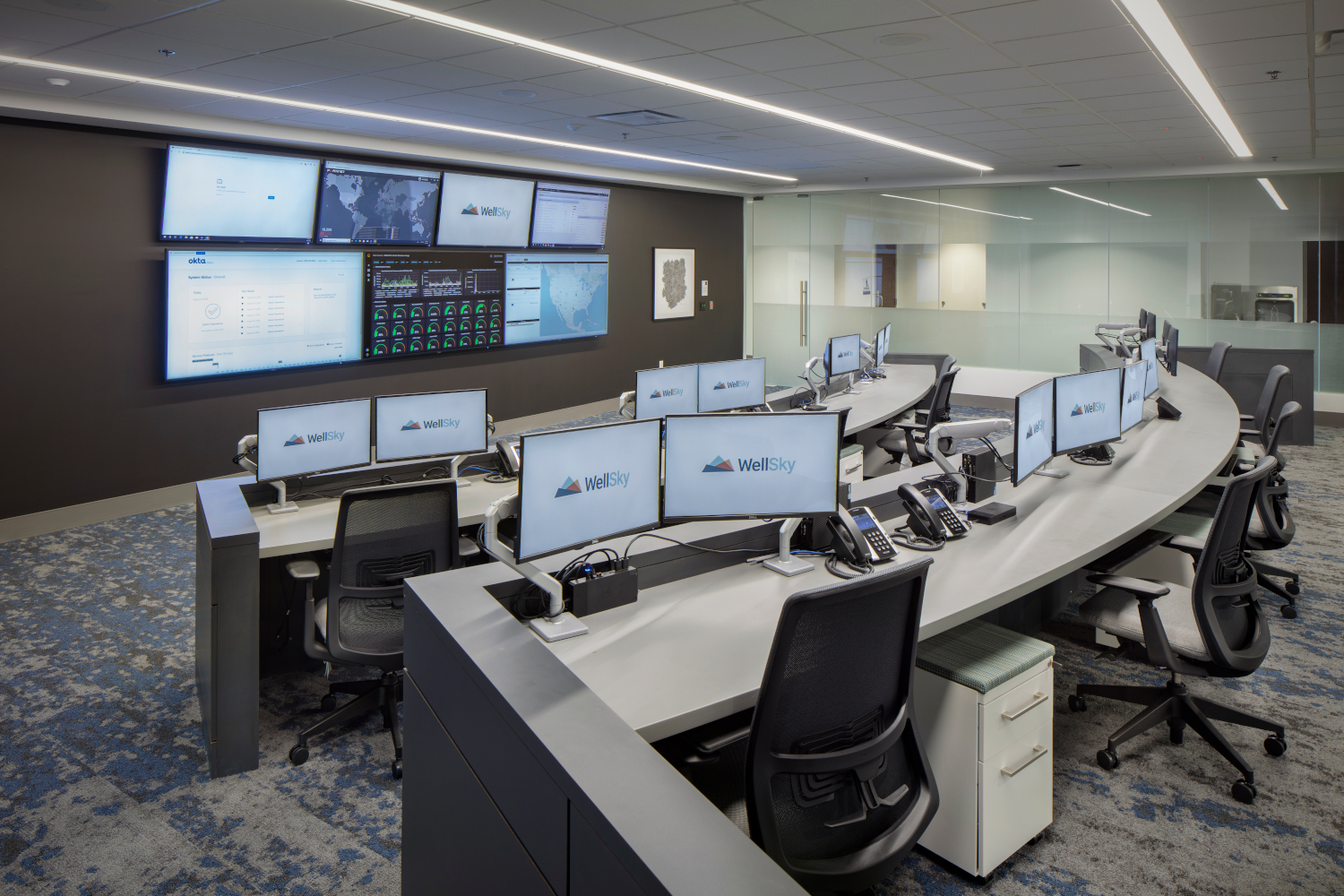 Zooming In
The overarching AV challenge for WellSky was how to scale a variety of conferencing-technology platforms across diverse meeting and working spaces. Making that happen was the challenge given to CCS Presentation Systems, the AV integrator hired for the job. "Because they're multi-site, they have dozens of meetings going on at any one time across their enterprise," Stan Nice, Senior System Designer and Engineering Manager for CCS' central states region office, said. "And most of those meetings are not face-to-face in person—they're face-to-face over Zoom." He continued, "So, if you walk through their hallways, you'll see people on desktop Zoom calls, people in conference-room Zoom calls [and] people in the auditorium on a Zoom call. Our goal was to make that experience the same in all those spaces. It required us [to take] on some new technology." The whole building is centered on the Q-SYS Ecosystem from QSC. "So," Nice added, "the simplest rooms run standalone, and then all the Zoom-enabled rooms are built around Q-SYS and have uniform interfaces."
Nice credited QSC with doing "the heavy lifting" on the integration of the Zoom codec by utilizing the Q-SYS Zoom Rooms control plugin. Because the entire Ecosystem was built on standard IT technologies, Q-SYS can easily connect to virtually any solution through its open application programming interface (API). "It was one of those projects where we were both headed on the same path, so we just had to make sure that the two solutions merged at the same time," Nice stated. "WellSky was already embedded with Zoom…across their enterprise prior to us coming onboard."
The scale of the WellSky project required some adaptation, though. Nice said the original Zoom desktop codec had already been updated for remote and collaborative applications in the form of the Zoom Room codec, which extends connectivity to mobile devices. However, he said, this project required yet more flexibility. "The Zoom iPad interface is the way a Zoom Room is intended to operate, and it's a great solution," Nice commented. "We implemented it exactly that way in the CEO's office and the executive conference room, because those are both small spaces that are appropriate for the mobile iteration." He continued, "But when you get to the [larger spaces like the] auditorium and the divisible-classroom environments, we suddenly have the need to do additional room and microphone routing control that [you can't do] directly in Zoom. So, I'm asking, 'How do we do this?' because the Zoom Room experience isn't intended to support big rooms."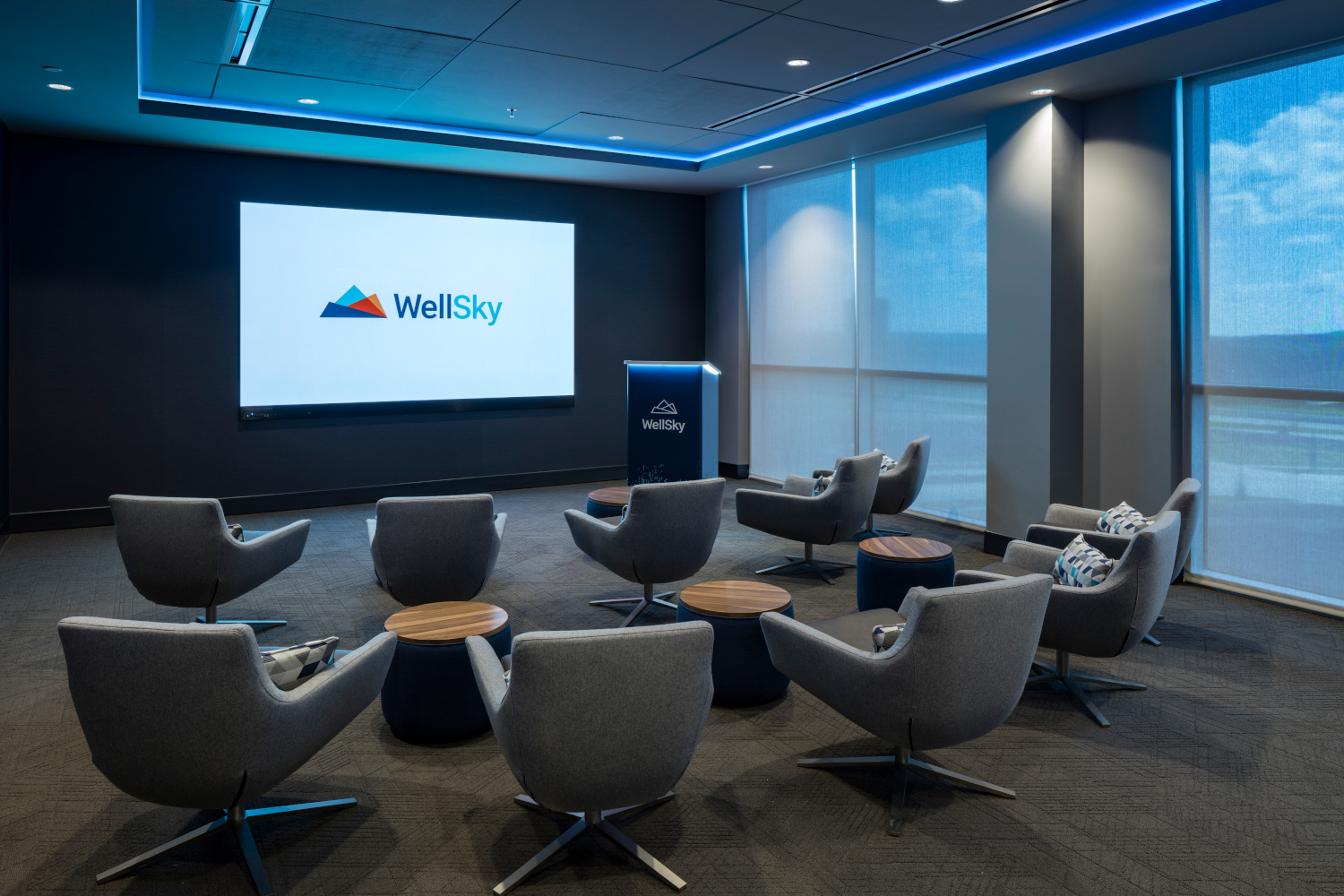 For instance, Nice said, in the divisible training room, it was necessary to have the capability to have two concurrent Zoom sessions—or, alternatively, to be able to make one room the master and use the whole space for a single call. This would entail routing audio (in this case, Dante-enabled Shure MXA Series table and ceiling arrays, as well as handheld microphones and speakers) and video (signal to the 65-inch and 75-inch Samsung LCDs, as well as the PTZ camera control). The challenge was that the QSC Q-SYS PTZ conference cameras are IP based, whereas the Zoom app is looking for a USB connection.
"The challenge was to bring that networked camera and audio into Zoom as a recognizable source…which would usually [come in via] USB connections," he said, preparing to launch into a detailed explanation. He explained that a traditional Zoom Room is a USB camera, USB microphone and loudspeaker that are typically connected to a small PC tied to a display. In essence, it's USB peripherals attached to a computer. This setup works well in a small environment, but, when dealing with larger spaces, where you need additional microphones (for example, a Shure MXA910 ceiling array mic), you must have a way to convert its Dante output into USB audio. That's where Q-SYS comes in. Because the Q-SYS Ecosystem supports Dante, the Q-SYS audio and conference-camera feeds could be presented to the PC as a camera and a speakerphone, via a Q-SYS I/O-USB Bridge.
According to Nice, "It does the same thing with audio…allows us to use that same USB connector, which is fantastic, and presents [itself] as a USB speakerphone to the computer." By adding a Dante I/O card to the Q-SYS Core 510 Integrated processor, he explained, the integrator was able to stream Dante audio in and out of the system, supporting Shure microphones, Clockaudio microphones and Visionary Solutions network audio amplifiers. The Zoom Room PC, he said, is unaware of the processing and audio streaming between the Q-SYS Core and the amplifier. The PC doesn't have to know that the room has 14-foot ceilings and that it can seat 200 people. The Zoom Room PC merely knows "I have a speakerphone attached to me." Nice elaborated further, saying, "We then handle all the audio processing in the Q-SYS Core and present it the appropriate signals. It's a huge deviation from the tradition of AV because, now, we're dealing entirely in an IT space. All the normal AV things have to happen, but then, instead of dealing with the back end as AV with analog microphones and HDMI into a big, fixed-frame switcher, we're taking every source, converting it to a stream and manipulating it at the IP level."
Visionary Solutions' contributions were important to the system's success. Its 4K ultra-HD-over-IP encoders and decoders were used extensively. The company produced a plugin for the Q-SYS Ecosystem to enable control on the touchscreen, including source selection and preview images.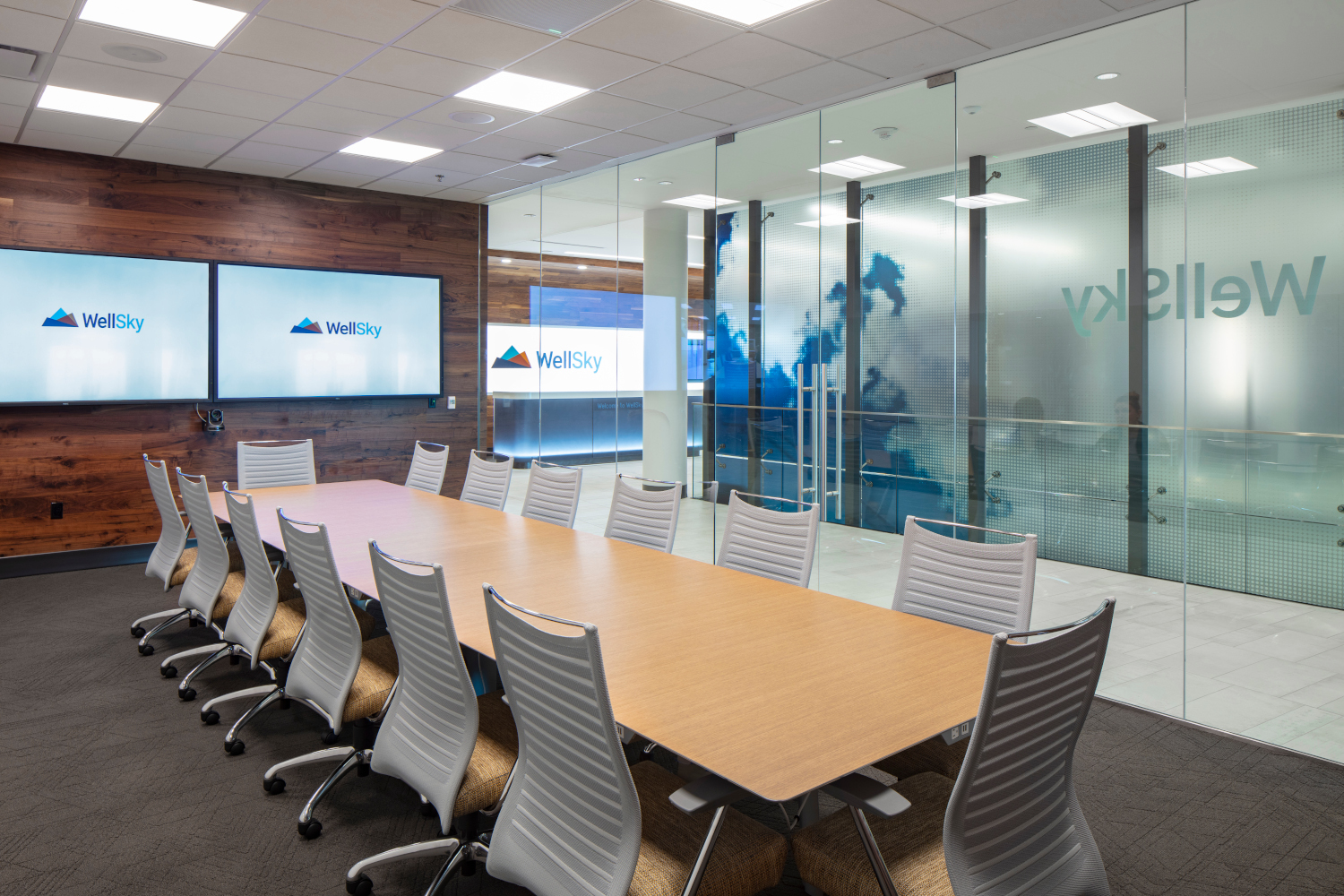 Floor By Floor
The main floor houses a 200-seat auditorium, as well as the divisible training/conference space, two small conference rooms, a cafeteria and a fitness center. The auditorium's video features two laser projectors, two motorized screens, Zoom videoconferencing, two Q-SYS PTZ-IP conference cameras and two Samsung 75-inch confidence monitors on the back wall. Audio consists of four zones of QSC AcousticDesign ceiling-mounted loudspeakers (4.5-inch and 6.5-inch models), six Shure MXA910 ceiling-microphone arrays and eight wireless mics (four handhelds and four lavaliers). Although the audio and control systems were routine, Nice said that integrating the Zoom Room videoconferencing technology illustrated the overall project's main challenge.
The training space comes with an AV package that includes a 98-inch display and two 65-inch displays as confidence monitors, two Shure MXA910s on the ceiling (one on each side of the space, as well as a wireless handheld microphone and a lapel mic), a Q-SYS conference camera in the back of the room, a Zoom Room computer for each room and Barco ClickShare for content presentation. Its original AV design was somewhat different, however.
"This room was originally [specified] with [a motorized] screen that would come down over the windows, but the clients specifically told us they didn't like projection," Nice recalled. "So, we looked at the space and [we saw] the size was appropriate to put an NEC 98-inch display on the front wall, which would also address any ambient-light issues." He continued, "[Using] the large-format LCD instead of projection allowed us to match the ambient light in the room and keep this as a bright, open room instead turning it into a dark, closed-off training room."
Nice added that control of the Samsung displays and Barco ClickShare application that make up the AV package for that floor's small meeting rooms are both managed through those manufacturers' server applications. "That's typical of every Samsung TV in the building and every ClickShare in the building," he said. And those Samsung displays come with their own digitalsignage feature built in. CCS' technicians took advantage of that by loading MagicINFO digital-signage software and a WellSky informational video loop that runs until the room senses users have entered; at that point, ClickShare automatically pops open. "In any modern office today, we have glass walls pretty much outside every conference room," Nice said. "Black TVs are ugly, and they make the CEOs go crazy. So, the easy solution is to make those into digital signage."
The third floor has the building's network operations center (NOC), along with a large videoconference room and a handful of small conference rooms. (The second floor has not yet been built out.) The NOC, which manages all the facility's AV and its content, has three 75-inch and four 55-inch NEC displays in it, arranged with the four smaller screens on top of the three larger screens. Video is switched and routed using Visionary Solutions' encoders and decoders, with Q-SYS as the control and audio platform. Like the rest of the offices, it's wired with Cat6 cabling, with gigabit Ethernet fed back to NETGEAR switches. Nice said the shorter wiring runs of a vertical campus meant the team could stick with copper cabling.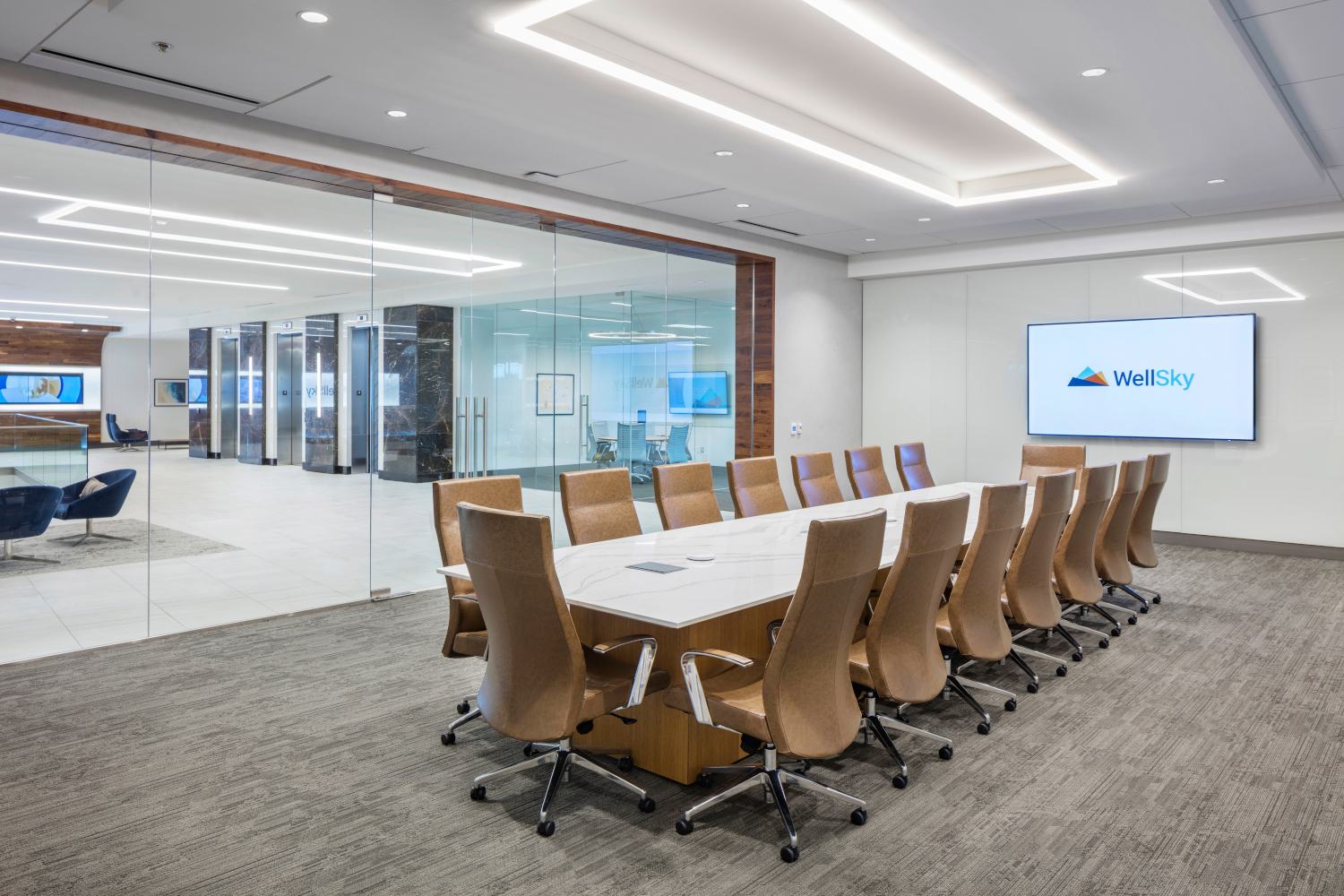 Executive Space
The fourth floor houses the executive area, with a large videoconference room, a boardroom and the client experience center. The white Shure MX310 microphones lined up on the marble-topped boardroom table are tied into the Zoom system through the Q-SYS Ecosystem, as is the Barco ClickShare and the 98-inch NEC display surrounded by glass marker board at one end of the room. Despite the abundant hard, reflective surfaces, Nice said the room did not require any acoustical treatment. That is due to Q-SYS processing, which keeps the sound off those surfaces and on the seats, and good gain-structure management, including automatic gain control (AGC) and acoustic echo cancellation (AEC) via the QSC Core processor.
"We would all cringe walking into that room, saying, 'We're going to put a conference system in here?'" Nice recalled. "But just by applying the science in the way that it needs to be applied, the problems were solved and it looks great." (Acoustical treatment is minimal throughout the project, although sound masking, using more than 100 Biamp/Cambridge Sound Management active emitters, is used throughout the offices and the corridors between them.)
One other slight hiccup for that room that had to be overcome was the fact that the architect, when told an LCD screen would be installed on the glass marker wall, simply drew one on the blueprints. However, Nice emphasized, "You can't drill through the glass to put up a TV mount. You have to have the glass precut to go around the TV mount. That required careful coordination with the architect and the builder to make sure we still had enough space to install the mount while keeping the overall look of the glass walls."
The client experience center, also known more prosaically as the demo room, is designed to let WellSky's engineers interact with their clients and prospective clients in order to fine-tune software solutions. Thus, it has the most unique piece of AV in the office: a Primeview 138-inch all-in-one slim seamless LED TV. It also has a custom lectern fitted with an HDMI input and an eight-inch QSC network touchpanel to control the room's ClickShare system. The room, which can seat up to 10, is designed to be both hip and informal; it has kind of a "Mad Men" 1960s-airport-lounge aesthetic, complemented by cool blue recessed ceiling lighting.
"It's intended for WellSky staff to show off their software products," Nice said. "So, getting a very large display that everyone could see was important. The challenge was, in order to do that, they needed something bigger than a 98-inch LCD—but they really didn't want projection." He explained further, saying, "Their concern was that a video projector would feel tired in a few years, which is a fairly common sentiment that we hear. So, we threw out this idea of a direct-view LED with a 1.5mm pixel pitch—very, very high resolution on a full-HD display. We had just finished another project with the direct-view LED, and we were able to confirm that the AVIXA viewing-distance math still works in the direct-view LED space. So, we went in with confidence that we could say these seats are going to be in a great position to view this image."
Motorized sunscreens cover the window wall on the east side of the room, but, according to Nice, they're less about dimming ambient light and more about keeping the intense Kansas morning sun at bay. "The views are amazing," he said, then added, "Well, in Kansas, you can see forever."
The individual executives' offices have a specific videoconferencing assembly. "Instead of installing full videoconference packages for every office, we opted for a Logitech Meetup, which is a camera/speakerphone combination that hangs underneath the TV, and a WyreStorm USB and HDMI extender to bring the HDMI and USB back to the docking station for the executive in their office," he explained. "So, they get all the benefits of having a videoconference room at each office's four-person table, but without the [added] complexity of an additional system in their room. Basically, they can pull up Zoom on their laptop and it's there and running."
The new headquarters' opening, which took place in July, was an event attended by the mayor of Overland Park and other civic leaders. But it was also a moment that captured the deepening intersection of healthcare, technology and business. Tailoring workflows to meet the requirements of all those stakeholders is AV's big challenge in the 21st century. CCS seems to have figured out the formula, though. Nice summed things up fittingly, saying, "I believe we accomplished all of our goals and produced a solution that not only fits their corporate culture, but [that also] will be serviceable into the future."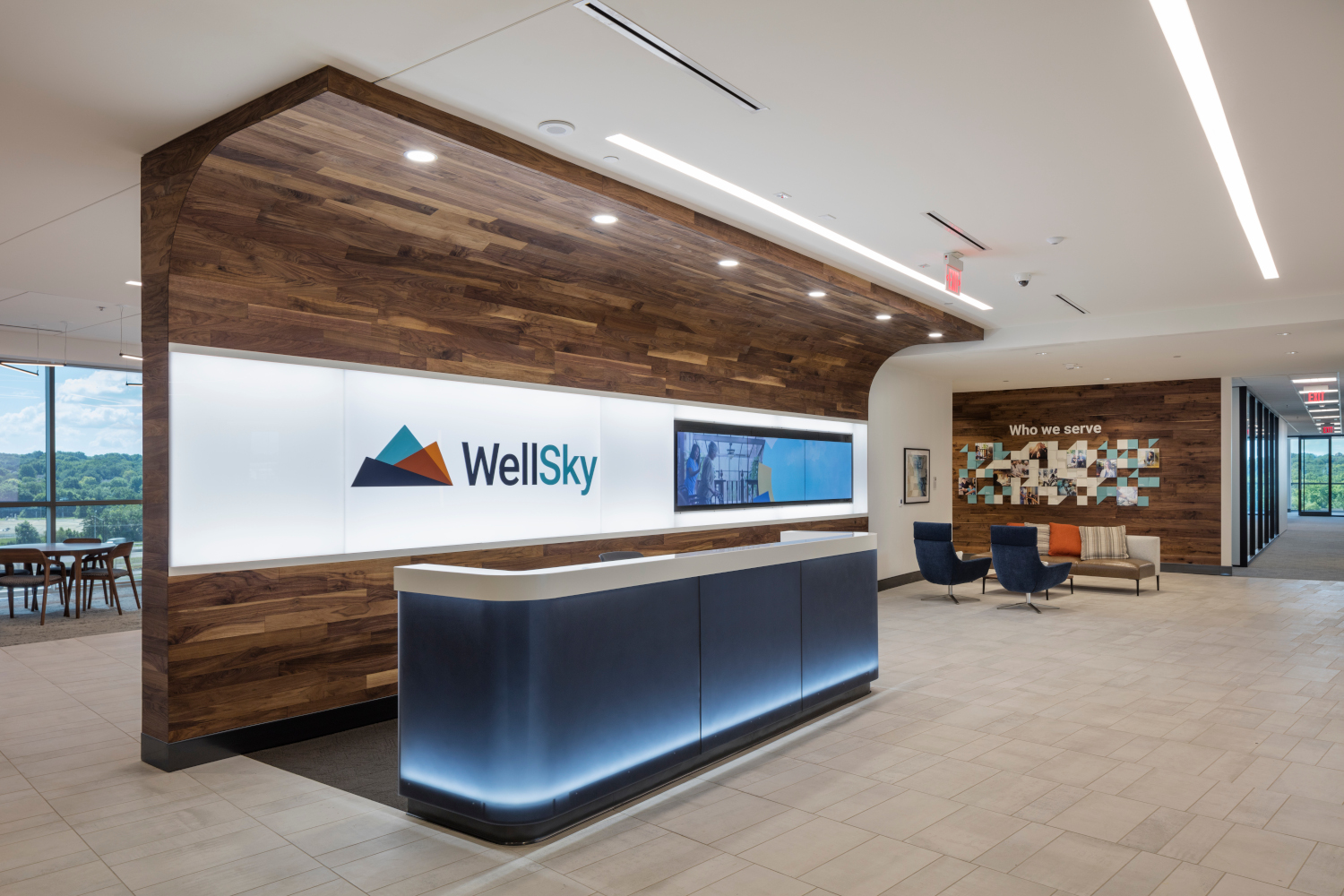 EQUIPMENT
2 Apple 9.7″ iPads
36 Barco ClickShare CSE-200+ wireless collaboration solutions
4 Biamp/Cambridge Sound Management E-P-B-16-4 adjustable black Qt active emitter
4 packs w/4×16′ plenum-rated cables
124 Biamp/Cambridge Sound Management E-P-W-16-4 adjustable white Qt active emitter
4 packs w/4×16′ plenum-rated cables
20 Biamp/Cambridge Sound Management PI-AE active emitter power injectors
7 Biamp/Cambridge Sound Management PS-AE-3 active emitter power supplies
1 Biamp/Cambridge Sound Management Qt 300 sound-masking control module
2 Biamp/Cambridge Sound Management Qt 600 sound-masking control modules
3 Biamp/Cambridge Sound Management RM-QT rackmount brackets for Qt 300 and Qt 600s
4 BrightSign LS424 standard I/O players
2 Chief FCA811 Fusion 14″ above/below shelves for XL displays
3 Chief LTM1U large Fusion micro-adjustable tilt wall mounts
25 Chief MTM1U medium Fusion micro-adjustable tilt wall mounts
52 Chief PAC526 large in-wall storage boxes
2 Chief SYSAUW suspended ceiling projector systems (white)
10 Chief TS325TU medium THINSTALL dual swing arm wall display mounts
13 Chief XSM1U X-large Fusion micro-adjustable fixed wall display mounts
10 Chief XTM1U X-large Fusion micro-adjustable tilt wall mounts
2 Clockaudio C303-D-P-UDP PoE Dante and AES67 tri-element array hanging condenser mics
4 Covid D1114P-BK Decora, HDMI pigtails (female, black)
3 Covid D1114P-W Decora, HDMI pigtails (female, white)
2 Da-Lite 21797LS tensioned Advantage Electrol recessed projector screens (133″ diagonal)
18 Evoko ERM2001 Liso Room Managers w/8″ touch displays, RJ45, PoE
1 FSR T6-LB-AC2CH large bracket for RT6 and T6 boxes w/2 AC outlets and 2 USB chargers
1 FSR T6-LB-CP T6 large section bracket for cable pull
1 FSR T6-SB-3SS T6 small section bracket for 3 snap-in connectors
1 FSR T6-SQBLK 6″ table box w/square black cover and no mounting brackets
2 Heckler Design H523 Zoom Rooms consoles for 9.7″ 6th-gen iPads
2 Heckler Design T267 gigabit + PoE adapters for iPad
10 Intel NUC7i5DNKE NUC mini PC kits
11 Logitech 960-001101 MeetUp all-in-one ConferenceCams
2 Lowell LWBR-4032 wall racks w/bases
2 Lowell RRD-40 rack rails, 40 rack units, 1 pair
2 Lowell UDE-214 utility drawers, 2 rack units, 14.5″ deep (black)
2 Maxell MPWU5603 laser-light-source 3LCD projectors w/6,000 lumens
4 NEC C551 55″ thin-depth commercial displays
3 NEC C751Q 75″ ultra-HD commercial displays
3 NEC C981Q 98″ ultra-HD commercial displays
4 NETGEAR GSM4352PA-100NES 48-port fully managed switches
1 Primeview PRVLEDFSNM138 138″ all-in-one slim seamless LED TV
28 QSC AD-C4T-WH 4.5″, 2-way, 150° conical DMT ceiling speakers (white)
10 QSC AD-C6T-BLACK 6.5″, 2-way, 135° conical DMT ceiling speakers (black)
56 QSC AD-C6T-WH 6.5″, 2-way, 135° conical DMT ceiling speakers (white)
3 QSC CDN64 Dante audio bridge cards
3 QSC CIML4 mic/line analog input cards
3 QSC COL4 analog line output cards
3 QSC Core 510i Q-SYS integrated core processors
3 QSC CXD8.4Q 8-channel 500W network amps
9 QSC I/O-USB Bridge AV-to-USB bridging endpoints
8 QSC PTZ 12×72 PTZ-IP conference cameras (20x optical zoom, 60° horizontal field of view)
1 QSC PTZ 20×60 PTZ-IP conference camera (12x optical zoom, 72° horizontal field of view)
3 QSC SL-QSE-510-P Q-SYS Core 510 scripting engine software licenses
3 QSC SL-QUD-510-P Q-SYS Core 510 UCI deployment software licenses
10 QSC TSC-80TW-G2-BK 8″ tabletop system controllers
23 Samsung QB55R edge-lit 4K ultra-HD LED displays for business
28 Samsung QB65N edge-lit 4K ultra-HD LED displays for business
2 Samsung QB75N edge-lit 4K ultra-HD LED displays for business
2 Shure Microflex Advance MXA310B table array mics (black)
3 Shure Microflex Advance MXA310W table array mics (white)
6 Shure MX150B/O-TQG omnidirectional 5mm subminiature lavalier mics, TQG for Shure bodypacks (black)
9 Shure MXA910 ceiling array mics w/IntelliMix
6 Shure MXW1/O-Z10 Microflex wireless bodypack transmitters w/integrated omni mics
6 Shure MXW2/SM86 handheld transmitters w/SM86 capsules
2 Shure MXWAPT2 access point transceivers
1 Shure MXWAPT8-Z10 8-channel access point transceiver
2 Shure MXWNCS2 2-channel networked charging stations
1 Shure MXWNCS8 8-port networked charging station
39 Visionary Solutions D4100 4K ultra-HD-over-IP network decoders
46 Visionary Solutions E4100 4K ultra-HD-over-IP network encoders
2 Visionary Solutions PNA-D4 PacketAV Series Dante/AES67 PoE+ 4-channel class-D network audio amps
8 WyreStorm EX-100-4K-PRO HDBaseT 2.0 4K transmitter and receiver kits w/USB, HDCP 2.2
7 WyreStorm EX-70-H2 HDBaseT 4K extender kits w/IR, RS232 and PoH, HDCP 2.2 (230′)
9 ZeeVee ZVSYNC-NA HD digital tuners/decoders
List is edited from information supplied by CCS Presentation Systems.