The Steven Tanger Center for the Performing Arts delivers a top-tier technology experience.
All photos taken by Joey Kirkman.
When the novel coronavirus (COVID-19) pandemic finally recedes, the new Steven Tanger Center for the Performing Arts, located in downtown Greensboro NC, will be ready, boasting its imposing array of audio and video systems. A member of a challenged cohort of live-performance venues finished just as an especially virulent outbreak shut down live performances and events, the Tanger Center nonetheless will serve a city that has high expectations of it. Indeed, longtime local-news personality Neill McNeill described the new venue as "the most anticipated and significant major construction project in downtown Greensboro in our lifetimes." Wow!
The new performing-arts center will have its work cut out for it. The $91-million, 3,023-seat venue had been projected to host about 150 events per year, as well as Broadway shows, other theatrical productions and concerts by its resident Greensboro Symphony Orchestra. (Sadly, the pandemic quashed its scheduled opening weekend in March, which would have included the trifecta of Josh Groban, Tony Bennett and Jay Leno.) Fortunately, a veteran team that has helmed previous performing-arts and events venues in the city manages the venue, and a group of AV specialists with well-respected résumés in the industry put all the pieces together.
Key collaborators on this project were as follows: ArchKey Technologies, formerly known as Parsons Electric and which is the integrator for venues including US Bank Stadium (home of the Minnesota Vikings) and the Chase Center (home of the Golden State Warriors); SE Systems, which has done AV for Bank of America Stadium (home of the Carolina Panthers) and the Belk Theater at Blumenthal Performing Arts Center in Charlotte NC; and Daktronics, which has put large videowalls into the Hale Theatre in Gilbert AZ and Busch Stadium (home of the St. Louis Cardinals).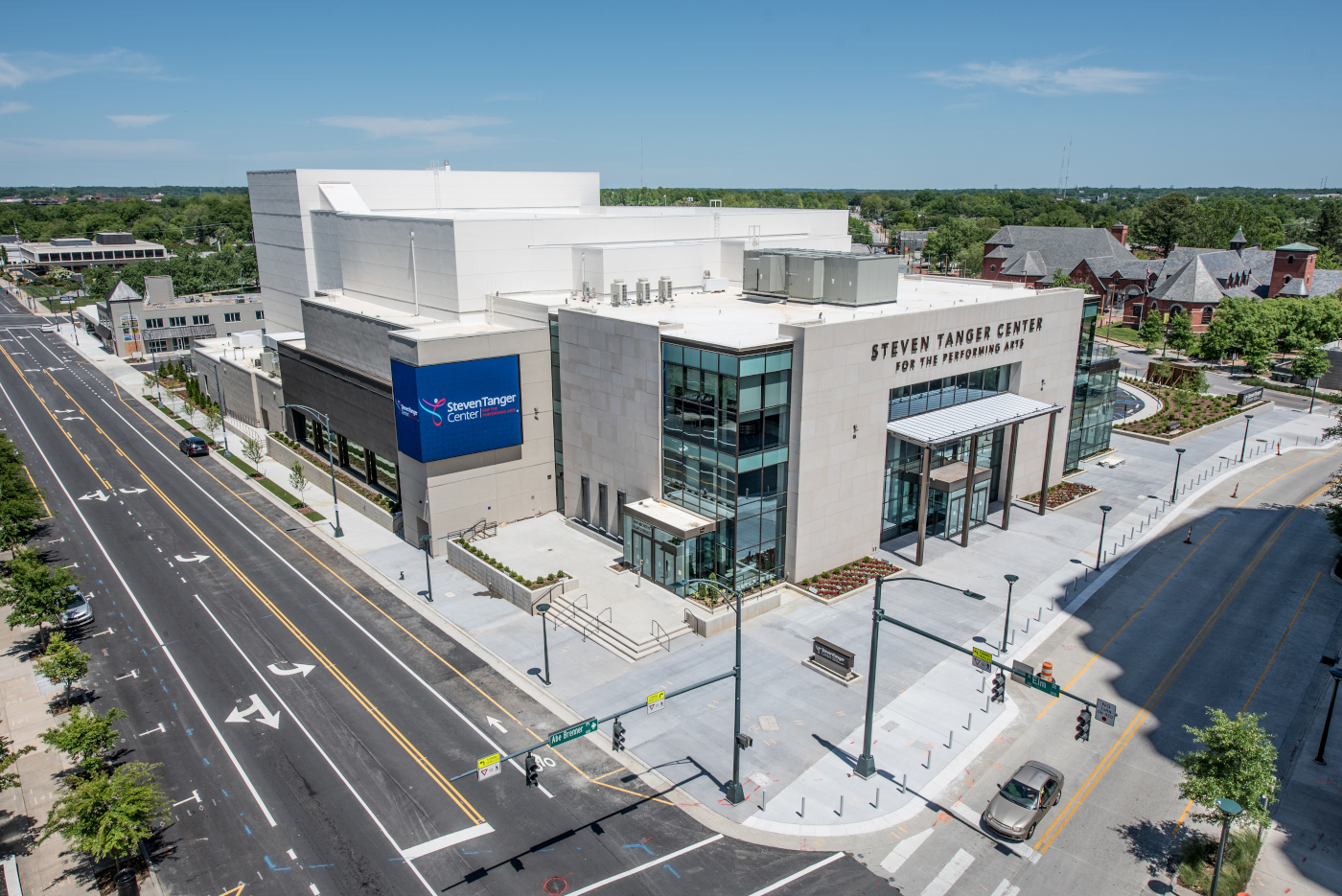 Working Together
ArchKey Technologies served as the main AV integrator, its scope including both front-of-house (FOH) and back-of-house (BOH) audio and video. Sound in the main hall comes from a d&b audiotechnik V-Series line-array system, configured as a leftcenter-right (L-C-R) array over the stage. There is just a smattering of d&b E8 speakers for under-balcony fill, as well as to cover a few balcony wing seats in the shadow of part of the lighting rig.
ArchKey Technologies also ran all the extensive tie-line infrastructure that connects the audio systems to a pair of DiGiCo SD12 consoles that serves as FOH and monitor mixers, as well as to a DiGiCo SD11 console in the control room at the rear of the hall that can mix the venue's sound when the space is used for events other than concerts or shows. (This allows for the FOH console's removal and the addition of seats.) Tie lines also reach to JBL CBT 70J-1 columnar arrays that distribute performance sound and prerecorded audio to areas that include the lobby and an outdoor patio area; these spaces are available for use for non-performance events and other rentals.
"What really characterizes this project is the level of collaboration that took place during it," Erik Carlson, Construction Executive, Sports & Entertainment, at ArchKey Technologies, declared. "And what made the collaboration interesting was that it was across all the key players"—this included theatrical consulting firm Arup, which the city hired—"and it involved a considerable number of product and design changes as we went along." Carlson elaborated further, saying, "For instance, the quantity of cabling and where it was running…. We installed fiber tie lines between the Tanger Center and a city-owned amphitheater across the street. We weren't just following plans—we were manipulating designs as we went along in order to give the venue the greatest degree of flexibility possible. Not just for its own productions, [either,] but also for when touring shows come in and want to use much of their own equipment, which will need to interface with the installed AV systems."
The main sound system serves as an example of inter-company collaboration. Alaun Peterson, ArchKey Technology's Project Engineer, explained that, although the d&b house sound system and a Meyer Sound Constellation Acoustic System that SE Systems installed are completely separate and independent of each other, the two integrators collaborated closely during main-system installation. For instance, Peterson pointed out that SE Systems engineers suggested positioning the 10 flown d&b subwoofers in the center of the L-C-R array.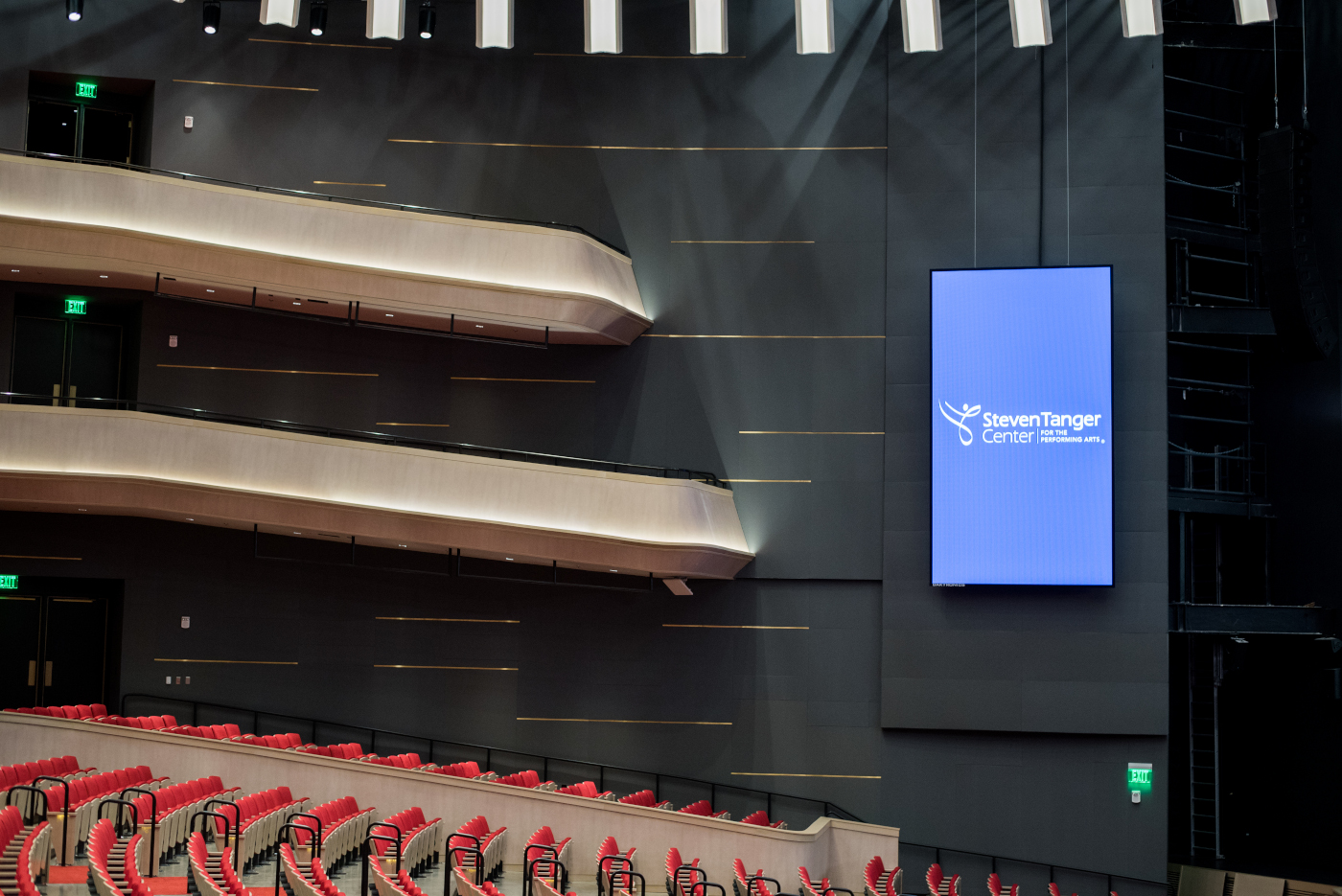 "Usually, you'll have the subs flown left and right with the main arrays," Peterson explained. "But this arrangement—putting the subs nearer to the ceiling in the center—gives the room a more consistent low-frequency response, without the cancellations and nulls that a left–right configuration can cause in a room like this. It adds somewhat to the rigging costs, but the increase in sound quality is more than worth it."
In addition, the team replaced two d&b J-INFRA subs and two J-SUBs with the new SL-SUB models from d&b. Yet another design feature of the sound system is the use of motorized winches instead of chain hoists. Peterson pointed out that these allow rapid removal onto custom wheeled carts and redeployment of the main speaker arrays when visiting shows choose to use their own touring systems. Moreover, this system ensures the arrays are repositioned exactly so as to maintain proper seating coverage.
Returning to the consoles mentioned earlier, there is a DiGiCo SD12 positioned at FOH and another for monitors. These sit on an OPTOCORE loop network, along with an SD-Rack core for those consoles and the SD11 mixer in the rear control booth. Cabling and multipin connectors are also provided at FOH in a floor pocket, thus allowing touring companies to bring in their own consoles and giving them plug-and-play simplicity. All the tie lines between the stage, the FOH mix position and the control booth connect to the orchestra pit, which can rise vertically eight feet to the stage level. A StarTech KVM switch was included in the control room so that an operator can use a regular monitor, keyboard and mouse for system control from a seated position.
Matt Brown, Managing Director of the Tanger Center and the Greensboro Coliseum Complex entertainment and sports campus, was looking for more than just a group of vendors for the new hall's AV systems; Brown was looking for a well-matched group that could work as well together as each one did individually. SE Systems, which installed the Meyer Sound Constellation Acoustic System in the Tanger Center, has worked with the city of Greensboro over nearly a quarter century for sound systems at Coliseum-affiliated venues. Indeed, the relationship goes back to a sound system that SE Systems installed in 1996.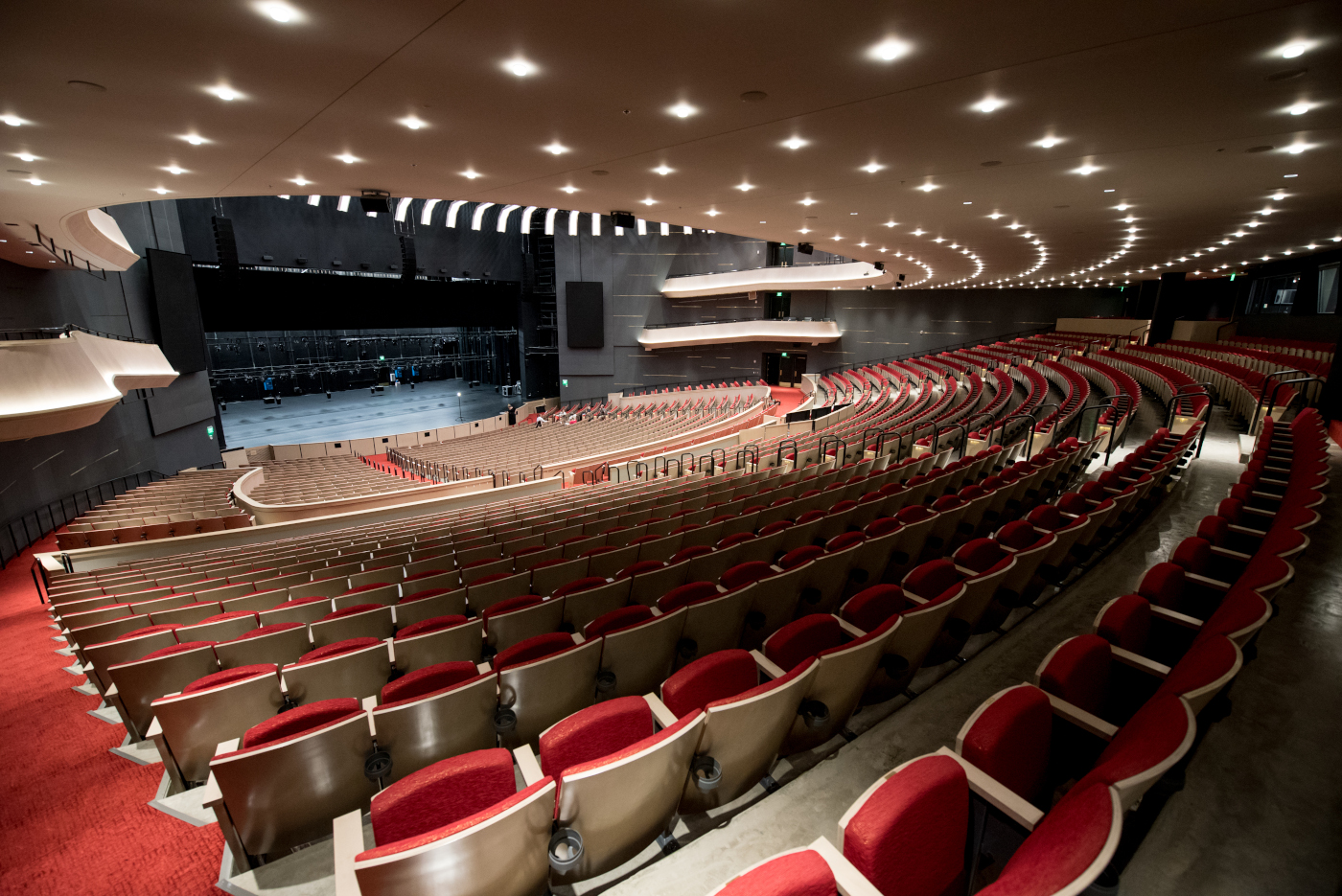 A Useful Synergy
SE Systems first collaborated with ArchKey Technologies (then known as Parsons Electric) on a project that put a new sound system into Bank of America Stadium in 2014, having specified and installed Meyer Sound CAL speakers in a distributed system for the venue's upper deck. Brown felt that the previous collaboration between the two integrators would create a useful synergy for the Tanger Center. "The people in the two companies are familiar with each other, and that made having them work together with us an enjoyable experience," he affirmed. Also notable is that SE Systems will operate the sound systems during a transition period, during which time the team will train the new venue's staff.
According to Brown, the two sound systems—an installed, touring-grade house system for concerts and theatrical shows and an electro-acoustical system for the Tanger Center's resident Greensboro Symphony Orchestra and other acoustical performances—represent a combination that will be a template for performing-arts centers in a highly competitive landscape after COVID-19. It seems inevitable that venues will have to be as comprehensive and flexible as possible to steel themselves for what might be a pent-up tsunami of demand for shows and performances.
"Audio and video are the main components of necessity for performing-arts centers now, and this combination we have here will be a model for the future of those venues [when] touring and performances return," Brown predicted. He noted that the Tanger Center, in the middle of the region's hospitality-and-entertainment market, had achieved the largest advance-sales figure for a new performing-arts center in the US. Backed by a partnership with Broadway powerhouse the Nederlander Organization and Professional Facilities Management, Inc. (PFM), the Tanger Center and its installed systems will be near the top of touring acts' list when live performances return, Brown declared.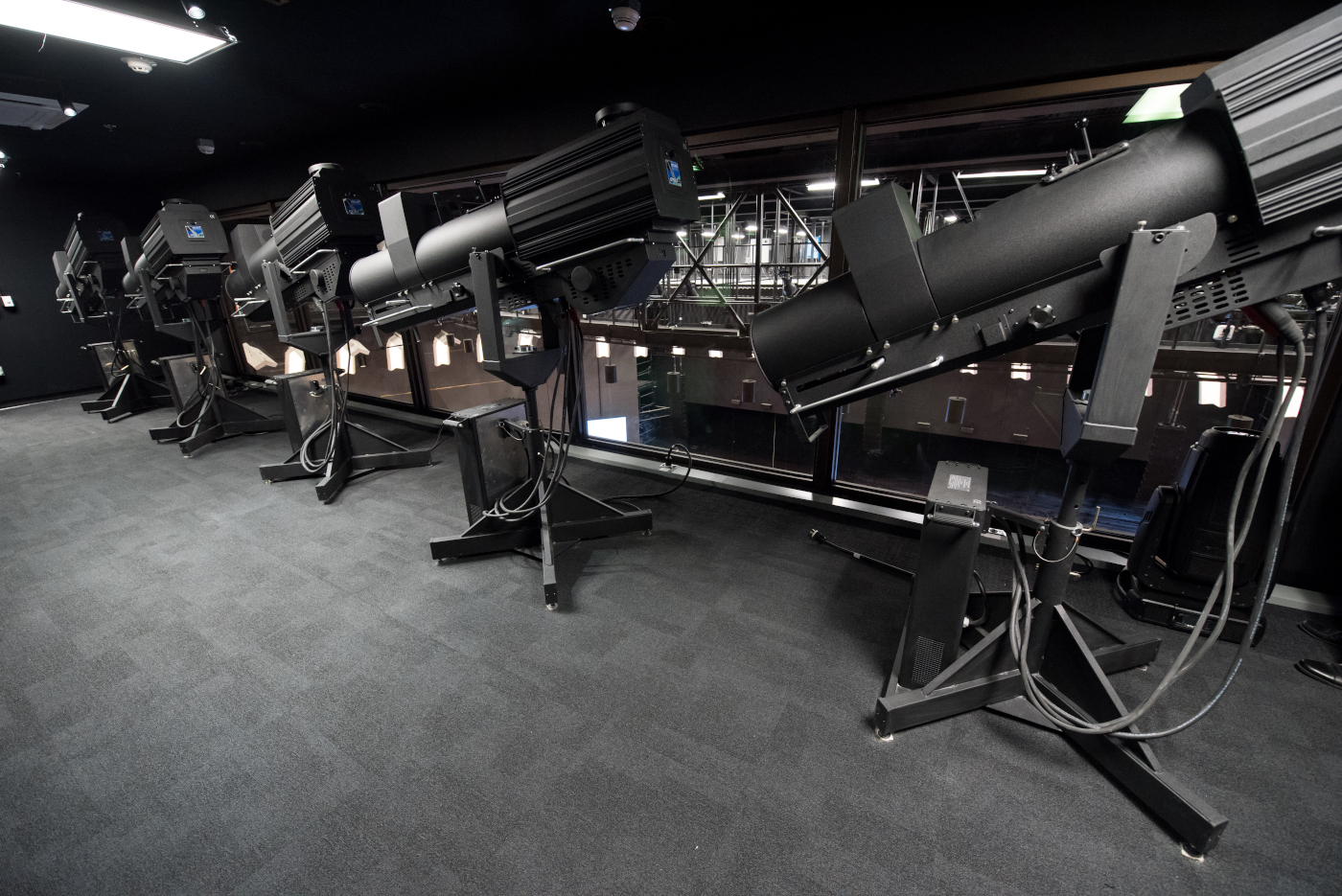 More Changes
Another seemingly small, although quite significant, change to the original system design—this one was arrived at between ArchKey Technologies, SE Systems, Arup and the city's engineers—was the decision to repurpose the QSC Core 110f Q-SYS unified cores to be used for digital signal processing (DSP) only; the team allocated one as the primary and a second as a backup. This reflects the growing IT-centricity of AV integration overall.
According to Peterson, "The paging and production systems [use] the same DSP, simplifying control and monitoring, and I/O frames handle the inputs and outputs." He continued, "Paging amplifiers are changed to network amps, with inputs being fed over the network. The audio patch panel and amplifier-input cabling are no longer needed [because] connections are over the network." Peterson noted that all QSC Q-SYS equipment utilizes two local area networks (LANs)—LAN A and LAN B—to create redundancy. Additional network switches are included for further redundancy.
A similar change took place with the previously discussed audio consoles. These called for providing 48 dedicated mic inputs on the SD12 at FOH, in addition to the existing mic tie lines in the AV panels, Peterson explained. The stage inputs connect over a single shielded Cat6 cable. Two of the LAN tie lines in the AV-F stage panels are repurposed for use with DiGiCo A164 WALL LCD I/O expanders to provide 16 mic inputs and four mic outputs at each location.
Naturally, the system allows for audio distribution and mixing audio in other locations within the building—for example, the outdoor veranda that overlooks LeBauer Park, the Lee & Wrangler Lounge, the Koury Family Grandview Room and the Brady Services suite. A total of 260 QSC 6.5-inch ceiling and pendant speakers, managed by a Q-SYS processor (which also manages the DiGiCo router), comprise a distributed background-music (BGM) and paging sound system that extends through the lobby, halls and other indoor areas. A DiGiCo 4REA4 mixing engine handles these mixes and sends AES feeds to the various array amplifiers at a 96k sampling rate. (QSC provides analog backup to amplifiers, in the event of AES failure, at a 48k sampling rate.) "Speaker patch panels are not needed, as the speakers need to be assigned to their own amp channel," Peterson explained. "The amplifiers do the array processing." The addition of the DiGiCo 4REA4 processor eliminated the need for additional console racks.
Cliff Miller, President of SE Systems, agreed that the level of cooperation between key project participants was considerably higher than usual. That's something he ascribed to the work his company has done with the city of Greensboro over the last quarter century. "Being familiar with each other definitely helped," he observed, "but so did the fact that we'd have regular Monday and monthly meetings, often with all onsite." He added, "And [we also benefited from] the fact that everyone, including Arup, was open to making changes."
Sam Trexler, SE Systems' Project Manager for the job, added, "Everyone was willing to look at ideas that went beyond just the conventional ones." Clearly, Brown (the Managing Director for the client) chose the right team.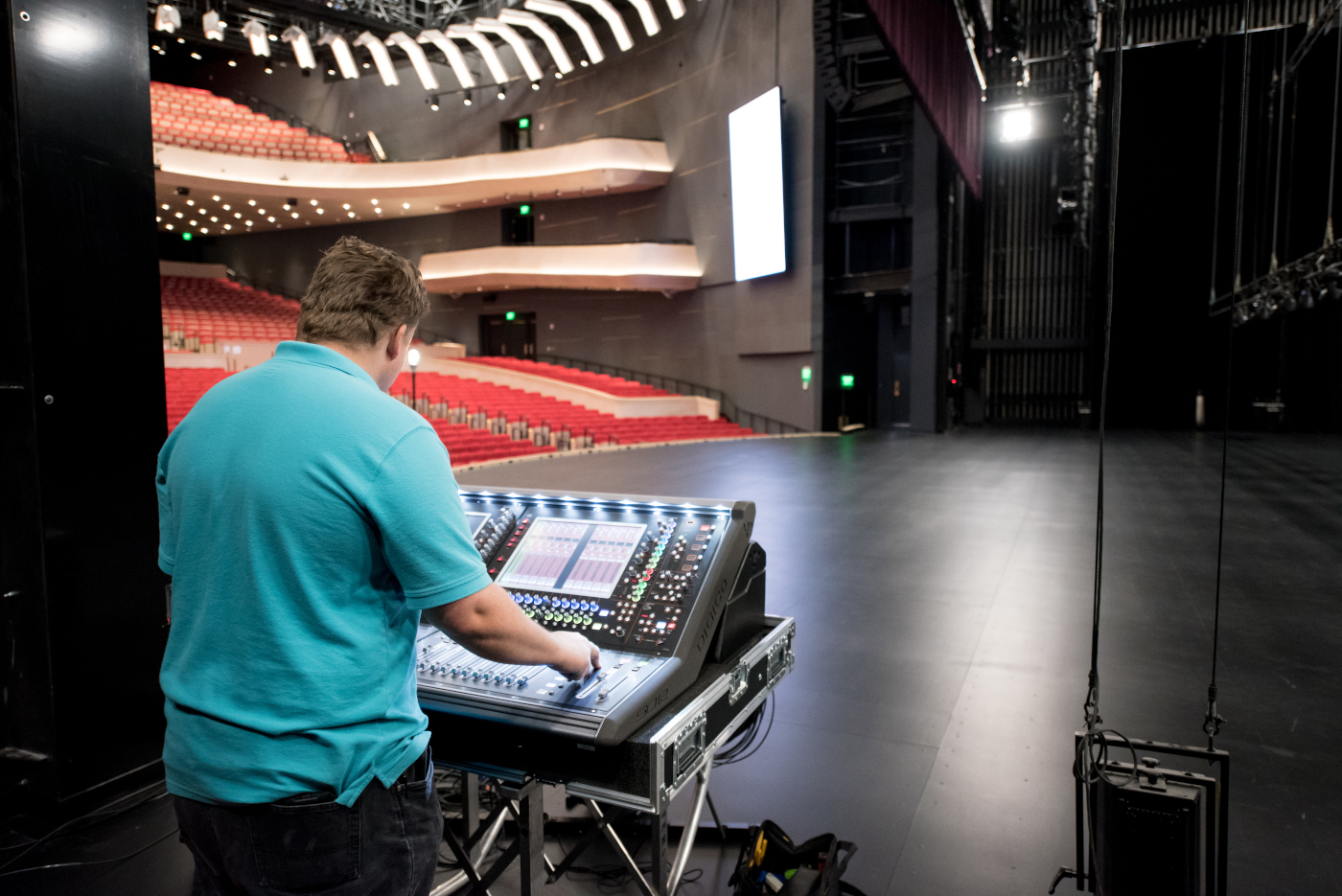 Acoustic System
As previously noted, SE Systems installed the Meyer Sound Constellation Acoustic System. What hasn't yet been discussed is that the Tanger Center is the largest Constellation installation in the US to date! Although the Constellation Acoustic System is fully discrete from the house sound system, its installation did require a high degree of interaction with certain vendors. As an example, Trexler cited the absorptive fabric used on the sidewalls as acoustical treatment; it was specified by Arup and installed by a local provider. The fabric varies in thickness—between two inches and 12 inches—in different places in the auditorium. Those variances could affect the effectiveness of some of the more than 220 speakers and 57 microphones embedded in the auditorium's walls and ceiling that are used to alter the room's ambient acoustical response.
"Arup did the acoustical modeling of the room, and we were working from Meyer Sound's Constellation system design, which they did from the [architectural] drawings," Trexler said. "We needed to make sure the speakers and microphones were placed consistent with where Meyer Sound said they were supposed to be, but [we] also [had to make sure] that, somewhere underneath, there wasn't an overlap seam in the wall covering."
Miller added that the same level of cooperation and coordination was necessary with the drywall contractors, who had to build recessed boxes around approximately 90 of the wall-installed speakers. Other cases might have involved a support beam being discovered where a speaker placement had been intended; that would necessitate the beam's repositioning. "The important thing for the Constellation installation was to keep the speaker and microphone groups' distribution plan intact," Miller emphasized. And the team did just that.
Meyer Sound technicians onsite made some small changes to the system design. Key project participants from the venerable audio manufacturer were Acoustic Engineer Jessica Borowski, Sales Engineer Michael Armstrong-Brown and Constellation Design Manager Pierre Germain.
SE Systems was able to reduce some of the cabling around the balcony area by tweaking the conduit routing. Nonetheless, the Constellation system required more than double the 31,000 feet of cabling the design originally called for. "That's not surprising in a building this densely designed," Trexler clarified. "It might take 250 feet to get from point A to point B, whereas, on the drawings, it says 100 feet."
The happy coda to the Constellation aspect of the project is that the entire Greensboro Symphony Orchestra was able to set up onstage for a rehearsal that doubled as the final tuning session for the system. "That certainly helped Meyer with the tuning process, but it also helped the orchestra get used to working with the new electronic shell over the stage," Miller stated. "That was completely new to them."
Big Screens
The collaboration between vendors and venue extends to the videowalls that are mounted inside and outside the Tanger Center. Daktronics designed and installed a pair of 6mm displays, measuring 9.35'x16.63′ (WxH), for the stage; in addition, Daktronics created an L-shaped, 13mm outdoor marquee, measuring 36'x20.4′ (WxH), which draws content from Daktronics DMP-8000 media players and show-control software. Corey Williams, Sales Rep for Daktronics for the project, said the fact that he was brought in early in the project timeline allowed him to consult with the general contractor. Thus, the necessary steel to support the outdoor display was ready and in place when the time came for installation. That also turned out to have cost-saving benefits.
The interior screens had their own twist. "We had discussed putting the screens on chain hoists, but decided instead to install them in a fixed manner," Williams remarked. "But one of the venue managers also had the idea of setting them up in portrait mode instead of landscape, which is the more commonly seen configuration." He added that, recently, he has been seeing that kind of rotation more often in concert touring. "I thought it was interesting that they'd want to do that for installed displays," Williams opined. Interestingly enough, several other performing-arts centers have contacted him about the idea for their venues, as well. "They heard about what we had done here, and they called me asking about it for them," Williams said. "This is something we may be seeing more of in the future."
Additional installed video, integrated by ArchKey Technologies, takes the form of 37 NEC 32-inch displays that are distributed throughout the lobby and backstage areas; they are used as stage monitors. In addition, there is a Panasonic AW-HE130 PTZ camera in the orchestra pit, along with a Panasonic AW-HE130 PTZ camera and a balcony-mounted Bosch NBE-4502-AL low-light camera at the rear of the hall to cover the stage.
The fate of performing-arts centers and other live-entertainment venues remains uncertain amid a global pandemic, but the fact that the city of Greensboro put as many resources into the Tanger Center as it did suggests it might be one of the venues that gains traction most quickly post-shutdown. If the Tanger Center operates the way it was built, Carlson (of ArchKey Technologies) opined, it'll be just fine. "It's not often you get a client that knows what it wants to accomplish and puts the fan experience so high on its agenda," he said. "No wonder the project went this smoothly."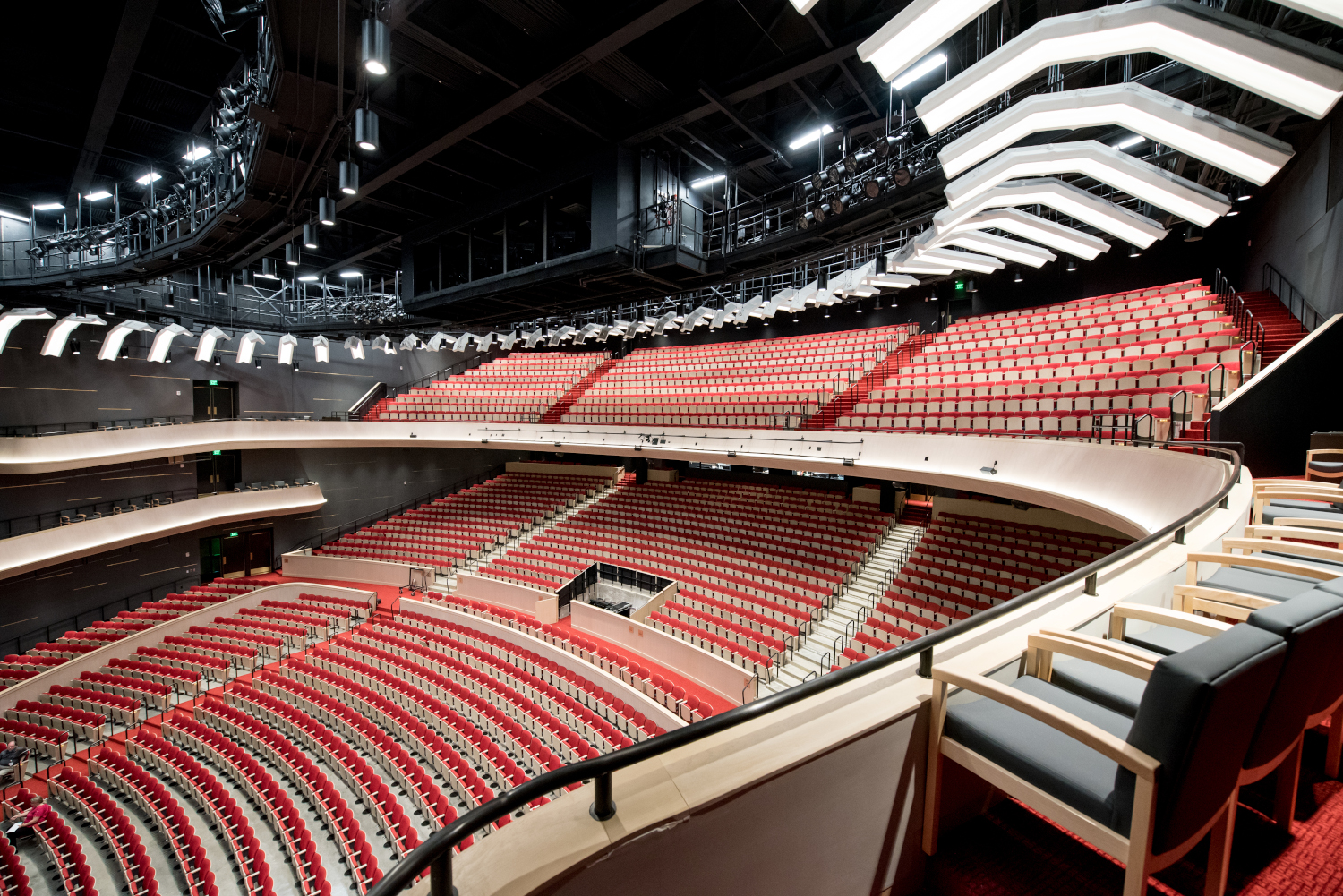 EQUIPMENT
4 AFL Telecommunications FUSE-LC9M50L-6 fiberoptic connectors
4 AKG C414 XLS multipattern condenser mics
6 APC 240V, 20A uninterruptible power supplies (3 per Constellation rack)
1 AtlasIED AT100D deluxe decora plate-mounted 100W attenuator, 3dB steps
26 AtlasIED AT35D deluxe decora plate-mounted 35W attenuators, 3dB steps
2 Audix DP7 7-piece drum-mic packages
1 Auray SB-52SSB speaker stand bag (51″ interior)
5,000 Belden 10GSXS12006A Cat6a cables
32,000 Belden 10GXS12006A Cat6a cables
27,000 Belden 1694A SDI coax
22,500 Belden 1800B digital audio cables
16,000 Belden 1816R audio snake cables
20,000 Belden 7731A SDI coax
22,000 Belden 8471 multi-pair cables
15,000 Belden 8477 multi-pair cables
1,000 Belden 9201 transmission cables
25,000 Belden 9451 multi-conductor, single-pair cables
13,500 Belden B9W240T interlocked armor distribution cables
1,640 Belden FDSD006A9 indoor/outdoor fiber cables
1,600 Belden FI3D006A9 indoor fiber cables
20 Belden FS11BNC-25 BNC coax compression connectors
20 Belden SNS11AS coax connectors
5 Bittree B64T-2MWTHD Mini-WECO video patchbays, 2RU height w/2×32 configuration
10 Bittree B96DC-FNABT/E3 M2OU12B 969a – 2×48 2RU TT patchbays, front selectable TRS audio
48 Bittree BPC3600-110 TT (Bantam) 110Ω audio patch cables (36″)
48 Bittree BPC7200-110 TT (Bantam) 110Ω audio patch cables (72″)
10 Bittree DSKP124B-C6FS flush-mount modular keystone panels, Cat6, feed-through, shielded, 1×24, 1RU
48 Bittree DSP3604-LC/LCS Fiber optic patch cables, LC to LC, 8.3/125µm single-mode, OS1 (36″)
24 Bittree DSP3606-CAT6 Cat6 data patch cables, RJ45 (8P8C), unshielded (36″)
24 Bittree DSP7206-CAT6 Cat6 data patch cables, RJ45 (8P8C), unshielded (72″)
16 Bittree VPCM3600-75 Mini-WECO 75Ω video patch cables (36″)
16 Bittree VPCM7200-75 Mini-WECO 75Ω video patch cables (72″)
4 Blonder Tongue BIDA 100A-30 broadband indoor distribution amps
2 Blonder Tongue DGS-2 2-way digital-ready splitters
2 Blonder Tongue DGS-4 4-way digital-ready splitters
3 Blonder Tongue DGT-2 2-output digital-ready taps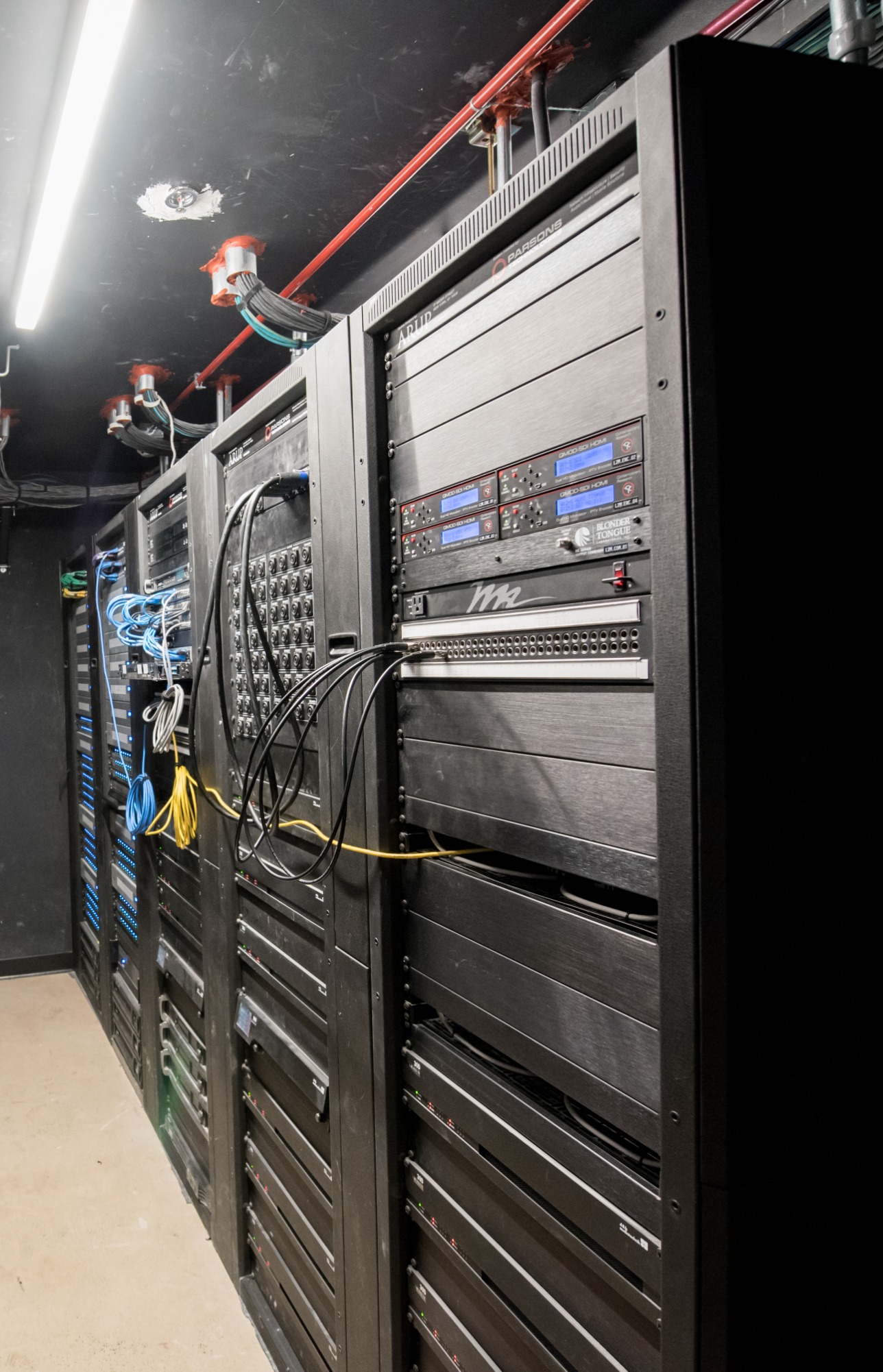 8 Blonder Tongue DGT-4 4-output digital-ready taps
1 Blonder Tongue OC-12D passive combiner, 5MHz to 1,000MHz (12 ports)
1 Bosch NBE-4502-AL 2MP outdoor network bullet camera
1 Chief CMA395 angled ceiling plate
1 Chief CMS009012 9″ to 12″ adjustable extension column
1 Chief JHS210B medium flatpanel ceiling mount
37 Chief MTM1U medium Fusion micro-adjustable tilt wallmounts
37 Chief PAC116 metal stud anchor kits (8 anchors)
16 Clear-Com CC-300 single-ear standard headsets
8 Clear-Com CC-400 double-ear standard headsets
3 Clear-Com KB-702GM 2-channel remote speaker stations w/gooseneck mic connectors
24 Clear-Com RS-702 2-channel beltpacks w/XLR-6 connectors
1 Clear-Com SB-704 4-channel 2RU switchboard main station
1 Clear-Com TW-47 2-way radio interface
24 Clear-Com YC-36 dual-channel, 2-wire beltpack adapters
650 CommScope D-024-LA-8W-F12NS fiberoptic outdoor cables
4 Contemporary Research QMOD-SDI HDMI HD-3G SDI and HDMI QAM modulators w/scaling
240 Corning 95-200-99 high-performance connectors
20 Corning 95-200-99-Z UniCam connectors
18 Corning CCH-01U closet connector housings
37 Corning CCH-CP12-A9 closet connector housings
1 Corning CCH-04U closet connector housing
8 Corning CCH-CP06-E4 closet connector housings
4 Corning SPH-01P single-panel housings
1 Corning UCAO-05-24 splice closure
16 d&b audiotechnik 30D 4-channel installation amps
12 d&b audiotechnik 4S 2-way compact coaxial installation speakers
3 d&b audiotechnik D80 high-power 4-channel amps
9 d&b audiotechnik E8 horizontal brackets
9 d&b audiotechnik E8 speakers w/NL4 connectors
12 d&b audiotechnik M4 stage monitors w/NL4 connectors
2 d&b audiotechnik SL-SUB subs
6 d&b audiotechnik T10 2-way speakers w/NL4 connectors
2 d&b audiotechnik V10P 3-way passive point-source speakers
18 d&b audiotechnik V12 3-way passive line-array speakers w/NL4 connectors
16 d&b audiotechnik V8 3-way passive line-array speakers w/NL4 connectors
10 d&b audiotechnik V-SUB flyable cardioid subs w/NL4 connectors
8 d&b audiotechnik Z5380 V flying frames
3 d&b audiotechnik Z5384 VP flying adapter links
12 d&b audiotechnik Z5422 wallmount brackets for 4Ses
1 d&b audiotechnik Z5551 VP flying adapter link
1 Denon Professional DN-500BDMKII Blu-ray disc and media player
1 Denon Professional DN-500CB CD/USB/Bluetooth player
1 DiGiCo 4REA4 mixing engine
3 DiGiCo A164 WALL LCD fixed-installation I/O expanders
1 DiGiCo A168 16×8 stage box
1 DiGiCo ASTAR 4-port A3232 network I/O expander
1 DiGiCo DMI-AES DMI AES card
1 DiGiCo DMI MADI card
1 DiGiCo DMI ST card
2 DiGiCo FC-SD12 SD12 flight case
1 DiGiCo SD 32-bit DAC 8 mic/line output module
2 DiGiCo SD 32-bit mic preamp 8 mic/line input modules
1 DiGiCo SD11 digital mixing console
2 DiGiCo SD12 digital mixing consoles
1 DiGiCo SD-Rack I/O rack
2 Electro-Voice RE20 dynamic broadcast mics w/Variable-D
1 Extron 3G HD-SDI 101 3G-SDI cable equalizer
1 Gator Cases G-TOUR 16U Cast 16RU standard road rack case w/casters
6 JBL CBT 70J-1 Constant Beamwidth Technology 2-way line-array columns w/asymmetrical vertical coves
6 JBL MTC-CBT-70T bolt-on transformer modules for CBT 70J-1 models
1 Juice Goose PD3 14-duplex receptacle custom multi-circuit AC power strip distribution (65″)
20 K&M 26045 stackable mic stands
20 K&M 210/9 tripod mic stands w/telescoping booms
2 LG 28LM400B-PU 28″-class HDTVs (27.5″ diagonal)
1 Listen Technologies dual-loop hearing-loop system
2 Listen Technologies LA-122 universal antenna kits (72MHz and 216MHz)
1 Listen Technologies LA-326 universal rackmounting kit
1 Listen Technologies LA-80 2-way RF antenna combiner
10 Listen Technologies LP-51-072-01 advanced intelligent DSP RF receivers (12 pack, 72MHz)
1 Listen Technologies LT-800-072-01 stationary RF transmitter (72MHz)
39 Meyer Sound Ashby-5C 5″ self-powered, ceiling-mounted speakers
19 Meyer Sound Ashby-8C 8″ self-powered, ceiling-mounted speakers
57 Meyer Sound Constellation mics
2 Meyer Sound DAI-24 D-Mitri analog ins
1 Meyer Sound DAIO-168 D-Mitri analog I/O
6 Meyer Sound DAO-24 D-Mitri analog outs
1 Meyer Sound DCM-4 D-Mitri digital audio platform core matrix
3 Meyer Sound DCP D-Mitri core processors
6 Meyer Sound MM-10XP miniature subs
90 Meyer Sound MM-4XP miniature self-powered speakers
25 Meyer Sound MPS-488HP power supplies
16 Meyer Sound UMS-1XP ultra-compact subs
25 Meyer Sound UP-4XP self-powered, ultra-compact speakers
17 Meyer Sound UPJuniorXP ultra-compact VariO speakers
15 Meyer Sound UPM-1XP ultra-compact, wide-coverage speakers
5 Meyer Sound VRAS D-Mitri VRAS
2 Middle Atlantic AXS-WT50 AXS wire trays (50″)
5 Middle Atlantic BGR-276FT-FC BGR Series fan tops w/controllers
5 Middle Atlantic BGR-4532 BGR Series racks (45RU, 32″D)
5 Middle Atlantic BGR-CC-32LT cable chases, top sections (32″D)
5 Middle Atlantic BGR-CC-45FB cable chases, front/back sections (45RU)
1 Middle Atlantic BRK6 BRK Series rack
1 Middle Atlantic BSPN-45-32 set of side panels (45RU, 32″D)
4 Middle Atlantic LACE-40-OP lace strips w/tie posts (40RU, 3.25″W, 6 pieces)
5 Middle Atlantic LACE-44-OP lace strips w/tie posts (44RU, 3.25″W, 6 pieces)
5 Middle Atlantic LF-ISO leveling feet, isolating
4 Middle Atlantic MRK-4426AXS-Z4 AXS Series racks
4 Middle Atlantic PHBL-1 blank panels (1RU, aluminum)
2 Middle Atlantic SPN-44-267 sets of side panels (44RU, 26″D to 27″D racks)
2 Middle Atlantic TRACK50 AXS service tracks (50″)
2 Middle Atlantic TRACKL AXS service stands (2″ to 3″H)
4 Middle Atlantic UMS1-11.5K UMS rackshelf w/4 partial blank panels (1RU, 11.5″D)
37 NEC V323-3-AVT2 32″ high-performance, LED-backlit, commercial-grade displays w/integrated digital tuners
4 NETGEAR network switches
4 Neumann KM 184 small-diaphragm condenser mics
2 Panasonic AW-HE130 full-HD professional PTZ cameras
1 Panasonic AW-RP50 compact remote camera controller
1 Panasonic FEC-120WM professional PTZ wallmount
2 Pro Cases WORKBOXESWB-5M 5-drawer workboxes
24 ProLabs SX-SFP-1G-C MSA- and TAA-compliant 1000Base-SX SFP transceivers (MMF, 850nm, 550m, LC)
42 QSC AD-C6T-LP 6.5″ 2-way low-profile ceiling speakers, 70/100V transformer
190 QSC AD-C6T-WH 6.5″ 2-way ceiling speakers, 70/100V transformer
58 QSC AD-MR8 pre-install mud rings for AD-6CT-LP speakers
4 QSC AD-P6T-WH 6.5″ 2-way pendant-mount speakers
28 QSC AD-S6T-WH 6.5″ 2-way surface speaker, 70/100V transformer
3 QSC CAES4 4-channel AES-3 I/O cards
5 QSC CIML4-HP mic/line input cards
6 QSC COL4 4-channel analog output cards
2 QSC Core 110f Q-SYS unified cores
3 QSC CXD8.4Qn networked amps
4 QSC I/O FRAME CTO Q-SYS I/O frame 4 slots (1RU)
2 QSC NS-1124P 24-port network switch preconfigured for Q-SYS, 12x PoE ports
2 QSC NS-1148P 48-port network switch preconfigured for Q-SYS, 24x PoE ports
6 QSC PS-1600H 16-button PTT networked page stations (wallmounted)
2 QSC SL-QSE-110-P scripting engine software license
2 QSC SL-QUD-110-P UCI license
8 Radial JDI premium passive Dis
2 RCF ST 12-SMA active stage monitors
1 RDL DS-PSP1 Decora-style active speaker w/stainless-steel speaker grill
1 RDL RM-D3 19″ rackmount for 3 Decora modules
2 RDL RM-DFP1 filler panels for RM-D3
1 RDL RU-ADA8D audio distribution amp
4 RØDE Microphones NTG1 shotgun mics
2 Sennheiser A 2003-UHF passive directional antennas
2 Sennheiser EM 2050 true-diversity twin receivers
4 Sennheiser MD 421-II cardioid mics
4 Sennheiser SKM 2000 handheld transmitters
2 Sennheiser WM1 wall/ceiling mounts
4 Shure BETA 87A vocal mics
4 Shure MX412DN 12″ desktop-mounted goosenecks
8 Shure SM57-LC cardioid dynamic mics
8 Shure SM58-LC cardioid dynamic vocal mics
1 Shure SM81-LC cardioid condenser instrument mic
1 StarTech SV565UTPHDU USB HDMI over Cat5e/Cat6 KVM console extender w/1080p uncompressed video (330′)
1 SuperLogics SL-2U-AH370M-GD 2RU rackmount industrial PC
1 SuperLogics control computer
1 Transition Networks SM24DPB managed layer 2 gigabit Ethernet switch
4 TRENDnet TEG-MGBS10 mini-GBIC single-mode LC modules
2 Tripp Lite SM1000RM1UTAA TAA SmartPro 120V 1kVA 800W line-interactive sine wave uninterruptible power supplies
2 Twinkle Bay D-SUB DB15 male 15-pin jack port to terminal breakout board connectors
2 Ultimate Support TS-90B TeleLock Series lift-assist aluminum speaker stands w/integrated speaker adapters
114 Whirlwind panels and plates
1 Whirlwind PLD 200A audio distro
1 Whirlwind 30′ 5-pin M-F twist-lock cable
1 Whirlwind 50′, 5-wire cam power feeder
2 Whirlwind 8043DW-1 custom speaker whips
1 Whirlwind 8043DW-2 custom speaker whip
2 Whirlwind B-24-4-XL-W3CRP(I)-0 stage boxes/snakes
2 Whirlwind B-48-10-XL-W4CRP(I)-0 stage boxes/snakes
20 Whirlwind BNCRG58-050 antenna cables
20 Whirlwind BNCRG8-100 antenna cables
1 Whirlwind M1R-TOOL KIT crimp tool, contact locator, insertion/extraction tool
20 Whirlwind MK425 MK4 Series mic cables
22 Whirlwind MK450 MK4 Series mic cables
15 Whirlwind MK475 MK4 Series mic cables
2 Whirlwind NL4-002 MultiLine speaker cables
72 Whirlwind NL4-005 MultiLine speaker cables
11 Whirlwind NL4-025 MultiLine speaker cables
14 Whirlwind NL4-050 MultiLine speaker cables
4 Whirlwind NL4-075 MultiLine speaker cables
19 Whirlwind NL4-100 MultiLine speaker cables
1 Whirlwind PLR2-B3 POWER PACK module
3 Wiegmann N1C161606LP wallmount enclosures
List is edited from information supplied by ArchKey Technologies.