Keeping up with evolution in the age of COVID-19.
The novel coronavirus (COVID-19) has had a quick and unprecedented effect on how the working world operates. Despite the multitude of communication advances in the digital age, many businesses, government departments and other organizations have viewed face-to-face interaction in offices as being central to their work culture. They've been firm in the belief that it fosters better communication, greater collaboration and more creativity. The COVID-19 crisis has meant most have had to shift their worldview when it comes to work and embrace digital tools. Whether people are key workers who still have to go to the office (even if not all the time) or they're locked down and working from home, we all must face a brave new world.
The obvious and paradigm-shifting result of the rapid spread of COVID-19 around the world has been the massive number of employees forced overnight to work remotely. Although this was initially thought to be a temporary measure, it's likely that those who can work remotely will be encouraged to do so for many months to reduce the risk of a second wave of the pandemic. Additionally, even when lockdown restrictions do begin to be lifted—this will likely be in stages—there's the possibility that employers will introduce remote-working rotations, thereby ensuring that office spaces are under capacity and, thus, adhere to social-distancing guidelines.
With remote working taking on a much more significant role in how organizations operate both during the pandemic and beyond, it's crucial for employees to be equipped with the right tools to ensure they can stay up to date with the latest company news and announcements, training materials and government-policy updates. For businesses trying to keep scattered workforces informed and engaged, video-based technologies, including IPTV and digital signage, will underpin all communications.
For workers who are still required to operate from traditional office premises—examples include many in government, healthcare, public service, transport, logistics, utilities, telecommunications and financial services—it's crucial that workspaces have the right tools to provide real-time updates on social-distancing guidelines and good-hygiene policies, thereby keeping everyone safe. People will be hungry for knowledge about things that once seemed trivial—for example, how deliveries are handled, cleaning schedules, visitor management, security at entrances, etc. Employers must find effective ways to bring everyone up to speed. In office spaces still functioning through the crisis, digital signage throughout the premises will be invaluable in providing staff with critical information. An added benefit of digital signage is that it can be updated remotely in real time, reducing the number of employees required onsite.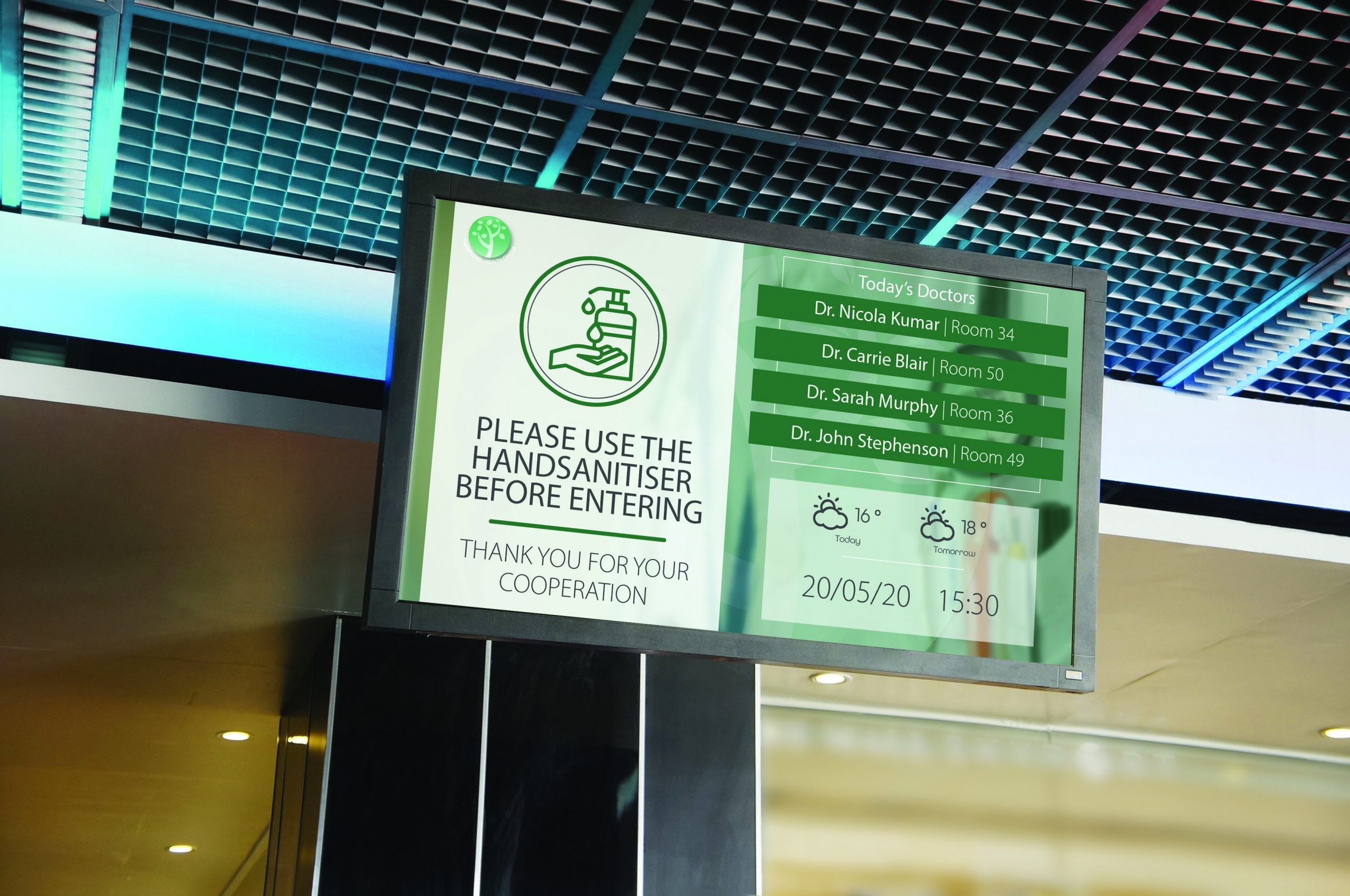 Finding ways to ensure other information reaches teams is critical, too. For example, banking and finance has been significantly affected by COVID-19 due to slashed interest rates; stock-market fluctuations; and new government policies on mortgage assistance, business relief and tax breaks. Businesses in the banking-and-finance sector have to be able to brief employees quickly on rapidly developing business situations, as well as deliver news, corporate announcements, staff briefings, customer seminars and other communications direct to desktop displays or in-office signage screens.
Such technologies have been employed by many businesses in the banking-and-finance sector even before the COVID-19 crisis. For instance, the Bank of China implemented an IP-video solution to facilitate the livestreaming of business channels in HD, allowing employees to stream financial feeds to their desks. This empowered them to evaluate transaction risks and keep track of the latest trends and regulations, all in real time. This type of individualized information sharing is more critical than ever. At a time when economies the world over are under threat, it's crucial to keeping the wheels of business rolling by providing employees with IP-video technologies through which they can access company communications, whether the employees are at home or they're in an office that is still open.
Likewise, IP-based technologies are invaluable in the all-important healthcare sector. During the COVID-19 pandemic, all eyes are on this industry; accordingly, it's more important than ever for healthcare workers to have easy access to training and information about the latest developments. This can include everything from government guidelines, to updates on potential vaccines and treatments, to methods of self-protection from COVID-19. IP-video technologies can play a significant role in keeping people connected and updated on the situation as it changes from day to day.
French pharmaceutical giant Sanofi, which is involved in the development of human vaccines and innovative drugs, offers a good example of how IP-video technologies are used in the healthcare sector. Sanofi deployed an IPTV system to provide staff across its Paris, France, offices with quick and easy access to internal communications, as well as news from French and international medical, business and news channels. This system helps keep everyone abreast of the latest developments. The IP-video-system deployment means information can easily be distributed, in real time, from sources around the world; this directly improves the company's response rate, as well as the quality of its research and its recommendations for pharmacies. These technologies play an important role in informing healthcare workers about COVID-19 updates and breakthroughs, while also helping to ensure local and global efforts to combat the pandemic are maximally aligned.
During these uncertain times, all employees expect more frequent communication from their employers; that can include everything from company town-hall meetings, to updated training materials and new policy guidelines, to relevant breaking news and notifications on which building entrance to use if a visit to the office is unavoidable. Whenever people have no choice but to go out to work—whether in hospitals, banks, warehouses, government buildings, pharmacies, education facilities or any other essential institution—digital signage and IPTV are key tools to inform people as they deal with the fallout from the COVID-19 crisis.
IP-based communications that those plugging into their team remotely can easily access, regardless of one's location, will help keep company morale high and ensure employees can do their job to the highest standard. Moreover, using these technologies now will help businesses prepare for life beyond the pandemic, which, more likely than not, will present a new, different "normal."
To read more from Sound & Communications, click here.