AV technology is an essential component of modern worship, and as ministries grow and mature, so do their AV needs. However, many churches tend to make do with improvised or makeshift solutions to their growing AV needs until more permanent, professional solutions can be budgeted for and implemented.
Middleton Community Church is a perfect example of this reality of the worship market. Middleton is a growing church in Middleton WI—a suburb of Madison WI—that uses audio and video technology during its worship services, but it had to rely on some piecemeal improvements to its AV systems as its technological needs grew more sophisticated over time.
Eventually, the church outgrew its building's original AV system design, which had been largely unchanged since the building was opened in 2005. Its front-of-house mixing location, which serves as a workstation for both the audio and video technicians, had become cramped and unsightly. In addition, Middleton wanted to replace its aging analog audio equipment with more modern digital equipment, while also improving audio intelligibility throughout the main worship space.
"[AV is] so important that the congregation agreed to spend almost $50,000 to fix it," Carole Klopp, who leads Middleton's AVL team, shared. "For a church our size—under 400 members—that is huge! We have the young, the old and the in-between from an age standpoint. Regardless of age, however, sound has been a problem from the get-go in this sanctuary. We have members who stopped attending because they simply could not understand the pastor when he spoke or clearly hear all of the service. We are a very music-driven church, as well, and when we had Cantatas and pageants, our directors struggled not only with voices and instruments being heard well, but also with accompanying CDs not being heard by the choir, making it impossible for us to use those CDs."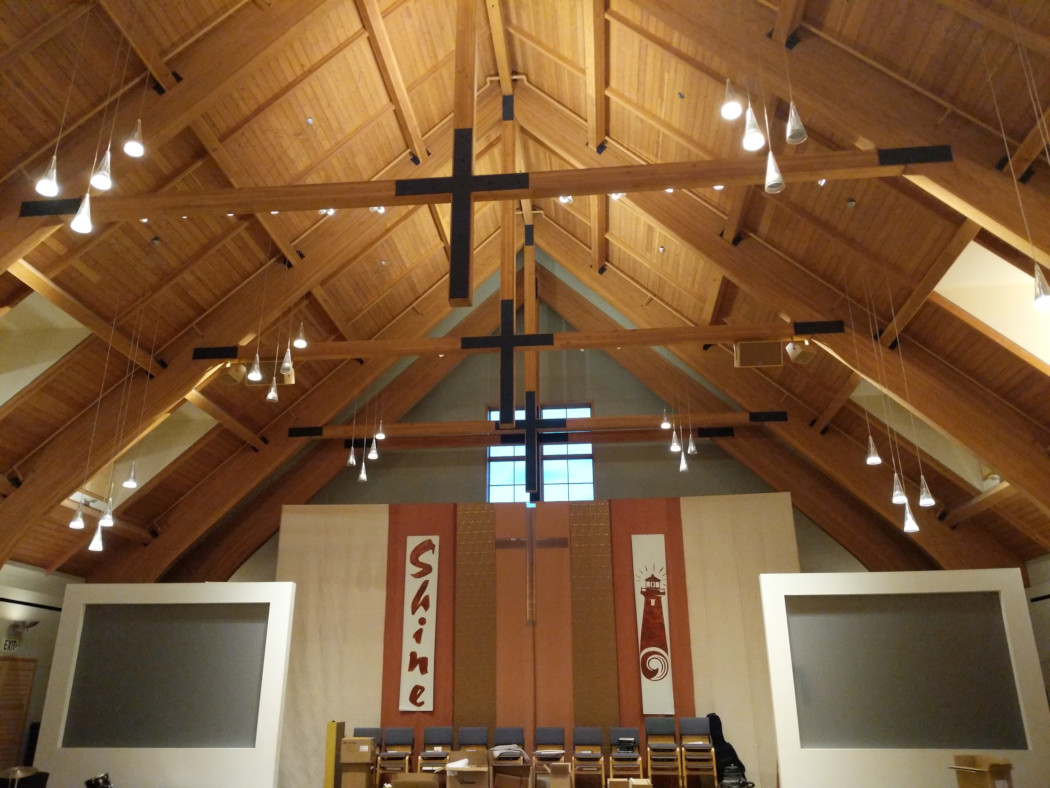 Simply put, Middleton's old sound system could not keep pace with its growing needs. "Members couldn't hear, musicians couldn't hear," Klopp described. "It was all too much—and we're in a growing area of Madison, so this became a true impediment to our regular worship, growing our church membership and for the other community activities that take place in our facility. As Madison is growing, we saw our AV system not keeping up, and we knew we needed an upgrade."
When asked what the church's main expectations were for a new audio system, Klopp replied, "We expected the new system to function all the time. Previously, the system would just not work, which meant we had to jury-rig a fix, and get it done by the next Sunday! Fortunately, we have two engineers who volunteer their time on the AVL team and handle all of our system malfunctions. We also expected that members of the congregation would no longer complain that they cannot hear clearly, and that the sound outages would cease to exist."
Andy Phelps, one of Middleton's technical volunteers, who serves as an audio engineer, clearly identified the church's goals. "We had four primary objectives," he said. "First and foremost was clarity of spoken words. Our sanctuary is beautiful, but as it is graced with large, flat, hardwood surfaces, sound reflects mercilessly. The original system's nine loudspeakers competed with each other and resulted in muddy echoes, so many people strained to understand what was being said. Second, our choir could not hear properly, and it was difficult to perform without being able to hear the accompaniment cleanly. Third, our old analog system was difficult to use. Not only was it not flexible to create the mixes we wanted, it was also impossible to scan its multitude of buttons and knobs to see if they were all in a standard setting. In an environment where we have many volunteers at the board, unusual changes in settings were common. Being at the mercy of an errant knob or button meant that our system was, in effect, unreliable. Fourth, our mixer, amps and other equipment were housed in a small cabinet just inside the main door of the sanctuary. Not only was it inadequate to house our gear and awkward to use, it was an aesthetic blight on one's first view of the sanctuary."
Middleton reached out to Lifeline Audio Video Technologies (www.lifelineaudiovideo.com), which had previously worked on a project at another church with a member of Middleton's AVL team. Lifeline's President, Scott Wright, spearheaded the audio upgrade at Middleton. His team consisted of Head Technician, Project Manager and Head Programmer Adam King and Installation Technicians Chris Schmidt, Jared Pink and Zachary Schrab.
Wright pointed to several problems with the physical footprint of Middleton's old AV system that needed to be addressed in the upgrade. "First of all, the desk that they had was too small," he recalled. "It had an analog mixing board that only had audio, and the video person was literally sitting next to the audio console at more or less a card table. [The front-of-house mixing desk] was on the main floor, so it was hard to see the front platform; when the congregation was standing, it was hard for [the technicians] to see over the top of [everyone's heads]." He added, "That front-of-house desk had all of their amplifiers. They had all of their snakes leading to that, and all of their video systems led there to a large floor box that was underneath that mixing area."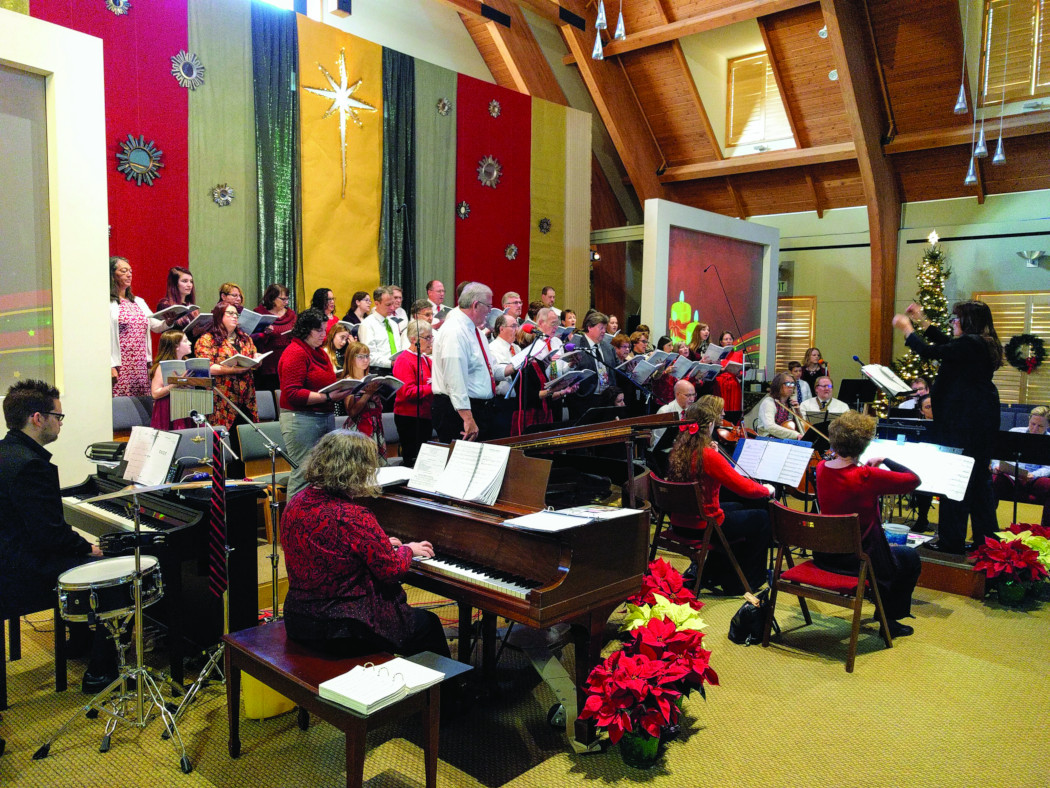 Redesigning the mixing location was a top priority. Fortunately, one of Middleton's congregants, Ralph Jackson, a semiretired architect, was willing to take on the project. With Lifeline's input, Jackson designed a new, larger, mixing desk in a better location that was slightly elevated to allow clear sightlines to the front platform. "That allowed them to see over the top of the congregation, gave them a large countertop that allowed the audio and video person to sit next to each other, and gave them more of a workstation area, as well," Wright described. In addition, the new mixing area blends much more seamlessly into the rest of the sanctuary, and the card table has been discarded.
However, the new and improved mixing position required new cable runs, a task which presented its own challenges. "All of the cable and electricity went to the previous location, so Adam needed to find new cable pathways to that new front-of-house mixing area," Wright explained.
Complicating the cabling challenge even further was Middleton's desire to increase the amount of inputs at the front platform in order to provide more flexibility to its contemporary worship band. "They had six or seven inputs in the front of the church for the contemporary band, which was not enough," Wright said. "They wanted to increase that to 20 inputs—10 on the left and 10 on the right—so that the contemporary band had significantly more flexibility to play on either side of the sanctuary. But, by doing so, that dramatically increased the number of inputs and cable that we needed, which was one of the reasons we chose a digital console. We could combine all of those with a rack at the front of the church and run a single category cable to the back, which gave them the channels they needed and minimized their pathway challenges."
According to King, "Initially, we were just going to run audio cable with a single Cat6 for the digital snake, and then just a couple of extra lines. So essentially, it was going to be just three or four cables. But after we got started, they were looking into upgrading their video cabling, as well. On their own, they updated to a matrix switcher with all HDBaseT. So, basically, they were asking for multiple runs front to back for [their] dual projectors up front, so they needed cabling for those, and they wanted video inputs up front, and then also a controller to control the matrix switch down the road. And so, it went from about four cables to a dozen cables."
This increase in cable density was a major hurdle for King because the sanctuary did not have an ideal existing cable path. "It's a beautiful space. It feels very serene when you walk in, and I didn't want to have anything too jarring-looking when I was done with the install," King said. "So, trying to hide things as much as possible without having easy access to either an attic or basement or crawl space—just getting from point A to point B with minimal visual impact—that was my main concern. Luckily, there was a pathway that we managed to use, because, short of going outside, there's really no way to get from front to back in this building. There's a ledge that runs the entire length of the church front to back, so basically we had to drill out the wood beams and sleeve them in order to get all the cabling through."
The front-of-house mixing desk now features an Allen & Heath AH-SQ-6 digital console, which receives inputs from an AR-2412 remote audio rack at the stage. A Denon DN-300CMKII CD/USB media player is also located at the front-of-house mixing desk, and is used to play backing tracks for the choir and other music tracks.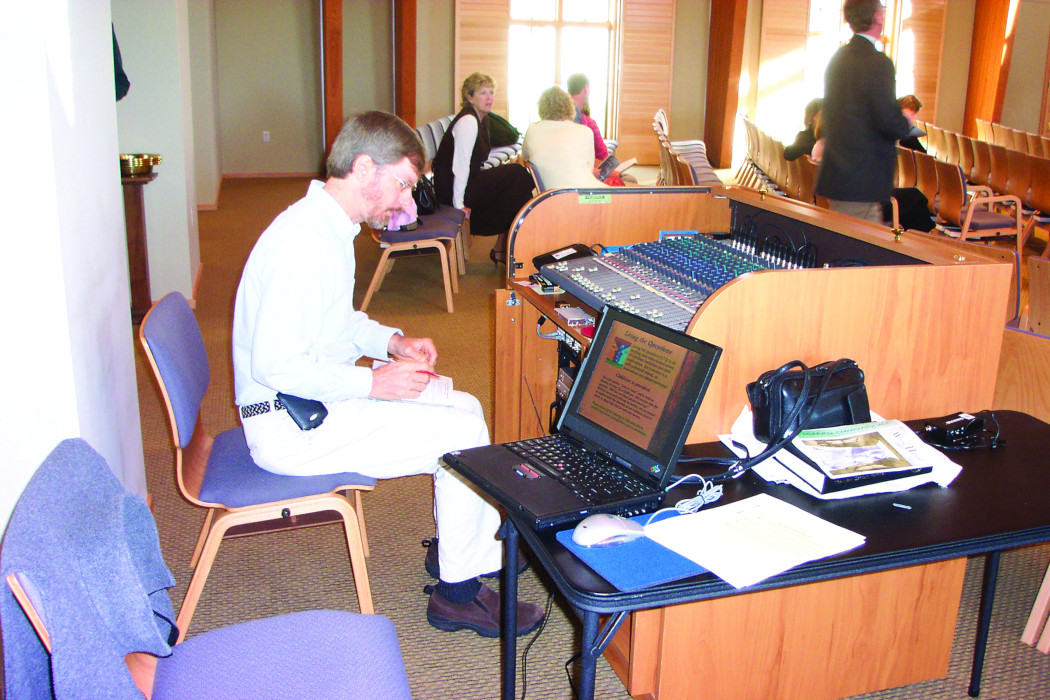 Regarding the mixing console, "We wanted a digital board for multiple reasons," Wright said. "Preset scenes, number one. Number two, we needed a lot of inputs going front to back and we had minimal amount of space to be able to pull them. Three, they wanted to be able to control the system via an iPad, and they like the ability to actually plug inputs in at the front-of-house board if they ever need to."
King affirmed that the ability to set and recall presets easily was a major point of excitement for Middleton's AVL team. "I was there for that first Sunday of service where they first used the new system," he recalled. "The board was already there for a few days, and the main people had already come in and played with the board and created presets and scenes on their own, so they already had a good handle. There are a few people there who are very tech-savvy, so this was just a fun toy for them, and they caught on pretty quick." He added, "Basically, we set up a scene for typical Sundays, so they at least have a starting point. But we did go through how to save a scene, how to save them to different boards, things like that, and they were very interested. When they come up with a new scenario, they are going to make a scene for it. So they're really excited about the ease of use of it over their old board."
The ability to control the system from an iPad has proved valuable from the audio team's perspective, because members of the choir can adjust the choir's mix directly via the iPad, rather than having to relay requests to the sound booth. "It's perfect," Phelps commented. "More piano? Lower the CD [volume]? They're the ones who know what their mix should be, so we don't have to worry about it back here!" The church retained its existing Shure wireless mics, but Lifeline did add a Shure MX415LPDF/C podium mic with a wireless ULXD8 base for the lectern. Middleton frequently rearranges its front-stage setup, and in addition to the band locations changing on a regular basis, the lectern also moves, meaning it can't be tied down by any wires. Lifeline also overhauled Middleton's old cluttered wireless antenna setup—affectionately referred to by the AVL team as the "antenna menorah"—by replacing it with a Shure UA8-554-590 antenna.
In addition to sorting out the mixing location and the inputs for the stage, the other major focus of this project was improving audio intelligibility throughout the sanctuary. For Wright and his team, this was a matter of finding the right speakers for the job, which proved tricky, given the physical characteristics of the space.
"It's a tall, A-frame church, but it has a completely flat back wall, and the distance from the platform to the back wall is not very far—a little over 50 feet," Wright described. "So, we really needed to look carefully at EASE as to what speaker package was going to minimize the reflections off of that back wall and coming into the platform, because all of the music, the contemporary band and the choir, is at the front of the platform. So we needed to really look carefully at the angles of our speakers to try to minimize as many reflections as we could off of the back wall."
He added, "The speakers needed to match the wood deck. The entire ceiling, all the beams, is done in a beautiful wood stain, and they wanted to make sure that the speakers that we installed matched the ceiling décor as much as possible."
Lifeline specified a package of two Danley SH-95 loudspeakers supported by three SH mini fill speakers. According to Wright, the two mains are hung "13 feet from center, left and right on a beam directly above the platform step at the front of the church." Two of the SH minis are located on the same beam and used to cover small side seating areas on the left and right of the sanctuary, while the third is hung above the front platform, behind where the choir stands.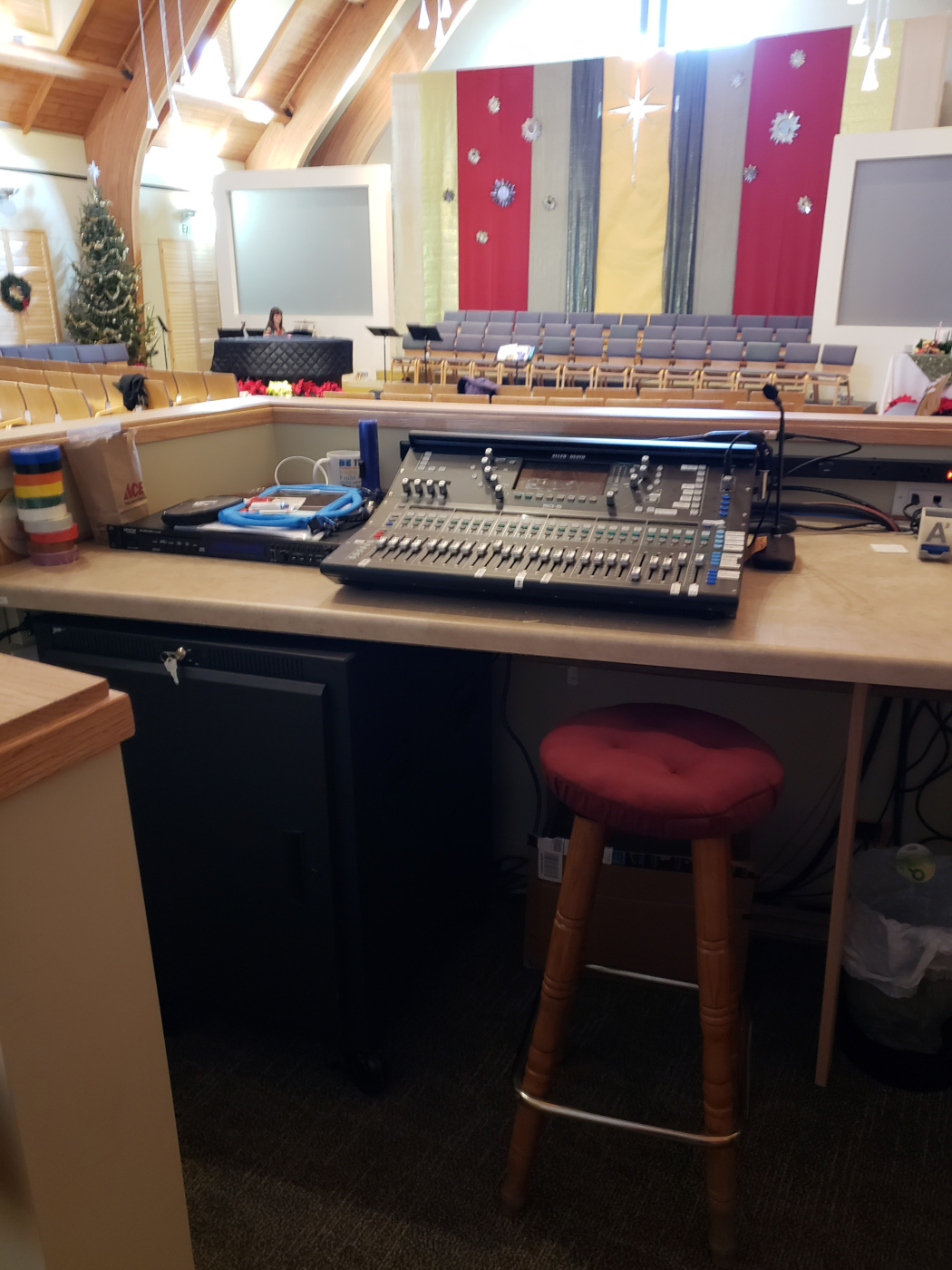 Choosing a left/right speaker setup was crucial, because the beam that supports the speakers has a large cross that is hung in the middle of it. "They wanted a left/right because we could not cover up that cross. So, we needed to make sure it was a left/right speaker system that was low-profile, that could be hung from a beam and installed vertically, and that we could play around with to make sure that the phasing of the left and right speakers was down the center aisle," Wright explained.
Regarding the SH-95, Wright said, "It really fit all the criteria: high speech intelligibility; a smaller footprint, which was critical to being able to hang it vertically; we were able to get it custom painted; and the thing sounds just really, really good for voice. We had used those previously, so that helped. And it gave us proper coverage. We were able to get the phasing in the center aisle. There were a lot of criteria that we were looking for in choosing a speaker, and it matched all of those criteria."
Jackson, the architect who redesigned the mixing area, also specified a custom color for the speakers: "Folksy Gold." Wright was skeptical at first, but was taken aback at how good the color ended up looking against the wood stain in the ceiling. "I was shocked," he exclaimed. "They sent it to me, and I said 'Gold!? This is not going to match!' But that's what they wanted, and the architect, Ralph, was insistent that it would look great, so we trusted them. I was really worried it was going to look bright gold on a beautifully stained wood beam, but that color is spot-on! I mean, when you look at the speakers hanging, they look phenomenal. I could not even imagine if we stained the cabinet [to match the wood exactly] that it would look as good as what that color ended up being."
Middleton kept its existing Electro-Voice Force I subwoofer, but Lifeline found a more suitable location for it than where it was previously. "It was actually behind the wall of one of the video screens in the back, and honestly, when we first went and looked at it, there was a bunch of stuff stacked on top of it, so it was being used more as a table than as a subwoofer," Wright joked. "We wanted to bring that out into the sanctuary, so we ended up moving it to in between two beams up by the music area. We put it on a separate aux so that they can control the amount of volume the sub is delivering. It's amazing the amount of the gain difference we have in the low end by just moving it to a better location and being able to control it better."
Lifeline also added two Community MX10-B monitors, primarily for use by the musicians in Middleton's contemporary band. "We like the MX10s because they're really low-profile and that was really important to them," Wright explained. "They don't have a lot of space and they're using every inch of it, so we needed something that was low-profile, but sounded great." He added, "Those are used primarily in the music area, but they also can be used as kind of a spot monitor. Because of the flexibility of the front of the church, if they have a soloist who is singing by the piano or if they have a wedding and they want a musician to sing on the side wing, then they have monitor connections on the left and right side."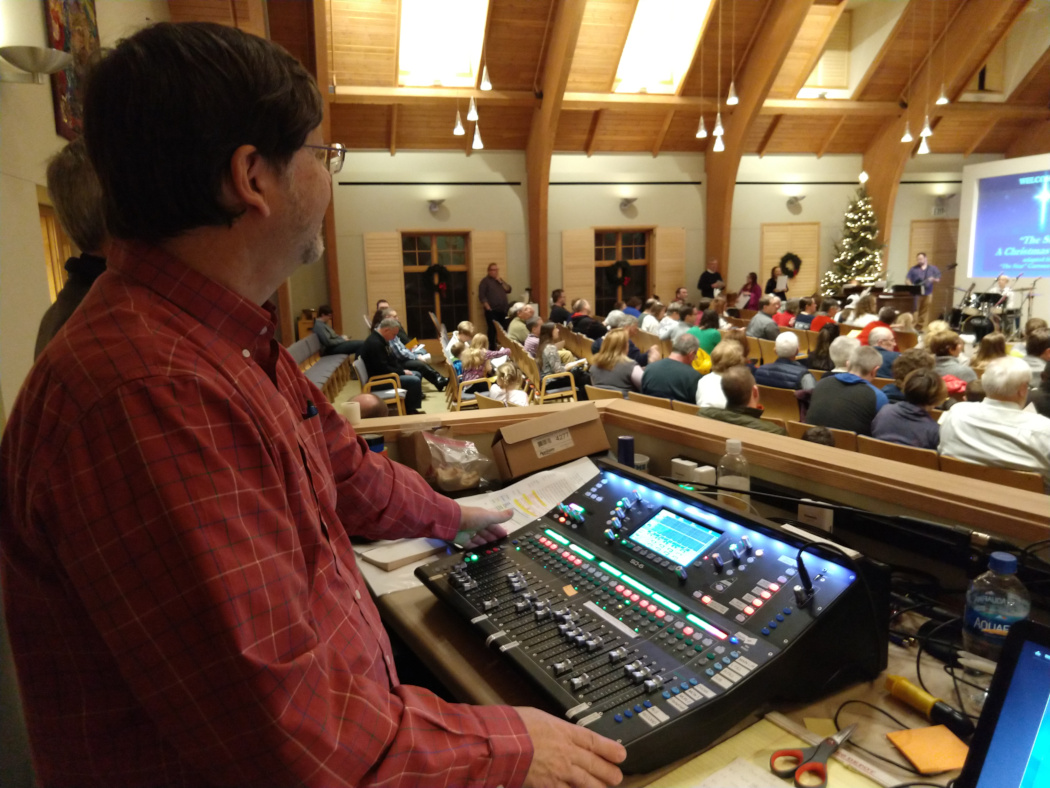 A Middle Atlantic ERK4428 rack installed behind a wall near the front platform houses a Biamp TesiraFORTÉ DSP, as well as two QSC amplifiers—a CXD4.5 and a CXD4.2—that power the new speakers and the preexisting sub. A Middle Atlantic power sequencer allows the AVL team to turn off power to the system sequentially, starting from either the front or the back.
For Middleton, this audio upgrade solved a number of nagging problems in terms of sound quality, aesthetics and ease of use. "Give that our previous sound console was located right as you walked into the sanctuary and looked like a child's messy play room, the aesthetics of the placement of our new sound booth were very much an important part of this project," Klopp shared. "It's funny what you get used to until you experience something different. As many have said to me, they just didn't realize how very unattractive the old console was compared to our new booth location, where all the equipment is hidden from the eyes of the beholder. Placement of the amp rack was also key. The installation also involved running and hiding the new cables along the side of the church. The previous cables had been hidden in the floor—a system we all deemed highly unworkable, as getting to them was impossible."
Klopp added, "We are very satisfied with our new system. Did I say satisfied? I meant to say delighted! We just completed our Christmas Pageant and our Choir Cantata with orchestra, and the AVL team was met with congratulations all around. Clearly, the congregation not only appreciates the new system, but also agrees that it was money well spent! As one person said, 'I could hear the choir—especially the little girls—perfectly, even though those horns were playing loudly!'"