Googling the words "Are we too connected?," sans quotation marks, results in 820 million results in less than one second, the majority from the "Living" sections of daily newspapers or philosophical "think" pieces in tech outlets like Wired or The Verge—by and large, they're gloomy ruminations on the existential dangers of hyperconnectivity. But that's not what 21st century AV integrators worry about. For them, connectivity in a networked environment isn't the problem—their challenge is to figure out how best to allow the end users to manage it all.
That's what AV integrator Progressive Electronics, Inc. (Raytown MO), faced at Pinnacle National Development Center. When it opened earlier this year, the 80,000-square-foot, $75 million complex became the training and technology hub for Sporting Kansas City (Sporting KC), Kansas City MO's Major League Soccer team. Following six years on the drawing board with architect Populous and design consultants Henderson Engineers, along with a year's worth of bulldozers and masons from general contractor Grand Construction, the facility comprises five full-size soccer fields, known as the Pavilion, as well as the nearby Wyandotte Youth Soccer Complex.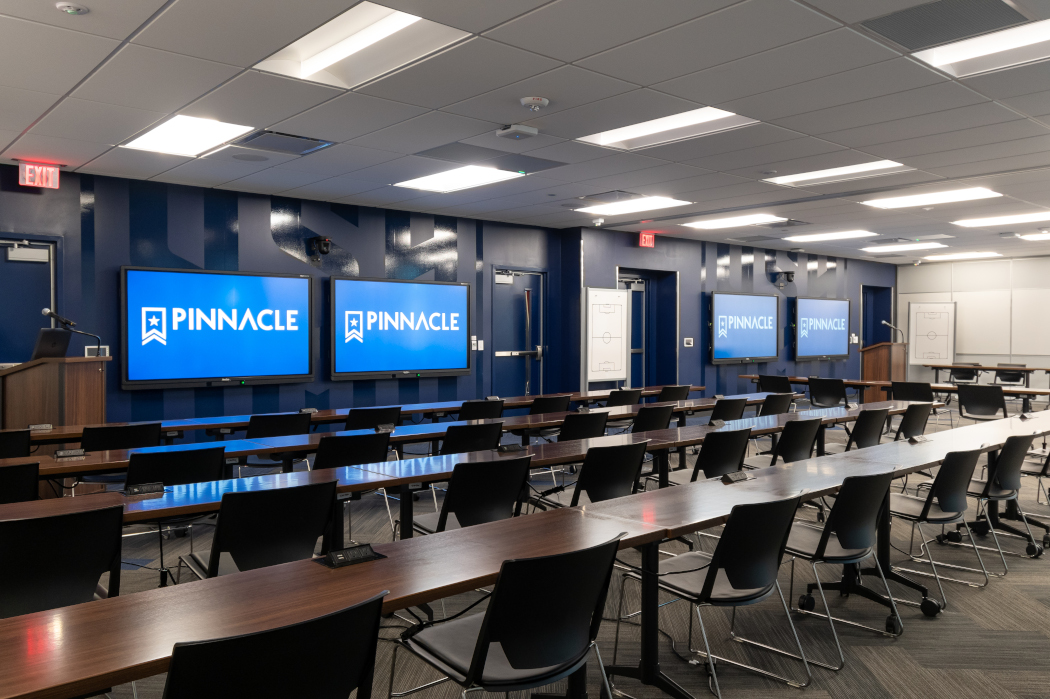 The Pinnacle building itself, owned by the same group that owns Sporting KC and its stadium, is a warren of flexible rooms that can be used for player or coaches' training applications. They boast large-scale, 70- and 80-inch NewLine touch-sensitive displays that any sports department—or its associated college or high school, for that matter—would envy. Those same rooms can also be used for videoconferencing, with installed Shure ceiling microphone arrays and Panasonic PTZ cameras. In fact, Pinnacle was built, in part, with the expectation that US Soccer, the official governing body of the sport of soccer in the United States, would regularly use its facilities—among them, two locker rooms, three classrooms with flexible walls for courses and seminars, six breakout rooms, as well a cafeteria and two fields dubbed "the pitch lab"—as the site of year-round training for US Soccer coaches and referees.
Rick Dressel, General Manager of Pinnacle, said that each of the building's three main tenants—Sporting KC, US Soccer and Children's Mercy Hospital, which operates a sports medicine center at the facility and which has naming rights to Sporting KC's stadium—wanted to keep their training, administrative and rehabilitative activities at the cutting edge of technology.
"All three organizations wanted this to be state of the art in order to give them the same level of functionality, such as with video throughout and between both Pinnacle and Children's Mercy Park [Sporting KC's home stadium], at the highest technical level," Dressel explained. He added that Sporting KC's ownership group had already established dedicated network links between its downtown office and Children's Mercy Park—a connection that was also extended to include Pinnacle.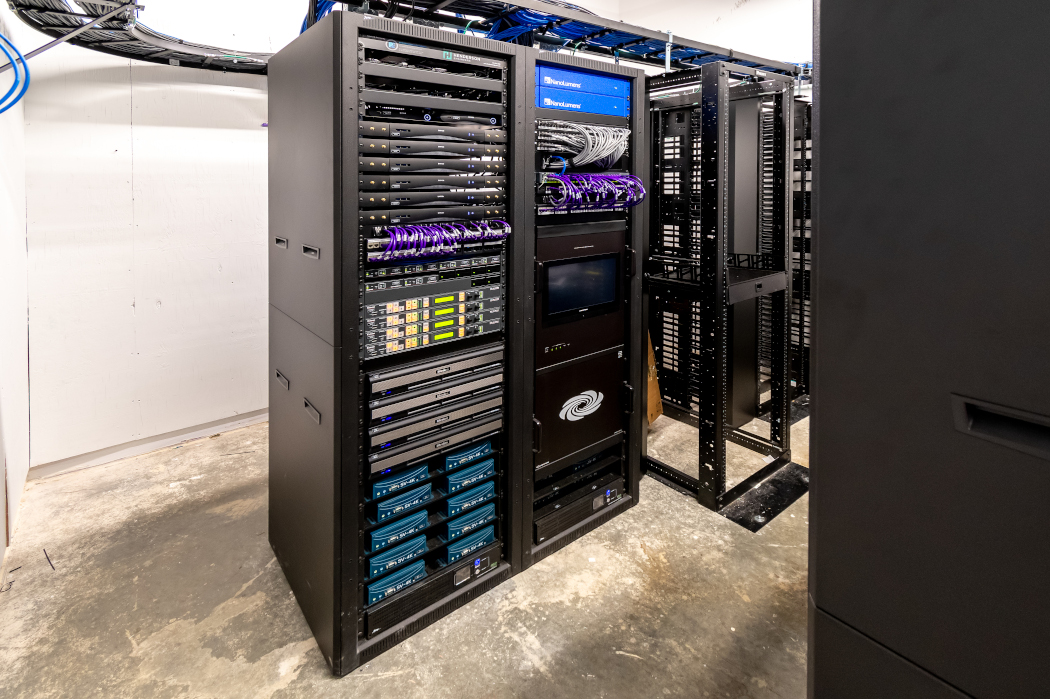 "The connectivity between [the venues] was part of the plan from the very beginning, and it's worked out fabulously," Dressel affirmed. In fact, he continued, as part of Pinnacle's business plan, US Soccer agreed to move its National Development Center (NDC, formerly the National Training and Coaching Development Center) from its offices in Chicago IL to Pinnacle, providing the US Soccer Coaching Department with its first-ever permanent home.
The arrival of Pinnacle has truly transformed soccer coaching. Previously, coaching education courses were held in various parts of the country, and they'd begin with classroom instruction in local hotel meeting rooms. Coaches would then have to travel to playing fields for training sessions, travel back to the hotel to eat and then return to the fields for afternoon sessions. By contrast, coaches now arrive at the NDC from a hotel less than a mile away, and they comfortably spend the entire day there. Practice fields, a cafeteria, classrooms, breakout rooms and locker rooms are all in the same venue.
Networking Pinnacle with Children's Mercy Park, located in Kansas City KS, was critical to making the overall project work for its broad range of users.
Integrating Networks
Nathan York, Director of Audiovisual Systems at Progressive Electronics and the senior project manager on behalf of the company for the Pinnacle project, said the integrator was brought into the design process several years ago. The company then found that, nonetheless, it had to bid on the job publicly—a proposal that ultimately won. That process, as inscrutable as it seemed at the time, actually offered Progressive Electronics significant insight into what Pinnacle would need to be to its various stakeholders. It also helped get the AV integrator up to speed quickly. As York recalled, "We got the contract secured in late September 2017 and we were on site October 1. We had to get to work immediately, because it got big from there on."
What grew the most was the Crestron DigitalMedia (DM) matrix, which ultimately topped out at 128×128—necessary to allow AV-over-IP (AVoIP) signals from either Pinnacle or Children's Mercy Park to be called up through the fiber networks laid down between the two facilities by the electrical contractor. Through the various networks—a dedicated AV network, Sporting KC's own network and US Soccer's virtual local area network (VLAN)—users can call up video footage from, for instance, US Soccer's FTP site and have it appear on any of the three dozen Sony 43- to 85-inch displays installed throughout Pinnacle and its adjacent practice fields. Alternatively, the video footage can be displayed on the 17 NewLine 70- and 80-inch touchscreens installed in the three main training rooms. (Those have an integrated computer that permits users to access remote files directly through icons on the screens themselves.)
Inside both Pinnacle and the stadium, video and audio are handled using the HDBaseT connectivity standard, with Cisco switches used as the on- and off-ramps between the AVoIP and HDBaseT protocols. For instance, when moving AV between training rooms within Pinnacle, the data remains within HDBaseT; by contrast, when it travels between venues, it does so over the fiber network.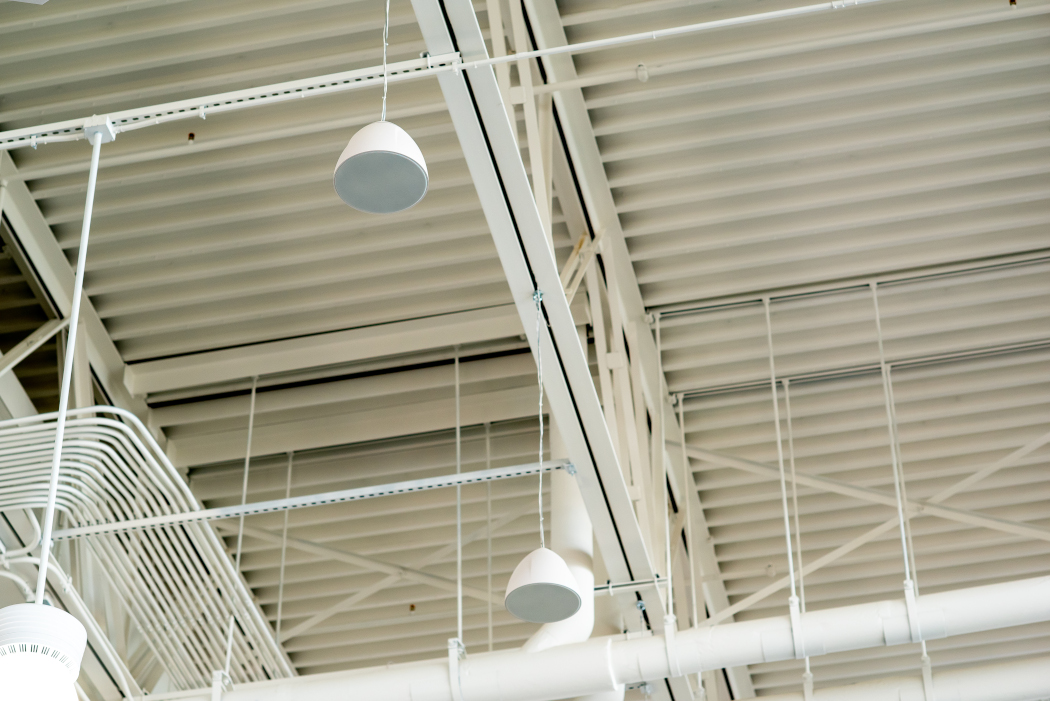 York said that the decision to use HDBaseT within the venues, which is managed by the Crestron control system, and to use AVoIP between venues, stemmed from resolving the desire to use the best solution for connecting between distant points—the stadium is a little more than a mile away—and wanting to use a technology platform familiar to Sporting KC's and Pinnacle's own AV and IT staffs. "No one knew where [the technology] might be six months or a year from now," York explained. "They wanted systems they felt comfortable with, but that would be infinitely expandable—and at a reasonable cost." That said, he continued, "Every system was [closely] reviewed to ensure the desired functionality during the time Progressive Electronics was involved with the project."
As complex as the types of networks involved might seem—three separate local area networks (LANs) and the HDBaseT distributed system—they were rather straightforward as compared with how end users throughout the two venues would be able to access the systems. "Everything is connected to everything else, through a 128×128 matrix, and while that's what everyone said they wanted, it also creates a management problem," York observed. "You don't want an infinite amount of video trying to populate on someone's iPad. We had to figure out how to limit access locally, as well as how to coordinate with the IT teams to let [hundreds] of devices talk to each other."
It was a question—and an irony—that goes to the heart of connectivity. The conundrum was solved by programming endpoints on the systems. Indeed, according to York, staying on top of that was key to coordinating with the client's users and IT technicians. "Their tech sources became our new best friends," he remarked. "We ran every decision past them, keeping them constantly involved." It also underscored another concern: namely, training. "We didn't want to have to train a hundred people on the systems," York declared. "We wanted to train two people and let them train their end users."
Lots Of Conventional AV, Too
Although the networked connections are the main story here, there are still plenty of "conventional" AV components to be found. The main training rooms, which have a total of six of the NewLine touchscreens, can be subdivided into quadrants, with two displays in two of the subdivisions and one in each of the others. Typically, content can be brought to them via an HDMI wallplate output that connects to the 128×128 matrix of the HDBaseT system, which can further be used to access the larger video network, as well. Alternately, users can plug in their own laptops, use thumb drives, tune into the IPTV from the Pavilion's field cameras or connect to any of the other training rooms to join activities in those. There are also NewLine touchscreens loaded onto four mobile carts, which enable them to be taken into non-traditional training areas, such as the Great Hall—Pinnacle's spacious entrance area—where the staff held their first event (a Christmas party). "We were trying to achieve a high level of modularity here, with the mobile carts and the ability to segment the training rooms," York said.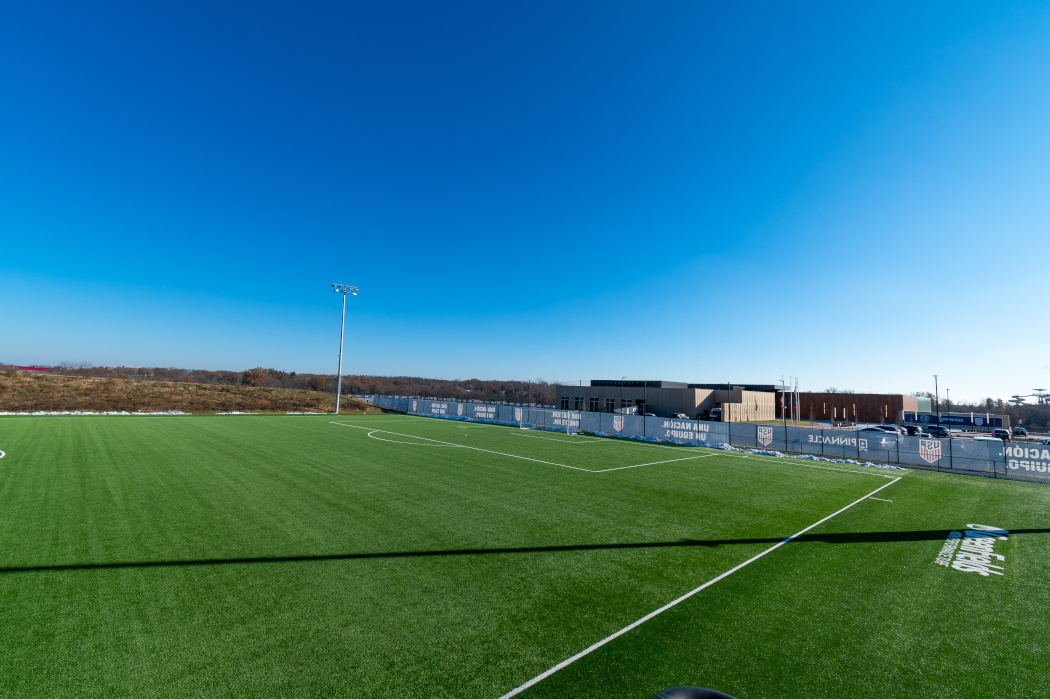 Audio is conventional and basic, but effective nonetheless. QSC ceiling speakers in the training rooms dot those spaces' dropped-tile coverings, and they're managed by a Q-SYS processor. Meanwhile, two Shure ceiling arrays pick up sound in two of the training rooms; they're connected to Pinnacle's building network and into the main network via a Dante card in the DM chassis.
There are also three videowalls in the new facility: one each in the Children's Mercy gym, the Great Hall and in front of the stage in Pinnacle's interview room. Content is accessible from the same sources that the training rooms use. (The videowalls were purchased directly by the client, and they were installed and integrated by Progressive Electronics.)
Efficient Networking
The time frame for planning the connectivity between Pinnacle and Children's Mercy Park traversed what could be considered a generation or two in a typical network-product lifespan. That's a fact of which Dan Keller, Lead Audio-Video Designer for Henderson Engineers, the project's design and consulting engineering firm, is always keenly aware. "That's something you have to watch out for in any networked project," he said, noting that products such as the interactive NewLine displays might not have been available early on in the process, and that they were added to Pinnacle's specifications during the course of development.
The design team also looked carefully for efficiencies between the new Pinnacle facility and the preexisting stadium, Keller confirmed. For instance, pointing out that the stadium already had a Cisco StadiumVision cable TV headend installed, the team designed for its output to be sent across to Pinnacle over the fiber network that was being installed between them. "We looked to leverage as much existing infrastructure as we could, and we found we could share the IPTV at the stadium with Pinnacle, which was a significant cost savings," he added.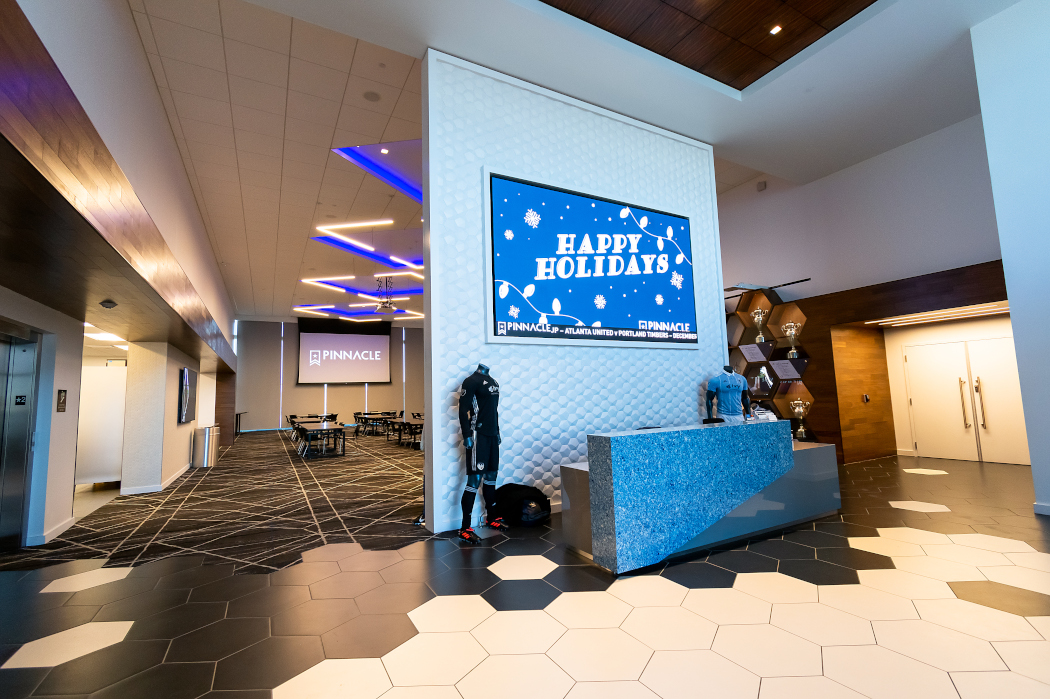 Networking plays an integral and important role in the team practices, as well. On the pitch lab—the two practice fields (one with artificial turf, the other with natural grass) that straddle the Pavilion—scrimmages are recorded by a Panasonic PTZ camera whose output is sent over the fiber network to Pinnacle's data servers, and then sent back to a NewLine display in one of the Pavilion's meeting rooms; there, the players and coaches can replay and annotate the plays. Keller noted that the cameras are part of an 8K Solutions system field package.
"We recommended [that package] to Sporting KC after experiencing success with 8K Solutions first at the Walter Athletics Center, Northwestern University's new multi-sport performance complex outside of Chicago, and also at the Twin Cities Orthopedics Performance Center, the state-of-the-art training facility home to the Minnesota Vikings," Keller explained.
The Programmers' Tasks
Thom Morrow, Progressive Electronics' Director of Technology, supervised the networking aspect of the Pinnacle project and oversaw its programming. That's something that, he said, consumed the better part of three months on site, although the process was helped by Sporting KC's expansive existing VLAN and its installed base of Cisco switches, for which he credits the team's IT infrastructure guru, Derek Ferguson. The time invested paid off both operationally and in terms of costs, Morrow affirmed.
"We were able to integrate the new extended network with the existing Cisco StadiumVision headend at the stadium," he said, echoing Keller earlier, "[and] we didn't need to add hardware control behind each display in Pinnacle. Instead, the displays can be tuned using the Crestron system and internal modulation." However, Morrow added, that was a significant undertaking because of the lack of documentation available to guide the programmers—a situation analogous to the notorious reams of hidden programming in Apple operating systems. "It's in there; you can do it," he said. "But you have to figure out where to look, or whom to ask about it."
If there's a takeaway from this large networked project, it's that connectivity can create its own kind of "tyranny of choice": too many options available through systems programming that, in an earlier era, might have been corralled by either the bulkiness of hardware solutions or their cost. What AV integrators are finding, York said, is that there are many more ways to create functionality when everything is on a shared network. "The trick," he concluded, "is to find out what works best for each client."
Equipment
1 AJA Video Systems FiDO-R-ST 1-channel single-mode ST fiber-to-3G-SDI receiver
2 AJA Video Systems HD10AMA analog audio embedder/disembedders
3 AJA Video Systems HELO H.264 streaming and recording standalone appliances
5 AJA Video Systems Hi5-Plus SDI-to-HDMI mini-converters
1 Ashly nXp1504 network power amp w/Protea DSP
4 AtlasIED AD-12BE desktop mounting flanges
4 AtlasIED GN-19E 19″ flexible goosenecks
5 Barco ClickShare CSE-200 wireless presentation systems
23 Barco ClickShare CSE-800 wireless presentation and collaboration systems
57 C2G 00779 6′ Cat6 snagless shielded network patch cables
35 C2G 00784 12′ Cat6 snagless shielded network patch cables
180 C2G 04027 6′ Cat6 snagless patch cables
48 C2G 04030 12′ Cat6 snagless patch cables
48 C2G 27800 1′ Cat6 snagless unshielded network patch Ethernet cables
26 Celerity Technologies DFO-50P 50′ fiberoptic cable w/detachable HDMI connectors
40 Chief PAC525F large in-wall storage boxes w/flanges
33 Chief PAC526F in-wall storage boxes w/flanges
27 Chief RMF2 medium FIT fixed wall display mounts
46 Chief RXF2 x-large FIT fixed wall display mounts
4 Chief XPA1U x-large Fusion manual height-adjustable carts
1 Cisco Catalyst 2960XR-48FPS-I switch
2 Cisco Catalyst 2960X-24PSQ-L cool switches
2 Comprehensive DPM-HDF DisplayPort-male-to-HDMI-female adapters
4 Comprehensive HD-DVI-6PROBLK Pro AV/IT Series HDMI-to-DVI 26AWG cables (6′)
2 Comprehensive HD-HD-12PROBLK Pro AV/IT Series high-speed HDMI cables w/ProGrip, SureLength, CL3 (12′)
157 Comprehensive HD-HD-6PROBLK Pro AV/IT Series high-speed HDMI cables w/ProGrip, SureLength, CL3 (6′)
8 Comprehensive MP/2PJ-C 3.5mm mono mini plug to 2 RCA jacks audio adapter cables
4 Comprehensive MP-MP-6ST Standard Series 3.5mm mono mini plug-to-plug audio cables (6′)
21 Comprehensive USB2-AA-6ST USB 2.0 A-to-A cables (6′)
24 Comprehensive USB2-AB-6ST USB 2.0 A-male-to-B-male cables (6′)
8 Comprehensive HD-HD-15PROBLK Pro AV/IT Series high-speed HDMI cables w/ProGrip connectors
2 Crestron C3COM-3 3-Series control cards
9 Crestron CBLR2-CAT5E cable retractors for FlipTops, Cat5e
9 Crestron CBLR2-HD cable retractors for FlipTops, HDMI
9 Crestron CBLR2-VGA-Audio cable retractors for FlipTops, VGA and audio
1 Crestron CEN-CI3-3 3-Series card interface
1 Crestron CEN-GWEXER infiNET EX and ER wireless gateway
2 Crestron CP3N 3-Series control systems
5 Crestron DMB-4K-I-C 8-channel HDBaseT certified 4K DigitalMedia 8G+ input blades
3 Crestron DMB-4K-I-HD 8-channel 4K HDMI input blades
3 Crestron DMB-4K-O-C 8-channel HDBaseT certified 4K DigitalMedia 8G+ output blades
2 Crestron DMB-4K-O-HD 8-channel 4K HDMI output blades
1 Crestron DMB-4K-O-HD-DNT 8-channel 4K HDMI and Dante output blade
4 Crestron DMC-4K-C-HDCP2 HDBaseT certified 4K DigitalMedia 8G+ input cards
6 Crestron DMC-4K-CO-HD-HDCP2 2-channel HDBaseT certified 4K DigitalMedia 8G+ output cards
12 Crestron DMC-4K-HD-HDCP2 4K HDMI input cards
2 Crestron DMC-HDO 2-channel HDMI output cards
1 Crestron DMC-S20-HD 2-channel DigitalMedia 8G single-mode fiber output card
2 Crestron DMC-SDI 3G-SDI input cards
13 Crestron DM-DGE-200-C digital graphics engines w/PinPoint UX and 4K DM 8G+ inputs
1 Crestron DM-MD128X128 128×128 DigitalMedia switcher
1 Crestron DM-MD32X32 32×32 DigitalMedia switcher
1 Crestron DMPS3-4K-150-C 3-Series 4K DigitalMedia presentation system
6 Crestron DM-RMC-4K-100-C-1G wallplate 4K DigitalMedia 8G+ receivers and room controllers
17 Crestron DM-RMC-SCALER-C DigitalMedia 8G+ receivers and room controllers w/scalers
2 Crestron DM-RMC-SCALER-S2 DigitalMedia 8G single-mode fiber receivers and room controllers w/scalers
8 Crestron DM-TX-4K-100-C-1G wallplate 4K DigitalMedia 8G+ transmitters
19 Crestron DM-TX-4K-302-C 4K DigitalMedia 8G+ transmitters
9 Crestron FT-TS600 FlipTop touchscreens
3 Crestron GLS-PART-CN Cresnet partition sensors
1 Crestron PRO3 3-Series control system
1 Crestron TSR-302 handheld touchscreen remote
20 Crestron TSW-760 7″ touchscreens
1 Crestron TSW-760-TTK tabletop kit for TSW-760
1 Da-Lite 21777C 108×192 screen w/7′ drop
1 Definitive Technology SuperCube 6000 sub
1 Definitive Technology Mythos XTR-SSA3 ultra-slim L/C/R speaker bar
1 Denon DN-700AV professional 7.1 AV receiver
1 Display Devices DL3B-14 projector lift
1 Display Devices OPT-3 plenum-rated housing
7 DPA Microphones DAD6010 Miniature Series microdot-to-TA4F mic adapters
7 DPA Microphones FIO66F00-M2 d:fine omnidirectional headset mics
2 Electro-Voice EKX-12 12″ passive speakers
3 Extron MSR 6 3.5mm stereo-audio-male-to-RCA-female audio adapters
19 Extron USB Extender Plus T twisted-pair extenders
19 Extron USB Extender Plus R twisted-pair extenders
4 Extron SMP 352 (400GB SSD) dual recording H.264 streaming media processors
2 Extron RSU 126 universal rack shelf kits
9 Extron ASA 141 passive audio summing adapters w/RCA inputs and balanced/unbalanced outputs
5 Extron mini architectural adapter plates (MAAP)
1 FSR CB-224 2×2 high-capacity ceiling box w/4RU drop-down cage
33 FSR IPS-B010D-WHT IPS blank inserts
8 FSR IPS-D711S-WHT IPS voice/data inserts
21 FSR IPS-D722S-WHT single-height Cat6a shielded connector inserts
1 Gator Cases GM-6-PE 6-mic case
1 Gator Cases GTSA-MICW6 ATA-molded polyethylene case
2 JBL CBT 1000 constant beamwidth technology adjustable coverage line-array columns
1 JBL MTCPC2 weatherproof control loudspeaker panel cover
1 Kramer VIA GO wireless presentation solution
4 Liberty AV HEI-RHIM-TEMPLATE logo panels
9 Liberty AV PE6413-WQ514208 floor box plates
1 Liberty AV PE6413-WQ514221 HDMI plate
2 Liberty AV PE6413-WQ514222 HDMI plates
18 Liberty AV PE6413-WQ517371 HDMI plates
2 Liberty AV PE6413-WQ520528 custom camera plates
2 Liberty AV PE6413-WQ520530 camera control plates
2 Liberty AV PE6413-WQ520531 camera control plates
4 Liberty AV PE6413-WQ523471 camera plate
4 Liberty AV PE6413-WQ523472 camera plate
1 Liberty AV PE6413-WQ523473 plate
1 LifeSize Icon 800 videoconferencing system codec
4 Middle Atlantic BGR-4527 gangable enclosures
2 Middle Atlantic BR2 2-space brush grommet panels
2 Middle Atlantic BSPN-45-27 side panels
2 Middle Atlantic D2 2-space rack drawers
1 Middle Atlantic PD-2420SC-NS 20-amp, 24-outlet, high-density, slim power strip
1 Middle Atlantic PD-915R rackmount power strip
4 Middle Atlantic PDT-1620C-NS thin power strips
10 Middle Atlantic QFAN rack fans
1 Middle Atlantic SR-46-28 steel pivoting rack
4 Middle Atlantic U2 double-space universal rack shelves
6 Middle Atlantic UPS-2200R-8IP uninterruptible power supplies
5 Middle Atlantic WL-60 work lights
4 MultiDyne SB-3G-FTX-ST SilverBullet mini 3G HD/SDI fiberoptic links
16 NewLine EPR8A00080-000 TruTouch 800 multi-touch displays
9 NewLine EPR9A00X70-000 TruTouch X7 collaboration systems
8 OWI 703I surface-mount outdoor/indoor speakers
5 Panasonic AW-HE40S full-HD cameras w/integrated pan-tilt
1 Panasonic PT-RZ970WU 10,000-lumen WUXGA DLP projector
40 Panduit CJ688TGIG UTP jack modules
3 Panduit CP24BLY shielded modular patch panels
3 Panduit CPP24WBLY unshielded modular patch panels
4 Panduit NMF1 single-sided managers
6 Peerless-AV ACC570 round ceiling plates
2 Peerless-AV EXT018 fixed-length extension columns
2 Peerless-AV EXT101 fixed-length extension columns
2 Peerless-AV EXT102 fixed length extension columns
6 Peerless-AV PLCM-2-UNL SmartMount ceiling mounts
2 Peerless-AV UV652 65″ UltraView ultra-HD outdoor TVs
6 ProCo AQ-15M4F0PLM AQ-15s w/yellow color rings
2 ProCo AQ-25M2F0PLM AQ-25s w/red color rings
63 QSC AD-C6T 6.5″, 2-way ceiling-mount speakers
6 QSC AD-P6T 6.5″, 2-way pendant-mount speakers
1 QSC CDN64 Dante audio bridge card
4 QSC CIML4 mic/line analog input cards
4 QSC COL4 analog line output cards
1 QSC Q-SYS Core 110f processor
1 QSC Q-SYS Core 510i integrated core processor
5 QSC CXD4.3Q network amps
1 QSC I/O-8 Flex Q-SYS channel expander
1 QSC SPA2-60 EnergyStar power amp
1 RCI Custom Professional Series BM-30M active media mult-box
4 RDL D-CIJ3 consumer input jacks (mono)
1 Ross Video NK-M16 RS422 machine control router (16 inputs)
4 Shure A15LA 50dB attenuators
4 Shure BETA 58A vocal mics
7 Shure MX153 earset headworn mics
2 Shure MXA910 ceiling array mics
28 Shure SB900 lithium-ion rechargeable battery packs
1 Shure SBC200 dual-docking battery charger
1 Shure SBC200-US battery charger w/power supply
2 Shure SBC800-US 8-bay battery chargers
2 Shure SM31FH fitness headset condenser mics
4 Shure UA221 passive antenna splitter/combiner kits
4 Shure UA834 in-line antenna amps
8 Shure UA864 wall-mounted wideband antennas
4 Shure UABIAST in-line power supplies
22 Shure ULXD1 wireless bodypack transmitters
6 Shure ULXD2/B58 handheld wireless mic transmitters
3 Shure ULXD4D dual-channel digital wireless receivers
4 Shure ULXD4Q quad-channel digital wireless receivers
4 Shure WA310 TA4F-to-XLRF cables (4′)
4 Shure WL183 lavalier condenser mics
9 SnapAV WB-100-PS-6 WattBox 6-outlet power strips
26 Sony FWD43X800E 43″ HDR ultra-HD smart LED TVs
2 Sony FWD49X800E 49″ HDR ultra-HD smart LED TVs
5 Sony FWD55X800E 55″ HDR ultra-HD smart LED TVs
11 Sony FWD65X750D 65″ Bravia 4K ultra-HD LED-backlit TVs
3 Sony FWD75X850E 75″ Bravia 4K HDR professional displays
9 Sony FWD85X850D 85″ Bravia 4K HDR ultra-HD displays
1 Tripp Lite SMART750RM1U 750VA/.75kVA/600W line interactive, sine wave UPS system
4 Ultimate Support JS-DMS50 desktop mic stands
2 Ultimate Support TS-100B Air-Powered Series aluminum tripod speaker stands
5 Vaddio 535-2000-243 thin-profile wall mounts
2 Williams Sound ANT 005 remote coaxial antennas
4 Williams Sound BAT 026-2 AA NIMH rechargeable batteries (2 each)
1 Williams Sound CHG 3512 PRO bodypack charger, 12 bay, w/case
4 Williams Sound EAR 022 surround earphones
2 Williams Sound HED 021 folding headphones (mono)
2 Williams Sound NKL 001 neckloops
2 Williams Sound PPA T45 personal PA FM base station transmitters
4 Williams Sound PPA R37-8N 8-channel, 72MHz FM receivers
4 Winegard Flatwave Air amplified digital outdoor HDTV antennas
6 Wiremold 8MAAP Evolution 8AT Series AVIP device plates
1 Wiremold EFB10-DP Evolution Series EFB10 floor box device plate
1 Wiremold EFB8-MB Evolution Series EFB8 floor box mounting bracket
1 Wiremold EFB8S-FC Evolution Series 8-gang fire-classified floor box
1 Wiremold EFB-MAAP Evolution Series EFB6 floor box device plate
List is edited from information supplied by Progressive Electronics, Inc.