A strong sense of community is essential for any house of worship (HoW). This is why audio, video and lighting technologies have become so indispensable in the worship market. AVL tech serves to bring people together, and it can be used to create strong communal experiences. However, a HoW cannot rely solely on AVL to bring its congregants together; it helps if the worship space itself is conducive to a feeling of community.
Louisiana-based First Baptist Church Covington (FBC Covington) understands the importance of both high-end AVL and a welcoming worship space in creating an experience that can bring a congregation together. Back in 2014, FBC Covington's leadership decided to move forward with a plan to add a new, 2,400-seat worship space to its existing building; the addition was completed in 2018. From square one, making sure that the new space would create a communal experience for congregants was a top priority.
According to Barry Carpenter, Technical Director for FBC Covington, "We intentionally designed the space to be congregational in nature. This affected everything, from how the acoustics of the space were designed to the arc of the seating, so people could see one another." He added, "We utilized the new construction nature of this [project] to really home in on where we wanted to go and what we wanted to accomplish [not only] now, but also in the long term. From an AVL perspective, we saw this as an opportunity to include acoustic and AVL design from day one of the project—something that historically had not been done."
(In addition to the construction of the new worship space for FBC Covington, this project also included construction and AV systems design for a new common area, administrative offices and a children's education annex. However, this article will only cover the worship center design and installation.)
FBC Covington contracted HH Architects to build the new worship center and brought on acoustical design consultancy Idibri (www.idibri.com) to handle the design of the new worship space in terms of its layout, acoustics and AVL systems. Idibri worked in close consultation with FBC Covington's leadership and technical team to ensure the client's vision for the new worship space would be realized.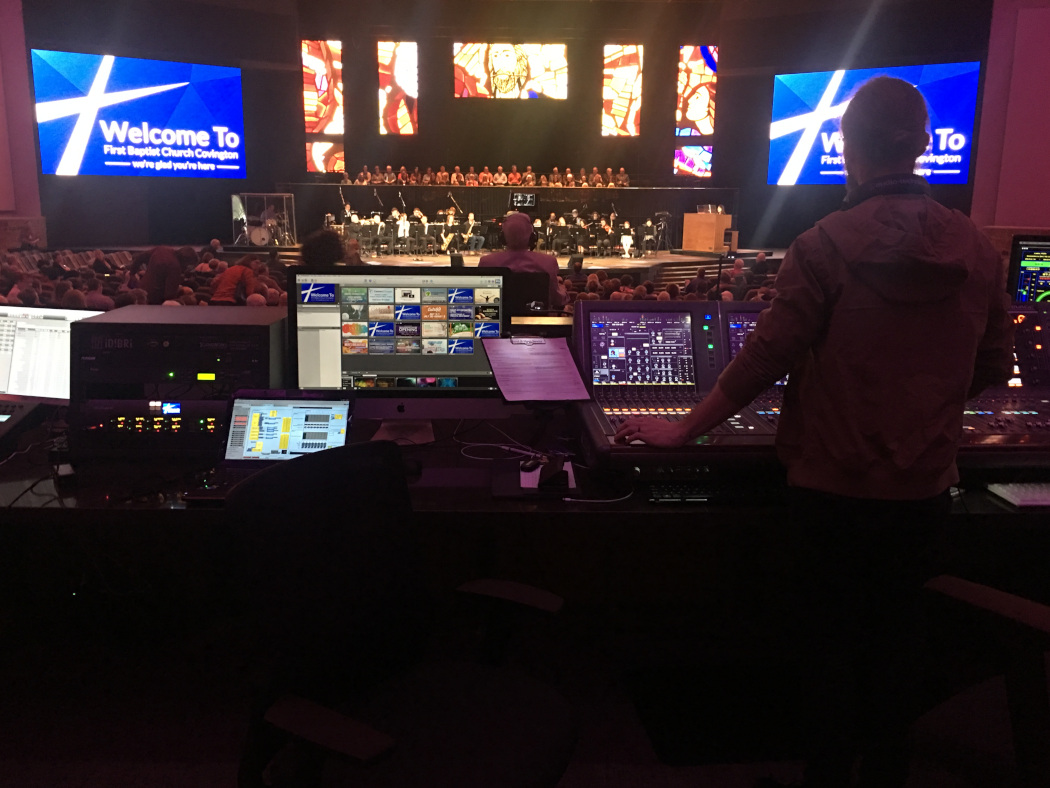 Idibri's Casey Sherred explained how his team approached the early stages of the project to determine the most effective ways to implement FBC Covington's priorities. "We went through the architectural directives with them and we talked through what purposes they had for the space," he said. "The church is highly relational, so they wanted the worship service to have a personal experience with the warmth of the corporate body. For us, that meant, when the pastor is standing up speaking, there needs to be people wrapping around him so he can feel like he's out in the crowd a little bit. So, there's a pretty good wrap in the room's seating, which also allows people sitting on one side of the room to see people on the other side. You can see a sea of people [whom] you're in community with. And we made sure there was enough room at the front between the seats and the stage for people to come down and be able to congregate for altar calls."
The directive to prioritize a communal worship experience also extended to the AVL infrastructure and acoustical-design aspects of the project. To that end, FBC Covington wanted to outfit the new worship center with a robust video system that would keep congregants engaged through the use of image magnification (IMAG) and special effects, a lighting system that could be used to set the mood throughout the entire space, and a sound system that would deliver clear, intelligible speech reinforcement while also meeting the demands of the church's large traditional orchestra and contemporary praise band.
The process of designing the new worship space with AVL technology in mind from the start allowed FBC Covington to avoid some of the issues the technical team had with the old venue. "The preexisting worship space was a temporary build that, due to Hurricane Katrina, became a long-term-use space," Carpenter revealed. "We had real challenges with audio coverage, poorly designed systems, sightlines and acoustics. Knowing some of those pitfalls was a big part of the reason we made the decision to bring in Idibri early in our design process of the new space."
Soundworks Systems Integrators (www.soundworksllc.com) was contracted to handle the actual installation of the audio and video systems designed by Idibri. The team from Soundworks included Senior Project Manager George Picone, Project Foreman Mark Linson and On-Site Project Manager Shawn Downum. Texas Scenic (www.texasscenic.com) installed the lighting systems.
FBC Covington runs three services at this location in a given week. The biggest difference between services is the approach to music; some utilize a traditional orchestra of about 30 and choir of about 60, whereas others employ a contemporary praise band of eight and about six vocalists.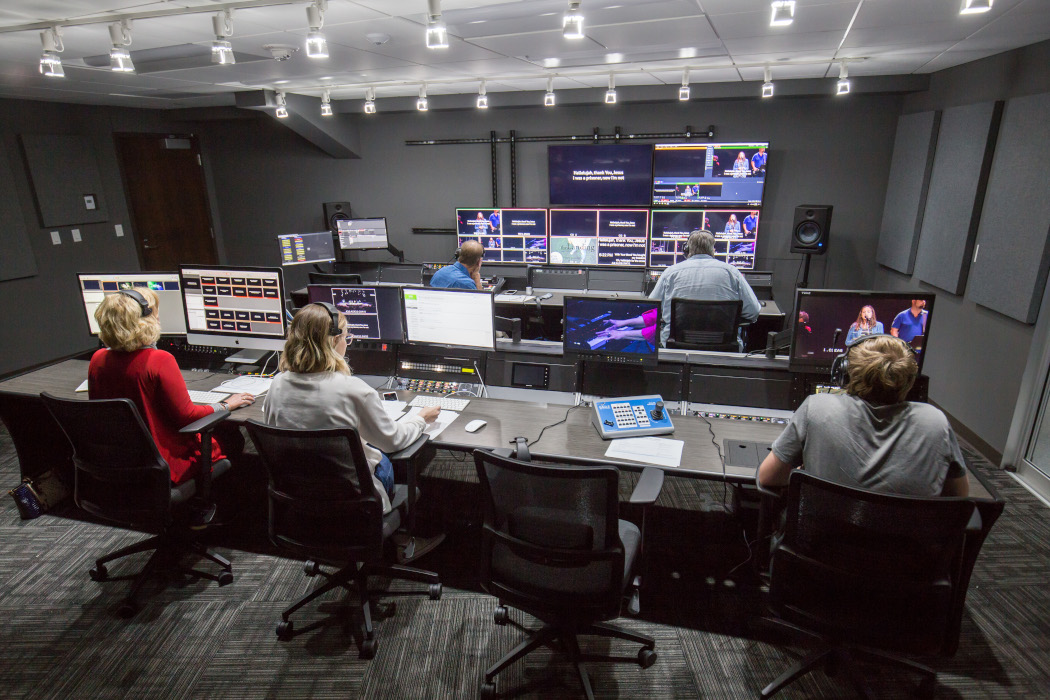 Otherwise, services at FBC Covington are typical of similar-sized Baptist churches, with spoken-word greetings and musical performances followed by an extended sermon delivered by a single pastor. "The flow of each service is very similar to each other on a given weekend, but we aren't locked into a particular format," Carpenter described. "Typically, we have times of worship and prayer and giving at the first half of the service and a sermon at the second half, followed by an invitation."
To accommodate the two different approaches to worship music, Idibri designed a movable choir loft on casters that can be pushed back and hidden when the choir is not performing, or removed entirely to allow use of the entire stage for very large orchestras. "Their turnaround is somewhere around 30 minutes between services, so we designed a portable choir loft with tracks in the floor," Sherred described. "It can roll back to the upstage wall, and there's a curtain that comes across so you don't see the choir loft at all. It's Wenger risers and Wenger pieces and parts, and it all breaks down. So, for special productions, if they need to use the upstage space, the loft can be de-mounted. Obviously, that takes quite a bit of time to do, but it can be done by a few people that can strike it and store it, and then they can reassembleit later."
In addition to the choir loft, the stage also features three large LED screens made up of 362 THOR:SLATE 3.9 panels. The two screens on stage left and right measure 23'x13.1′ and are primarily used for IMAG, and the unique center screen is divided into sections and used more as a set piece displaying abstract images and designs. In a similar fashion to the moveable choir loft, the center screen can be raised or lowered to accommodate different stage setups. "It's all on a motorized hoist so they can lower it when the choir loft isn't in play," Sherred said. "So, in a matter of 10 to 15 minutes, they can change the look of the stage from contemporary to traditional and vice-versa pretty easily."
There are four operator-controlled camera positions in the worship center. Three new Hitachi Z-HD5500 cameras were specified for this project, and an additional preexisting Hitachi camera was repurposed for use in the new space. All four of these cameras are mounted on DAIWA tripods. Three Marshall Electronics CV500-MB2 mini cameras are available to be mounted in various positions onstage to capture musician shots. A Hitachi RC-Z12A-S10 remote-controlled camera is also in use.
The worship center features a number of confidence monitors. "They have two 80-inch Sharp AQUOS screens that are mounted on the base of the balcony on left and right," Picone described, "and then they have three 42-inch LG screens sitting left and right and in front of the stage. There are some cutouts in the seating where those three confidence monitors slide in, and then they have a kind of millwork cover so that they don't look obtrusive."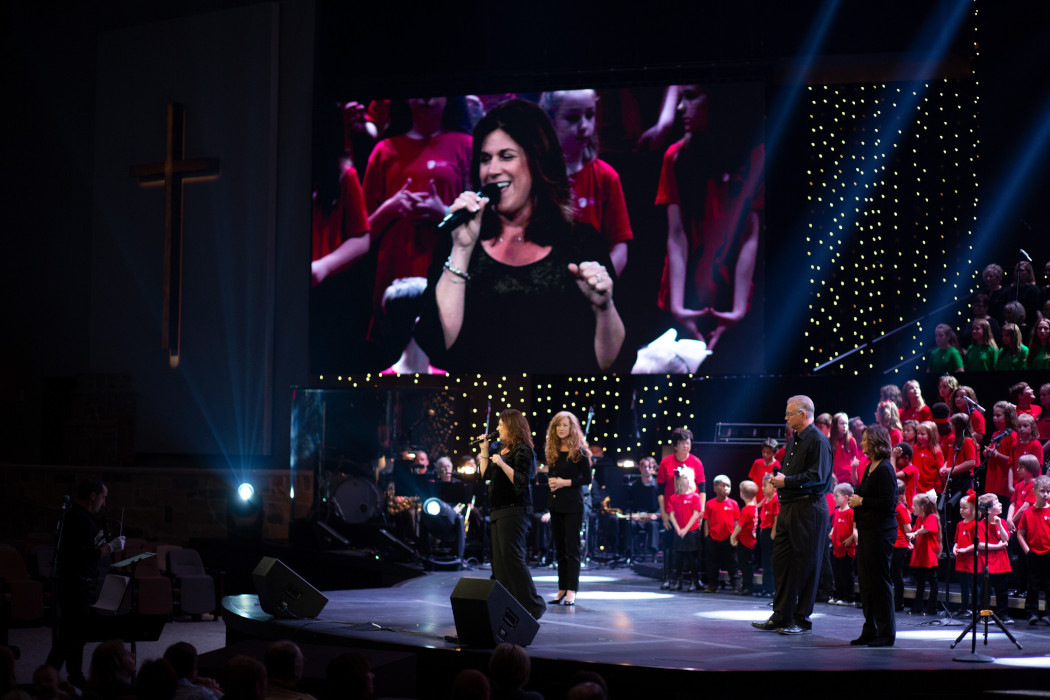 The backstage area features a separate black-box studio that can be used for recording audio, video announcements and other video rolls to be shown during services. "One of their ideas was building out a small set so they could host fireside chats," Sherred described.
The video production suite—located under the balcony—is equipped with a Ross Video Carbonite Black 2 2ME switcher and an NK-3G64 router, plus a Bittree patchbay system and a Christie Pandora's Box server. A videowall composed of five LG flatscreens displays the various camera feeds; three of these screens show a multiviewer view, and the other two screens show a full-screen view. The workstation furniture was provided by Forecast Consoles.
A Ross Video distribution amplifier system is used to send the HD-SDI video feeds to the switcher and router. "They have SDI video that goes to monitor locations in back of house and the corridors," Picone said. "They also have six in-house modulated channels, so they can provide content to all areas of the building, which amounts to three or four digital signage channels, live production from the worship center [and] a couple of TV channels that they have on the system, too. There's a Crestron control system that controls all the TVs and monitors—a CP3 processor with a TSW 760 touchscreen and multiple iPads."
"There are displays in the lobby, the green rooms and back of house areas," Sherred added. "Video feeds are distributed to the lobby over HD-SDI as a direct feed that comes off the router, in order to keep the latency low. For other parts of the building, it's modulated on the MATV system and distributed throughout the rest of the campus."
A Mac Pro and iMac with ProPresenter software are used for computer graphics effects processing, including lower-thirds and onscreen text; signals from the graphics computers are sent to the various displays via Blackmagic Design UltraStudio 4K systems with Thunderbolt interfaces.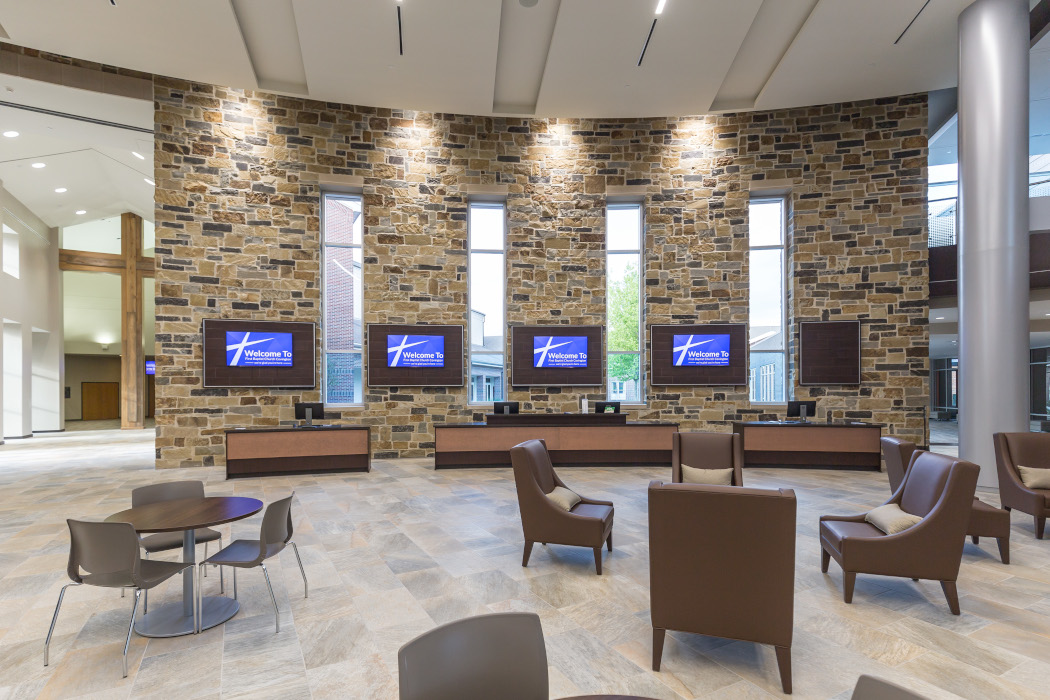 FBC Covington records video of its worship services for broadcast on a local TV station, as well as streaming its video content online. Four AJA Ki Pro Racks are used for video recording. "We have a separate video-switching and audio portion that focuses on broadcast needs," Carpenter explained. "Video is switched through Ross Carbonite Black gear, audio through our Yamaha consoles. The feed then goes through our custom-built encoder, and that makes its way to Boxcast, and then goes out to all of our mediums. Our TV program is edited separately from our ISO camera recordings by a local media company, Let's Develop. They edit and deliver content to TV."
In addition to designing the video system, Idibri also had to design a sound system to suit FBC Covington's worship programming. From the beginning stages of the project, Idibri worked with HH Architects to ensure that the acoustics of the worship center would be optimal, and the company tailored an audio solution that complemented the acoustical makeup of the room. "We designed the shapes of the walls to mitigate reflections, and we also designed an acoustic treatment package with panels on the walls in specific locations, as well as treatment that's above the ceiling clouds and on the roof deck," Sherred said. For sound reinforcement, Idibri specified several L-Acoustics speaker systems. Speaker placement was determined using L-Acoustics' Soundvision software, as well as EASE.
A pair of L-Acoustics KARAi arrays—flown above the main stage in a left/right configuration—serves as the venue's main loudspeaker complement. They are supplemented by a pair of L-Acoustics KIVA II arrays, serving as outer fills for the far left and far right seating areas. "There are eight KARAs in each of the main arrays, and seven KIVA IIs in each of the side-fill arrays," Sherred said.
The new worship center features stadium seating and an upper balcony at the rear of the room, so Idibri decided to deploy a delay ring containing 10 L-Acoustics 12XTi speakers to cover the back rows. "We used delay speakers so we don't have to fire energy from the front of the room all the way to the top row, because, if we do that, we put more energy than we'd really like to on the far wall," Sherred explained. "With the delay speakers, our angle of incidence is steeper, and that energy grounds out, so it's not an issue at the front of the room. It also allows them to turn off those speakers if they want to scale the room down. They can turn the delay ring off and shut the lights off in that area and darken that whole area out to encourage people to sit further forward in the room on the main floor." An additional five L-Acoustics 5XT speakers installed at the front of the stage are used as fills to paint the first few rows of seating with sound.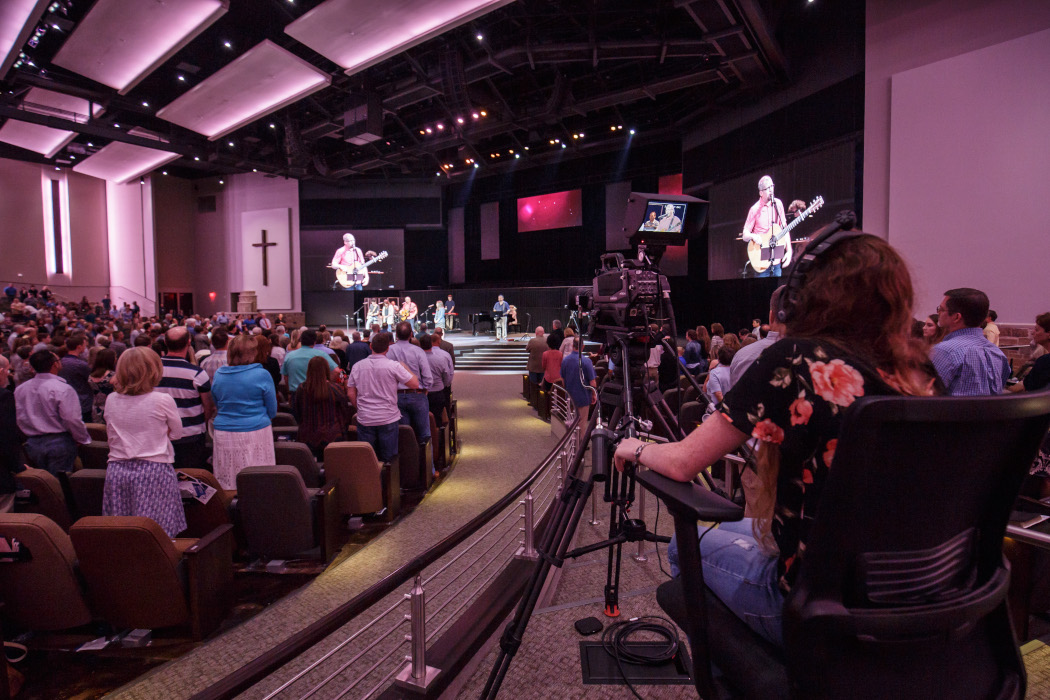 Low-end sound reinforcement is handled by seven L-Acoustics SB18i subs located under the stage and six SB18i subs flown above the center of the stage in a cardioid deployment. All the L-Acoustics speakers in the worship center are powered by 13 LA4X US amplifiers, which also handle signal processing for the speakers.
A distributed audio system composed of 87 JBL Control 26CT speakers and eight Control 47HC speakers serves to send audio to various parts of the building, including the lobby, hallways, restrooms, etc. A QSC Core 110f handles digital signal processing for the distributed audio system.
A Yamaha RIVAGE PM10 console located at front of house receives stage inputs from an RPio622 rack located in a backstage equipment room. According to Kris Landrum of Sound Productions, which provided equipment to the integrator, Soundworks, "FBC Covington was looking for a console that could support a high channel count for their new worship space, [which] would also be used for other events, such as concerts for Covington's symphony orchestra. There are several pockets throughout the stage and a patchbay system to accommodate input arrangements for varying stage plots. They also were very impressed with the processing power within the PM10 and, of course, the SILK microphone preamp." The patching system includes Panduit and Black Box patch panels.
A Shure ULXD wireless mic system serves as the main audio input, with a mix of Shure instrument mics and vocal mics and DPA headsets in use for various applications. "The original spec used a Dante connection into the console for the wireless mics, but we changed that to a copper connection so that they could benefit from those preamps in the Yamaha console," Picone said.
According to Carpenter, "Originally, our wireless mics were coming into the PM10 via Dante. However, in order to make use of the SILK Neve transformers, we made the decision to have the mics come in analog, as it's the only way to take advantage of these amazing preamps. The Red and Blue transformer saturation sounds incredible."
For onstage monitoring, three EAW QX364 speakers are installed above the choir loft area and used as choir monitors; the band members have access to 10 Shure PSM300 in-ear-monitoring systems. A band rehearsal space in the backstage area is equipped with EAW QX396 monitors, a QSC CDX4.3 amplifier, a Yamaha TF1 mixer and a Shure QLXD wireless mic system.
A Yamaha QL5 console is located in a separate broadcast audio production room; this console shares inputs and outputs with the console at front of house, and stems can be sent from front of house to mix the broadcast audio feed separately. The audio production room also includes two Adam Audio A7Xes and one Sub15 for monitoring purposes.
The production team communicates via a Clear-Com Eclipse Median digital matrix system. For ADA compliance, the venue also includes a Listen Technologies RF assistive-listening system.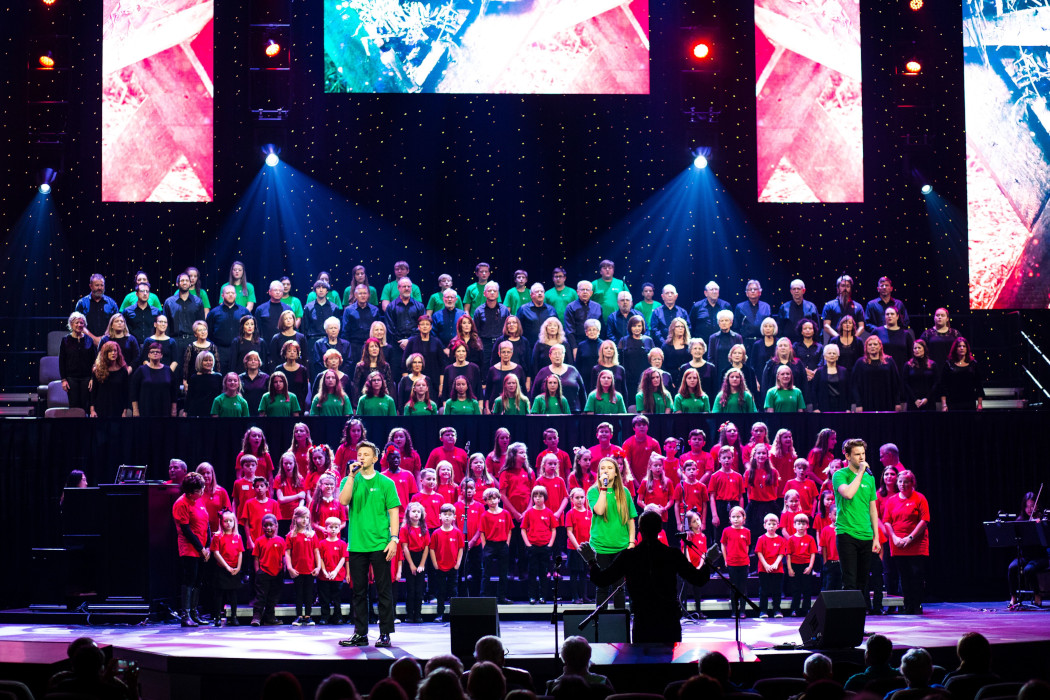 The venue's lighting system features an assortment of conventional fixtures and color-changing LEDs. "The house lights are color-changing LEDs, the ceiling clouds have color-changing LED linear fixtures that light up the clouds and there are color-changing LED sconces that are full-height sconces on the side walls," Sherred described. "They can paint the audience with one color and the ceiling with another. You can get really dramatic looks within the space to change the mood, and you can go completely Vegas-style if you wanted to. But you're really able to create any mood or atmosphere with the lighting that's all around you. It's not just LEDs on the stage—that's only part of the experience."
"We use Chroma-Q Vista S1 and M1 consoles to program and control our worship service lighting," Carpenter explained. "Our goal for lighting is to enhance and not distract from the message being presented. We program our content and cues ahead of time, which leaves things simple for volunteers to run during the service. We utilize a large number of K-9 Bulldog Pros for our stage wash lighting and a variety of fixtures for beam effects. For house lights, we chose Chroma-Q Inspires. All of our clouds and side panels in the room are washed by RGBAW fixtures. This combination gives us some really impactful programming options. We use conventional lighting for front wash, but used [Electronic Theatre Controls] smart bars instead of traditional dimmer racks so we have the option to change to LED front wash with minimal infrastructure changes required."
Following completion of the installation, representatives from THOR, Ross Video, Hitachi, L-Acoustics, Theatrical Concepts and Yamaha assisted in training FBC Covington's AVL team on the use of the new system.
According to Picone, Idibri and FBC Covington's extensive planning process at the beginning stages of the project paid dividends in terms of maximizing the ease of installation and maintenance for the new venue's AVL systems. "It's pretty much designed and built like a theater installation," he said. "There's a catwalk, so there's easy access to rigging points and lighting for focus, replacement and maintenance, and speaker systems are accessible from the catwalk. The client actually put the time and money into it to make it a facility that's easy to maintain and operate."
On the client side, FBC Covington was thrilled with the completed project and had nothing but praise for Idibri's extensive design work. "The work Idibri has done for us, in the planning, execution and follow-through phases, has been extremely good," Carpenter shared. "They worked hard to help us understand our own needs. Throughout the building project, they were in our corner and ensured what was planned was implemented correctly. We couldn't be happier."