These Campus Commons are anything but common. The new, $59.5 million, 110,000-square-foot complex opened earlier this year on more than six acres on the University of Northern Colorado's (UNC) Greeley campus. The Campus Commons fulfills many of the hallmarks for collegiate welcome centers, which comprise a growing trend in higher education as schools are compelled to become more competitive in trying to attract a shrinking pool of prospective students. (Indeed, one study, by an economist at Carleton College in Minnesota, predicts that the college-going population will drop by 15 percent between 2025 and 2029 and will continue to decline by another percentage point or two thereafter. Contributing factors include a decreasing birth rate and steadily increasing tuition costs.)
In addition to the Campus Commons' student-orientation facilities and the consolidation of financial aid, registrar and bursar offices in its generous allotment of office space and conference rooms, it also boasts performance and presentation spaces: a nearly 6,000-square-foot, 600-to-650-seat performance venue; a 400-seat multipurpose auditorium; rehearsal spaces; an open, light-filled, more-than-14,500-square-foot lobby space; and a more than 1,750-square-foot art gallery.
"This new building fills a lot of needs," Russ Cooper, Principal at Jaffe Holden, the project's acoustic and AV consultant, affirmed. "In addition to serving as a welcome center, it includes [the kind of] acoustically designed performance space that the school's music department had been seeking for years."
The Big Room
The larger of the two auditoriums, known as the theater, usually seats 600. The seat count is increased by 50 when the stage extension/orchestra pit lift is utilized for more seating via a motorized chairwagon system that shuttles the first few rows from below ground.
The venue's acoustics were of particular importance because it is the only proscenium venue on campus, and it's intended to provide a home for UNC's jazz program, which is rated one of the top in the US. However, it also has to accommodate orchestral music, concert band, wind ensembles, chorus, chamber music and operatic performances. Most of those ensembles will utilize a custom-fabricated orchestral shell, from vendor Stage Right Milwaukee, made of honeycomb wood laminate.
To accommodate both classical music, which is completely unamplified, and jazz, which depends heavily on amplified instruments and microphones through a PA system, the venue, Cooper explained, had to have a variable reverb time of between 1.2sec. and 1.8sec. That's achieved using rows of motorized curtains, totaling 4,000 square feet, hung in the attic above a series of acoustical-cloud reflectors. That combination keeps the impact of the music in the room, but dampens the reflections and reverberation of the venue's 275,000 cubic feet of space. In addition, sound is shaped within the venue using a series of curved wood and gypsum surfaces throughout the room.
The second venue—the smaller, multipurpose auditorium—had originally been intended for music, but, instead, it will now serve multiple functions as a lecture hall and event space. (Helpfully, it offers the ability to retract all its seating using a bleacher-type system.) Both venues can be used completely acoustically; according to Cooper, no real acoustical challenges were encountered. Nonetheless, both venues have their own installed PA systems, thus increasing their usability.
Taming The Sound
The acoustical-cloud reflectors do an excellent job of taming sound within the theater; however, like everything else in AV, they play their part in the law of unintended consequences. The reflectors' height was dictated, in part, by the room's physical dimensions and its cubic capacity. However, that, in turn, affected the positioning of the theater's Barco HDXW20 Flex projector (lowered from one of the acoustical clouds by an SVS 12 HSE-29 lift), which was also positioned based on what the 165-inch Draper projection screen required. This domino effect left a tight positioning window for part of the installed d&b audiotechnik house sound system. The two left-right hangs, consisting of six boxes (four Yi8s and two Yi12s), with a subwoofer on top per side, weren't affected. However, the center cluster's six Ti10L boxes were chosen because their small form factor kept the center hang more compact and, thus, easier to keep out of the projector's line of sight.
"I would have preferred to use the same boxes as we used in the main hangs for the center array, as well as more of them, which would have given us better articulation of high frequencies front to back," Ben Bausher, Associate Principal of AV for Jaffe Holden, explained. "Fortunately, the d&b boxes are very tonally consistent across their range of speakers, so it worked out fine." Three d&b 10S speakers are also attached to the catwalk iron above the seating area to cover the small balcony. These were used so as not to burden the main left and right hangs with an additional speaker enclosure at top to cover the balcony rows.
Another big factor driving the choice of the d&b sound system was the accelerating trend of using systems that have shown wide acceptance by music acts and other touring shows—the so-called "rider-ready" effect. Bausher concurred with that point, noting that the hall is expected to accommodate many touring jazz ensembles in support of the school's focus on that music genre.
The auditorium's audio and its Crestron system control (for the Barco projector) are on a Dante network that was deployed by the integrator, Professional Audio Designs; it is separate from the school's campus-wide local area network (LAN). Using a connection panel installed by the integrator, the school itself established a connection from the venue's new Yamaha CL-5 frontof- house console to a recording studio in the building. Another platform, the new Clear-Com intercom system, also reflects changes in AV's connectivity landscape.
Lobbying Effort
The theater opens into a large lobby area, which itself is considered a presentation space. It boasts a distributed JBL Control sound system that uses ceiling speakers and has its own Shure ULXD wireless microphone system. It's lined with Planar 55-inch Clarity Matrix LED displays positioned in portrait mode and driven by a SpinetiX digital-signage content-management system and players.
That lobby area is shared with the previously referenced 400-seat multipurpose auditorium that has the retractable bleacher-type system. This second auditorium has a distributed sound system that uses ceiling speakers. It utilizes d&b's DSP to provide preset programming, such as gain and EQ, for sound when fixed seating is in or out. That same system also manages tie lines to the theater next door, allowing the multiuse auditorium to serve as an overflow area. A projection screen is on the rear (stage) wall, and there are LED displays along the side walls; this arrangement offers additional flexibility, allowing the room to be configured along either of two axes.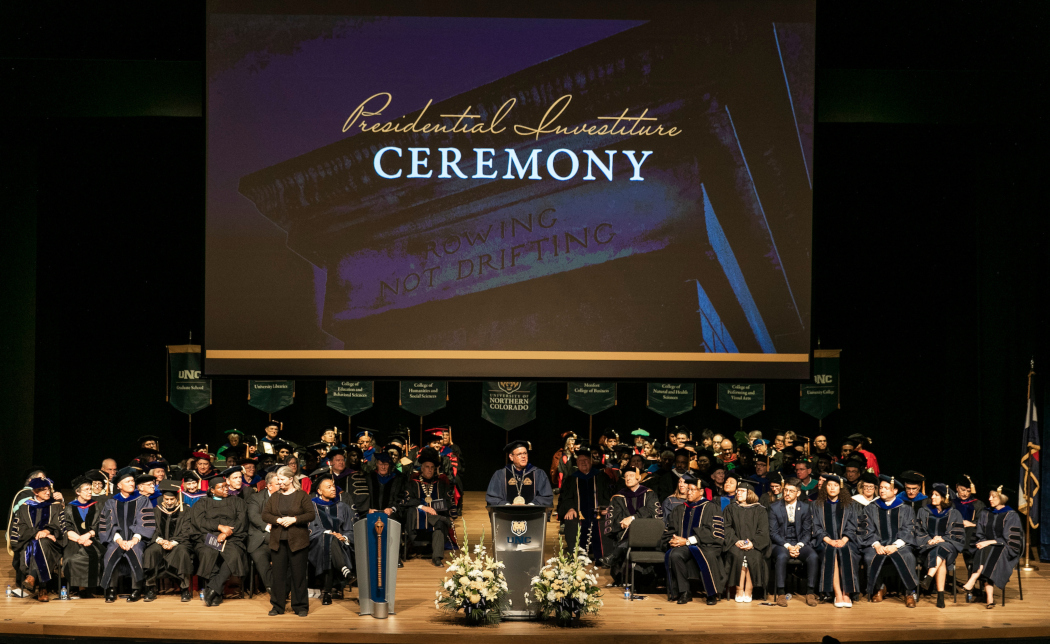 "This second auditorium can do a lot of different things, but it's really oriented toward presentations—especially [presentations] to prospective students and their families," Bausher remarked. "In addition to the Bear Pride room, which is a small lecture space [that Jaffe Holden also worked on], it's one of the first spaces they usually encounter before a tour of the campus. So, it's set up to make a good first impression."
Integration Challenges
Professional Audio Designs, the AV integrator on the UNC Campus Commons project, found much of the technology was straightforward, but the installation and integration required AV expertise. Chris Hermanson, Professional Audio Designs' Head of Installation, who served as project manager, said the fact that some of the spaces—for instance, the multipurpose auditorium— would be used as both a performance space and a teaching/lecture space seemed to confound some of the non-AV trades on the project.
"I've had many electricians tell me that they'd rather work on a hospital than a performing arts center because of all the feeder cables and branch panels and the sheer amount of conduit," Hermanson elaborated. The solution to that, he said, was to take the time and effort to explain the exigencies of audio and video in performance spaces to those who haven't worked regularly in them. Conversations also took place around the fact that Professional Audio Designs' integrators and programmers were working on the AV in some areas of the project that were nearly finished, even as other areas were still being roughed out.
Practical integration challenges also had to be contended with. For instance, the integrator had to figure out how to install the Draper main screen on a stage that had little access to rigging from which to hang its retraction mechanism. Cooperative riggers created a five-foot notch in the rigging in which the integrators were able to install a chain hoist to lift the screen and its sleeve into place. "There was a lot we had to be aware of and to do to maintain things like fire-safety codes in that area," Hermanson= explained. "At the same time, we had to be aware of issues like the line of sight from the projector to the screen and how the PA system impacted that. The good news is, once some of the other trades working on the project saw [the attendant challenges of delivering excellent AV systems], they were willing to give us more leeway."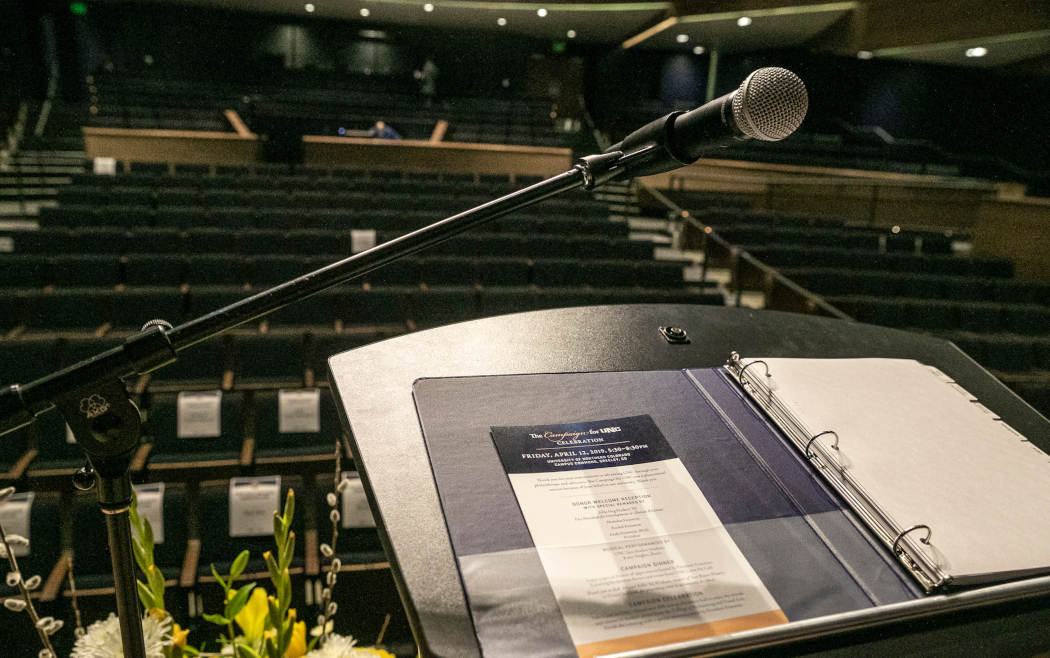 Hermanson estimated that his company pulled in excess of 200,000 feet of various types of cabling through the UNC Campus Commons; that figure includes about 1,800 individual audio, video and control wires. The sheer volume was caused, to some extent, by the recording studio management's desire to have analog cabling running from splitters between the stage, the front-of-house and monitor consoles, and the studio itself. That was their preferred method for maintaining a 96kHz sampling rate for the studio audio and avoiding a possible sampling-rate conflict with the audio on the Dante network. The audio from the stage is routed to a rack that is located downstage left and split from there via Whirlwind splitter boxes to Yamaha Rio3224-D2 stage boxes.
The speakers in the multipurpose auditorium presented their own challenge. The distributed-sound-system design accommodated the room's alternate seating/ballroom configurability, but a very high ceiling—dictated by the room's need for larger heating, ventilation and air conditioning (HVAC) ducting to reduce air-handling noise—meant that speakers had to be attached, via yokes similar to those used to hang lighting fixtures, to the room's overhead pipe grid. According to Hermanson, the use of Revit's BIM software made a huge difference. It allowed the integrator and the general contractor to see each other's requirements and points of possible conflict before embarking on installation.
Out in the lobby, the integrators had to hang six Samsung 85-inch QM85F displays on three sides of the large elevator shaft that forms part of the dramatic open area. These are hung at varying heights on the 30-plus-foot edifice. Other architectural elements, such as stairways in the lobby, made it a challenge to hoist the displays into place. "There wasn't enough room to put a display and two people in a boom lift," Hermanson recalled. "So, we made a cradle out of a Unistrut metal frame and ratchetstrapped it to the front of the display, then attached that to a winch that we placed above each display position. It worked." Graphic-panel displays will eventually wrap three sides of the shaft in an art-type installation, literally using the bones of the building as part of the systems integration.
Evolutionary Changes
UNC's Campus Commons project reflects the ongoing evolutionary changes in auditorium uses in higher-education applications, as they become more important in communicating a school's marketing messaging. At the same time, however, it also illustrates the importance of shared, communal events.
Indeed, auditoriums have become the new agoras of a number of vertical markets, including corporate and education.
EQUIPMENT
1 Barco HDX-W20 FLEX 20,000-lumen, WUXGA, 3-chip DLP projector
1 Barco TLD+ (2.0-2.8:1) projector lens
8 Clear-Com CC-300-X4 single-ear headsets w/4-pin female XLRs
2 Clear-Com HS-6 telephone-style handsets XLR-4F w/coiled cords
2 Clear-Com KB-702 2-channel select flush-mount headsets/speaker stations
1 Clear-Com MS-704 Encore 4-channel headset main station
2 Clear-Com RM-704 rackmount 4-channel headsets/speaker stations
7 Clear-Com RS-701 single-channel standard beltpacks
2 Clear-Com RS-702 Encore 2-channel standard dual listen monaural beltpacks
2 Clear-Com V-BOX Encore portable wedge-shaped enclosures
2 Clear-Com YC-36 dual-channel beltpack adapters
25 Crestron AM-101 AirMedia presentation gateways
1 Crestron CEN-SW-POE-5 5-port PoE switch
1 Crestron CP3 3-Series control system
1 Crestron CP3N 3-Series control system
2 Crestron DM-MD8X8 8×8 DigitalMedia switchers
6 Crestron DM-RMC-4K-100-C 4K DigitalMedia 8G+ receivers and room controllers
5 Crestron DM-RMC-4K-SCALER-C 4K DigitalMedia 8G+ receivers and room controllers w/scalers
1 Crestron DM-RMC-SCALER-C DigitalMedia 8G+ receiver and room controller w/scaler
3 Crestron DM-TX-401-C DigitalMedia 8G+ transmitters
6 Crestron DMPS3-4K-150-C 3-Series 4K DigitalMedia presentation systems
1 Crestron RMC3 3-Series room media controller
2 Crestron TSW-1060-B-S 10.1″ touchscreens (black, smooth)
13 Crestron TSW-760-B-S 7″ touchscreens (black, smooth)
12 d&b audiotechnik Yi8 line-array speakers
6 d&b audiotechnik Yi12 line-array speakers
2 d&b audiotechnik Yi-SUB actively driven cardioid subs
6 d&b audiotechnik Ti10L line-array speakers
8 d&b audiotechnik 10S high-performance 2-way speakers
1 Draper Premier TecVision 16:10, 165″ diagonal projection screen
55 JBL Control 14C/T 2-way 4″ coaxial ceiling speakers
2 JBL Control 14 C/T-BK 2-way 4″ coaxial ceiling speakers (black)
29 JBL Control 16C/T 2-way 6.5″ coaxial ceiling speakers
21 JBL Control 47HC 6.5″ 2-way 150W coaxial high-ceiling speakers
8 Planar 175-0993-00 8′ interconnect power cables
12 Planar Clarity Matrix G3 MX55X 55″ LCD videowall displays
16 Samsung DC49H 49″-class full-HD commercial LED TVs
3 Samsung DC55E 55″-class full-HD commercial LED displays
2 Samsung DM32E 32″ 1080p direct-lit LED displays
3 Samsung DM55E 55″ 1080p direct-lit LED displays
6 Samsung PM49H 49″-class full-HD commercial smart LED TVs
3 Samsung PM55H 55″-class full-HD commercial smart LED TVs
6 Samsung QM85F 85″-class 4K ultra-HD commercial LED displays
4 Shure 577B cardioid dynamic noise-canceling paging mics
16 Shure SB900A lithium-ion rechargeable batteries
8 Shure SBC200-US dual docking chargers w/power supplies
4 Shure SM57-LC cardioid dynamic mics
4 Shure SM58-LC cardioid dynamic vocal mics
1 Shure UA844+SWB 5-way active antenna splitter and power-distribution system
2 Shure UA864US wall-mounted wideband antennas (470MHz to 698MHz)
8 Shure ULXD1-H50 ULX-D Series digital wireless bodypack transmitters, H50 band (534MHz to 598MHz)
10 Shure ULXD2/SM58-H50 ULX-D Series digital wireless handheld transmitters w/SM58 mics, H50 band (534MHz to 598MHz)
1 Shure ULXD4D-H50 ULX-D Series dual-channel digital wireless mic receiver, H50 band (530MHz to 602MHz)
2 Shure ULXD4Q-H50 ULX-D Series quad-channel digital wireless mic receivers, H50 band (530MHz to 602MHz)
2 Shure UA864US wall-mounted wideband antennas (470MHz to 698MHz)
1 Shure VP88 stereo condenser mic and battery
1 SpinetiX Elementi M digital signage software
18 SpinetiX HMP350 Hyper Media Players 1080p w/advanced features
1 SVS Lifts SVS 12HSE-29 projector lift (lowers to 29'3″)
1 Yamaha CL5 32-fader digital mixer console
3 Yamaha LA1L 18″ gooseneck LED console lights
2 Yamaha Rio3224-D2 32-in/16-out digital network remote I/O units
Partial equipment list is abridged from information supplied by Jaffe Holden.