According to tradition, visitors come to California's Napa Valley for two reasons: first, to experience the idyllic natural landscape of this world-famous wine country; second, to taste, enjoy and purchase the fruit of the vines from the wineries. Complementing those is a near-perfect coastline climate that delivers cool nights and warm days.
Caymus Vineyards (Rutherford CA), one of the best known and most beloved of the area's wineries, has installed an advanced audio system to boost the ambience of the wine-tasting experience, adding background music and live-sound capabilities. The system is centered on Meyer Sound, which was also the vendor. (Read about the intriguing relationship between the two Bay Area fixtures in the "Meyer Sound Perspective" sidebar.)
An Appreciation Of Life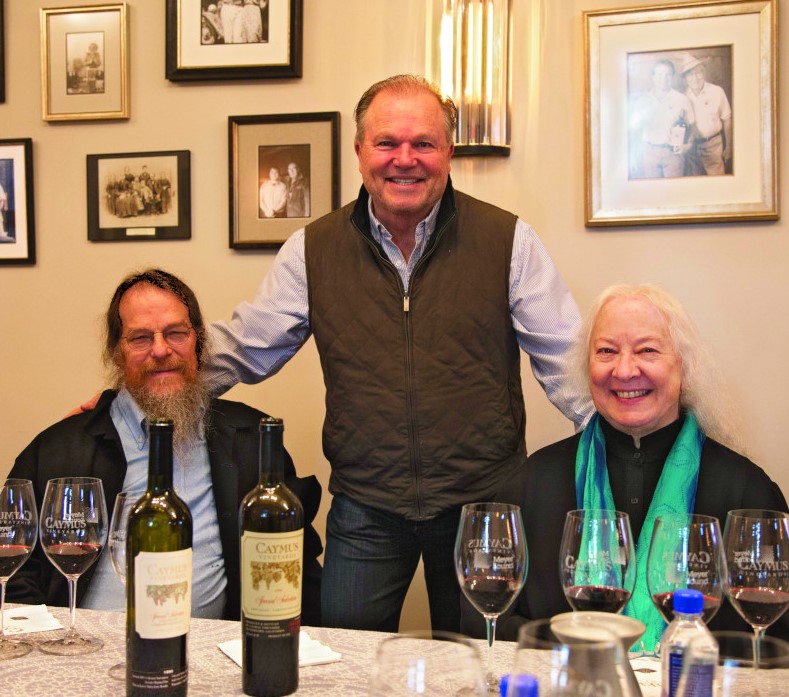 According to Chuck Wagner, Owner of Caymus Vineyards, the winery seeks to create a comfort Caymus Vineyards balances sources for enjoying Relaxing With level for visitors. "We're always so busy," he said. "We're jumping around, grabbing our cell phones or whatever it is. Sitting down for a moment, having a glass of wine and hearing music in beautiful surroundings gives us a greater appreciation of life. We want to make sure that visitors not only enjoy Napa Valley, but also experience our winery."
In 1972, Chuck Wagner, along with his parents, Charlie and Lorna, started Caymus Vineyards. A family of farmers, the Wagners had a longstanding connection to the Napa Valley. In the mid-19th century, Chuck Wagner's great-great grandfather captained a wagon train from Bible Grove MO to California. Over decades of collaboration, Wagner and his parents built the family's legacy: a peerless work ethic, an eagerness to be innovative, a down-to-earth sensibility and, perhaps most important, an abiding appreciation for good food and good wine, particularly the pleasure of enjoying them with family and friends.
Caymus has enjoyed steady growth since its creation. According to Wagner, the winery averages a little over 200 guests per day. Nevertheless, it retains the core DNA of a family-run small business. Charlie and Jenny Wagner, two of Chuck's children who work at the winery, illustrate that family business will continue into the next generation. The Wagners consider it a privilege, day after day and year after year, to be in the business of making extraordinary wine.
In an age in which technology is viewed through the lens of "experience creation," audiovisual components can subtly improve even the simplest of pleasures, like enjoying food and wine. According to Wagner, "It's like a restaurant where you'd have background music. We play our favorite tunes and the music we think would be favored by our guests. In our landscape tasting area, which is our primary tasting area, people seem to enjoy it very much. Through word-of-mouth, it has become popular."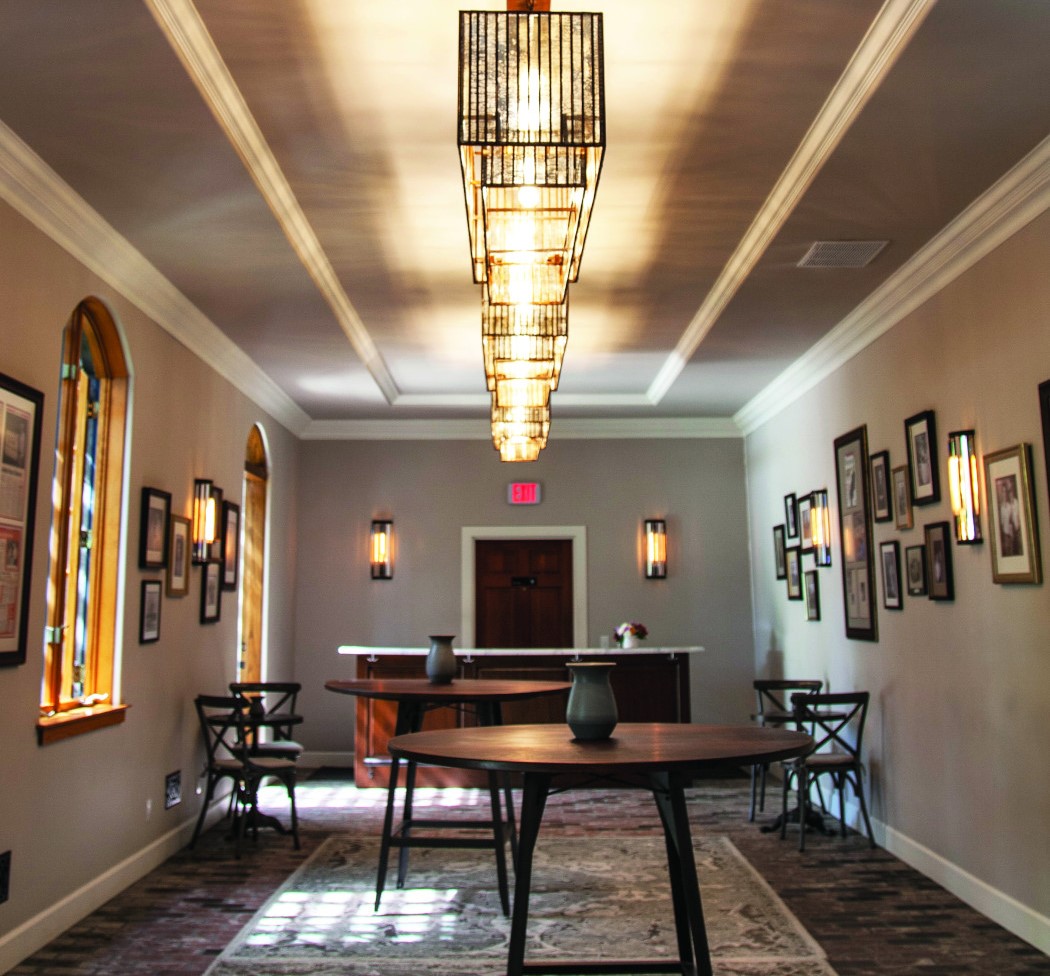 Making Magic Happen
"We've done everything we can to make magic happen," Matt Lavine, Owner of BugID, Inc. (pronounced "bug-eyed"), the systems integrator on the project, said. (For more information about the integrator, see the sidebar titled, "About BugID.") According to Lavine, "Meyer was the lead on the design. We're a Meyer dealer, and we've worked with them on a number of projects over the years. Meyer was looking for somebody to partner with them for Caymus."
The actual install took a couple of weeks. In addition to Lavine, the install team included Project Lead Eric Johnson and AV Engineer Ross Yeo. The author expresses appreciation to Susan Orenstein, Head of Communications at Caymus, as well as Jeanine Zolczynski, Communications Coordinator at Meyer Sound, for setting up the interviews that brought this story to you.
"It was a challenging project at a high-end winery," Lavine explained. "It was a tricky install, putting in high-quality speakers and a sound system that was discreet. Trying to get even distribution meant installing a lot of speakers. We worked painstakingly with Caymus and Meyer Sound, taking samples of the concrete and the wood and having all the speakers custom painted."
Lavine noted that, by "evenly distributed audio," he meant you don't have too much gain in the system so that people's ears would be blown out if they were sitting close to the speakers. Good-quality music and speech intelligibility is maintained throughout the venue, whether visitors are in the main lawn area, the Fern Grove or anywhere else on Caymus' grounds.
The background music is sourced via TIDAL, a highquality, uncompressed streaming service. "We're going through a Sound Devices USB Pre2 to get the cleanest audio out of the Apple Mac mini," Lavine added. "User control interface is via Apple iPad over Wi-Fi." Adding additional detail, he said the signal goes through two Meyer Sound Galileo Galaxy 816 network processors connected to an Extreme Networks 24-port AVB network switch tied into the Mac mini.
For live-sound events, the winery has a rackmounted Soundcraft Ui16, a 16-input digital mixer that's accessible from a user-friendly iPad sitting in the big patio area. The system can accommodate presenters and live music. BugID ensured there is an ample supply of Shure wireless and handheld wired mics; the complement includes wireless SLX2/SM58s and wired SM57s and SM58s. According to Lavine, "We have extra antennas that are boosted, so you can be out on the patio or anywhere on the grounds and use the wireless mics. It's all calibrated so you don't have to worry about feedback." The hardwired vocal and instrument mics can be used for a three-piece band using the Soundcraft mixer; alternatively, a band can bring in its own mics and mixer and patch into the house system.
Home Runs And Trenching
Now that we've delved into the system's use, let's pick up on cabling. An estimated 20,000 feet of Whirlwind cable was installed at Caymus. "We definitely had some challenges with an existing structure that was not designed to support this technology," Lavine admitted. "Every speaker is a home run, not like the traditional daisy-chain 70V AV system. This is a 48V system, so every speaker channel is discrete. Since every channel is matched individually, you have individual processing control, delay and EQ with the Galileo system." BugID ended up putting in an equipment rack to get cabling from inside the main building to the outside patio area.
Lavine continued, "There was a lot of trenching involved—getting cabling across trellises, down posts and then trenched underground. You can't run conduit to every speaker, so we had to figure out a trenching system within the grounds and then trench underneath some of the concrete walls that were there to fish wires through."
Surprisingly, given the Bay Area location, weather also proved to be a challenge. "During the install, we had a heat wave," Lavine revealed. Those obstacles, however, were ably overcome to deliver an outstanding result.
Speakers And Spaces
Combinations of various Meyer Sound 48V powered loudspeakers outfitted Caymus' various spaces; the product complement includes MM-4XP miniature speakers, MM-10XP miniature subwoofers, UP-4XP ultra-compact speakers and the brand new Ashby-8C ceiling speakers. (Refer to the equipment list for a complete breakdown of equipment specifications and placement.) According to Lavine, Caymus was willing to go the extra mile to put in quality speakers to give the full range of fidelity.
Lavine said, "We were able to hide the MM-4XPs—they pack a great punch for such a small, four-inch speaker—throughout the grounds along the perimeter wall." Their coverage area encompasses the main lawn and the Palm Cove lawn. The main lawn is about 87'x70′. It has little tables where people can sit, enabling them to soak in the beautiful garden surroundings, replete with open spaces and greenery. The adjoining Palm Cove lawn is 50'x70′.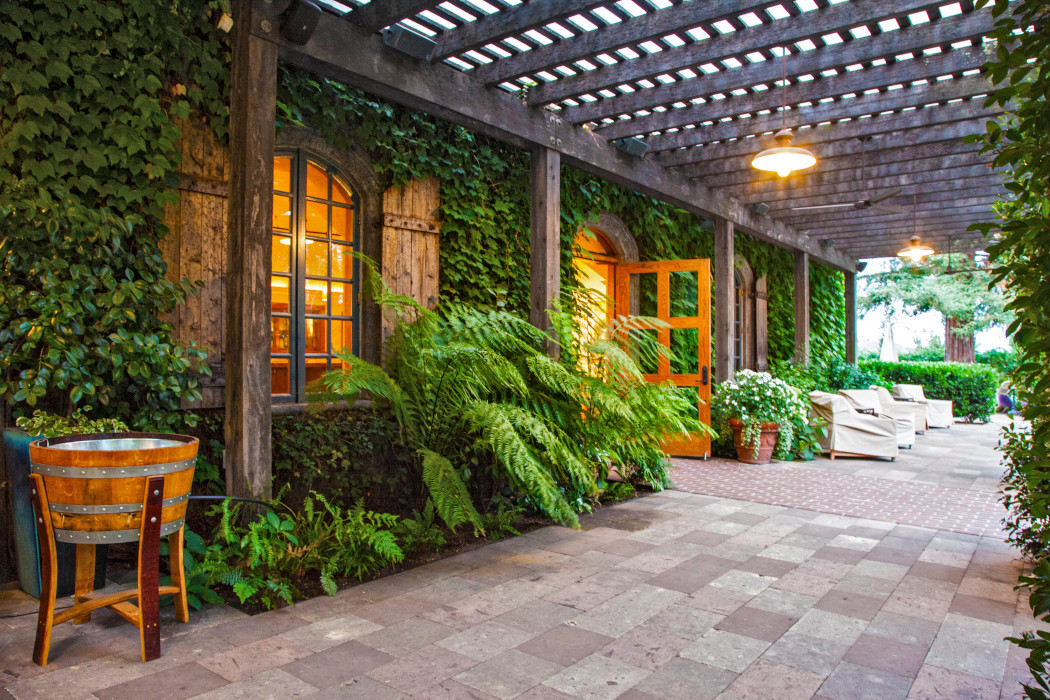 There's a long wooden trellis greenway area under which reside the Fern Grove, center and tasting room patios. In addition to tables and chairs for visitors, there are nine UP-4XP ultra-compact speakers augmented with three MM-10XP miniature subwoofers.
Redwood Grove, at the upper edge of the building, offers a bit more of a private garden setting. Lavine explained, "We mounted the two UP-4XP speakers with a middle MM-10XP miniature subwoofer on the wall, discreetly covered in foliage."
The Caymus Room is an elegant, more formal room. The other tasting room is more traditional, with a long bar and vaulted cove ceiling. Ashby-8Cs serve both. The atmosphere is very welcoming, befitting the Wagner family and the Caymus brand. "You can sit at the bar and talk to the bartender about wine," Lavine remarked. A perfect complement to a Napa Valley visitor's winetasting experience!
"Wherever you go, we've got you covered for sound," Lavine said with pride. "That's what's so great about this place—it's not rigid. You can have a great wine-tasting experience virtually anywhere here."
Meyer Sound Perspective
Jerry Placken, Director, Strategic Relations, for Meyer Sound (Berkeley CA), shared an unusual story about how Meyer Sound became the vendor for the new sound system at Caymus Vineyards.
"When I was at the University of Miami in 1985, our little jazz group played at a restaurant called the Forge," he began. "That's where I first tried Caymus wine. I've been visiting Caymus Vineyards since the tasting room opened to the public many years ago. Over the years, I got to know the Wagner family and appreciate that they are rightly called 'California's First Family of Wine.' The winery was just a place to relax and have a nice glass of wine among friends. There was an unwritten agreement that we never talk business." Business beckoned, however. "They had a rather small sound system at the winery—a couple of speakers outdoors, not optimal for background music," Placken continued. "About a year-and-a-half ago, some people at the winery came to me and said that Chuck Wagner, the Owner, was interested in a sound system—well, OK!" He added, "We had Alex Harbaugh, Design Services Supervisor here at Meyer, do the preliminary design and Rob Mele to look at the digital and control integration."
The result was a sound system, installed by AV integrator BugID, that provides high-quality background music as well as a wireless iPad control system to address visitors throughout the whole winery.
"It went from being a place where we don't talk any business to me sitting here and listening to our own speakers!" Placken exclaimed with a laugh. Caymus had the distinction of being one of the few places in the world to have Meyer Sound's new Ashby speakers installed. Ashby-8C ceiling speakers were installed in the Caymus Room and the adjacent tasting room. The Ashby models replaced the Stella series, which were not part of the current IntelligentDC lineup. "IntelligentDC is a very important Meyer Sound feature," Placken explained. "It's a 48V power supply system located in the equipment rack that feeds a five-conductor cable, of which three channels are balanced audio and the other two are plus or minus 48V DC. They go to every speaker discretely, which allows us to create really unique zones. It's not like a 70V system where you're daisy-chaining from one speaker to the next. Speaker processing and zoning is handled by the Galileo Galaxy network audio processor."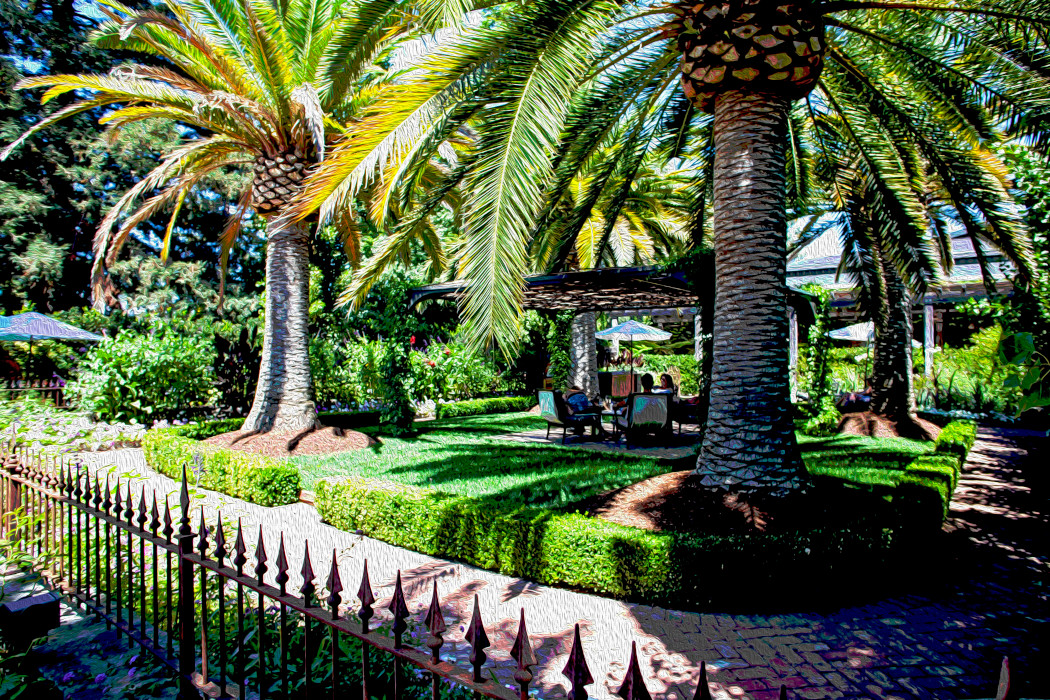 Weather-protecting the outdoor speakers was a requirement. Although the Meyer Sound MM-4XPs are standard protected, there were other products—for example, the MM-10XPs and UP-4XPs—that are not. In addition to weather protection being applied, the outdoor speakers were color matched to areas like the old wooden trellis. According to Placken, "The trellis had aged over time, so the wood was not a single color. We worked with Caymus to come up with a color that would 'disappear' if anyone looked up. Then, the MM-4XPs were painted the best we could to match the aging, weathered concrete stone wall."
"Another challenge," Placken said, "was to come up with a simple way to operate the audio system, because the winery is not filled with audio technicians." He explained, "The solution was a wireless iPad with a custom-designed GUI. It has some really simple controls, like 'turn on music,' 'turn down music,' 'turn on microphone' and 'turn up microphone.' We did this for all the zones. The people who operate the iPad are pretty good at it." So, if Caymus were to have a winery event and wanted to turn up the music in just one area, the operators could do that. Alternatively, if there were a business meeting going on in the adjacent Fern Grove, the operators could turn the audio down or off. "We came up with an intuitive way to control audio where anyone at Caymus can use it," Placken declared.
Placken shared a connection between the Wagner family at Caymus Vineyards and the Meyer Sound family, which are both family-owned, San Francisco Bay Area businesses. It could be dubbed the "40/40" concept. Placken observed, "Caymus Vineyards celebrated their 40th anniversary in 2012. Meyer Sound celebrates its 40th anniversary in 2019. Caymus produces amazing wine, and we produce amazing sound systems. The relationship works."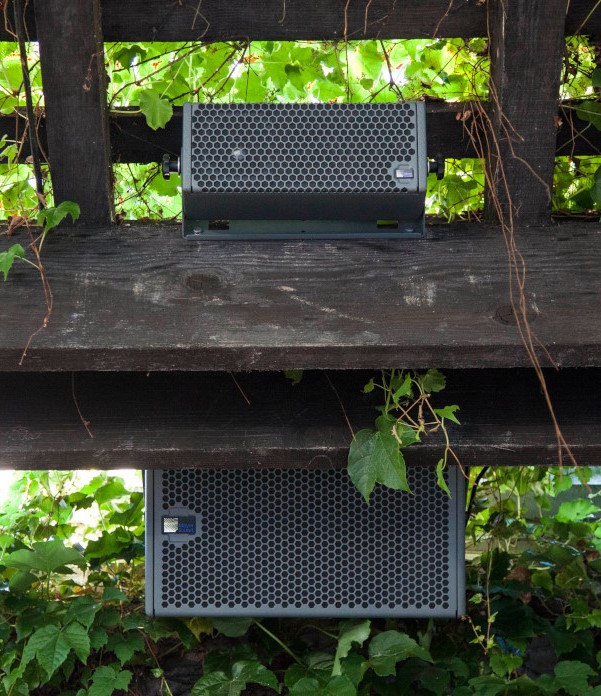 Caymus Audio System Features And Control
The Meyer Sound audio system at Caymus Vineyards utilizes 47 custom-painted outdoor loudspeakers and 12 indoor loudspeakers. Outdoor loudspeakers include 11 UP-4XPs and three MM- 10XPs that are mounted on the building side of the overhead trellis system, serving as the main anchor system. There are 33 MM-4XPs surrounding the two outdoor lawn areas, with the rows digitally time-aligned to the main building trellis anchor system. Ashby-8Cs and MM-10XPs are installed in the two tasting rooms. The loudspeakers are divided into 10 discrete zones throughout the space.
The Meyer Sound MPS-488HP is the power station for the speakers, which are served by two Meyer Sound Galileo Galaxy 816 network processors. The system can produce a deceptive amount of energy, with clarity and headroom. The audio system's source of music is TIDAL, a high-quality streaming service. The user control interface is done via the Mac mini or with an iPad. The system includes microphone input plates located on the pillars on either side of the winery entrance, which can be used for musical acts or announcements. The control of the digital audio mixer for live events is done via iPad.
About BugID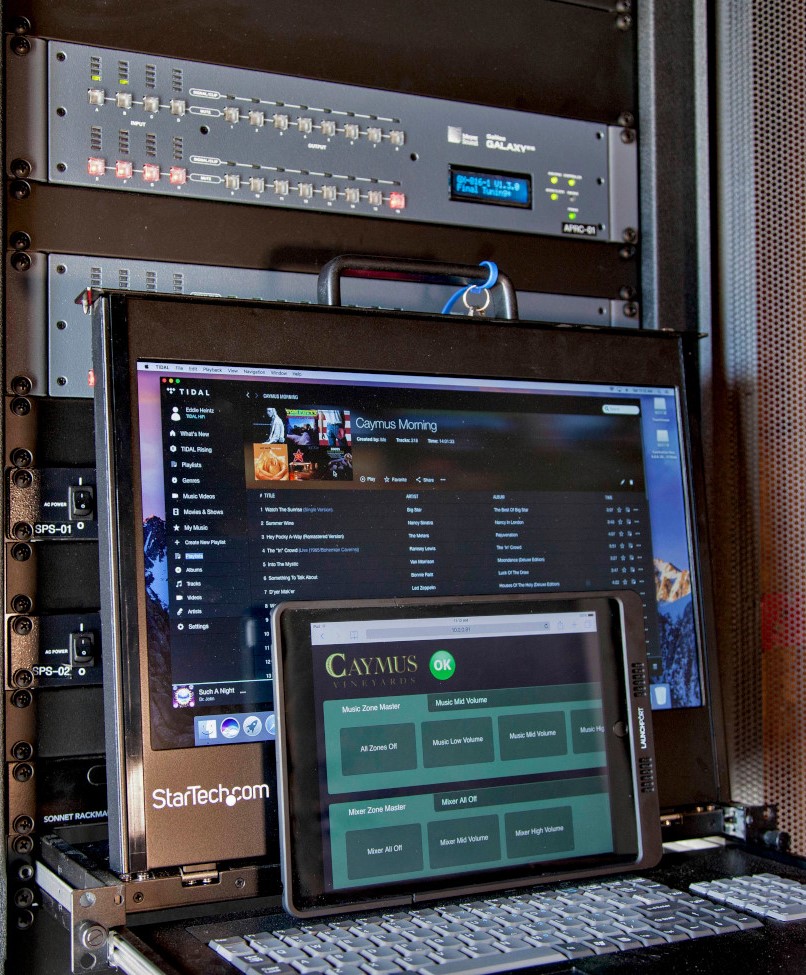 The following information is excerpted from, and based on, a company backgrounder. BugID is an audiovisual design and
integration company based in San Francisco CA. Founded in 1997 by Matt Lavine, BugID creates systems that are highly technical, yet easy to operate and understand. BugID listens to what end users want the system to do, and then designs a system that achieves their goals.
"We don't just focus on the actual hardware connectivity," Lavine began. "We complete a full system design, including the overall architecture for DSP and control. Today, with the prevalence of software controlling all the hardware, it is important to have a software architect to vet a system fully, and truly understand a system's capability prior to setting the first rack. As a design-build integration firm, we not only understand the design, but also get the challenges for integration."
BugID works with architects and contractors from a project's inception to design and build the most advanced audiovisual system for the job. The company's systems allow for easy serviceability and they're well documented. "We have developed great documentation standards for ease of identifying overall system cabling, which makes it easier for installation and future upgrades," Lavine added.
Bug ID is a California-licensed C7 company with certifications from Smaart, AMX, Crestron, ClearOne, Extron, Denon, AVIXA, MediaMatrix, Meyer Sound, QSC and ISF. The company also boasts SMPTE and AES memberships.