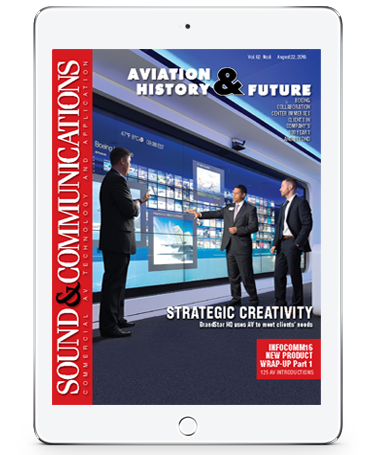 When it comes to acoustics, there are a lot of factors to consider. In this column, our resident sound guru offers some tips on how to factor in reverberation time, how acoustic treatment can affect frequencies, and how much bass rise is acceptable for amplified music in different venues.
By Peter Mapp, PhD, FASA, FAES
Digital signage is about much more than hanging screens. We offer some suggestions on additional services your company can offer to corporate clients in order to ensure their digital signage rollout is a success.
By Shonan Noronha
The mix on too many HOW audio systems leaves a lot to be desired. With that in mind, we list some ways to broach the subject with church clients and educate them on proper mixing techniques.
By David Lee Jr., PhD, Lee Communication Inc.
In most cases, as video signal bandwidth goes up, allowable cable length goes down. Our columnist shares a story from the field in order to illustrate the importance of choosing the right cable for the right video resolution.
By James Maltese, CTS-D, CTS-I, CQD, CQT, Audio Visual Resources, Inc.
Although the relationship consultants have with manufacturers is well established, that relationship doesn't exactly lend itself to an easy description like "customer" or "client." Our columnist reflects on how job titles influence interactions in the AV industry, from what companies can work which projects to which individuals are eligible for membership in what organizations, and more.
By Douglas Kleeger, CTS-D, DMC-E, XTP-E, KCD, Audiovisual Consulting Services
You can't fake a commitment to security. And making security a focus of your company isn't going to happen overnight—it requires a complete paradigm shift. InfoComm International's Director of Communications weighs in on how you can foster a "security culture" in your company.
By Brad Grimes, InfoComm International
The Executive Director of NSCA recently profiled six failed integration companies in an attempt to pin down where they went wrong. In this column, he shares his major takeaways and explains how your company can avoid making the same mistakes.
By Chuck Wilson, NSCA
As a supplement to our feature story on BrandStar's new HQ in this issue, Barco's VP and Channel Manager for Corporate AV spells out how the vison of a visually oriented workplace is reflected in BrandStar's new collaboration spaces.
By David Fitzgerald, Barco
Boeing's Arlington VA-based Collaboration Center is a 7500-square-foot "engagement" facility that features collaboration spaces that are as impressive as they are functional. We got the scoop on this innovative space from integrator AVI-SPL.
By Dan Daley
Entertainment company BrandStar recently completed an overhaul of its HQ that was so impressive, the company decided to launch a new office makeover TV series, "Office Spaces," with its own location in the starring role. For an even deeper dive into the AVL behind this cutting-edge office, we consulted Complete Integrated Technology, who handled the design and integration of its new systems.
By Jim Stokes
In the first part of a two-part story, an integrator takes a wide-ranging look at InfoComm16 from every angle, with an eye on the issues that really matter to the commercial AV integration community.
By Mike White, CTS, DSCE, Unified AV
A collection of 125 products that debuted at this year's InfoComm.
Compiled by Anthony Vargas
As the post-InfoComm hangover winds down, our columnist shares some trends he observed at this year's show, with a particular focus on the near future of video technology and the ascendance of software in an industry that was, at one time, dominated by hardware.
By Pete Putman, CTS, ROAM Consulting LLC