WEC Ocala offers a world-class destination for equestrian events with networked AV.
From its massive campus' sheer size, to its many state-of-the art indoor and outdoor facilities, to its resort-quality accommodations, everything about Ocala FL's World Equestrian Center (WEC) screams "world class." Designed to be one of the world's top venues for equestrian events, WEC Ocala is poised to become a gathering place for the sport's top competitors and a destination for its fans. In addition, WEC's flexibly designed arenas and event spaces are well suited to host a wide array of events—from athletic tournaments, to conventions and trade shows, to banquets and weddings, and more. And, as naturally befits a venue of such stature, WEC also boasts a world-class networked AV system that offers the necessary flexibility for such a wide range of possible use cases.
WEC Ocala is owned and operated by the Roberts family, who have been a fixture in the equestrian world for the past 40-plus years thanks to the efforts of Mary and Larry Roberts to grow the sport and establish world-class equestrian venues in the United States. WEC Ocala is actually an expansion of the Golden Ocala Golf & Equestrian Club, which the Roberts family has owned for more than 15 years. The Roberts family also owns and operates the original World Equestrian Center in Wilmington OH, an outgrowth of the Roberts Arena, which was originally opened more than 35 years ago. The vision for WEC Ocala was largely spearheaded by Mary Roberts herself.
The main part of the WEC Ocala campus measures approximately 400 acres, although the full property (including asyet-undeveloped land) encompasses more than 3,000 total acres. Facilities on the campus include the 145,000-square-foot outdoor Grand Arena, the World Equestrian Center Stadium, four climate-controlled indoor arenas, five indoor exposition centers, 22 smaller outdoor arenas that are dedicated to specific equestrian events and 23 barns that include more than 2,000 horse stalls. Although WEC is just a 15-minute drive away from downtown Ocala, it is also designed to be a self-contained "Olympic Village-style" setting that supplies housing, dining and shopping options for the competitors, many of whom travel with their animals to WEC from around the world for weeks-long tournaments and events.
Housing options include a full-scale hotel on the property and recreational vehicle (RV)/trailer parks for temporary/semipermanent housing; in addition, it is also possible to purchase real estate on the property for the development of more permanent housing. Other amenities include a dedicated chapel, a general store, fueling stations, several restaurants, laundry and dry cleaning, and veterinary services.
Designing AV systems for WEC's sprawling campus and its multiple entertainment venues was no easy gig, but Pensacola FL-based All Pro Integrated Systems was equal
to the task. All Pro has been involved in the WEC Ocala project almost from the beginning. The complex was in development for four years before its official opening this past January (for the WEC Ocala Winter Spectacular, a hunter/jumper tournament that awards more than $9 million in prizes), and All Pro was involved for three and a
half of those four years. All Pro also currently dedicates two staff members to ongoing AV support for WEC events, and WEC and All Pro intend to continue to work together as the WEC complex continues to expand over the coming years. All Pro's Shane Hardesty, CTS, is the AV systems designer of record for WEC Ocala.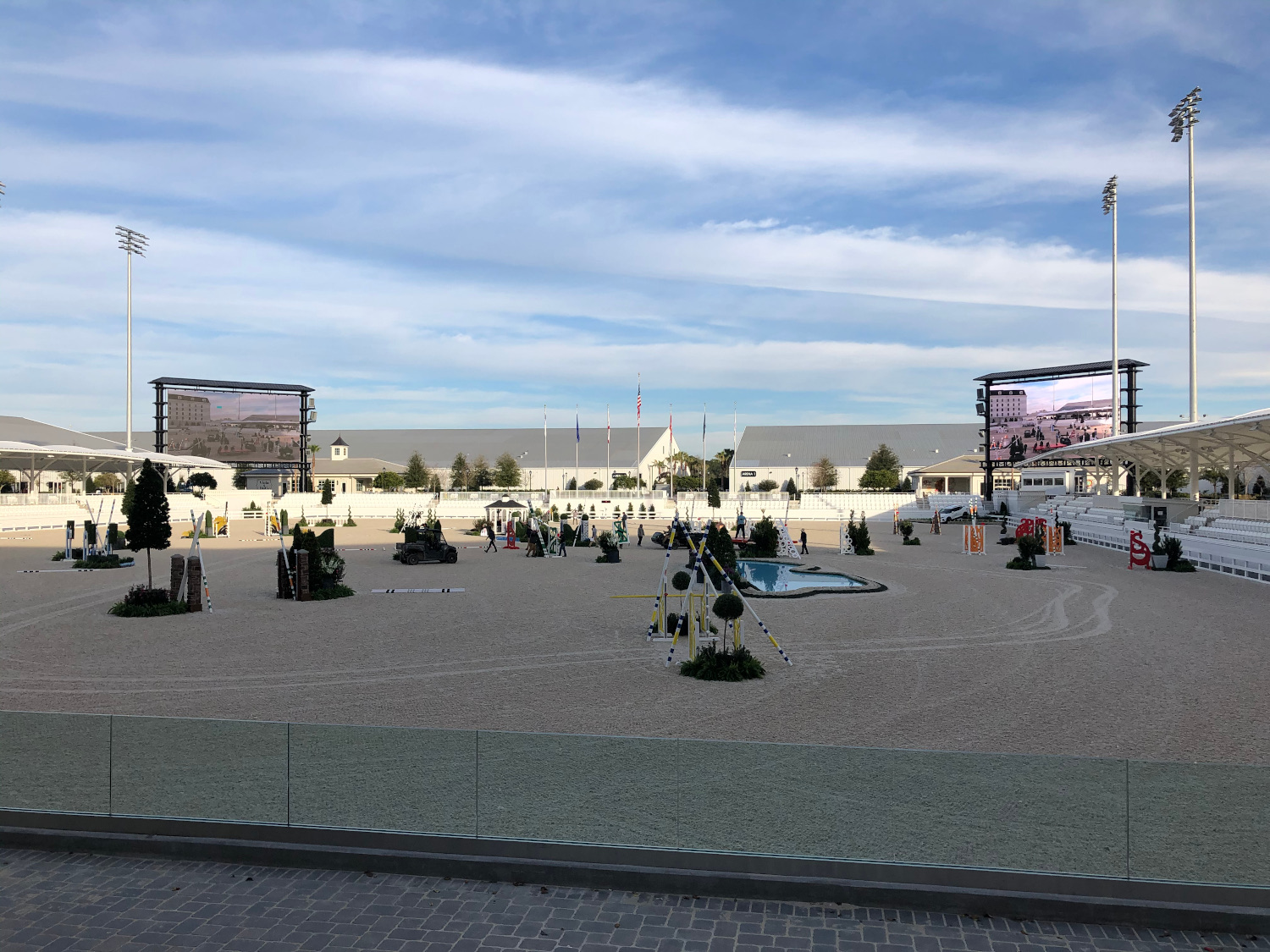 Network Infrastructure
During the early stages of the project, one of All Pro's major tasks was working closely with the WEC IT team, which is led by WEC's Information Technology Manager Mason Jordan, to ensure that the campus had the necessary power and network infrastructure to support WEC's digital audio and video needs.
"With such a vast property, the underground and all of that was a big undertaking. And then also in the buildings themselves, the power consumption, the LED wall locations and line of sight viewing—it's been a very deep process," Jake Robinson, Senior Project Manager for All Pro, said. "This was a complete, in-house design/ build for us. For the WEC IT portion, we assisted, but they championed that."
Mark Salamone, CSP, Sales Manager for All Pro, added, "It's a fully integrated network AV system. Mason's IT team and our team at All Pro really had to work together in order to accomplish what we did—to run the fiber and all the network switches. It was really like we couldn't work separately."
The fully redundant network was built using Cisco switches, and there is extensive fiber infrastructure throughout the entire WEC complex. "We're a Cisco shop," Jordan said. "We have a 10Gb fiber backbone with full redundancy to every building on the property, as crazy as that sounds. We have over 40 miles of fiber run here on just these 400 acres. That network, being 10Gb fiber backbone everywhere, helps support the sound system in terms of getting all those audio packets back and forth through the cores and back to the amplifiers, since it is a connected system." He continued, "I say we rival Disney and Universal on redundant connectivity, especially fiber loop. I have two sets of redundant cores: two in the hotel and two in the arenas. I could lose a whole half of the campus, essentially, and we would just route back to the other half."
"[Network redundancy] is critical in Florida," Robinson added. "Redundancy was very important to ownership here, not only from the network side, but also the AV side, because we are very susceptible to brownouts from inclement weather."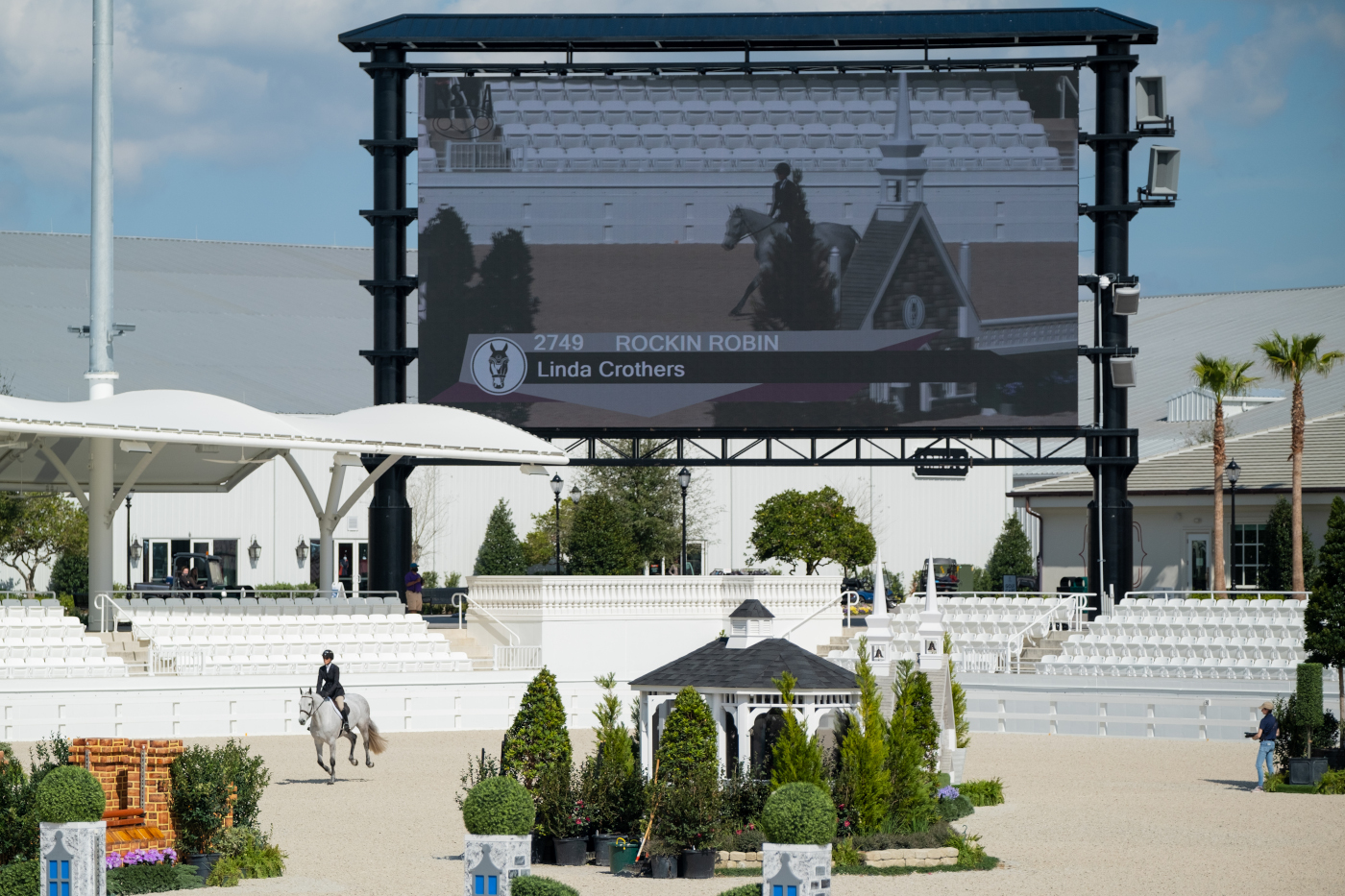 AV Signal Distribution
A QSC Q-SYS network serves as the backbone for WEC's distributed AV system. The network leverages four Q-SYS Core 1100s (in two redundant sets, as Jordan described). The digital audio system was a dual integration that uses the Q-LAN and Dante protocols to distribute content to the various audio zones throughout the park. A Q-SYS I/O-8 expander adds eight "flex channels" to the audio network. The audio system can be controlled centrally by Jordan and his team or via QSC TSC-7T touchscreen control interfaces, which are located in each venue. Q-SYS programming was mostly handled by All Pro's Ryan Hall.
Each building on the WEC campus features its own dedicated audio zones, and there are audio zones for the outdoor areas, as well. "The entire facility is zoned individually by location," Robinson described. "So, Arena One, for instance, can be its own [zone] or routed as an overflow. It also has the ability to be split in two. In the instance that they only use one half of the arena for the show, the second half of the arena is used as a warmup space. So, they have the ability to make announcements only to one side or the other, depending on where they need to communicate. This is all done through the Q-SYS touchpanels."
Robinson continued, "The whole site is routable, so sources can go anywhere, which was a unique design aspect, because you're limited within Q-LAN to how many audio streams you can have on your DSP [digital signal processor] core. So, a lot of consideration was given to making sure that you only have so much headroom in the DSP. The big thing that we had to pay attention to was to not overtax the QSC cores. It's important to note that this is a dual integration of Q-LAN and Dante for the routing."
Video signal routing is also integrated into the Q-SYS control system. The video routing system had to offer similar flexibility to send content to the various displays installed throughout the sprawling WEC complex. A Blackmagic Design Smart Videohub 20×20 router is used to distribute camera feeds, and the signals are sent over
fiber via Analog Way transceivers. There are local connections at each venue's announcer booth for direct connection to the venue's LED walls and WEC's fiber distribution system. In WEC's two largest event venues, the Grand Arena and the WEC Stadium, an Analog Way Aquilon C+ videowall processor handles switching and content for the LED walls, including video feeds, advertisements, onscreen graphics and lower thirds.
WEC's extensive fiber infrastructure allows production and camera crews (many of which are contracted on an event-by-event basis) to set up their equipment where they need to. It also allows for flexible use of two Trailex LED Display Trailers. "Those Trailex portable trailers are outfitted with complete motorized Absen Polaris 3.9mm, 16'x9′, outdoor-rated LED walls," Robinson said. "The LED wall can rotate 360 degrees, and it's outfitted with AtlasIED FS12T-99 horns and QSC GXD4 amps. WEC procured the trailers, and All Pro outfitted them with AV." He continued, "There's an IO panel on the outside of the trailer outfitted with your whole barrage of connectors: fiber, XLR, unbalanced, SDI lines. That runs internally to a rack outfitted with a Blu-ray player, QSC amplification and the NovaStar processor for the LED wall. And it runs off of either three-phase power or a diesel generator inside of the trailer." Jordan added, "We can stick the trailers anywhere. We're currently using them as scoreboards in the outdoor arenas."
The campus also features an extensive BrightSign digital-signage system that receives scheduled content via BrightAuthor software.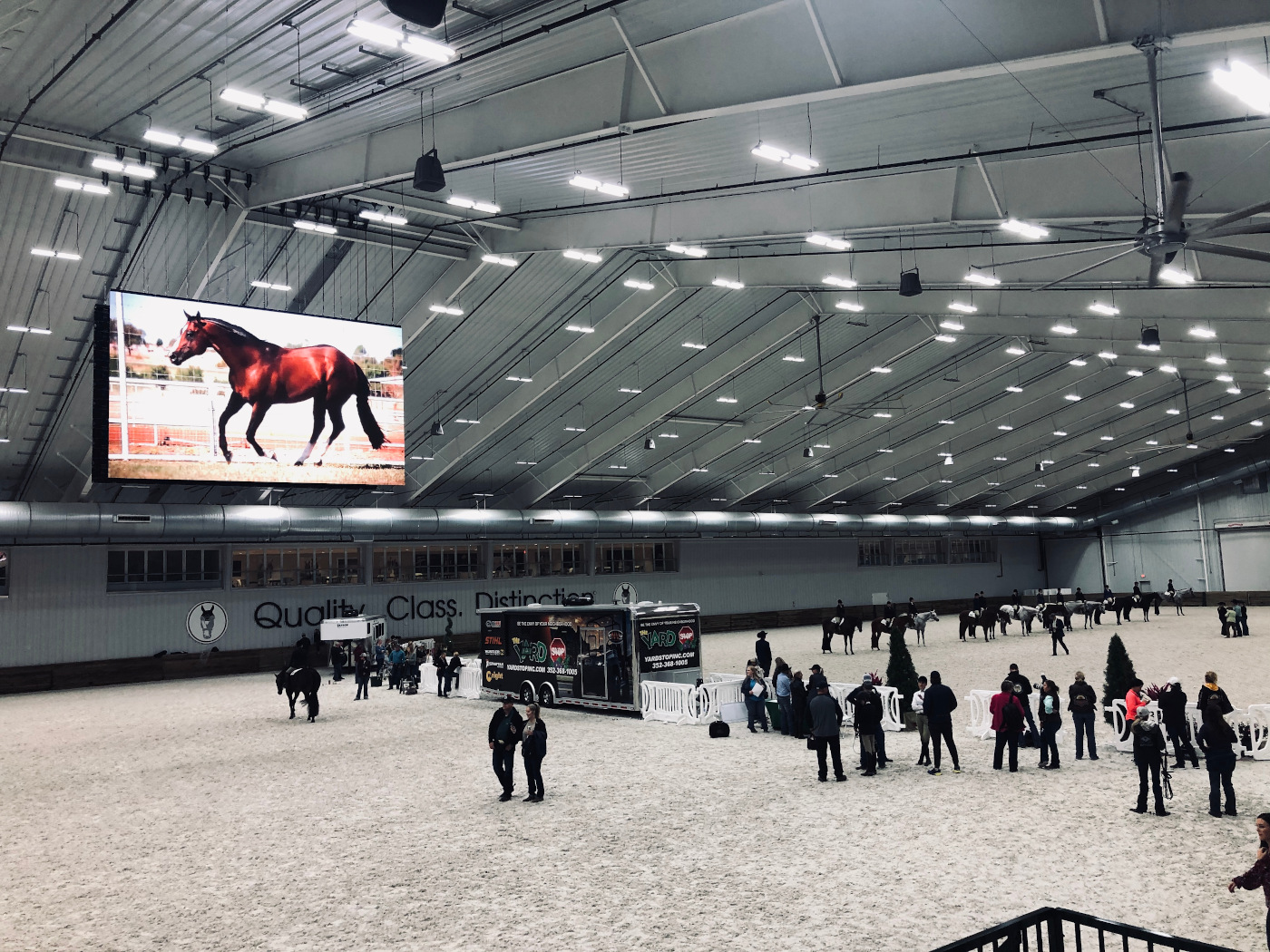 Grand Arena & Equestrian Hotel
As previously mentioned, the WEC Ocala campus features several dedicated event spaces, each of which is equipped with a sophisticated AV system. These spaces include four indoor arenas, five expo centers, the WEC Stadium and the Grand Arena. All these spaces are outfitted with Absen videowalls and sound systems primarily consisting of Danley Sound Labs speakers.
The Grand Arena is WEC's flagship event space; it is centrally located on the campus, in close proximity to the hotel. "We have Jericho boxes for the long throw coverage of the arena itself," Robinson described. "And then under the canopy are the Go 2 8s, both the top boxes and Go 2 8 subwoofers. And then, for added coverage in seating areas without canopies, there are Danley OS80s." He added, "Those Jerichos are incredibly powerful speakers for intelligibility and long-distance throw. It was important for All Pro to partner with Danley to cut through the wind, and they're incredibly intelligible at a good distance. It was very important in our process to make sure we had the right speaker to cut through the wind and cover the Grand Arena while not over serving the hotel."
Regarding the process of ensuring that audio from the Grand Arena would not bleed over into the nearby Equestrian Hotel, Salamone added, "We have an acoustician, Hans Michel, who has been on the project since the start of it, so all these things are analyzed. Any kind of reverb delay off the hotel has to be modeled to make sure that all the speakers are pointed in the right direction with the right coverage. Our acoustician was very much a part of that AVL design."
The Grand Arena's video system features two 60'x30′ Absen XD 10 Plus LED walls; these are mounted to hurricane-rated structures that were provided by Selective Structures. "Part of the decision process for putting up these giant LED walls here is, of course, the competitors seeing themselves, and it's a great attraction for the audience and the community. But we also took sponsorship into consideration," Salamone said. "WEC is looking at this as a place for sponsorship to come and take advantage of all the sight and sound [technology] they have to offer to show their company and get the word out. So, that's part of the ROI [return on investment] for WEC."
The Grand Arena's LED walls are used to show image magnification (IMAG) of the action during events, as well as to show ads and onscreen graphics; as mentioned earlier, this is handled via an Analog Way Aquilon C+ processor. However, the LED wall video content also features scoring information, tournament rankings and event timers; this information is fed to the processor via software by Ryegate Show Services. "The Ryegate scoring software was provided by WEC," Robinson said. "That Ryegate software also provides the timer [for events]. So, in the Grand Arena, it's providing the lower third overlays for riders' names on the IMAG, the timers and the countdown to when their event begins."
Directly adjacent to the Grand Arena, the Equestrian Hotel features more than 240 rooms; in fact, select suites actually overlook the Grand Arena, allowing guests to watch events from outdoor patios. All Pro provided LG displays for each of the rooms, which are equipped with LG's Pro:Centric hospitality software. "Between All Pro and WEC, we have teamed up with LG Fulfillment, who deals primarily with hospitality, to serve WEC's needs with TVs," Robinson said. "Having a uniform provider of TVs was very important. So, this is an LG facility."
The Pro:Centric software offers an itinerary that's catered to each individual guest. "With Pro:Centric, you're greeted as you open your hotel room door," Jordan described. "Welcome, Mason Jordan. It's currently 2:05pm. The weather is x. Here's today's event schedule. You can find these restaurants with these menus, and here are the specials for today."
The hotel features shopping and dining options, as well as a pool area; all these are outfitted with networked AV. "There's a fully distributed 70V system in the lobby, and there are video monitors and audio in the shops inside, as well as the bars and restaurants," Robinson described. "And the pool is outfitted with in-ground immersive speakers. All the distributed and in-ground audio is AtlasIED—FAP63T in the ceilings, GST-G for the in grounds." Q-SYS touchpanels and Bluetooth-enabled wallplates allow for control over the audio and video channels.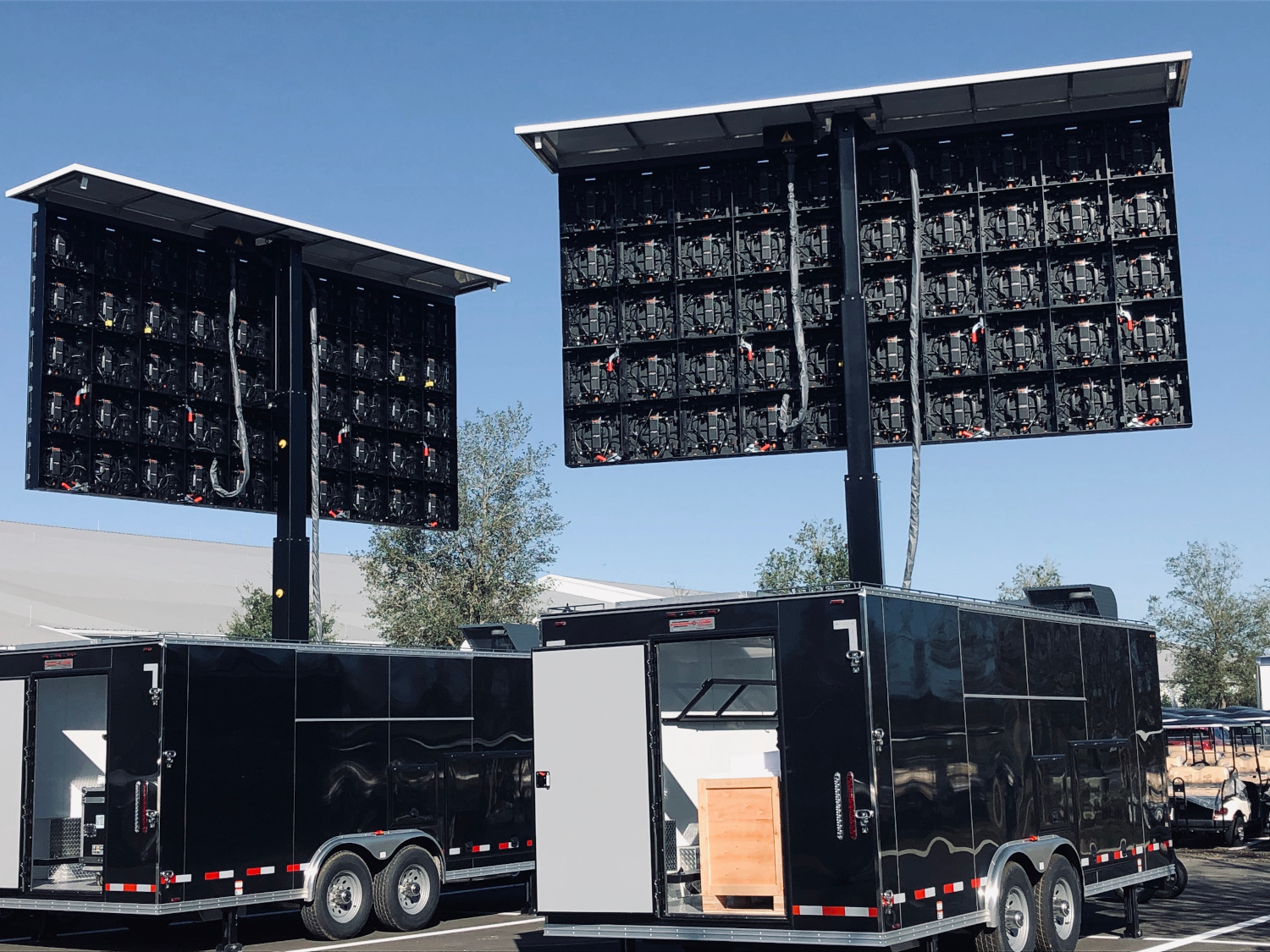 Hunter Land, WEC Stadium, Chapel & Barns
The so-called "Hunter Land" encompasses the WEC Stadium and several smaller outdoor arenas that are dedicated to hunter events and pre-event warmups.
The WEC Stadium's AV system is almost identical to the Grand Arena's—however, the WEC stadium features only one 60'x30′ Absen XD 10 Plus LED wall, which is also mounted on a Selective Structures frame. "Danley Jericho boxes are mounted on the LED structure, and the grandstands are outfitted with Danley OS80s and OS80 subwoofers," Robinson said.
All the event venues—from the Grand Arena and the WEC Stadium to the 23 small outdoor hunter/jumper arenas—feature a dedicated announce position equipped with connections to the distributed AV system. "Each space has its own announce location. And when you look at the map, for instance, there are a couple of outdoor locations that are back to back. So, you can have simultaneous events going on with announcements and things to that extent on either side," Robinson said. "This is a Shure ULXD complex for wireless, and all handheld mics are Electro-Voice RE-20s with cough/mute blocks in line for the announcements."
The hunter/jumper arenas all feature AtlasIED SM82T-B and Danley OS80 speakers (speaker counts vary depending on the particular size of each of these spaces). A system provided by FarmTek triggers buzzers at the start and finish of hunter/jumper events; these notifications play over the arena's PA system.
Nestled among the various outdoor rings in Hunter Land is the WEC's chapel. "Mary Roberts is a woman of faith, and it was important to have a chapel here," Salamone said. "The chapel has its own sound system, along with a digital bell up top, like a chime system, that was not provided by All Pro." Robinson added, "The chapel is outfitted with Turbo Sound stackable speakers, and it has Shure ULXD wireless functionality."
Each of WEC's 23 barns include 24 AtlasIED APX40TN speakers arranged in six clusters of four and powered by a QSC CXD8.4QN amplifier, as well as an Absen 24'x10′ N5 Plus LED wall. The barns are also equipped with Motorola RF two-way radio systems for communication between event coordinators and riders.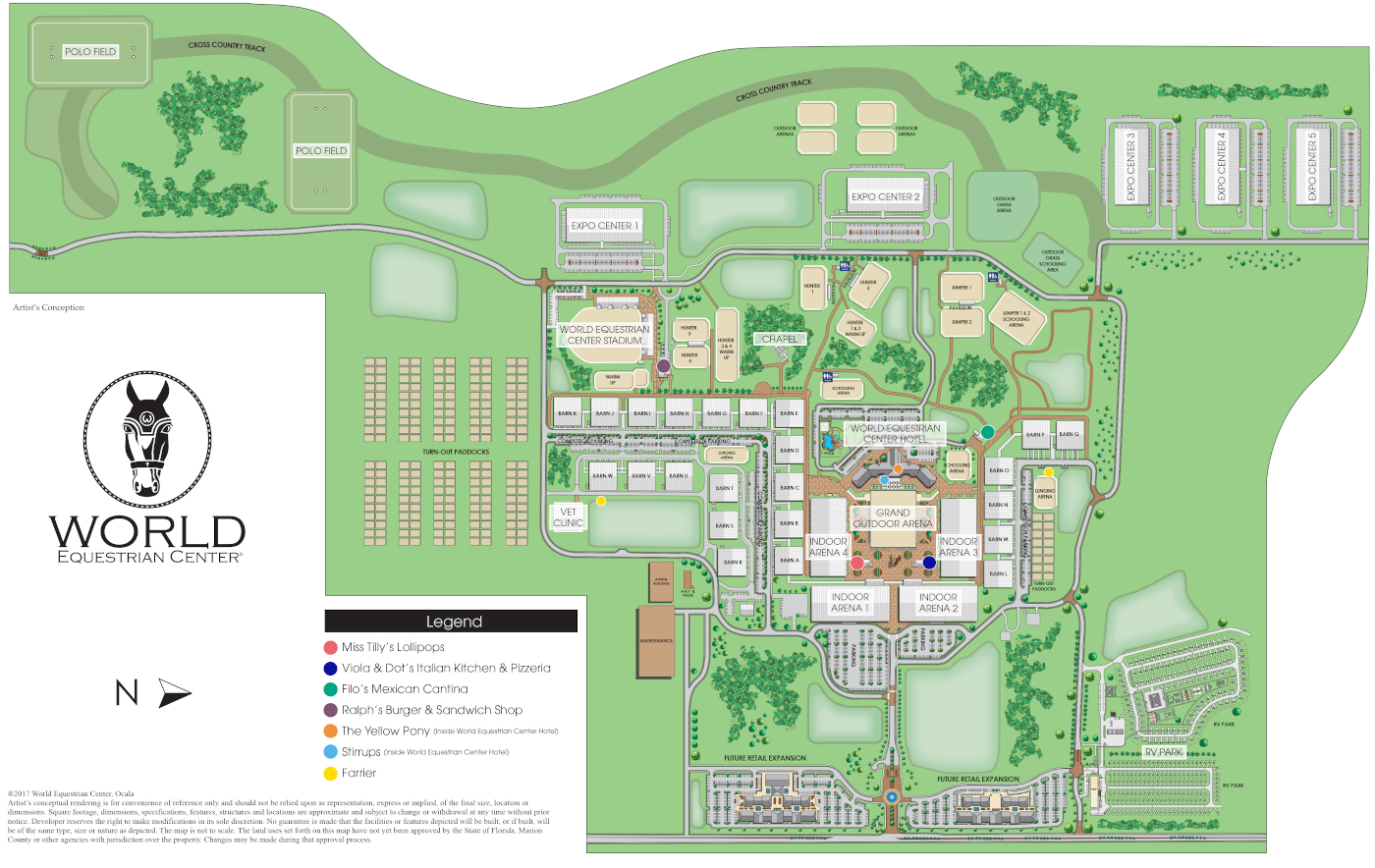 Arenas & Expo Centers
The AV systems for Arenas One through Four are essentially identical. The audio systems include a full complement of AtlasIED speakers: 14 FS12T-94 horns and 56 FAP63T-W in-ceilings for the audience area, 26 FS12T-99 horns for the event floor and 52 FAP63T-W in-ceilings for additional coverage throughout the building. The audio system can be split into zones via Q-SYS. On the video side, the four indoor arenas each feature three Absen LED walls: one 5mm-pixel-pitch, wall-mounted display and two 3.9mm-pixel-pitch, centerhung displays.
The five exposition centers likewise all have similar systems that are suited to the multiuse nature of those buildings. "The expo centers are arenas similar to arenas one through four, but they're going to be multipurpose," Jon Giles, VP of Sales for All Pro, said. "So, not only could there be horse shows there, [but] they'll [also] have car shows, car auctions, sporting events, volleyball tournaments. They're basically convention spaces."
The audio system for each of the expo centers includes 66 SoundTube HP129A-WH speakers that cover the event floor. "There are eight zones of SoundTube speakers for flexible use," Robinson described. Additional speakers include 15 AtlasIED FS12T-94 horns for the bleacher seating areas, 15 AtlasIED FAP63T in-ceiling speakers to cover the main entry area and 21 additional FAP63T in-ceiling speakers for audio coverage throughout the building.
For video, the expo centers each include a four-sided, centerhung LED display that was fabricated by All Pro in collaboration with United Visual Branding. The center-hung displays resemble the type of center-hung scoreboards typically found in indoor sports arenas; each of the four sides measures 16'x9′ and is composed of Absen N4 Plus 4mm-pixel-pitch LED. In addition, each of the five expo centers also includes two wallmounted 37.7'x21.3′ LED walls composed of Absen PL3.9XL Lite Series LEDs.
Because these expo centers are designed for flexibility to suit a variety of use cases, each building features 24 floor boxes equipped with a full complement of AV and IT inputs and outputs, including direct connections to the campus' fiber backbone.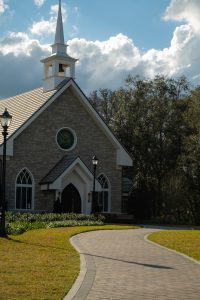 Concourses & Walkways
Connecting WEC's various event spaces are outdoor walkways that feature extensive landscaping. "There's seven million square feet of pavers in this place," Salamone said. "All the walkways are done in pavers, and everything's really elegant with beautiful landscaping. Mary Roberts spent time picking out the oak trees to make sure that they were right, and she also supervised how the oak trees were planted, where, what angle they were at. She is very, very particular in landscaping design."
The walkways feature 250 AtlasIED GST-G garden speakers, and a background-music (BGM) system by Mood Media provides ambient music throughout the WEC campus.
"We worked closely with Mood Media, who supplied the campus with licensed music," Jordan said. "There are 16 of those players on campus, and it allows me, with a few clicks at my desk, to set schedules, create playlists, decide which rings get which type of music depending on what show it is. Those players all plug into the sound system. So, basically, Mood Media provided devices, and then we worked with All Pro in making a media distribution app, because it's all zoned." He added, "Having the background music everywhere was really, really important to ownership, that there's that vibe where you walk around and there's music playing and it's fun and happy and uplifting."
Competitor-Friendly AV
Because the WEC is primarily for equestrian events—and the horses are unquestionably the stars of the show—the AV systems were actually designed with the needs of the animals in mind (as well as those of the riders and, of course, the spectators). As such, one of the key design considerations was to ensure that no elements of the audio system would startle the horses, especially before and during competition.
The zoning of the sound systems for the arenas offers a good example of how these considerations affected the final system designs. As Robinson described earlier, the arenas can be divided into two zones: a warmup zone, where riders and their horses gather before they are called to compete, and a competition zone, where the horse and
rider actually complete their run. Announcements, such as notifications for which horse and rider are next to compete, can be voiced over the PA in the warmup zone only; this way, the announcements won't distract the horse and rider during their run in the competition zone.
These concerns extended to the volume and coverage of the audio systems in the barns, as well. "For the horses, it was important that the audio wasn't shrill, and that everything was even coverage," Salamone said. "So, for the barns, you can't have two speakers at one end that you can hear on the other side of the barn. And everything had to be even coverage, which added to the speaker count. Sometimes, the more speakers, the less volume that you need, and volume was a concern. Frequency response was also a concern." He added, "If a horse is going to travel on a plane or a boat to get here, they have to be kept in top shape after they get here. So, they take great care of their horses in the barns. Everything is very comfortable, air conditioned, and the sound system was tuned and evaluated not to spook the horses."
The design philosophy of ensuring even audio coverage to reduce distractions for the competitors extended to the concourses and the audiencefacing sound systems in the
arenas, as well. "You have to make it that way, because if it's loud [in the audience areas], then it's going to be loud within the arena," Salamone said. "In the arena itself, there had to be really nice, even coverage, so when the competitors are riding and the horses are doing jumps and dressage, they don't get into an area where it's louder than another. We're really addressing the horses as much as the people. It takes a tremendous amount of concentration for these competitors to do what they do."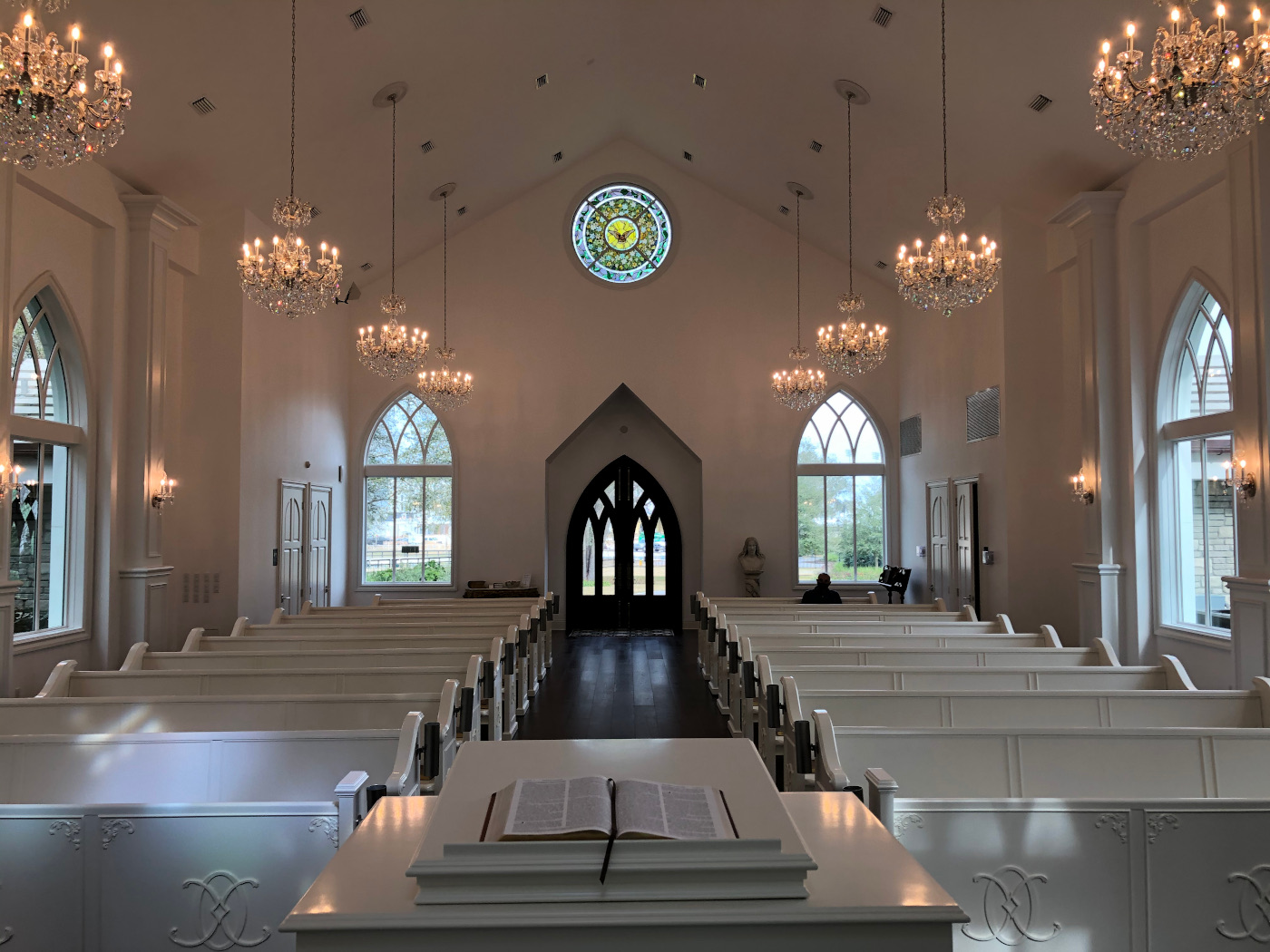 Praiseworthy
In the end, the Roberts family set out to build a world-class equestrian facility at WEC Ocala. From an AV-technology perspective, that goal has definitely been achieved. Although the complex has only been open for a few months, competitors have already praised the benefits of its AV systems. "Instantaneous feedback for the riders is something that we're being praised for. As soon as they're done riding, they can watch a delayed replay of their run," Jordan said. And WEC and All Pro are continuing to work together on event production and fine-tuning the acoustics of the various event spaces using custom-made acoustic treatments.
Jordan concluded, "When you think of what's the future, this system is the future, and it will only get better as we grow through the next two or three years. It makes it that much easier to manage a multi-hundred-acre facility [with regard] to AV. I'm very happy with All Pro and very happy with the system we've been given. We still have many contracts open with All Pro, and I'm sure there will be plenty more."
To read more from Sound & Communications, click here.