The next two years will present greater challenges to the wireless microphone and intercom operator than any other two-year period ever has in the history of manmade radio. The Federal Communications Commission (FCC) recently concluded an incentive auction in which frequencies above 608MHz were sold off to the highest bidder. The FCC generated nearly $19.8 billion in revenue. T-Mobile was the big winner, having purchased the most licenses for roughly $7.9 billion.
There are approximately one million wireless microphone and intercom devices operating above 608MHz in the US today. These are used in every sector of American culture—from houses of worship to Broadway theaters, from sporting venues to television productions, and from music awards shows to installed sound systems throughout the country. Excepting those that operate on two very small and unreliable bands, the bulk of this equipment will be rendered illegal over the next two years.
T-Mobile has invested just under $8 billion in this new spectrum, and the company's shareholders demand that they recoup that investment rapidly. T-Mobile has already energized in more than 1,000 cities and towns across the country, and it intends to energize in another 1,000 before the end of this year. By the letter of the law, T-Mobile now owns that spectrum and, once it has energized in a city, it becomes illegal to operate a wireless microphone or intercom system in that region. The penalty for violating this FCC regulation is $10,000 per day per frequency.
Guard Bands
The specific two bands that will remain legal are 614MHz to 616MHz and 652MHz to 663MHz. They come with an RF power restriction of 20mW, as opposed to 250mW before the auction in those bands. In both cases, these frequency spectra are called "guard bands." That is because equipment adjacent to them can "splatter" into the guard bands, and, by FCC regulations, it's allowed to do just that. A guard band is put in place to protect the license owner's equipment from interference. With respect to FCC regulations, anyone who operates in these guard bands shall be prepared to accept interference, but they may not cause interference to the new license holder.
Just last month, it became illegal for any manufacturer to fabricate and sell wireless audio equipment above 608MHz, save for the two remaining guard bands. In addition, as per the FCC 600MHz incentive auction, all the television stations that used to operate above TV channel 37 must repack to frequencies below 608MHz. Between the auction fallout and the TV repack, UHF wireless audio operators will be squeezed into less than six percent of the radio spectrum that we have enjoyed since 1962.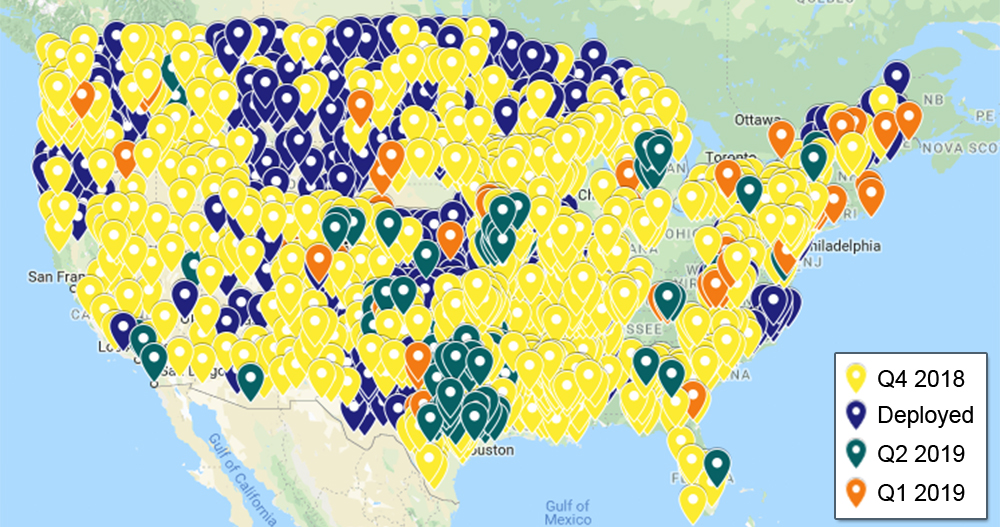 The TV repack has already begun. And, as mentioned, T-Mobile is progressing with a vigorous rollout to recoup its large investment. The company is even subsidizing broadcasters to hasten their move out of the spectrum above 608MHz. The result is an accelerated TV repack that is causing further congestion in the remaining UHF band from 470MHz to 608MHz.
The TV repack is scheduled to transpire over the next two years in a 10-phase approach, culminating in completion in July 2020. At that point, the TV repack and the repurposing of the FCC-auctioned spectrum above 608MHz will have been completed. Even before that month comes, though, it is incumbent upon integrators and end users who work with wireless microphones and intercom systems to operate within the confines of the law. That means that we, as wireless audio operators, must cease operations of equipment above 608MHz, excepting the guard bands.
Available Frequency
There are a number of frequency bands available to wireless audio operators. Some have always been available, and some have been recently granted by the FCC due to the fallout and congestion presented by the 600MHz auction and the subsequent TV repack. VHF TV channels 5 through 13 fall into that category, remaining free and clear in virtually every city in the US, even after the TV repack. Notably, out of upwards of 2,000 TV stations that had to repack to frequencies below 608MHz, only 13 moved to high-band VHF TV channels 7 through 13.
Those facts make the VHF spectrum extremely attractive when assessing new wireless audio equipment. Indeed, since the announcement of the TV repack, three wireless audio manufacturers have begun to create products in the VHF spectrum: Shure for wireless microphones; Lectrosonics for wireless IFBs; and Radio Active Designs for wireless intercom systems.
And the VHF spectrum has a long history of successful operations over the past 56 years. Large events—multiple Super Bowls, Olympic Games, music awards shows and Broadway theatrical productions—had traditionally been exclusively VHF until the advent of UHF systems in the 1990s. This equipment can also be coordinated with other users, thereby achieving frequency coordination and successful operation for all wireless audio devices.
Other options include 902MHz to 928MHz, 940MHz to 960MHz (newly opened), 1.4GHz, 1.9GHz DECT, 2.4GHz and 6.5GHz. Wireless microphones and intercoms are currently available in all of those radio bands. It is up to the potential users of these bands—and their AV integrator partners—to educate themselves as to the pros and cons of each band and their suitability for various uses.
Wireless audio equipment in the 902MHz to 928MHz, 1.9GHz DECT and 2.4GHz bands are not licensable, nor may they be RF coordinated. Users in these bands must accept interference from, and not cause interference to, other operators. As an RF coordinator on large special events, including the Rose Bowl and large corporate and television music awards shows, I offer the following caveat to operators of equipment in these bands: They may use this equipment; however if they experience interference that renders their gear unusable, I cannot help them. This is simply because equipment in these bands may not be coordinated, and it's all license-free.
On the other hand, for the 174MHz to 216MHz, 470MHz to 608MHz, 940MHz to 960MHz and 1.4GHz bands, an RF coordinator shall authorize use of specific frequencies. And, if an operator receives interference, the RF coordinator is empowered intercede and assign new, clean frequencies. Therefore, one might conclude that, if an operator is isolated, you might get away with using one or more of the uncoordinated and unlicensable 902MHz to 928MHz, 1.9GHz DECT or 2.4GHz bands. However, if you work in uncontrolled environments, wireless audio equipment in a coordinated, licensable band is more appropriate for your operations.
Looking to Europe
Interestingly, in my 30 years' experience in the professional wireless audio community, Europe has always seemed to be several years ahead of the US when it comes to wireless audio challenges. I have always looked to the European community when gazing at my metaphorical crystal ball to divine the future of wireless audio in the US, and it has always delivered true and correct information. We can learn much by studying how Europe has been dealing with these challenges.
Use of the 1.9GHz DECT uncoordinated band is ramping up in the European Union, as it is in the US. Because of that, Europe is desperately trying to find alternative spectrum in the VHF band. For the last 25 years, the wireless audio spectrum has become chock full of equipment in the UHF band from 470MHz to 698MHz, but VHF equipment in the 174MHz to 216MHz band has not been in production for more than 20 years. The VHF band has become that bar no one goes to anymore because, back in the day, it used to be so crowded. But, importantly, VHF may be RF coordinated and licensed; that makes it a great place to look for professional wireless audio equipment in the future.

As an RF coordinator, I have seen the UHF spectrum become increasingly congested, even as the VHF spectrum has completely emptied out to the point of being the clearest spectrum for wireless microphones and intercoms to date in more than 25 years. The 902MHz to 928 MHz, 1.9GHz DECT and 2.4GHz spectra will never be fully reliable, because there are too many competing unlicensed operators in those spectra. In addition, event RF coordinators have little (or no) control over this band because it is actually used by consumer electronics on a grand scale.
The 6.5GHz ultra-wideband (UWB) spectrum has been available for many years, but there had never previously been professional, reliable equipment manufactured there. Recently, a new player in the wireless microphone community has emerged. Alteros, a subsidiary of Audio-Technica, is now fabricating a reliable, professional wireless microphone system at 6.5GHz. The operator can use up to 24 channels of bodypack microphones in any given area. Look into this equipment to see if it is right for your scenario.
All The Information Required
Wireless operators in the US now have all the information required to make good purchasing and budgeting decisions going forward. All the information regarding where every TV station will repack to, and where T-Mobile will be firing up next, is available at the stroke of a key. Go to radioactiverf.com/home/troubleshooting/us-rf-map for additional information. You can find out what the post-TV repack scenario will look like in your specific city and plan for it.
In conclusion, please know this: Time is no longer on our side, and the deadlines are set in stone. T-Mobile and the TV repack are ahead of schedule. It is illegal to purchase equipment above 608MHz for any reason. Furthermore, there is a heavy penalty for breaking the rules. Do your research. Consult with qualified wireless audio engineers and technicians before making any large purchasing decisions. And do so quickly.