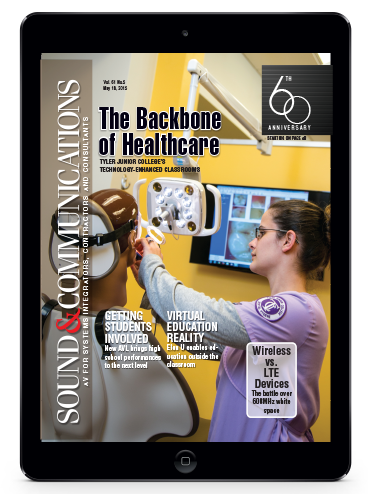 Audio, Business
Sound Advice: Playing The Numbers Game
Some manufacturers are guilty of playing the numbers game, providing false data to match or beat the competition. Our columnist shares stories of unreliable figures and the consequences they caused. Who is responsible when it all goes wrong?
By Peter Mapp, FASA, FAES

Digital Signage, Video
Sign Age: Best In Class
We discuss the evolving challenges involved with upgrading digital signage systems in the education market as AV and IT technologies begin to share more space in the industry, and the end user's logic behind commissioning complete or partial system overhauls.
By Shonan Noronha, EdD

House of Worship, Business
HOW Business: Leadership In Worship
What exactly is a media pastor? Here's some solid advice, outlining the required knowledge and responsibility for this emerging position in a modern-day House of Worship.
By David Lee Jr., PhD
House of Worship, Installation, Video, Audio
HOW Tech: Turning Toward The Light
Take a journey to the parish of St. Pius X in Scarsdale NY, where a seemingly cookie-cutter interior renovation recently completed by Monte Bros became an eye-opening interaction between integrator and client.
By Steve Minozzi
Business
What Would You Do?: AV Integrators: Recognize Anything? Part 3
Our columnist recounts tails of mischievous happenstance between manufacturers, integrators and end users. These real world situations, once again, are hard to believe. This time, we focus on nightmare interactions with end users, and offer some suggestions to ensure your interactions with end users go smoothly.
By Douglas Kleeger, CTS-D, DMC-E
Audio
The Commish: Digital Wireless Mic Frequency Coordination Part 1
Integrators who are well versed with analog systems have pre-conceived notions that don't necessarily meld with troubleshooting digital problems. Often, the latest hardware comes packed with indispensible software that can and should be utilized. Our columnist provides a real world example of this exact problem, and the course of events that lead to its resolution.
By James Maltese, CTS-D, CTS-I, CQT
Business
InfoComm POV: Celebrating 60 Years!
InfoComm's Executive Director/CEO looks back on 60 years of Sound & Communications, and how the AV industry has grown and changed over the course of the publication's history.
By David Labuskes, CTS, RCDD
Business
NSCA POV: Exploring & Improving Your Weaknesses
Every business has a blind spot. The question most business leaders need to ask themselves is, Do I even see it? NSCA's Executive Director runs down the common areas of weakness that can plague integration companies and offer some solutions that can be used to overcome them.
By Chuck Wilson
Business, IT/AV
Down To Business: Unified Communications
A plethora of free-to-use, high-tech solutions keeps us in constant contact, connected to one another at all times in all ways. However, the Unified Communications solutions offered by integrators can often pale in comparison to free apps that come standard with the typical smartphone. We suggest some ways integrators can offer more complete UC solutions.
By Daniel Newman
Business
Consultant's POV: Getting Ahead In Higher Ed
Everyone knows the importance of designing and installing AV systems that fit the end user's needs, but that's not the whole big picture. In the higher education market, there's often one overlooked component that can be the key to getting recurring business: pleasing the AV support staff.
By Mike Tomei, CTS-D, CTS-I
Audio, IT/AV
Industry POV: Audio Over IP
Easy on the budget with futureproof design, audio-over-IP has become an increasingly prevalent technology in the current audio market. We tell you what you need to know about the most common audio-over-IP interfaces, including a rundown of the Dante protocol and the pros and cons of various cabling.
By Phil Wagner
Business
Celebrating 60 Years Of Sound & Communications: The Industry Looks Back Part 1
Sound & Communications has grown up with the AVL industry and touched many lives over the course of its existence. In this first part of our 60th anniversary celebration, a wealth of industry voices share stories about the industry's past and how Sound & Communications has impacted their businesses and the industry as a whole.
Installation, Audio, Video, IT/AV
The Backbone of Healthcare
Tyler Junior College launched an ambitious capital venture: construction of the 130,000-square-foot Robert M. Rogers Nursing and Health Sciences Center. We go inside the install to see how the latest and greatest AV tech is being used to train the next generation of health professionals.
By Shonan Noronha, EdD
Installation, Audio, Video, IT/AV
Virtual Education Reality
Not all learning happens in the classroom. A great deal of college life happens around campus, where AV systems flourish and influence how students interact and learn. Colleges know that AV technology and IT infrastructure matter to today's students, and at Elon U, decision makers are willing to put in the effort, time and money to do the job right.
By Dan Daley
Installation, Audio
Getting Students Involved
The Lewisville TX Independent School District has a thriving theater department that spans four high schools. Renovated AVL systems bring this district's performances to the next level, and help prepare students for careers in theater production, thanks to hand-on experience with the latest technology.
By Jim Stokes
Business, Audio
Wireless vs. LTE Devices
The upcoming FCC spectrum auction has manufacturers of wireless microphones and LTE devices scrambling to secure their interests in the future climate of spectrum allocation. A tug-of-war over the facts recently came to a head in the form of CTIA-The Wireless Association's commissioned study on wireless microphone interference with LTE devices and Shure's subsequent rebuttal of CTIA's findings. We break down both sides of the issue.
By Anthony Vargas
InfoComm15 promises an even greater value for integrators, manufacturers and clients than past years' shows. With more events and offerings, it remains a must-attend event for anyone involved in the AVL industry. Get the scoop on the newest exhibits, latest product trends, and the expanded educational and networking opportunities coming to Orlando FL, June 13-19.
By Anthony Vargas
Audio, Video, IT/AV
AVent Horizon: Caution! Merging Buses Ahead
Thanks to digital technology, the signals carried over electrical buses are looking increasingly alike. This trend seems to be heading toward the complete packetization of audio and video signals, which will have huge ramifications in the connector market. We analyze the implications for the near future of audio and video connections.
By Pete Putman, CTS