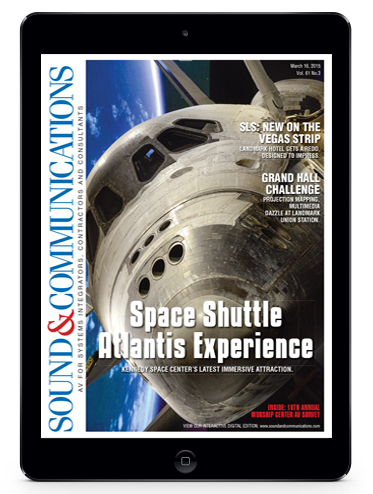 Audio
Sound Advice: Pause For Effect 
Sometimes ensuring flat EQ and the absence of audio effects isn't enough when it comes to testing a sound system's room coverage. A recent troubleshooting episode at a church convinced our columnist to add checking the mixer's frequency response to his mental checklist on every job moving forward.
By Peter Mapp, FASA, FAES
Digital Signage, Business
Sign Age: Feeding Screens 
Adding real-time streaming news and emergency alerts to digital signage is an easy and effective way to ensure your client's signage is as engaging and informative as it can be. We tell you everything you need to know about adding these feeds to your signage content.
By Shonan Noronha, EdD
House of Worship, Business, Audio
HOW: Business: Digital Steerable Arrays 
Speech intelligibility is a major concern for many houses of worship, particularly those on the older side. Steerable line arrays offer an effective method for increasing speech intelligibility, especially in reverberant spaces, however the technology is not widely known in the worship market. We tell you what you need to know.
By David Lee, Jr., PhD
House of Worship, Audio, Video
HOW: Technology: A Matter Of Trust 
Summit Integrated Systems has completed over 20 installations for LifeChurch.tv. We take you inside the church's most recent AV upgrade at its Oklahoma City OK broadcast campus, and explain the importance of building strong relationships with clients in the worship market.
By Anthony Vargas
Business
What Would You Do?: AV Integrators Part 2 
Our columnist continues his examination of business practices integrators would do best to avoid with more cautionary tales from his years as an AV consultant, as well as a few choice reader responses.
By Douglas Kleeger, CTS-D, DMC-E
Audio
The Commish: When Manufacturers Go Bad
Although blaming the manufacturer is often the last resort of the "we don't know what we're doing" crowd, sometimes the blame really does lie with the device itself rather than how it was installed. Our columnist shares an unforgettable story about a conferencing system brought to its knees by a mixer that was functioning exactly how it was designed: poorly.
By James Maltese, CTS-D, CTS-I, CQT
Business
Down To Business: Making Cents Of Big Data 
"Big Data" is just one of the latest business buzzwords being tossed about in the commercial integration market, but it seems few integration companies really know how to harness the power of this seemingly mythical concept to improve their bottom lines. Fortunately, our columnist has some ideas.
By Daniel Newman
Business
NSCA POV: What In The World Should We Pay? 
One of the toughest decisions facing business owners is how much to pay their employees, so that they are adequately rewarded for their work and, at the same time, the company's bottom line remains as healthy as possible. We offer some sources that provide up-to-date information on salary and compensation trends in the industry, as well as some choice excerpts from NCSA's 2015 Compensation & Benefits Report.
By Chuck Wilson
Digital Signage, Video
Integrator's POV: All Choked Up 
When it comes to providing digital signage users with adequate bandwidth for their signage content, US mobile companies are dropping the ball in a major way. We look at the recent trend of mobile companies offering less comprehensive data plans, discuss how a lack of infrastructure development has led to the current climate of reduced bandwidth access and consider how these trends can be reversed.
By John Mayberry
IT/AV, Business
This Message Is The Medium: Automaxpectations 
We are living and conducting business in an increasingly automated world, but automating everything is not always the answer. A system that is too hands-off can leave clients feeling cold and longing for the good old days of manual functionality. We discuss the delicate balance between automated convenience and user-friendliness.
By Joseph Bocchiaro III, PhD, CStd, CTS-D, CTS-I, ISF-C
Installation, Video, Audio
Grand Hall Challenge 
An innovative combination of projection mapping, audio wizardry and breathtaking architecture makes the Grand Hall Experience at St. Louis MO's Union Station a popular destination attraction. We show you how Jack Rouse Associates and Technomedia made it all possible.
By Chris Naffziger and Judith Rubin
Installation, Video, Audio
Space Shuttle Atlantis Experience
Located just down the road from Orlando FL, the Kennedy Space Center's immersive Space Shuttle Atlantis exhibit boasts AVL to rival any of the major attractions at nearby Universal Studios. We got the inside scoop on this exciting, educational installation from PGAV Destinations and Electrosonic.
By Dan Daley
Installation, Video, Audio
SLS: New On The Vegas Strip
The SLS Las Vegas Hotel & Casino, which opened its doors on the site of the former Sahara Hotel & Casino in Fall 2014, uses a ton of video and audio tech to create the most immersive, entertaining gaming experience possible. We reached out to National Technology Associates, who installed AV in gaming areas, retail spaces and restaurants at the site, for a behind-the-scenes look at the Vegas Strip's latest destination.
By Jim Stokes
Video, Audio
AVent Horizon: When You Least Expect It… Expect It 
The UHD connector wars are just starting to shape up, and it seemed like the battle for supremace would be taking place between HDMI 2.0 and DisplayPort 1.3. However, a new competitor has emerged: superMHL. We tell you everything you need to know about this new connector and how it stacks up against the competition.
By Pete Putman, CTS
18th Annual Worship Center AV Survey
A 12-page report on how music/AV ministers budget for and determine the types of audio, video and lighting systems they will employ in their house of worship. Charts and graphs that include five-year trends make this survey a must-read about this important vertical market.
By David A. Silverman