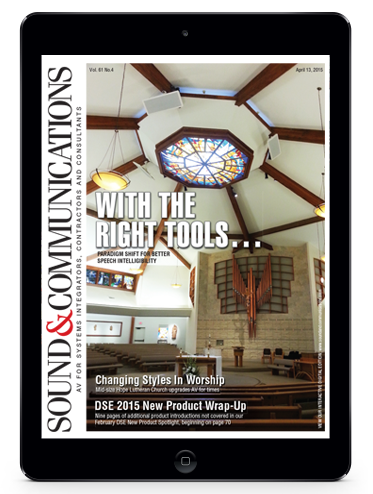 Audio, Business
Sound Advice: Measure For Measure
AV professionals often rely on meters and other instruments to measure system data. But are they wrong to assume their instruments will yield accurate measurements? Our columnist shares some stories of inconsistent STIPA meters and implores instrument manufacturers to stick to standards.
By Peter Mapp, FASA, FAES
Digital Signage
Sign Age: The Bigger Picture
We discuss how a wider variety of screen sizes is affecting the digital signage industry with Ken Goldberg, DSF 2015 Chairman and CEO of Real Digital Media, and Randy Dearborn, DSF 2015 Vice Chairman and VP of Multimedia & Guest Technologies at MGM Resorts International.
By Shonan Noronha, EdD
House of Worship, Business
HOW Business: Security Systems
Security is of paramount concern for businesses and institutions of all types these days, and houses of worship are no exception. We offer some suggestions on how HOWs can incorporate security features into their AV systems.
By David Lee Jr., PhD
House of Worship, Audio
HOW Tech: With The Right Tools…
Sometimes, an integrator's tried-and-true methods just won't fit a given application or work in a certain environment, and he or she must think outside the box in order to formulate a solution. We talked to San Diego CA-based Sound Image about a recent church install that forced them to experiment with some new technologies.
By Anthony Vargas
Business
What Would You Do?: The AV Triangle
For integration companies, the intersection between Sales, Engineering and Operations can seem like a no-man's land from which few return. We offer some suggestions on how to navigate these areas of overlap between departments while ensuring that no one's toes are stepped on, everyone's input is welcome and, most importantly of all, the client remains happy.
By Douglas Kleeger, CTS-D, DMC-E
Audio
The Commish: Digital Signal Idio-Synchronicities
While identifying a distorted analog microphone signal can be easy, detecting problems with microphones in a digital system is often much more difficult. Our columnist attempts to eliminate some of the guesswork by illustrating the telltale problems that arise from distorted digital microphones.
By James Maltese, CTS-D, CTS-I, CQT
Business
NSCA POV: Business Success
For AV professionals, the NCSA's Business & Leadership Conferences offer myriad opportunities for networking and continued education. NSCA's Executive Director make the case for how these conferences can help professionals keep up to date on the latest developments and certifications in an ever-changing industry.
By Chuck Wilson
IT/AV, Business
Capitalizing On Converged Communications, Part 2
Tensions between AV and IT companies in the Unified Communications ecosystem can leave customers confused as to whether to partner with IT or AV companies on projects. And as AV companies are increasingly expected to satisfy customers' IT needs, it begs the question whether AV design and engineering alone will remain valued enough to keep AV companies afloat. Our columnist addresses these issues and explains how AV companies can stay relevant in the changing UC marketplace.
By Robert Romano
Audio, Business
The State Of The Audio Union
The AV industry seems to be suffering from a shortage of young blood. Many of today's AV professionals got their start as young audiophiles, but there are legitimate concerns that the industry isn't doing enough to inspire the same love of technology in the next generation. We suggest some ways your company can nurture and ultimately recruit the next generation of audiophiles.
By Carl Cadden-James
House of Worship, IT/AV, Business
IP In The House Of Worship Market
The proliferation of multisite and mobile churches has changed the expectations for what AV can do in the worship market. Churches will increasingly require strong underlying networks to support expanded distributed sound and video needs. We offer some pointers to keep your company relevant in this changing IP landscape.
By Conn Dunning
Audio, Video, Business
Versatile, Timeless & Indispensable
Patch bays, long considered a convenience in AV systems, are rapidly becoming essential components of today's media-intensive systems. We break down all you need to know about patch bays, and the best ways to incorporate them into a variety of systems.
By Bryan Carpenter
Audio, IT/AV
It's Time To Dive Into Audio Networking
Computer technology and audio distribution have merged, and those who fail to embrace networked audio will be left behind. We examine the current networked audio landscape and attempt to dispel the misgivings of those who have yet to jump on the bandwagon.
By Brad Price
Installation, House of Worship, Audio, Video
Flexible Sanctuary
After a recent expansion that included an enlarged interior with retractable theater seating and a new atrium area, Auburn CA's Auburn Grace Community Church hired Clarity AVL to upgrade its audio, video and lighting systems. We take you inside this technologically versatile worship space.
By Jim Stokes
Installation, House of Worship, Audio, Video
Changing Styles In Worship
AV trends in the worship market are driven by megachurches and multisite ministries with massive budgets, but smaller worship facilities tend to offer a more subtle AV experience. We take an in-depth look at Excel AV Group's recent installation at Hope Lutheran Church in Fargo ND and examine the impact of technological trends on the mid-sized church's more low-key approach to AV.
By Dan Daley
Digital Signage
DSE 2015 New Product Wrap-Up
As a follow-up to our DSE 2015 New Product Spotlight from our February issue, we've rounded up nine pages of additional standout products that made their debut at this year's Digital Signage Expo.
Compiled by Anthony Vargas
Video
AVent Horizon: Bits Do Matter
The next generation display interfaces has arrived. But which one—HDMI 2.0, DisplayPort 1.3 or Super MHL—will come to dominate the market? We weigh the pros and cons of each.
By Pete Putman, CTS