Here, Sound & Communications lovingly pays tribute to the life, times, achievements and enduring legacy of Vincent P. Testa, who founded multiple influential trade publications and who, as President of Testa Communications, published Sound & Communications from 1984 until 2021. The world lost a singular individual when Testa, known universally as "Vinny," died on April 19 following a battle with Alzheimer's disease. Our editorial team has gathered stories, memories and testimonies from some of the luminaries whom Vinny called friends and colleagues. If you weren't fortunate enough to know Vinny, these anecdotes and reminiscences offer a hint of why the publishing, music and technology industries are mourning not only a towering figure but also, perhaps even more importantly, a wonderful friend.
Although, strictly speaking, my own relationship with Vinny was of the employee-boss variety, he always made me feel like so much more than that. Over 16-and-a-half years working at Testa Communications, I always felt like part of Vinny's extended family. A mentor in many ways, he guided my career from an entry-level Assistant Editor position, to the editorship of The Music & Sound Retailer, to my appointment as Editor of Sound & Communications in 2017. Although Vinny didn't create Sound & Communications—he acquired the title from Jerry Brookman back in 1984—he loved it no less than the many publications he created from scratch. I was honored that he entrusted it to me after the well-earned retirement of longtime Editor David A. Silverman. If not for all the lessons that Vinny taught me in the preceding 12-and-a-half years, I'd never have been able to do it.
It might sound like I'm an old timer around here, but, the truth is, Vinny fostered a fierce loyalty among his employees because he, likewise, was loyal to us. Our Associate Publisher, John Carr, has a 30-plus-year tenure here. The same for our Art Director, Janice Pupelis. And Robin Hazan, Testa Communications' Operations Manager for the last many years, eclipses us all! In last month's "Wavelength," I evoked the common perception of tight Italian families gathering for Sunday dinner as a way to offer some insight into Vinny as a businessman. As I said last month, when it came to his guys and gals, he treated us like family.
As it turns out, that family extended far beyond our office walls. In this post, you'll read the words of trade-association heads, manufacturing executives, public-relations professionals, former employees and others. All of them worked with Vinny, but, much more importantly, each of them knew that big, hearty laugh…knew that mischievous, twinkled-eyed smile…knew that flawless Hollywood tan even in the dead of winter. They knew Vinny, and to know him was to love him.
—Dan Ferrisi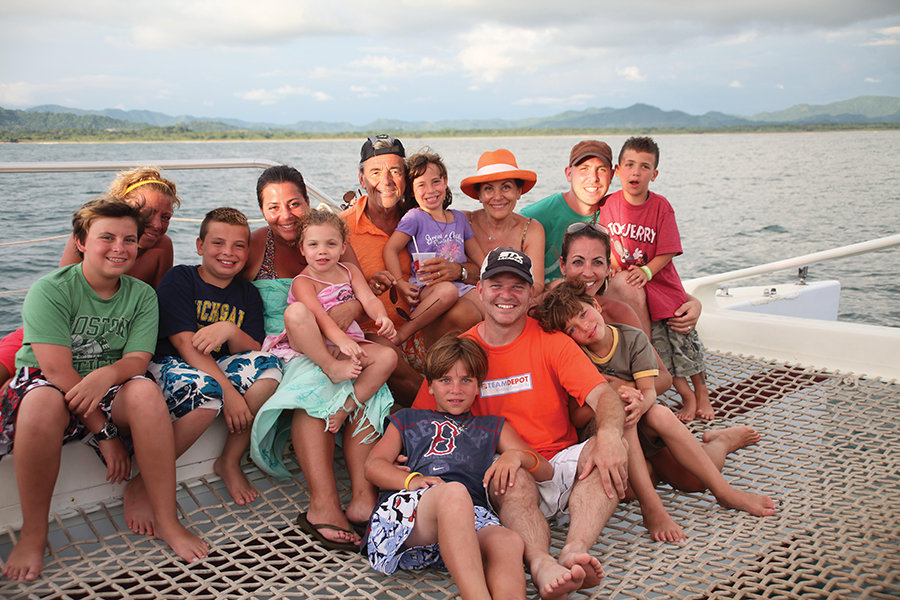 "Vinny was a dreamer, as I think all entrepreneurs have to be. If you just look at all that he created in his career — schools, magazines, trade shows, TV coverage — it's remarkable. Very early in my career, I was lucky enough to be having lunch with Vinny at an AES show. We were discussing advertising — particularly ad design — and Vinny launched into a full tutorial on the importance of selling the 'sizzle,' not the steak. Sounds simple enough, but I can tell you that has become a guiding principle for me and the businesses I've been involved with. People don't just buy products — they buy dreams and aspirations. Vinny imparted countless other bits of wisdom over the years, and, for me, they were all worth serious consideration. I am fortunate to have had Vinny as a mentor, and even more fortunate to have had him as a friend." —Jack Kelly, CEO, Group One Ltd.
"I'm smiling in a way in my grief because that's how it is in our industry. You celebrate, you mourn and then you remember. Vinny was almost like a surrogate father for us. Vinny was someone who was always there. I always knew Vinny, whether I was at Skip's Music or NAMM. When I was at Skip's, Vinny was always very kind to write about our events, and we did something with the 'Weekend Warriors' program together. I really remember coffee-shop meetings we had with Vinny at the NAMM Show. Vinny would come in with all this energy and we all said, 'Quick, we need some more coffee [to keep up].' He always had great ideas.
"At NAMM, we always did business together. We had ConventionTV, and we did a lot of advertising. We didn't always agree on everything, but that's business, and you need to find common ground. I had such respect for him as my elder that we always found common ground. If I felt we messed up, I would say, 'Vinny, we messed up. How can we make it right?' And there were times he would drop the ball and he would say the same thing. That spirit made our relationship special.
"We were all shocked by the passing. When I heard of the passing, the first thing I thought of was that he would always end our calls by saying, 'I love you.' Vinny always had that spirit of absolute transparency. So, in some ways, I was comforted that the last words we said to each other were that we loved each other. It encapsulates the spirit of how I felt about Vinny. There are people in our industry who are larger than life. People who are iconic. There are not many of them. Vinny will be remembered. His legacy will be secure. He has great people [at Testa Communications] to make sure the legacy stays strong.
"The industry will not be quite as colorful without him. It won't be the same. Through the years, his energy never diminished. It never dropped to 90 or 95 percent. It was always 100 percent. We are going to miss him. We are going to miss him a lot." —Joe Lamond, President and CEO, NAMM
"Vinny Testa was special. Anyone who knew or worked with him knows that. I worked with him for 17 years … a relative 'shortterm' employee at Testa Communications. Most of his employees have been there more than 20 years — some for 30 or more! I have to say all of this because, as uneducated in the field of publishing as he was when he started the company, Vinny set up an environment for his employees that was quite different. Yet, it offered us the opportunity to innovate, grow and create quality products that we could all be proud of. That's why he had a stable staff.
"This is all to say thank you to a man who gave me, at the age of 54, an opportunity to further my career that few would have done. He hired an 'old guy' (second in age only to him the whole time I was there). I stuck with him until the time was right for me to leave. I regret that I only saw Vinny twice after the retirement party that he threw for me at InfoComm 2017: at the third retirement party that Testa Communications hosted for me and at one other company event.
"An anecdote to show the kind of man he was: About three months after I retired, I told Vinny that I was going to have major surgery and his first words were, "Let me know if I can do anything." That's how I feel about any member of the Testa Family (work or home): If there is anything I can do to help, I'll be there." —David Silverman, former Editor, Sound & Communications
"Vinny Testa was a larger-than-life personality with a heart that matched. If he liked you, you were invited in to see just how warm and amazing this man could be. And I had that pleasure. He gave me my start in this industry, when I was still essentially a kid. He offered me responsibility and trust not typically afforded to people at the start of their 20s. He also offered many life lessons, including one I still use today: If you don't know how to do something, admit it and ask for help. If you did that instead of pretending you knew everything, you earned his respect.
"He also instilled in me a confidence I didn't know I had. Five months into my first real job as Assistant Editor of Post Magazine, he sent me to NAB in Las Vegas. It was exhausting and amazing and an entirely new world that I was just getting to know. On the last day of the show, he saw me in the lobby of the Central Hall at the Las Vegas Convention Center. He told me he was catching a plane, then ticked off about 10 things he expected me to accomplish at the booth breakdown. He started to walk away when he said over his shoulder, 'I don't have to worry about this, do I?' I said, 'Not at all' as confidently as I could. He turned, opened the door and walked into the sunshine. When the door closed, it was dark and I was terrified, but he gave me an opportunity to prove myself and I didn't want to let him down. I found my colleagues and we made it work. I spent the rest of my time at Testa Communications trying not to let Vinny down.
"When I started my own company, postPerspective, he made himself available, offering up his constant support and vast experience. He was a boss, a mentor and, at times, a father figure. I loved him."
—Randi Altman, Editor-in-Chief, postPerspective
"We are sad to hear that our industry has lost a pioneer in pro-audio trade-magazine publishing. Vinny Testa co-founded Pro Sound News only a year before John and I co-founded Meyer Sound, and then he went on to develop Sound & Communications. From the outset, we worked with many of the publications and platforms he helped create, shaping the growth of our industry and Meyer Sound. Our thoughts are with Vinny's family and colleagues."
—Helen Meyer, Executive VP, Meyer Sound
My favorite story with Vinny: 'State Department,' AES, 1987.
"Back in the '80s when I was just starting out my career, my dear friend and mentor Wayne Freeman was close friends with Vinny. We would hang out in New York and Los Angeles whenever we were in the same city and at trade shows. Crazy times, I have this picture in my mind of Vinny and Paul Gallo jumping through Wayne's car windows after we were leaving a bar late one night in Dallas, NAB in '86.
"At AES in LA—1987, I think—I was leaving the show at the LA Convention Center and I had my full-size Ford Crown Victoria rental. (Vinny always rented sub-compacts, which I never understood. Me to Vinny: 'What are you doin' with that car?' Vinny to me: 'That's all I need!').
"Back to the AES story. Vinny and I are popping over to the Biltmore Hotel for a quick drop-in at a cocktail party before dinner. We pull up to the Biltmore Hotel. He says to me, 'Let me handle this.' Then he says to the doorman, 'Leave the car out front. We'll be back in 30 minutes. Oh, and I'd love to take care of you, but we're with the State Department and we can't tip. See ya!'
Classic Vinny!
"So, I related this story to Group One's CEO, Jack Kelly, shortly after I learned that Vinny sadly passed away. He said to me a couple of days later, 'I just remembered: I was in the car with you and Vinny.' It hit him after I'd told him that unforgettable story. You can't make this stuff up!
"Vinny had moxie for 10 men! He took in all secrets and spread none. We miss him dearly."
—Phil Wagner, Senior VP, Solid State Logic, Inc.
"All of TMP was saddened to hear about the passing of Vincent Testa. It has been amazing to witness what Vincent had built, and we are honored to have established a great relationship with his company. Though this loss has to weigh heavy on everyone in the Testa Communications family, Vincent established a great company with great people who will definitely carry on his legacy."
—John Hennessey, Sharon Hennessey and team, The Music People (TMP)
"I first met Vinny and Paul Gallo [Editor's Note: Vinny's first cousin] years ago in New York. The genuine passion for the industry, understanding of it and commitment to make it better for all of us really impressed me. I also got to hang with him socially. A wonderful guy and a tremendous loss for the audio community."
—Larry Italia, President/CEO Americas, d&b audiotechnik Corp.
"Vinny Testa was an innovator. From his concept of placing product-information kiosks in retail stores, to embracing the DJ market, to ConventionTV and more, Vinny was always looking ahead in an imaginative and insightful way. Of course, he was also quite a character, as anyone who knew him would attest to!"
—Larry DeMarco, Electro-Harmonix