Phoenix College's new Maricopa IT Institute gives students hands-on access to real-world technologies.
In 2020, AV technology and education finally became inseparable. So, this year and beyond, education institutions will have to invest in technology that, at the very least, enables hybrid and remote learning. But for institutions of higher learning and vocational schools, in particular, the technology in the classroom should mimic the technology that students are likely to encounter in their professional lives in order to provide the best possible learning experience.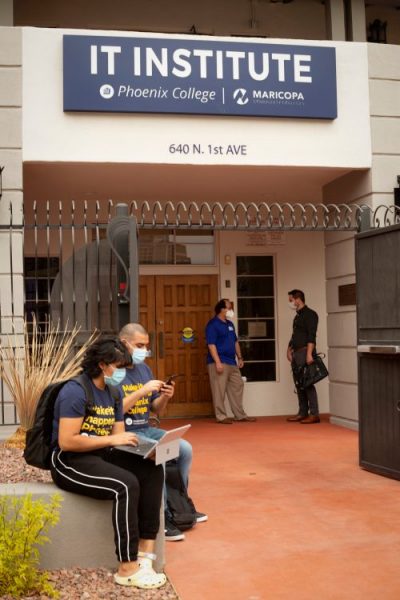 Phoenix College's new Maricopa IT Institute offers a great example of how AV technology can enhance any education environment whose purpose is training students for work in tech-related fields. The purpose of the IT Institute is not only to bolster the IT workforce in Maricopa County, Arizona, but also to promote entrepreneurship and the growth of Phoenix AZ's burgeoning tech industry. Each of its classrooms features AV and computer systems that give students hands-on access to the technology they'll be using in their everyday lives as IT professionals, as well as unified communications (UC) systems that facilitate collaboration with local businesses on practical applications for classroom projects.
The IT Institute is the culmination of a project that the Maricopa Community College District funded and that ran from June 2019 to August 2020. According to Chuck Fortino, AV Project Manager for Phoenix College, "The scope of the project was to extensively remodel a building that had previously housed the Phoenix College Paralegal Program and convert the space into a state-of-the-art information-technology training center for the purpose of workforce development. Spaces were designed and built to offer instruction in A+ certification, cloud computing, cybersecurity, desktop support, Linux administration, mobile app development, networking, programming and systems analysis, virtualization, web development and design, and Windows server administration. The building was also designed as a place that our students could collaborate and explore entrepreneurial opportunities with business partners in our Techpreneurship Suite, a space where students can collaborate with industry partners to drive business development in the Phoenix metropolitan area."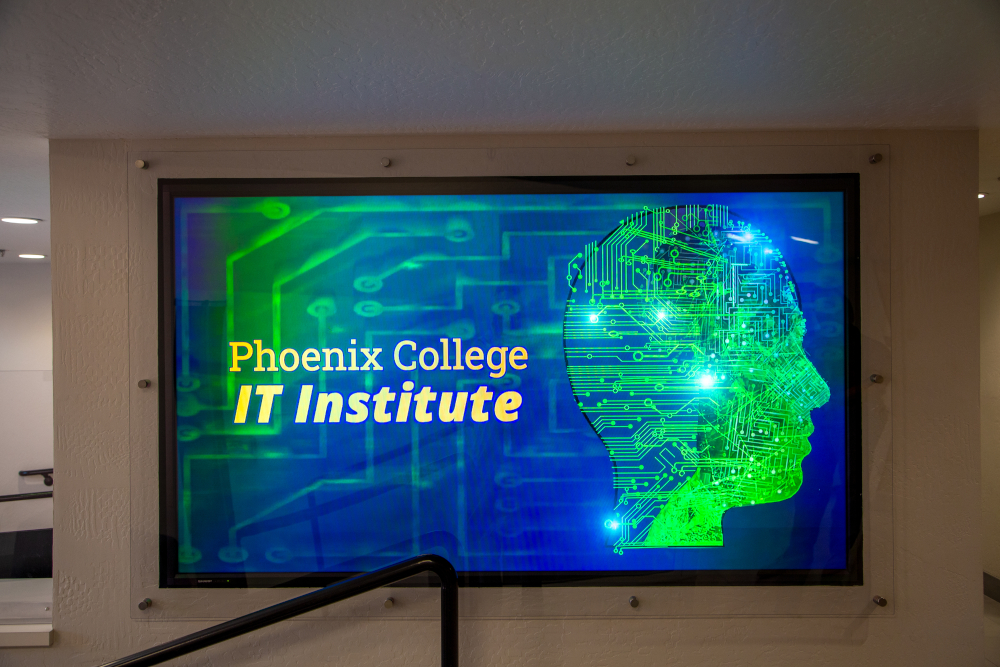 Fortino's team designed the classroom systems and installed them with Phoenix-area integrator Aspen Technologies' assistance. Henry Denman, Phoenix College's Audio-Visual Coordinator, completed the AV-systems design. The Phoenix College team also included Technical Support Specialists Jason Powell, Scott Eroe, Dylan Witzleb and Daniel Douros.
Purpose-Built Classrooms
"The primary reason for moving forward with the IT Institute was that our administration, in consultation with local business leaders, determined a significant need in the Phoenix metropolitan area for qualified information technology professionals," Fortino explained. "The former Phoenix College Downtown campus was empty after moving the Paralegal Program to the Phoenix College main campus, [and the] Downtown campus is located in the heart of the Phoenix metropolitan area, ideally located to serve both students and the local business community." Fortino added, "The building underwent an extensive renovation with a complete reconfiguration of the space. Most of the classrooms were completely redesigned to fit the instructional needs of our faculty. The AV systems were customized to suit the particular disciplines that will be taught in each classroom."
The IT Institute campus encompasses two floors of classrooms and an entrance lobby. The lobby is equipped with two Sharp PN-R903A 90-inch displays, which are controlled by BrightSign XD234 players running UCView 6.0 digital-signage software. The first floor includes the A+ Classroom, two lecture rooms, a number of Industry Collaboration Suites and the Techpreneurship Suite; meanwhile, the second floor features the Networking Classroom, Apple (Mac) Lab, Windows Lab and the Cybersecurity Classroom. There is a dedicated equipment rack for each floor, as well as equipment racks in each classroom's instructor stations.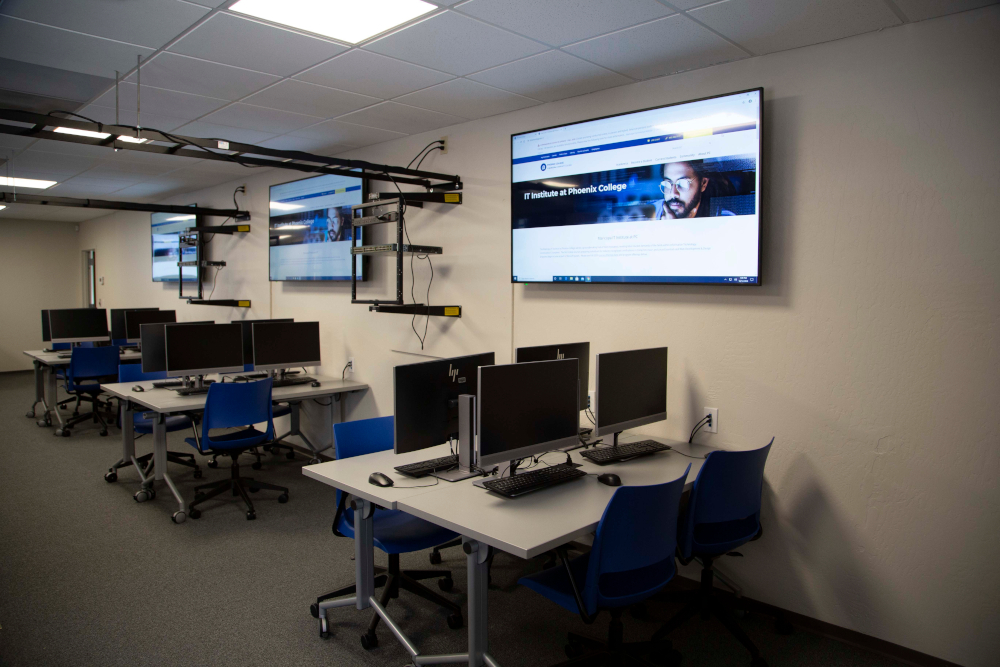 Each of the IT Institute's classrooms was purpose-built for specific teaching applications; this involved extensive work designing the classroom environments, which are equipped with AV and unified communications (UC) systems that are intended to enhance the hands-on training the students will receive from the instructors. According to Phoenix College's Dylan Witzleb, "Collaboration and unified communication technology, as well as having dedicated collaboration spaces, were definitely major priorities from the earliest stages of the project."
In fact, that emphasis on UC technology in the IT Institute's classroom designs represents a new standard for Phoenix College's classrooms going forward. "As a base standard, all our classrooms [at Phoenix College] have an instructor station that has a computer with USB-C and HDMI connections to connect a laptop, etc. A new addition to that standard for the IT Institute and future projects is adding a wireless collaboration device," Henry Denman, the school's AV Coordinator, described. "All the classrooms at the IT Institute have a wireless collaboration device installed that allows for students and faculty to wirelessly share the screen of their personal mobile devices, including laptops, tablets and phones, with the class through the AV system. We are using the Solstice Pod by Mersive Technologies. This device allows multiple students and the instructor to wirelessly share content either by BYOD [bring your own device] or from the instructor's computer in the room. It also allows the instructor to very easily moderate the sharing and choose which devices are displayed through a drag-and-drop-style interface."
Fortino added, "We have found [the Mersive Solstice] system easy to use, set up and maintain. We are also very excited about some of the recently released functionality Mersive is now offering, including Active Learning and the Solstice Conferencing solution. They have some exciting new features and capabilities on their roadmap that we plan on leveraging to make collaboration and sharing of content easier. In my opinion, the Active Learning concept that they have developed has the potential to be a game-changer for easily and relatively inexpensively setting up collaboration spaces that have traditionally required matrix switchers."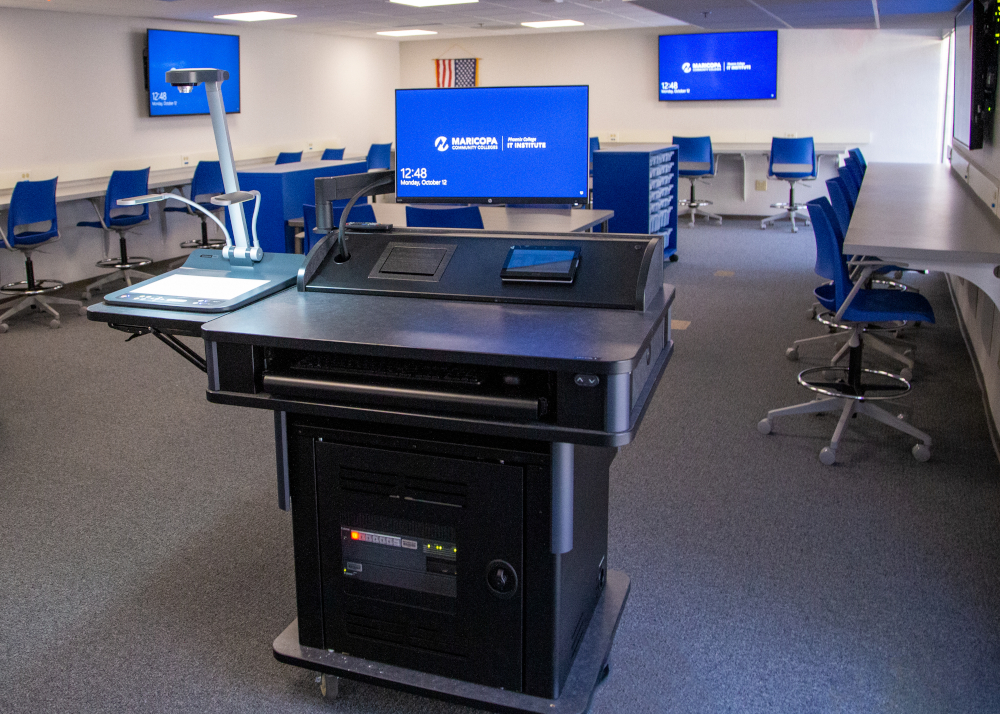 System Control
The instructors use Spectrum Furniture adjustable-height lecterns that contain the room's Mersive Solstice Pod gateway, as well as a computer with HDMI and USB-C inputs. In some of the rooms, the instructors also have access to Lumens PS752 or DC193 document cameras that are used for screen-sharing applications. The AV systems for each classroom are locally controlled via an Extron IP Link Pro Control Processor, which users interface with via a dedicated Extron TLP Pro 725M touchpanel mounted near the room's instructor station.
"Using the seven-inch TouchLink Pro touchpanel, users can control the media in each room with the touch of a button," Phoenix College's Scott Eroe explained. "Users can turn on the displays, raise and lower projection screens, power on/off projectors, control the classroom audio and select which media source to display—PC, document camera, HDMI input or USB-C input."
To ensure that the systems aren't running when the rooms aren't occupied, the classrooms feature occupancy sensors that minimize wasteful energy consumption. "The Extron OCS 100C occupancy sensors ensure that our classroom technology is as energy-efficient as possible," Eroe described. "These sensors are ceiling mounted and connected to the classroom's Extron IPCP Pro control device. If an instructor forgets to turn off the classroom technology, the sensor will signal the control device after 40 minutes of no occupancy, and the classroom technology will be powered off."
Each individual classroom system is also connected to an Extron GlobalViewer Enterprise server for centralized control. "While the control processor and touchpanel are local to each room, they are networked and a part of our Extron GlobalViewer Enterprise server," Denman said. "This not only allows us to monitor these AV systems in a central location for any maintenance issues [but] also allows us to control these systems remotely, quickly providing support to the faculty. This is very important since we are located offsite at our main campus about three miles away."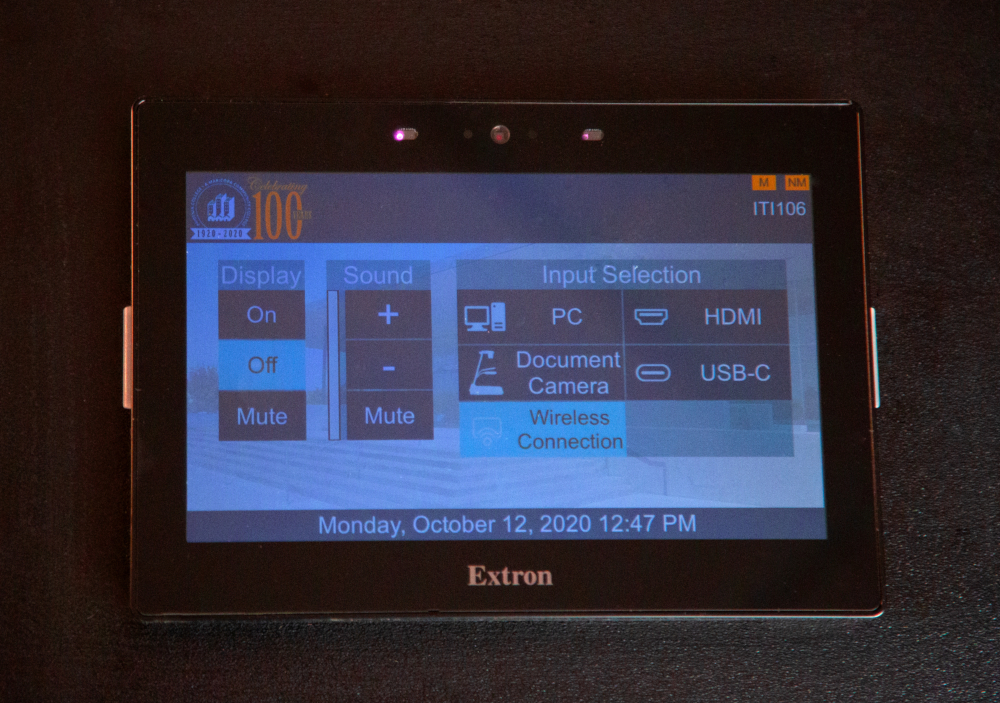 Audio & Video
The classroom audio systems also feature Extron hardware. "Every room is equipped with Extron FF 220T speakers. These are low-profile 2'x2′ drop-in ceiling speakers that provide consistent and comprehensive coverage throughout each room," Eroe said. "The content is sent from the instructor station's Extron DTP transmitter to the Extron DTP receiver through a local shielded run. From the receiver, the signal is sent to the Extron XPA 1002 amplifier via a two-pair serial cable. The amplifier then distributes the content and power to the speakers via a two-conductor speaker cable."
Classroom display solutions include, for the most part, a mix of Sharp PN-HM651 and PN-HM751 4K LED-backlit displays, as well as Maxell MP-WU5603 projectors in certain rooms.
"The Maxell MP-WU5603 projectors receive content via HDMI from an Extron DTP receiver, and [content] is displayed on the Da-Lite Cosmopolitan screen," Eroe explained. "The content is sent from the instructor station's Extron DTP transmitter to the Extron DTP receiver through a local shielded run. Any media source from the instructor station—PC, document camera, HDMI input or USB-C input—can be sent to the projector by selecting the desired content at the Extron TLP touchpanel."
Eroe continued, "Sharp displays are used all over the campus for digital signage, classroom displays and meeting-room presentations. When utilized for digital signage, each display has a local BrightSign player that is connected via HDMI. For classrooms that aren't using the Extron XTP Matrix or projectors, the Sharp displays are used to display the instructor-station content. These displays each have an Extron DTP receiver connected via HDMI that receives its content from the Extron DTP transmitter inside the instructor station via local shielded run."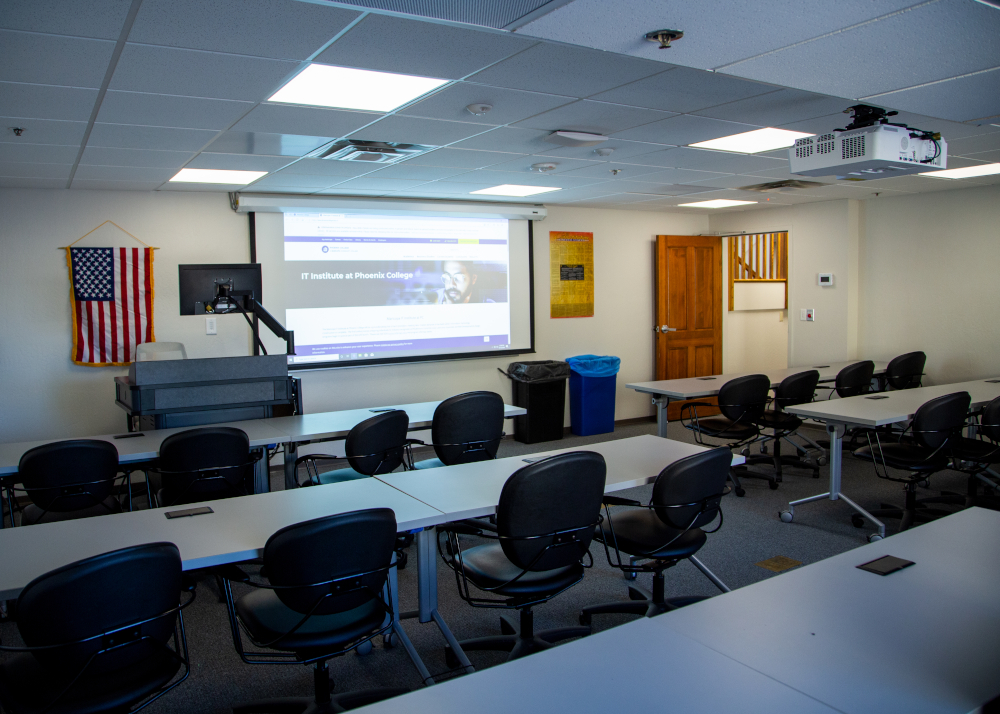 Optimized For Group Work
Each room in the IT Institute features displays that are positioned to best suit the everyday use of the space. Some of the classrooms, like the Windows and Mac Computer Labs and the two multipurpose Lecture Rooms, feature typical AV systems one would expect to find in these types of spaces, with projection-based systems designed for instructor-led presentations. However, some of the other spaces feature more specialized AV systems that are tailored to the IT Institute's unique course offerings. These systems allow more flexible control of the classroom displays for the instructor and the students alike, and the displays are positioned to facilitate screen-sharing applications for group learning and live demonstrations. And some of the rooms even include AV and IT technology as part of the learning environment.
For example, in the Networking Classroom, students can get firsthand experience with some of the tools of the IT trade. "This classroom was purpose-built to allow our students to gain hands-on experience with network switching equipment, network cabling and related infrastructure," Fortino said. "There are a series of workstations that include equipment racks for the students to practice their skill at running and terminating network cables."
Denman added, "Another example is our A+ Classroom, which was designed to allow the students to follow along step by step as the instructor demonstrates various hardware repairs. We do this with a camera at the instructor station and several displays around the room near the students' workstations."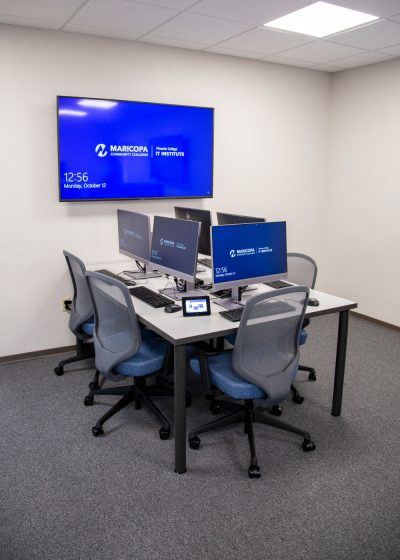 And the Cybersecurity Classroom not only features a sophisticated collaboration system that's optimized for small group work, it also features its own dedicated local-area network (LAN) for use in classroom projects.
"[The Cybersecurity Classroom] is the most complex classroom at the Maricopa IT Institute at Phoenix College," Fortino described. "It includes an independent LAN that students have access to that is not part of the building LAN. The room consists of four student pods, each of which includes five computer workstations. Each pod [also includes] a Sharp 4T-B60CJ1U commercial display that is mounted to the wall in front of each pod."
This setup allows for easy screen sharing between the instructor station and each screen in the student stations. According to Fortino, "The purpose of this design was to give the students the ability to collaborate at each pod and easily display what they are working on to their local display, and to provide the instructor with the capacity, from the instructor station, to share any individual student's content with the other pods in the room, or to push any content that the instructor wishes to all the pods in the room from any of the sources on the instructor station."
Fortino provided a breakdown of how the display switching in the Cybersecurity Classroom works. "Behind each display, an Extron XTP HD 4K receiver is connected to the HDMI input on each monitor, and the video signal is received via a Cat6 shielded cable that runs from behind the TV to the equipment closet from the Extron XTP II CrossPoint 1600 modular digital matrix switcher," he said. "Attached to the underside of each pod table is an Extron IN1806 six-input 4K/60 presentation switcher that is then connected to an input on the matrix switcher via a Cat6 shielded cable that runs to the equipment closet. Each of the pod's computers is then connected to an input on the IN1806 via an HDMI cable."
The system can be controlled using the Extron TLP Pro 725 touchpanel mounted near the instructor station, or via Extron TLP Pro 525T five-inch tabletop touchpanels in each student pod. "The students have a touchpanel located at each pod that allows them to display one of the workstations on the pod display," Denman said. "The instructor at any time can override this to display the instructor station or individual student workstations on all the [main] pod displays, allowing for presentations or collaborations in small groups or with the class as a whole."
Direct Connection
The IT Institute also has several spaces that were designed specifically to provide a direct connection between the school and the Phoenix-area tech industry; these include the so-called Techpreneurship Suite and Industry Collaboration Suites. These spaces will allow the students to work with Phoenix-area businesses and IT industry professionals on classroom projects as well as real-world applications.
Although these spaces were not included in the original project and their systems are still being installed, the Phoenix College team did provide a preview of the system designs. When they're completed, these rooms are intended to demonstrate how AV and UC technology can take workforce development to a new level by promoting interpersonal interactions with industry leaders.
"[The Industry Collaboration Suites] are designed for students, faculty and business leaders to collaborate on projects and to act as incubators for students to engage in entrepreneurial ventures," Fortino described. "A subsequent project is underway to outfit three of the four collaboration suites with a ViewSonic IFP6550 Viewboard 4K ultra-HD interactive display and Mersive Solstice Pod collaboration gateways."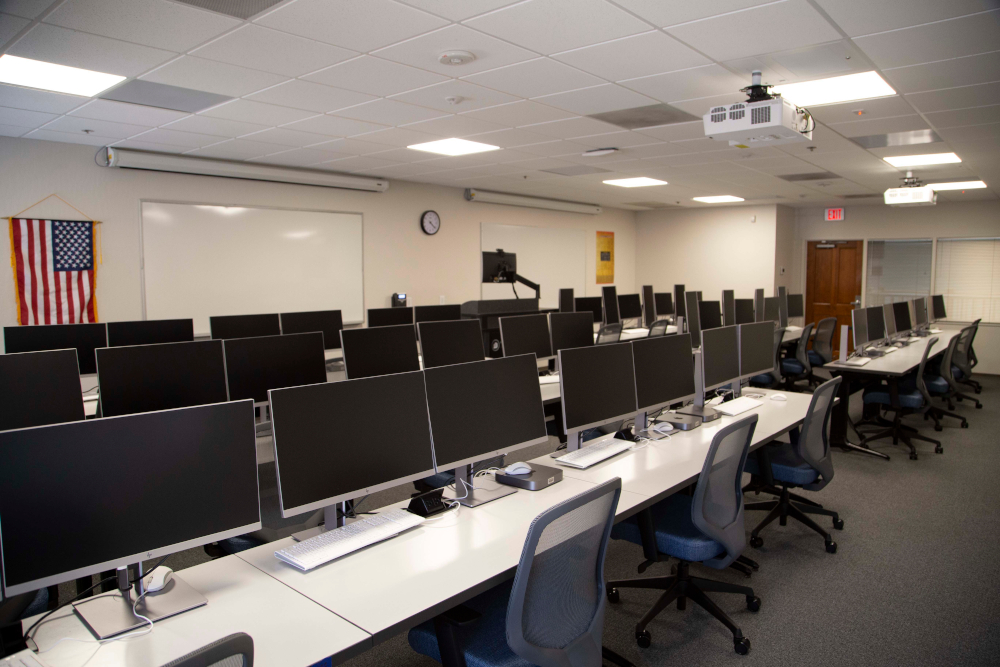 Fortino continued, "The Techpreneurship Suite is a large room where students, faculty and industry leaders can hold impromptu meetings and collaborate on projects. This room will feature two additional ViewSonic IFP6550 Viewboard 4K ultra-HD interactive displays that will be mounted onto Chief XPD1U electric height-adjustable mobile display carts with a Mersive Solstice Pod collaboration gateway built in."
Impact Of COVID-19
Like all education institutions, Phoenix College had to adapt quickly to the novel coronavirus (COVID-19) pandemic. A large chunk of the timeline for the initial IT Institute installation was affected by work-site restrictions related to COVID-19. The pandemic also caused some problems when it came to securing displays for the IT Institute's digital-signage system. "We will be installing four additional Sharp PN HM651 digital signs with BrightSign players in various locations on the first floor and the stairwells leading to the second floor. These displays have not been installed because they are backordered with our vendor, which has been another challenge related to the COVID-19 pandemic," Fortino said.
And, of course, the COVID-19 pandemic's onset necessitated a further emphasis on providing adequate UC technology for remote and hybrid classes not only for the IT Institute but also for Phoenix College as a whole.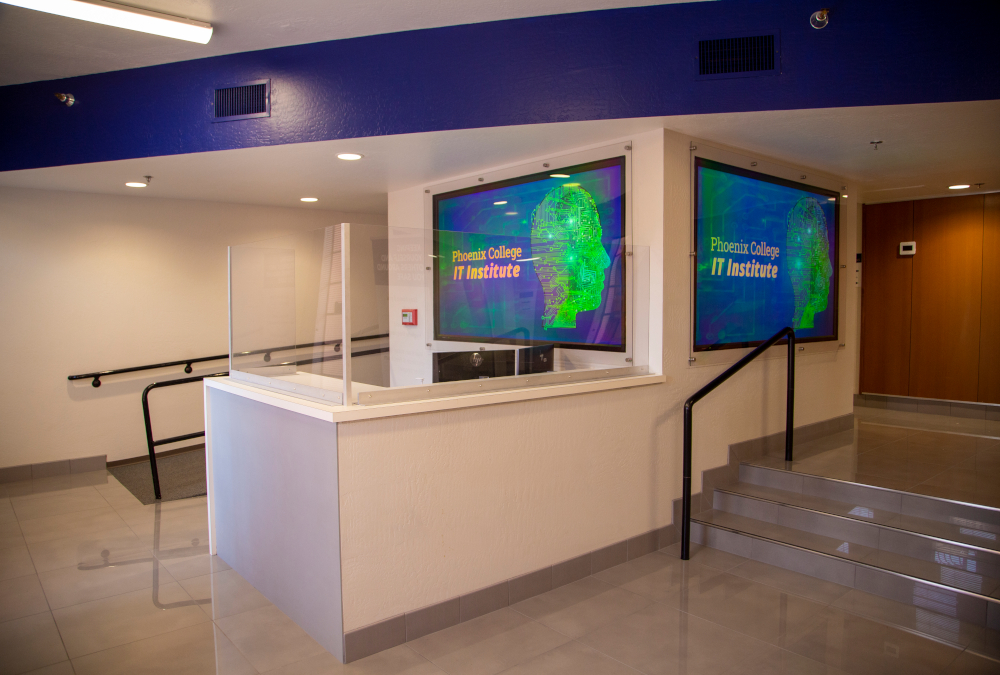 "Phoenix College responded to COVID-19 by adapting over 90 percent of our classes to online classes. The IT Institute was impacted similarly, and as a result, this fall, we only offered a single in-person class," Fortino said. "In general, our response to the COVID-19 pandemic has been to install 200 web cameras in classrooms on campus for our faculty that wanted to teach from a classroom. We are also in the process of installing 14 synchronous learning systems consisting of QSC Core 110f DSP, QSC PTZ-IP 12×72 cameras and Shure MXA910 array microphones. All this is being controlled via the existing Extron control systems and touchpanels that are standard for all our classrooms. The audio and video signals are then being ingested into a Cisco Webex videoconference session integrated into our Canvas Learning Management System (LMS). These [synchronous learning systems] are scheduled to be online for the spring 2021 semester."
Given the upgrade that the Maricopa IT Institute represents to Phoenix College's overall classroom technology standards, as well as its sophisticated learning environments that were designed to promote true workforce development, the new facility is clearly Phoenix College's flagship as a new year begins. However, it also serves as an example for similar institutions of higher education. The meticulous attention to detail that went into each room's AV design is a testament to how today's UC and AV technology allows for the creation of systems that are tailored to create unique classroom experiences.
The Phoenix College team is understandably proud of its achievement, and Fortino was quick to give credit where it is due. "This project's success is based on one man's legacy and the dedication and quality focus of another," Fortino shared. "Mike Poplin was the Director of Customer Care for Phoenix College for over 20 years. More than anyone, he is responsible for developing the standards that we follow, and [he] was the driving force behind everything that our department has accomplished. Mike passed away in June 2018, and he is someone that we all deeply respected and who created the foundation for this team. The other person who deserves a great deal of the credit is our in-house AV Designer and Programmer, Henry Denman. His technical and audiovisual design and programming skills are second to none, and his significant contributions to this project made it all possible. Henry was involved from the planning and design phases through to the final commissioning of the systems."
Fortino added his thanks to Phoenix College's leadership for supporting such an ambitious project. "We are also very fortunate to have generous support from our senior leadership: Brandon Larkin, our Deputy Chief Information Officer; Anton Spevacek, our Chief Technology Officer; and Paul Ross, our Associate VP Chief Information Officer," he said. "They all played pivotal roles in getting the resources that we needed and helping define the needs of our key stakeholders. I would also like to thank and recognize Doug McCarthy, our Director of Operations, for all the work he did in remodeling the space."
Fortino concluded, "In my role as a project manager, I have never been as proud of the entire team as I was on this project, primarily because of all the additional challenges that we faced due to COVID-19 pandemic. It was a testament to the professionalism and the commitment of our AV team that we still met the scheduled deadline. This team did a fantastic job of staying focused to get this work completed on time."
To read more features from Sound & Communications, click here.