It's an interesting time to be in college sports. Universities now dominate Saturdays on television, and their athletes have finally won some limited ability to derive compensation from their name, image and likeness (albeit "in a manner consistent with the collegiate model," as per the extremely cautious wording of the highly conservative National Collegiate Athletic Association (NCAA) Board of Governors last October). The facilities in which collegiate athletes perform have followed professional sports into the larger entertainment universe, boasting the same kinds of line-array sound systems and giganto-vision LED displays that loom over the pros' playing fields.
However, despite vast amounts of wattage from concert-grade sound systems and eyepopping video displays, the majority of college stadiums and arenas are basically conventional venues. As the convergence of AV and IT in the higher-education vertical roll on, however, that's beginning to change.
Everything's Bigger In Texas
Texas A&M University's sports complex, which supports various sports with eight venues, including Kyle Field, Reed Arena, Blue Bell Park, Davis Diamond and E.B. Cushing Stadium, has been in the process of building and upgrading the individual venues. For instance, it has invested $28.6 million for its new softball complex, Davis Diamond, and it has invested $39.8 million for its outdoor track-and-field venue, E.B. Cushing Stadium. But, importantly, the university has also been progressively connecting them in a networked manner. It all began in 2014 with the re-opening of Kyle Field, coincident with the school's admission to the Southeastern Conference (SEC). According to Zack Bacon, Chief Broadcast Engineer for 12th Man Productions and Texas A&M University Athletics, that development required the school's AV infrastructure to be capable of supporting broadcasts for SEC Network, owned by ESPN, which paid a reported $2.25 billion for broadcast rights of SEC football games beginning in 2009 and continuing\ through the 2025 season.
Texas A&M began to accommodate that mandate by building a $12 million control-room complex that opened along with the renovated Kyle Field. Its initial purpose was to manage the venue's Daktronics-installed large-screen video displays; ultimately, however, the complex was meant to develop, distribute and control audio and video content to all the sports venues under 12th Man Productions' umbrella. This marked the beginning of a sports-campus-wide fiber network that will keep Texas A&M's production team at the cutting edge for years to come.
"The control room is the hub for everything that those sitting in the stands in these venues will see and hear at each game," Bacon declared. "The idea was to have the ability to send anything, from any venue, to any other venue, through the control room as the hub."
There are, in fact, four individual control rooms that are all linked via a central server room (aka 12th Man Studio and Inter-venue Network Transport), located in the Kyle Field venue. These are typically divided as two broadcast and two in-venue control rooms, with any mix and match possible. One, for instance, is used to broadcast for ESPN, whereas another is just for the in-venue big-screen shows at the football and basketball venues. Each venue is connected using 48 strands of fiber and a cluster of Cisco redundant media fabric spines and leaves, a sprawling network running through a total of 51 Cisco SG and Catalyst Series switches, distributed throughout the control center and on to the venues.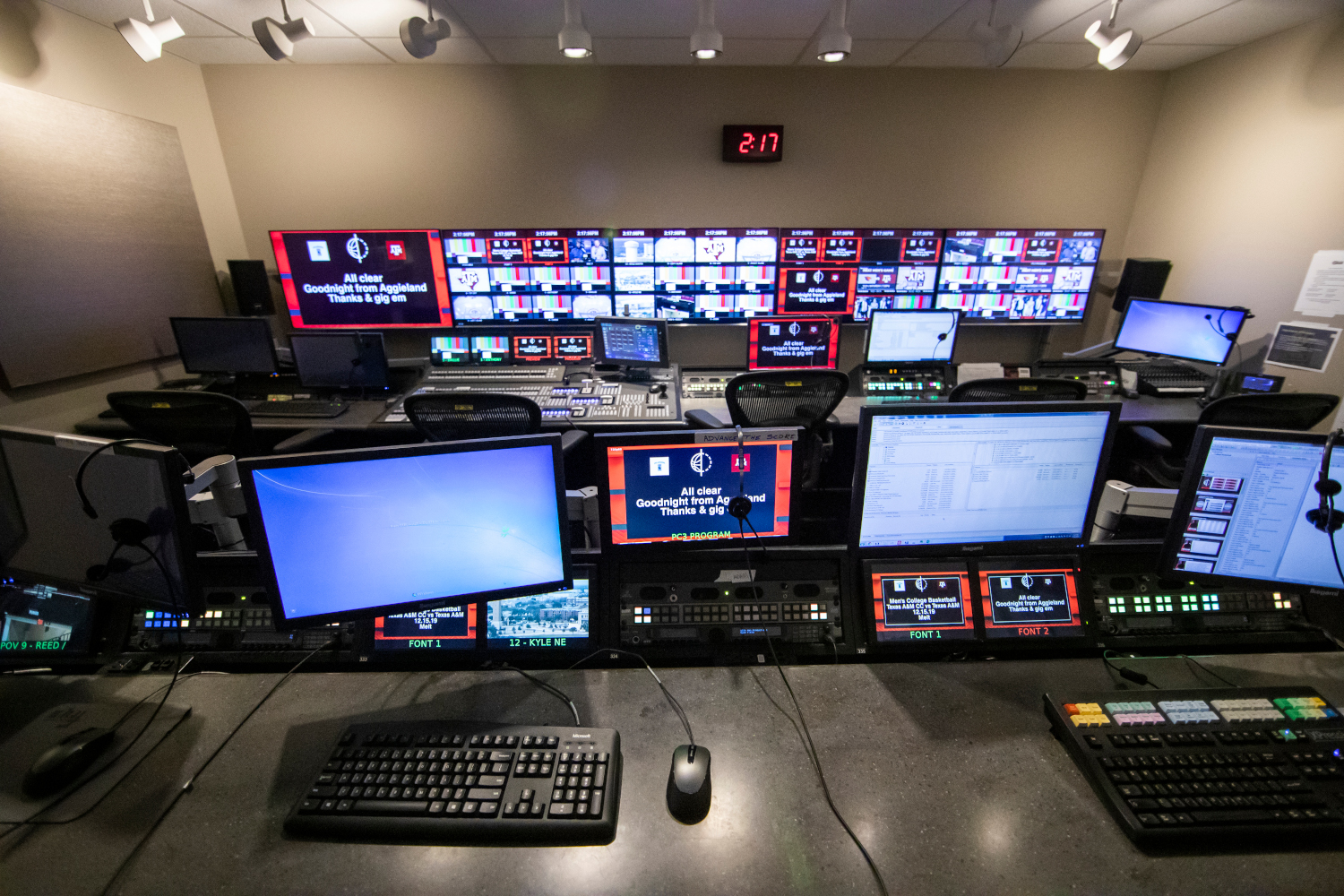 This connectivity serves Kyle Field (for the Dante network and BSS Soundweb London processor for the venue's PA system), along with Reed Arena's PA systems and ArtNet for DMX control of the arena's High End Systems Road Hog lighting console. Bacon said another 48 strands to each venue are planned as the build-out continues. "For now, it's about redundancy, but it also will give us additional capacity for the future," he explained.
Content is stored in Dell EMC Isilon network-attached storage. As Texas A&M looks to the future, it has begun to build an infrastructure for virtualization with a Dell Compellent SC5020F storage array for SAN mixed-application environments, as well as two Dell PowerEdge R940xa rack servers. The Yamaha CL5, CL3, CL1 and QL1 audio mixers are connected to the network, as are multiple Yamaha Rio3224-D2 analog/Dante gateways, along with Crown I-Tech 4x3500HD amplifiers and RTS ROAMEO wireless intercoms.
Daktronics delivered and installed a variety of its RTN and DVN Series displays as the main screens in different venues. Most of the pixel pitches range from 10mm to 23mm, depending upon screen size and distance from seating. The phased installation process took a period of years, starting with the baseball field, followed by the football stadium, and then the indoor and outdoor track venues, according to Daktronics' Sales Manager, Dan Fjeldheim. He worked with Daktronics' Senior Project Manager, Josh Howell, on the project. Fjeldheim said the displays are basically a node on the network. "We mainly needed to know what kind of feeds they would be giving us for the processors and whether it would be Cat5 or fiber, which would depend on the distances from the control rooms to the venue," he explained.
AV Meets IT
Bacon said the AV components presented the usual array of installation challenges, such as having to focus the PA loudspeaker components on the seating areas and away from reflective surfaces, thereby increasing speech intelligibility. However, the team also faced some IT-specific concerns—the sort with which AV integrators will have to become more familiar very soon.
"The project unfolded over the course of several years, and not all the features of every system's software were ready yet," Bacon explained. That created interoperability problems. Other issues arose when the original Riedel audio and MultiDyne video systems specified in 2014 and 2015 were working on a point-to-point basis, rather than the matrixed approach necessary to interface with the Dell server and the Imagine Communications Selenio Network Processor (SNP). "Different generations of technology kept coming out, many of them overlapping with others," he said.
Another challenge was the arrival, at NAB in 2017, of the initial parts of the SMPTE ST-2110 suite of networking standards. Bacon, who had been an early proponent of Dante networking, wanted to implement the new broader standard as soon as possible. However, he had to wait for manufacturers to integrate it into their products. It's a process that plays out on a very high level, but, according to Bacon, it can be ameliorated by working closely with key manufacturers—in this case, Imagine Communications, Cisco and Audinate—in order to get a better idea of the timelines for some of the feature sets and toolkits he'd need. "And ST-2110 is also an evolving standard," he added. "So, every addition could impact other elements of a systems design. You have to stay aware of that."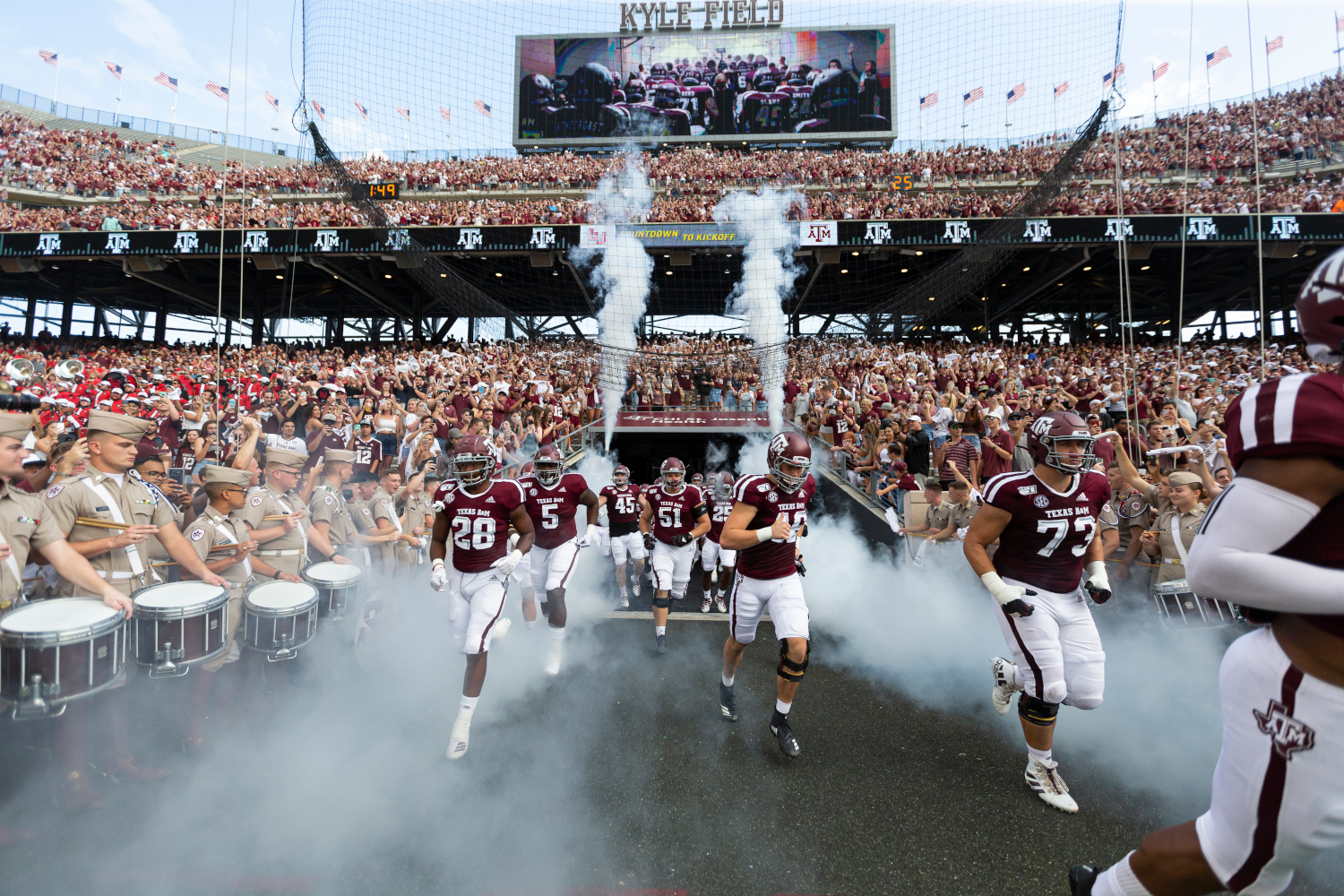 Even Dante, which had been around for some time when the Texas A&M project began, routinely issues significant firmware updates that can have similar disruptive knock-on effects on other elements of a system design. "Dante 4.0 was a big upgrade," Bacon remarked, and one that illustrated the point. And 12th Man Productions was an early adopter of Dante Domain Manager, Audinate's network-management software that enables user authentication, role-based security and audio capabilities for Dante networks, and—critical for Texas A&M's use, added Bacon—cross-subnet Dante routing. "When one component of a system updates or upgrades, you spend time waiting around for everyone else to accommodate it," he noted.
Another issue arose from a completely external dynamic: The choice of the venues' in-house wireless intercom systems had to be reconsidered due to the Federal Communications Commission (FCC)'s mandated repack of audio spectrum, an auction-based process that was only finalized in 2018. That, according to Bacon, led to the choice of an RTS ROAMEO system. It offered better compatibility with the Rio interfaces used on the Yamaha audio consoles, as well as Studio Technologies Danteenabled announcer consoles.
Another speed bump was the fact that, although Bacon has an IT background, not all of his 12th Man Productions colleagues did. As a result, several networking applications were introduced on a smaller scale initially, as a proof of concept, including the use of basic Cisco SG350 Series switches to extend the intercom audio from the control room to Reed Arena. This helped avoid latency issues when the Dante audio was initially converged there with other existing network traffic.
Video is on its own network for now, managed on the Imagine Communications SNP, which acts as the gateway from the venues' baseband serial digital interface (SDI) signals to converted networked ST-2110 signals. This replaces the MultiDyne signal-transport infrastructure that had been in place for the existing venues.
Networked Audio
As complex as the Texas A&M Athletics facilities are when it comes to their networked infrastructure, they are also very much conventional sports venues, each boasting its own AV systems. What sets those apart, according to Adam Roush, Audio Director for Athletics, is the extent to which those same systems are also networked. For instance, the newly installed JBL sound system in Reed Arena—encompassing 96 VTX A12 enclosures, 24 VTX S28 subs and six PD6322/64 fill speakers— utilizes networkable components that include nine BSS Soundweb London BLU processors and four Crown I-Tech 4x3500HD amplifiers. "The signal is completely digital—from the microphone input to the loudspeaker output," Roush said.
Reed Arena had its share of typical acoustical problems. These included suspended clouds of the type often used for acoustical absorption and diffusion but that, in this case, were installed solely for aesthetic purposes. They actually worked against correcting acoustical anomalies, which, at the arena, were centered mainly on low-frequency buildup in the upper areas under the roof. The problems were capably resolved using fairly common solutions, including room analysis and more precise loudspeaker aiming.
Roush, a former music-touring technician, said that, now, he has to be more aware of how the AV interacts with the IT in the facility. A main concern echoes the one that Bacon discussed earlier: Changes in the digital DNA of network components and subsystems can create ripple effects in the performance of the overall systems, and those have to be tracked down for troubleshooting. "A switch or an amplifier might have had a firmware update, but you don't always know that until it causes a problem somewhere in the system," he related. "Then, you have to go through the systems and hunt down the problem. The thing about a network is that it has to be working at 100 percent, 100 percent of the time."
That becomes even more critical as the networks within each venue become more extensive. For instance, in Kyle Field, Texas A&M's football stadium, the plan called for extending the audio and video from the bowl to various rooms within the stadium—everything from large conference rooms that double as suites on game days to smaller spaces that might be used for catering. The audio had to travel on extensions of the Dante network, whereas video signals ride on a separate local area network of the same network.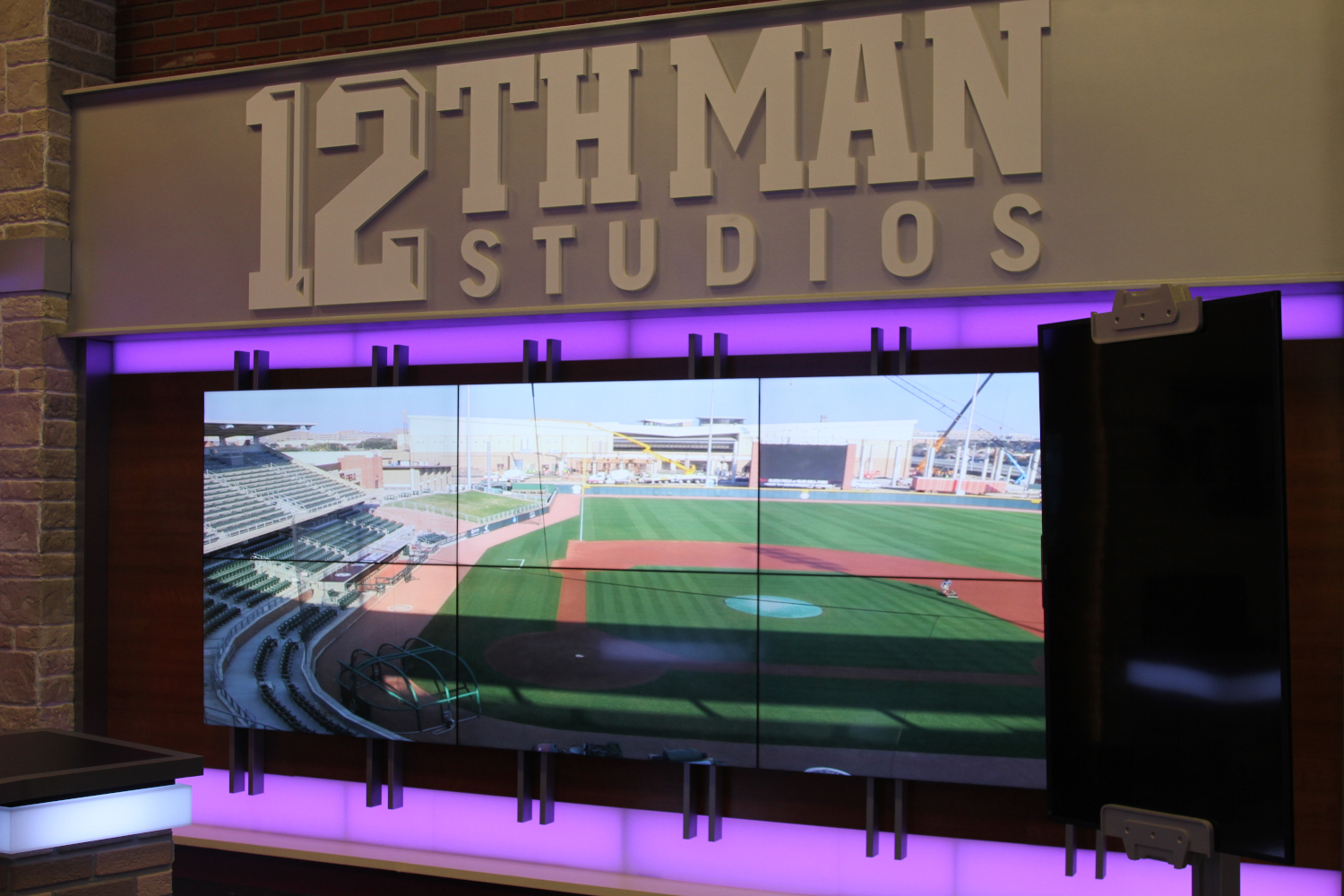 Sound was Roush's principal concern with regard to the Reed Arena audio renovation, as the Cat5 wiring for that led to lengthy cable runs that caused clocking and latency problems. "There are a lot of moving parts to each system, and [those parts] went in at different times as the building was constructed," he said. "There are a lot of network switches that have to be taken into account." On the other hand, he continued, "having it all on a network makes my job much easier. I don't have to repatch something in the amp rack to add a speaker. You just plug it into the network, anywhere you need it. It has cut the amount of time I spend doing things like that in half."
Roush and Bacon agree that the shift to a networked AV environment for Texas A&M Athletics has been a positive move. The benefits—easier access to the many audio and video system endpoints in the various venues, higher-quality signals and more—far outweigh the drawbacks, of which the most prominent is the potential for software and firmware discrepancies between the growing number of disparate components, from more and different vendors, on the networks. The shift has also called for a new level of operational communication between AV and IT, fitting with the industry zeitgeist.
"The infrastructure for networked AV is more streamlined, and it'll take us further into the future than analog could," Bacon confirmed. "There will always be challenges with networking, but the advantages are huge, too, and the costs are coming down. This is the way to go."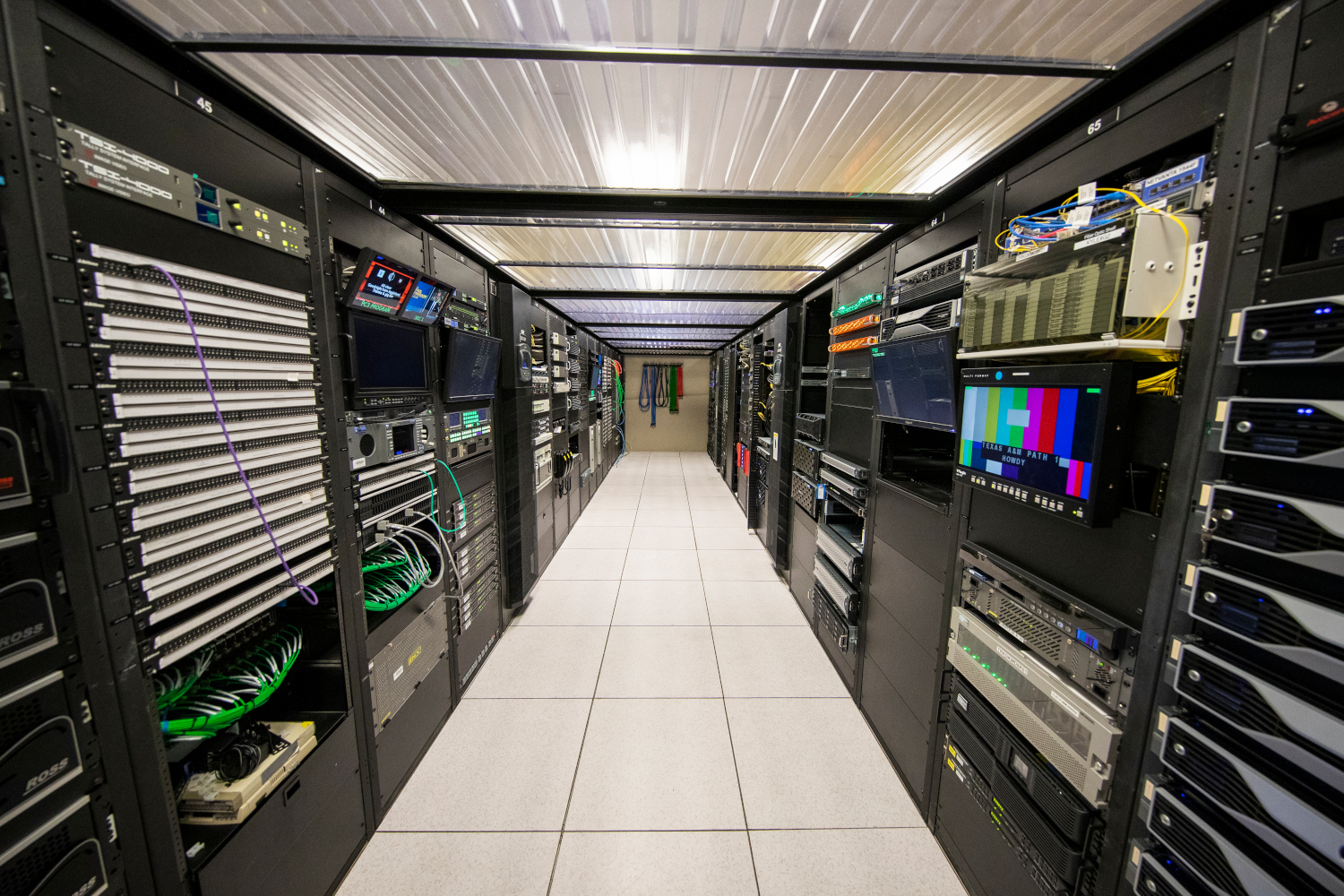 'As Many Integrators As We Have Venues'
Texas A&M Athletics' eight venues came along at different times over the last three decades. For instance, Reed Arena was originally built in 1998, whereas Kyle Field goes back to 1927, with several updates since. Softball stadium Davis Diamond and track-and-field venue E.B. Cushing Stadium are the newest; their inaugural seasons played in spring 2019. The school has adhered to a fairly strict bidding process for each individual venue. As a result, the venues' AV systems have been installed by different AV integrators, which used a number of brands and products. "We've had almost as many integrators as we have venues," Zack Bacon, Chief Broadcast Engineer for 12th Man Productions and Texas A&M University Athletics, said. "What we've found as a result is that it's important to get the infrastructure in place first because, once we're using networked products in the AV systems, those are easier to replace."
The bidding process has helped control costs, but it also results in a higher information burden for those who manage the systems. "I have BSS London at basketball and football venues, but QSC Q-SYS at track and field, [plus] Biamp Tesira for swimming," Adam Roush, Audio Director for Athletics, explained. "I have to learn a wide range of systems," he added, all of which have software and firmware updates on their own schedules. That's put even more emphasis on communication between AV and IT.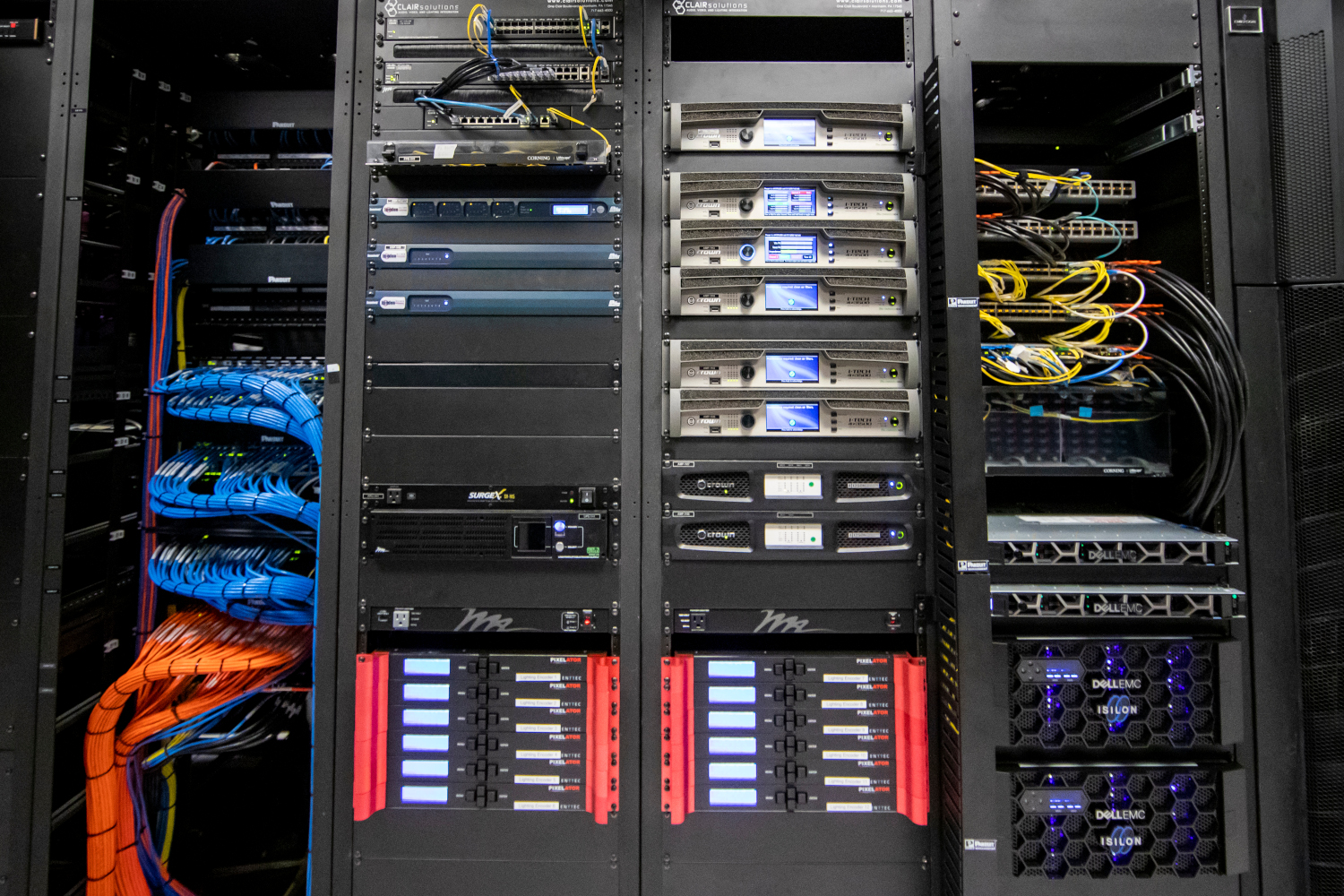 EQUIPMENT
5 AJA Kona IP desktop video and audio I/O platforms
2 Broadcom Brocade 6510 switches
10 Cisco 350 Series managed switches
5 Cisco Catalyst 3850 Series switches
3 Cisco Nexus 93180YC-FX switches
2 Cisco Nexus 9336C-FX2 switches
1 Dell Compellent SC5020F storage array
2 Dell PowerEdge R940xa rack servers
4 Imagine Communications Selenio Network Processor (SNP) IP media-processing platforms
1 RTS ADAM full-size modular matrix intercom
4 RTS OMI OMNEO matrix interface cards
12 RTS ROAMEO cellular DECT-based wireless intercom systems
1 Yamaha CL3 digital mixer
1 Yamaha QL1 digital mixer
6 Yamaha Rio3224-D2 32-in/16-out digital network remote I/O units
Kyle Field PA
20 BSS Soundweb London BLU-806DA signal processors w/BLU link and Dante/AES67
26 Cisco 350 Series managed switches
1 Yamaha CL1 digital mixer
1 Yamaha CL5 digital mixer
1 Yamaha Rio3224-D2 32-in/16-out digital network remote I/O unit
Reed Arena PA
8 BSS Soundweb London BLU-326DA I/O expanders w/BLU link and Dante/AES67
1 BSS Soundweb London BLU-806DA signal processor w/BLU link and Dante/AES67
15 Cisco 350 Series managed switches
64 Crown I-Tech 4x3500HD 4-channel, 4,000W @ 4Ω power amps
1 High End Systems Road Hog 4 lighting console
6 JBL Professional PD6322/64 Precision Directivity full-range, 3-way speakers
24 JBL Professional VTX S28 dual 18″ subs (suspendable)
96 JBL Professional VTX A12 dual 12″ line-array speakers
1 Midas PRO1 live-sound digital console
Abridged list is edited from information supplied by 12th Man Productions.