Every new stop on the hospitality vertical's relentless march toward terminal hyperbole seems to render the word "ultimate" even more obsolete. From hipster hotels and high-tech hostels to restaurants like chef Paul Pairet's Shanghai destination Ultraviolet, where the AV competes with the food for attention, the sector seems determined to create an experience from the moment a patron crosses the threshold.
The new Mission Ballroom opened August 7 in Denver CO's North Wynkoop neighborhood, a nascent entertainment district still bounded by freight-train tracks and factories that continue to lend an air of gritty authenticity. The $10 million-plus, 60,000-square-foot venue, which comfortably holds more than 3,000 people, is an Instagram-ready space with plenty of glitz, boasting lots of neon and large-scale murals. That said, it does its core mission very, very well—it creates an environment in which whatever or whoever is on the stage is the focus of the experience. The AVL, meanwhile, makes sure the performance sounds and looks as good as it can be, and it makes the patrons as comfortable as they might be at home. Notably, Mission Ballroom is the first shot in a larger hospitality venture that soon will cover much of the 14 acres around the venue.
Owned and managed by the Anschutz Entertainment Group (AEG), Mission Ballroom is first and foremost an entertainment destination. Specifically, it's a concert hall—one that The Denver Post's reviewer said gives the city "finally…the concert venue it deserves." So, it would be natural to expect the venue's sound to come under scrutiny early. Indeed, it did—and Mission Ballroom passed with flying colors. We live at a time when newspaper articles about new venues routinely include reviews of their sound quality (or the lack thereof). For instance, the National Football League (NFL)'s Vikings' U.S. Bank Stadium in Minneapolis MN was heavily criticized by arts and leisure sections nationally for its reportedly poor audio after its 2016 opening. By contrast, Mission Ballroom drew raves for its sound.
The writer for Westword, Denver's altweekly, who covered the venue's opening show by Denver transplants the Lumineers, wrote, "[T]he Mission offered clear sound from every part of the room I explored. I know the Lumineers' music well, and I could hear every word, every piano line, every subtle tap on the rim of the snare."
That goes for anyone who's at any of the venue's five bars, all of which were designed to have good sightlines to the stage and which have no architectural impediments to the sound reaching them. Finally, the bars all have multiple point-of-sale (POS) kiosks to keep the drinks and payments moving quickly, thereby allowing patrons to move back into the main room, if they prefer.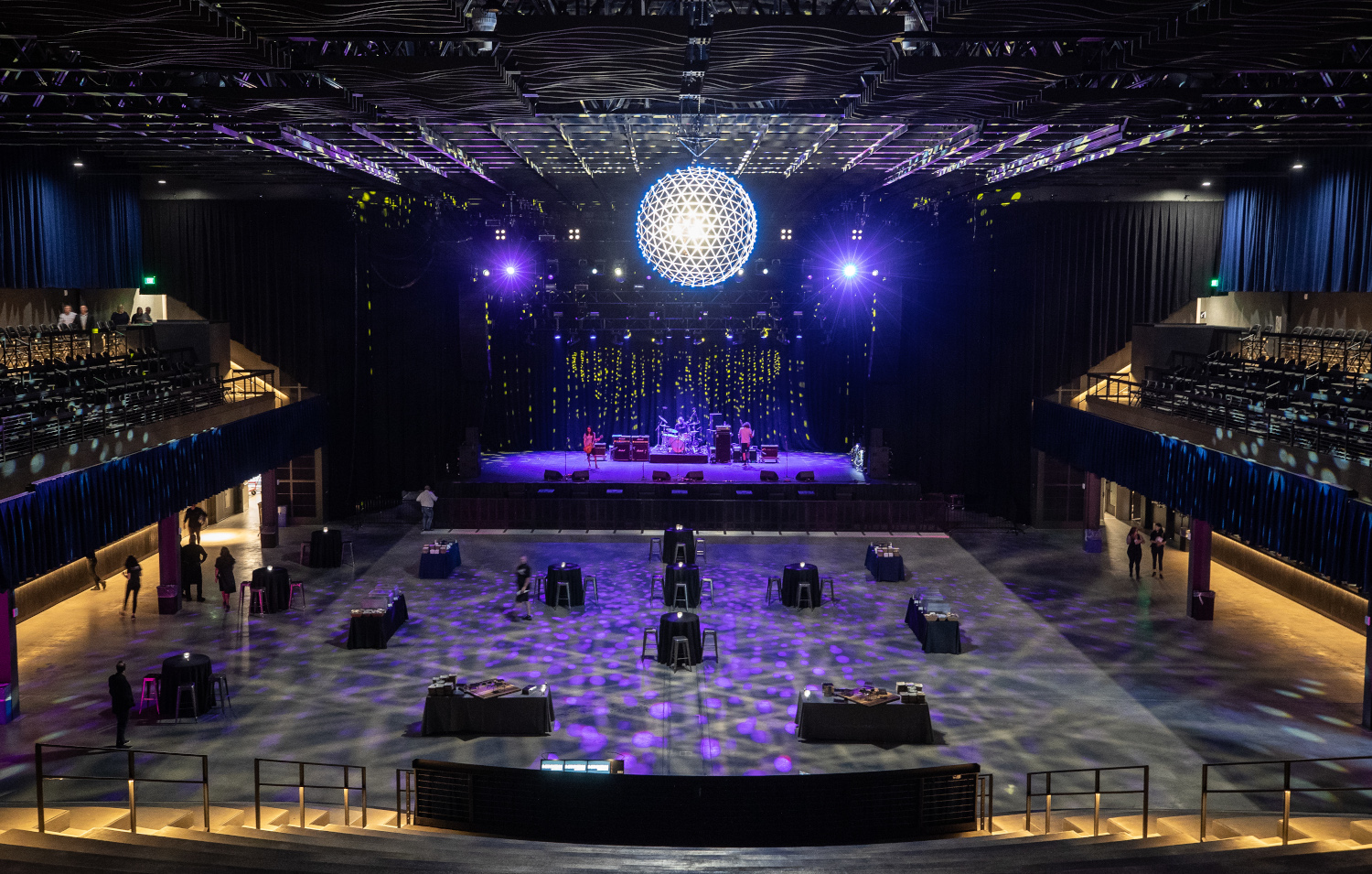 Focus On The Stage
"Everything about the venue's design and the designs of the systems was all about keeping the focus on whatever is onstage, and [on] making everyone in the venue comfortable being there," Ryan Knutson, President of Brown Note Productions, the AVL integrator for Mission Ballroom, said. "It's first and foremost a music venue, and AEG is a major concert producer. But AEG also wanted it to have as much flexibility as possible in terms of what could be presented there, including corporate events, award shows and other live events."
In fact, Knutson added, Mission Ballroom is intended to be a new type of concept with regard to staging. That's why he's glad the promoter brought in Brown Note Productions early in the process for the ground-up venue. "When [AEG Presents] approached us, they wanted to make sure the venue would be as flexible as possible…able to handle live events, such as corporate events, as well as music shows. We had a blank slate to work with on that."
That once-blank slate was filled with a unique movable stage, which, along with the flown AVL system, can be rolled on beam trollies more than 40 feet from its standard position at one end of the venue toward the middle. This would enable in-the-round configurations and others. The AVL systems can follow the stage to new locations and maintain the same spatial relationships to it. For instance, the left-right hangs of the line-array sound system would stay the same distance from each other and from the stage—all via a truss grid that was fabricated by manufacturer Tyler Truss. On the other hand, the PA, lighting and video, as well as all the "soft goods" used as part of their design—for example, drapes for acoustical dampening on manual truss trolleys—can be reconfigured independent of the stage's physical position in the room, and independent of each other. For when the PA system is moved, either with the stage or unilaterally, Brown Note's programmers created presets in the PA system's processor that, in conjunction with any changes in loudspeaker aiming, bring its delay and phase parameters into alignment for each different location.
"In some ways, what we were doing here is taking our knowledge of both installed AV and touring, and [then] designing systems that can adapt to different venues like a touring sound and lighting package," Knutson explained. "But, instead of going to different venues, in a different city, every night, they're being used in the same venue for each event—but the venue itself might be different in terms of how the stage is configured. It's really very innovative."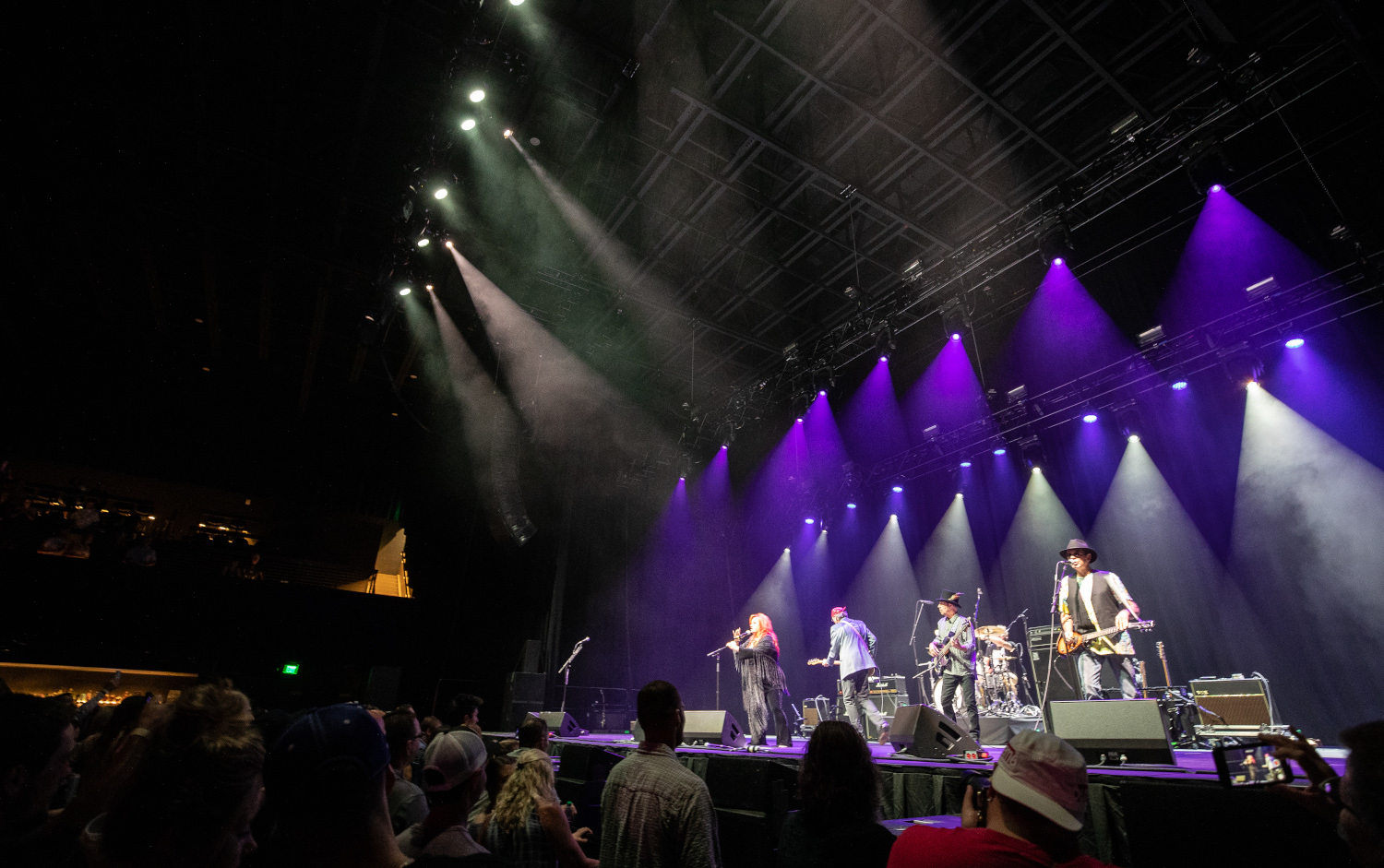 Sound System
Mission Ballroom's d&b audiotechnik sound system is very much a touring rig. The system has toured with artists such Korean superstar Psy, and it's been deployed at electronic dance music (EDM) festivals like Amsterdam's Oranjebloesem and Electric Daisy Carnival in Las Vegas NV; the system has been moving into other scenarios recently, as well, including into the Red Rocks natural amphitheater in Colorado. In fact, according to Knutson, "Don Strasburg, Co-President and Senior Talent Buyer for AEG Presents Rocky Mountains, had really developed a liking for the system after hearing different artists and different genres of music through it." He added, "Sherwood Webber, Director of Production at AEG Presents Rocky Mountains, had a chance to catch a demo of the KSL system early this year and heard the same type of voice and pattern control."
The d&b audiotechnik front-of-house (FOH) system is composed of 24 KSL units (10 KSL8 enclosures and two KSL12s, per side), along with 11 SLGSUB subwoofers. Six Yi10Ps are used for front fills, two Yi7Ps for outfills and six 10S-Ds for under-balcony fills. These speakers are powered by 18 D80 amplifiers, two D20 amplifiers and one 30D amplifier, supported by a DS10 audio network bridge. The monitor system, meanwhile, includes 12 d&b M4 monitors, two V-GSUBs and two AL90s for the drums, and four V-GSUBs and four AL90s for side fills, everything powered by four D20 amplifiers.
"The size of the cabinets and the 10 degrees of maximum splay really fit the venue and its needs, including great sightlines from every seat in the house," Knutson enthused. "The off-axis system frequency response meant that we could deploy single [main] arrays and cover the far left and right seating areas, with only a small uncovered sliver on the extreme left and right sides of the venue, which we covered with a single d&b Vi7P. This system, in conjunction with d&b's ArrayProcessing technology, meant we could deliver consistent and even sound throughout the venue in order to directly align with AEG's model of no bad seat in the venue."
Mission Ballroom's seating determines some of this. It starts with a bowl-like rear-seating area that has acoustical clouds overhead and International Cellulose K-13 sprayed-on thermal and acoustical insulation applied to open areas. That flows onto an open dancefloor that can be used for standing, or chairs can be brought in. Side seating is ostensibly for VIPs, but, Knutson explained, the designers and owners wanted as egalitarian a layout as possible. "No matter where anyone is in the room, they want them to feel connected to the show," he stressed.
The FOH mix position is located at the juncture of the bowl seating and the main floor. A cable trough below the floor takes a Dante network over Cat6 cabling from the stage to an Avid Venue S6L FOH console and a Lake LM-44 processor. Up to 16 channels of Dante take the audio to the amplifiers, which are located in the stage area. (The d&b 30D amp is excepted; that one is installed by the console and used to drive the under-balcony fills.) Like the console, it is designed to be portable, suiting times when the venue is used for events other than music.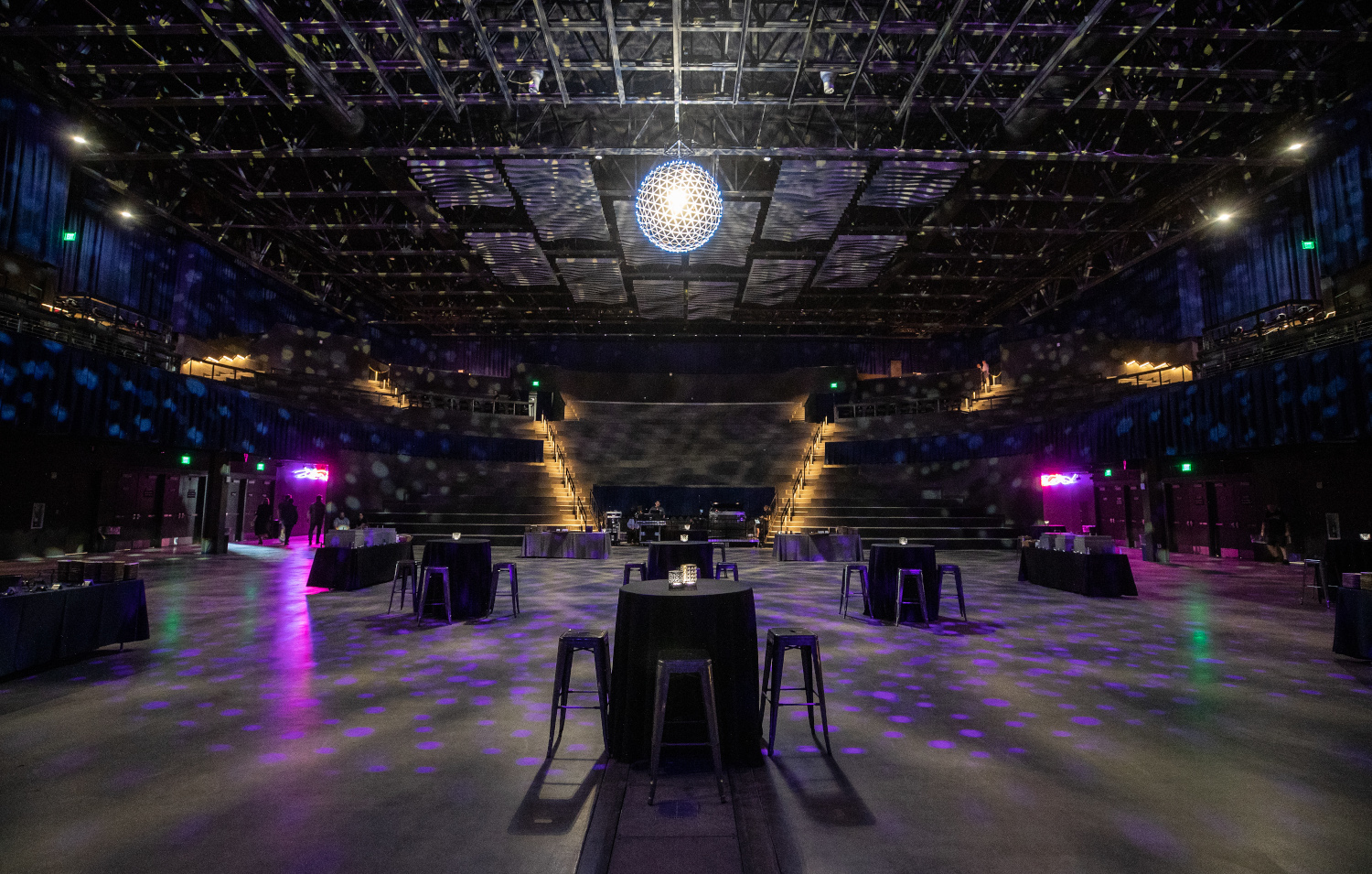 Acoustical Considerations
A locally based acoustical consulting firm, D.L. Adams Associates (DLAA), was recruited to work on the venue's acoustics; however, its mandate was for more than just what went on inside the facility. This underscores how venues such as Mission Ballroom are anchors for larger hospitality and entertainment districts that will blossom around them. In this case, Mission Ballroom is the opening salvo for the earlier-mentioned North Wynkoop, a 14-acre mixed-use project located at the north end of the River North (RiNo) neighborhood. Eventually, this acreage will include a boutique hotel, restaurants, retail spaces and arts facilities. As Mission Ballroom is surrounded by other hospitality venues, it will become all the more critical to control the noise.
Ian Patrick, DLAA's Project Consultant for Mission Ballroom, said the firm recommended additional thicknesses—up to three inches—of International Cellulose K-13 spray-on absorptive material for the venue's upper areas, thereby reducing reverberation inside. He added that the consultancy put a special emphasis on doing this on a broadband basis to cover the more intense low-frequency energy that is increasingly part of contemporary music performances, as well as for the DJs who provide the aural backdrop for more and more events. That goal was extended to the areas behind the hanging drapes, as mesh-faced mineral wool treatments were applied to tame reflections—particularly those in the lower frequencies—even further. But it went beyond that, extending to lining the plenum that is part of the venue's smoke-evacuation system, which is a direct conduit for air (i.e., sound) to escape from the inside.
"Even when the smoke-evacuation dampers are closed, that plenum can also allow noise to escape," Patrick acknowledged. "So, we worked with the architect, the mechanical engineer and the general contractor to make sure it was a baffled plenum to minimize that." Befitting our hospitality theme, he added, "We did that knowing there could be a boutique hotel built next door." DLAA also specified attenuators in the heating, ventilation and air-conditioning (HVAC) ductwork and spring isolators for the mechanical systems.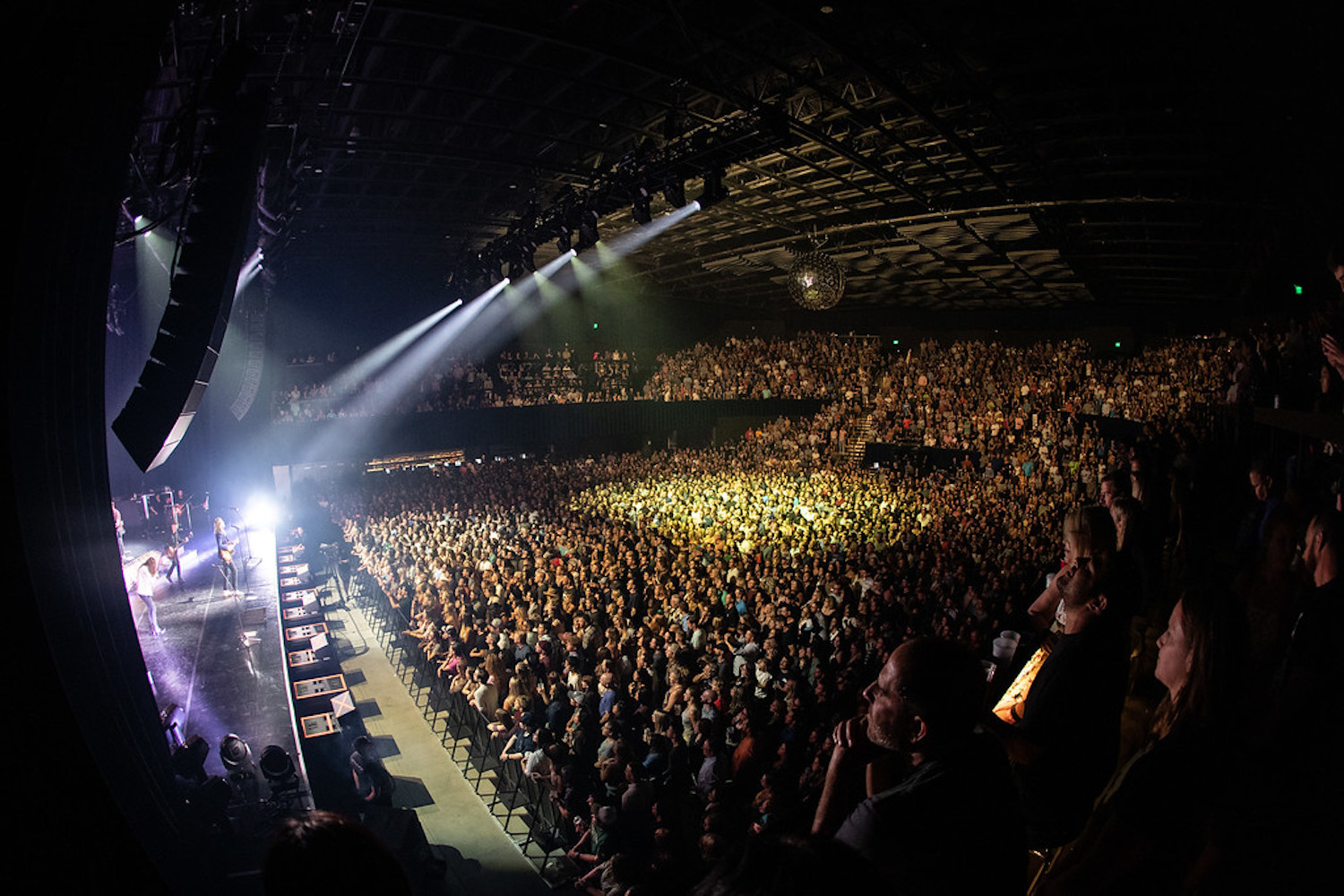 (Let There Be) Moving Lights
The fixtures in the venue's lighting system are installed, but they're leased rather than being purchased; this reflects, Knutson said, the rapid changes in lighting technology wrought by LED. (That being said, most of the infrastructure, such as the truss, rigging and motors, are owned by the venue, as is the MA Lighting GrandMA console.) An example of how changing technology redounded to Mission Ballroom's advantage is the use of AC Lighting's Follow Me system, which utilizes conventional moving-head lights as follow-spots, eliminating the need for dedicated spotlights and letting the entire rig be accessed for follow-spot applications. These include any of the four Martin MAC III fixtures in the rigging (or all of them, as the system can be used to follow more than one performer simultaneously). They join two-dozen Martin MAC Viper profiles, 16 Martin MAC Auras, 10 Martin Atomic 3000 strobes, eight Elation COLOUR 5 Profiles and six Elation CUEPIX Blinder WW4s.
"We're using the MAC III now, but, with the Follow Me system, we can take over any of the other moving-head fixtures," Knutson said. "It's a substantial cost savings, and it'll allow the lighting system to expand as needed over time. We're looking for ways to make all the AVL systems less rigid, in terms of design and components. The technology can be very expensive, so approaches like this [one] let installed systems have the flexibility to grow and change." He continued, adding, "A lot of venues will install systems in such a way that they're kind of stuck with the initial design, or, at least, [with] the infrastructure. It's one of the reasons we didn't use cable conduit in the rigging above the stage—because the systems are going to evolve over time. We have to think about return on investment (ROI) from the beginning."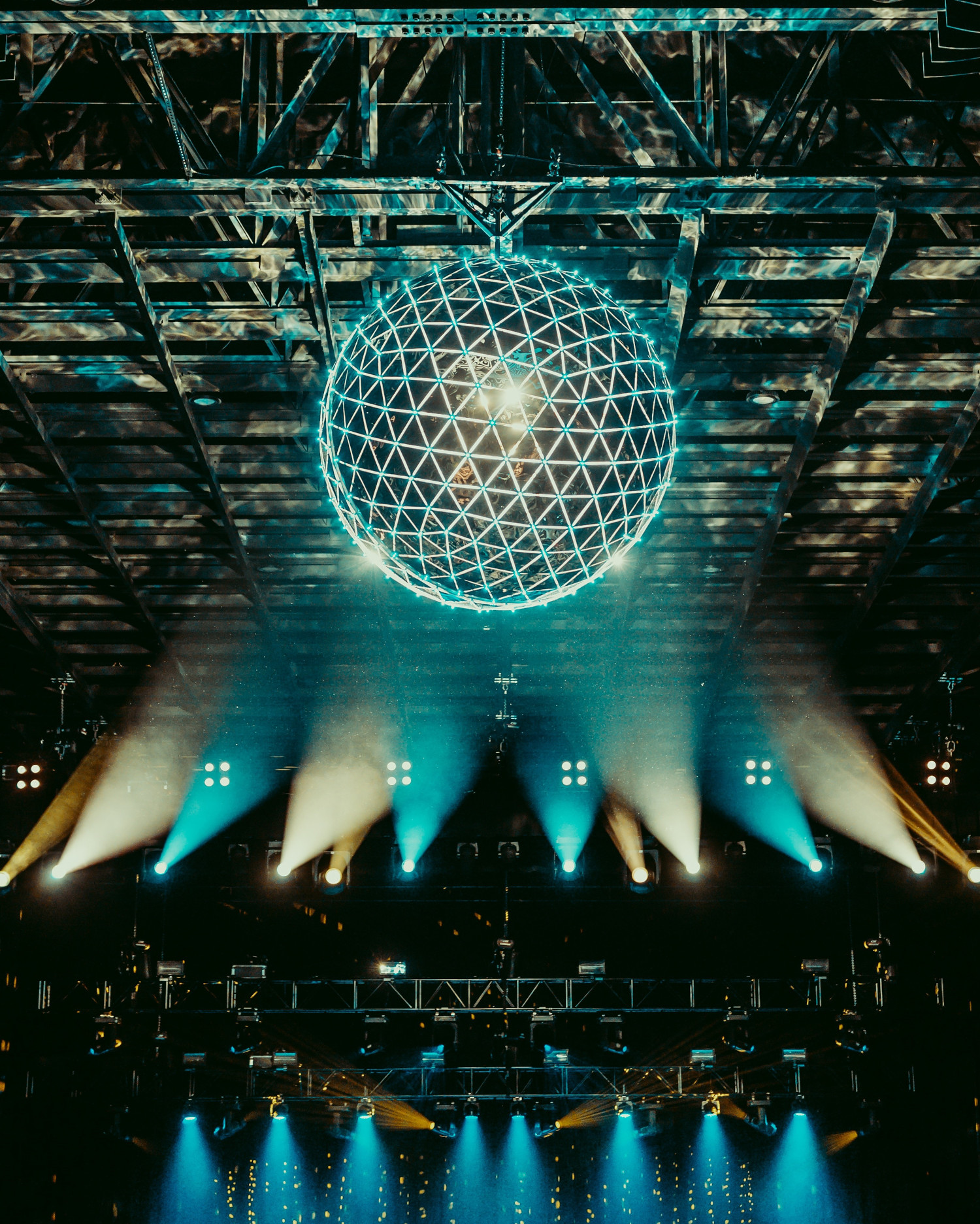 The Videowall
The venue's 40'x20′ videowall, which is composed of 200 Absen C7 LED tiles, displays at a 7.5mm pixel pitch. Even so, according to Knutson, its resolution level will meet the needs of any music-related or other event that management foresees. When not part of a live music production, the videowall acts as eye-catching digital signage. It's fed from a Resolume v7 media server that's located at the FOH position, and it's managed using an Analog Way VIO 4K multi-format converter and NovaStar processing on a Sager laptop. The videowall is mounted on a 40-foot truss with beam trolleys, but, like the rest of the AVL infrastructure, it can move both relative to the stage and unilaterally. It's the final element in what Knutson described as "modular AVL."
An Eye To Hospitality
Mission Ballroom—designed by Works Progress Architecture and built by Mortenson Construction with developer Westfield— has formidable AVL, but an equal point of pride is the fact that it has more bathrooms and bars than any facility of its size in the city. According to Knutson, those elements, as well as the dozen-plus advanced POS stations at the bars, are designed to keep patrons where the action is. "You don't want to miss two songs or an important announcement because you're waiting under the balcony for a beer or [to use] the bathroom," he related.
The designers purposely left video displays out of the bars' design, not wanting to create a branded sports-bar effect; they also purposely kept sightlines from the bars to the main performance area as clear as possible. "That was part of the thinking when we chose a more compact loudspeaker enclosure for the PA system," Knutson remarked. The lobby will likely have speakers and possibly video displays installed in the near future, he predicted, as movement patterns make themselves clear. "There is a phase-two under discussion," he added.
The opening of Mission Ballroom, which saw 3,000 fans come for hometown heroes the Lumineers, has been lauded as an inflection point for Denver's music scene. But, as the North Wynkoop district evolves—notably, a 90,000-square-foot office and retail building is already under construction, and restaurants, bars and retail stores will fill 80,000 square feet of space inside converted warehouse buildings by next summer—Mission Ballroom will reflect the fact that, in addition to being music venues, these kinds of facilities are increasingly becoming critical cogs in the ever-evolving hospitality industry.
EQUIPMENT
AUDIO
FOH System
20 d&b KSL8 medium- to large-format 3-way line-array speakers
4 d&b KSL12 medium- to large-format 3-way line-array speakers
11 d&b SL-GSUB large-format ground-stacked cardioid subs
6 d&b Yi10P compact, 2-way passive speakers
2 d&b Yi7P compact, 2-way passive speakers
6 d&b 10S-D installation-specific high-performance
2-way speakers w/wide dispersion
18 d&b D80 high-power 4-channel amps
2 d&b D20 4-channel amps
1 d&b 30D installation-specific 4-channel amp
1 d&b DS10 audio network bridge
Monitor System
12 d&b M4 2-way stage monitors
6 d&b V-GSUB high-performance cardioid subs
6 d&b AL90 medium-format 2-way augmented array speakers
4 d&b D20 4-channel amps
Control
2 Avid VENUE S6L-24C live mixing systems (FOH console, monitor console)
VIDEO
Videowall
200 Absen C7 light mesh LED panels Control
1 Analog Way VIO 4K analog/digital multi-format converter
1 NovaStar processing
1 Resolume Version 7 software and media server
1 Sager Notebooks laptop
LIGHTING
Lighting Rig
8 Elation COLOUR 5 Profile ellipsoidals
6 Elation CUEPIX Blinder WW4 COB LED blinders
10 Martin Atomic 3000 DMX 3,000W high-impact strobes
24 Martin MAC Viper Profile high-output discharge-based profile luminares w/CMY color mixing
16 Martin MAC Aura single-lens wash lights w/unique backlights
4 Martin MAC III lighting fixtures
Spotlight System
1 A.C. Lighting Follow-Me remote follow spot control
Control
2 Luminex Ethernet-DMX8 MKII rackmount DMX/RDM gateways w/8 DMX ports
5 Luminex LumiSplit 2.10 rackmount DMX splitters
1 MA Lighting grandMA2 full-size control console
Rigging
Tyler Truss 20.5″ box truss (205′)
Tyler Truss 12″ box truss (236′)
Motor Control
1 Motion Labs 4-way motor controller
1 Motion Labs 2-ton 4-way truss mount distro
5 Motion Labs 4-way truss mount distros
4 Motion Labs 2-way truss mount distros
4 Motion Labs 8-channel pendants
2 Motion Labs 4-channel pendants
List is edited from information supplied by Brown Note Productions.