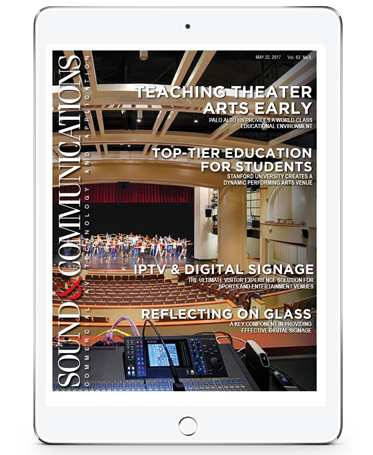 Sound absorption measurement and other absorbing tails.
By Peter Mapp, PhD, FASA, FAES
Reading human facial cues.
By Shonan Noronha, EdD
A key to extending the life of your technology.
By David Lee Jr., PhD
Life after the installation.
By James Maltese, CTS-D, CTS-I, CQD, CQT
How did that work out for you?
By Douglas Kleeger, CTS-D, DMC-E, XTP-E, KCD
Technology will only take you so far; sell outcomes and solutions.
By Brad Grimes
Why integrators should learn from one another.
By Chuck Wilson
What's in the Box?
By John Mayberry
IT and AV working together becomes even more important.
By Manny Linhares
Heading back to college is smart business for integrators.
By Brady Bruce
The what and when of IP signal distribution.
By Rob Ziv, CTS-D, DSCE, ISF-C
Stanford University creates a dynamic performing arts venue.
By Jim Stokes
Palo Alto HS provides a world-class educational environment.
By Dan Daley
Detecting and dealing with component failure in digital signage systems.
By Stephen Jenks, PhD
A key component in providing effective digital signage.
By Dr. Neil McSporran
The ultimate visitor experience solution for sports and entertainment venues.
By Rick Price
A look at the world's largest digital signage show from the integrator's perspective.
By Mike White, CTS, DSCE, & Robert White, CTS
We present additional products not covered in our March New Product Spotlight.
By Anthony Vargas
The State Of Education
By Matt Van Dyke
AV signals over an IT network is the future. Just make sure your network hardware is fast enough!
By Pete Putman, CTS