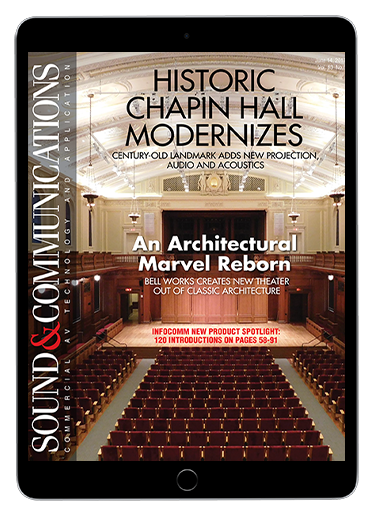 By David A. Silverman
Sound Absorption: the material facts.
By Peter Mapp, PhD, FASA, FAES
Data analytics is the key.
By Shonan Noronha, EdD
Planning is everything. Part 1
By David Lee Jr., PhD
When it really counts.
By James Maltese, CTS-D, CTS-I, CQD, CQT
Standards?
By Douglas Kleeger, CTS-D, DMC-E/S, XTP-E, KCD
New training and accreditation spurred by integrators, for integrators.
By Amanda Beckner, CTS
Change is coming faster than ever; make sure you're always ready to pivot.
By Chuck Wilson
What are today's AV service providers facing?
By Tony Warner
Piece of cake? Not quite.
By Tony W. Strong
Who are you working for?
By Joseph Bocchiaro III, PhD, CStd, CTS-D, CTS-I, ISF-C
Bell Works creates new theater out of classic architecture.
By Dan Daley
Century-old landmark adds new projection, audio and acoustics.
By Andy McDonough
Tempus fugit.
By Pete Putman, CTS