TIPS
>> Schedule regular meetings with all the stakeholders and vendors—not just at the start, but also throughout the build-out process.
>> Review scope, user functionality and GUI design with the consultant and owner three or four times during the project.
>> Use a single generic control for multiple "views" when programming the GUI; it is more flexible than creating specific controls for each scenario.
There's an urban neighborhood lined with upscale retail, dining, residential, hotel and office spaces in the Dallas TX suburb of Plano TX—it's called Legacy West. In this planned community that's geared to a "Live-Eat-Work-Play" lifestyle, Legacy Hall has built a vibrant destination that spans 55,000 square feet. The three-storied Food Hall with indoor and patio seating features more than 20 different dining and drinking experiences from top chefs and bartenders, and the brewery offers tours. Guests can also enjoy high-quality music or watch the large-screen TVs located throughout the facility. Legacy Hall's live-entertainment venue, known as The Box Garden, features a 600-square-foot performance stage with a huge LED videowall as a backdrop, stage canopy LED lighting, and sound systems for live musicians and other performing artists. The Box Garden name is derived from the reclaimed shipping containers that make up a large part of the structure.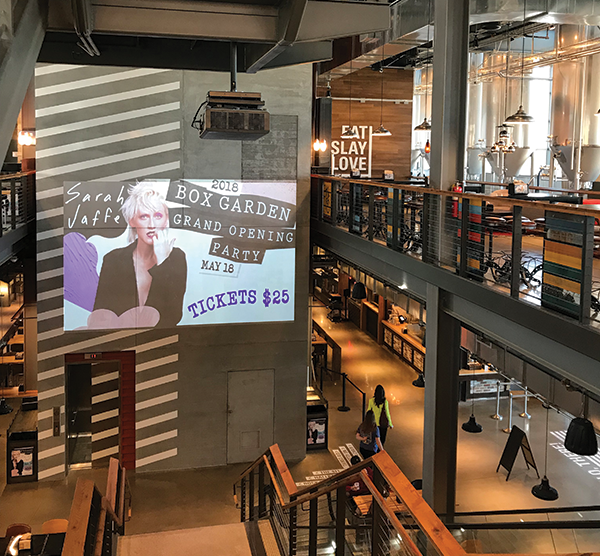 Plano's Legacy Hall and The Box Garden were designed, constructed and tech-enabled by top-notch teams. Among them were general contractor Rogers O'Brien Construction and interiors architect Gensler. Nautilus Entertainment Design (NED) designed the audiovisual system, Gemini LSV designed and installed the stage lighting systems, and FSG installed, integrated, programmed and commissioned the AVL systems throughout the facility. We reached out to the design and integration teams, as well as client management, to get their perspectives on the vision, challenges and accomplishments of this multi-million-dollar project.
Legacy Hall's VP, Pat Garza, said, "Legacy Hall strives to attract the best of what DFW [Dallas–Fort Worth] has to offer with regard to music, performing arts and live events. We see our venue as a conduit for local artists to showcase their talents and provide a launching pad for their careers. From an artist-experience perspective, we aim to be the top of the class in hospitality, sound and lighting quality. Our community will know Legacy Hall as the best venue to discover and experience world-class talent."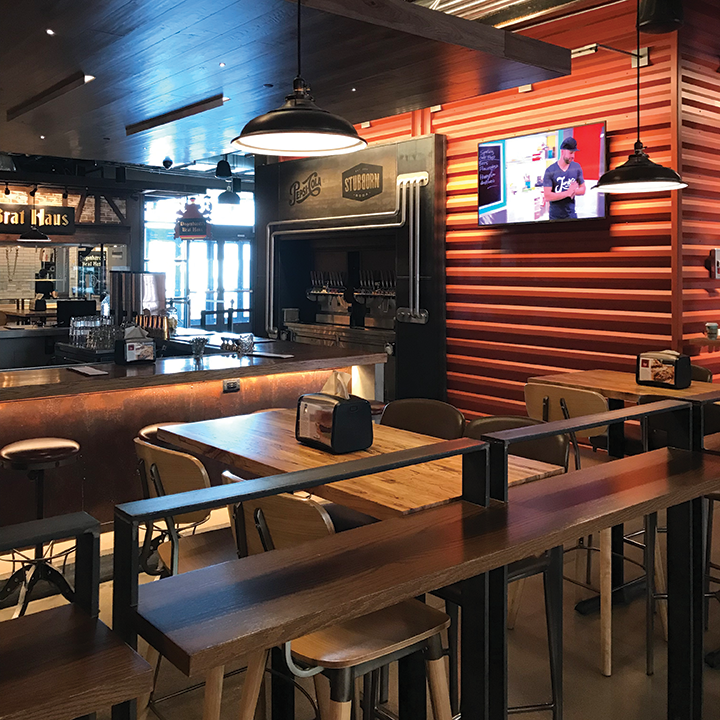 Garza was clear about what he wanted the AVL systems to do, and he got what he wanted. "With our audio, video and lighting technologies, we have the flexibility to work with the artist on the overall vision of the performance and make it come to life," he explained. "Whether you are a solo artist, a corporation with a sophisticated presentation or a full touring band, our audio, video and lighting solutions will make your art sing."
Discussing the design, NED's Project Manager/Business Development, Daniel LePage, CTS-I, DMC-E, noted that the intent was to create a flexible, user-friendly, high-quality audio and video system. "The owner did not want the space to feel like a typical sports bar and specifically stressed the need for a very high-quality, intelligible and well-rounded audio system," he said.
According to LePage, the project was unique and fun to design, but it did have a couple of challenges. "For starters," he noted, "the Food Hall has three stories of indoor/outdoor spaces, and it's configured as an 'almost-open-air' atmosphere inside. The desire was to have the ability to create different environments on each floor and each patio, without each environment bleeding into the other."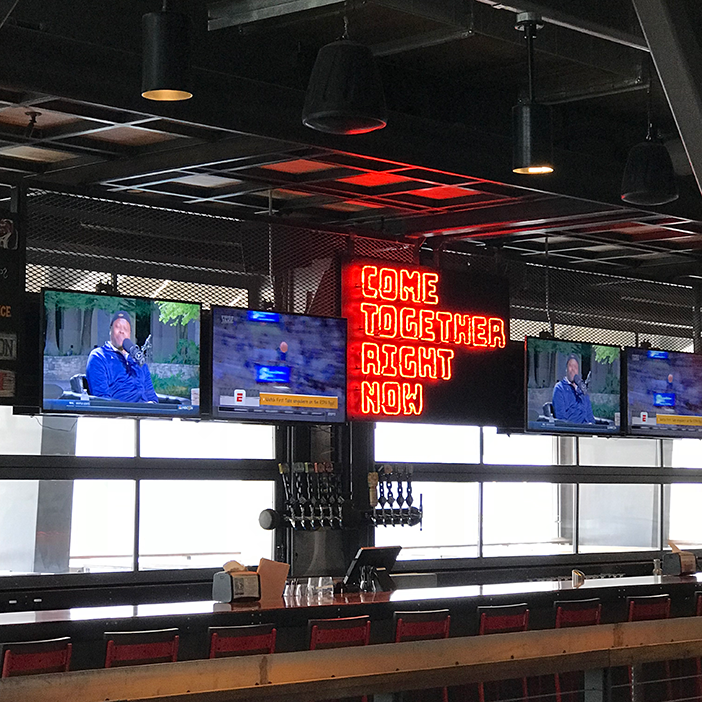 The location of this entertainment destination also presented a challenge for the design team. "Being located in the middle of Plano's Legacy West community, the project was required to adhere to very stringent noise-decibel restrictions, which applied not only to the interior spaces, but also to the open-air garden venue specifically, which was being designed with a full stage, intended to support various musical and performance acts," LePage noted.
He continued, "We had to design the audio system in such a way as to provide a high-quality sound experience for patrons, while staying within the noise restrictions at the property lines. We worked with acoustical consultant Melvin Saunders, Owner/Principal, Saunders & Associates, to make sure the audio levels being produced by the system could be properly absorbed throughout the space to avoid any slap back, reverberation or spillover from The Box Garden. At the same time, there was a need to have the system be highly user-friendly to give the staff the ability to set up a small event, but also allow larger acts to tie into the house system with the performers' equipment or rental equipment, if needed."
High-Quality, Durable Components
There are 18 customer-facing Samsung 4K LED-backlit LCD flat panels in the Food Hall; content is also displayed from a Panasonic 6,500-
lumen laser projector on a large wall with projection-screen paint in the central stairwell. There are also three types of SoundTube loudspeakers on each floor: pendant speakers for the open-ceiling areas for background music, recessed ceiling speakers in the restrooms for background music and surface-mount speakers surrounding the exterior patio areas to provide background music, as well as live audio when there's a performance in the garden.
In the garden, the performance stage features an LED videowall that measures 21′ 5/16″ wide by 12′ 5″ high. This display had to be able to withstand extreme Texas weather conditions without compromising the video quality. NanoLumens' NanoSlimOD IP56-rated LED tiles with a Barco videowall switcher/scaler were selected for this open space. With a 6mm pixel pitch and a 6,000-nit brightness rating, the 40-LED-tile display delivers spectacular high contrast and consistent video, even in high ambient light.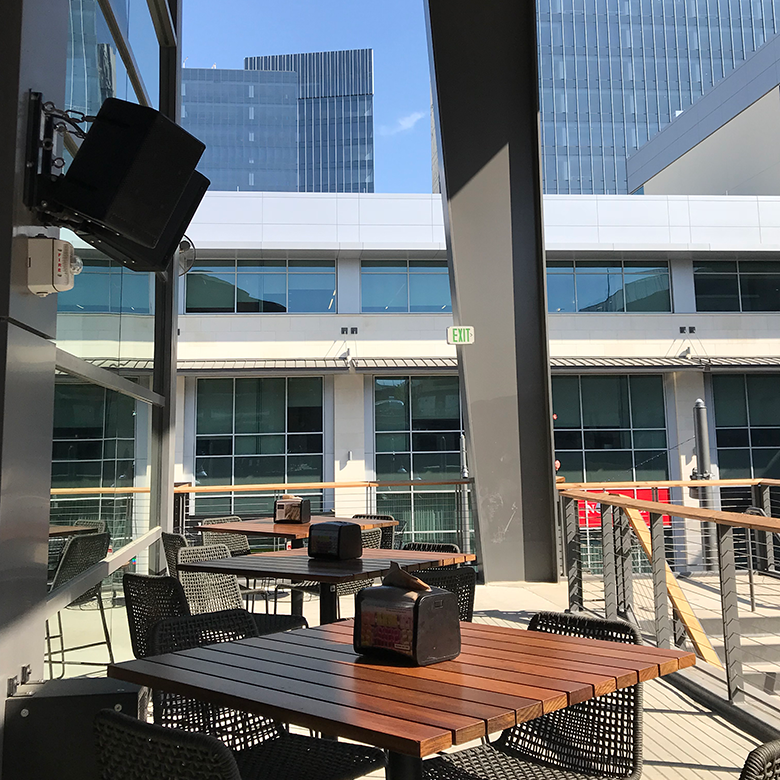 The fixed stage-lighting system had to be easily controlled, while also allowing the flexibility for performing acts to bring in additional moving lights or other laser light elements. The lighting also had to withstand weather elements. The lighting package from Motion Labs includes truss lighting fixtures on motors that can be raised and lowered from the stage canopy; Gemini supplied stage LED lights that are controlled through Crestron and DMX interfaces.
Crestron's 3-Series control system is used for the AV systems in both the Food Hall and the garden. The Crestron control system was specified based on industry best practices for AV systems control in this type of space.
TV And Digital Signage
The venue has a DirecTV commercial subscription for TV programming shown on all its displays. The DirecTV system consists of 19 HR24 DVR cable boxes—one for each display—installed in the main distribution frame (MDF) and routed through the video matrix. "It was decided to assign a cable box to each display to satisfy our customers' individual and unique viewing preferences," Tim Ziegler, the venue's Manager, noted. "We can have a cooking program next to a basketball game or the Golf Channel and not worry that, as we change one channel on one display, it is affecting another display elsewhere."
Plans are to use digital signage to promote performances at the venue, the food outlets and community events. Three Rockbot media players in the MDF will be used for signage content in the Food Hall. Rockbot players were selected because they can be remotely controlled, and they have advanced features for playing selected music mixes continuously and broadcasting TV content through the video matrix.
According to Ziegler, digital signage content will be displayed on the LED videowall and projection wall, as well. Nanonation's cloud-based content-management software, CommandPoint, will be accessed through a Dell OptiPlex 5050 desktop PC with Intel Core i7 and 2GB Aver TV card, which is installed in the MDF in the Food Hall. Front Burner Restaurants will manage the TV content and digital signage displayed across the facility. Nanonation is also working with Front Burner Restaurants to provide an innovative stored-value-card-dispensing kiosk, which will be installed in the Food Hall.
Music In The Garden
The garden audio system consists of 20 VUE Audiotechnik al-8-WP-g speakers (10 per side), which will allow full and even coverage of the entire area. "This coverage provides the capability to play back stage performances at even levels and provide control over audio levels leaving the event space," Peter Hensley, CTS-I, FSG's Project Manager, explained. He noted that the speaker clusters are suspended from "Pick Points" with shackle and cable.
Four VUE Audiotechnik as-215-WP-g 15-inch subwoofer cabinets located under the stage fill in the low-end frequency performance of the audio system. There are four VUE Audiotechnik i-2×4.5-WP-g speakers, mounted underneath the front of the stage for audience front fill, and four VUE Audiotechnik a-10-WP surface-mount speakers for sub delay. For additional sound distribution, 13 SoundTube in-ceiling speakers are in various locations, including the Green Room.
A digital signal processor system is installed to equalize the audio system and provide control capability from an iPad control interface. Secondary tie-in capability is provided for larger-venue performances from the back of the stage and on the wall next to the bottom of the stairs by the food court. Two Shure ULXD2/B58 wireless microphones are available for events.
Out Of Sight, But Fully Controllable
The AV racks for the Food Hall AV system are installed in the MDF on the second floor. Audio is routed between the MDF and the stage intermediate distribution frame (IDF) over audio video bridge (AVB) on Biamp Tesira SERVER-IO AVB DSPs. Audio is also streamed over AVB to the audio system in the Haywire restaurant to tie in the audio system during stage performances.
Content is routed from the 32×32 Crestron matrix located in the Food Hall MDF to any source throughout the facility via Crestron DigitalMedia transmitters, connected by fiber or category cables.
Behind the stage, a secondary rack is installed for the stage and the entire garden AV system. The Box Garden AV and Food Hall AV systems are interconnected via fiber. "This enables any source from the MDF to be routed via Crestron fiber transmitter to the videowall," FSG's Senior System Designer, Josh Garrigus, CTS-D, DMC-E, noted. "There are HDMI inputs at front of house/stage on a panel on the stage, and also on a panel in the venue manager's office for routing video to the videowall. There are three user-input locations for audio sources, along with a Rockbot streaming media player and DirecTV programming. Neutrik connectors are used on the custom I/O plates," he explained.
Garrigus continued, "We provided four iPads to manage the audio and video content for each floor, and one for the stage. Individual iPads are assigned to each floor to manage all the audio and video routed through the Wi-Fi network."
Middle Atlantic racks located in the IDF and MDF include the BGR-4532 racks fully customized with Middle Atlantic accessories and UPS-2200R-IP for battery backup.
All source devices, except the audio input plates, are located in the Food Hall MDF racks in an effort to maintain a central location and enhance ease of serviceability.
Intuitive User Interface
Critical to the efficient use of any system is the graphical user interface (GUI). For this project, the AV system required access and control by several users. FSG's AV Systems Programmer, Daniel Ostertag, CTS, who is also Crestron Certified, noted, "In the face of serviceability variables and end-user-preference variables, flexibility is the key to success, while keeping the interface simple and intuitive, yet powerful behind the scenes."
According to Ostertag, code organization, modularity and flexibility were the most important parts of programming this project. He tried to find the best approach to organize the code in the most efficient manner—not just for the many users today, but also for users in the future. "To accomplish this," he said, "the UI uses single control instances that would pass themselves to the relevant device or audio zone. Configuration files loaded to the processor provide almost all text throughout the UI. If the client needs to make changes to the system in the future, new configuration files can be loaded to ease the process." He added, "Sometime in the future, the code may need a revision, if the source input changes or the system is expanded with more video endpoints or additional user interfaces. Best practice of logic is to make small changes in code that can update the user interfaces and end points in a single location, without having to make changes in multiple locations."
According to FSG's Hensley, coordination between three separate architects and three separate electricians was extremely challenging. In addition to Gensler, which designed the interiors, idesign focused on the shipping container layouts and design, and Plan B Group worked on creating a relaxing environment in the bar area on the third floor. "Keeping all the information coordinated between one scope and six different information providers required a constant checking for accuracy. Each floor had its own highly customized design, and the first floor had numerous venues that were all different. There was no cookie-cutter part of the project—it was customization at its finest," he quipped.
Rack delivery and coordination of the MDF space was a challenge because there was a lot of equipment going into the room. "All the data racks, RF distribution for cable boxes, security head end and AV racks were located in this MDF, which was very small for all the equipment that had to fit in it," Hensley explained. "It was also difficult to coordinate the many install teams, and we had to make a continuous effort to keep the area dust-free."
Even "dressing" the system required creative solutions. "All the open-ceiling installation of speakers and cabling required a lot of creative methods and coordination by our team to hide all the anchors and structure and cabling," Hensley noted. "For instance, we used Mag Daddy cable-tie magnets to secure the cabling of over 100 SoundTube and VUE Audiotechnik speakers to the structure." Evincing a sense of accomplishment, he added, "This effectively masked the cabling and gave a clean look to the speaker install."
The AV Foreman, Josh Shore, commented in hindsight, "If we had the opportunity to do it over again, we would have waited until all the light fixtures and ceiling devices were installed, with other trades out of the ceiling spaces, to protect equipment and avoid rework of shifting ceiling plans with pendant speakers. Although we provided a clean install, it took quite a bit of reworking to make it right. It is always a challenge not to be late, but also not to be too soon."
Moving Forward
Hensley shared that he really enjoys challenging projects like this one because, he said, "A challenging project is what makes it an exciting and fun project to work on." He indicated that he could have taken on an even bigger challenge. "If we also had the opportunity to be the structured cabling and electrical contractor, it would have enabled us to streamline schedules and coordination of teams more efficiently—primarily to mitigate scope gaps and risk." As a full-service systems integrator, FSG also offers structured cabling, electrical services, security, access control, lighting, energy management/solar, exterior building signage and creative content creation as part of its portfolio.
When there are multiple architects on a project, Hensley recommends meeting with all of them at the same time, and doing so regularly. "On this project, although the three architects' scopes were all separate, the AV systems installation and integration intersected with all three; thus, the coordination was a constant challenge," he explained. "For example, the base bid architectural drawings for the Food Hall showed one ceiling plan, and the installed cabling and equipment was based on that information. However, a revision came from another architect with a different ceiling plan. Consequently, we had to reroute cabling and equipment based on the change from an open-ceiling concept to a concave closed ceiling."
Regarding client expectations, the more conversations about how the systems will be used, the better the final product will be. Although the FSG team had a lot of end-user conversations about functionality, Hensley said that every project is custom built and different, and having more conversations helps to manage expectations against scope and specifications. "A lot of "what ifs" come up," he noted. "On this project, the client had different managers for different floors and, thus, different user access, and they also needed overall administrative control." He recommended, "It's a good idea to incorporate three or four inspection points in the project for scope review, functionality review and GUI review with the consultant and owner."
Legacy Hall Rocks
Complex and challenging projects provide the exhilarating experience of accomplishment when they have been successfully completed. The Legacy Hall AVL systems build-out, with its high-quality sound and breathtaking video, which took nearly a year to complete and commission, provided an elating experience for the systems integrator and the customer.
"Legacy Hall's Plano venue is all the buzz in North Dallas right now," Laurie Harrigan, CTS, FSG's Executive Account Manager, stated. She continued, "FSG was honored to be selected as the audio and video installation contractor for the project. The AV systems are a mission-critical part of the project, and FSG's team is proud that the install has been a tremendous success. We have enjoyed bringing this customer's vision to reality—it is truly the best destination in Dallas for a premium dining, drinking and live-entertainment experience."
Reflecting on the strategic goals for the venue, Garza said, "Our LED display will allow us the flexibility to create and use content in many creative ways to engage our customers. Not only will it be a centerpiece of our AV package during live performances, but we also intend to use it as a promotional tool to highlight our food stalls, future performances and events, as well as community engagements. Furthermore, we plan on hosting movie nights, sports watch parties and gaming events—not to mention live cooking demonstrations and competitions."
As we go to press, singer-songwriter Sarah Jaffe, a Texas native, is scheduled to perform at The Box Garden Grand Opening Party in mid-May. The venue expects to host some of the other great talent that Texas has to offer. Check out the events calendar at www.legacyfoodhall.com.
Equipment List
1 Atlona AT-HD570 HDMI 8-channel audio de-embedder
1 Barco ImagePro-II Jr videowall switcher/scaler
3 Biamp Tesira SERVER-IO AVB DSP card frames
18 Crestron DM-RMC-4K-SCALER-C HDMI RX and scaling controllers
1 Crestron PRO3 3-Series control processor
1 Crestron DM-MD32X32 video matrix w/ 26 4K input cards, 2 DM-Fiber input cards,
30 4K output cards, 2 DM-Fiber output cards
4 Crestron TSW-1060 10.1″ touchpanel interfaces
1 Extreme Networks Summit X440-G2-48P-10GE4, 48GB port network switch w/ PoE and fiber
2 Lab.gruppen C68:4 115E 4-channel power amps 1,700W/chan
3 Lab.gruppen C48:4 115E 4-channel power amps 1,200W/chan
1 Lab.gruppen C28:4 115E 4-channel power amp 700W/chan
12 Lab.gruppen E12:2 US 2-channel power amps 600W/chan
1 Lab.gruppen E10:4 US 4-channel power amp 250W/chan
5 Lab.gruppen E8:2 US 2-channel power amps 400W/chan
1 Lab.gruppen NLB60E power amp controller for Food Hall
1 Lab.gruppen C88:4 115E 4-channel power amp 2,200W/chan
2 Lab.gruppen C48:4 115E 4-channel power amps 1,200W/chan
1 Lab.gruppen C28:4 115E4-channel power amp 700W/chan
2 Lab.gruppen C16:4 115E 2-channel power amps 300W/chan
2 Lab.gruppen E8:2 US 2-channel power amps 400W/chan
1 Lab.gruppen NLB60E power amp controller for stage audio
40 NanoLumens NanoSlimOD LED tiles, 6mm IP-65 rated
1 Panasonic PT-RZ670-B 6,700-lumen laser DLP projector
3 Rockbot media players
19 Samsung UN65MU6300FXZAs (3) and UN50MU6300FXZAs (16)
2 Shure ULXD2/B58 handheld transmitters Beta58 ULX-D
1 Shure ULXD4D 2-channel RF receiver
93 SoundTube RS600i 6″ pendant ceiling speakers
40 SoundTube RS1001i-II-T 10" pendant speakers
40 SoundTube RS500i 5″ in-ceiling speakers
14 One Systems 108HTC 8″ outdoor surface-mount speakers
14 One Systems PT-38M pan-tilt brackets for 108HTC speakers
8 VUE Audiotechnik i-8-WP-g 8″ 2-way passive full-range systems
18 VUE Audiotechnik a-10-WP-g 10″ 2-way passive full-range systems
14 VUE Audiotechnik is-26-WP-g dual 6.5″ compact surface-mount subs
2 VUE Audiotechnik a-15-WP-g 15″ 2-way passive full-range systems
20 VUE Audiotechnik al-8-WP-g 3-way acoustic line-array elements
4 VUE Audiotechnik as-215-WP-g dual 15″ vented passive subs
4 VUE Audiotechnik i-2×4.5-WP-g dual 4.5″ surface-mount full-range systems
5 VUE Audiotechnik V6-I system engines w/2-in/6-out DSP/tri-amp w/o display