An opportunity to grow and differentiate by delivering immersive, delightful experiences.
As we come back from lockdown from the novel coronavirus (COVID-19) pandemic, trying to work out what "the new normal" actually is, one thing is clear: Many people will have to be coaxed back into public spaces. Some people will rush back into restaurants, bars and shops, taking the first opportunity to interact with friends and other people in general. Others, meanwhile, will stay isolated and frightened. Most of us will be somewhere in between.
The pandemic has accelerated some trends that were happening before we all locked down. Why go to the shop when you can just buy online? Why go to a restaurant when you can just have food delivered to your door by Uber Eats, Postmates, Grubhub and many others? People have now tried these services during lockdown and sampled their benefits, so a big question remains: How can business owners persuade people to go back into public spaces to shop, eat, drink and stay?
One answer is to create delightful and immersive experiences that are difficult to replicate at home. Again, this began to happen before the pandemic—witness the rebranding of InfoComm International to the Audiovisual and Integrated Experience Association (AVIXA)—but it has taken on increased urgency in this "new normal."
As we look to create immersive experiences, we must involve all our senses. However, some of those senses—touch and taste—are now seen as dangerous, whereas those senses most central in our industry—sight and sound—are safe and wireless by design. Sight has long been the dominant sense that we consider. But now is the time really to think about sound as a second sense. Multi-sensory experiences create a multiplied effect (as long as the input to each sense is congruent).
Now, let's dig deeper into how to provide high-quality immersive sound in public spaces. Four basic elements are essential, but our industry usually considers only one: providing equipment. The four elements, in the order in which one should consider them, are as follows:
Lower the noise floor. Relocate noise sources, such as chiller cabinets, from the public space. Think carefully about heating, ventilation and air conditioning (HVAC) noise, as well as noise coming from projectors and other equipment. Install ducting and baffling to reduce this noise.
Work on the acoustics of the space. Reduce reflections. Work with architects to consider the ears (our passion) along with the eyes (their passion).
Install appropriate sound systems. They must be capable of replaying what is needed, where it's needed (and nowhere else), considering both fidelity and dispersion.
Carefully consider what is played through these sound systems. Is it right for your demographic? Does it drive your employees mad through endless repetition? Is it at the optimum sound level (and no louder)?
Since content is often given short shrift, let's focus on that. The very first thing to consider is licensing. When you're at home, you pay for your ability to enjoy music by the media that you've bought (CDs, records, streaming services, etc.) or by listening to advertising (AM/FM radio stations, internet stations or "free" streaming services). By contrast, in public spaces, other licenses are necessary. The first of
these is usually referred to as a venue license (or, more accurately, venue licenses). Any public space requires these licenses for the replay of any freely available music, whether listened to from the radio, CDs, records, streams, internet stations or through live performance.
In the US, several performance rights organizations (PROs) collect royalties on behalf of their members; the largest are the American Society of Composers, Authors and Publishers (ASCAP), the Society of European Stage Authors and Composers (SESAC), and Broadcast Music, Inc. (BMI). In Canada, the largest one is the Society of Composers, Authors and Music Publishers of Canada (SOCAN), although a couple of others exist. In all other countries, one or more equivalent organizations exist, with most of them collecting royalties for music creators and some collecting on behalf of performers.
With different artists belonging to different PROs, most businesses must subscribe to most or all of them. The only way around that is to play "royalty-free" music, which was specifically composed and performed to be played in public spaces—think elevator music. Playing elevator music is hardly conducive to delivering the immersive experiences that we're trying to create!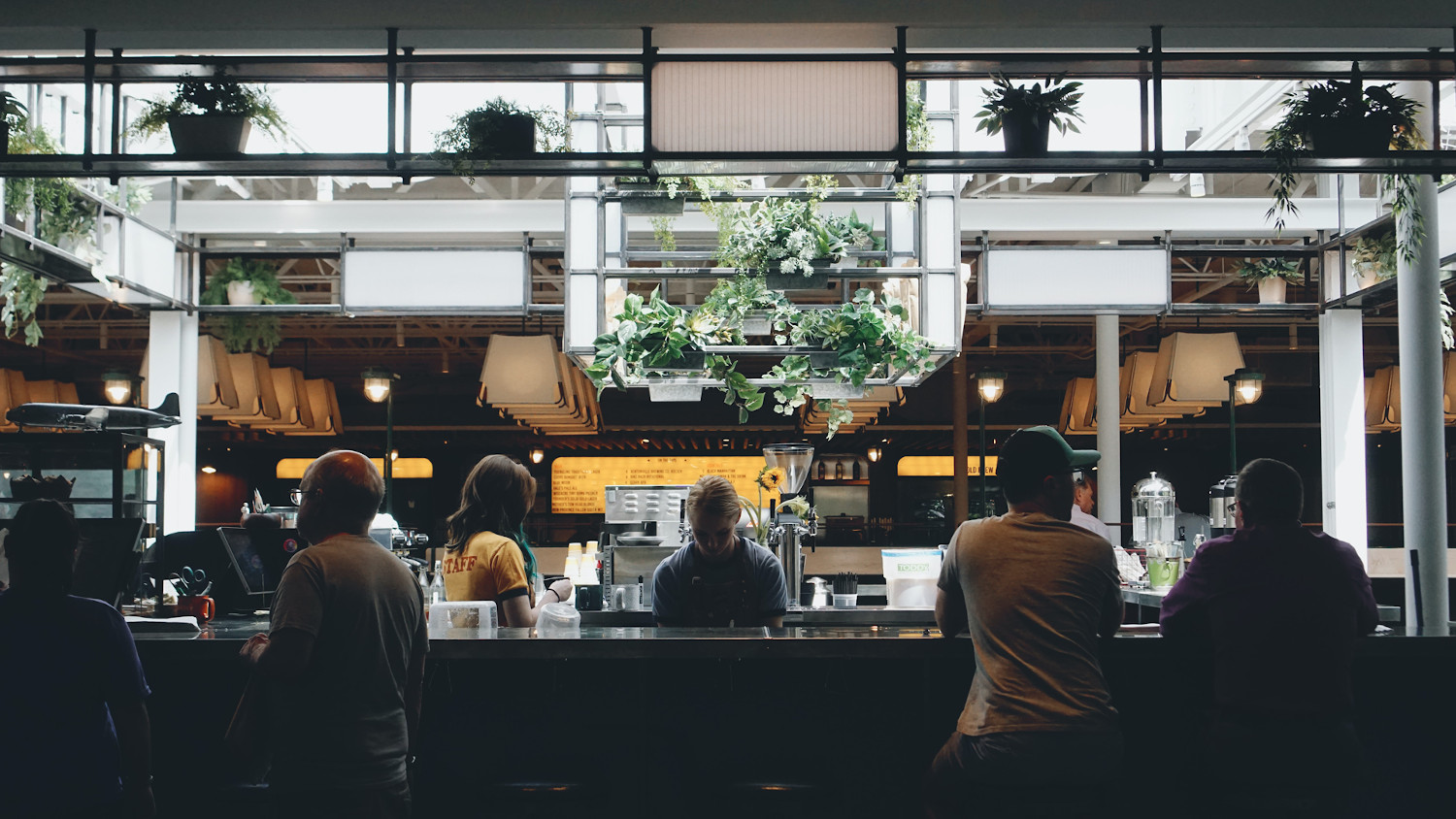 It's worth mentioning that, with music streaming—unlike with CDs, vinyl or radio broadcasting—it's possible to determine where a stream is being played; this content, too, must be licensed for commercial use. The long-established way of obtaining licensed content is to purchase curated playlists (usually, custom-curated ones for larger businesses). These used to be sent out on specially encoded cassettes; then, they moved to CDs; then, they shifted to digital downloads, which is the usual mechanism now. The leaders in this market in North America are Mood Media and PlayNetwork. Unfortunately, this process is often extremely expensive.
As streaming, in all its forms, has become an accepted and trusted technology—and with resilient internet connectivity having become essential in the retail and hospitality industries for point-of-sale (POS) data and credit-card transactions—new business-music streaming services have emerged. For those within North America, they often provide a combination of commercially licensed content and PRO subscriptions (for the content of the streams) for a fixed monthly fee.
One might think the ideal business-music streaming service is something like Spotify, but with commercially licensed content instead. What's actually happening, however, is that services are differentiating themselves with a wide variety of selling points; these include carefully curated radio stations, advanced-scheduling functionality, playlist-import functionality, the ability to interface with Internet of Things (IoT) sensors to allow for algorithmically tweaked content in each individual location, virtual-jukebox functionality with capabilities to accommodate customer requests, radio-station optimizing and much more.
Players in this space include SoundMachine, Custom Channels, QSIC, Soundtrack Your Brand, Rockbot, Tunify, SiriusXM Music for Business, Pandora for Business and many others. Mood Media has a streaming option (and powers Pandora for Business); meanwhile, PlayNetwork recently partnered with Apple to launch Apple Music for Business.
This is a rapidly evolving space right now. It's not clear who will become the best and/or most dominant player. And a number of large retail and hospitality customers are rumored to want to change music services, but are tied to their existing service because of dedicated player hardware. Therefore, it's advisable to install streaming hardware that is music-service agnostic to allow easy, hassle-free changes to music services, if desired.
The hardware used to stream content can be used to provide content other than music, as well. Specially designed generative soundscapes can provide targeted outcomes (relaxation, energy, focus, etc.) without repetition, and biophilic sound masking can improve privacy in open-office settings without the strain that traditional sound-masking noise can induce. Other examples of prospective content include podcasts, lessons and all forms of announcements, including public service announcements (PSAs), which are vitally important these days. Careful thought can unearth many other possible sound experiences.
The role of sound in helping to create attractive, delightful immersive experiences in public spaces cannot be overstated. Carefully considering all aspects of the sound-experience design is key to achieving excellent results. This could be an important factor in turning these troubled times into an opportunity for differentiation and growth for forward-thinking AV integrators and businesses.
For more from Sound & Communications, click here.