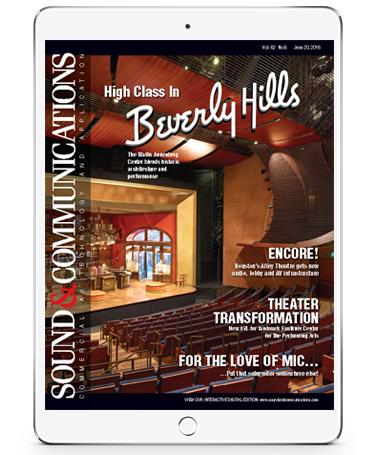 Our columnist believes every good integrator should have a library full of technical books. In this column, he offers his analysis of an invaluable piece of text, Acoustics of Multi-Use Performing Arts Centers by Mark Holden of Jaffe Holden Acoustics.
By Peter Mapp, PhD, FASA, FAES
---
When it comes to ensuring effective touch interactivity with your digital signage, there are many factors to consider: location, foot traffic, screen size, content, etc. We take a look at how Fifteen Degrees weighed these various factors to set up a successful interactive signage system for Northern Westchester Hospital's 100th anniversary.
By Shonan Noronha, EdD
---
While houses of worship want high-quality audio systems just like any other client, integrators often have to overcome a familiar set of hurdles when selling a HOW on the best possible system for their needs. System reliability, ease of use, and budget concerns often conspire to convince HOW leaders to settle for less than they really want. Our columnist offers some advice on how to overcome these obstacles and convince even the most reluctant HOW leaders to go big on a new sound system.
By David Lee Jr., PhD, Lee Communication Inc.
---
When it comes to doing business, you can never discount the importance of good customer service. Our columnist offers a cautionary tale on how not to treat your clients inspired by a recent dustup with his company's email service provider.
By James Maltese, CTS-D, CTS-I, CQD, CQT, Audio Visual Resources, Inc.
---
Many companies overlook the importance of keeping minutes during meetings. However, meeting minutes can prove a valuable resource when questions, concerns and disagreements inevitably arise over the course of a project. Our columnist explains how detailed minutes can help integrators, contractors, architects, consultants, electricians, clients and everyone else involved in an install to stay on the same page.
By Douglas Kleeger, CTS-D, DMC-E, XTP-E, KCD, AudioVisual Consulting Services
---
If there's anything the commercial AV industry needs, it's an infusion of young blood. InfoComm's Senior Vice President of Member Services sheds some light on how AV industry organizations are reaching out to educational institutions in order to get the next generation of tech-savvy and media-saturated young people interested in AV-related careers.
By Betsy L. Jaffe, InfoComm International
---
In the AV industry, communication is king. But for all the effort we put into communicating effectively with clients and end users, we can often overlook the importance of improving our communication with our coworkers. And in multi-generational offices, employees from different age groups may have drastically different preferences when it comes to communicating. The Executive Director of NSCA shares some ideas that can help you overcome these barriers.
By Chuck Wilson, NSCA
---
The rack room may not be the sexiest part of any AV installation, but making sure your rack room is properly set up can go a long way toward preventing issues with maintenance and safety. We offer some helpful tips to keep in mind, including how to ensure the proper ceiling height, accounting for the heat generated by AV systems, making sure everything is properly grounded, and more.
By John Mayberry, Emmaco, Inc.
---
Now that the transition from analog-based AV distribution to digital is complete, a transition from point-to-point matrix switches to Ethernet switches is inevitable. AptoVision's Director of Strategic and Technical Marketing breaks down how these various switches work and explains everything you need to know to prepare for the new normal of Ethernet-based signal distribution.
By Justin Kennington, AptoVision
---
In today's connected world, houses of worship must increasingly opt into live streaming and VOD services to deliver video content to their parishioners. And recent advances in technology have made these solutions easier to use and more affordable than ever. Simplestream's Commercial Director offers some advice on how to convince HOWs that these solutions are worth the investment.
By Dan Finch, Simplestream
---
The recently opened Faulkner Performing Arts Center at the University of Arkansas features cutting-edge AVL systems. We got the inside scoop on this exciting new theater installation from Jaffe Holden Acoustics, Keystone Digital, Shuler Shook and Alcons Audio.
By Jim Stokes
---
The Wallis Annenberg Center for the Performing Arts encompasses two world-class theaters: the Bram Goldsmith Theater and the Lovelace Studio Theater. Both buildings are the work of SPF:architects, with acoustic design by Jaffe Holden Acoustics and integration by Electrosonic. We show you how they made the AV systems for both theaters come together.
By Dan Daley
---
Houston's iconic Alley Theatre recently underwent a large-scale audio upgrade and a complete overhaul of its AV cabling infrastructure. We spoke to Jaffe Holden Acoustics and LD Systems about this high-profile installation and the challenges presented by the Alley's unique stage setup.
By Dan Daley
---
Subwoofer placement can be tricky. And while prediction software can help you place subwoofers where they need to be, that's really only half of the battle. NEXO's Systems Applications Specialist answers the most common questions about sub placement, explains how subs interact with other elements of audio systems, and offers suggestions on the best approaches to DSP.
By Steve Armstrong, NEXO/Yamaha
---
Nothing has changed surgical techniques like the endoscope. And there are few surgical implements that are so reliant on high-quality video technology. We talked to CompView Audio Visual about a recent installation at Abbott Northwestern Hospital's Southwest Surgical Center and how high-end video can drastically improve how surgeons learn and operate.
By Don Kreski
---
At industry trade shows each year, the stars are usually the trendy emerging technologies. However, not every new AV trend actually catches on, no matter how much hype they receive. With this in mind, our columnist shares his trade show experiences with some nascent VR tech and explains why he thinks the technology still has a long way to go before it has a chance to be the game changer everyone expects it to be.
By Pete Putman, CTS, ROAM Consulting LLC
---