The commercial AV industry, although rapidly evolving and often unpredictable, remains in a strong position. That's the conclusion we can draw from high-quality, independent research data like that produced by the Audiovisual and Integrated Experience Association (AVIXA).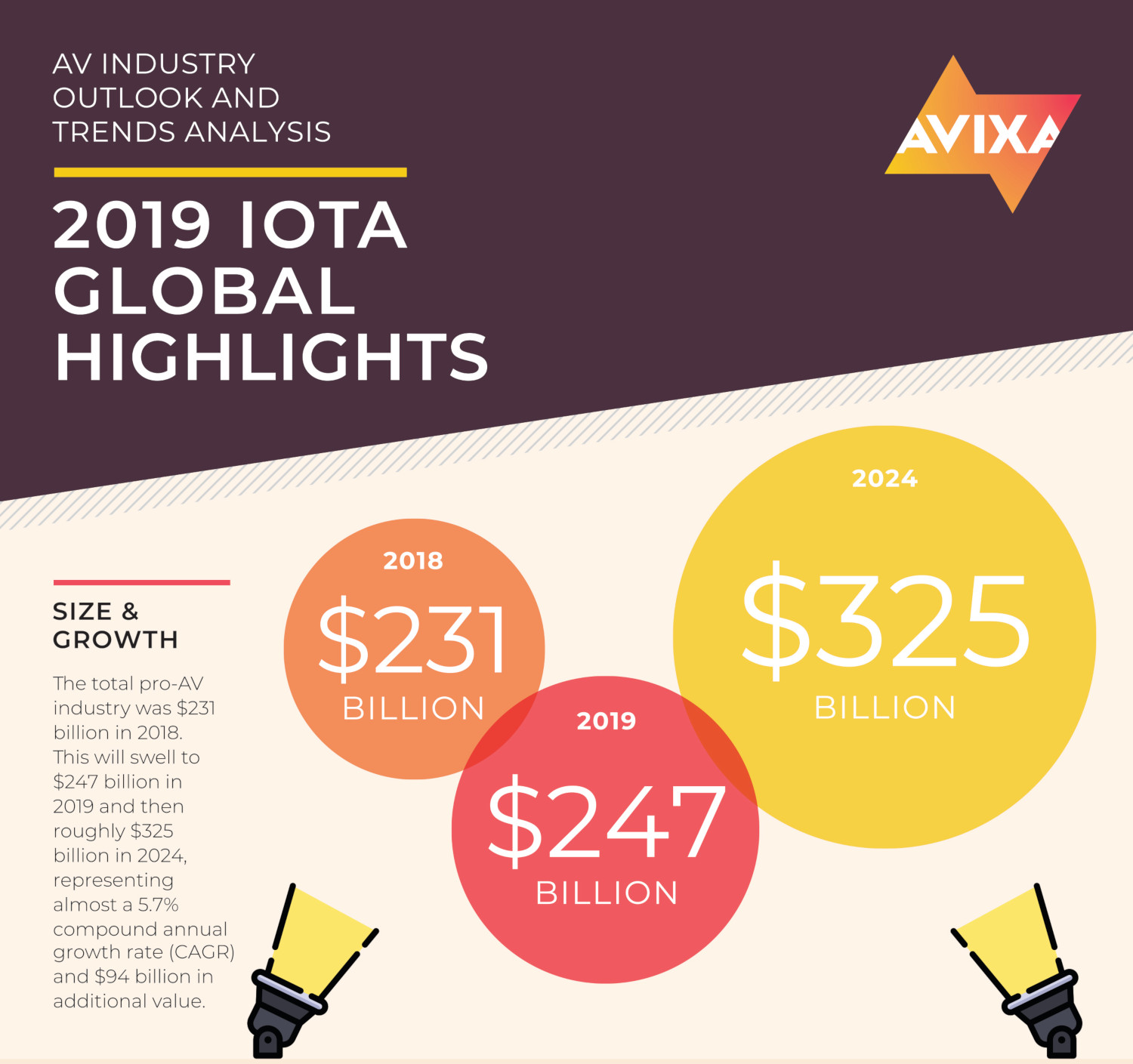 Top-Line Summary
For example, AVIXA's brand new 2019 AV Industry Outlook and Trends Analysis (IOTA) Global Summary reveals that the global commercial audiovisual industry will grow to more than $325 billion in 2024, marking strong growth from $231 billion last year and $247 billion this year. Indeed, our industry is achieving almost a 5.7 percent compound annual growth rate (CAGR). As Sean Wargo, Senior Director of Market Intelligence, AVIXA, noted, "The growth in [commercial] AV revenue is actually outpacing expectations for global gross domestic product (GDP) growth." What's more, the numbers represent an upward revision from AVIXA's previously forecasted estimates, further testifying to industry strength.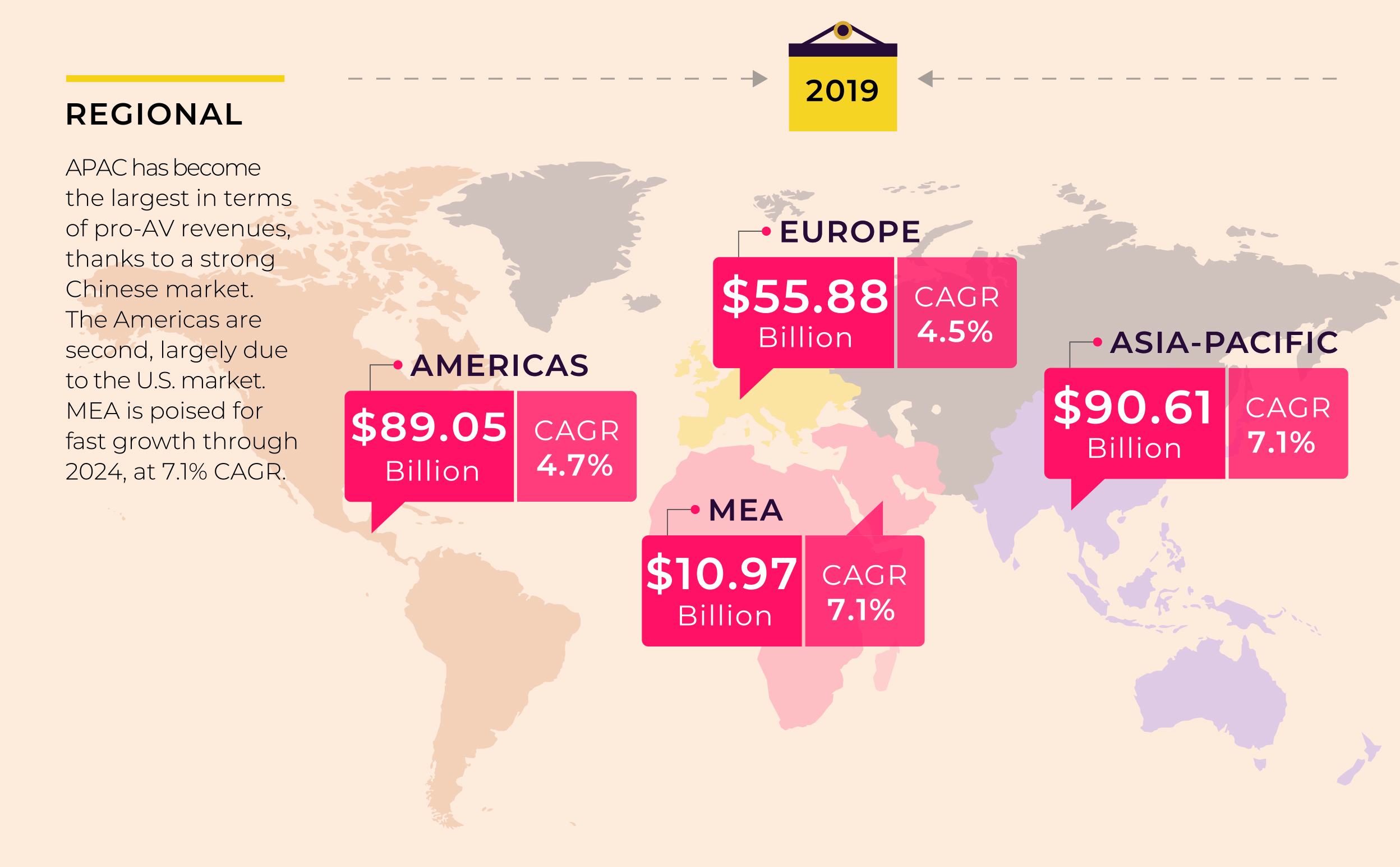 Region By Region
With regard to region-by-region growth trends, AVIXA finds that Asia-Pacific (APAC) is leading with regard to both total commercial AV revenues and projected growth. APAC is forecasted to generate $90.61 billion in revenue this year and achieve a CAGR of 7.1 percent. The Americas are also quite strong with respect to total revenue, clocking in at a forecasted $89.05 billion, with an associated 4.7-percent CAGR. Europe, meanwhile, is forecasted to register $55.88 billion in commercial AV revenues, while lagging a bit with a 4.5-percent CAGR. Finally, we see very strong growth of 7.1-percent CAGR in the Middle East and Africa (MEA), with a forecast of $10.97 billion for this year.
Key Trends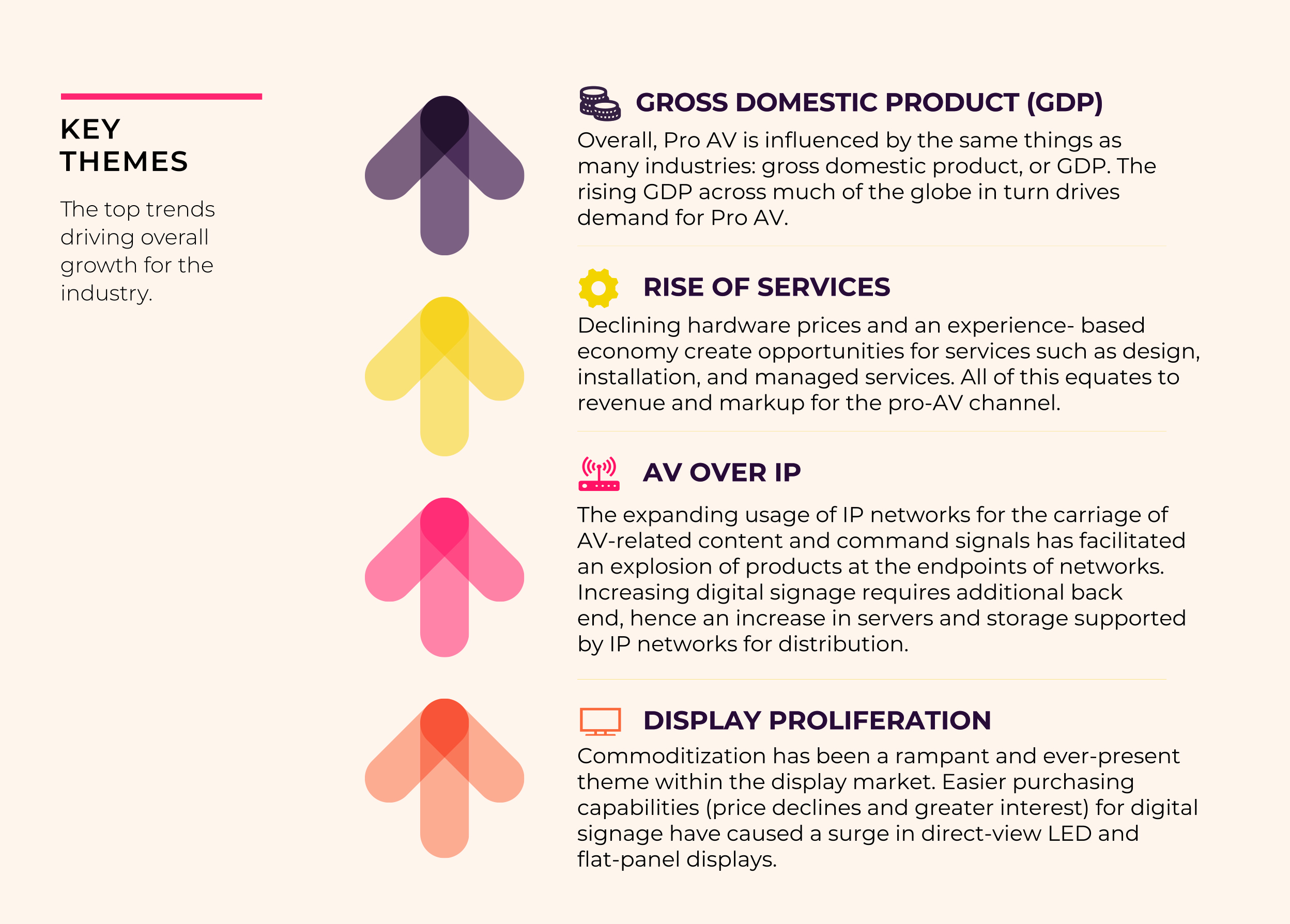 AVIXA's researchers zeroed in on four key themes/trends that are driving overall industry growth: (1) rising gross domestic product; (2) the rise of services; (3) the expanded utilization of AV-over-IP; and (4) display proliferation. Let's take each in turn.
The commercial AV industry does not exist in a vacuum. When global GDPs are rising, there is naturally more demand for the products and services that the commercial AV industry provides.
Selling knowledge—design, installation and managed services—rather than products presents an opportunity for revenue generation in today's experience-based economy.
As commercial AV has become ever more network-centered, we've seen a profusion of products residing at the endpoints of networks. This is a huge opportunity for our industry.
Direct-view displays and LCD flatpanels are surging, as prices continue to decline even as interest in these technologies grows unabated.
Vertical Markets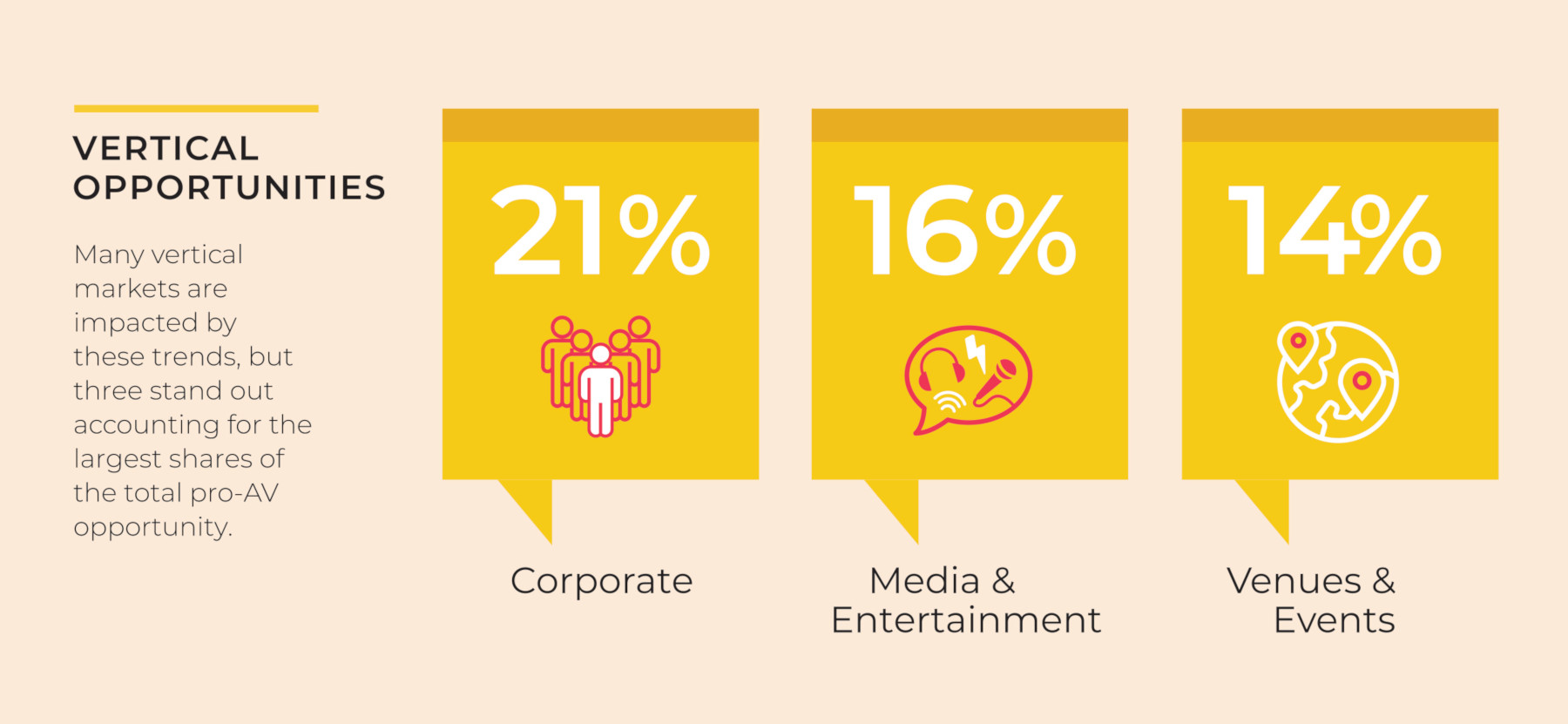 AVIXA identified three vertical markets as representing the largest share of the collective commercial AV opportunity: corporate (21 percent), media and entertainment (16 percent), and venues and events (14 percent). It's not surprising that corporate would be leading the pack, as that vertical resonates with several of the trends identified above. For instance, corporate campuses are arguably the epicenter of the AVoIP trend—in particular, large enterprises that have a robust IT capability and the need to move ever more bits at ever-higher speeds. We're also seeing a more fulsome rollout of digital signage on corporate campuses, as well as the introduction of eye-catching direct-view displays in company lobbies. Investments in display technologies on campus are meant to illustrate that a company is contemporary, forward thinking and, most important, experience-focused.
Offerings & Products
Not all revenue areas are benefiting equally from the trends that are driving the commercial AV industry to GDP-beating growth; some are enjoying an outsized portion of the benefit. For instance, streaming media, storage and distribution marks the single largest category ($66.1 billion in revenue). Second on the list is services ($46.0 billion in revenue), affirming the long-gestating trend away from integrators selling/installing boxes and toward areas like integrators selling cloud services. Third is video displays ($30.4 billion in revenues), a category that encompasses flatpanel displays, monitors and TVs. Obviously, other areas (e.g., sound reinforcement, projection) continue to generate significant revenue, but they're seemingly less wedded to the trends AVIXA identified as powering industry growth.
Integrator Insights
In past years, when Sound & Communications produced a 12-page Commercial Systems Integration Survey report, we surveyed a wide swath of integrators, consultants and design firms to try to gather statistical data about our industry. Here, we take a different tack. Our editors sought the insights of three of the leading companies in the commercial AV space, asking them key questions about their own experiences and observations. From those, we hope to get a broader perspective of our market.
Verrex
First was Verrex (www.verrex.com), an AV design, integration and support specialist that was founded in 1947. The company, which is headquartered in Mountainside NJ, has US offices in Wilmington MA, Houston TX and Cypress CA, as well as international offices in London, UK; Wan Chai, Hong Kong; and Shanghai, China.
We spoke to Thomas Berry, Jr., CTS, the CEO of Verrex, and asked him about vertical markets that are particularly strong for the company. "Verrex has invested in certifications, manufacturer relationships, personnel and regional locations to primarily serve the corporate market," Berry explained. "More than 80 percent of Verrex clients are in the corporate/corporate offices market." He elaborated further, saying the company's key focus is on the enterprise, mid-market, and small and medium-sized enterprise segments. "Corporate has afforded our most significant growth over recent years, [given that] work environments have notably evolved," Berry opined. "We now provide AV technology and solutions that support a much broader range of activities and behaviors. [We cater to] all realities of a multigenerational, multifaceted, modern workplace: focus, collaboration, learning, brand building, socializing, agile workforce, employee engagement and more."
For a successful global design and integration firm like Verrex, there is a strong impetus always to embrace new technological developments and capabilities. According to Berry, "We are strengthening our remote-support services as network- and software-based technologies continue to advance." Remote-support solutions provide status notifications to Verrex's global service desk for integrated AV devices sitting on a client's network. "This actionable information allows our support team to monitor and remotely take control of devices to diagnose and troubleshoot in real time, or [to] dispatch local service staff to resolve incidents on site," Berry added.
Asked about what association or organization has been helpful to Verrex in maintaining its position as an industry leader, Berry did not hesitate to credit AVIXA as a valuable resource. "[It] is our primary AV-related association," he affirmed. "From individual and organizational certifications, to trade shows, [to] learning opportunities, we've found AVIXA to be a key global resource in our ongoing growth."
Berry concluded the chat with a few observations about the value of integrated AV technology in today's commercial environments. "As both our industry and [the] global economic cycles come to their peak," he began, "it's a crucial reflection point. AV is no longer a 'nice to have,' but, rather, [is] a 'must have' for today's workforce and workplace environments." According to Berry, there is no better time to reverse the race to the bottom. "[We should] have prices [that] reflect the true value of the technology, applications and expertise that we—as an industry—offer," he declared.
CCS Presentation Systems
We also sought the wisdom of CCS Presentation Systems (www.ccsprojects.com), one of the largest AV integrators in the US, boasting annual revenue of more than $130 million. The integrator, which was founded in 1991, has offices spread across more than 20 states (plus the District of Columbia); its areas of expertise run the gamut from AV integration, to cloud conferencing, to digital signage, to electrical solutions. We spoke to Julie Solomon, Chief Marketing Officer with CCS Presentation Systems – Southwest, to get the company's perspective.
Dovetailing with the established trend of direct-view LEDs beginning to overtake the display market, Solomon attested not only that the commercial market has been the largest one for CCS Presentation Systems this year, but also that she discerned a special emphasis on direct-view LED videowalls in the company's business. "They were the product where we saw the most growth," she declared. CCS Presentation Systems is a reseller for a number of high-profile vendors in the category, including Sony, Leyard and Planar, and Christie.
Asked about technologies with which CCS Presentation Systems has recently begun working, Solomon was quick to cite the Jetbuilt software platform, which, she said, has proved invaluable. "Internally," she began, "we have embraced the [platform] for estimating and creating project scopes and proposals. It has saved countless hours and thousands of dollars, and [it has] given us a much more accurate view of labor utilization and costs." These insights are tremendously useful for a firm of CCS Presentation Systems' size and diversity.
Finally, we asked Solomon whether any particular organization, association or resource has stood out as being especially helpful in CCS Presentation Systems' continued growth and success. "AVIXA would be our number-one choice," she affirmed. "Their trainings and certification programs have been invaluable for our integration staff."
RED THREAD
Next, we spoke to RED THREAD (www.red-thread.com), which was established in 2012 when Office Environments of New England, BKM Total Office and Business Interiors joined forces as a regional enterprise. The firm, which employs more than 470 people, integrates furniture, architectural products and audiovisual technology to create holistically designed spaces. It has showrooms in Boston MA, East Hartford CT, Stamford CT, Manchester NH and Portland ME. In addition, RED THREAD has three sales offices/warehouses in Connecticut, three in Massachusetts, and one each in Vermont and Maine. We spoke to Jay Kowalsky, who serves as Director of Audiovisual Operations.
We asked Kowalsky about the corporate-campus vertical market, inquiring about how broader trends that are currently shaping the commercial AV space are trickling down to workplace environments. "I would say more and more of our customers have begun to utilize their spaces as a venue for customer experiences, rather than just [as] a place where workers can be productive," he explained. Kowalsky added that installed AV technology could be a key factor in creating and sustaining those experiences.
When asked about technologies that RED THREAD and its clients are really coming to embrace, Kowalsky did not hesitate to bring up one of the biggest buzzwords in our industry: AVoIP. "Most recently," he began, "we have been designing and deploying a fair amount of AVoIP systems—both localized [ones] and [those] living on the customer's network." Kowalsky noted that, although the ascendance of AVoIP hasn't necessarily made things easier for RED THREAD, "It has enhanced our ability to provide a solution that works for some of our customers. It has also challenged our folks [to step] outside of their comfort zone." As has been covered extensively in both Sound & Communications and IT/AV Report in recent issues, the dividing line between AV professionals and IT professionals has largely disappeared, meaning practitioners in our industry have to be fully conversant in the language of the network.
Although much of RED THREAD's success is attributable to its own internal resources, Kowalsky was quick to give credit to USAV Group (www.usavgroup.net)—a nationwide network of commercial AV specialists—for the value it provides. "We are a member of USAV Group," he affirmed, "[and it] provides opportunities for integrators outside of their typical business plans. [The group offers] support and, in some cases, buying power."
Asked for closing thoughts, Kowalsky underscored RED THREAD's customer focus and organizational nimbleness. "Our business is unique," he said, "in that we leverage relationships from other business segments within our organization to provide the technology that fits our customers' needs." He described the company's transition from being "a furniture company that does AV" to what he called "the best option for technology in the northeast," an opinion, he quipped with a chuckle, that was totally unbiased.
Conclusion
Even as some economists forecast a recession somewhere on the horizon—it appears that the 2010s will be the first decade without a recession in the US since the 1800s—the commercial AV industry shows no signs of slowing down; in fact, on the contrary, growth estimates are being upwardly revised. Many factors (technological, vertical market-driven and geographical) are contributing to our industry's strength, but, irrespective of the causes, there is good reason to remain optimistic about AV integrators' ability to earn a great living by delivering exceptional experiences.