As a sport, golf has been having a tough time of it lately. The National Golf Foundation (NGF) confirms that the number of US players dropped from an all-time high of 30 million in 2005 to 24.1 million in 2015, with the number of people ages 18 to 30 playing the sport down 35 percent in the past decade. But you'd never know that from the hundreds of duffers of all ages who passed through the turnstiles of Topgolf one Saturday morning at the British import's 65,000-square-foot, three-level Nashville TN location.
The Nashville spot is one of what are soon expected to be more than 50 US outposts for this global, upscale entertainment operation that, it is reported, services 13 million guests annually. Topgolf has a lot packed into each of its netting-enclosed campuses, including more than 100 climate-controlled hitting bays, table-service restaurants and bars, more than 200 HDTVs, a VIP deck with private balcony and bar, private event spaces and meeting rooms, rooftop terraces with skyline views, and, in the Nashville location, a concert venue: the Cowan. The two-story live-performance showroom has a capacity of more than 600, and it features an open floor space and upstairs balcony area. Established touring acts, including Kid Rock and George Clinton & Parliament Funkadelic, as well as up-and-coming Nashville artists, have made their way through.
Unique Integration Challenges
Topgolf melds sports, entertainment and food in a unique manner—one that is already spawning a raft of imitators. That fact tends to make those who work on Topgolf's rapidly expanding array of locations, and who create the evolving technology platforms behind them, understandably circumspect when it comes to discussing some of its deeper aspects. (For example, how its microchipped golf balls score themselves, providing players with instant feedback on each shot's accuracy and distance.)
However, the AV at Topgolf is also compelling, driving Derek Wilson's enthusiasm as he went through the venue's elements. Wilson is the Project Manager for Diem Digital, the AV systems integrator that's done virtually all the Topgolf installs, and he's watched as the systems that power the locations, such as SAVI's Canvas (more on that shortly), have evolved.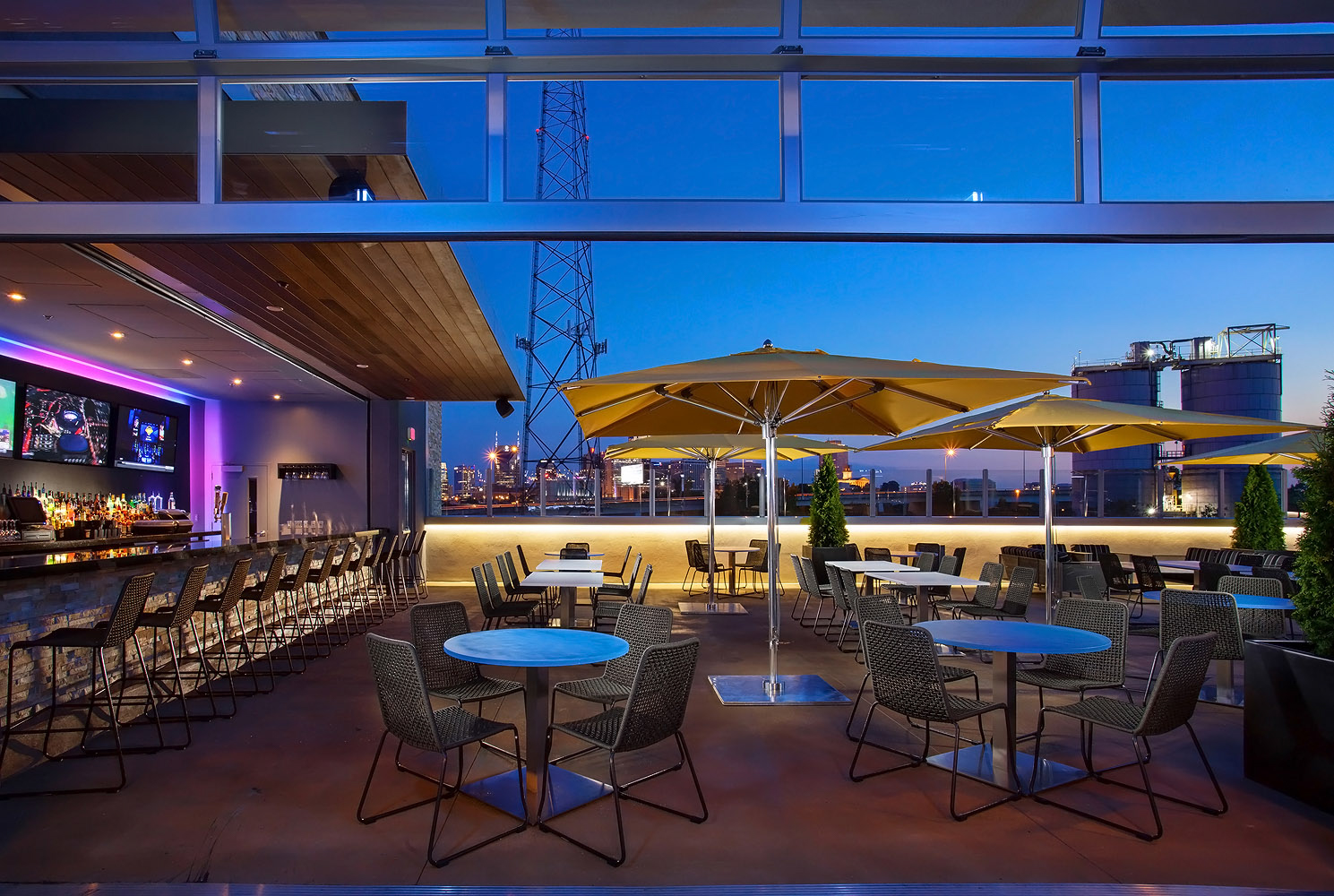 "The biggest AV challenge here is that this is both an indoor and an outdoor venue," Wilson said, referring to each Topgolf location's 102 driving-range bays, which peek out below a corrugated roof that covers a high-top table and chairs in each bay. (Note: a smaller iteration, with 72 bays, is planned for some future locations.) "The video displays and the speakers have to be able to withstand being pounded by the weather all year long, but also work well in an environment that's half inside and half outside," he added.
There is a whole set of indoor and outdoor plenum-rated cable and conduit involved—in fact, total cable runs reach an estimated 37 miles per location! "Because of the cable-run lengths," Wilson continued, "the server room has to be located fairly close to the center of the range line. That's not something that integrators face every day, and we do on every Topgolf location."
The 55-inch LG screens in each bay, and the Topgolf game panel display that allows players to choose between nearly two-dozen game types, are mounted to the structural support columns that also separate bays from one another. The LG display mounts are custom designed and fabricated for the venues, and they're designed to hold screens at an angle that makes them easy to read, but that also allows water to run off away from the screens. According to Wilson, LG doesn't usually warranty the screens against water damage; however, as part of a three-year-long collaboration among Diem, LG engineers, SAVI and Topgolf, the mount design assures that water stays away from the screens and their shell-covered electronics, making way for LG to provide an enhanced warranty.
A single Cat5e cable brings in all of each screen's content, including player scores, digital signage and access to up to 12 DirecTV channels. Three similar 55-inch screens are mounted in portrait mode at the top of the stairs leading to the tee bays; their content is controlled directly from Topgolf's Dallas TX headquarters over a network.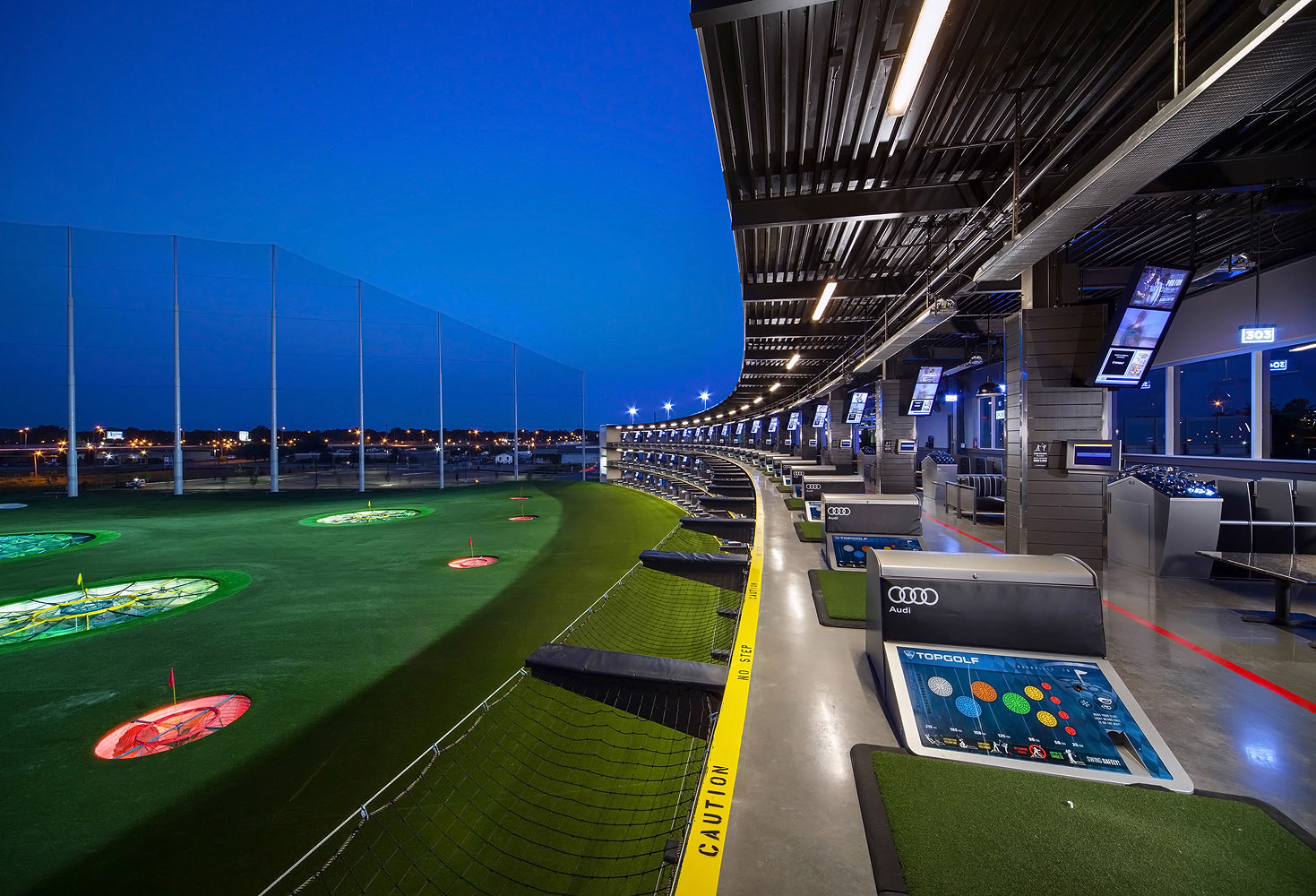 Each of the Klipsch Pro Series T 6.5-inch speakers, powered by ICEPower amplifiers, on the tee line covers two bays, straddling the barrier between them. The Klipsch speakers are ubiquitous except in the restrooms, where, due to lower ceiling heights, thinner Bowers and Wilkins CCM Series surface-mount ceiling speakers were instead installed. All of the speakers play a constant stream of curated music from Topgolf's preferred commercial streaming service, PCMusic ("Topgolf Radio"), and they're fed through individual copper cabling. (There are no subs on the Topgolf side of the venues; due to their typical location in densely populated neighborhoods, the locations seek to avoid noise issues.)
To make all these systems work, a lot of wire is required—just over 900 Cat5e endpoints per venue, Wilson estimated. Wiring runs are laid in a cable tray atop the first-floor hitting bays, with feeder cables running up the columns at each bay to route content to the upper floors. As much cable as there is, it's installed early in the construction process, when there are few obstructions; that process usually takes about two weeks, Wilson confirmed.
Whole (Control) In One
If you look behind the curtain at Topgolf, you'll find a sophisticated control system that manages each venue's sound, video and lighting. That platform is SAVI Controls, which was originally developed in part on a Control4 API (SAVI Controls and Topgolf formed an alliance whose debut was the first new-design Topgolf location in the US in 2011). It has undergone a steady evolution since, adding provisions for lighting control and enhancements such as SAVI Canvas to facilitate display of Toptracer technology. Toptracer is a shot-tracking system often seen on golf broadcasts, and it was added to the Topgolf experience a couple of years ago. SAVI is designed to run the facility largely automatically, turning on 260-plus video displays and more than 100 speakers, as well as turning them off each night at closing.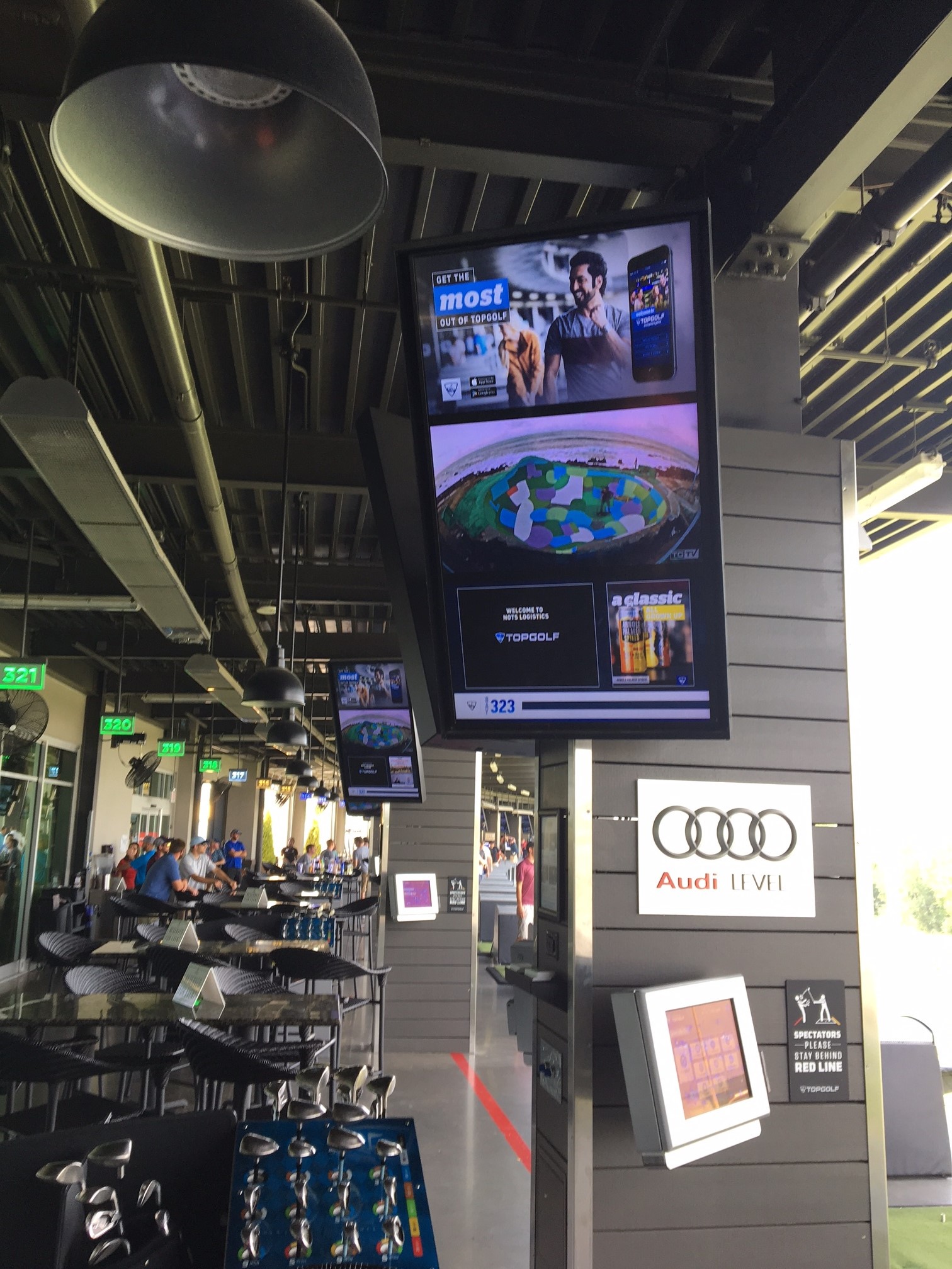 The most recent iteration of the SAVI Canvas control system includes many new features, such as display management and user authentication, and is itself a reflection of several evolutionary trends in AV. When new venues were first opened, starting in 2011, Topgolf hitting bays were each fitted with a pair of 32-inch LCD displays set in landscape mode, one atop the other: One display showed score data from the game panel, sent in over a local HDMI feed; the other was connected to a QAM video-distribution system for broadcast programming display. When the Toptracer ball-tracking application was ready to be added to the video mix, it would have required a third display at each hitting bay. That, according to Byron Baird, VP of Sales for SAVI Controls, presented a problem.
"Three 32-inch screens in landscape mode would have been awkward. People might bump their heads in the bays," Baird stated. "At the time, we also knew that 32-inch 1080p screens were on their way out." The solution, he revealed, was to use an LG 55SM5K-D 55-inch display from LG's digital signage division, whose latest webOS 3.0 commercial operating system allows for direct connection of a Cat5e or Cat6 cable with no receiver or balun. A software component was the final piece needed to bring it all together; the 55-inch LG commercial displays are set up in portrait mode and segmented into three separate screens, top to bottom, using the new SAVI Canvas software.
"We worked with LG engineers on this, and it makes it so much easier," Baird enthused, adding that this arrangement is being retrofitted to earlier Topgolf venues, while also being implemented in new ones going forward. "We're conditioned to think that we need a receiver for every display, but this changes that," he added. It also virtually locks in the LG display as a piece of the Topgolf equipment list. Baird said another television could be used, but that would partly negate the full benefit of not having to use a receiver or balun behind each display. And, across thousands of bays, that cost would be substantial.
On the other hand, according to Baird, SAVI is developing capabilities that might allow SAVI Canvas to work alongside Crestron AMX or other control systems, as well as Control4, for Canvas installations other than those at Topgolf. "Canvas was developed with LG and originally deployed at Topgolf, but it is now a solid, end-to-end solution for many other projects by integrators in the US and internationally," he remarked.
SAVI has also been expanded to accommodate additional product integrations, including DMX control for the Mega Systems LED lighting that's part of Topgolf's AVL package, other traditional lighting systems and the MEGA VIEW direct-view LED videowall that is now part of the regular installation at new Topgolf venues. Those integrations can be found in the Signature Rooms (used for private-event rentals) and elsewhere in Topgolf facilities.
Topgolf is about good times, and that means food and beverage, as well. They can be ordered by guests throughout the venue—from the main restaurant/bar areas, in tee bays and during private events in the Signature Rooms. (The kitchen operates independently; the Kitchen Display System is not integrated with the SAVI system.) Bay hosts and servers then deliver orders around the entire facility, including to the tee line, where they use "wayfinding pendant lights" to spot the correct driving bay. Tee-line pendant lights are integrated with SAVI and with Topgolf's proprietary venue operating system.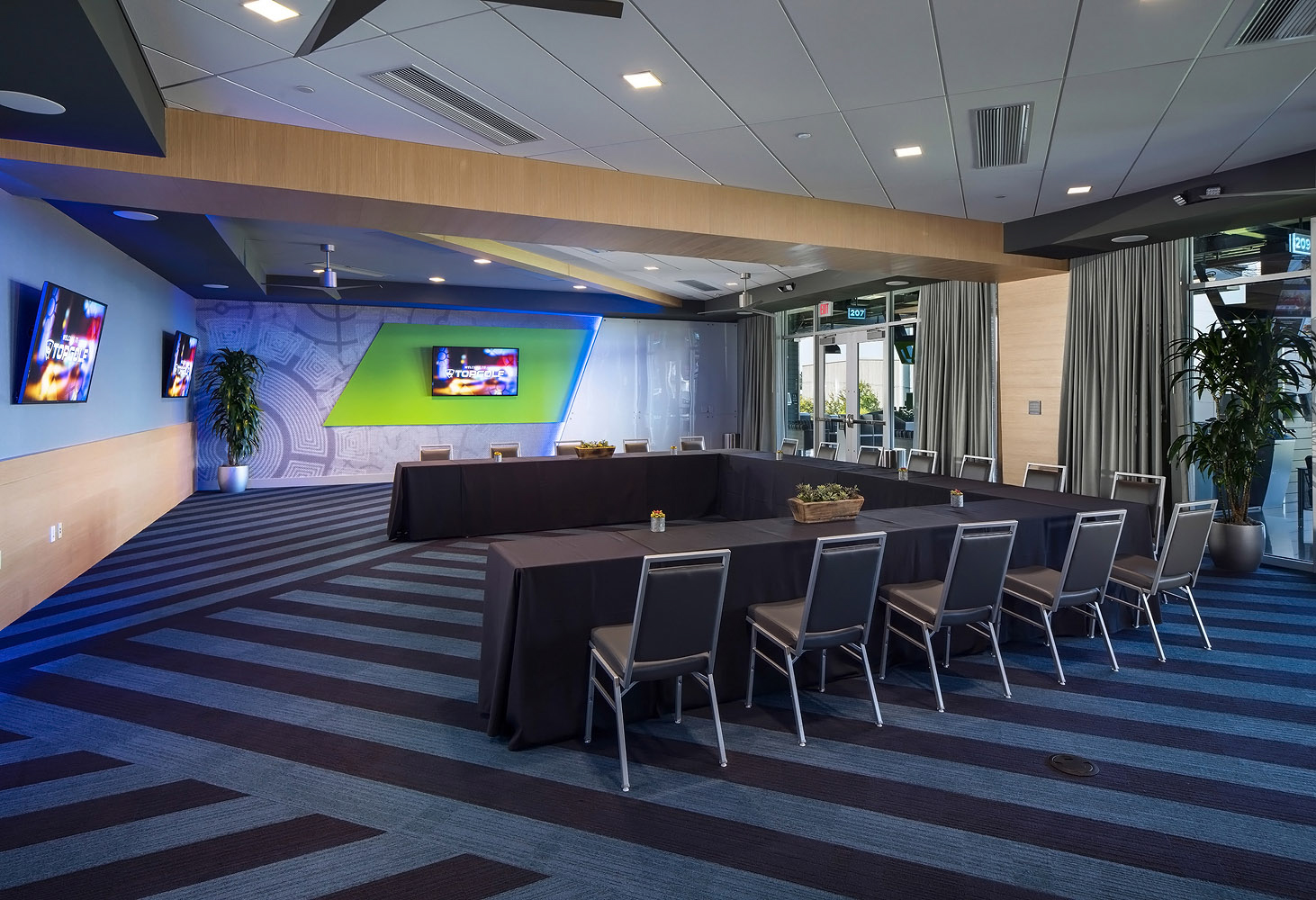 The location in Nashville has four bars—one on each level of the venue—that include a rooftop terrace and one in the Cowan. Those spaces have audio and video, as well—for example, nearly a dozen 55-inch LG displays (in landscape mode) surrounding the top of the bar, directly behind the tee lines. Extending entertainment elements to the bar locations was important—the main bar also has inputs for a DJ or small live combo—because, according to Wilson, tee-time waits can be up to two hours at times, and the bars are the most natural waiting places. Zone control for those areas is done through the SAVI Canvas application.
In fact, Canvas is so critical to the venue's operation that SAVI made the system's GUI as simple as possible, minimizing the time that it takes to train users. That is a critical consideration with more than 300 employees at each location. (The Nashville location's Manager, Nick Gergens, said his shop employs about 500 workers, mostly on the hospitality side.) "Someone can be trained to use the basic features in about five minutes," Wilson said. The system's interfaces are on Apple iPads throughout most of the facility, with a few wall-mounted iPads used for the Signature Rooms and the venues' event spaces. Gergens also demonstrated that the system can be controlled via an app on his iPhone.
Excellent Sound
One thing that not every Topgolf location has is a world-class live-music venue. Nashville's Topgolf location is literally joined at the hip with the Cowan—a 500-plus-capacity music hall with a stage at one end and provision for up to another 75 along a balcony rimming the rear and side walls. Jason Spence, President of JSS, the Nashville-based AV integrator that handled the Cowan's systems, said he's especially glad that his firm was brought in during the schematics phase. "The architect had drawn up a general floor plan, where the stage and VIP areas would be," he explained. "But one look at the site and you saw the train tracks, the Jefferson Street Bridge [across the Cumberland River to downtown Nashville] and the interstate, and you knew right away there would be challenges that had to be dealt with."
Those challenges were mainly centered on acoustics and noise-transmission remediation, particularly in the lower frequency ranges, generated by passing diesel locomotives and semi-trucks. Isolation was critical because the venue would be used to record many of the performances done there, as well as being used as the site for live broadcasts. Spence directed the GC to decouple key structural parts of the venue from the surrounding site using a number of time-tested techniques, including cutting foundational sections apart or using neoprene "pucks" to isolate sections from the ground or each other. (Not the stage, though. It was important, he said, to keep the stage and the dancefloor in front of it connected, giving the music played there a common base that lets musicians feel a connection to the people on the floor.) "That's a very real thing," Spence affirmed. And he would know, having mixed live monitors for the CMA Awards Show for years, as well as for artists, such as Keith Urban, on tour.
"We had to mitigate both airborne and [mechanically coupled] noise sources," Spence continued. "There is not a single plumbing pipe, or piece of conduit, or HVAC component that went in there that we didn't instruct them on how to place it."
Inside, metal siding and a corrugated metal roof created their own set of challenges in the form of reflections and reverberations. Spence worked with acoustical consultant Kevin Lee Hughes, using custom-tuned absorptive panels developed by Hughes' company, Design Technik, and fabricated on site. "These panels are literally tuned to the space," Spence said. "Architects like them because they control the sound without having to impact the design of the space." The corrugated-metal ceiling was sprayed with International Cellulose's K13 broadband absorptive material.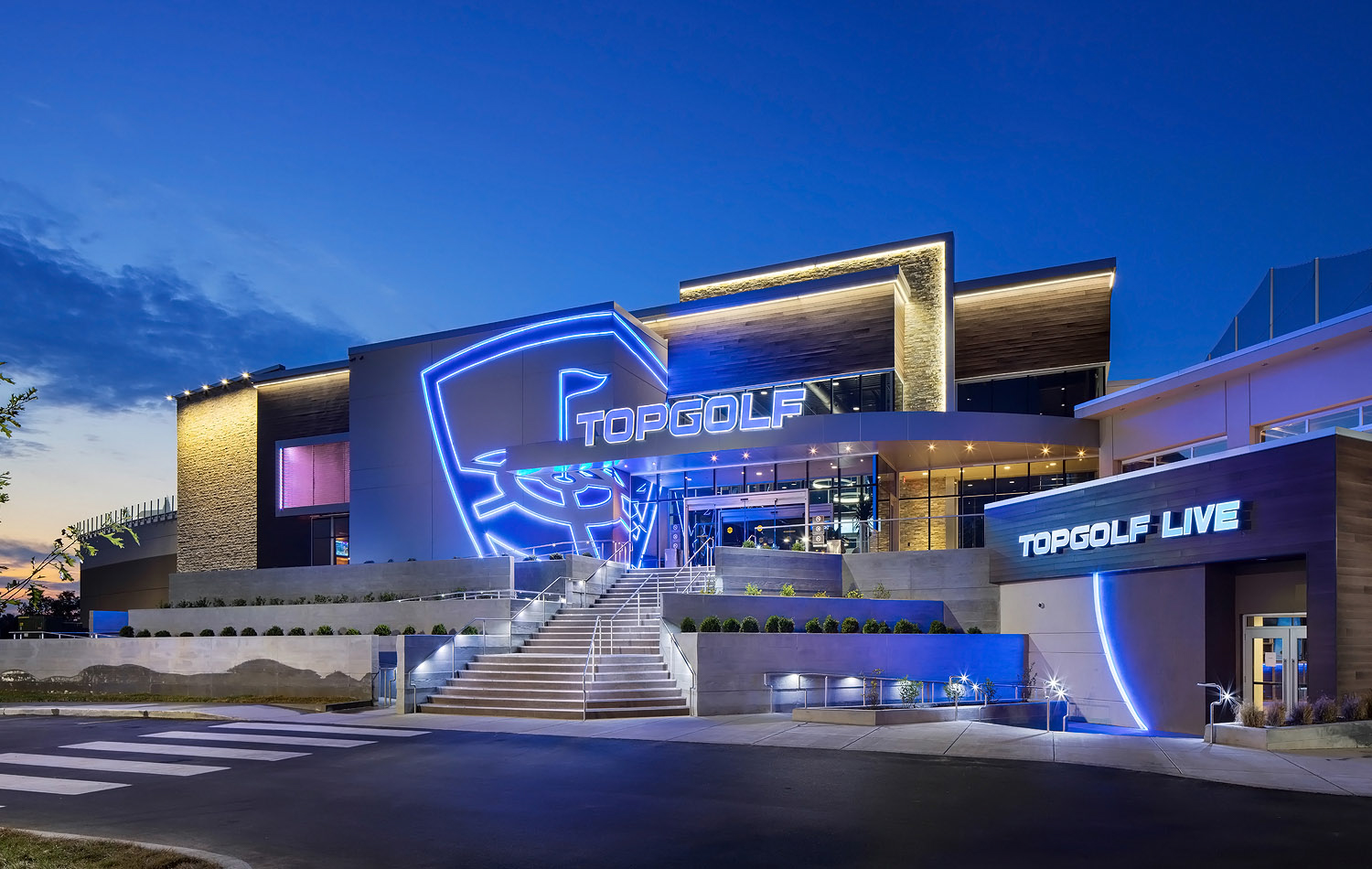 The sound system is a flown NEXO line array composed of six modules per side (GEO S1210s and GEO S1230s), six LS18s (three flown in an end-fire array and three mounted under the stage), six 45N12 wedges as stage monitors and four ID24 speakers used as front fills along the stage lip, all powered and processed by five NXAMP4X4 powered TD controllers networked using NXDT104 Dante cards. Shure provided both wireless microphones and IEMs, and Focusrite RedNet AM2s are used as the network interface as Dante-enabled headphone amps for hardwired in-ear monitors.
According to Spence, the NEXO system fit the key criteria—even and consistent coverage of the audience space in the Cowan—and met the project's budget. "There's a lot of geometry on the inside of the venue that affects its acoustics, as well as an angled back wall that amounts to a parabolic reflector onto the stage," Spence elaborated. "That has to be resolved using PA system design to address coverage and aid in designing the acoustical treatment." NEXO NS-1 System Configuration Software was used to plot the space.
The stage is backed with a 93-squarefoot videowall composed of 62 PixelFlex 2.8mm-pitch FlexTour LED panels. It's attached to a Jet one-ton trolley system that lets the wall be repositioned anywhere between upstage and downstage—the former for showing music videos, PGA tournaments or corporate logos, the latter as a backdrop for music performance and a mid-point used with a podium for presentations. Above the stage is a custom Tomcat lighting truss, which is curved to match the architecture of the stage and room, loaded mainly with 13 Martin Quantum washes, 14 Quantum profiles, a dozen Rush Series MH1 profiles, 20 Rush PAR1s and six Elation Q265 crowd blinders. They're managed by an MA Lighting GrandMA console in a grid designed by Nashville tour-and-venue-lighting veteran Chris Lisle. The Cowan's audio, video, lighting and power systems have been integrated using a Crestron 3-Series control system, button panels and touchpanels for systems control.
According to Spence, the idea of a movable lighting grid system was considered but ultimately rejected, based on the level of touring artists that the room would attract due to its size. "And we chose [lighting] fixtures that would be found on most [contract] riders these days, which also reduces the need for artists to bring in their own lighting," he added. The Cowan's asymmetrical geometry, it turned out, affected lighting as well as sound. "Finding the center line was a bit of a challenge," Spence said, noting that a clearly defined center axis is critical for camera positioning. "When you first walk in, you don't realize it's all kind of off center. So, some of the lighting fixtures also had to be positioned slightly offset to compensate for that."
In case you thought golf was just golf, it's worth noting that nothing is "just" anything anymore. Hospitality venues, in particular, have to be multifaceted hybrids now, engaging guests through a number of channels simultaneously. Topgolf is one of the more creative of those propositions: a hybrid of two of the most popular pastimes in the country, namely sports and music. It chose its AV carefully, as well, to keep it competitive with the video games against which it might increasingly be competing. And it does the one thing that video games rarely, if ever, can: It gets its players out of the house and onto the green.