When one thinks of cities that have deep ties to the automobile industry, New York NY isn't exactly the first place that comes to mind. In fact, Manhattan might be one of the hardest places on earth to own a car. Despite this, the borough has a rich history of prestige car dealerships dating back to the early 20th century. Back then, a section of Broadway that was home to several car dealers—high end and otherwise—was known as "Automobile Row." The heart of the American theater industry still hosted a few car dealerships until the mid-1980s, when the last of the old holdouts relocated to nearby 11th Ave. These days, "Automobile Row"—or "Auto Row" in the more modern vernacular—refers to a stretch of 11th Ave. from W. 40th St. to W. 60th St. where heavy hitters like BMW, Audi, Lexus, Chrysler and Toyota all have showrooms.
In 2016, Volvo purchased its own space at 565 11th Ave., intending to make it a prestige dealership for the company. The space, now known as Volvo Cars Manhattan, consists of a ground-floor showroom and offices, as well as a below-ground service-and-repair shop, located in a luxury high rise aspirationally named Sky. Volvo's corner of Manhattan's new Auto Row brings to mind the old Automobile Row's proximity to the glitz and glamour of Broadway; the dealership is right across the street from one of New York's two Upright Citizens Brigade Theaters, and, if you walk a couple of blocks east, you can catch a performance of "Kinky Boots" at the Al Hirschfeld Theatre. And, of course, Broadway and its legendary playhouses are only a few blocks north.
Enticing Environment
Given the dealership's high-profile location and the large number of competitors in the area, its General Manager, Nelson Guerrero, and Volvo corporate wanted to make the location stand out among the others by creating an environment that would welcome new and existing customers, as well as ease the stress of buying a new car or bringing in a car for maintenance, while at the same time boosting the signal of Volvo's brand. To that end, Volvo Cars Manhattan features an eye-catching Barco UniSee videowall that draws in people from the street. It also features an AtlasIED multi-zone distributed audio system that complements the dealership's Swedish-design-inspired coffee lounge, offering customers a place to relax in comfort while their purchase is finalized or their vehicle is serviced.
"It's really a boutique-type showroom," Guerrero described. "There aren't a lot of cars in the showroom. It's a very warm environment—a lot of wood facing, open lounges. You also see the screen, and that's completely different from anybody else…different from anything they've got up and down the street."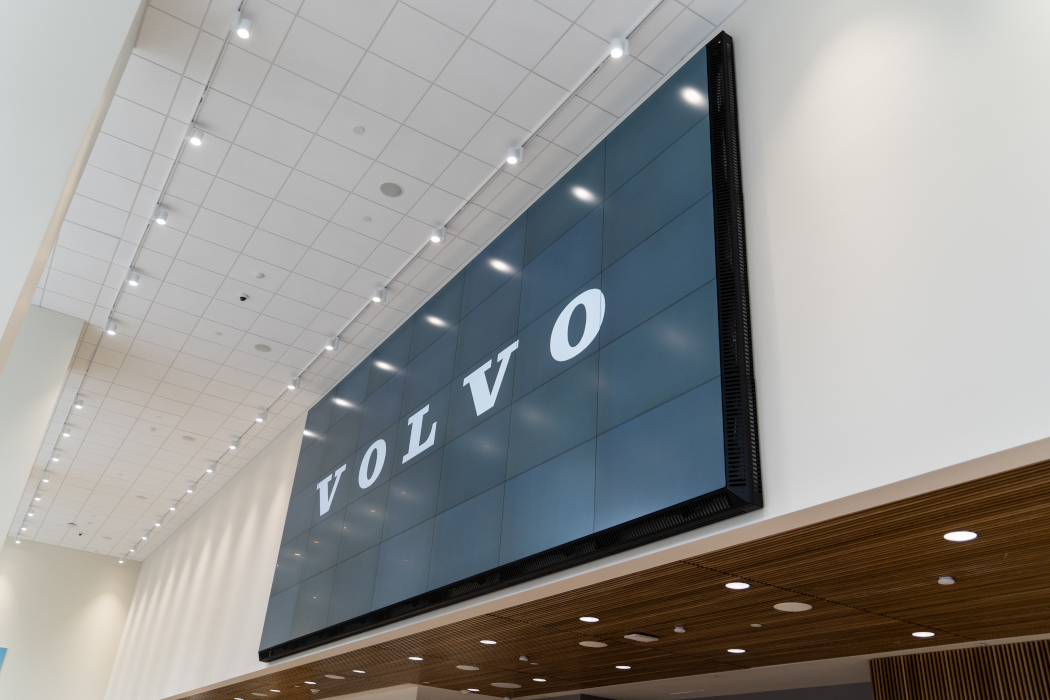 The videowall and audio system were installed by Pompano Beach FL-based Broadcast Systems (www.broadcastsystemsinc.com). Nick Ehr, Owner of Broadcast Systems, was the lead on the project. His team included Lead Technicians Chris Cacace and Reiner Rodrigues, Project Manager David Rashkin and Systems Engineer Tim Ralph.
According to Ehr, the client contracted Broadcast Systems for this project thanks to its previous work in the automotive realm. "We have a relationship with an auto group called the Experience Auto Group," he shared. "The Experience Auto Group had a Volvo endpoint—in the industry, they call them endpoints—for about two years up on 54th and 11th. They were closing down that endpoint and building this new store. It was funded by Volvo corporate, and the dealer operates the service and sales arm out of it. So, that's kind of where our relationship started with Volvo corporate. This was the first project we had done with Volvo corporate, but we had done many other Volvo dealerships and dealerships that were operated by the Experience Auto Group."
Ehr explained that car manufacturers tend to foot the bill for their Auto Row dealerships, rather than the dealers that operate the spaces on a day-to-day basis, because the trendiness of the area and the large amount of pedestrian traffic make it ideal for building brand awareness. In addition, the new Auto Row is within walking distance of the Jacob K. Javits Convention Center, home of the New York International Auto Show. "On 11th, that's where all the major car manufacturers put big money into these build-outs, so they can have their presence and their brand known," he shared. "For instance, this was a multi-million-dollar build-out. Because most dealers aren't going to put that sort of money into building out a space in Manhattan, it's sponsored heavily by the manufacturer."
Broadcast Systems was able to build a relationship with Volvo during the construction phase of the project; that proved invaluable to the integrator's effort to create the customer experience the client was seeking. "One of the things that Broadcast took on was that we flew up to New York [from Florida] every month for 18 months to go to the monthly meetings," Ehr recalled. "We were a very small scope of work in a very large project, but, by being there, I think it gave the end user the confidence in us that, you know, we're a tangible company…we're there. And just by being part of that process, we were able to produce the results the end user wanted, at the price they wanted."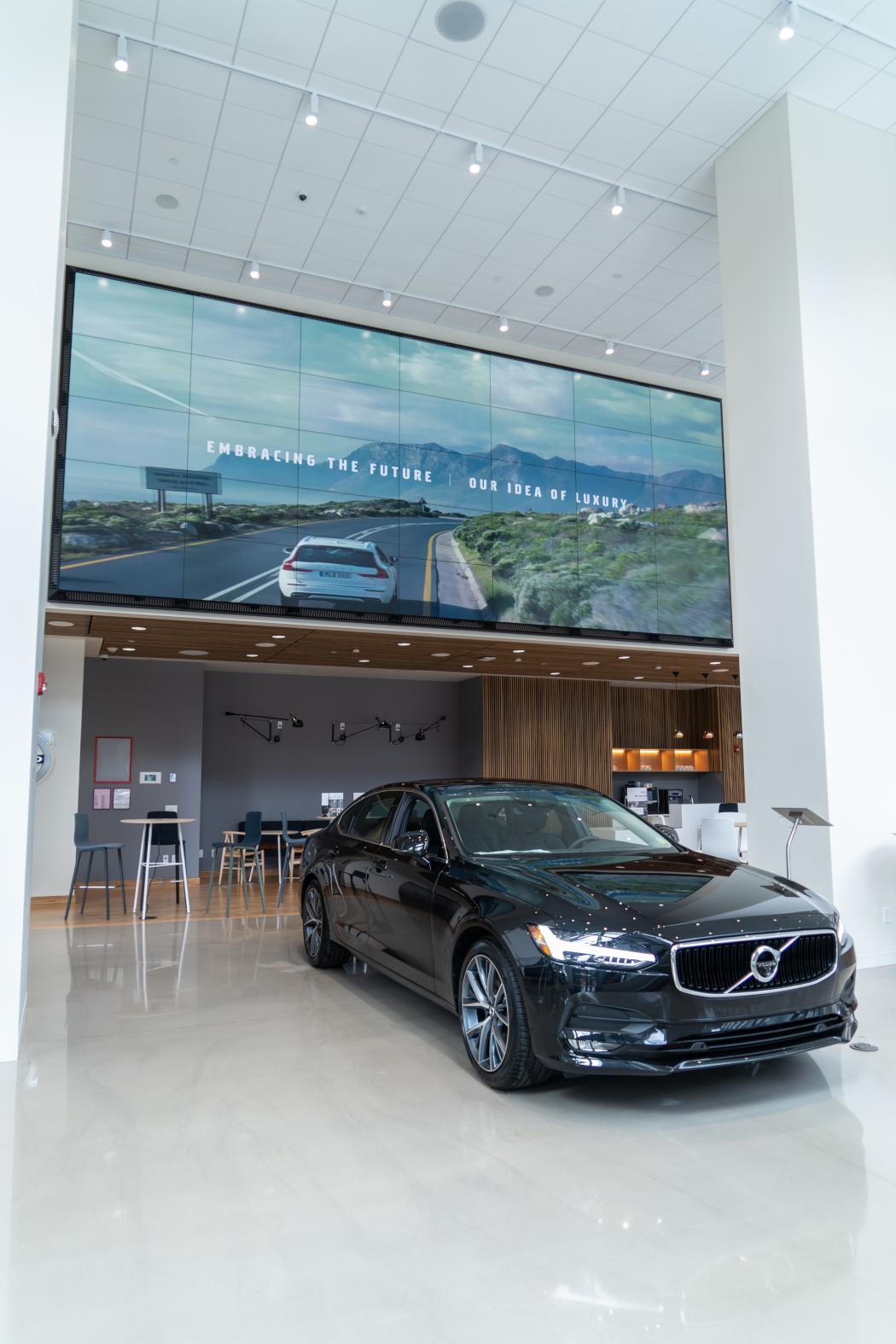 Promote The Brand
For its part, Volvo wanted to maximize the dealership's ability to promote the Volvo brand by using video technology in the space. "It wasn't a selling point; it's just an awareness thing," Guerrero offered. "People passing by on the street are looking at our cars in motion, looking at how Volvo represents family, safety, technology, design—all that is supported through the screen. With the cars just standing in the showroom with the lights lit, they do create a certain emotion in customers. But watching them in action on the screen…. These days, obviously, since the mobile revolution, everybody's always looking at screens. Even if they're reading, they're reading off a screen. So, this makes the visual aspect a better method of communicating to customers."
As Ehr put it, "This is really a brand-awareness experience center for Volvo. They wanted to create a space that could represent their brand—because of the address—and then also a space where they could do auto releases and parties. That's where the videowall came in—they have the ability to share their brand with the public, because they get all that foot traffic along 11th." He added, "My feeling is that they were so interested in a large-scale videowall because digital signage is how people are getting their brand across—at least today, from what I've seen. We have quite a bit of experience with installing that kind of stuff, so we were able to come up with a pretty comprehensive design for an easy system that we could remotely manage."
Volvo allowed Broadcast Systems quite a bit of freedom when it actually came to designing the videowall. "This sounds really funny, but the only thing they said was, 'This is the size of the display we want. This is the price point we have to be in. However you want to design it, we're OK with it,'" Ehr recalled. "It was a dream client. They were just extremely mellow and really easy to work with."
Ehr weighed several options for the videowall before deciding to go with Barco's UniSee. "Picking a brand for a videowall, there's obviously a lot of choices out there," he said. "I compared factors like power consumption, brightness, resolution and the thermal load that these things produce. And I was also looking at the mounting system for sustainability. Then, one of the other really big things was bezel width. So, we started taking these things into consideration. This was right when UniSee was hitting the US market, and I was like, 'Man, this product is almost too good to be true.' At the retail price point, it was a little bit higher than the competition, but it seemed to have a really comprehensive mounting system. So, we ended up speaking with the people over at Barco, and we got the spiel and started diving into the product more. It seemed like it would really fit the bill for what we wanted to do here."
Broadcast Systems specified a five-by-seven UniSee wall, which would be mounted using the product's associated UniStrut rigging. Working with UniSee posed some challenges for Broadcast Systems, but Her emphasized that the finished product was worth it. "For my company, this was probably one of the more challenging installs that we've ever done, just because everything with this product is about precision," he shared. "I'd have to say that the installation itself was extremely difficult, but the end result exceeded my expectations."
Mounting System
Getting used to the UniStrut mounting system was one of the biggest hurdles Broadcast Systems had to overcome; to that end, Barco Field Services deployed two technicians to help facilitate the mounting process. Still, there was a learning curve involved. "Everything was in metric, which is kind of an interesting starting point for a US company, but, after doing a big project in metric, you definitely see the value of it," Ehr explained. "There's an entire UniStrut system on the back of the wall that we installed, and then we mounted the mounting system to the UniStrut. That, by far, was the most challenging portion, because we had less than a 2mm delay in tolerance, so everything is in line within 1mm to 2mm. And with the size of the wall, 1mm to 2mm on the starting end can be a huge problem at the back end. So, that took us about three days to lay out."
According to Ehr, the benefits of the UniSee design became clear once the time came to mount the actual display panels. "We got the [mounting] system up, everything was pre-cabled, and then, what's amazing is, you go up on your lift—this is definitely a two-person process—you insert the panel onto the videowall mount, and you just gently push it back, it clicks into place and it's there," he enthused. "Then, you start working to the right, and there are some microadjustments you can do on the mount itself. But, once we got going, we were actually able to hang all the displays in about a day."
Ehr also pointed to UniSee's easy serviceability as a major plus. "What's fascinating is, you can't even stick a credit card in between these displays," he said. "But there's a system of cams that, if you go to one of the columns, and you stick in an Allen wrench and turn it clockwise, will lift the entire column up and to the right simultaneously." He continued, "Then, you go to the next row over, if you want to remove, for instance, two of the displays to the left, then you raise that row up halfway and you're able just to hit a button, and they pop right out."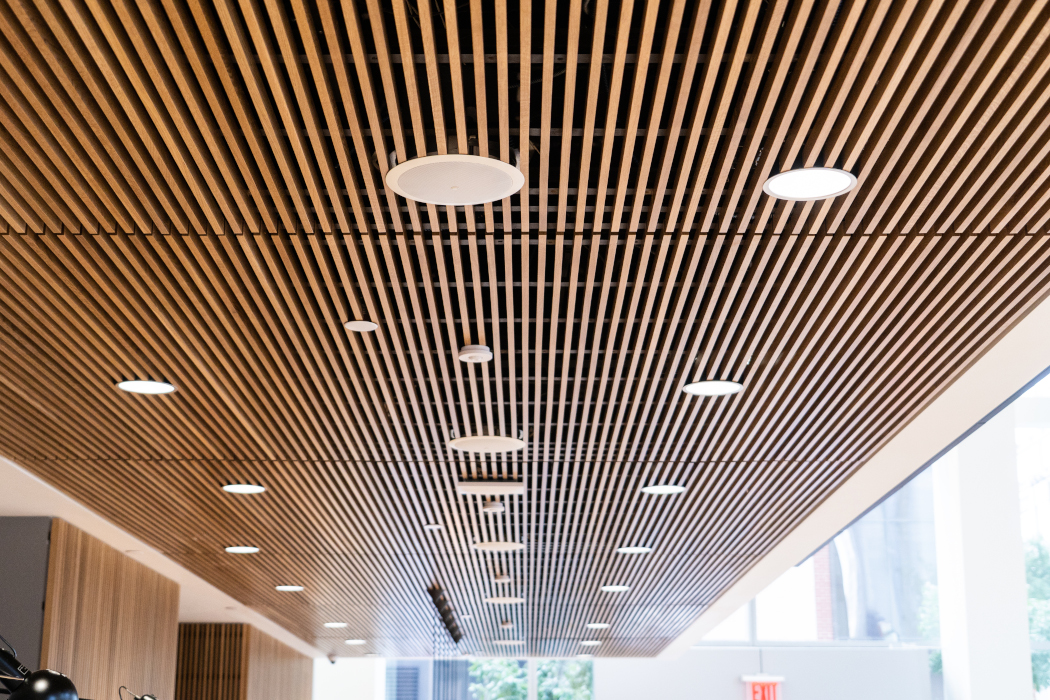 After working with UniSee, Ehr was impressed with its meticulous design. "If you like mechanical things, it's really a fascinating mounting system and it all just kind of makes sense and works," he said. "The first time we opened up the mounting system and looked at all the mounts, [I thought,] 'What an amazingly thought-out and engineered product.' The people at Barco really put a lot of time and thought into how it all works. It's kind of like when you're 10 years old, you play with your first Transformer and you're like, 'This is amazing! How does this thing go from a dinosaur to a robot?'"
The UniSee wall also features a custom-designed SmartTrim by Draper. "That trim kit was custom made for us, and it was the first Draper/Barco trim kit, I guess, in the world," Ehr said. "It took them a little bit of time to get that to us, but Barco got together with Draper and Almo, the distributor through which we purchased all this, to make it happen. A gentleman [at Almo] by the name of Jeff McGinnis really spearheaded it and facilitated us getting the product in a somewhat reasonable period of time, considering it was a custom solution."
Content is fed to the videowall via a unique media-distribution setup involving an ENS web portal that is used to upload content, a Dell network switch and Azulle Tech S.A.M Sticks that pull the content from the ENS web portal, and a ClearOne encoder and several decoders that format the video and send it from the S.A.M Sticks to the displays.
According to Ehr, the ENS portal enables Volvo to easily upload, manage and monitor the video content shown on the UniSee wall. "ENS whitelabeled a portal so Volvo has the access to go upload content to that videowall any time of day," he explained. "They just have a client portal that they log into, they can upload any format and they can control the amount of times a video plays and in what order it plays. They can see the runtime of their content, they can see the health of all the video players and they can manage that all from wherever they want, which is nice, because, as the integrator, it's one less piece I have to manage."
Video Distribution
The video-distribution system uses two Azulle Tech S.A.M Sticks as mini PCs that pull the video content from the web portal. "[The S.A.M Sticks are] flashed with ENS' hub," Ehr described. "ENS has a relationship with Azulle Tech where they have custom software that's flashed directly from the manufacturer. That's the gateway, so that touches the internet, and that brings all the content into the S.A.M Sticks. From that point, they're just video players." The video content is distributed to the UniSee wall, as well as two client-furnished Samsung flatscreen displays.
The S.A.M Sticks plug into a ClearOne VIEW Pro encoder, which sends the formatted video signal to 35 VIEW Pro decoders—one for each panel of the five-by-seven videowall. "We started looking at a way to get a dynamic image across a giant screen that will handle scaling, because one of the biggest obstacles I noticed was that we didn't have a proper format [for the video]," Ehr said. "ClearOne was able to offer the scaling solution and the ability to stay dynamic, so, if we wanted to chop up the videowall into squares that would fall across the seams of the displays, we'd be able to produce that sort of image on the wall at a cost-effective price point."
A Barco Green BCM Box is used to adjust the color temperature and the image for the UniSee wall. "It's used for fine-tuning the image, and it's also a management piece," Ehr said.
The Green Box and all the ClearOne components are connected to the Dell server so that Broadcast Systems can monitor and control the system remotely. "We loaded the [Barco Green Box, ClearOne VIEW CONSOLE and ClearOne VIEW Pro PANORAMA] software on the server, so the Green Box talks to the server and all the ClearOne pieces talk to the server," Ehr explained. "Everything is set on a different virtual local area network (VLAN), so none of the devices on the server actually touches, so we don't have to worry about packet loss. ClearOne's really sensitive to that." He continued, "I can log into the server remotely, and I can see the temperature of all the displays. It's hooked to our email server, so, if anything gets hot, we get an email instantly. We're able to check on the health of the monitors. We can update firmware remotely, we can power cycle remotely and we can touch every mini PC that's running the videowall remotely."
According to Ehr, "If we need to change even the layout of a panel, I can do all that from Florida. I wanted all IPbased products, because I don't want to have to travel 2,000 miles if someone says, 'Hey, can you add another source?' or 'Can you change the color of the panel?' or 'This panel looks a little too red.' Ninety-nine percent of things, unless it's a catastrophic failure, we can manage. I can do it off my cell phone."
The videowall displays a mix of content, curated by Volvo, that prominently features the Volvo logo, as well as a number of recurring lifestyle advertisements. "A video will play, and then it displays the logo for five minutes, and then a video plays, and it just loops," Ehr described. "But, if they ever want to change it, it's really simple. We can upload content from their YouTube channel, social-media links…. It's a pretty robust system."
For the audio component of the equation, Volvo wanted a multi-zone distributed-audio solution that would be easy to control onsite and that would not clash with the clean lines of the showroom. "Volvo just said, 'Look, it has to look clean. We're a European company, and everything in our designs is that Scandinavian look,'" Ehr recalled. "So, for us, it was really challenging, because how do we get something that sounds halfway decent that's not a gigantic box hanging from the ceiling or wall?"
Broadcast Systems decided to install an AtlasIED distributed system with 46 in-ceiling speakers and seven in-ceiling subs divided among five different zones. "We ended up using the engineering department out of Atlas," Ehr said. "They have a great online engineering tool." He continued, "We put in all the specifications, and, personally, I thought it was a little crazy. I was like, 'There's a lot of speaker density in here.' [In the lounge alone,] there are 11 speakers underneath there, and a sub. But we put all the speakers in that the computer said for us to do. It's a 70V system, but we just overtapped everything. So, we took the maximum tap of the speakers and gave it the max amount of power with the maximum overhead on it. The DSP helped a lot. And Atlas was able to throw in the edgeless grilles on the speakers for us, which was something Volvo really liked. It's the little things."
The audio system can be controlled onsite for volume adjustments and source management. According to Guerrero, it was important to divide the audio system into zones to control the ambience and enhance the customer experience in the various areas of the dealership. "We have different areas—five areas in total—that we control different volumes for and the music we want to play," he described. "For our lounge area for the customers, we make it a nice, low level of music. The main showroom area, we turn it up a little bit just to keep it a little jazzy and keep some ambient noise going on. We have a virtual reality (VR) room [designed by Volvo corporate] where you can customize your car, build your car and pretend that you're in the car; for that, we put the music up a little more so it's a more festive environment…a little more happening. Downstairs in service, we have speakers not only where the service providers are, so they can have a little music to work with, but also where the customer pulls up in the service drive, so they can hear something welcoming and warm, not the machines in the shop, the minute they get in."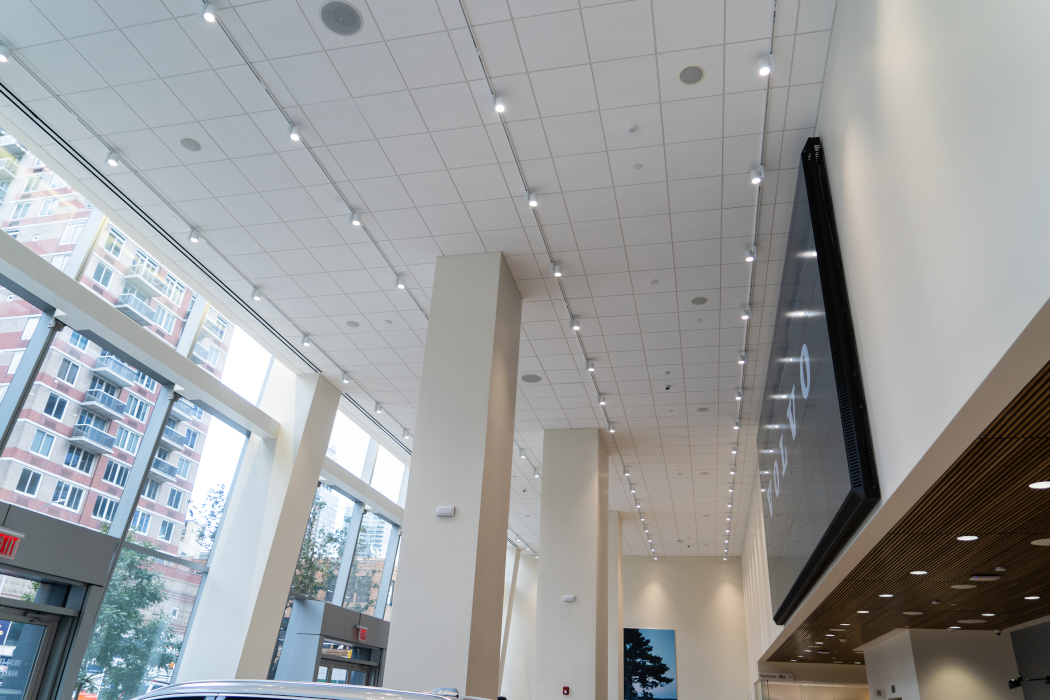 An AtlasIED BlueBridge DSP was used to fine-tune the audio in the various zones. "Each zone actually has its own DSP setting because each zone has such a different sound dynamic," Her said. "So, the big room, the speakers are [mounted] very high, and you get a lot of reverberation in there; we were able to use the DSP to balance out that room. Under that 9Wood ceiling [in the lounge], the speakers are practically on top of your head, so we were able to use the DSP to fix that. So, the DSP was kind of our way to give each room that warm sound the customer was looking for, without having to put in a lot of different pieces."
Several measures, including the installation of an APC uninterruptible power supply (UPS) and Tripp Lite power distribution units (PDUs), plus extensive grounding, were taken to protect the audio and video systems from power surges and outages. "We had the electrical contractor provide local power at the wall, so we're using local surge suppression at the wall," Ehr said. "We did local grounding at the wall, so the electrical contractor provided a grounding point and we grounded everything at the wall. So, I know that, if anything comes off the power side, it will find ground at the wall side. Then, at the rack side, everything is grounded into the rack, and the rack is grounded into a bus panel that goes to the building ground. And then, we also have all the individual amps and surge suppression and PDUs all grounded to this bus bar. So, we have a component of surge suppression, we have battery backup and we have ground. Everything is independent, it's all grounded and it's not going to jump into anything else."
Guerrero was very impressed with the service provided by Broadcast Systems and its ongoing support of the system. "I have Nick's cell phone, and, if there's anything I need, within five minutes, I get a text back," he shared. "He's just on the money with it."
For its part, Volvo was extremely satisfied with the completed system. "Everything came out fantastically," Guerrero exclaimed. "No one who's ever come here from Volvo corporate has ever said they don't like the way this thing is finished. They're just amazed by how good everything looks. They want to do auditions here for the new training company that they're looking to hire to train personnel for the Volvo Academy. They want to show off to the world what this prime-location flagship store looks like."
And Guerrero's employees were especially enthusiastic about the videowall. "They think it's very cool," he said, "and they're always telling me to get one of the next UFC fights or boxing matches and put it up there so we can all come out to the lounge and hang out."
Equipment
1 APC SMC1500-2UC Connected Smart-UPS
1 AtlasIED BB-88 BlueBridge 8-input x 8-output networkable DSP device
1 AtlasIED BBWP-K4W BlueBridge controller w/4 level controls (white)
1 AtlasIED BBWP-TOUCH7W BlueBridge 7″ touchpanel wall controller (white)
2 AtlasIED CP400 dual-channel, 400W commercial power amps
1 AtlasIED CP700 dual-channel, 700W commercial power amp
23 AtlasIED FAP63-TR construction rings for FAP63T-W speakers
46 AtlasIED FAP63T-W 6.5″ coaxial in-ceiling speakers w/32W 70V/100V transformers
2 AtlasIED FAP82-TR new construction rings for FAP82T and FAPSUB-1 speakers
7 AtlasIED FAPSUB-1 8″ tuned ported in-ceiling subs w/60W 70V/100V transformers
4 AtlasIED PA1001G single-channel, 100W pole-mount amps
2 AtlasIED PA702-RMK rackmount kit for half-rack-width amps in full-width racks
2 Azulle Tech S.A.M Stick digital signage solutions
1 Barco Green BCM Box
36 Barco UniSee 55″ LCD videowall displays (1 spare)
3 Cisco SG350-10MP 10-port gigabit managed switches
1 ClearOne SwitchLinX SW2048 high-performance network switch
1 ClearOne VIEW CONSOLE configuration-management software
35 ClearOne VIEW Pro D210 decoders
1 ClearOne VIEW Pro E120 encoder
1 ClearOne VIEW Pro PANORAMA video-composition and videowall layout-configuration software license
1 Dell PowerEdge R610 Server 2x 3.33GHz X5680 6C 48GB
12 McMasters 1078N13 Class 10.9 high-strength steel threaded rods
15 McMasters 3259T35 strut channel nuts, zinc-plated steel, M10 thread size
16 McMasters 3310T514 strut channel, low-profile, slotted hole, primed steel
75 McMasters 3585T11 strut channel no-spin washer, zinc-plated steel
5 Tripp Lite PDU1215 1.8kW single-phase 120V basic PDUs
5 Tripp Lite PDUV15 1.44kW single-phase 120V basic PDUs
List is edited from information supplied by Broadcast Systems.