Short-term COVID-19 adaptations dovetail with larger industry transformations. Watch out for these collaboration trends going forward.
Even before the spread of the novel coronavirus (COVID-19) began, the world of business collaboration was in the midst of a rapid transition, with applications shifting to the cloud, team collaboration converging formerly separate applications, and both IT and business leaders looking for new ways to measure value from their investments. With the current and likely future impacts of COVID-19 in mind, let's look at five key trends that AV and IT leaders should be aware of as they not only meet the short-term challenges of the pandemic, but also position their organizations for long-term success.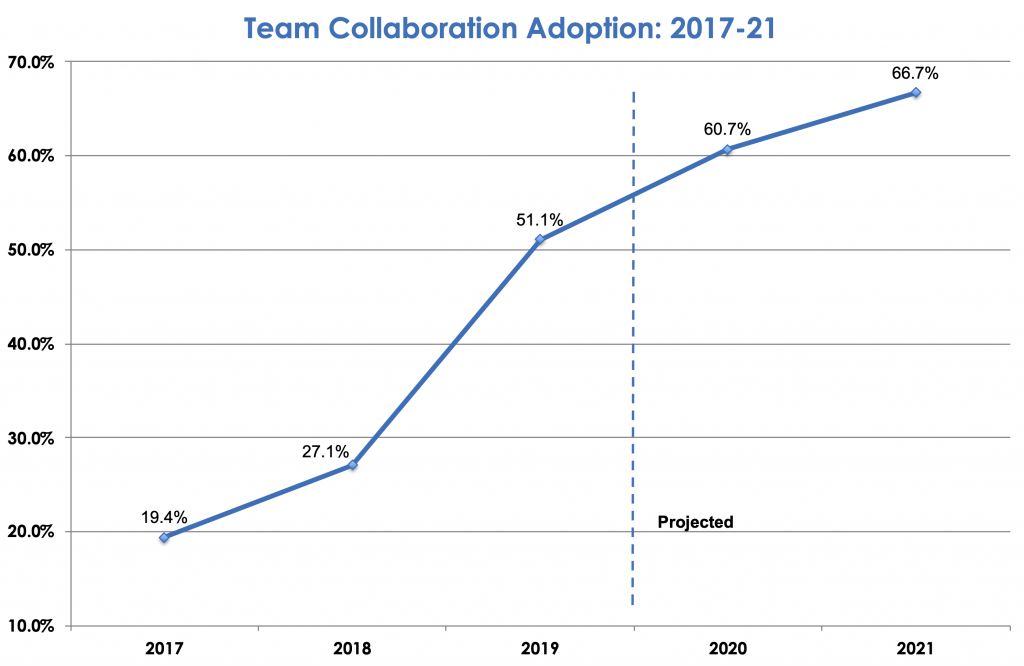 Working from home becomes the norm: The most immediate effect that COVID-19 has had is a rapid—indeed, almost immediate—shift to working from home whenever possible. This mass migration of folks out of the office has created several challenges for those who are responsible for collaboration. In the short term, the two biggest challenges are 1) ensuring that home workers can still effectively collaborate with their virtual colleagues, and 2) ensuring that there is sufficient home-network performance to support technologies like videoconferencing. IT and AV leaders are scrambling to assist new home workers in their efforts to obtain sufficient network capacity, ensure acceptable wireless coverage and even design proper lighting to support high-quality video experiences.
Video is everywhere: The second key trend, although it builds on the first, is one we've been tracking for the last several years. Research data from Nemertes, gathered from hundreds of end-user organizations around the world in mid-2019, found that 76 percent were now using room-based videoconferencing and 68 percent had deployed desktop video (to almost half of all desktops). Thanks to falling prices, easier-to-use and easier-to-deploy applications, the rise of cloud-based services and a workforce whose members are bringing their familiarity with video from their personal lives to the workplace, video is finally realizing its potential to transform interpersonal communications. What's more, video goes beyond conferencing. We've continued to track strong and growing interest in video-based content delivery and management, as smartphones, webcams and conference-room systems allow virtually anyone to record and stream video to workers, customers, prospects and partners.
Team collaboration is the new hub for work: Team-collaboration apps integrate messaging, calling and meetings into a unified hub that provides for contextual communications and collaboration. Organizations increasingly view team collaboration as the single place where individuals can go to do their work. Thanks to integrations that range from project management, to HR applications, to service management, team collaboration eliminates the necessity to task-switch between different applications to work. Today, almost 70 percent of organizations are either using team-collaboration apps or on track to do so by the end of 2021.
It's a cloudy world now: Except for the largest organizations, meetings have rapidly shifted to the cloud thanks to apps like BlueJeans, GoToMeeting, Microsoft Teams Meetings and Cisco Webex, as well as those from Pexip, Zoom and many others. Calling platforms are also shifting to the cloud, with 43 percent of those currently using on-premise private branch exchange (PBX) either evaluating moving to the cloud or planning to do so. Increasingly, companies are eliminating costly on-premise infrastructure like multipoint control units (MCUs), as well, in favor of cloud-based services.
Artificial intelligence (AI) transforming collaboration: AI has long been hyped for its ability to automate and optimize a variety of applications and processes. In the collaboration space, advances in AI are enabling real-time translation, transcribing, note taking during meetings and action-item generation. AI embedded in videoconferencing endpoints and platforms is providing optimized meeting experiences by improving framing, audio and video. AI-enabled virtual assistants offer the possibility of voice control of meetings, as well as action-item suggestions based on actual conversations. AI-based facial recognition can quickly start meetings and allow participants to learn about other people on the call.
All the trends elucidated here are likely to accelerate rapidly as vendors seek to differentiate themselves in a crowded market by improving the virtual work experience. IT and AV leaders should consider how each of the earlier-discussed trends will affect their current offerings, as well as how they can leverage those trends to support their customers' work-at-home needs.
To read our most recent edition of IT/AV, click here.