Fellowship Church Frisco and its satellite locations deliver a seamless experience.
We're all familiar with smart cars and smart homes. Well, Fellowship Church, based in the Dallas TX area, is a smart church. Founded in 1989, it grew from 150 members who met on Sundays in a rented facility in the suburb of Irving TX into an evangelical juggernaut of more than 24,000 worshippers each week. Now, congregants meet at 10 locations, including satellite churches in South Miami FL and North Port FL, as well as in Norman OK. Led since its founding by Ed Young, Fellowship Church has used modern church techniques to build its congregation. Those techniques include embracing contemporary worship styles, including plenty of music, and using specialized services for children to cater to youngsters and their parents alike. This mind for modernism applies to the church's AV technology, as well. Fellowship Church follows a path that, by now, is well trodden: It broadcasts and streams its main message to its satellite locations each week, framing it with local pastors and live music.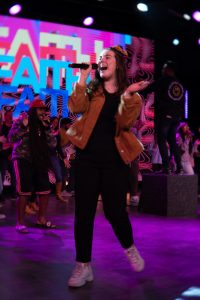 Very recently, Fellowship Church opened what Pastor Young calls a "co-main" location. The new church is located in Frisco TX, about 15 miles from the 20-year-old, 4,200-seat main location in Grapevine TX. It was built into what formerly had been a Gander Mountain superstore, which closed in 2017 after the retailer declared bankruptcy. For the new Frisco location, Fellowship Church worked with AV integrator Clark, which has offices in Dallas, Orlando FL, Atlanta GA, Denver CO and Los Angeles CA.
Seamless Experience
"Clark has worked with us on other locations over the years, so we have a good relationship with them, which is important for us," Dave Clark (no relation), Director of Media and Technology for Fellowship Church, stated. "It was especially important for us to be able to [make] Frisco a co-broadcasting
location so that Pastor Ed can shuttle back and forth between Grapevine and Frisco as he feels he needs to. [That way, congregants] have a consistent experience, regardless of where he's speaking from."
Clark said that kind of seamless experience has been Fellowship Church's goal for most of its existence. It came of age as evangelical worship styles in the US were shifting from the megachurch era to one rooted in satellite churches. That sea change introduced new requirements for AV technology, driving a shift to simpler user interfaces (UIs). After all, churches now had to rely on volunteers to operate multiple systems, across multiple locations, for worship services and other events. According to Clark, system standardization has always been part of the strategy, but it'll be emphasized even more heavily in the future, as the fiber-distributed signal between audio consoles and the LED-based lighting used at Frisco become the template for future expansion.
"The audio and video technology and how Marcos Gomez, our Production Manager, trains our volunteers has always been a big part of creating a consistency [in] how we deliver our message," Clark said. "The spaces and buildings may change, but we strive to keep things like the sound and graphics consistent between locations."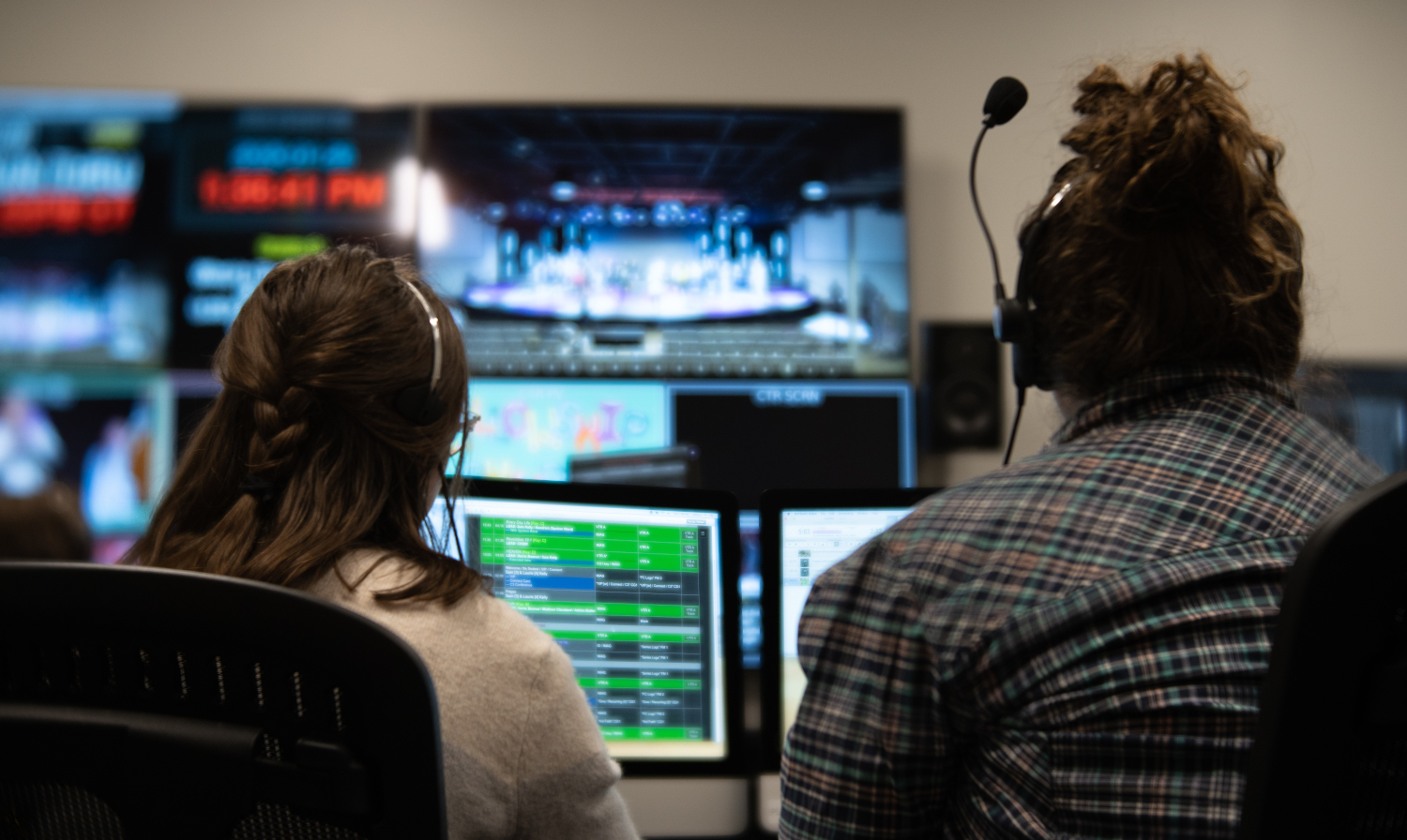 First Time For LED
The heart of Fellowship Frisco's video broadcast system is an SDI router from AJA Video. A 2ME Ross Video Carbonite Black panel and Carbonite Ultra engine switch content to the center LED wall, the side positioned image-magnification (IMAG) projectors and the other broadcast destinations. Fellowship furnished a pair of Sony HXC-D70K cameras with Canon lenses (which Clark had previously installed at another Fellowship location) to capture the local message. Message ingest/playout is from a Living As One server—a cloud-based, multi-stream, time-slip product that gives Fellowship's team the flexibility necessary to change from which campus they broadcast each Sunday. Local graphics and video play out from Apple iMacs that run ProPresenter and Softron software.
When Pastor Young isn't live onstage in Frisco, a 23'x13′ Coleder ROAD READY 3.9mm LED videowall serves as the centerpiece of message delivery. A pair of 12,000-lumen Panasonic laser projectors illuminates 16'x9′ Da-Lite Cinema Contour projection screens that flank the center LED wall. Bob Nahrstadt, Senior Video Engineer and Senior Design Consultant at Clark, color-calibrated all the displays so that color rendering across all three would be precise.
"What makes the Frisco location different from other Fellowship churches is this is the first time they've used an LED [videowall] as the main screen," Nahrstadt explained. He added that the decision to do so was a collaborative one, made by the church and Clark's consultants, including Peter Fitton, who worked with Nahrstadt on the project. "They have LED displays at other locations, but [it's never been] as the primary display. The Grapevine church uses Christie projectors for its main display."
The challenge entailed by combining LED and projection for worship services, Nahrstadt observed, is to achieve the proper balance between color and intensity. "The dynamic range and intensity of LED is much higher than that of projection," he noted. "So, the [biggest] concern was to make the side screens as bright and with as much contrast as the LED display." That meant choosing three-chip projectors, which, in this case, were Panasonic PT-RZ12KUs.
"You're never going to get an exact match, but three-chip projectors will get you the closest," Nahrstadt opined. That conclusion is based on ongoing tests that Clark conducts in its own research facility. "Internally," he began, "we spend a lot of time comparing different projectors with a variety of LED products, including the Coleder LED wall used at Fellowship." [Note: Clark is a US importer for Coleder.] Nahrstadt continued, "Then, it's a matter of properly positioning the projectors so that it's a good field of view of all three screens for the audience." That last task was especially challenging because the space, formerly built for retail, had flat floors with no rear elevation to help those in the back rows see the stage evenly. A combination of 3D modeling and using mockups onsite, before final component installation, empowered the team to succeed.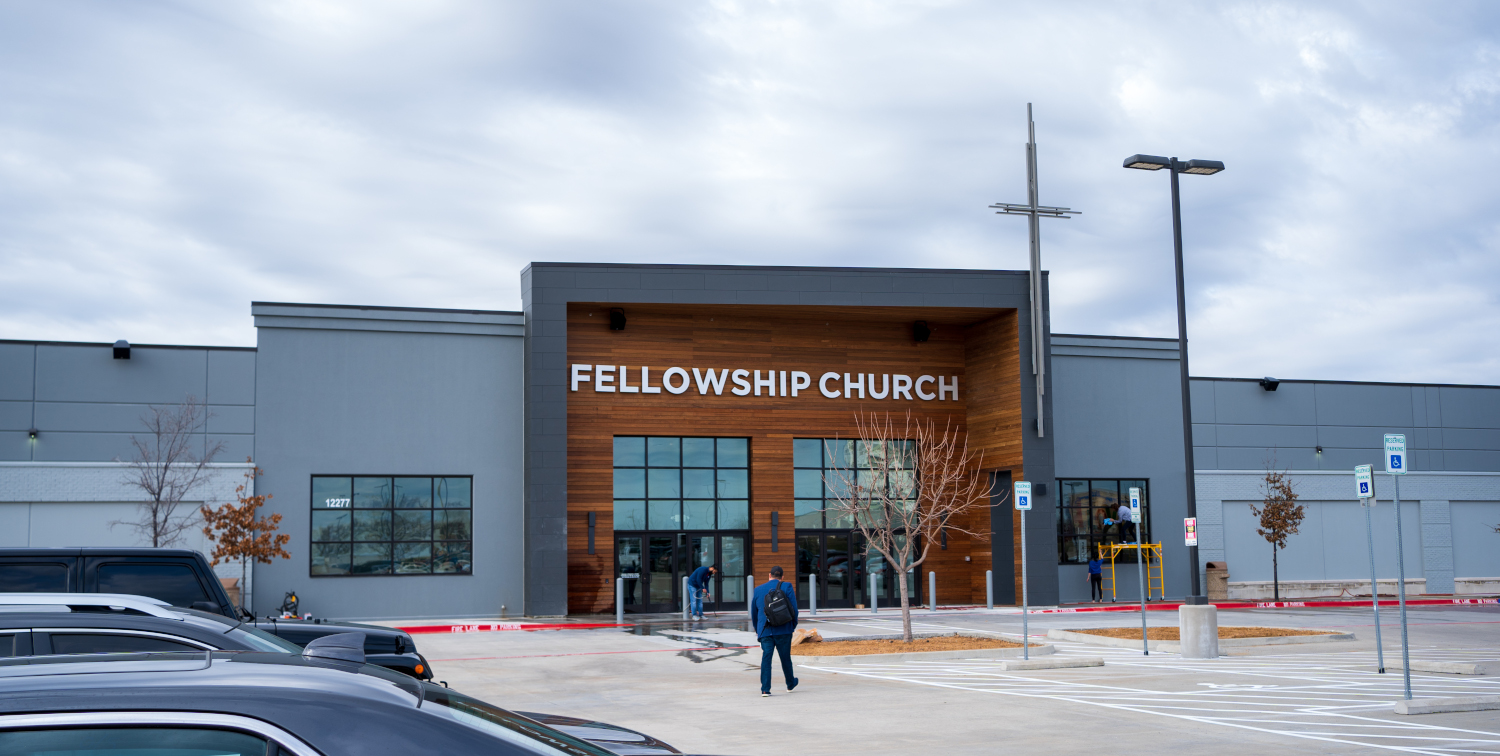 With respect to equipment choices, an eye to goals such as balancing LED and projection imaging had a big effect, but, as Nahrstadt pointed out, the volunteer reliance that's common across multisite churches also affected equipment selec tions. "We needed to keep in mind [not only] the look and feel of the different locations and how equipment decisions affect that, but also how [equipment choices] impact the volunteers who will be running things," he said.
Nahrstadt continued, "We tried to stay with technology platforms that [volunteers have] used in the past, such as Sony cameras, Ross Video switchers and DiGiCo consoles, and [we tried to stick with] vendors that are considered industry standards and widely used in the house-of-worship sector. We can also stay with those platforms from location to location, even as the technology progresses, because most of them will be able to upgrade through software or firmware." He added that his staff programmed the Ross Video dashboard, enabling it to be used by a single volunteer for non-service events; that reduces staffing needs and associated costs. "Whenever we could, we adapted the AV interfaces for volunteers and [for] fewer people, while still keeping the technology level sophisticated," Nahrstadt affirmed.
Displays from NEC and Sony are used for the stage prompter, as well as for control-room and backstage monitoring. A Crestron control system provides centralized control of all displays, projectors, power sequencing and environmental audio throughout the entire campus. For control, Clark's in-house Crestron designer and programmer developed a mobile UI to allow for on-the-go touchpanel access using a tablet or smartphone.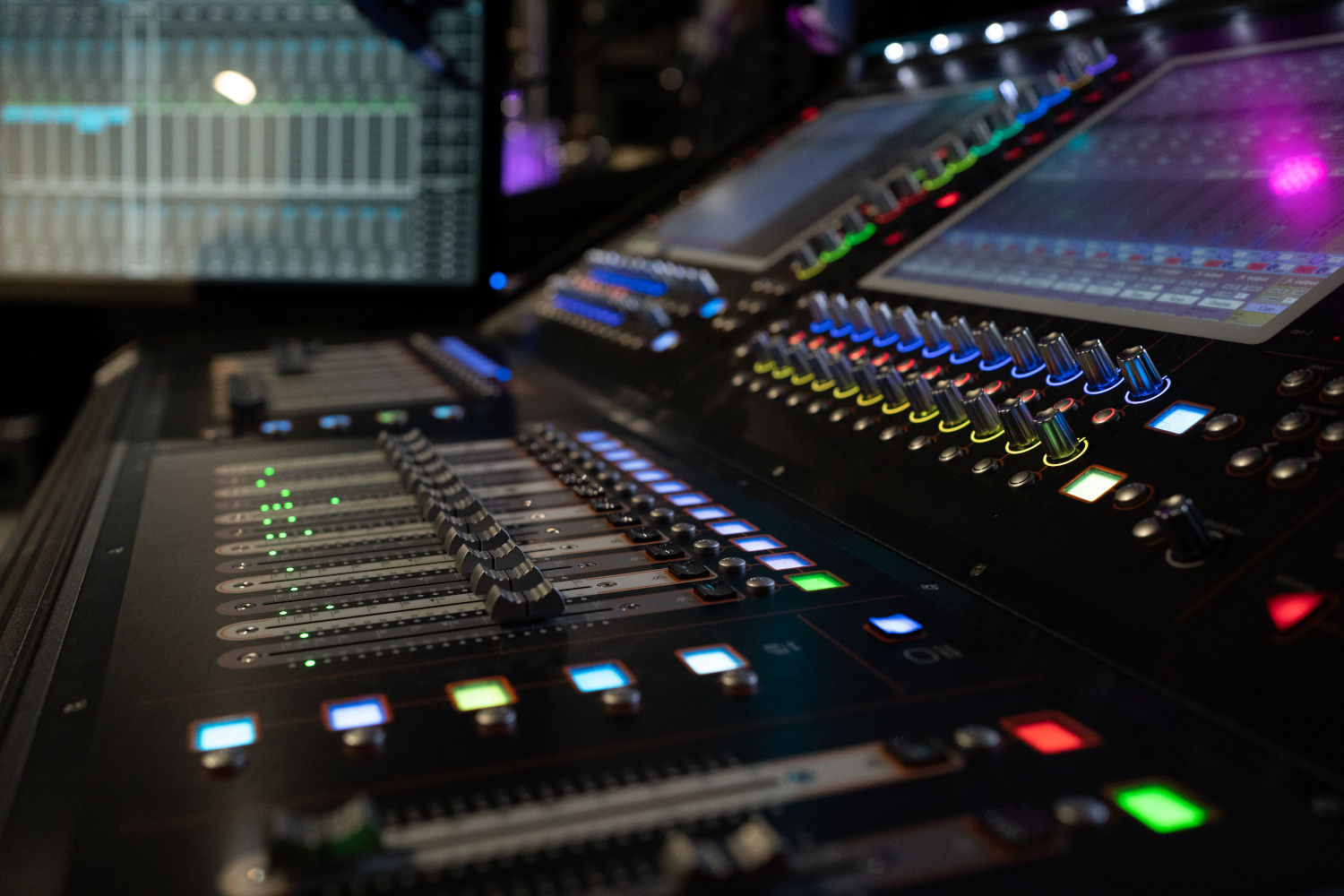 Lighting Design
In order to create continuity between campuses for Sunday services, Fellowship's Lighting Designer, Daniel Page, provided broadcast-level key lighting, but with user-friendly operation for the volunteer team. Paul Green, Clark's Creative Director, specified MA onPC—a budget-friendly control option that uses the same software the Fellowship team was already familiar with from the Grapevine location. The lighting design includes all the following: 18 Chauvet COLORdash Batten-Quad fixtures (12 of which are mounted vertically onstage), six Rogue R2 washes, 18 COLORado 1-TRI tours and six Maverick MK1 spots. Key light is an array of 34 Ovation E-260CWs. Clark designed an sACN net work backbone for all lighting communication in the facility, built on Pathway connectivity gateways. In addition to MA onPC control, Pathway Vignette wall stations are located throughout the main auditorium, as well as in the church's spaces for children's worship and teaching. This offers an easy way to recall presets in those areas.
According to Green, lighting for remote services means making compromises, especially in an environment in which both LED and projection are combined. "In situations focused solely on broadcast, you're lighting for the camera, trying to balance the color and intensity of the different light sources in the room," he explained. "But, in a church environment, you have to light for the camera and the audience. It's a tightrope walk. The audience is just as important as the broadcast is. A color may not look exactly the same [from the seats and the displays], but you make choices that look great in both places."
Seeking seamlessness between church locations is a lofty goal, and, unfortunately, it's one that is largely unattainable. According to Green, the real goal is to make the experience as distraction-free as possible. "When you make the transition from live people on the stage to the image of the pastor speaking on the screen—from reality to video—you need to make that transition as smooth as possible," he stressed. "[You have to] make sure the stages are similarly lit; there are no sudden changes in volume; and the lighting and video and brightness line up as much as possible."
One way to help that process is to keep the technology between locations similar so that volunteers can operate it effectively. Another strategy is to simplify the interfaces, when possible. As an example of the latter point, the Frisco location uses the MA onPC software, a PC emulation of an entire grandMA console for editing and processing show cues. "That lets users color bounce between locations and use many of the same show files, which contributes to achieving a consistent experience," Green said.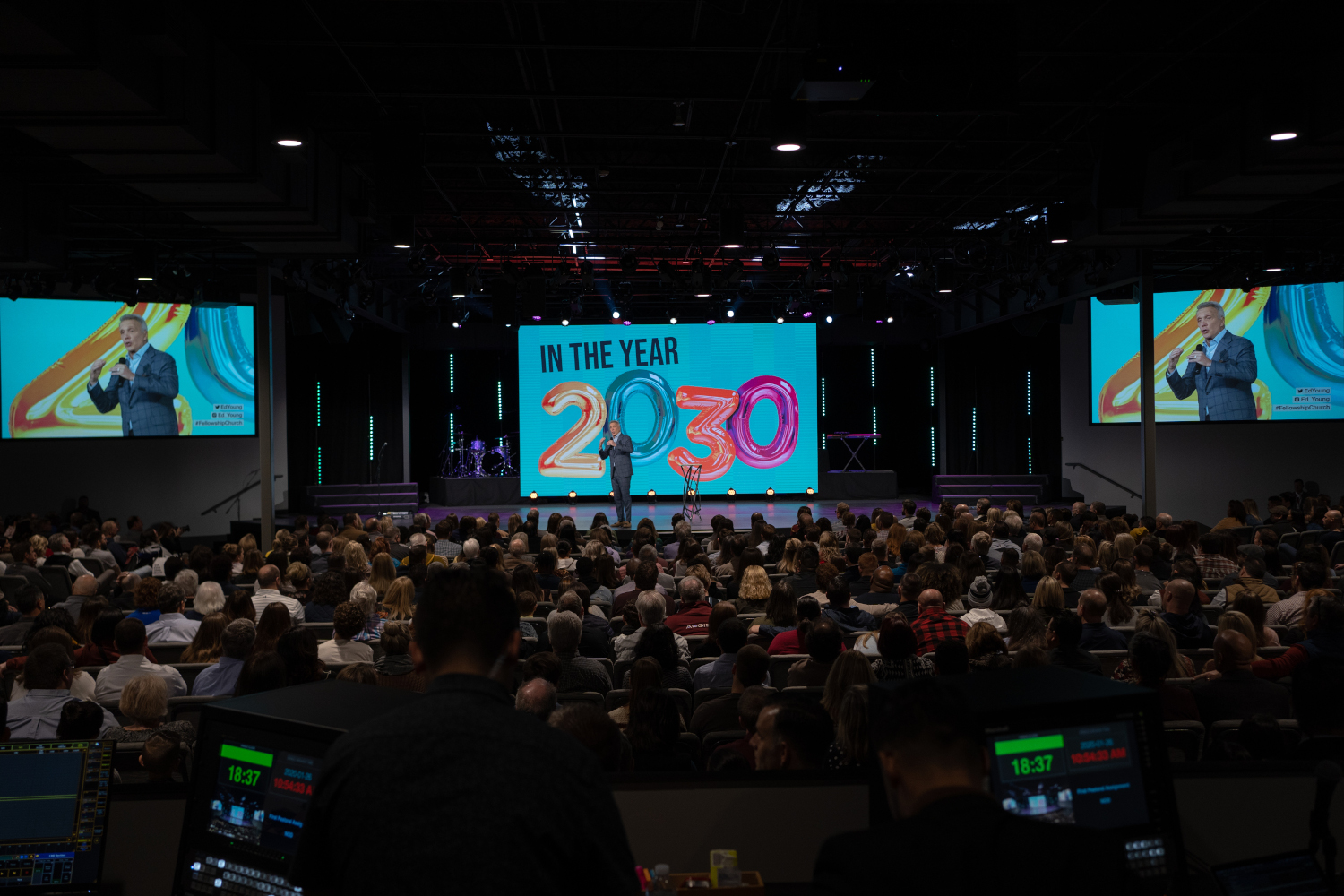 Low Ceiling Compels Point-Source Sound
Tom Donohue, Project Consultant and Acoustical Engineer at Clark, said the main sonic challenge that the Frisco location presented was its fan-shaped, 1,450-seat sanctuary. Reflecting its origins as a retail space, the room has low ceilings; that's not ideal for a performance venue. The designers chose a point-source speaker solution from d&b audiotechnik for the house PA system. The speaker complement is composed of a dozen 24S loudspeakers, along with nine 8S boxes for front fills. The main system includes four two-box clusters, flown across the front of the stage, consisting of a main loudspeaker and a downfill loudspeaker directly underneath the main. The loudspeakers are all flow in a horizontal (landscape) orientation in order to keep them clear of sightlines and projection cones. "If we would have had more vertical space, we could have gone with a line-array solution," Donohue observed. "But the 24S is a great box for point-source applications." He used a combination of d&b's ArrayCalc software and EASE software to design the audio system.
Donohue specified d&b's 21S subwoofers in nine cavities under the stage. There was concern that the large LFE array could leak sound out of the church and affect neighboring residential buildings, given that Fellowship's contemporary style of worship music can get loud. The design team ran several tests with recorded music, discovering along the way that the building would sufficiently contain the noise. Helpful to that effort was the application of some K13 acoustical treatment to the ceiling.
The team also discovered that a rattle stimulated by the LFE was due to some old heating, ventilation and air-conditioning (HVAC) machinery left behind in the ceiling from back when the facility was a retail store. "Once that [machinery] was removed, we had a very tight and powerful low end that wasn't going to bother anyone," Donohue confirmed.
Asked about the odd number of subs, Donohue explained that is an approach he likes to take for low frequencies: Having one sub in the center as a reference point against which to tune the low end of the system.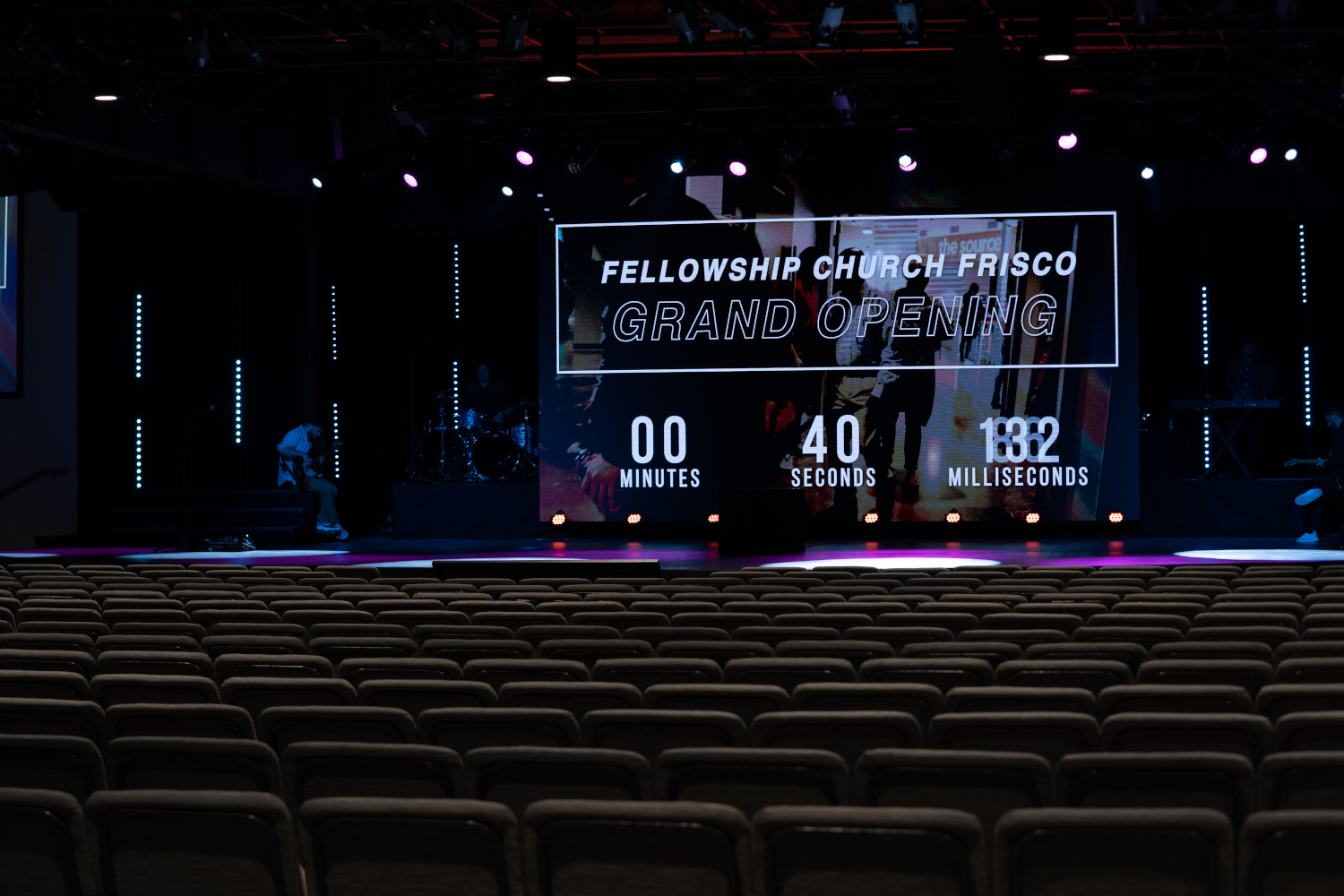 Clark extended acoustical treatment on the three house walls, around and inside the ductwork in the ceiling, and on the backstage walls. To extend the experience outside the auditorium for overflow audiences, the integrator installed PA components in the common gathering areas around the building, as well as on the building exterior. For that, Clark settled on 74 Crestron Saros speakers. A Shure ULXD wireless microphone system on a rolling rack allows the Fellowship team to travel outside and turn any space into a performance area.
A pair of DiGiCo SD12 consoles—a favorite of Fellowship Audio Engineer Kevin Bonnot—are at FOH and monitors, both running a Waves SoundGrid server. Shure ULXD and PSM900 wireless systems are also installed onstage, allowing Fellowship's vocalists and band to stay virtually cable-free.
The Fellowship Frisco could be the template for future locations, Dave Clark noted. "We really like what we've accomplished here, and [we] hope to bring some of these ideas, such as the LED fixtures back to Grapevine." He concluded, "It can be a challenge getting people to come to church regularly. But audio, video and lighting are important to the culture today, and it's important for making a deeper connection to people."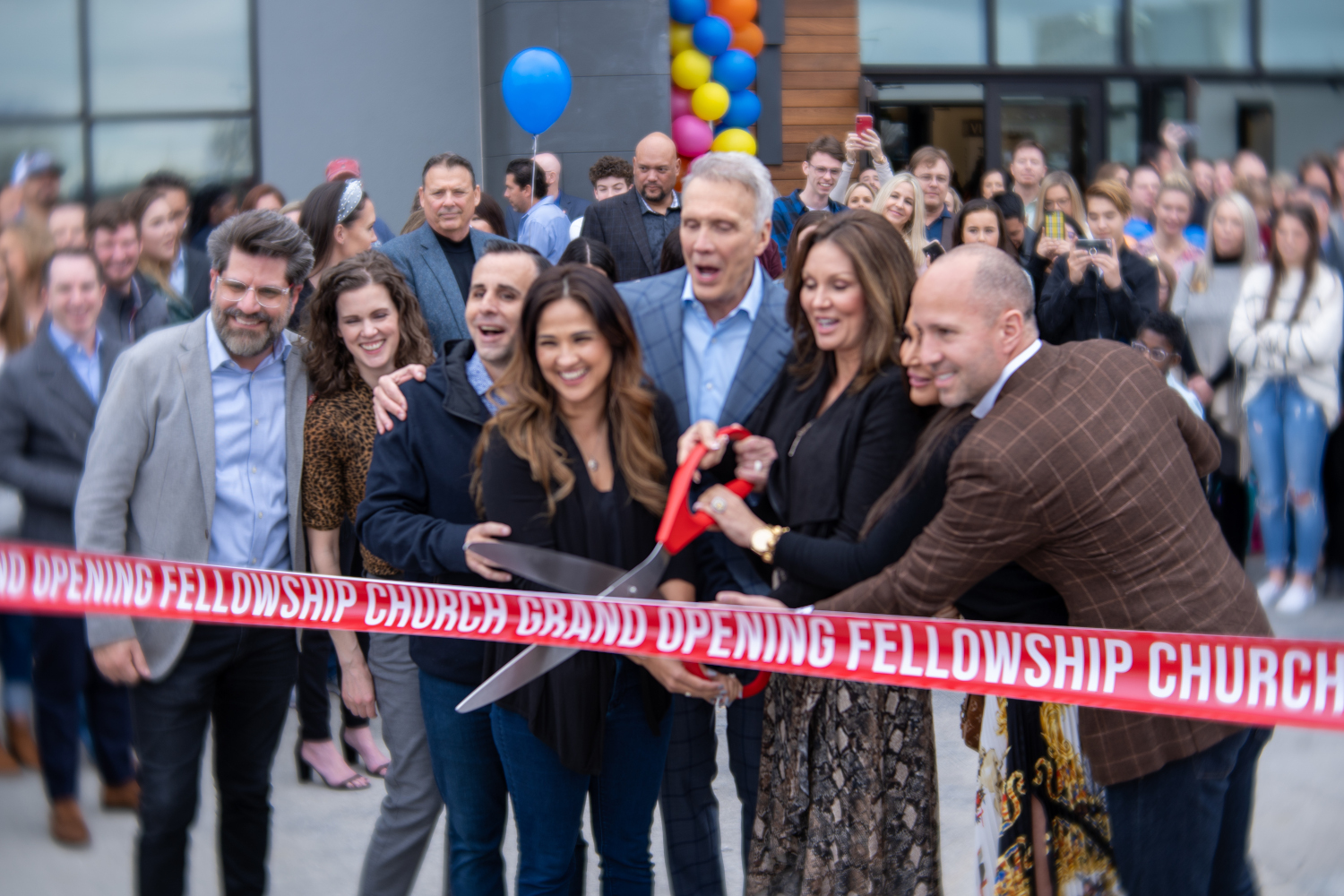 SELECTED EQUIPMENT
1 AG Neovo SC-22AH 22″ LED-backlit LCD surveillance display
1 AJA Video Systems FiDO-4R 4-channel single-mode LC fiber to 3G-SDI receiver
1 AJA Video Systems FiDO-4T 4-channel 3G-SDI to single-mode LC fiber transmitter
1 AJA Video Systems FiDO-R 1-channel single-mode LC fiber to 3G-SDI receiver
1 AJA Video Systems FiDO-T 1-channel 3G-SDI to single-mode LC fiber transmitter
1 AJA Video Systems KUMO 6464 compact 64×64 3G-SDI router
3 AJA Video Systems KUMO CP2 2RU control panels for all KUMO routers
2 AJA Video Systems OG-3GDA-1×9 openGear 1×9 3G-SDI reclocking Das
1 AJA Video Systems RMB-10 rackmount brackets (10-pack)
1 AJA Video Systems RovoCam integrated ultra-HD/HD camera w/HDBaseT
1 AJA Video Systems RovoRx-SDI ultra-HD/HD HDBaseT receiver to 6G/3G-SDI and HDMI frame sync w/PoH, genlock
1 Apantac KVM-IP-Tx/Rx video-over-LAN extender
1 Audiopile A-22 heavy-duty shock-rack road case w/casters and extended 22″ rack depth (14RU)
1 Barco ImagePRO-II all-in-one video scaler, scan converter and switcher
20 Bittree DSGIGE124D flush-mount gigabit Ethernet panels (Cat6, 110 punchdown, unshielded, 1×24, 1RU)
3 Chief CMA372 offset unistrut adapters
1 Chief CMS018024 18″ to 24″ adjustable extension column
2 Chief CMS0406 4′ to 6′ adjustable extension columns
1 Chief K2W220B Kontour K2W wallmount swing arms (dual monitors)
7 Chief LVSXU ConnexSys videowall landscape mounting systems w/o rails
1 Chief PFQUB large confidence monitor cart (2′)
5 Chief RXF2 X-Large FIT fixed wall display mounts
2 Chief RXT2 X-Large FIT tilt wall mounts
1 Chief TS218SU Medium THINSTALL dual swing-arm wall display mount (18″ extension)
3 Chief VCTUB XL universal tool-free projector mounts
3 Cisco SG350-28P 28-port gigabit PoE managed switches
4 Cisco SG350-52P 52-port gigabit PoE managed switches
1 Cobalt Digital 9003 dual-channel 3G/HD/SD reclocking distribution amp
5 Cobalt Digital Blue Box BBG-S-TO-H SDI-to-HDMI throw-down converter units
1 Cobalt Digital OG3-FR next-generation 2RU high-density modular frame
1 Cobalt Digital PS-OG3 power supply
1 Cobalt Digital RM20-9003-A 20 slot frame rear I/O module
1 Coleder ROAD READY 3.9mm, 23'x13′ LED videowall
1 Corning CCH-02U closet connector housing
3 Corning CCH-CP12-A9 closet connector housings
3 Corning CCH-CP12-E4 closet connector housings
1 Crestron CP3 3-Series control system
2 Crestron DMC-SDI 3G-SDI input cards for DM switchers
74 Crestron Saros speakers
2 Crestron TSW-1060-B-S 10.1″ touchscreens (black, smooth)
1 Crestron TSW-1060-TTK-B-S tabletop kit for TSW-1060-B-S (black, smooth)
1 d&b audiotechnik 10D installation-specific, 4-channel amp
9 d&b audiotechnik 21S installation-specific, high-performance subs w/compact footprints
12 d&b audiotechnik 24S flying brackets
12 d&b audiotechnik 24S installation-specific, high-performance, full-range, 2-way speakers
6 d&b audiotechnik 30D installation-specific, 4-channel amps
9 d&b audiotechnik 8S horizontal brackets
9 d&b audiotechnik 8S installation-specific, 2-way compact coaxial speakers
3 Da-Lite 94008 16'x9′ Cinema Contour projection screens
2 Dell E2014H 19.5″ screen LED-lit monitors
2 Dell P2418HT 23.8″ touch monitors
5 Dell U2417H UltraSharp 24″ LED-backlit LCD monitors
2 DiGiCo DS12 digital mixing consoles
2 DPA Microphones d:fine Core 4166 slim omni flex headset mics (90mm booms w/MicroDot)
2 Dynaudio DYN-WALL wallmounting brackets
2 Dynaudio LYD 7 7″ personal reference monitors
1 Ergotron 45-248-026 LX dual stacking arm
2 Ergotron 45-295-026 LX desk mount LCD arms
1 Flanders Scientific AM210 21.5″ HD broadcast monitor
1 FSR DSKB-2G 2-gang desktop mounting box (black)
1 Furman M-8LX power conditioner w/lights
4 K&M 21100.500.55 telescoping boom arms
4 K&M 23200.500.55 tabletop round-base mic stands w/anti-vibration rings
1 Leader Instruments LV7300 1RU half-rack-size rasterizer
1 Leader LV7300-SER01 multi-SDI zen rasterizer w/2 SDI inputs
2 Leviton 41084-BE blank QuickPort inserts (10 packs, black)
12 Leviton 61110-RE6 eXtreme 6+ QuickPort connectors (Cat6, black)
1 Logitech wireless combo MK345 keyboard and optical mouse
1 MA Lighting 120120 MA onPC command wing
1 MA Lighting 120125 MA onPC fader wing
1 Mackie Big Knob passive studio monitor controller
1 Marshall Electronics V-R173-DLW 17.3″ desktop/rackmount monitor and digital-analytics workstation
2 Middle Atlantic 2-10 Slim 2 Series racks
2 Middle Atlantic 2-6M Slim 2 Series racks
1 Middle Atlantic 5-14 Slim 5 Series rack (14RU, 20″D)
4 Middle Atlantic BGR-4532 BGR Series racks (45RU, 32″D)
3 Middle Atlantic BGR-CC-45FB cable chases (45RU, front/back section)
4 Middle Atlantic BGR-RR45 rackrails for BGR Series enclosures (45RU)
2 Middle Atlantic BSPN-45-32 side panels for BGR racks (45RU, 32"D)
1 Middle Atlantic DWR-12-17 DWR Series rack
1 Middle Atlantic EB1MP blank panel (1RU, steel, flanged, 50pc.)
1 Middle Atlantic EB2MP blank panel (2RU, steel, flanged, 25pc.)
2 Middle Atlantic HW500 rackscrews (10-32, trim-head, 500pc.)
2 Middle Atlantic LBP-2A lace bars (2″ offset, L-shaped, 10pc.)
2 Middle Atlantic LBP-4A lace bars (4″ offset, L-shaped, 10pc.)
1 Middle Atlantic MD-KB MDV Series keyboard tray
1 Middle Atlantic SP-5-14 side panel for Slim 5 Series rack (14RU, 20″D)
4 Middle Atlantic TD3 drawers (3RU, textured)
3 Middle Atlantic UFA-14.5-4 UFA rackshelves (1RU, 14.5″D, 4pc.)
6 Middle Atlantic UPS-2200R-IP Premium Series UPS rackmount power systems (8 outlets, 2150VA/1650W, web-enabled)
1 Middle Atlantic UPS-IPCARD UPS network interface card
2 Middle Atlantic UPS-S500R Select Series UPS backup power systems (1RU, 500VA)
48 Monoprice 13508 SlimRun Cat6 Ethernet patch cables (black, 0.5′)
96 Monoprice 13509 SlimRun Cat6 Ethernet patch cables (blue, 0.5′)
48 Monoprice 13513 SlimRun Cat6 Ethernet patch cables (black, 1′)
30 Monoprice 13522 SlimRun Cat6 Ethernet patch cables (black, 2′)
20 Monoprice 13524 SlimRun Cat6 Ethernet patch cables (gray, 2′)
80 Monoprice 13527 SlimRun Cat6 Ethernet patch cables (black, 3′)
96 Monoprice 13542 SlimRun Cat6 Ethernet patch cables (black, 10′)
95 Monoprice 13586 Ultra Slim Series high-speed HDMI cables (black, 6′)
12 Monoprice 2864 premium 2 RCA plug/2 RCA plug M/M 22AWG cables (black, 6′)
10 Neat-Patch NP2 cable-management bays
1 NEC Display Solutions V754Q 75″ ultra-HD professional display
1 Novastar MCTRL660 PRO independent controller
1 Ocean Matrix OMX-VIDEO2-AB composite video BNC input expander switch
2 Panasonic ET-D75LE10 3-chip DLP projector zoom lenses
1 Panasonic ET-DLE150 1-chip DLP projector zoom lens
2 Panasonic PT-RZ12KU 3-chip DLP large-venue laser projectors
1 Panasonic PT-RZ870LBU Solid Shine 8,800-lumen WUXGA laser DLP projector
2 Planar Helium PCT2485 24″ touchscreen monitors
1 QSC PTZ-WMB1 wallmount bracket
1 Reel EFX DF-50 DMX diffusion hazer, atmospheric fog machine for special effects
1 Ross Video CB2-PANEL Carbonite Black 2 control panel
1 Ross Video CUF-124 Carbonite Ultra engine
1 Ross Video CUF-ADD-I/OPLUS upgrade to 34 SD or HD I/O processors
1 Ross Video CUF-ADD-ME2 add second SD or HD ME
1 Ross Video CUF-ADD-MV2&4 add I/O MultiViewer to output 2 and video-processor MultiViewer to output 4
1 Ross Video CUF-PSU standard power supply
1 Ross Video RCP-ME remote control panel
1 Ross Video SRG-2200 master reference and test-signal generator
2 Ross Video UDA-8705A-R2L analog utility distribution amps
2 Shure GLXD16 wireless systems for guitarists and bassists w/digital pedal receivers
1 Shure HA-8091 domed helical antennas
4 Shure P9HW wired bodypack personal monitors
6 Shure P9RA-G7 PSM 900 wireless rechargeable bodypack receivers (506MHz to 542MHz)
6 Shure P9TRA425CL-G7 PSM 900 wireless personal monitor system kits (506MHz to 542MHz)
1 Shure PA821B antenna combiner for PSM wireless systems
40 Shure SB900A rechargeable lithium-ion batteries
20 Shure SBC-AX charging modules
5 Shure SBRC battery rack chargers
4 Shure SE215-CL professional sound-isolating earphones
6 Shure SE425-CL professional sound-isolating earphones
2 Shure UA874US active directional antennas w/integrated amps (470MHz to 698MHz)
1 Shure ULXD1 digital wireless bodypack transmitter
7 Shure ULXD2/KSM9 digital handheld transmitters w/KSM9 capsules
2 Shure ULXD4Q-G50 quad-channel digital wireless receivers
4 Sonnet RACK-MIN-2XA RackMac mini rackmount enclosures
1 Sony CCZAD100 multi-core SDI cable (300′)
1 Superlogics lighting computer
1 Superlogics SL-RMKB-RK-2e 1RU short-depth rackmount keyboard drawer w/touchpad and latching drawer (15.7″D)
2 TecNec 4BNC-15 4-channel BNC snake cables (15′)
2 Waves Axis One SoundGrid computers
2 Waves SoundGrid Extreme Server-C DSP servers
2 Waves DiGiGrid MGB interfaces
2 Waves RKSHLF rackshelves for half-rack SoundGrid servers
2 Waves SoundGrid qualified switches (8 ports)
2 Winford BRK9M-R-DIN breakout boards
3 Winford BRKG25M-R-DIN breakout boards w/spring connection terminals
3 Winford EXT25-3 extension cables
2 Winford EXT9-3 extension cables
Abridged list is edited from information supplied by Clark.
For more installation features from Sound & Communications, click here.