What is built in Las Vegas NV is built to impress, and the new multi-level Esports Arena Las Vegas is no exception. The project involved remodeling a 30,000-square-foot space inside the 30-story pyramid of The Luxor Hotel and Casino on S. Las Vegas Blvd., making the arena visually striking both inside and out. The arena's interior design, expansive infrastructure and cutting-edge AVL technology were all carefully designed to support Allied Esports International's vision for gaming in Las Vegas. Since its opening this past March, the arena has not only been a mecca for deft amateur gamers, but it has also played host to record-breaking events with international gaming personalities and arena-scale, high-stakes gaming competitions streamed around the world.
"Today, we are seeing that audiences are consuming content differently. As a result, the industry is seeing an explosion in this kind of space." Drew Ohlmeyer, Head of Content, Allied Esports International, noted. Whereas many of the existing game studios and arenas are built for a specific game title or game publisher, the Allied Esports model stands out, because it is designed to be open to all. "Our mission was to build a turnkey infrastructure to do many different live events," Ohlmeyer continued, "as well as to produce content in a style and quality that meets or exceeds current broadcast standards."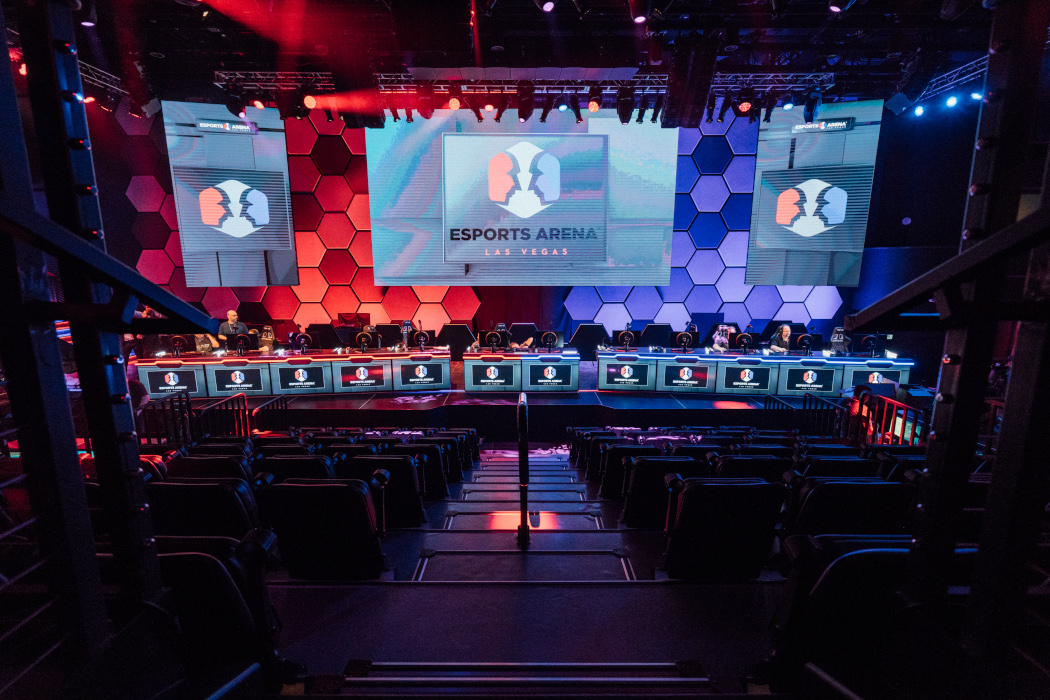 For an interior design that would both appeal to gamers and provide control areas and impressive sets for video content, Allied Esports International looked to well-respected broadcast facility designer JHD Group of North Hollywood CA, which worked in conjunction with the project's architect, YWS Design and Architecture, of Las Vegas. JHD specified detail and materials for a competition stage with a 50-foot LED videowall as a backdrop, a reconfigurable gaming floor, spectator areas with telescopic seating, daily gaming stations, a broadcast center and production studio, a dramatic foyer/entryway from the casino floor, a vintage-video-game cocktail bar, observation areas and luxury VIP lounges, all of which YWS worked into a comprehensive design plan.
AVL That Empowers Design
To support the arena's mission, AVL technology for the venue not only had to be cutting-edge to create the proper environment for gaming fans and competitions, but also had to provide for easy and efficient reconfiguration to support different gaming formats. The technology also had to support a large—potentially huge, by recent industry estimates—audience for video streaming and event broadcast applications.
CBT Systems, of Poway CA, was chosen to handle the design and installation of a highly integrated package of technical-production elements in three basic areas: AVL for front-of-house systems, broadcast/streaming systems and production equipment that could be effectively shared by both.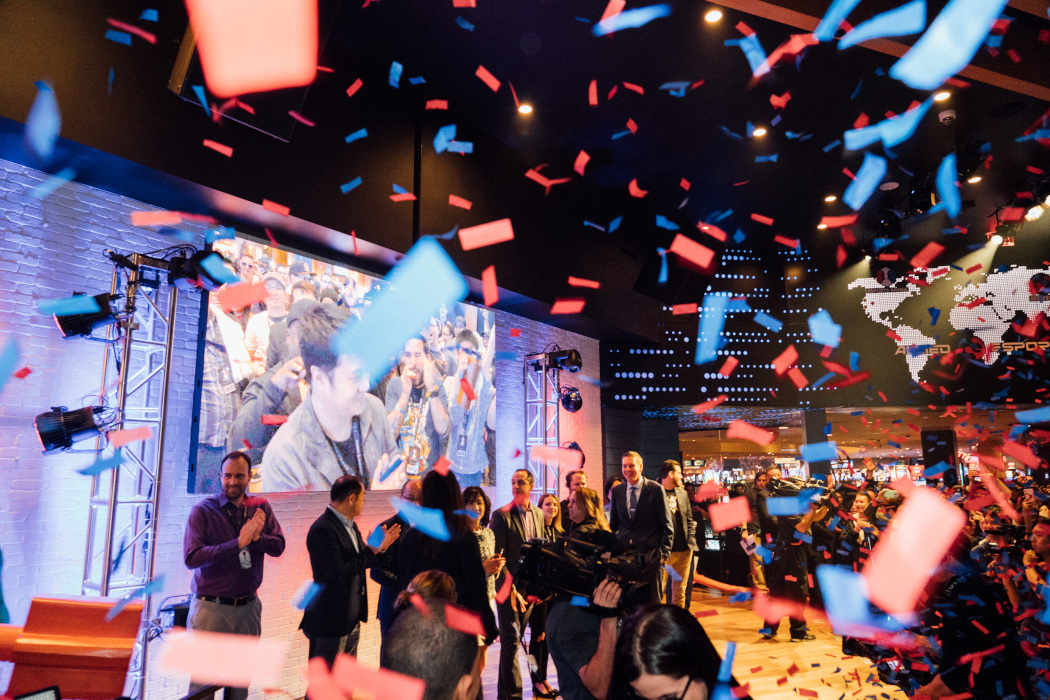 According to the company's President, Darrell Wenhardt, CBT's experience designing and implementing digital broadcast solutions, performance venues and gaming facilities was critical to its being able to deliver systems, on a tight schedule, for this unique venue. "It was a challenging project," he recalled, "with no slack in the calendar. Most of our work had to be accomplished between late February 2018, when we got into the facility, and March 22nd—minus 10 days of rehearsal for the grand opening." To meet that aggressive schedule, Wenhardt had his team arrange to stage and pre-commission many of the critical components at CBT's systems integration facility before installation at the arena.
Striking FOH Experience
The impact of well-designed front-of-house AVL technology ensures that fans in the venue are going to have a great experience; at no time is that more evident than when patrons first enter the arena from the casino floor. Visitors pass through an area called "The Dome": a three-level circular foyer with an early-computer-games theme. As a centerpiece, JHD designed a chandelier as a tribute to the history of gaming; it employs 18 video displays and it's ornamented with iconic gaming controllers from different eras. On the balcony wall of the second level, CBT installed an eye-catching, four-foot-tall circular video screen, constructed of DST 3mm-pitch LED panels, that runs 59 feet around the dome. A 14'Wx8'H screen, employing DST 2.5mm-pitch LED panels, greets guests at the arena entryway to the gaming floor.
The Esports Arena stage and floor area was designed to have many uses; the modular design allows the space to be transformed to fit any game or event situation. For example, more than 100 player stations can be set up in the 12,500-square-foot arena floor, and any of the 12 specially designed player pods—equipped with noise-canceling headsets and Panasonic cameras—can be set up on the 20'x60′ stage for one-on-one battles. Configurations range up to teams of six versus six, with isolated intercom communication between team players. As a backdrop to the main stage, a 29'Wx16'H DST 2.5mm-pitch LED screen is flanked by two 11'Wx16'H screens to create a massive, 50-foot-wide video screen.
Audio
To ensure arena guests enjoy the best possible audio experience, CBT engaged acoustics expert Chips Davis, Owner of Chips Davis Designs, of Concord CA, and audio designer Sean Macke, of Las Vegas NV-based STS Audio Consulting, to find the best way to treat the room and provide great sound. The team has worked together before, and they appreciated the challenges of converting what was once a nightclub space into a gaming spot and production studio. In addition, high-quality audio would be required in public spaces, under balconies in remote areas of the arena, in VIP lounges and in production control areas.
Davis saw the lack of available surfaces to mount acoustical treatment as a major issue for sound. Most of the ceiling was inaccessible, due to rigging, and much of the available flat wall space was glass. Reviewing plans for the space, he was able to work with construction teams to make use of a large wall area above the second floor. "There was an elaborate curved soffit area above the second tier that ran almost 25 feet tall across the back wall. It was going to be finished with sheetrock," Davis recalled. "Applying acoustical treatment there would significantly help with unwanted audio reflections in the room."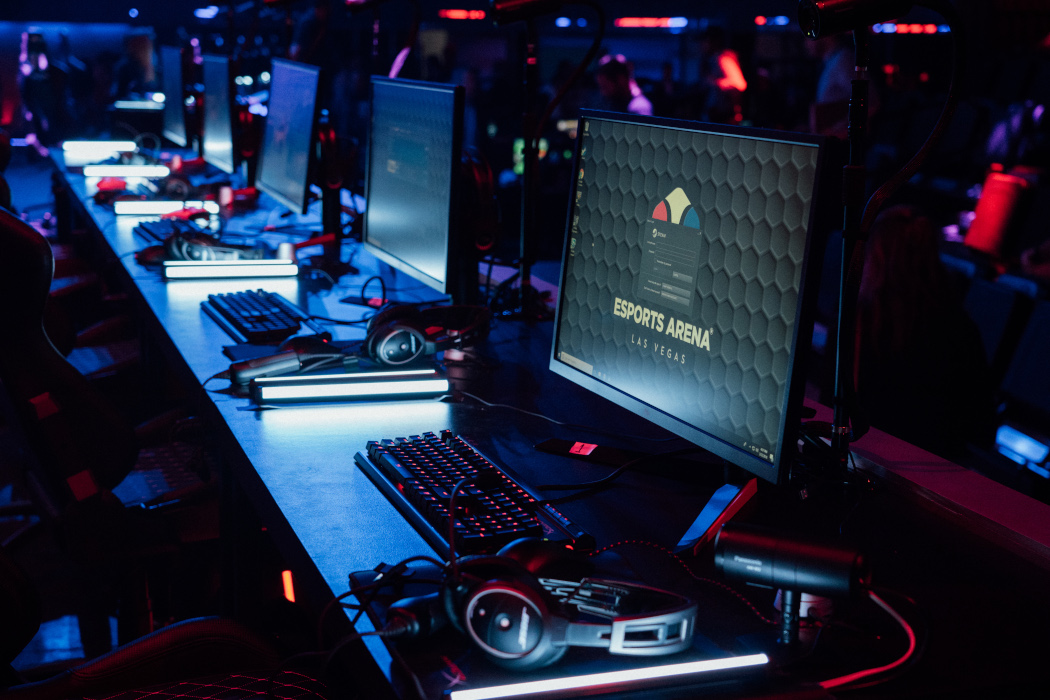 Davis worked with Macke, who modeled the space using EASE and EASE RAW software to confirm the treatment's positive impact on sound for the arena. Davis and Macke then worked with construction teams to amend building plans to include two-inch duct liner in the soffit area packed with standard R30 batt insulation material. "Treating the room as part of the remodeling," Wenhardt noted, "has made all the difference in getting great sound at the arena."
Macke designed the arena's professional audio systems and acted as CBT's on-site manager throughout the project. His audio design followed a focused field approach. "My goal was to put sound only in the locations where it was needed," Macke said, "avoiding as many reflective surfaces as possible." To accomplish that, his design for the main FOH stereo audio system, as well as ancillary stereo zones located in critical areas of the facility, employed JBL VTX-V20 dual 10-inch line-array elements. Two hangs of six per side handle the floor and major seating areas; other array configurations are dedicated to different zones, which were established to cover the second-floor balcony, VIP lounges and bar areas. In all, 28 VTX-V20s were deployed in the arena. This array element's integral mid/high waveguide provided Macke with the precise vertical wavefront coupling and the 105-degree horizontal coverage required in many areas. Nine ASB7118 ultra-long-excursion 18-inch subwoofers are suspended in the arena, and they provide a tight low end for the system. Mounting was done with standard VTX-V20-AF and -EB hardware.
Power for the mains and subwoofers that cover the arena floor and critical zones is provided by 13 Crown I-Tech 4x3500HD power amplifiers. Sixteen JBL Control 25-1 compact, two-way, 5.25-inch loudspeakers distributed throughout the facility, which are powered by a Crown DCi 8|300N, are used to deliver the house mix into isolated areas and under the balcony. "Every audio zone in the arena is stereo," Macke noted. "The control provided by the V20s made that possible. We've found control of depth of field to be pretty amazing."
Macke's installation faced physical challenges in areas of the arena in which low ceiling heights prevented a traditional mounting strategy. So as best to cover zones located in tight areas under the second-floor balcony and to meet Americans with Disabilities Act (ADA) requirements, Macke found a creative solution by working with construction teams. Once dimensions of the needed JBL CBT 50LA-LS column arrays and brackets were calculated, the team reworked the column design at speaker locations, building out the column to encase the array, thereby reducing the speaker's protrusion into public spaces.
A more interesting concern for Macke's audio design—and one that is unique to gaming environments—centers on how mishandled audio information can affect the outcome of a game. It is what the industry defines as a gaming session's "competitive integrity." To wit, even with noise-canceling headphones, a game's sound effects, if heard by the other team, can let them know what is going on elsewhere in the game and give them an edge. To prevent that from happening, Macke had to be particularly careful in his audio design to prevent audio spill onto the stage and the player pods.
"For the game to be fair," Macke began, "the players must be free of interference and distraction from anything outside their session. So, I needed to provide their locations on stage with a degree of isolation from the sound in the room."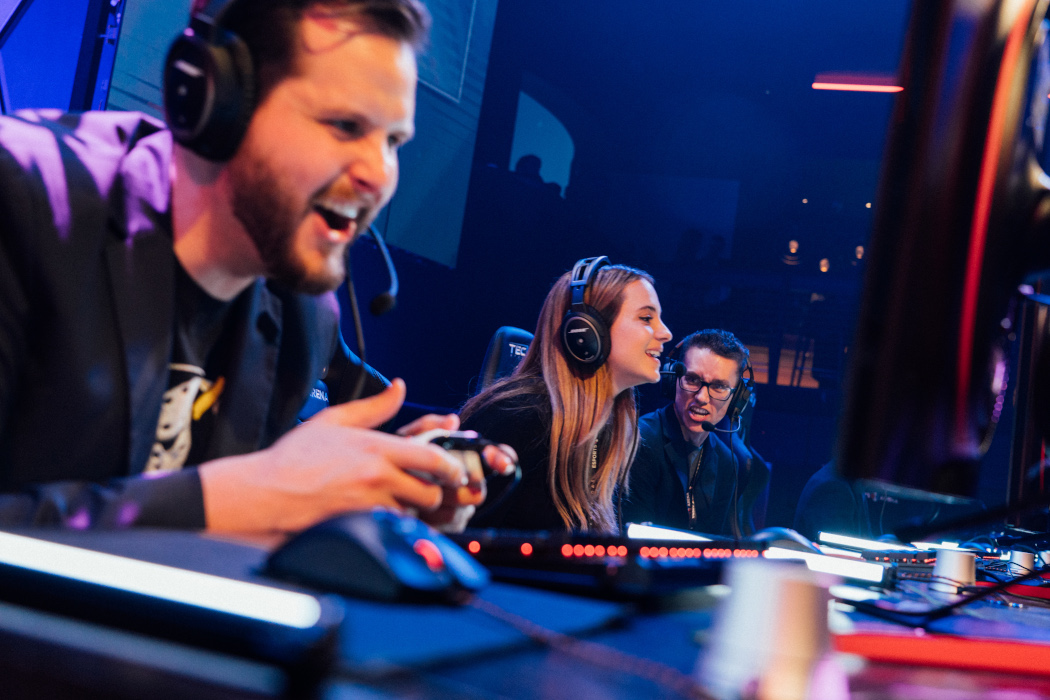 A pair of JBL PD6322/64 full-range loudspeakers, which are powered by a Crown I-Tech 12000HD, was installed to cover the performance area at the entryway and gaming foyer. Each loudspeaker packs two 12-inch, low-frequency transducers; a midrange compression driver; and a large-format, neodymium, high-frequency drive and rotatable mid- and high-frequency waveguides for consistent 60°x40° dispersion. A combination of JBL Control 312CS in-ceiling sub speakers and Control 19CS in-ceiling subs was used in the entryway for stage announcements and public address.
Audio system signal processing is handled with a BSS Audio Soundweb London BLU-805 unit that provides configurable I/O, detailed signal processing, and a high-bandwidth, fault-tolerant digital audio bus. The BLU-805 is configured using graphic processing and logic objects with a drag-and-drop interface that sound designers have found to be a very functional and familiar design environment. The BLU-805 connects via Ethernet to a pair of Lawo mc236 audio production consoles, one for front of house and the other for the broadcast production, using Ravenna, MADI and Dante audio networking protocols.
Lawo consoles are compact but full featured, and they're recognized both for their uncompromised audio quality and for their reliability. Plus, the consoles offer progressive, user-friendly features like a 21.5-inch, full-HD touchscreen and touch-sensitive, color-illuminated rotary encoders that improve the workflows. "The Lawo console is extremely open and configurable," Macke affirmed, "and it works flawlessly with the company's audio router and stage boxes." All production data from the console can be easily saved on a USB stick—an important feature to enable quick and easy reconfiguration in the busy arena.
The arena is set up to use Shure SM58 and Beta87a wireless handheld microphones, WL185 lavalier condenser microphones and MX153 headset microphones, supported by Shure ULXD wireless transmitters/receivers. Five Shure UA874 active directional antennas were deployed: two servicing the arena, one in entryway and two in the production studio.
Video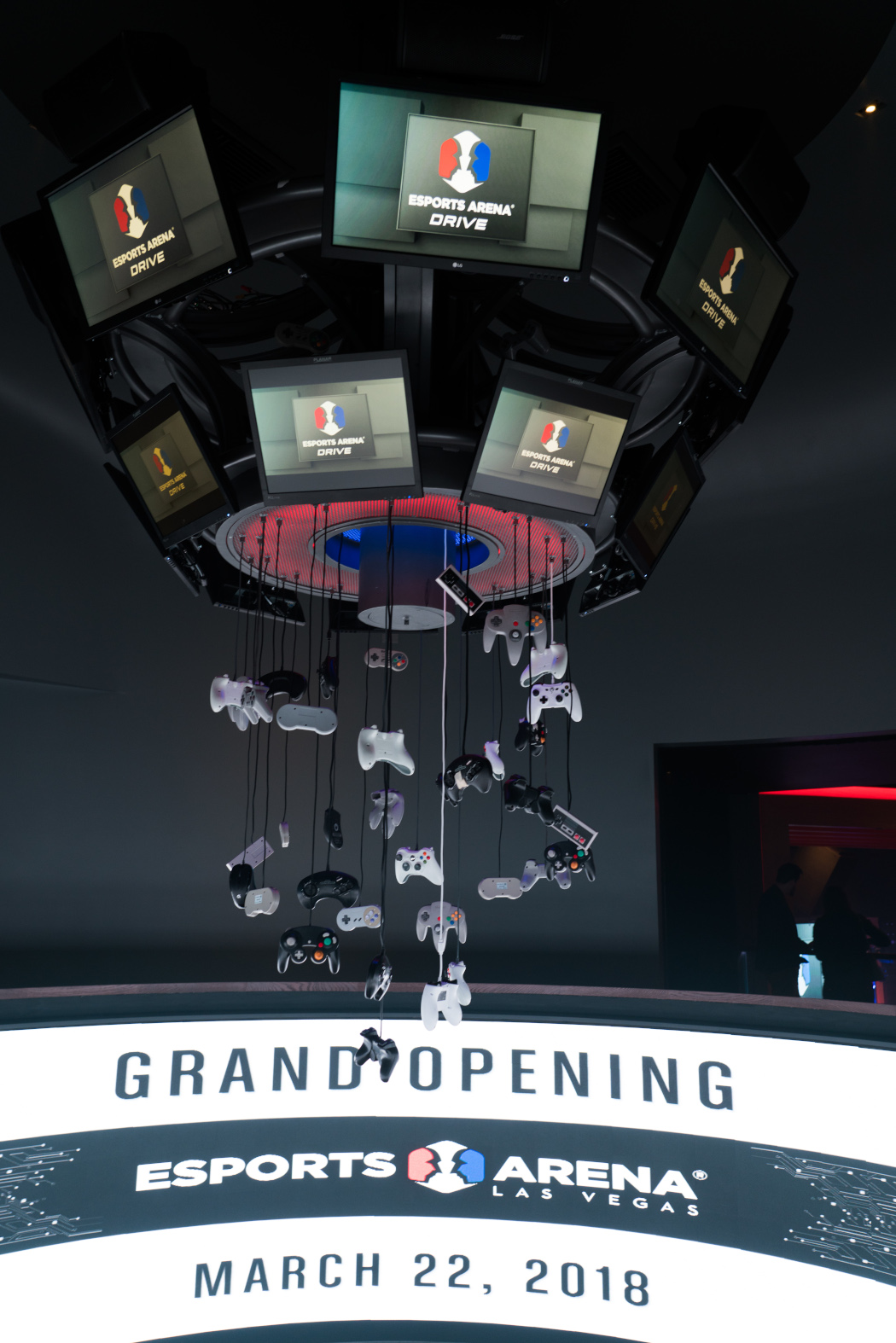 The arena's three main-stage LED screens, its entryway screen, its circular videowall, and its 28 LG Commercial LCD and LED-backlit displays (24 inches to 86 inches) installed throughout the facility are fed by, and controlled with, Ross Video Carbonite Black Solo compact production switchers, and Ross Video XPression real-time motion graphics generation systems and Vizrt/Reality Check Systems graphics engine.
As input for the arena screens, as well as for broadcast recording and streaming video productions, the arena has strategically placed an assortment of cameras to capture player action, onstage presenters and POV shots. Video production and IMAG choices include four Sony PXW-X400 cameras with Fujinon 16x ENG zoom lenses; 11 Panasonic AW-HE130W/K PTZ cameras capable of HD video output up to 1080/60p over IP installed in strategic locations; 12 Panasonic AW-HE2 cameras mounted in players pods; two additional AW-HE2 static cameras at stage left and right cross-shot positions; and an AJA RovoCam, which is pole mounted and helps achieve elevated shots of the arena.
In the VIP lounges, as well as elsewhere in the arena where local video and audio control is needed, CBT engineers installed AMX MSD-1001 10.1-inch Modero S Series wall-mounted touchpanels as a versatile control surface with voice-over-IP (VoIP) ability. The bright, 24-color display can stream video and the built-in room-availability bar shows green or red, depending on whether the room is currently booked.
Lighting
For theatrical lighting design and setup, CBT contracted with Norman Russell and Steven Cooper with the Sextant Group's satellite office in Los Angeles CA. Russell and Cooper designed a production lighting package that would support a wide range of events—from dramatic concert lighting for gaming competitions, to balanced, flat lighting more favorable for broadcast. The all-LED lighting design focused on three areas: the main stage, a smaller performance area in the lobby/entryway and the production studio. Main-stage lighting components included fixtures from the ETC Source Four and Desire Series, as well as BB&S lighting elements mounted in the gaming pods.
At the entryway, Martin RUSH Scanner LED fixtures were deployed for high-energy, mid-air lighting effects, along with Martin RUSH MH 5 Profile 75W LED moving-head spots that deliver dramatic moving light effects with two color wheels, two gobo wheels and a rotating prism. A hazing system is used to enhance these concert-style lighting effects. De Sisti and Brightline fixtures were chosen to deliver balanced, reliable lighting for the broadcast studio. Despite the demanding schedule for lighting installation and setup, Cooper recalled work on the arena to be "a huge collaborative experience." He added, "People dug in and just said, 'Let's make it work.'"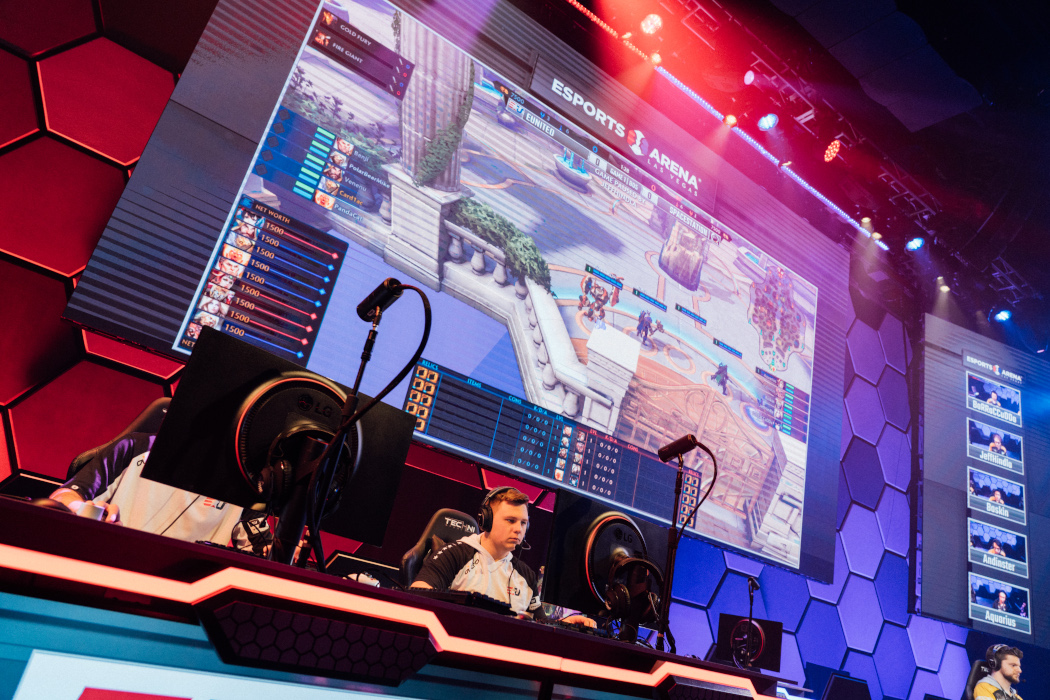 To support a wide variety of RGBA lighting fixtures, lighting designs called for supporting control systems, including an ETC Paradigm architectural control processor, a Pathway Pathport Octo for DMX routing and an MA Lighting grandMA2 lighting console for live events.
In addition to house lighting for gaming competitions, the architectural lighting design and implementation by Light Theory Studios, of Henderson NV, and 4Wall Entertainment, of Las Vegas NV, included lighting to highlight room features and facilitate use of the main floor. Architectural lighting for daily operations was integrated with the grandMA2 console to control specific DMX channels, allowing the lighting operator to utilize the Paradigm architectural lighting processor effectively. This extended lighting control for productions to all of the architectural lighting within the arena.
Broadcast Ability
CBT's Wenhardt oversaw the integration aspects of the arena project, and, as on-site project manager, Macke directed teams in the installation and configuration of AVL technology for FOH operations in the arena, as well as for the arena's broadcast studio and broadcast control room. "It's really two systems integrated together," Macke affirmed. "One is for FOH, and the other is dedicated to broadcast and streaming—with connectivity to equipment they both can share."
The back-of-house area includes a production control room, a 1,000-square-foot studio/broadcast booth, and an observer control room that offers six observer stations. Macke pointed out that the observer area is key to the show, and, typically, it allows four or five observers a vantage point from which to observe the game, keep track of the action and help guide the production.
For broadcast productions, the arena installed a second Lawo mc²36 audio production console and professional broadcast video gear, including a Grass Valley Karrera production switcher, an Evertz EQX16 288×288 enterprise hybrid video/audio/IP router with Evertz 5601MSC master SPG/master clock system, and an Evertz 3067VIPX-HW-A multi-image display processor, along with an Image Video TXI tally control system. Non-player communications are handled by a Riedel Artist 128 matrix intercom system and a Riedel Bolero wireless intercom system. The broadcast control room also houses AWS Elemental H.264 encoders and a Ross Video Mira replay system for live-action playback.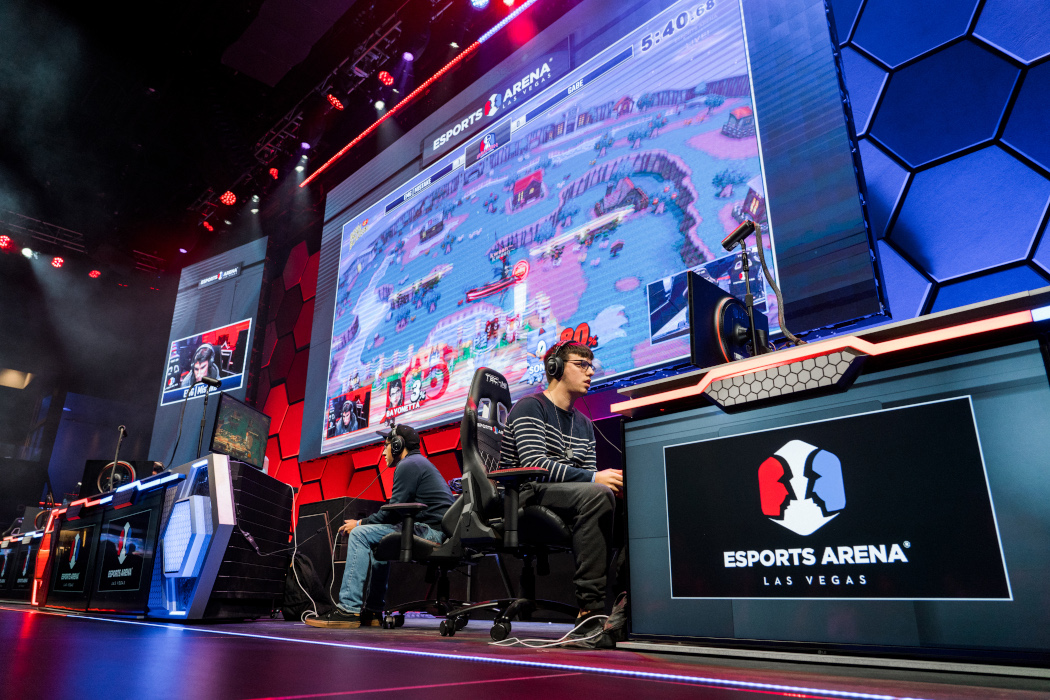 "The two FOH and broadcast control rooms can share core equipment, like cameras, graphics engines, video switchers, IP/AV routers and intercom systems," Wenhardt remarked. Another example of shared common production equipment is the Lawo audio consoles for both FOH and broadcast production that share the resources of Lawo compact stage boxes and Lawo audio routing.
Control rooms are equipped with JBL LSR6325P studio monitors, as well as JBL 705P self-powered, five-inch, bi-amplified master reference monitors for critical listening of left, right and center channels in the main production room. The larger, eight-inch JBL 708Ps were installed for full 5.1 monitoring in the broadcast control room. A BSS Audio BLU-120 provides signal processing for both control rooms, and a JBL M-Patch Active-1 switch facilitates monitor selection and A/B switching between input signals and output speaker monitor systems.
Success Of Open Design
The events scheduled at the arena's grand opening this past March highlighted how well the AVL technology supports flexibility within the space, given that three popular games were played. SMITE, Dragonball and Rocket League each required a different room and AVL configuration, and getting the stage ready for the next competition was accomplished in a mere 20 minutes.
Recently, the arena hosted an event around the game Fortnite: Ninja Vegas '18. Fortnite is a multiplayer game with as many as 100 people competing in the same session, and Ninja is a popular gaming personality and the acknowledged superstar of the game, boasting 1.76 million followers. About 750 people came out to compete in the event (capacity is 1,200). The arena floor was configured with 75 gaming stations, allowing 233 competitors, including Ninja, to compete in three separate heats.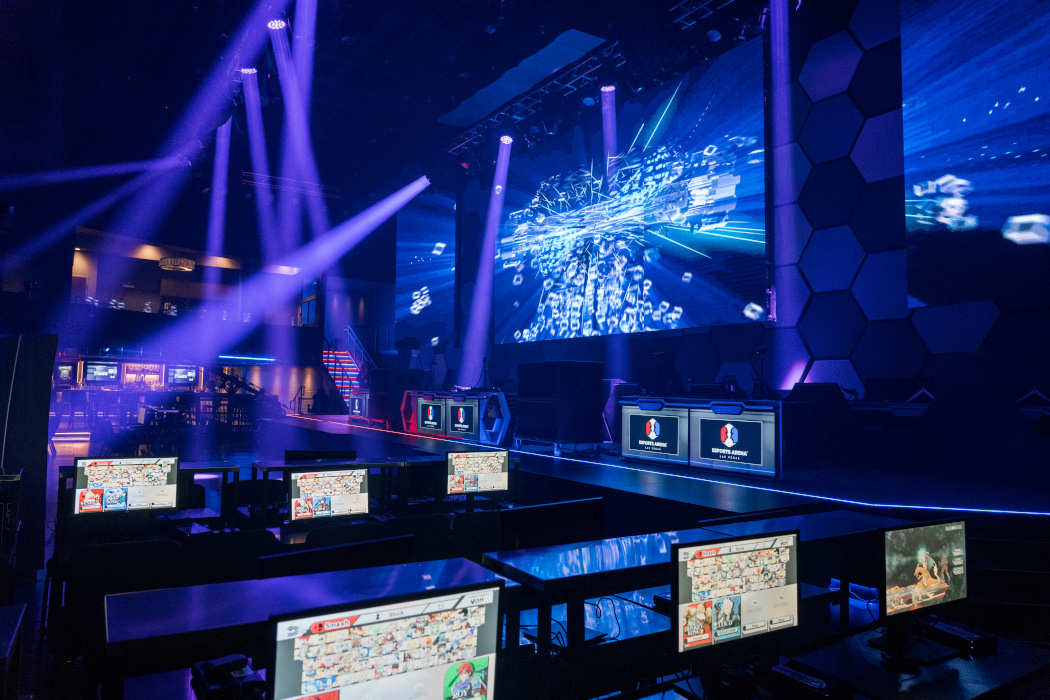 "The event with Ninja served to show all interested parties what we can do in this environment," Ohlmeyer declared. "It broke a streaming record and packed the arena with record numbers. It's just one example of what can be done here."
The open, flexible design of Esports Arena Las Vegas presented a number of technical challenges—from production teams having quickly to become experts in a multitude of game styles, to managing the high-quality AVL technology, to supporting a rapidly changing environment. However, the experienced design teams who worked together so closely have made the open venue a reality for gamers who visit Las Vegas, as well as a rapidly growing viewing audience around the globe.
"It's a great venue for many types of live events," Ohlmeyer concluded, "but it's also a 33,000-square-foot studio with all the AVL technology in-house to address any production need, without hauling in equipment or production trailers."