The time has come for creatives and technologists to partner and deliver tomorrow's unforgettable experiences.
When InfoComm International changed its name to the Audiovisual and Integrated Experience Association (AVIXA) back in September 2017, I thought the change was a no-brainer. After all, audiovisual technology is used in many different ways, but almost always to heighten an experience. Coming from live events and the house-of-worship (HoW) space, I've always seen technology as a supporting cast member in a larger production—namely, curating an experience. Now, more than ever before, audiences are looking to partake in something exceptional…something we can't forget…something meaningful.
"Traditional AV" has had a focus on selling products, rather than on selling experiences. That hasn't helped drive valuable experiences for our clients, nor has it served their end users. Now's the time to get creative and become a part of stories that are bigger than just our industry. The time has come to focus on how we can better fill our role as technologists who curate exceptional experiences.
Digital-Art Displays
Over the last year, a wide range of digital-art displays have been shared across the globe. Examples include the Van Gogh Alive exhibit, which shows Vincent van Gogh's artwork in a completely different light, as well as the Christ the Redeemer statue (in Rio de Janeiro, Brazil), which was transformed into a doctor in celebration of healthcare workers and all they continue to do for us. We've even seen New York NY honor the 30,000 residents who died of the novel coronavirus (COVID-19) with a remembrance ceremony that featured the faces of the pandemic's victims projected in light on the Brooklyn Bridge.
Unique, creative digital-art displays are versatile enough to help people find a new love for classic art, celebrate the heroes within their communities and pay tribute to lives lost during the pandemic. Usually, #AVtweeps aren't coming up with the ideas for or creating these experiences—instead, it's "creatives" who are. But when we, the technologists, work alongside creatives and designers, we get to provide them with the right tools to help bring their vision to life.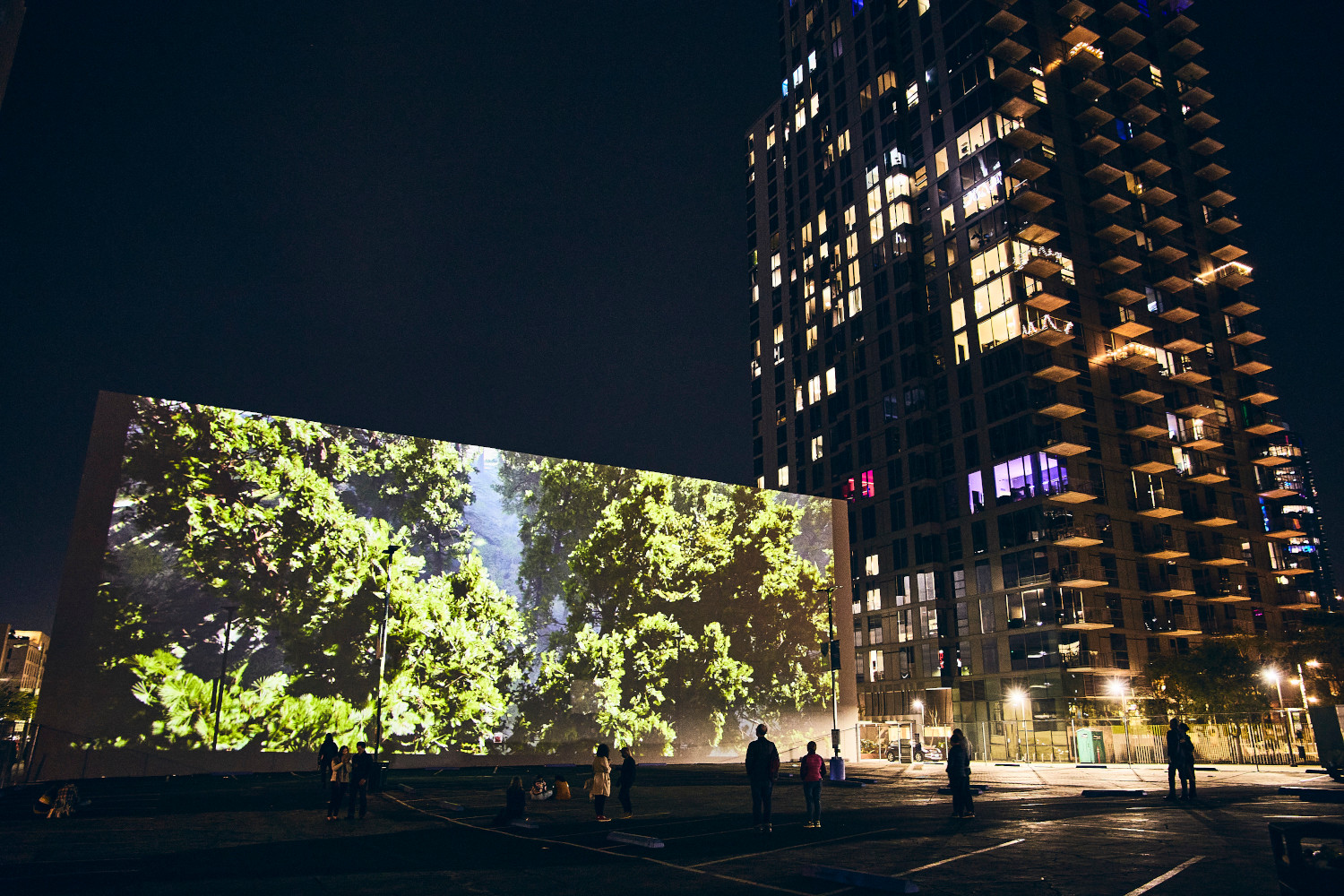 'Dialogues Of Light'
Projection mapping has been the highlight of many digital-art installations. Projection mapping takes artwork to the next level; it can make a piece of art look and feel larger than life. Indeed, in some cases, projection mapping can fully immerse you within a piece, allowing the artist to take you on a journey far beyond a traditional picture frame. Digital art is completely out of the box, and it has the capacity to transform normal spaces into extraordinary ones.
Last month, NOW Art curated LUMINEX, an outdoor, digital public-art exhibition in Los Angeles CA. This first exhibition, "Dialogues of Light," showcased the work of six internationally known artists on five blocks of the downtown area. I spoke to Paul Chavez of Arup's Experience Design studio, a technical advisor on the project, about the importance of projection mapping in activating unique spaces.
"Projection mapping enables existing buildings to be transformed," Chavez declared. "The idea that a building is one thing in the daytime and an entirely different thing in the night means that you've expanded the use of something that was already there," without having to tear it down or build anything from scratch. "This not only achieves some ecological goals but also means that spaces can have multiple purposes enabled by dynamic projection," he continued.
NOW Art and the artists wanted to transform the downtown L.A. area with their creations—and they wanted to do so in more ways than one. "With LUMINEX, we transformed parking lots into community spaces for healing and peaceful gathering," Chavez explained. "Someone told me that the last time they were out on the streets in this neighborhood, it was for protests—very essential protests. But, ultimately, the gathering was driven by the negative forces in the world." Contrasting that, he said, "This night was about coming together and celebrating the positive—our healing. And we did it by transforming parking lots into temporary temples of nature and beauty. Including Akiko Yamashita's fantastic forests; Refik Anadol's data-driven landscapes; Lucianna Abait's cleansing, immersive waterfall; and Carole Kim's projected live dancers, the night was an exploration of 'digital/organic' landscapes and vistas."
Coming-Out Party
In recent times, there's been a considerable amount digital art being displayed around the world; however, a lot of work came to a screeching halt for artists—just as it did for the live-events industry and so many others—when the pandemic came. LUMINEX was a coming-out party for the city of Los Angeles, the artists and technologists, all of them trying to find some sense of normalcy.
"Carmen Zella, the Curator and Producer from NOW Art, called me with an idea of creating a night of art that would be a healing and meditative way to enter back into 'civilization' after our year of lockdown," Chavez elaborated. "The first task was to find the canvases [the buildings], and then the artists followed. The South Park Business Improvement District helped us to find some candidate buildings that met the requirement of having relatively neutral walls with parking lots in front of them for projection spaces." Once a slate of buildings had been selected, it was a matter of designing projection systems that were relatively simple (i.e., within a constrained budget) but that also filled the walls.
According to Chavez, "Carmen wanted the buildings to be filled with images, which, in most cases, meant we couldn't just use a single projector. Instead, we used two to four 'stitched' projectors at most of the sites." Panasonic and its production partner, Show Imaging, he said, were major benefactors. "In the end, Panasonic donated one of their new 50K projectors, which was bright enough to actually do one of the 150-foot-wide walls with a single projector. It was phenomenal!" And as Chavez and the Arup team were designing the technical solutions, Zella was putting out a call for artists and curating the show.
This coming-out party is a perfect example of doing it right. Technologists play a key "supporting cast" role, working hand in hand with creatives to build something far grander than a simple technology deployment. The partnership—right across the board—is what brought this exceptional experience together.
"As the technical liaison for the event, our main objective was to be as invisible to the creatives as possible," Chavez observed. "We wanted to provide the infrastructure that would quietly work to highlight the inspired artists' images—a goal that we achieved." All the artists, meanwhile, had their own amazing technical capabilities simply in creating work that was sufficiently high resolution to be projected 50 or 60 feet tall and not fall apart! "Sarah Rara's 40-foot-tall hands doing string figures was epic and crystal clear," Chavez enthused. "Many of the artists spent days rendering—and it all held up beautifully!"
It's not an easy task to provide technology for creatives who, themselves, use other forms of technology to create their own digital art. But it can be done.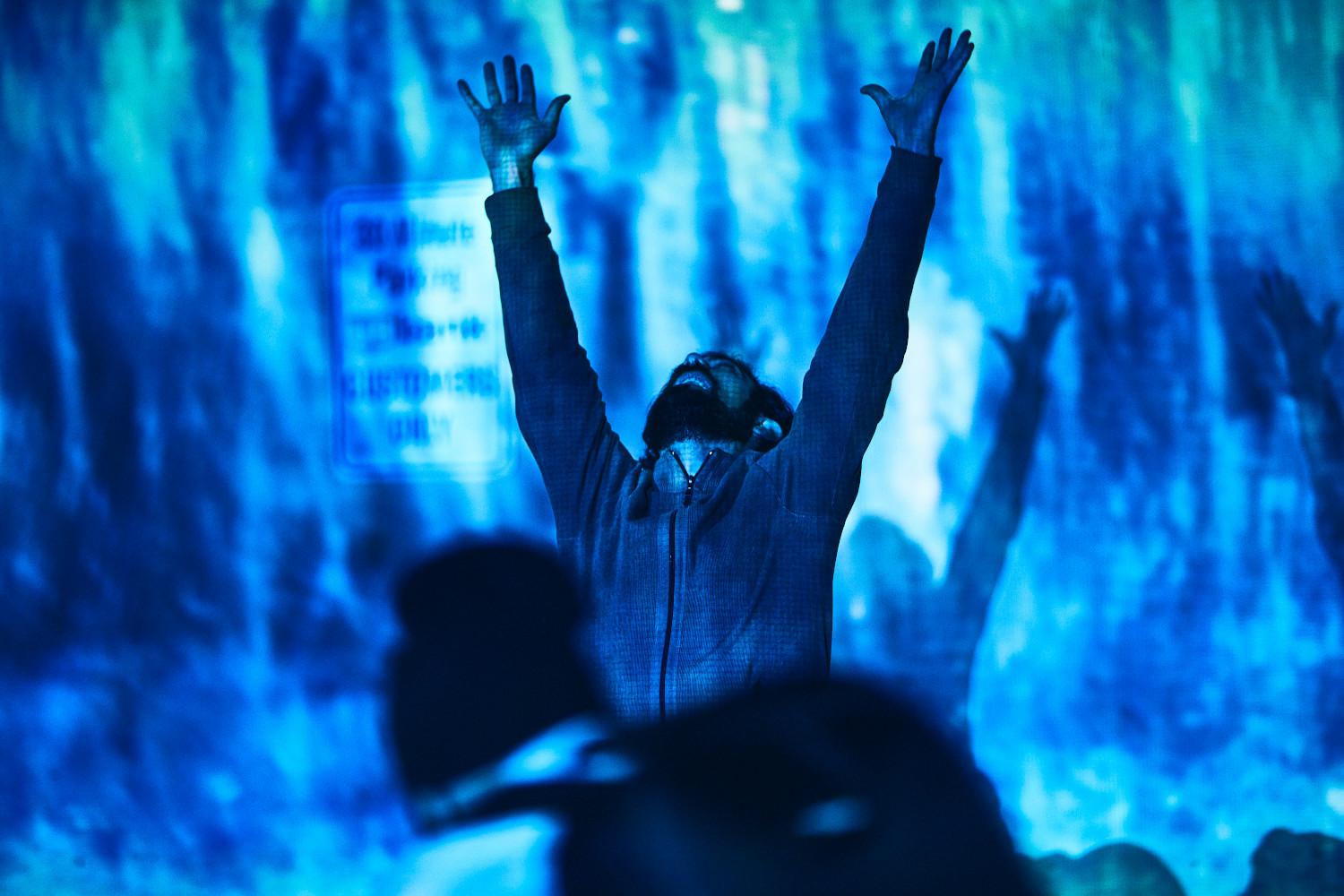 Active Role In The Future
These days, there's a thin line between creativity and technology. Creative technologists live on that line. Digital-art installations are going to continue to grow as technology evolves further, and those in our industry should want to play more of an active role in these installations moving forward. As augmented reality (AR) and virtual reality (VR) become even more predominant in our work, the opportunity will only ripen.
Chavez, who shares our collective excitement about AR and VR, said, "Nancy Baker Cahill projected an amazing 3D graphic onto one of the buildings, creating a spectacularly huge space that wasn't actually there. But then, she added an AR layer to the imagery that could be viewed through her 4th Wall app. I'm looking forward to activating this kind of work with a future of ubiquitous AR viewers that we'll wear everywhere. There's so much we can achieve when this happens with regard to wayfinding, art and placemaking. It'll be fun!"
AV is more than integrating a traditional conference room with a projector and a screen. Finding a balance within the realms of creativity and technology will lead more individuals to learn about AV, but it'll also enable us, as an industry, truly to focus on how our technology can help create experiential design.
To read more from Sound & Communications, click here.