Church of the Resurrection reaches more, feels smaller than original sanctuary.
The United Methodist Church of the Resurrection (COR), which has locations in Kansas and Missouri, built its new 3,500-seat sanctuary with the hope that it would draw people to God. Adam Hamilton, Senior Pastor, described to local newspapers a project that would convey a sense of God's presence even before a word was spoken or a musical note was played.
COR's new building stands tall with seven stainless-steel-clad exterior panels, or "sails," rising to a pinnacle nearly 105 feet above the structure's 35-foot Kansas limestone base. A 93'x35′ (WxH) expanse of stained glass is visible at night from miles away, serving as a beacon for those searching for God. Equally impressive as the structure itself, the remarkable interior and AV designs deliver a level of intimacy that speaks directly to the hearts of worshippers.
"It's an impressive space," Tim Higinbotham, Audio Director at the Leawood (KS) campus, said. "But, at the same time, it's an amazingly intimate worship experience. It speaks to the quality of the design that the congregants are not overwhelmed. In fact, we strive to use our technology to achieve intimacy."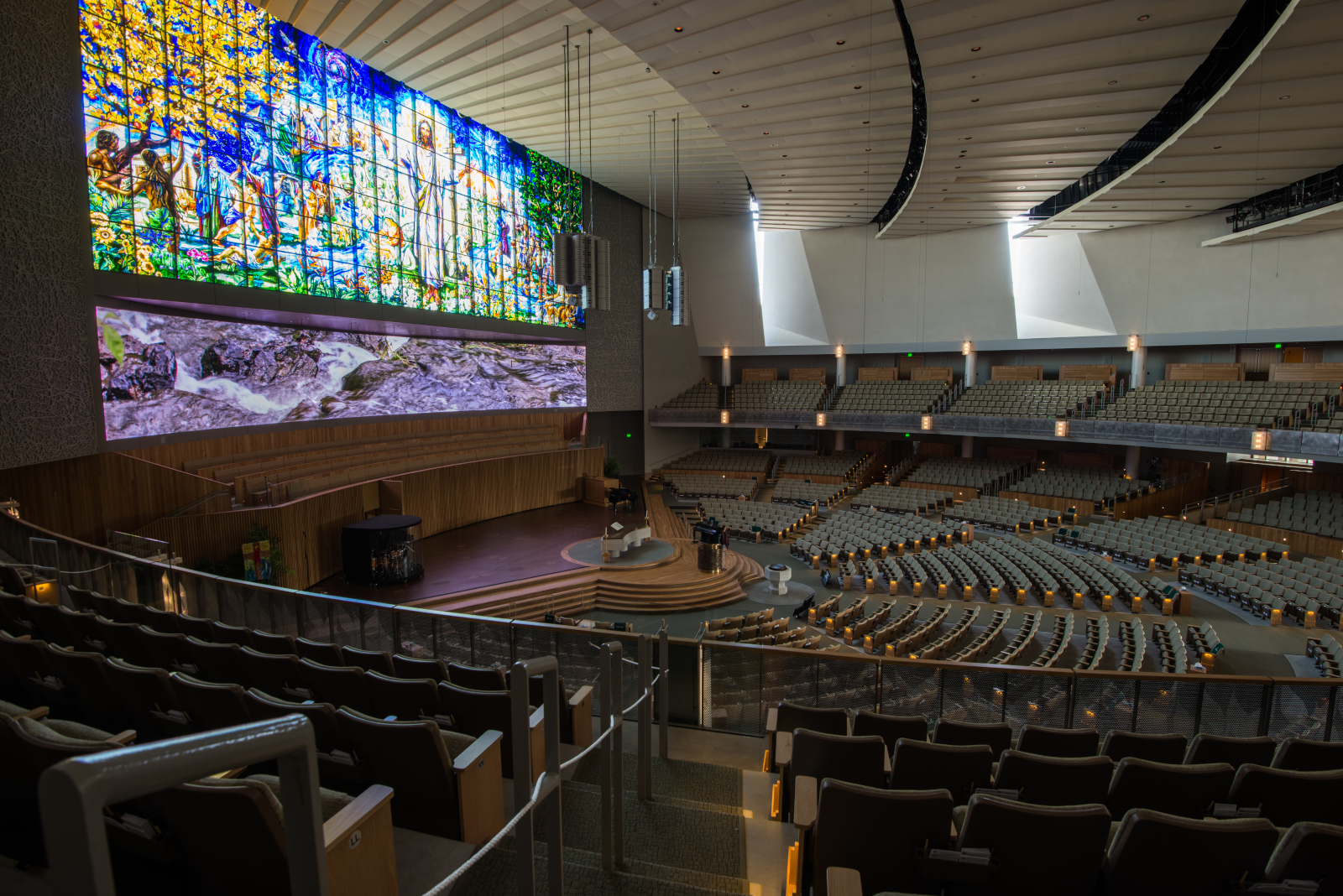 Need For A New Design
Since its founding in Leawood in 1990, COR has grown into the largest United Methodist congregation in the US and, subsequently, the largest such congregation in the world. In addition to expanding the capacity of the original 76-acre Leawood campus over the years, COR has commissioned remote campuses in Olathe KS (2006), downtown Kansas City MO (2007), Blue Springs MO (2010) and Overland Park KS (2019) to serve a total membership that now exceeds 22,000. The average weekly attendance for all campuses exceeded 13,000 people last year.
The continuous growth of the Leawood congregation in recent years required the church to consider expanding. The challenge that church leaders presented to bidders was to create a plan for the Leawood campus that would honor the church's mission to reach more people, while also making the space feel more intimate and smaller than the existing sanctuary. Minneapolis MN based architect John Justas, Principal at HGA Architects, and Gould Evans of Kansas City responded to the challenge with a design for a new 141,438-square-foot building with a notably unique exterior that would be recognizable from miles away. The heart of the structure would be a modern 44,958-square-foot sanctuary, boasting seating for 3,500 people, and a design that would convey a sense of intimacy and community. Moreover, the structure would reflect the values and beliefs of the church.
A technique the architects employed to increase capacity, even while maintaining the intimacy of the sanctuary, was including upper rows of seating. With the addition of a balcony, capacity could increase even while maintaining a smaller footprint. As a point of comparison, church leaders have observed that all the seats in the sanctuary would fit within the infield of a baseball diamond, as the distance between most of the seats and the pulpit is less than the 90-foot distance between home plate and first base.
Evidence of two strong architectural features of the structure's exterior can be found reflected inside the sanctuary. Both of them would inform AV system designs and present challenges to the integration team. First are the seven stainless-steel clad panels that represent each day of creation, the wholeness of life and the seven days of Holy Week; second is the Resurrection Window, which Judson Studios of Los Angeles CA designed and created to tell the biblical story from Genesis through Revelation. The 93'x35′ (WxH) expanse of stained glass, which is composed of 161 panels, each measuring 4'x5′ (WxH), was designed to be installed in three sections on the northwest side of the building. It's perhaps the most dramatic feature of the sanctuary. The window offers three separate garden scenes created from more than 5,000 individual pieces of painted, fused, etched and glazed glass that blend together with natural light during the day and are lighted from inside at night.
The use of natural light is evidenced in every corner of the sanctuary, including the upper rows of seating, as well as in the narthex, which features many amenities for visitors and members, including a café and common areas for members to connect. The overall effect is to create bright spaces highlighted with the color and artistry of the stained glass. Seats, pews and benches are built to be accommodating and comfortable without feeling opulent. They complement décor throughout the building that features natural wood and minimalist (but meaningful) art.
It was essential to ensure the design and implementation of AV systems would support the unique environment that COR presents, including its traditional and contemporary worship services and its teaching. Accordingly, church leaders selected Progressive Electronics, Inc., of Kansas City, to join the team, implementing the acoustic-design efforts of Acoustic Distinctions of New York and Los Angeles and the technology designs of Idibri of Addison TX. Progressive would also coordinate design implementation throughout the project with construction manager McCownGordon Construction of Kansas City.
"Sanctuary AV systems [had] to meet a wide array of goals in a very unique space," Progressive's House of Worship Account Manager, Bill Latas, recalled. "That included support for speech, orchestra, choir, contemporary music, organ and professional video production, [all of] which required timely coordination between the many teams involved in a project of this size."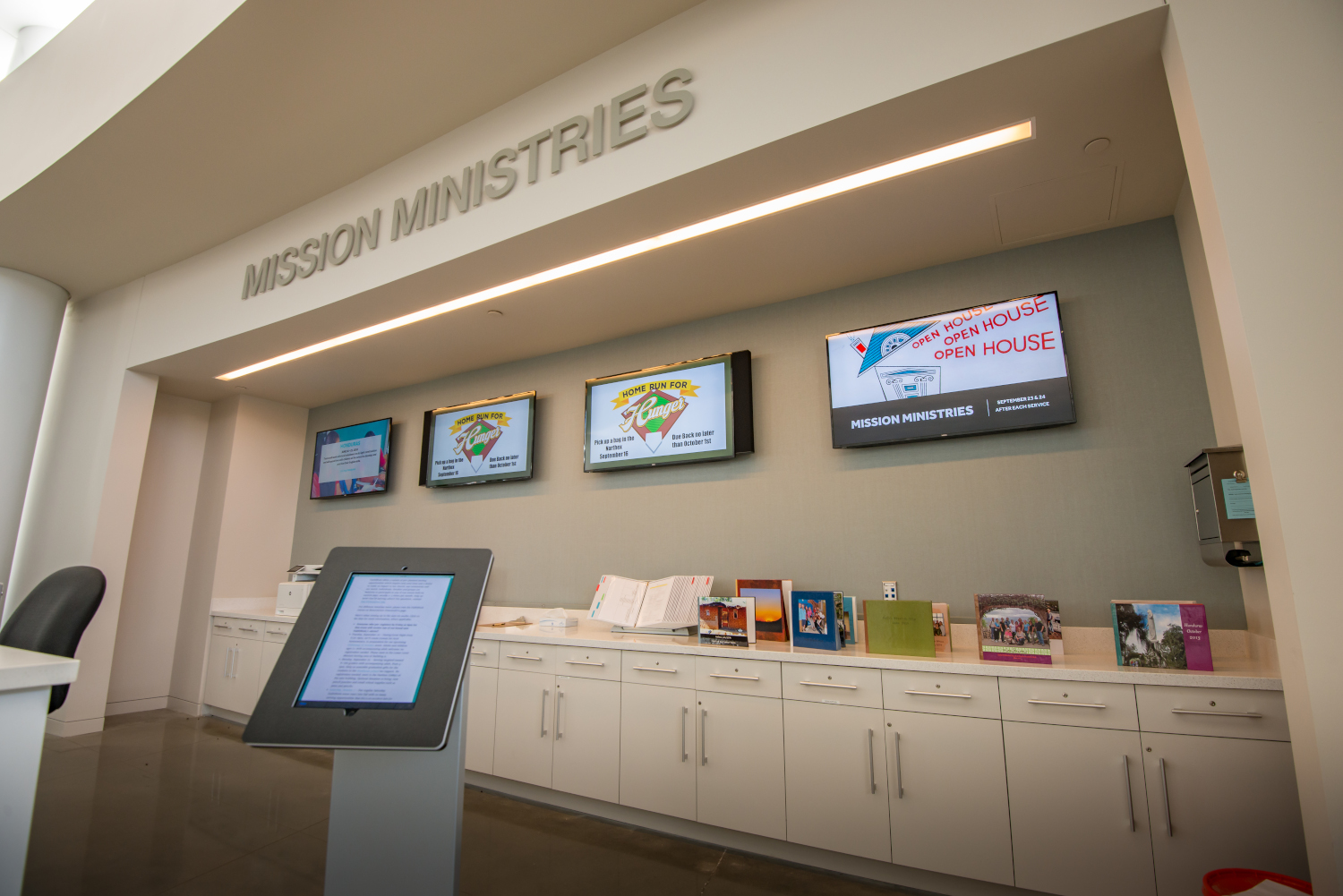 Audio System For Worship
Higinbotham, prior to becoming Audio Director at the Leawood campus, had logged years in busy Nashville TN studios. So, he was used to a busy environment when he came on as a contractor to help with audio and the church's larger productions. "We're busy here," he said, "[but] in a good way." Between five services every weekend, concert events, graduations conferences and meetings, the church AV staff facilitates more than 1,100 events each year. So, when advocating to the building committee for more expensive, professional-level gear, Higinbotham didn't hesitate. "These aren't systems that are turned on once a week," he emphasized. "This is a very busy environment [in which] reliability and reparability are key. Well-engineered equipment makes all the difference." To provide professional mixing abilities for both front of house (FOH) and broadcast, Progressive installed DiGiCo SD 10 mixing surfaces with Waves SoundGrid technology to run popular Waves plugins. "By standardizing on DiGiCo across the campus," Higinbotham began, "engineers are immediately familiar with the interface and can move between venues more readily."
To provide connectivity for FOH positions with the stage, speaker positions, and control and equipment rooms, Progressive's Director of Audio Visual Systems, Nathan York, worked closely with construction teams to provide a solid and flexible infrastructure. As Project Manager for AV technology in the new building, York oversaw installation and commissioning of all major components, regularly conferring with church leaders, construction crews and contractors to ensure the project would complete as scheduled and operate flawlessly. "Good communication between the teams throughout a project of this magnitude is essential," he stressed.
York's role included working with finalized engineering drawings and driving any changes necessary through timely discussions with his clients and the onsite trades. "It comes down to understanding the needs of the full-time staff who will operate the systems," he observed. "Then, [it's about] helping the client get what they need. That's key to having a successful outcome."
For pristine sound throughout the sanctuary, Idibri's designs specified an EAW Anya solution. Anya is a complete, self-contained, high-power sound-reinforcement system built around three-way, full-range array modules. Modules can adapt to many different applications as performance parameters are configured electronically via the company's Resolution 2 software. Columns built of Anya modules hang straight, without any vertical splay, and electronically adapt system performance to produce asymmetrical output that delivers a full-frequency-range response across a coverage area that the user prescribes.
"Being able to put sound where we need it and away from [the] large, flat surfaces of the 'sails' in the room's design was critical to getting great sound," Higinbotham said. Although the surfaces were painted with acoustical paint for sound absorption, having the ability to steer sound away from them significantly minimizes unwanted sound reflections back into the seats. "It's a remarkable amount of control we have," Higinbotham affirmed. "Just a few feet above the top row of the balcony and the sound drops appreciably."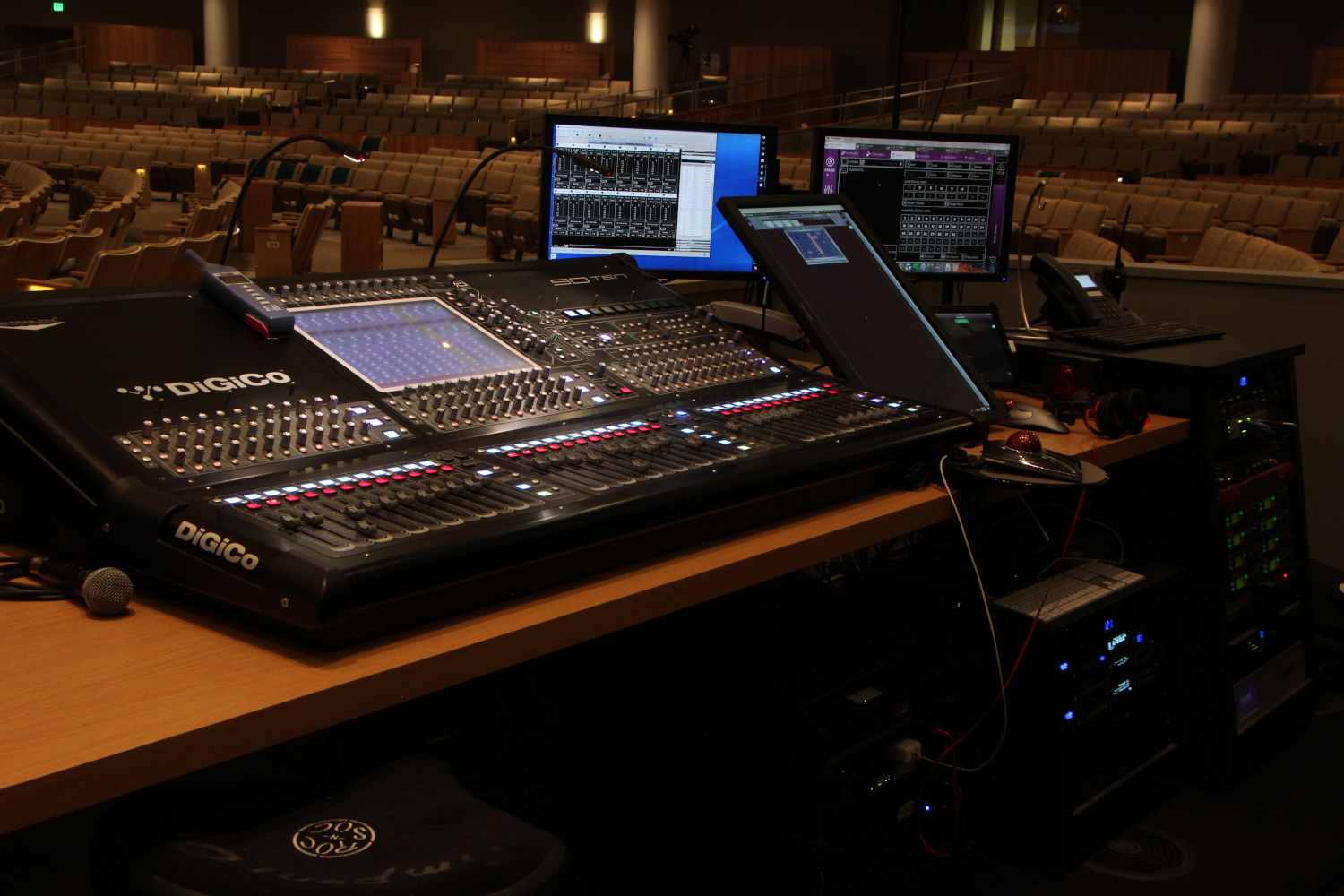 Each Anya module includes a field-replaceable power and processing unit with 22 channels of digital signal processing (DSP) and amplification to drive each of the module's 22 transducers. Within each Anya module, high-frequency compression drivers are loaded on a proprietary
horn that expands to fill nearly the entire face of  the enclosure. Six middle-frequency cone transducers, arranged in two columns of three, enter the horn and sum coherently with the high-frequency wavefront. To reproduce lower frequencies, dual cone transducers use EAW algorithms for loading to increase the spacing of the apparent acoustical centers, thus extending effective horizontal pattern control well into the typical low-frequency range. The extended low range of the Anyas turned out to be an important feature for COR.
Progressive installed two columns of Anya modules at the front of the stage to create a left-right system, with four outer modules and six inner fills per side, along with three EAW subs on each side, flow slightly behind the main rig. Since the installation had to occupy space just in front of the sanctuary's large stained-glass window, church leaders posed the question of whether subs could be removed. Although hesitant to remove any system components, Higinbotham and his team reluctantly researched configuring the system without subs. They found that the full-range ability of the Anya configuration didn't require the low-frequency support of subs for COR's style of worship.
"We were really amazed at the ability of the Anya modules," Higinbotham said. "Visiting engineers sometimes ask us, 'Where are you hiding the subs?'" Also hiding in the architecture are 19 Innovox Audio SL-2 and SL-2.1 RH ultra-slim-profile two-way loudspeakers used for front fill and choir monitors. They are only 2″x4″ (DxW) and provide 120°x90° (HxV) coverage.
BSS Audio Soundweb London BLU devices provide signal processing, along with a high bandwidth, fault-tolerant digital bus for the audio system. Middle Atlantic racks equipped with the company's UPS-1000R power supplies house the infrastructure's Black Box digital and fiber patch panels and Lab.gruppen C10:4, C16:4 and C48:4 four-channel amplifier with NomadLink network monitoring. A Brainstorm DCD-8 Master Clock Distripalyzer with 10 inputs and 17 outputs was installed to guarantee system time integrity and keep all digital equipment synchronized.
One of the most interesting acoustical accomplishments in the sanctuary was the implementation of a system that effectively integrates passive and active room acoustics. The Acoustical Enhancement System, which was designed by Acoustic Distinctions and implemented by Progressive, employs Audio-Technica AT4053B ceiling mics around the building to capture ambient sound. The system processes the sound, returning it to the room through Tannoy VX Series ceiling speakers planted at key places in the sanctuary. "This has the effect of changing the listener's perception of the space," Higinbotham noted. "I can control the amount of decay in the room up to 5sec. or 6sec. The result can be great for organ recitals, orchestra or vocal ensembles. It's not for use all the time, but it can make you feel like you're in a cathedral, and we can control that."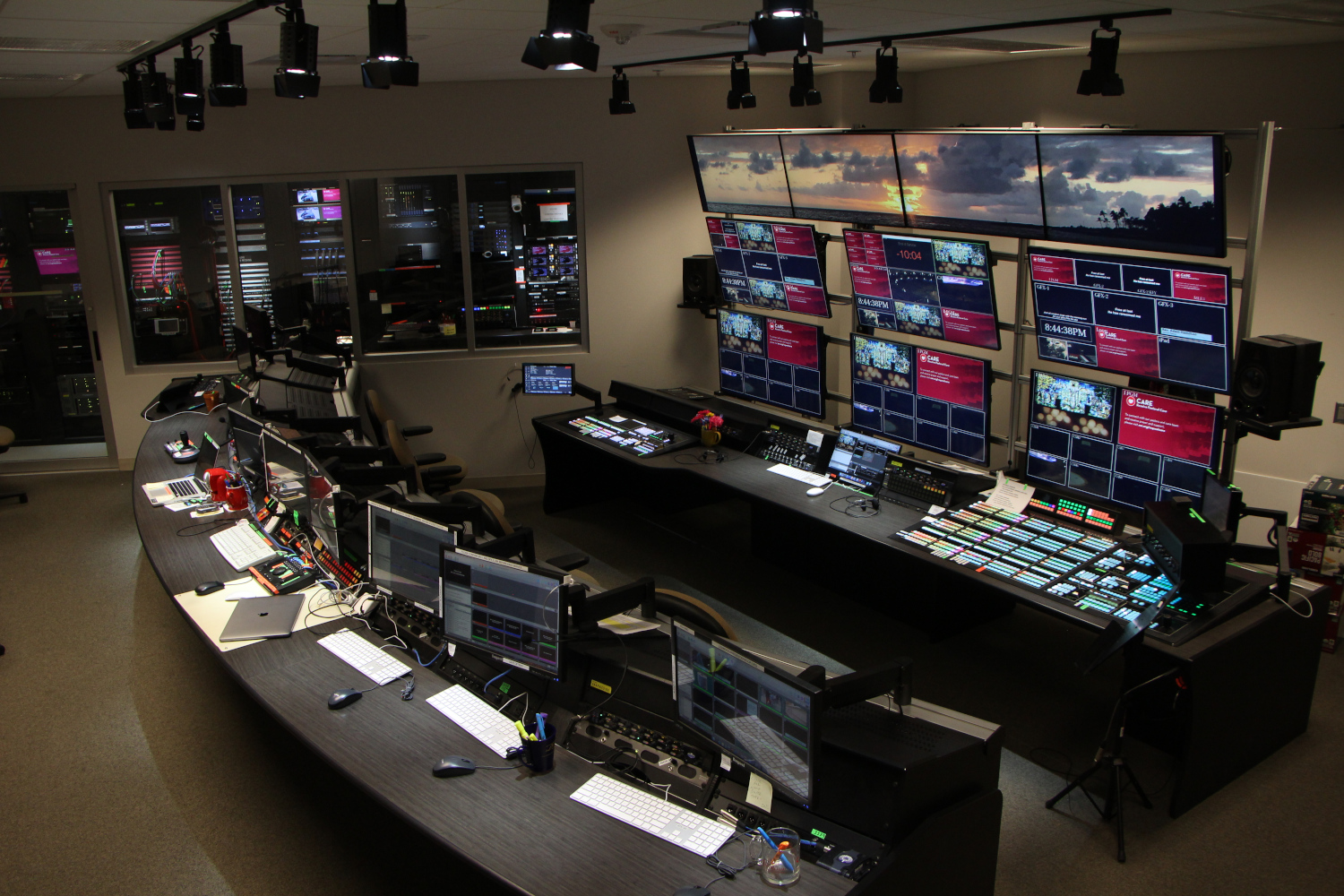 Sound Onstage
Shure wireless microphones are used throughout COR, along with DPA Microphones lavaliers and headsets. Originally, Shure ULXD wireless receivers were specified for the sanctuary; those were changed by Progressive to full-diversity Axient units with Shure's Spectrum Management suite to provide spectrum analysis, channel allocation and interference-detection abilities to ensure faultless operation in a sanctuary with many metal surfaces. "A job of this magnitude will have issues," York acknowledged. "Something you haven't planned for…a bump in the road. When that happens, working together with good and talented players, as we had at Resurrection, puts the focus on finding solutions."
A professional stage-monitoring system includes Shure P9T/R transmitters and receivers and Aviom A360 personal-monitor stations with D800 Dante hub and JBL PRX712M 12-inch, two-way floor wedges. To augment the monitoring system, Higinbotham and his team added a KLANG:technologies KLANG:fabrik 3D personal-monitor mixing system that allows players onstage to realize 3D panning. "We have a range of volunteers," he noted, "[going] from teens to professionals. We try to accommodate everyone. Avioms with subgroups make it easy, and KLANG offers players an  unbelievable amount of control and realism. Also, players can control their personal mix from iPads on stands or even a phone, allowing them to go anywhere. From the engineer's point of view, with five back-to back Sunday services that can range from praise band to 60-piece orchestra and choir, monitor systems like Aviom and KLANG with presets to quickly reconfigure make it doable."
An audio-production space for broadcast was included in the design. It provides audio engineers with a second DiGiCo SD 10 mixing surface connected to FOH via optical loop with redundancy and a Waves server. With the same access to any channel, audio is mixed and processed for streaming to the website and for weekly broadcasts to COR's downtown campus. ADAM Audio A8X speakers reinforced with an ADAM Audio Sub12 provide nearfield and midfield monitoring of mixes.
Progressive outfitted the main audio control booth with Sound Construction R16-1 and R7-1 racks with Furman power distribution and Denon disc players, along with a DN-700R solid-state recorder, Radial DI and Focusrite audio bridge. In the sanctuary's rehearsal spaces and multi-purpose meeting space, called "The Parlor," SKB rolling racks provide talent with easy access to a Soundcraft Si Expression 1 mixer, Denon disc player, Radial DI, Shure wireless-mic system, and Fulcrum CX1265 or JBL Control 226CT speakers.
To carry sound outside the sanctuary, Progressive deployed more than 100 JBL Control ceiling-mounted and pendant speakers to complete a facility-wide ancillary speaker system. The system provides clear audio reproduction of worship services, other program material or public announcements. To expand accessibility, AV designs include a Williams AV assistive-listening system for worshippers who are hard of hearing. The system includes ear speakers and induction neckloops that magnetically couple an audio signal to telecoil-equipped hearing aids.
Video For Worship And Broadcast
Each week, services at the Leawood campus are produced by the Co-Directors of COR's TechArts department: Higginbotham, Frank Gentile (Director of Production) and James Holt (Director of Video Technology). What Holt and his video team do for each service might best be characterized as a balancing act. At their disposal is a 103'x15′ (WxH) Absen videowall that incorporates 1,545 LED panels that curve along with the radius of the wall. Per specifications, Progressive installed the videowall directly below the room's monumental stained-glass window. It's flanked by dual 15'x60′ (WxH) stainless-steel panels fabricated with a tangled-vine motif that reflects the Resurrection Window's garden theme. "[The stained-glass window] is an enduring feature of the sanctuary," Holt underscored, "and we try our best not to compete with that. What would be the single commanding piece of technology in a video-friendly, black-box worship space must be used with care at Leawood so as not to distract from the message or the beauty of the sanctuary space."
For real-time media control of the videowall, Holt's team relies on Coolux/Pandora's Box software running on a Microsoft Windows PC and Server Quad Pro hardware by Christie Digital Systems. "The Coolux system allows us to create a multi-layer video environment where we can use the full 7416×1080 resolution of the wall for stunning video presentations," Holt said. "Then, [we can] dissolve to a configuration with a center-screen area for graphics or lyrics to support worship and image-magnification [IMAG] areas on either side." In addition, four Mac Pros with Blackmagic Design capture cards are used for graphics generation and media serving running Renewed Vision's ProPresenter software.
Another architectural feature that COR boasts—the striking use of uncontrolled natural light throughout the sanctuary—presents challenges for Holt and his team. Natural-light levels are constantly changing, including light that's filtered through stained glass. Holt relies on a High End Systems Hog 4 console to balance lighting from a mix of LED and incandescent fixtures. This technology enables to team to deliver optimal, even lighting for video and stage effects.
Gepco panels for fiber cables connect four Sony HDC-1700L professional multi-format HD camera systems outfitted with HDVF-L750 seven-inch LCD HD viewfinders and RCP- 1500 joystick remote-control panels to the video control room at the Leawood campus. The two cameras located at center positions in the sanctuary are equipped with Canon 2/3-inch zoom lenses with full servo control. The two outer cameras are equipped with Canon HD 2/3-inch 24×7.5 telephoto lenses and extenders.
Long focal lengths allow Holt and his producers to get tight shots of the stage. "We like to shoot close," Holt said, adding, "If someone is in the farthest seat, we want IMAG to 'move' 10th [that person] up to the row." Holt's intent is to bring members of the congregation close to the message and involve them as much as possible, without causing a distraction. It's just another example of technology being deployed to bring intimacy to a big room.
According to Holt, his mission is the same as it relates to remote viewers. "Our broadcast feed is 98 percent of what people in the sanctuary see," he declared, "just with a few wide shots to give them context." Vinten pan  bars, tripods, dollies and heads provide a solid base for camera operators. Long runs of fiber are aided by two AJA Video FiDO-2R and FiDO-2T units for SDI-fiber conversion. These units allow for long cable runs (up to 32,808 feet) with electrical isolation, useful for eliminating ground-loop problems.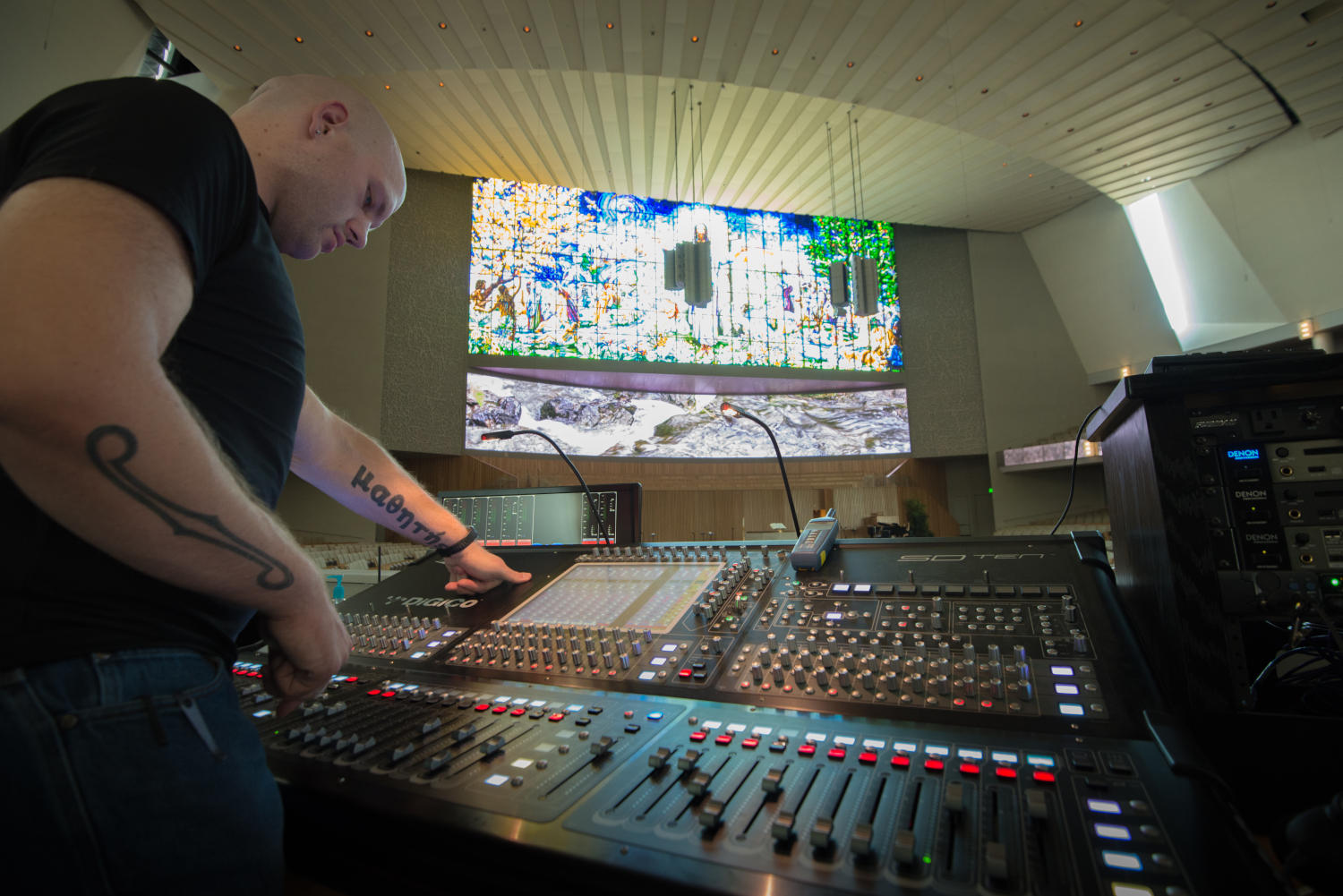 To provide more angle choices, four 4K PTZ cameras with IP remote controllers can be moved to various locations around the sanctuary. Three Sony BRC-X1000s are permanently mounted at left, right and center of the balcony rail; another BRC-X1000 with RMIP10 remote color camera is similarly deployed for mobile views of the stage. Two additional Marshall CV500-MB-2 mini broadcast cameras equipped with Grass Valley scalers are available for POV shots—for example, inside the drummer's Plexiglas isolation area, which the staff refers to as "the aquarium." Holt prefers fixed shooting positions because shoulder-mounted, ENG style shooting can be more distracting.
Progressive installed a Ross Video Acuity 6ME IP production switcher to provide switching features for video production, with 4ME dedicated as inputs to the Coolux system and 2ME dedicated to a broadcast feed. Signals are routed through production via an Evertz 32×32 video router with CP-1604E and CP-2048E control panels. The latter has 48 assignable and dynamic LCD buttons to control operation. Each of the LCD buttons can display a multiple character text string, graphics or custom characters. A MAGNUM-SE-R32P router control system provides a web-based graphical user interface (GUI) for maintaining router configurations.
Cobalt Digital 9910DA-4Q-3G-EQ distribution amplifiers equipped with 20-slot rear-frame modules, along with 9004 dual channel distribution amplifiers and Cobalt Digital converters and embedders, are deployed throughout the facility.
Typical Sunday services find eight operators' seats in the video control room and four camera operators, with one person monitoring the broadcast stream along with three audio engineers at FOH. To keep teams in the sanctuary and control rooms in touch, Progressive installed a Clear-Com Eclipse-HX-Median-48P 48-port intercom system. That system includes 18 Clear- Com CC-26K-X4 single-ear headsets and five beyerdynamic DT 280 MK II and DT 290 MK II single-ear and double-ear headsets.
Progressive installed control-room equipment for video production into 18 Middle  Atlantic BGR-4532 rack units with Middle Atlantic power distribution. The equipment includes Black Box data patch panels and ADC video patch panels; Blonder Tongue, Rane, ESE and Cobalt Digital distribution amplifiers; Apantac signal converters; Denon Blu-ray players; Extron audio de-embedders; Kramer HDMI matrix switchers; and Contemporary Research HDTV tuners, as well as an HDTV modulator and IPTV encoder.
Nearly 40 NEC LED-backlit displays of various sizes are secured with Chief mounts. Furman PL-8C power conditioners ensure clean and consistent operating power. Image Video TSI-3000s and TSI-4000s were installed to monitor and collect information from signal routing and processing equipment to operate displays and tallies. A Tektronix SPG8000 master clock reference generator provides master sync.
For confidence-monitoring purposes, a 20,000-lumen Panasonic PT-DZ21K2U three-chip DLP large-venue projector, which boasts an ET-D75LE6 zoom lens and ET-UK20 software for screen control, is trained on the back wall. Holt's team typically switches the image between a program feed and the lyrics feed from the stage display, produced by ProPresenter. Additionally, four video monitors are located down on the floor, close to the stage. One is dedicated to program, two are for lyrics and one is to reproduce the Planning Center clock.
For video playback and recording, Holt's team employs the following: six Sound Devices PIX 270i recorder/players, two JVC SR-HD2700US Blu-ray disc and HDD recorders, an Avitech Rainier 4a1v composite video and PAL/NTSC multiviewer, and an Ikegami ULE-217 21.5-inch HDTV full-HD professional monitor. Production monitoring at the Leawood campus utilizes a mix of Panasonic LCDs, Ikegami and Plura monitors, and tvONE scalers. A Tektronix WFM5250 waveform monitor allows technicians to monitor SDI and HDMI signals in real time.
Crestron transmitters, receivers and controllers were installed in rehearsal rooms, along with a Sharp LC-60LE661U 60-inch Smart LED flatpanel monitor. A similar setup was deployed to the afore mentioned multi-purpose meeting area, The Parlor: A larger Sharp LC-90LE657U 90-inch LED flatpanel, along with Oppo and Denon disc players and an Extron scaling presentation switcher.
As Progressive was putting the finishing touches on the new sanctuary at the Leawood campus, coordinating final com missioning and training, church leaders began to work with Progressive to repurpose old gear with the idea of revamping the old sanctuary. The vision is to use it as a smaller, reconfigurable, 1,000-seat venue for worship, concerts or community events. Popular for its acoustic services and a youthful spirit, "The Foundry," as it is known, joins COR's popular Student Center and traditional chapel as unique and special places for all who seek to bring themselves closer to God.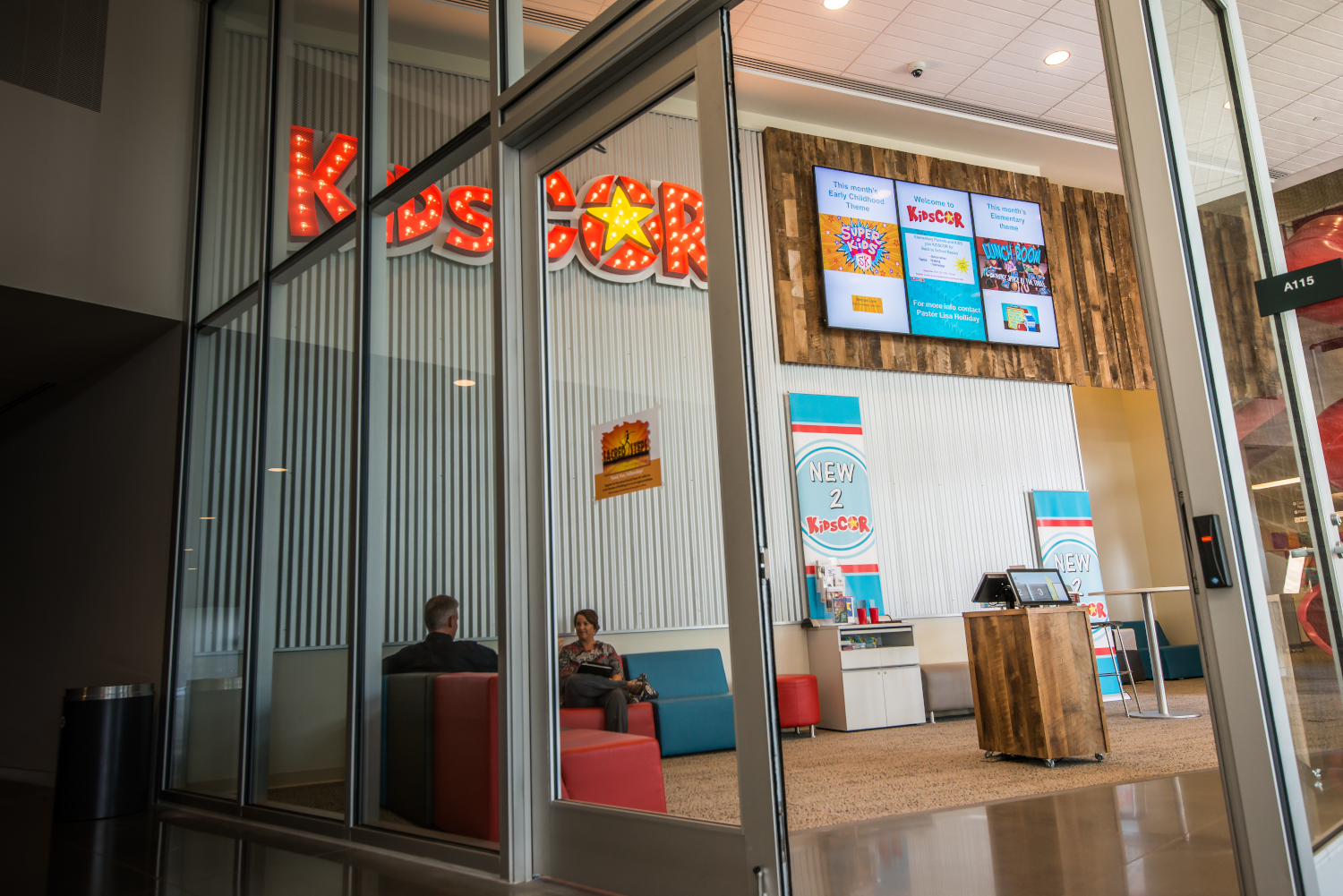 EQUIPMENT
ASSISTIVE-LISTENING SYSTEM
1 Williams AV ANT 024 antenna kit
51 Williams AV BATT 026-2 batteries
2 Williams AV CHG 3512 charging trays
5 Williams AV CHG 3512 charging trays
24 Williams AV EAR 022 ear speakers
51 Williams AV EAR 022 ear speakers
24 Williams AV NKL 001 inductive neck loops
51 Williams AV PPA R38 basic receivers
24 Williams AV PPA R38 intelligent receivers
1 Williams AV PPA T45 FM transmitter
1 Williams AV RRPK 005 rack kit
AUDIO AND INFRASTRUCTURE
10 Black Box JPM385A fiber patch panels
4 Black Box JPM612A-R7 data patch panels
1 Brainstorm DCD-8 word clock
5 BSS Blu-120 DSP expanders
1 BSS Blu-160 DSP frame
2 BSS Blu-806 DSP frames
13 BSS Blucard-in 4-channel input cards
19 BSS Blucard-out 4-channel output cards
20 EAW Anya main speakers
10 Innovox Audio SL-2 front-fill speakers
9 Innovox Audio SL-2.1RH choir monitors
1 Lab.gruppen C10:4 4×250 amp
12 Lab.gruppen C16:4 4×600 amps
1 Lab.gruppen C48:4 4×1250 amp
1 Lab.gruppen NLB 60E NomadLink monitor
6 Middle Atlantic MRK4431 44RU rack
4 Middle Atlantic UPS-1000R universal power supplies
AUDIO-PRODUCTION SYSTEM
3 ADAM Audio A8X monitors
1 ADAM Audio Sub12 sub
1 DiGiCo SD10 w/Waves SoundGrid mixing surface
1 Sound Construction ISOBox POST 18-38 rack
DIGITAL MIXING CONSOLE
1 DiGiCo SD10 w/Waves SoundGrid mixing surface
ELECTRONIC ACOUSTIC ENHANCEMENT SYSTEM
39 Audio-Technica AT4053B ceiling mics
4 JBL Control 26CT under-balcony ceiling speakers
12 Lab.gruppen C10:8 8×125 amp
30 Tannoy VX12 speakers w/U-brackets
62 Tannoy VX8 speakers w/U-brackets
EMBEDDERS/DISTRIBUTION
10 Cobalt Digital +ANAIO analog audio in/outs
2 Cobalt Digital 9003 dual-channel 3G/HD/SD reclocking distribution amps
10 Cobalt Digital 9931-EM 3G/HD/SD-SDI embedders
10 Cobalt Digital RM20-9931-B 20-slot frame rear I/O modules
10 Cobalt Digital RM20-9931-XB 20-slot frame rear I/O modules
FACILITY-WIDE ANCILLARY SPEAKER SYSTEM
14 JBL Control 226CT Type C premium ceiling speakers
4 JBL Control 26C no-transformer ceiling speakers
80 JBL Control 26CT Type A ceiling speakers
16 JBL Control 26CT Type A ceiling speakers
16 JBL Control 65PT Type B pendant speakers
15 Lowell 100LVC volume controls
FIBER TRANSPORT
2 AJA Video Systems FiDO-2R 2-channel single-mode LC fiber to 3G-SDI receivers
2 AJA Video Systems FiDO-2T 2-channel 3G-SDI to single-mode LC fiber transmitters
FURNITURE – RACKS
18 Middle Atlantic BGR-4532 BGR Series racks (45RU, 32″D)
18 Middle Atlantic BGR-552FT-FC BGR Series fan tops w/controllers
8 Middle Atlantic D2/D4 rackmount drawers
36 Middle Atlantic PDT-1220C-NS power strips (12 outlets, 20A)
18 Middle Atlantic RIB-1-BGR-32 BGR Series riser bases (1 bay, 32″D)
6 Middle Atlantic RM-LCD-MT LCD rackmounts (9RU, telescoping)
4 Middle Atlantic SSHD-28 sliding rackshelves (2RU, 28″D)
2 Rack Solutions 1UKYB-126-USB 1RU shelves w/USB keyboards
1 Furman PL-PLUS DMC power strip
1 Radial ProAV2 PC DI
GRAPHICS GENERATION
1 Sound Construction R16-1 SL rack w/rear panel
3 Apple Mac Pros (16GB of RAM)
1 Sound Construction R7-1 NC SL 18″ deep rear panel
3 Blackmagic Design BDLKULSR4K2 UltraStudio 4K Thunderbolt 2s
1 Cobalt Digital 9910DA-4Q-3G-EQ quad-channel multi-rate distribution amp
MAIN CAMERA PACKAGE
1 Cobalt Digital RM20-9910-4Q-E 20-slot frame rear I/O module
2 Canon HJ24eX7.5B IASE S 2/3″ hi-def ENG/EFP zoom lenses w/full servo
1 Renewed Vision PRO-ALPHA ProPresenter Alpha Keyer module key/fil control software expansion for ProPresenter
2 Canon MS-210D semi-servo control kits
1 Renewed Vision ProPresenter worship and presentation software
1 Cobalt Digital 9003 dual-channel 3G/HD/SD reclocking distribution amp
3 Renewed Vision SDI modules
2 Cobalt Digital 9910DA-4Q-3G-EQ quad-channel multi-rate distribution amps
INTERCOM SYSTEM
9 Gepco GHF92NTK hybrid fiberoptic cables
1 beyerdynamic DT 280 MK II single-ear headset
3 Gepco HMP8-F 8-position modular panels
4 beyerdynamic DT 290 MK II broadcast headsets
19 Gepco HMP8-N modular hybrid fiber and triax panels
18 Clear-Com CC-26K-X4 single-ear lightweight headsets w/XLR-4F
4 Sony HDC-1700L multi-format HD camera systems connectors
4 Sony HDCU-1700L camera control units
1 Clear-Com Eclipse-HX-Median-48P 48-port intercom system
4 Sony HDVF-L750 7″ LCD HD viewfinder
4 Sony HKCU-2007 3G-SDI/HD-SDI output boards LED WALL
4 Sony RCP-1500 joystick remote control panels
1 Absen 4mm-pixel-pitch 103'x15' videowall (WxH)
4 Vinten 3219-82 telescopic pan bars and clamps
1 Apple Mac Pro (16GB of RAM)
2 Vinten 3497-3B heavy-duty OB skid dollies
1 Coolux 157-122106-01 jog shuttle controller
1 Vinten Vector 430S fluid head (150mm ball base)
1 Lightware Visual Engineering MX12x12DVI-Plus DVI matrix switcher
1 Vinten Vector 75 pan/tilt head
2 Vinten Vision 250 carbon fiber tripod systems w/ground spreaders (black)
MAIN AUDIO CONTROL BOOTH
1 Denon DN-501C CD player
MATV HEAD-END
1 Denon DN-700C media player
40 Apantac DA-SDI-HDTV-II SDI-to-HDMI converters
1 Denon DN-700R solid-state recorder
2 Apple TVs
1 Focusrite REDNET 6 audio bridge
1 Blonder Tongue OC-12D passive combiner (5MHz to 1,000MHz, 12 ports)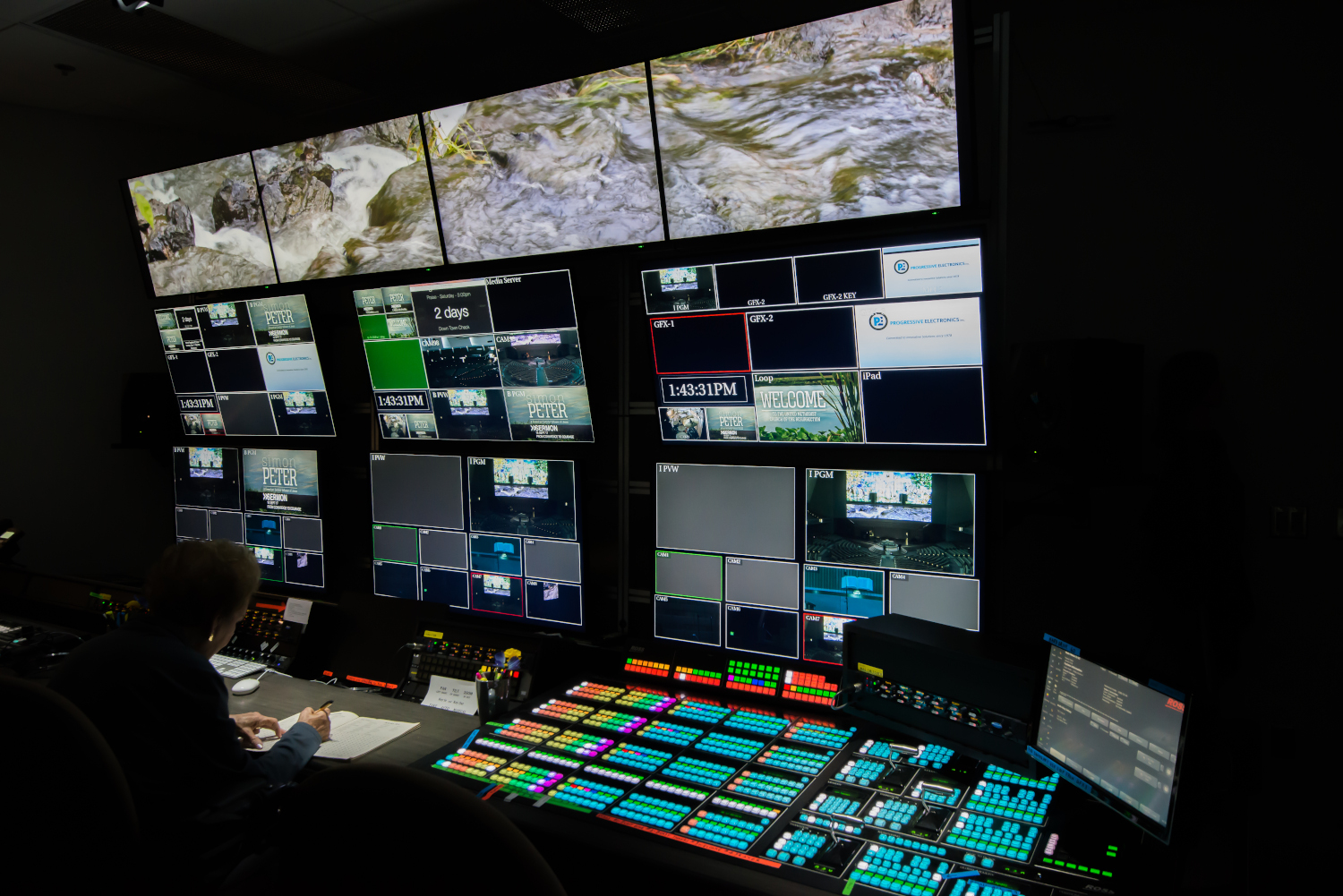 To read more installation features from Sound & Communications, click here.