Mount Airy Casino Resort emphasizes AV to drive deluxe sportsbook and poker room.
The Mount Airy Casino Resort is the latest iteration of a tradition of holiday havens in Pennsylvania's Pocono Mountains. It's built on the famous bones of the Mount Airy Lodge—what the New York Times called "America's premier honeymoon hideaway" in an article on the half-century-old retreat, where a 2,000-seat theater hosted headliners like Bob Hope, Milton Berle, Connie Francis and Nipsey Russell. Mount Airy Lodge closed in 2001. The new Mount Airy purlieu opened in 2007 as a 188-room hotel with a 62,000-square-foot casino that features classic casino games like blackjack, roulette and baccarat, as well as 1,800 slot machines.
It was a US Supreme Court's ruling in 2018, however, which overturned a ban on commercial sports betting, that caused the Mount Airy Casino Resort and many other such hospitality properties to change course rather suddenly (and expensively), adding or upgrading sportsbooks. A sector once reserved for a handful of gambling destinations—those in the state of Nevada, pretty much—sports-betting spaces are now portals to an estimated $150 billion business in the US. Accordingly, in June 2019, the resort and its longtime integration partner, Vistacom, began to draw up plans for an expanded poker room and a new two-level sportsbook, built on the site of the old resort's nightclub. The vision laid out spaces that would be heavily reliant on AV to help bring in the bets.
"This was very much a fast-tracked project," Andrew Quinn, Vistacom's Account Executive on the project, noted. He explained that the legal ruling created an impetus for other regional casinos to do the same. "They were trying to get the sportsbook and enhanced poker rooms deployed before [the] others were. And we did! We started designing in June and opened on September 6 [2019]."
That speed, Quinn said, required considerable coordination with the other trades working on the project, as well as with the general contractor. "There were a lot of people who had to work around each other at the same time, and there were change orders that had to be accommodated," he acknowledged.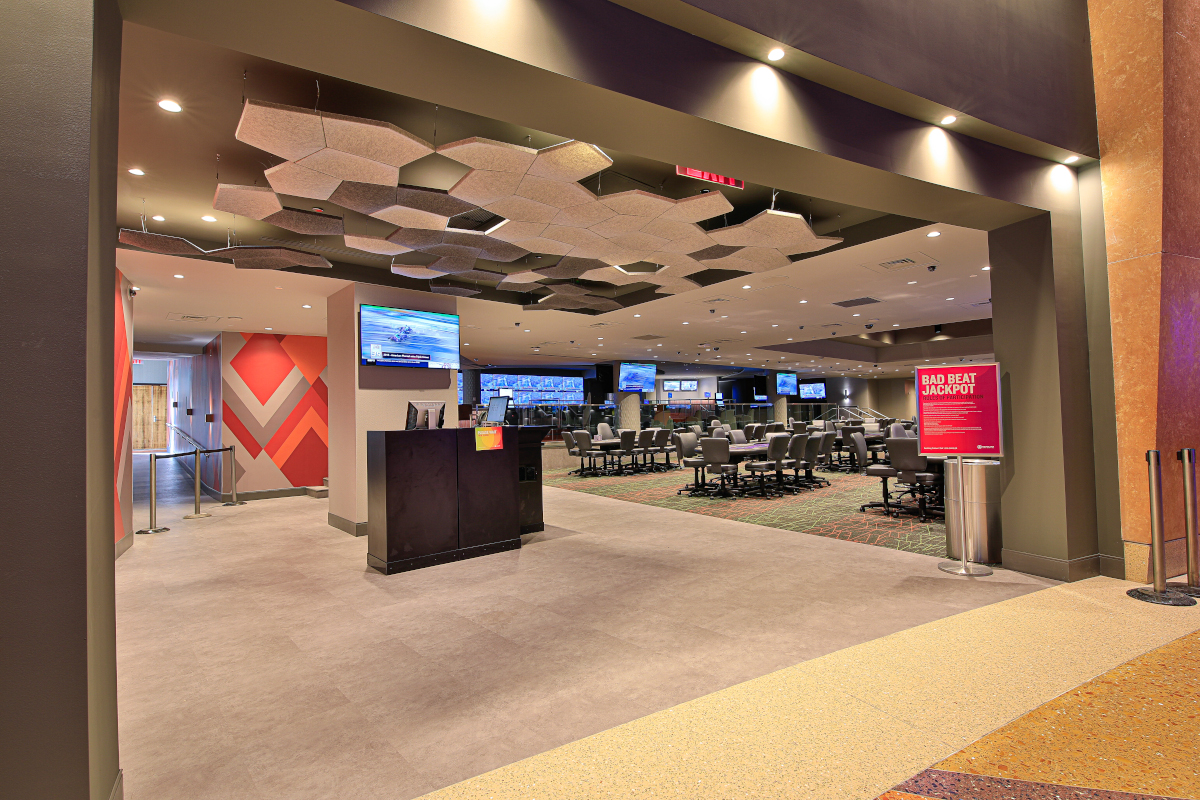 Client Perspective
For the client, the project's timeliness was a matter of importance. "Sportsbooks are a more important part of casino operations now, after the betting laws have changed," Nik Vroulis, Executive Director of IT and the CIO at Mount Airy, observed. And Vroulis certainly knows of what he speaks, having also held technical-leadership positions at other casino-resorts. "Sportsbooks add a lot to the overall casino experience, and the legalization of betting has helped streamline some of the back-end of the process to make it easier for guests to partake of it."
According to Vroulis, the challenge that this property posed was to create a high-end sportsbook casino experience in a limited amount of space. The ability to go vertical, putting the book on the second floor, helped to facilitate some important amenities for this type of hospitality venue (for example, guest privacy). Creature comforts—plush seating and a cool bar, creating an atmosphere and ambience like that of an elite international airport lounge—were also desirable to the client.
Audio and video systems, however, were essential to completing this effect, Joe Palma, the casino's longtime Manager of Technical Services, stressed. "I'd have to say that AV is the biggest driver," he added. "You have to have the ability to have all the games the guests want to see at the same time, and have the scores for more of them always available. Good AV is the only way to make that happen. You want to create an atmosphere that's conducive to gaming."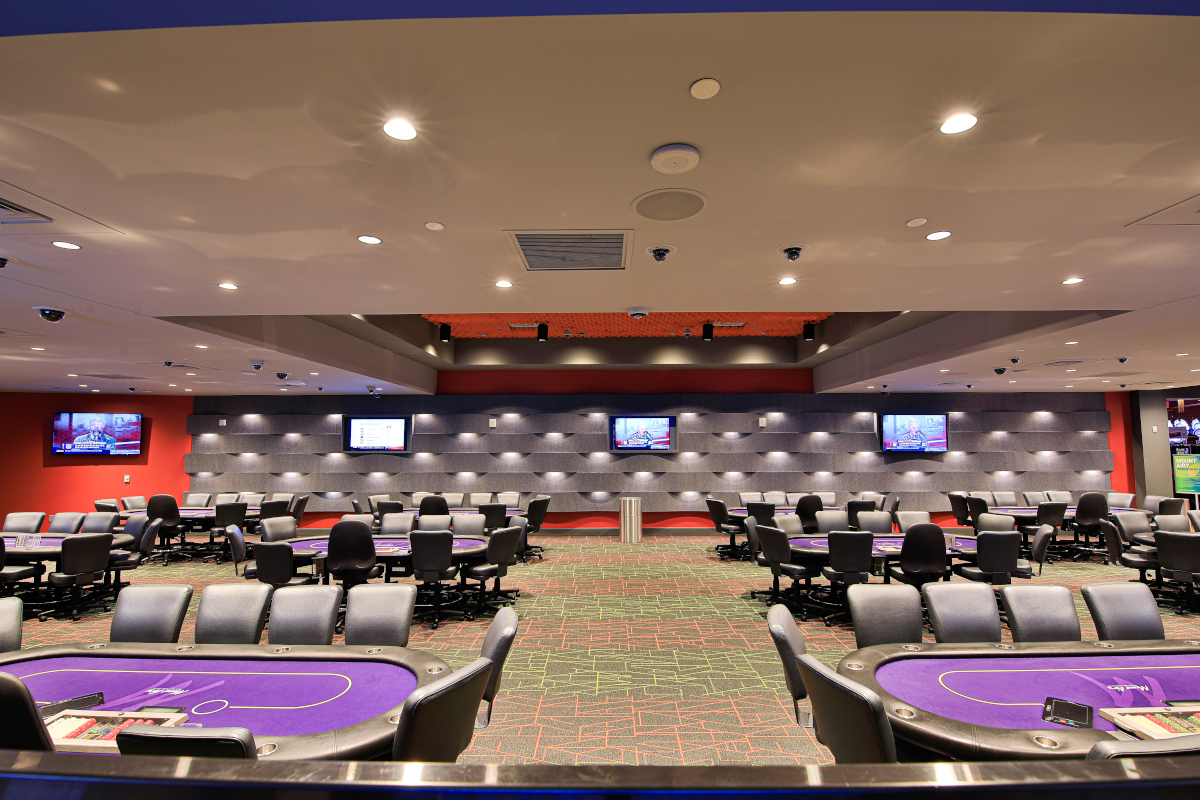 Two Levels, No Waiting
The project is laid out as four distinct areas. The entrance to the poker room and sportsbook from the main casino floor became a transitional space delineated by a bright red portal and a six-panel videowall of 55-inch NEC LED displays arranged in a 3×3 configuration. That first step into the new area was also one of the first design changes: What at first had been a 2×3 (WxH) configured wall of 86-inch displays was squared off so as better to fit the entranceway's aesthetic. The change also helps the videowall act as signage, displaying the sportsbook's features to casino-goers and helping them navigate their way across the floor. "The way everything looks here, including the AV, was very important to the casino," Quinn remarked. "We had to be aware of that [during] every step. And the way the videowall looks now, it gets your attention."
To the left of the entrance is the expanded poker room, where seven 65-inch NEC displays are attached to a variety of Chief mounting brackets, two of which are swing-arm types. That allows floor managers to reorient the displays based on traffic patterns in the room. An eighth 65-inch NEC display is a signage screen for an informational kiosk in the room. These displays pull content from a Z-Band system, an enterprise-level cable system aimed at the hospitality sector, which converges voice, data and video across a single cable and one infrastructure. This extends to the video displays throughout the sportsbook. According to Quinn, there can be up to 18 discrete sources for the displays—ranging from DirecTV, to a Roku streaming box, to various cable providers—or a single source to all to suit digital-signage purposes or life-safety applications. Source management is via a 15-inch Crestron touchpanel in the sportsbook's master control room and a 10-inch touchscreen mounted near the teller window, which itself has a pair of 43-inch NEC flatscreens mounted next to it in order to display live betting odds.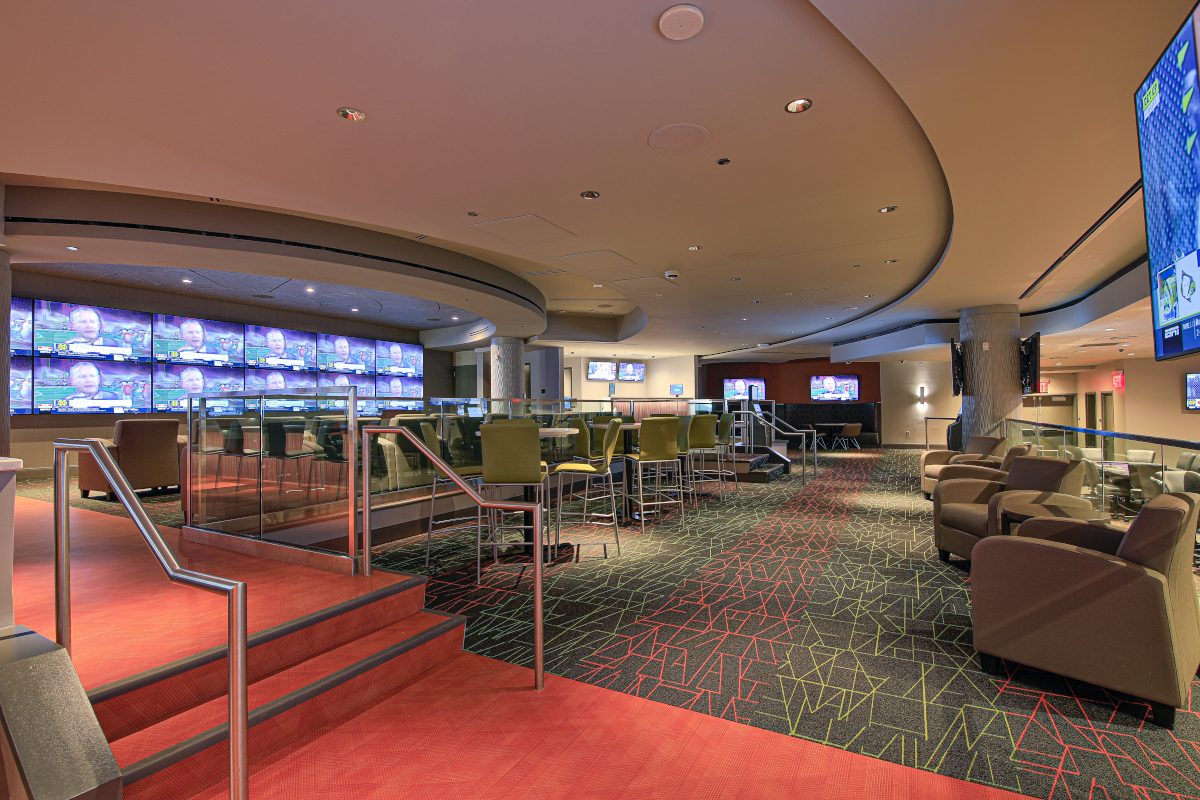 Audio, Both New & Old
Low-profile, six-inch QSC ceiling speakers distribute audio throughout the area, drawing on a Biamp I/O server, powered by a Crestron three-channel amplifier in the IT closet. A total of 31 of those speakers cover the poker room and sportsbook. The spaces are divided into two zones: one for the entire lower level and one for the sportsbook's upper level. "We wanted to keep the poker room separate from the upstairs sportsbook for events such as poker tournaments," Quinn explained. A Biamp Tesira SERVER-IO digital network server is used for automixing paging and background music (BGM), as well as zoning the sound system. It's also the interface for a Shure QLXD124/85 wireless-mic system that's used for announcements and events.
Although the audio system is fairly straightforward, the client did require that it be tied into the casino's existing distributed sound system. That requirement made it necessary to interface contemporary components and platforms with ones that were a decade-plus old.
"The original audio system was built around an older Biamp DSP [digital signal processor] platform that used CobraNet for its audio transport," Randy Fisher, Senior Design Engineer on the project with Vistacom, explained. "The new Biamp DSP we used in the sportsbook uses AVB [Audio Video Bridging], and we needed to tie the two systems together so we could hear the existing house-audio sources and paging in the new sportsbook. Luckily, the Biamp Tesira SERVER-IO we used in the sportsbook can accommodate both AVB and CobraNet via optional cards."
To the right of the entranceway is the sportsbook's lower level, which has six 65-inch LED displays that can draw from the Z-Band system, as well as from Scala digital-signage media players, over a Crestron DigitalMedia (DM) NVX AV-over-IP distribution system.
It's the upper level of the sportsbook, however, that gets most of the action. There, a 12-panel videowall composed of 65-inch NEC displays, which are configured 6×2 (WxH), is the centerpiece. What's more, three additional 65-inch displays are positioned to be visible to patrons at a W-shaped bar.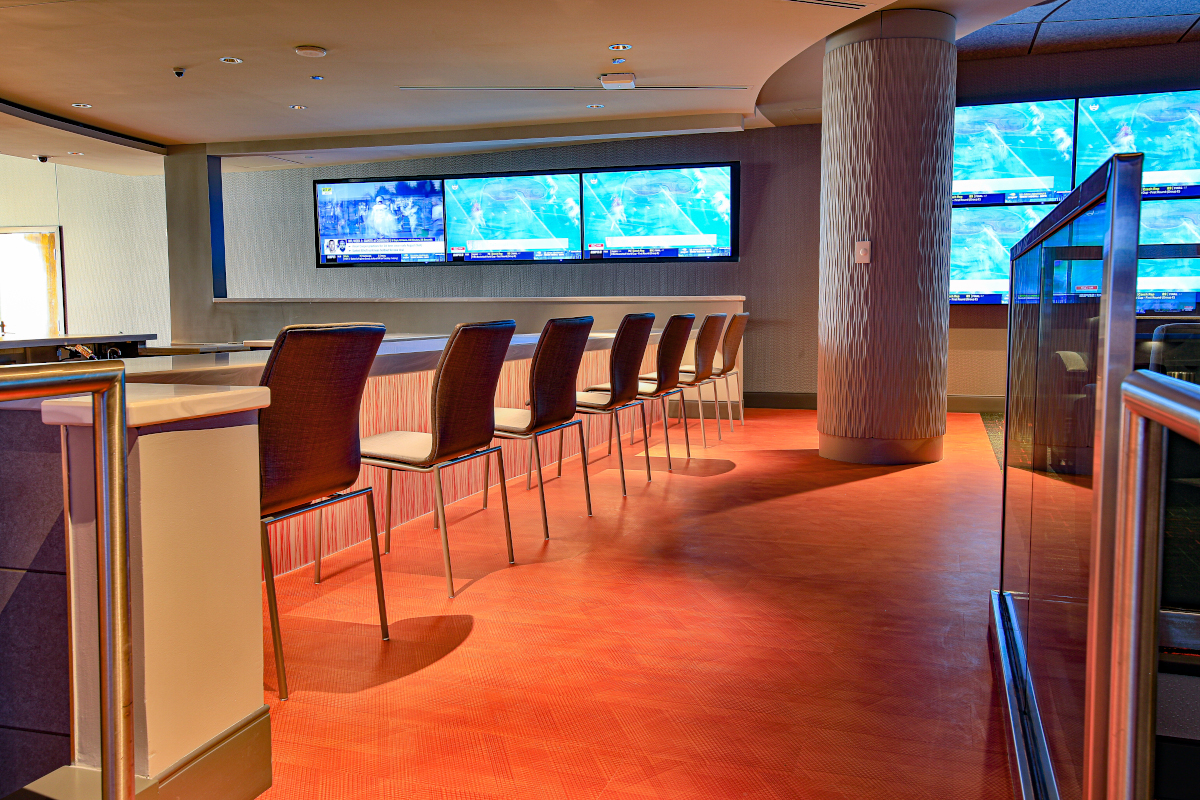 The Look Is Important
Quinn noted that, when it comes to video, positioning proved important. Accordingly, some of the displays were recessed to make them feel like part of the walls, rather than appurtenances to them. "Aesthetics were very important to management, so we recessed the video displays," he explained. "But we had to also make sure they were easily accessible for maintenance or replacement." Quinn added, "We worked closely with the general contractor to make sure there was also sufficient ventilation for them."
Picking up the story, Fisher said that a few areas had niches that the general contractor had created for the displays, but they were built too small for the specified units. "That caused us to scramble to swap them out and make other aesthetic choices," he acknowledged. "In the end, though, the design of the space was actually quite attractive, so a shout out to the local architects who did the project."
It's worth noting that some of the displays, such as several near a wheelchair-access ramp, had to be recessed to conform to Americans with Disabilities Act (ADA) regulations, which stipulate that wall-mounted items cannot extend more than four inches into a passageway. These displays are on tilt mounts for easier maintenance; others use static mounts. All video-display mounts throughout the sportsbook are from Chief.
In addition, the video infrastructure is largely IP based, and it runs on the casino's own network and cable with Cat6 wiring. According to Quinn, that will allow for almost infinite expansions of the system in the future. "This was like a turning point for the casino—it was built over a decade ago, and [it] largely uses a skew-free cabling infrastructure," he said. "We suggested an IP-distribution solution that can grow as they need it to, and [we suggested] that the head-end infrastructure [be] modular and easily expandable, [letting] them contemporize it as new products become available." Quinn continued, "With the ability to leverage the internet [via] AV-over-IP, the sky's the limit for them in the future. The system can accommodate a dozen sporting events simultaneously, even for a 'March Madness'-type of event."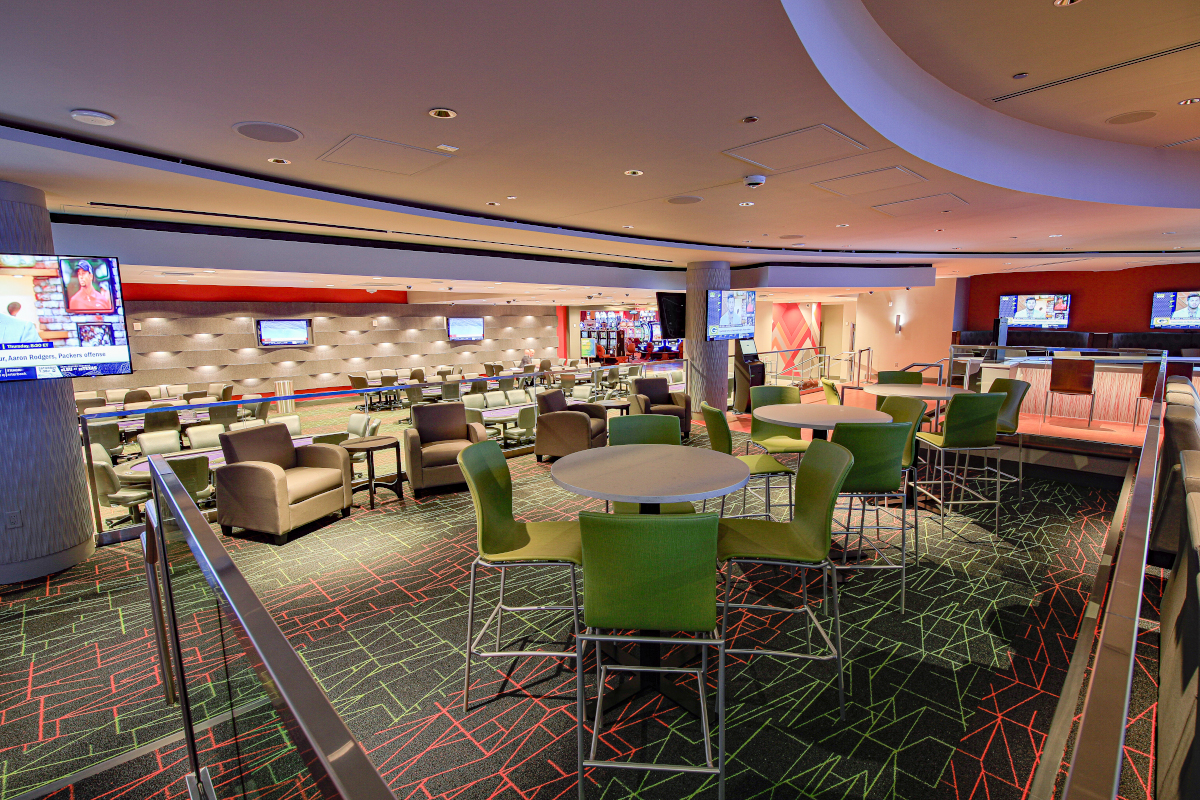 Networks, Shared & Separate
The key to making all this work, Quinn declared, is to make sure the network is properly set up; the challenge lies in doing so when the network is built and operated by the client. "Without a properly functioning network, the AV technology won't work," he acknowledged. "So, we had our own network-management team closely coordinate with the casino's [team] and with other trades as we went along. The client creates the parameters for the network—making sure the Cisco infrastructure can fulfill all the bandwidth requirements, [making] sure there's no degradation to the video picture [and] making sure it can support multicast streams—but we give them the requirements we need to make the AV work."
Fisher noted that the integrator built a tie-in between the dedicated sportsbook network, with its Crestron NVX AV-over-IP system, and the network that the rest of the casino uses. That other network, built in 2007 (with Vistacom's help), illustrates the vast difference between network infrastructures from back then versus now. The new network provides 1Gb bandwidth to all its endpoints over Cisco Catalyst 48-port switches; the older one is the original iteration of a Magenta Research Mondo Matrix on a CobraNet network that sends video graphics array (VGA) video over category extenders. "It's an older network, and it was getting harder to maintain it and get parts for it," Fisher stated. "The NVX will let us sort of reverse-engineer the network into the existing part of the casino [so as] to ultimately upgrade the network there."
Palma added that, because multicast signal is not run on the casino's operational network, care had to be taken to segregate them. "Sizing the switching gear and making sure the wiring was on spec and in place took a lot of preplanning and coordination," he remarked.
Fisher added that the NVX platform—notably, this was Vistacom's first such installation—is an improvement over the limits of Crestron's previous DM system, which requires cards to facilitate an I/O-count increase. "DM card frames max out at 128×128," he explained. "The NVX can be expanded beyond that. You are only limited by the size and bandwidth of the Ethernet network that it rides on."
Palma agreed, pointing out that the sportsbook will act as the anchor for a much more extensive renovation of the entire casino's network infrastructure. "Our long-range vision is to replace the Magenta [Research] equipment throughout the property and fold it into the systems we've placed in the new sportsbook," he said. "So, the sportsbook is really the beginning of a much larger undertaking. And we are also building the potential for future growth into the system, such as into our event center. The sportsbook is the basis for our future."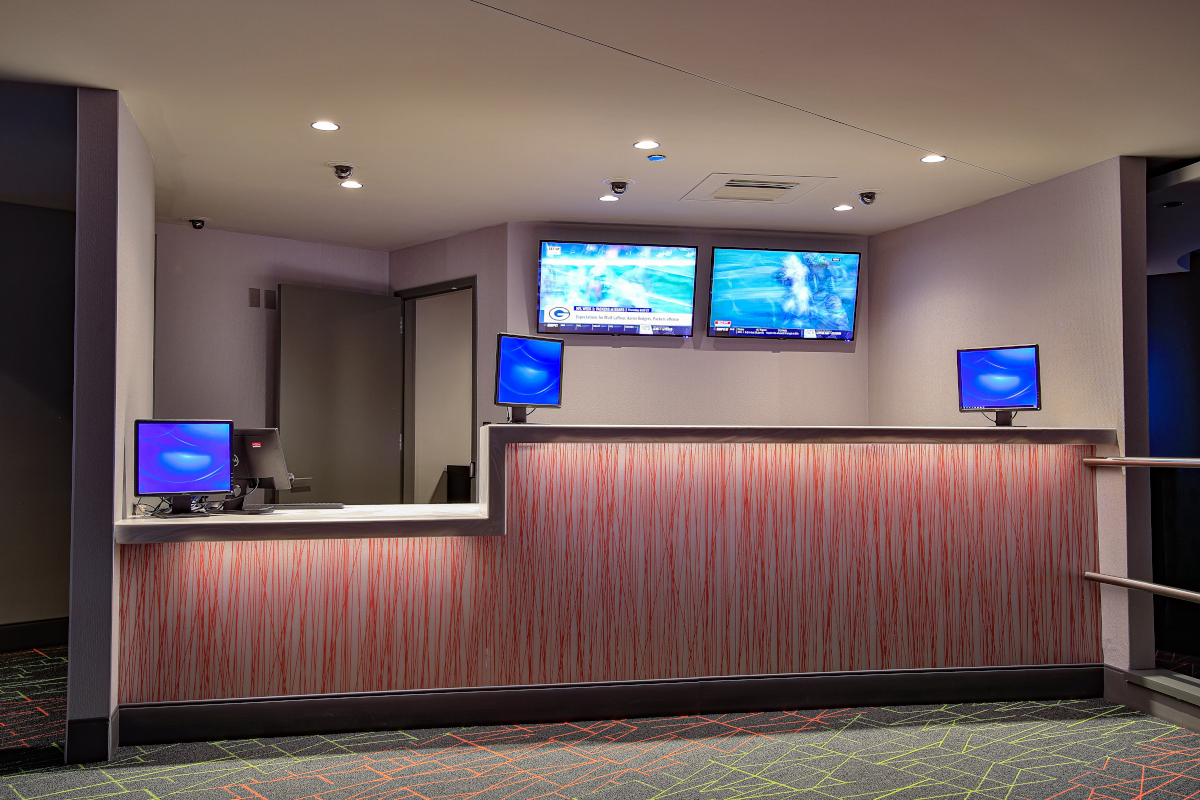 EQUIPMENT
1 Biamp Tesira SCM-1 modular digital audio networking card
3 Biamp Tesira SIC-4 modular analog input cards
1 Biamp Tesira SOC-4 modular analog output card
1 Biamp Tesira SERVER-IO digital network server
4 C2G 33046 2m LC-LC 10Gb 50/125 OM3 duplex multimode PVC fiberoptic cables (aqua)
4 Chief FCASCA structural column adapters
12 Chief LVS1U ConnexSys videowall landscape mounting systems w/rails
6 Chief LVS1UP ConnexSys videowall portrait mounting systems w/rails
15 Chief MTM1U medium Fusion micro-adjustable tilt wallmounts
1 Chief MTMP1U medium Fusion micro-adjustable portrait tilt wallmount
3 Chief PNRUB large flatpanel swing-arm wall display mounts (25″ extension)
2 Cisco C3850-48-L-L C3850-48 LAN base e-delivery licenses
2 Cisco C3850-NM-2-10G network modules
2 Cisco CAB-SPWR-30CM Catalyst 3850 StackPower cables (30cm)
2 Cisco CAB-TA-NA 8′ 125 VAC power cables
2 Cisco CON-SNT-WSC388PL SMARTnet extended-service agreements
2 Cisco PWR-C1-715WAC 715W hot plugs/redundant power supplies
2 Cisco PWR-C1-BLANK CONFIG 1 power supply blanks
2 Cisco S3850UK9-166 universal software, Catalyst 3850 Series
4 Cisco SFP-10G-SR SFP+ transceiver modules
1 Cisco SG35010PK9NA SG350-10P managed switch
2 Cisco STACK-T1-50CM StackWise 480 stacking cables (50cm)
2 Cisco WS-C3850-48P-L Catalyst 3850 Series switches (stackable 48 10/100/1000 Ethernet PoE+ ports)
1 Crestron AMP-3210T 3x210W commercial power amp (4/8Ω or 70/100V)
1 Crestron CP3N 3-Series control system
3 Crestron DMF-CI-8 DigitalMedia card chassis for DM-NVX-C and DMCF (8 slots)
3 Crestron DM-NVX-351C DM NVX 4K60 4:4:4 HDR network AV encoder/decoder cards w/downmixing
37 Crestron DM-NVX-D30 DM NVX 4K60 4:4:4 HDR network AV decoders
17 Crestron DM-NVX-E30C DM NVX 4K60 4:4:4 HDR network AV encoder cards
1 Crestron DM-XIO-DIR-80 DM XiO Director virtual switching appliance for 80 endpoints
1 Crestron TS-1542-TILT-B-S 15.6″ HD touchscreen, tabletop tilt (black, smooth)
1 Crestron TSW-1060-W-S 10.1″ touchscreen (white, smooth)
55 Kramer Electronics C-HM/HM-6 high-speed HDMI cables (6′)
1 Liberty AV PanelCrafters custom rack plate w/aux input, stereo mini
2 Middle Atlantic CBS-WRK-32 WRK Series caster bases (32″D)
2 Middle Atlantic MW-4FT-380CFM fan tops (380 CFM)
1 Middle Atlantic set of side panels
2 Middle Atlantic WRK-40-32 WRK Series racks (40RU, 32″D)
2 NEC C431 43″ thin-depth commercial displays
29 NEC C651Q 65″ 4K ultra-HD commercial displays
6 NEC C861Q 86″ ultra-HD commercial displays
31 QSC AD-C6T-LP 6.5″, 2-way, low-profile, 135° conical DMT ceiling speakers
1 Seneca HDN media player
1 Shure QLXD124/85 combo wireless handheld and lavalier mic system (J50A band)
2 Shure UA8100 100′ coaxial cables
2 Shure UA864US wallmounted wideband antennas (470MHz to 698MHz)
2 Shure UABIAST in-line power adapters
2 SurgeX SX-1115-RT 8-outlet surge suppressors and power conditioners
37 SurgeX SX-DS-154 MultiPak surge suppressors and power filters for displays
List is edited from information supplied by Vistacom.
To read more from Sound & Communications, click here.