Whether the location happens to be in a high school auditorium, a corporate theater, a municipal performing arts center or a cinema, putting audiences into seats together to watch a show, a concert or another kind of presentation is becoming more than just a one-way proposition. Here, we'll explore some of the exciting changes that are afoot in the theaters and auditoriums vertical.
Not Your Dad's Auditorium
Contemporary corporate presentation spaces are pulling new AV dynamics from a number of other verticals, including hospitality and broadcast. For instance, the newly remodeled 240-seat auditorium at agribusiness Cargill's headquarters in a western suburb of Minneapolis MN reflects the ability to reconfigure itself physically, using movable airwalls, from a single space to three smaller ones—each with three Panasonic cameras and Epson projectors. And the auditorium's two independent but networked control rooms can act as hubs to send events in the auditorium out to other locations as simulcasts; moreover, in the future, they will be able to manage the audio and video of events and presentations taking place elsewhere, backhauled over wide area networks (WANs) or local area networks (LANs), that are completely independent of the auditorium. That mimics the remote-integration production, known as REMI, that sports broadcasters such as ESPN have been implementing.
"The auditorium can work as one big space with up to a nine-camera shoot, using the Panasonic AW-UE150 cameras. Or, it can have two or three events or presentations taking place simultaneously, with two of them each having their own control room, and a Crestron control system available to an end user for a simple one-camera/one-projector application," Bryan Nelson, an Account Executive at Alpha Video, the AV integrator that worked on the project, explained. "Most of the corporate auditoriums we work on now are able to be divided physically and in terms of their AV, and they're becoming easier to manage by programming the control panels for one-person operation."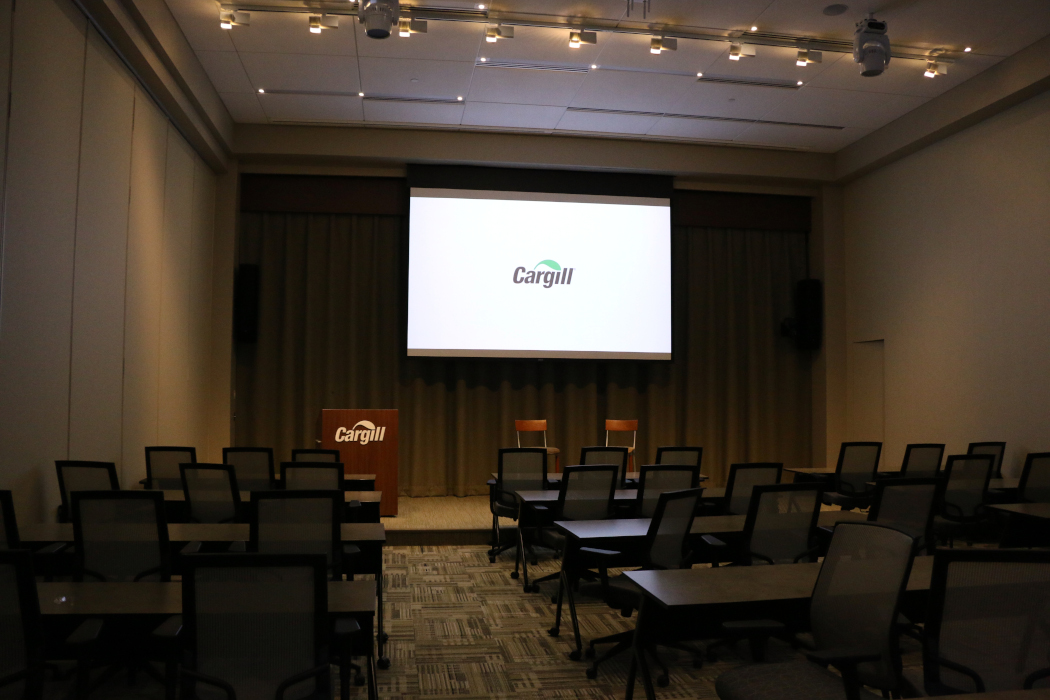 The Panasonic cameras are compatible with NewTek's Network Device Interface (NDI) technology, which allows NDI-compatible systems, devices and applications to connect and communicate over IP and interface with the NewTek TriCaster multicamera production systems in the control rooms. According to Nelson, that's a critical signifier of the increasingly networked nature of modern auditoriums. "[NDI is] doing for video and data what Dante has done for audio," he explained. "We've seen networked audio going into auditoriums for a while now, and NDI is helping video to catch up."
Audio is adapting in the auditorium sector, as well. Nelson pointed to how mixing console manufacturers have been extending their work surfaces into the acoustical space via iPad apps that allow sound mixers to work right next to presenters onstage. "It not only makes interaction between the people in the room easier, but, for auditoriums used by C-suite executives, it's almost a necessity now," he declared.
Nelson referred, in particular, to the iPad app that extends the reach of the QL5 and QL1 Yamaha consoles in the Cargill venue's control rooms into the space itself. "If you have a CEO who needs to deliver a presentation to tens of thousands of employees or shareholders from this stage, you have to rehearse it first to make sure every presentation element is working properly," he stressed. "An iPad app lets the sound technician stand right in the auditorium and tune it exactly how the audience and presenter will hear it. It's probably the most convenient thing to happen to sound in an auditorium in a long time."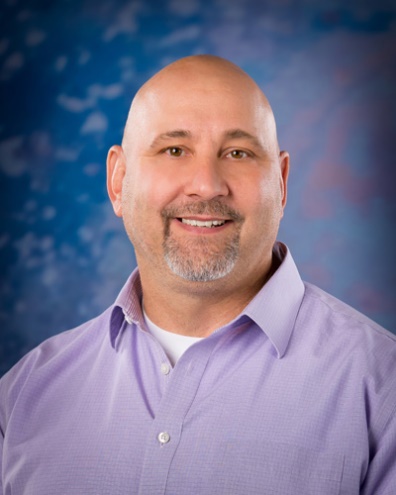 A 'LOT' Better
You can see some great movies at The LOT, a 10-screen boutique theater whose most recent iteration is in the 300,000-square-foot City Center Bishop Ranch, a San Ramon CA shopping center, designed by celebrity architect Renzo Piano. But you can also see some equally well-produced corporate presentations there; that includes some for petro giant Chevron, whose headquarters is nearby. It's one of a number of corporate clients that the theater, which anchors a $300 million fashion-forward retail complex, had in mind during its development.
AV designer and integrator Fluid Sound installed multiple NEC displays for digital signage and constructed a 3×3 videowall in the bar area, in addition to installing the NEC projectors used in the 10 movie-theater auditoriums. Each theater has about 30 motorized, Barcalounger-type seats. A Crestron system controls all of the venue's audio, video and lighting, as well as its heating, ventilation and air-conditioning (HVAC) systems. Audio is via JBL and Tannoy 70V speakers and BSS processing. A complete IP-based AV distribution system, based on Just Add Power HD video-over-IP platforms, was also implemented; it allows all video inputs to be routed to any of the venue's video displays over a standard Ethernet network, without the need for a traditional, physical video matrix router.
"The venue converts from a high-end cinema into a very high-end presentation space," Dennis Pappenfus, a Partner in Fluid Sound, explained. "It's able to pull in content from anywhere, and [they can] distribute presentations done in any of the theaters to any of the other rooms and the lobby." He continued, adding, "It's all managed using a wireless Apple iPad or a hardwired Crestron touchpanel, just as it would be in a corporate-presentation setting. There really isn't any difference, except that it's used to show movies when it's not doing corporate presentations. They do tons of private and corporate events, and it's the AV and IP technology that lets it support this alternate business."
The LOT is the fourth iteration of this flexible cinema scenario that Fluid Sound has done. Each one takes the capabilities of audio-over-IP and video-over-IP a step further, underscoring how auditoriums are no longer limited to a particular function.
Another movie theater on which the integrator worked, the TCL Theatre Box in San Diego CA (an outpost of the famed Mann Chinese Theatre in Hollywood CA), is more of a traditional cinema venue; there, however, AV is used to extend the movie-going experience beyond the seating area. The lobby has its own silver screen, in the form of an eight-screen custom configuration of NEC C Series 4K ultra-HD commercial displays mounted in a mosaic, 45-degree pattern directly above an escalator. A special articulating boom lift and a Peerless-AV custom mounting solution (that allowed the displays to articulate outward for servicing and be rotated at a 45-degree angle) were required to affix the displays to the wall.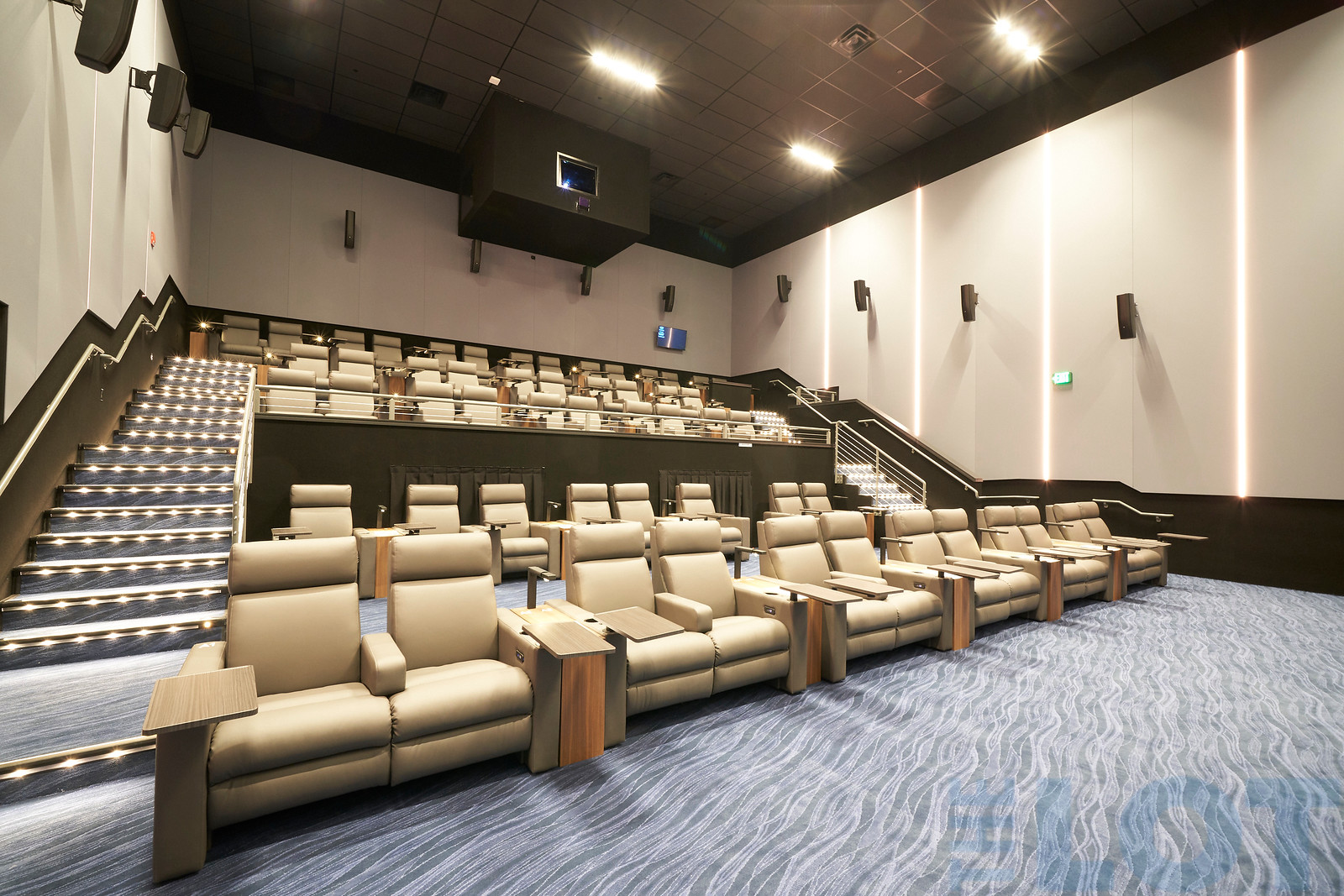 The videowall display provides entertainment and information, including movie times, promos, advertisements and movie trailers. The display had to be visible from anywhere in the lobby of the venue, as well as through the windows and onto the street. To stream content to it, Fluid Sound chose a tvONE CORIOmaster mini videowall processor with 12 universal I/O ports. Peerless-AV surface-mounted kiosk enclosures were used at each auditorium entrance for digital signage.
"It's a mixed-used environment—something that we're seeing more and more of," Pappenfus stated. "The whole idea was to make the entire venue immersive: You're not in the lobby or the theater; you're in the space, no matter which part of it you're standing or sitting in." Using AV, patrons are in the theater even before they actually enter the theater.
Integrator Input: Trends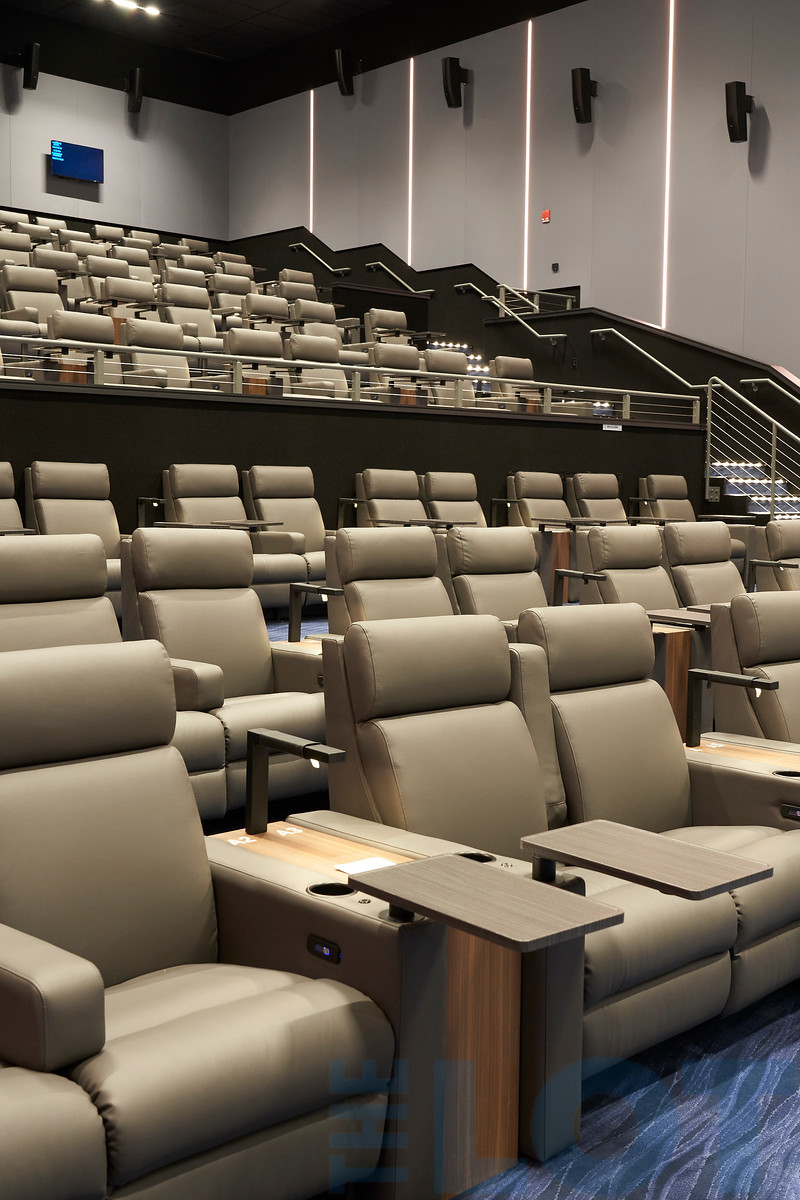 Mike Hancock, VP of Solutions at integrator Mechdyne, sees large-screen projection beginning to be edged out by LED walls, at least at the upper end of the venue spectrum. In addition, he's observing more inclusion of bring-your-own-device (BYOD) capability for presenters; with it, they can simply walk onstage and connect wirelessly and seamlessly with the venue's AV network and services. Hancock said end users are looking for faster return on investment (ROI) and increased revenue from this new generation of auditoriums, even as they seek more functionality. Auditorium clients are achieving those objectives through the increased capabilities of AV systems, even as the cost of those digital systems declines. In addition, broader application of these more-capable technologies provides more use cases and, correspondingly, more revenue. That's particularly true of networked AV, which lets them connect these venues to enable more applications.
Ways to expand usability can take the form of connecting classrooms and lecture auditoriums, or connecting commercial businesses and residential enclaves. "[Clients] want the advantages and flexibility that streaming can provide," with content going both into and out of auditoriums, Hancock explained. "We had a recent project in which the auditorium was part of an effort to build a community that included shopping in the area." He added, "It's all about making an auditorium as multi-use as possible."
Auditorium Acoustics
The Whole Building Design Guide (WBDG), which provides some very comprehensive guidelines for auditorium construction and outfitting, is supported by an array of sponsors that underscores the category's ubiquity. Led by the National Institute of Building Sciences, they include the Department of Defense (DOD), the US General Services Administration (GSA), the National Aeronautics and Space Administration (NASA) and the Department of Energy. Its Board of Direction and Advisory Committee seats representatives from more than 25 participating federal agencies. It offers recommendations in a number of areas with relevance to AVL; those include sustainability (including HVAC interactions in the forms of noise and vibrations, as well as projector heat) and Americans with Disabilities Act (ADA) compliance.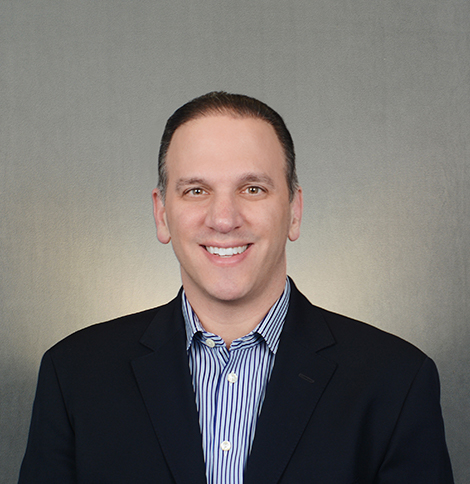 However, it expends even more effort around acoustical issues, reflecting the increased importance and awareness of acoustical issues such as speech intelligibility. The WBDG, among various specifications, recommends noise criteria (NC) rating ranges from NC-20 to NC-30, and sound transmission class (STC) rating ranges from STC 40 to STC 50. Strategies to achieve the recommended NC and STC ranges are as follows: Type II-vinyl wall covering and fabric-covered acoustical wall panels for the interior wall finish in the auditorium; Type II-vinyl wall covering for the stage area; Type II-vinyl wall coverings for 1/3 of the front of the orchestra (audience) sidewalls, with fabric-covered acoustical panels for 2/3 of the back of the orchestra (audience) sidewalls; fabric-covered acoustical panels for rear walls; and a plaster and plywood combination (because of their reverberation characteristics) for the ceiling.
SH Acoustics' Principal, Steve Haas, pointed to a recent museum auditorium project in the Gulf state of Qatar (not one of his firm's projects) that had 118 laser projectors installed. "We might have a problem keeping a room with three projectors from becoming too noisy, so I cannot imagine how to handle 118 of them and their cooling fans," he stated. "Some new projectors are so high output that they can't sit inside an enclosed booth, which means their noise is exposed to the acoustical space." As more elaborate multimedia programs find their way into theaters and school auditoriums, he said, it's ramping up the overall noise level from a source that many architects and designers don't consider until it's too late.
Going All In On Immersive
Infrastructure for the next generation of performance and presentation spaces will take on new emphasis. The good news is that, as all AV spaces move further into a networked environment, the quantities and types of cabling required will diminish; that should reduce costs and complexity. "I haven't designed a sound system in the last 10 years that didn't have some element of a network in it, including, most recently, wired intercoms," Garth Hemphill, Associate Principal focused on AV at consultant Jaffe Holden, remarked. "Now, with video moving onto networks, too, we'll be able to make do with far less cable in general, although we'll be adding lots of empty conduit and dark fiber. It will all be about getting ready for whatever comes next."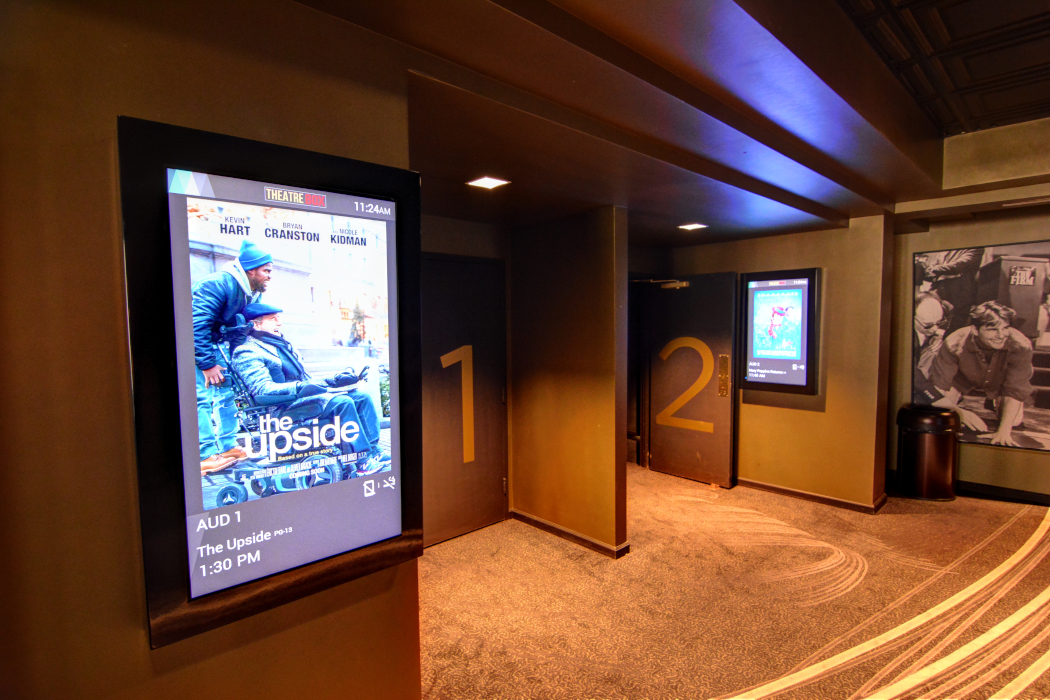 Immersive audio is perhaps the next great frontier for theaters and auditoriums. Rock bands like Pink Floyd were experimenting with immersive ideas more than 40 years ago, but the concept has been propelled recently by cinema and broadcast platforms like Dolby's Atmos, which can carry 22 or more channels or objects for a movie and create a 7.4.1 surround array for television. At present, four major brands have immersive live-sound products in the market. (See sidebar, entitled "Immerse Yourself," on page 86.) Steve Ellison, Director of Spatial Sound at Meyer Sound, which markets one of them, DMitri, said this generation of platforms is taking the concept of immersive sound from novel to normal. Boosting the trend is the prevalence of networked audio systems, which make it easier to distribute and manage the large numbers of speakers required for immersive sound. "It's all taking immersive sound mainstream," he continued, "but it's also making it easier to design and install and use, so artists and front-of-house mixers can use [these systems] without specialized training."
The new arrivals have initially been targeting the touring sound market. However, that will likely expand to encompass fixed installations as demand for immersive audio increases. Indeed, immersive capabilities are becoming so ubiquitous, so rapidly, that some AV professionals have been taken by surprise. Hemphill, from consultant Jaffe Holden, recalled conversations with department heads at a large university ahead of designing its new performing arts center. He wasn't surprised when both the theater-arts department and the music department requested immersive capabilities, but, he explained, "When the head of the art department told me they wanted [immersive sound] because more of the fine artists who were going to use the auditorium as a gallery space were doing immersive installations, I knew that immersiveness, whether it's sound or virtual reality (VR) or augmented reality (AR), is the direction everything is headed in."
Meyer Sound's Ellison concurred, saying, "Fifteen years ago, it was hard for many people to accept the idea of electronically adjustable acoustics, which is now a core immersive technology. Going forward, in some cases, it might be hard to imagine not having this in certain types of spaces."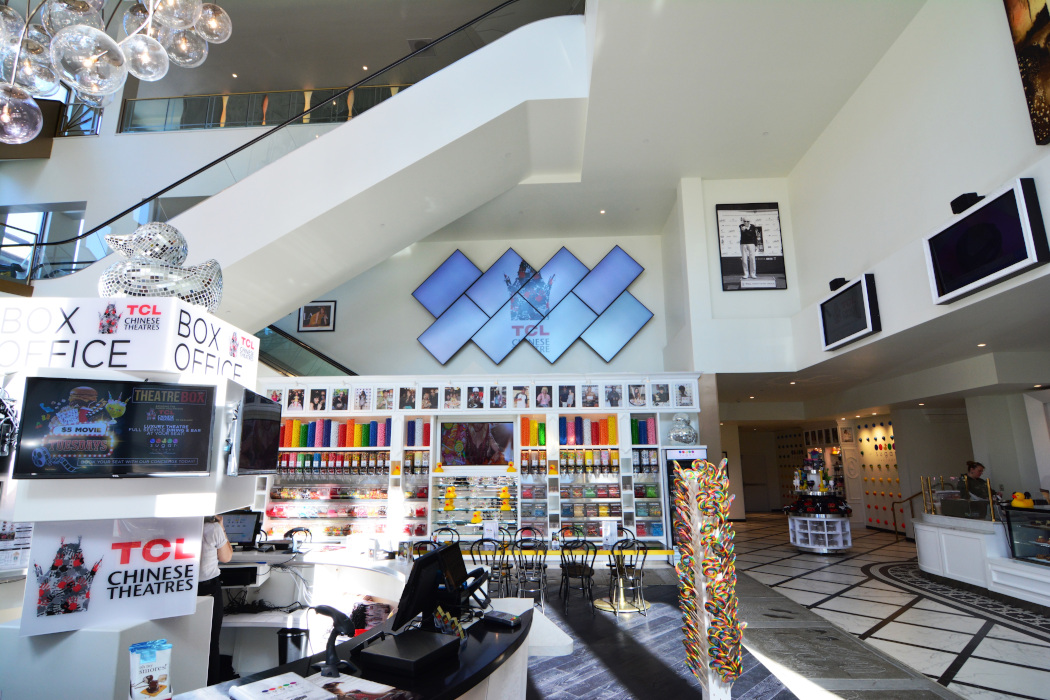 Guillaume Le Nost, Head of R&D for L-Acoustics' entry in the immersive-sound sweepstakes, L-ISA, agrees with the growing consensus that touring applications for immersive systems will ultimately lead to more installed applications. "The decision-makers at theaters and auditoriums may still be wary of immersive, so it will likely be the users—the touring music artists—who will lead that," he commented. Further, he suggested that the popularity of music residencies in venues in New York NY and Las Vegas NV, where "temporary sound systems have extended stays," could offer even better traction for immersive.
Even though immersiveness is, without question, a growing trend in performance and other types of venues, its technology and techniques have the potential to exacerbate acoustical problems. Haas pointed to the enhanced sensitivity and number of the microphones used in electronically enhanced spaces. He noted that multiple projectors being used generates more noise than typically found in immersive spaces. "A middle ground—a balance of acoustics and electronics—will always be necessary," he cautioned.
In The Spotlight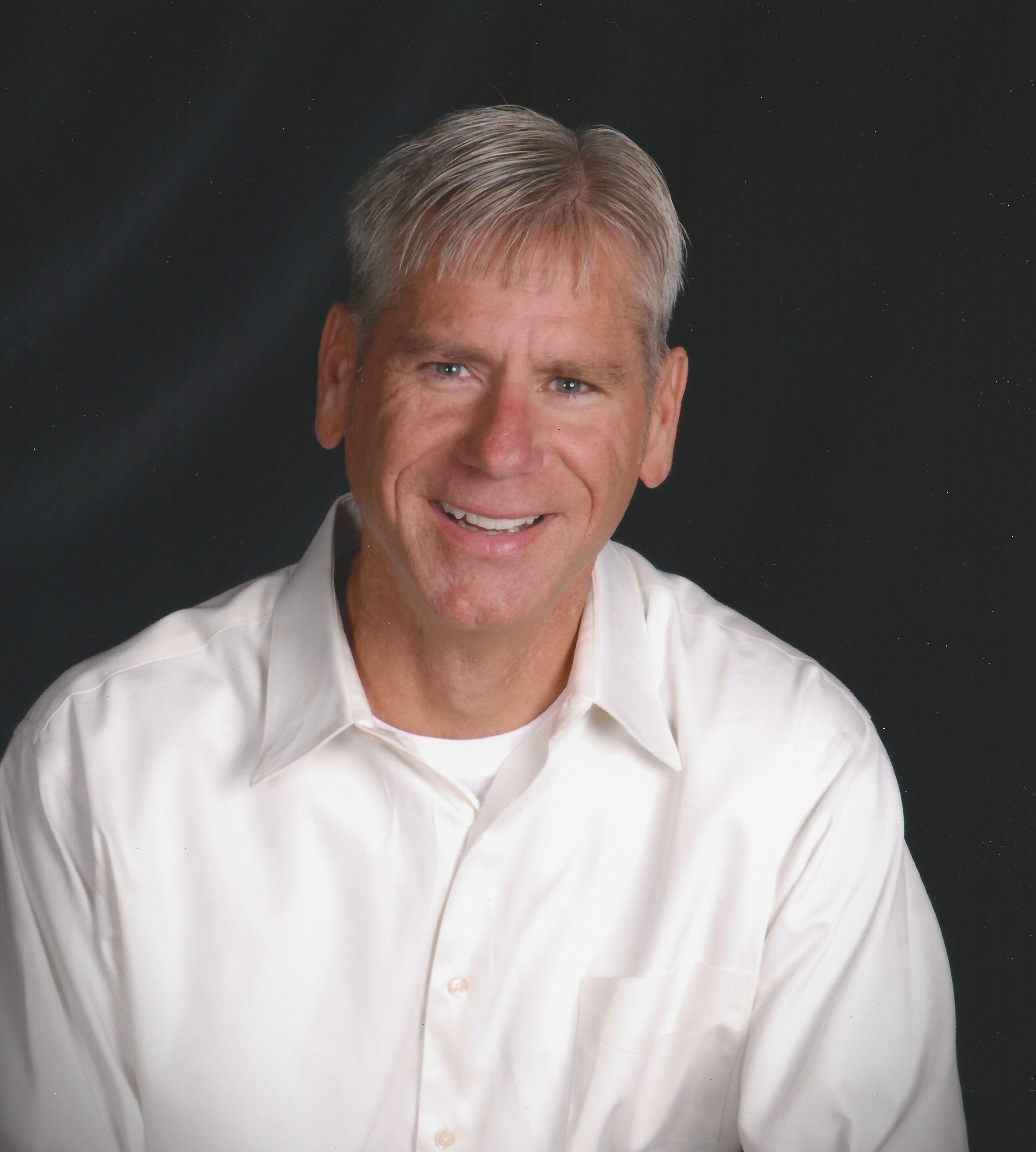 Audio isn't the only basic media element in auditoriums that is becoming immersive. Pete Borchetta, in charge of product innovation at Altman Lighting, said the phenomenon is also affecting lighting. "More is being asked of [spaces], and that includes lighting," he affirmed. "Where a lighting designer once would bask a stage in, for instance, a deep blue moonlight, now, [he or she] might extend that to the entire audience. We're making products that reflect that, such as color-changing downlights to cover seating areas."
Borchetta also pointed out that, although the shift to LED was the major inflection point for lighting this century, the technology is more nuanced than some AV integrators realize. A number of new and refined standards are emerging from organizations such as the Illuminating Engineering Society (IES), which has developed TM-30-15, an improved method for evaluating light source rendition; likely, it will eventually replace the currently used Color Rendering Index (CRI) metric. These developments are important, he continued, because HD and 4K cameras are becoming more ubiquitous in auditorium spaces for image magnification (IMAG) in the venue and for external broadcasting and streaming. "This can make a huge difference in what happens when different kinds of lighting are put on skin tones," he added.
Restaurants, hotels, classrooms and even houses of worship (HoWs) have all seen their AV systems take a turn toward the uncertain but exciting future. Now, theaters and auditoriums seem to be getting ready for their close up.
Immerse Yourself
There are currently four main immersive sound systems available. How well they gain traction will determine if they remain novel or become normal.
Based on delay-based localization, d&b Soundscape by d&b Audiotechnik delivers immersive audio via a combination of the manufacturer's DS100 signal engine and Dante networking using two software modules: d&b En-Scene, for sound-object positioning, allowing individual placement and movement of up to 64 sound objects; and d&b En-Space, an in-line room emulator that creates and/or modifies a space's reverberation characteristics derived from acoustic measurements of seven critical performance venues and convolved within its audio processor.
L-Acoustics' L-ISA combines processing, mixing and playback, and it's used in conjunction with the manufacturer's loudspeakers. The audio is location-based, using the ear-brain combination's natural localization capability. LISA technology is enabled by a comprehensive hardware and software ecosystem that adds new tools—specifically, the LISA processor and LISA controller—to L-Acoustics loudspeakers, amplified controllers, and prediction and control software. In addition to providing traditional mixing tools, the system enables each sound object to be placed and manipulated anywhere within the 3D framework provided by the multichannel loudspeaker configuration. This object-based mix enables sources to be localized, scaled and moved to their actual location (or anywhere else within the loudspeaker configuration).
Martin Audio's Sound Adventures solution for providing immersive live-sound experiences is a 3D immersive audio technology developed in partnership with Belgium-based Astro Spatial Audio. Based on the SARA II Premium Rendering Engine and accompanying software, the object-based system allows users to position and move audio sources in real time, as well as by timecode or via a cue-based or tracking system.
Meyer Sound's D-Mitri is an integrated digital audio platform for mixing, playback, multichannel distribution, live-event control and acoustic-space simulation. It is composed of a series of hardware modules that can be used to design audio systems for a wide range of applications. A modular, Ethernet network-based system that encompasses the entire audio chain—from microphone input to loudspeaker output—D-Mitri integrates sound reinforcement, simultaneous recording and playback, matrix mixing, digital signal processing, multichannel surround panning and show-control automation into a unified, programmable environment. Meyer's Sound CueStation control software can access every D-Mitri feature and fully automate system operation, while sharing control among multiple users. System interaction can be further customized using Python-based scripting.