Gogue Performing Arts Center includes a theater and an outdoor amphitheater.
The Jay and Susie Gogue Performing Arts Center at Auburn University is east Alabama's premier performing-arts venue, presenting touring Broadway productions, opera, dance, chamber arts, popular musical performances, and student and faculty music and theatrical performances. Constructed last year, the Gogue Center is home to both the 1,202-seat Woltosz Theatre and a 3,500-person-capacity amphitheater at the City of Auburn Lawn and Porch. Some 17,000 square feet of open space suits outdoor performances, community festivals and other events.
Christopher Heacox, Executive Director, was the prime mover who came on board and made the decision to build outstanding audio systems in the Gogue Center. The building architect was Wilson Butler Architects (Boston MA). Rabren General Contractors (Auburn AL) was the general contractor. Theatre Projects (Norwalk CT) was the theatrical consultant.
The world-famous Bösendorfer 280VC Vienna Concert grand piano is a central, permanent feature of the Gogue Center's musical-instrument collection, residing in the Woltosz Theatre. It is used regularly for public performances, and the music it makes is for the enjoyment of the entire community.
The synergism of the AV professionals and Auburn produced stellar audio systems. Our article centers on the brilliantly designed audio aspects of the Woltosz Theatre. Our interviewees include Brendan Dillon, Senior Engineer, Rauland SoundCom Systems (Cleveland OH); on the consultant side, Jordan Lytle, Systems Designer, and Russ Todd, Principal-In-Charge and Lead Acoustical Designer, Akustiks, LLC (Norwalk CT), who handled venue acoustics; and on the client side, two key Auburn representatives: Taylor Dyleski, Director of Production, and Chris Burke, Audio Production Manager.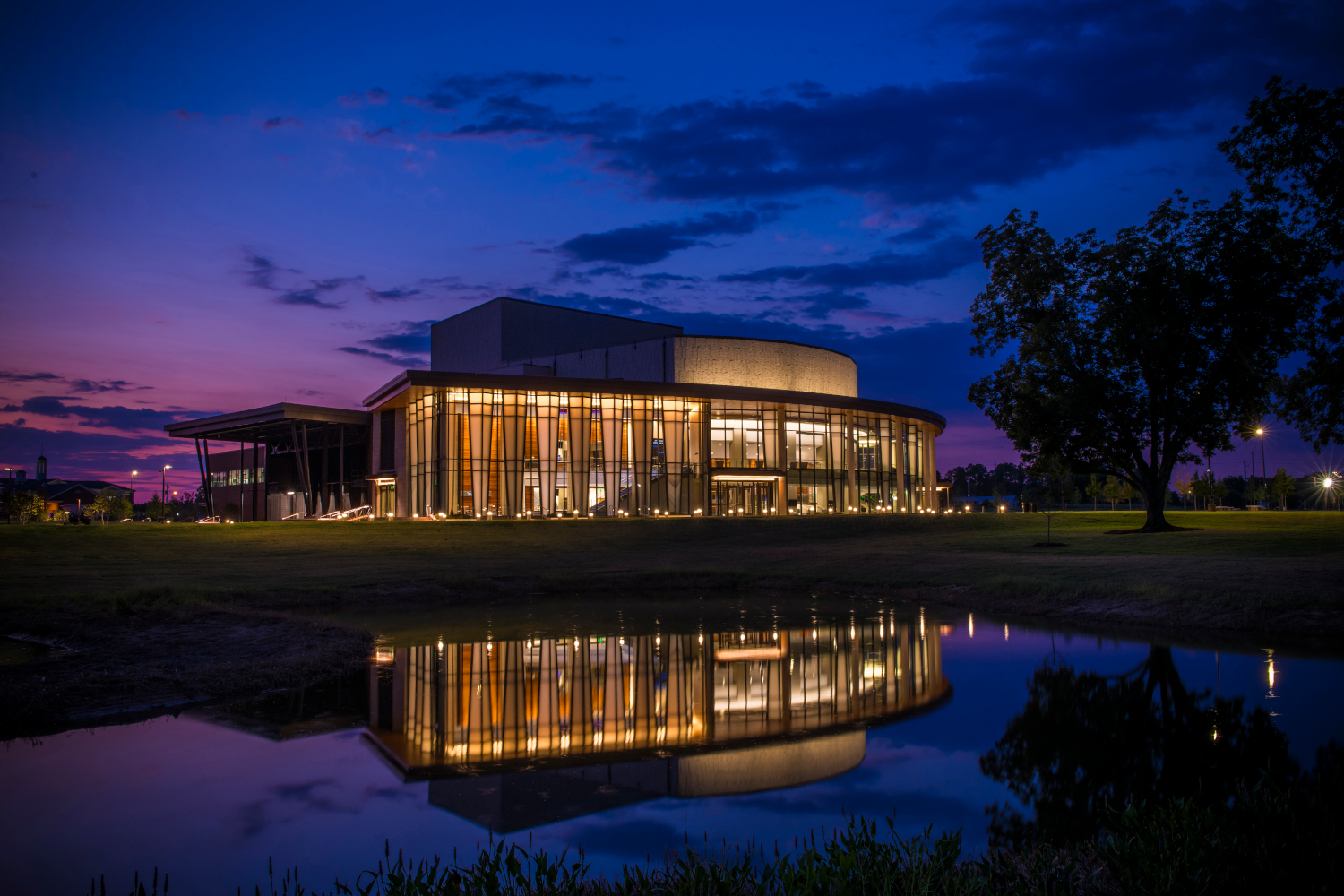 Client Perspectives
Burke noted that, in total, the Gogue Center itself was $70 million for the entire project; however, the complete audio systems cost $2 million. "A lot of thought went into making this main room sound really good," he noted. "That includes the speaker systems and the acoustic design. [For example,] the acoustic banners, which are brought in to deaden the space [or to] open it up for a more classical event or an opera that needs that room reverberation."
Burke noted that the Wenger/JR Clancy Transform motorized acoustical banners made it "very flexible on how we can change the sound on the d&b Yi speaker array. The great guys at d&b in Nashville made the array sound better than I ever thought it could. Their array-processing DSP really shapes the array to the room. It's very good at providing [a consistent] experience for the person sitting in the back row [or the person in] the front row."
The Gogue Center's outdoor amphitheater has a NEXO GEO M12 line array. Auburn was one of the first customers in the state to purchase and install the new speaker systems. The array has user-configurable directivity with 80-degree and 120-degree dispersion. "We fly it every time we use it," Burke affirmed. "There are nine cabinets per left/right side. They're fairly light and made of a water-repellent composite material—not wood—for use outside."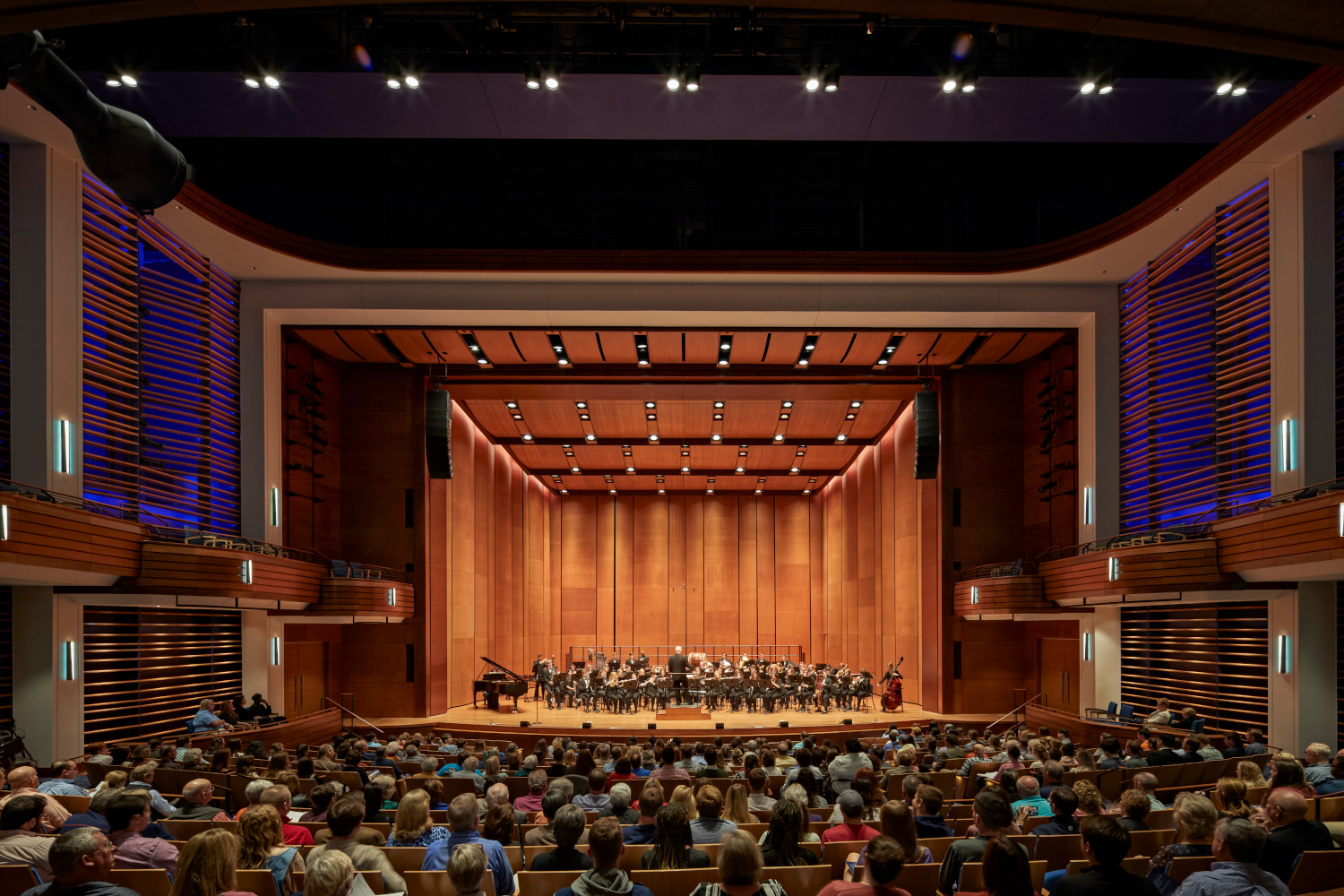 Auburn purchased and installed two consoles: the Yamaha CL5 for front of house (FOH) and a Yamaha QL5 for monitors. "We do double duty with those," Burke explained. "When we need something bigger outside in the amphitheater, we take the CL5; for something smaller outside, we take the QL5. And some people bring their own consoles."
Auburn also supplied a large complement of wired and wireless microphones for theater use. Those include Sennheiser, Shure, Electro-Voice, Audio-Technica, DPA and Countryman models.
Built For Incredible Sound
"Auburn was a large university that didn't have a performing-arts center," Taylor Dyleski, Director of Production, remarked. "It was something that Auburn was missing. The Gogue Center was built as an auxiliary to the university's theater and music departments. We're bringing in outside performing acts, [but] there will also be student-produced theater and music events. We do a lot of master classes for the students."
He continued, "We set a priority at the beginning of the project that we wanted incredible sound. There are no fans in the light fixtures in the theater. There's no auxiliary hum. There's no sound of air conditioning running."
According to Dyleski, "We wanted products that were flexible, easy to install and easy to move around our stage. Pliant Technologies is based in Auburn, right down the road. They were able to provide excellent customer service. They had their team onsite [working with us]." Pliant's key contribution to the project came in the form of the company's CrewCom wireless intercom system.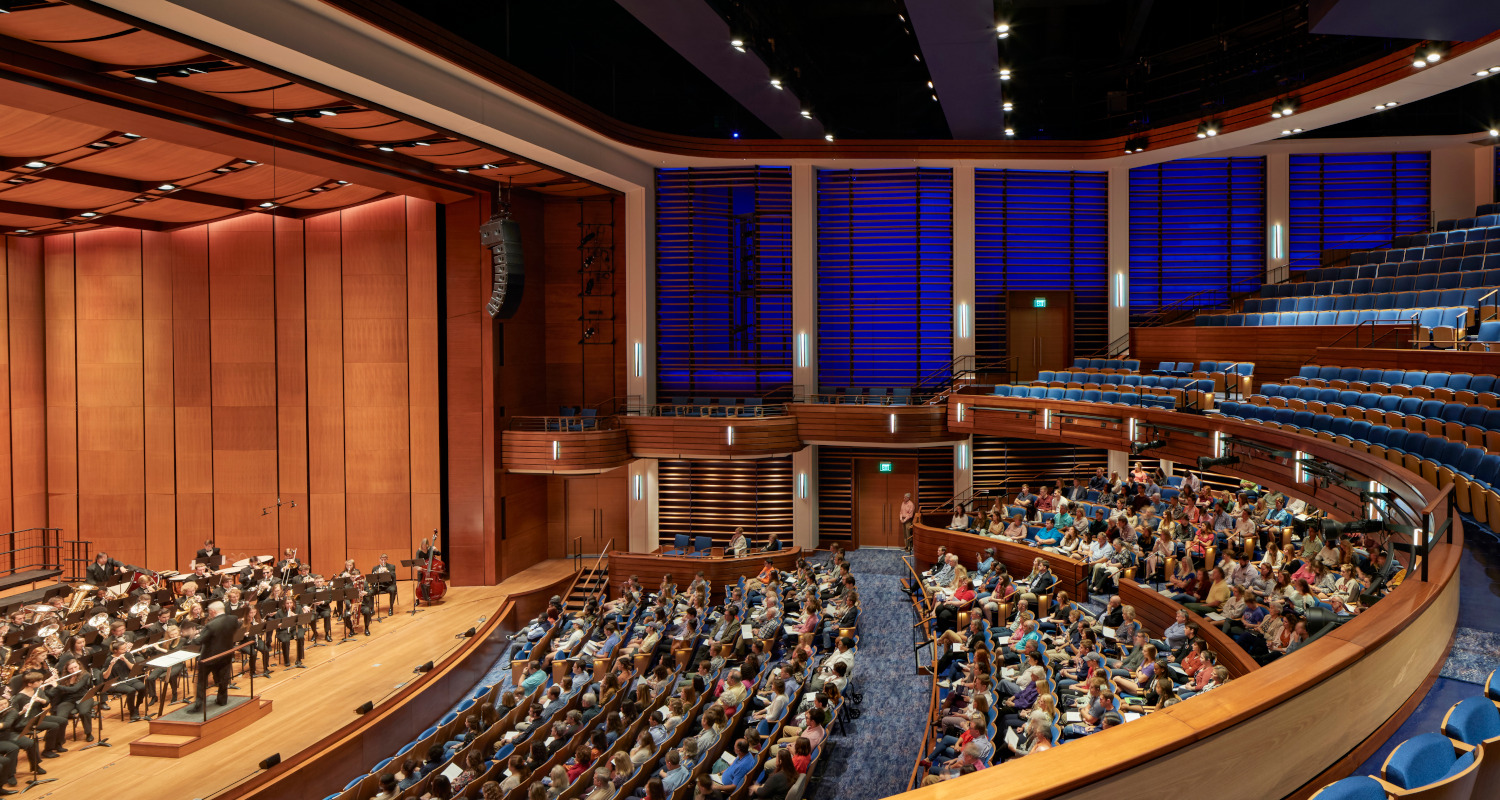 Dyleski continued, "The technology has flipped, so you don't [have to] rely on being near a base station to work. What's cool about the CrewCom technology is how the radio packs' signal bounces from antenna to antenna. You can be talking in multiple packs when you're in the building."
There are six CrewCom radio packs using SmartBoom LITE single-ear Pliant headsets. The CrewCom deployment for the Gogue Center consists of a control unit, located in an AV room just outside the theater, connected to two radio transceivers. One is located in a dressing room, providing coverage for the entire backstage area. The other is located in the catwalk, above the seating area, covering both the FOH area and the theater.
"Finding a solid intercom solution to deploy in a theater setting—what with its thick concrete walls—can be very challenging," Dyleski admitted. "Most theaters struggle with horrible static and echoes with their intercom systems, but, with Pliant, those issues are nonexistent. The audio quality is crystal clear and the system simply works." Dyleski added that he appreciates the ease with which the CrewCom technology seamlessly integrates with the Gogue Center's Clear-Com wiredintercom system.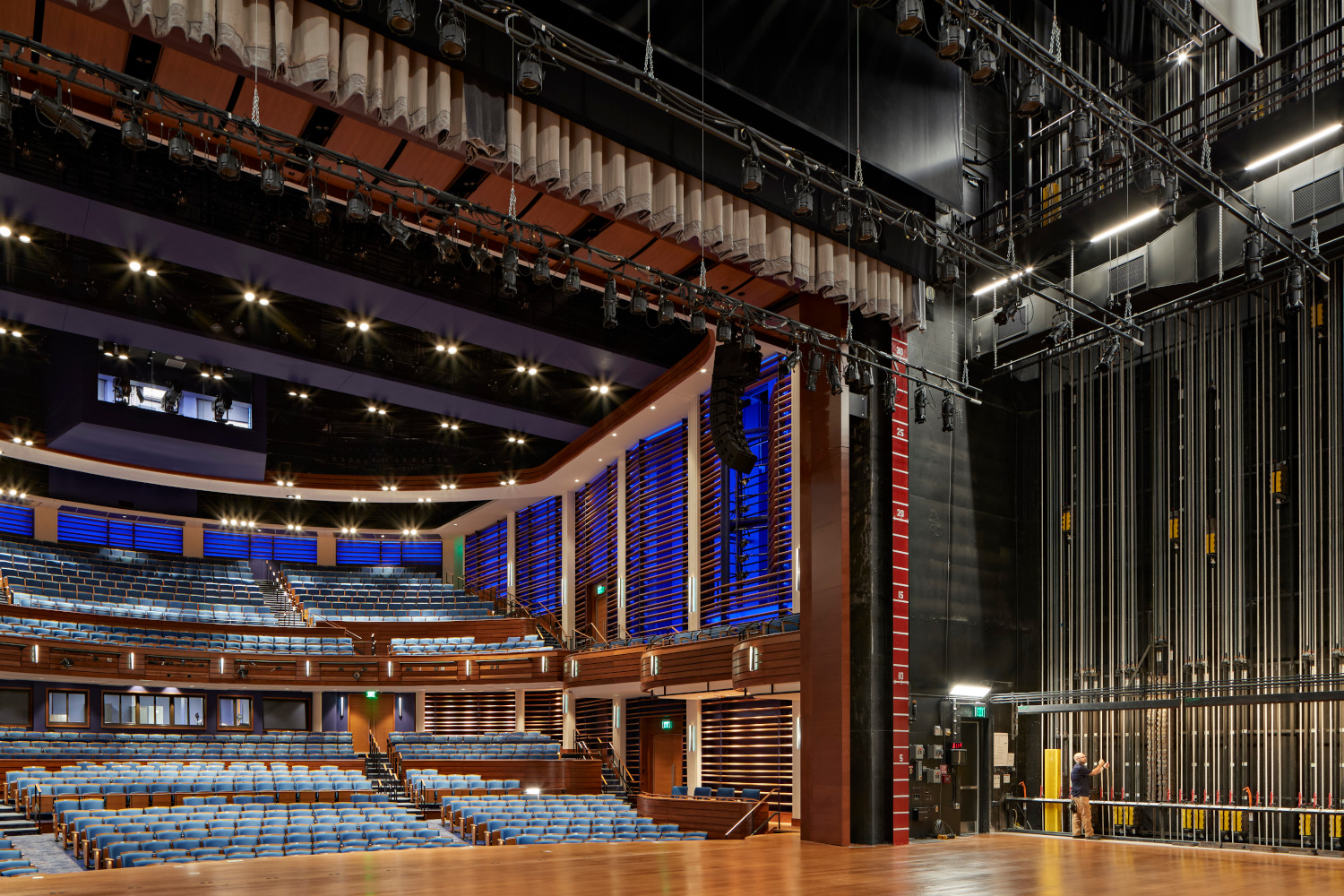 Woltosz Theatre Sound Systems
Brendan Dillon, Senior Engineer, Rauland SoundCom Systems, discussed the d&bcentric speech-reinforcement and line-array systems in the Woltosz Theatre. The integrator teamed up with Jordan Lytle, Systems Designer from Akustiks, on the project. "It really moved way beyond the contractor/ designer mentality," Dillon explained. "As a team effort, it makes the project move smoother. I think the client gets an added effect out of the synergy between the two organizations. We've been fortunate to work with Akustiks on a lot of other projects over the years." He added, "The room has a wonderful sound."
The speech-reinforcement system was crafted to suit voice announcements and lecture events. "We installed the d&b 24C vertical (column) box cut back into the proscenium wall, [which provides] a nice down-load," Dillon explained. "Four 24Cs were stacked left and right—two on each side of the wall."
To augment the column speakers, two 4S boxes were installed on surface mounts. They offer fill for the gallery or upper area. There are also two sets of subwoofers: for the main boxes, left/right E12X subs were flown; meanwhile, ground-stacked portable subs can be brought onstage or placed offstage, as necessary. Six E5 portable boxes can be placed for front fill. In addition, six 8S delay speakers help fill in the gallery or balcony. Nine JBL Control 47LP ceiling speakers fill in the under-balcony. "They really filled in naturally," Dillon affirmed. "You couldn't even tell the JBLs were on."
Five d&b 10D amplifiers, offering built-in processing, limiting and control, drive all the speakers. "We were able to build the speaker system using d&b software run over the control network in the facility," Dillon explained. "We used Smaart to align the system. From a tuning perspective, you know you're going to get the same quality out of each box."
In addition, there are four d&b MAX2s available for stage monitors. Four husky d&b 30D 1,600W amplifiers produce plenty of headroom. "It's for the artists who might need more amplifier power onstage," Dillon clarified. "Space [is at] a premium, so we put equipment in touring cases [and] then roll things around in different areas." Whirlwind provided the speaker cabling.
A Q-SYS Core 510i integrated core processor, from QSC, routes audio throughout the facility. Components include four AES-3 cards, two four-channel mic/line inputs and one Q-SYS Dante bridge card. Touchscreen access allows the Yamaha console operator to route audio easily. For example, separate audio can be fed to the lobby and the dressing rooms, as well as elsewhere within the Gogue Center.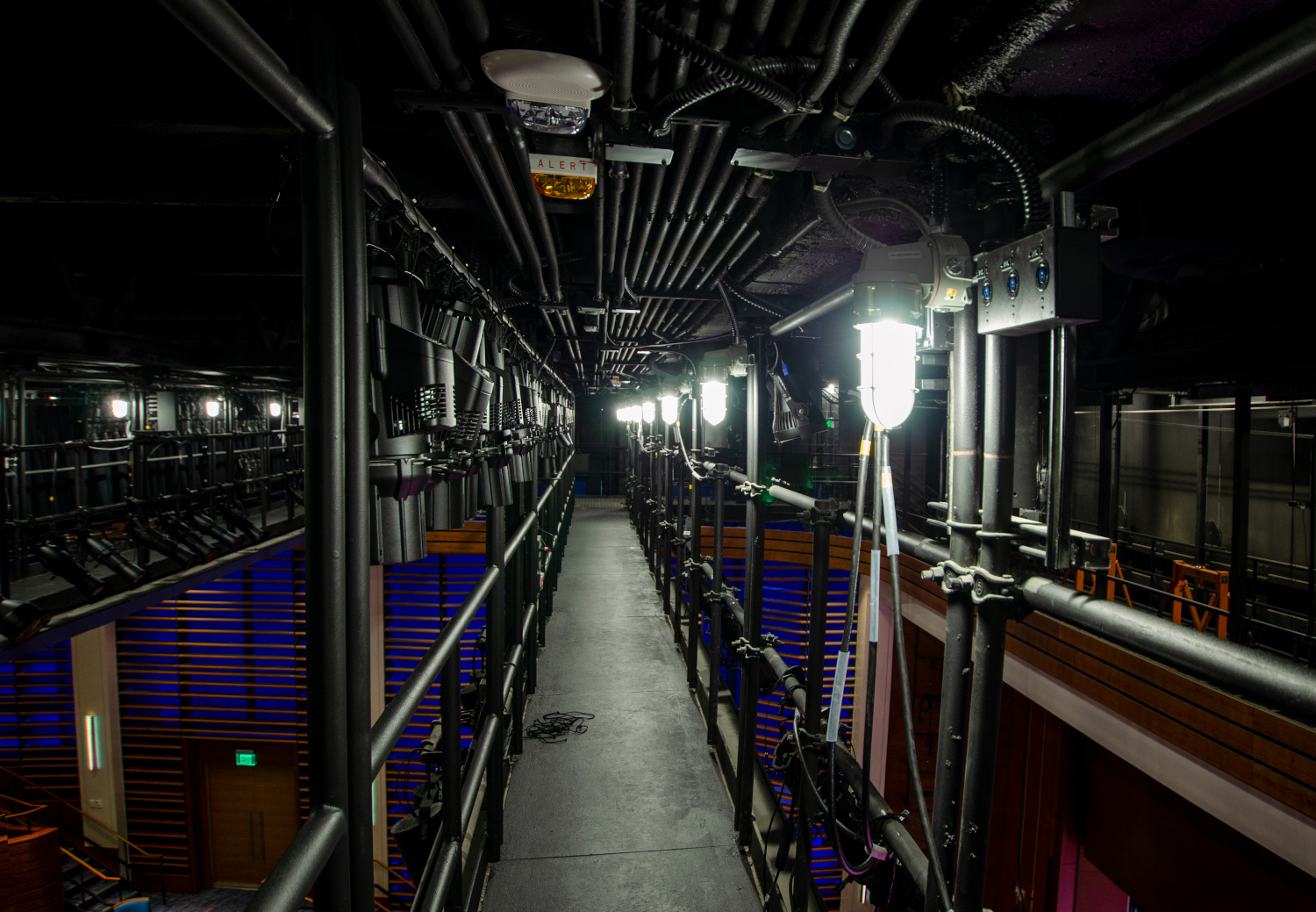 Backstage & Lobby
Because, as has often been said, there's more drama backstage than under the stage lights, various QSC speakers provide vital information and cues for staff members and artists who are preparing for their entrances. "Fifty-four 4.5-inch ACC4Ts were installed in the dressing rooms, [in which] you don't need a lot of low end," Dillon stated. "You just want to make sure you've got more intelligibility to tell the artist what's [happening] onstage."
There are also three larger-cone, 6.5-inch AC-C6Ts with added low end. Elsewhere in the facility, there are combinations of AC-C4Ts and AC-C6Ts based on which best suit those other backstage and lobby areas. In addition, operator relay-access AtlasIED speakers are used in back-ofhouse. Finally, a QSC CXD8.8Q networked amplifier serves up to eight zones throughout the backstage and lobby areas.
According to Dillon, the Core 110f Q-SYS unified core from QSC is "another very versatile piece with its eight-in/eight-out capability." He added, "We're doing additional media sources. They could put canned, prerecorded messages in there—'10 minutes to the event….' or 'Five minutes to the event….' [Those] can be created with a simple push button." Seven-inch and 4.7- inch touchscreens provide control of all the presets. A Shure SM58 handheld wireless is used for paging—a standard in most facilities like this one. A Shure VP89M shotgun condenser mic was also spec'd.
Stage Manager Rack
The stage manager rack, located offstage left, has multiple locations where the operator can plug in. An I/O-8 Flex Q-SYS channel expander can expand up to eight channels to interface with the Denon Professional DN-312X rackmounted, 12-channel mixer in the rack. The stage manager can make announcements with an Audio-Technica cardioid condenser mic and play CDs. He can also plug into the intercoms and integrate the wired Clear-Com with the wireless Pliant CrewCom intercoms, all facilitated by a Q-SYS-networked touchscreen. Assistive-listening devices are all from Listen Technologies. The extensive Clear-Com hard-wired intercom system is composed of various beltpacks and headsets connected with Whirlwind cable. Four Middle Atlantic equipment racks are located offstage, to the back.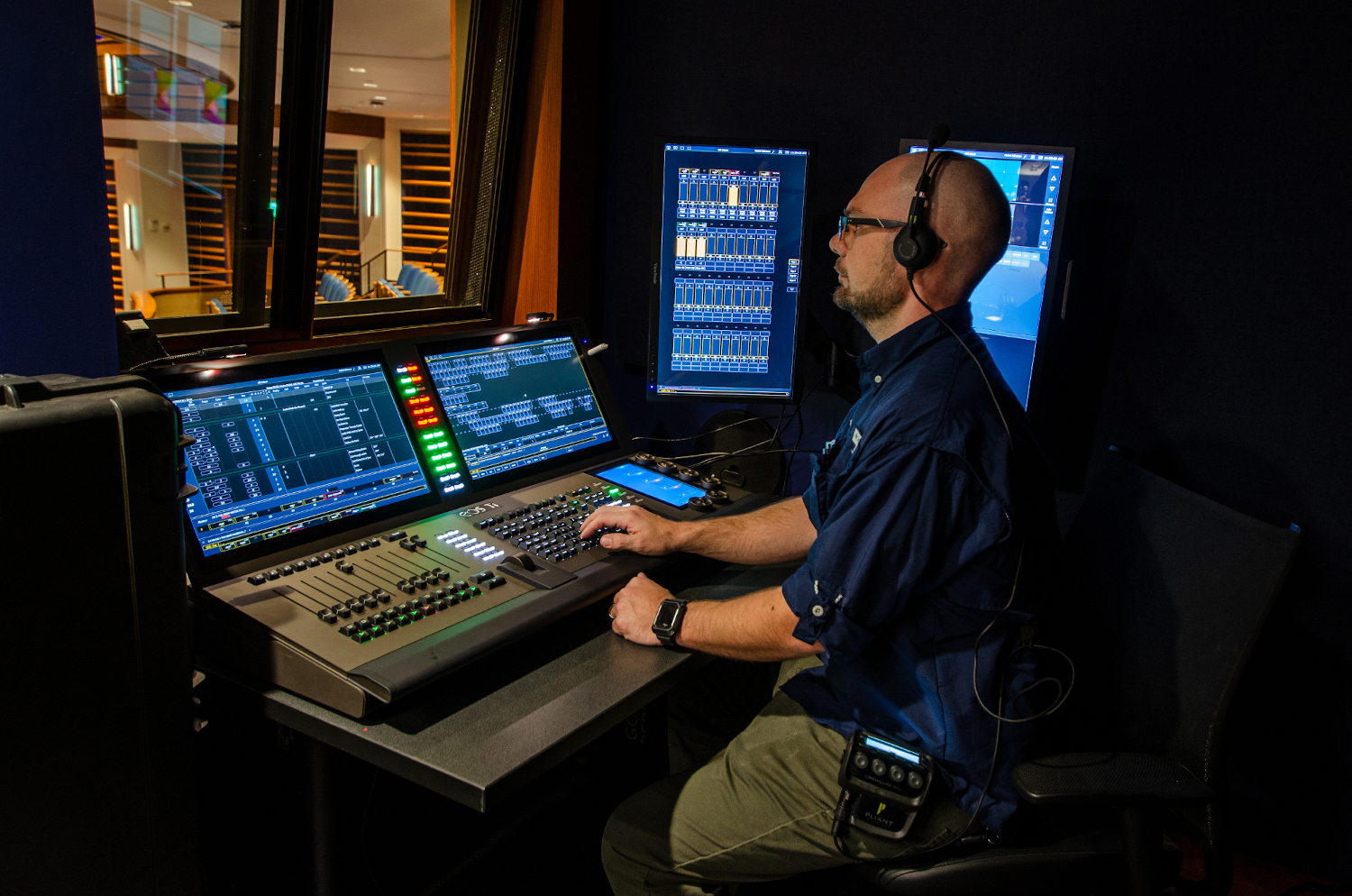 Theater-Filling Sound
To this point, we've focused on the main house speech-reinforcement system. Next, we'll detail the d&b-centric line-array system that's designed to fill the entire theater and provide the sound-pressure levels (SPLs) necessary for musicals and concert events. "The line arrays really give you that punch and clarity to get to the upper balcony and the gallery," Dillon enthused.
The left/right line array deployment is usually left in place, unless a touring company wants to fly its own speaker system. In that case, the Gogue Center can accommodate the requested change. "The designer did an excellent job of providing the rigging points up in the high steel," Dillon remarked. "This particular project had a left/right design, but the designer had the [prescience] to look ahead and put pinpoints in the center. So, if a group comes in and wants to do a center hang, they can do that." He hastened to add, "But I feel that the majority of those coming in to use that space, once they hear the d&b array, will think it's wonderful just the way it is."
The flown vertical line array consists of the following: d&b's Yi8 is an 80-degree-dispersion box of which there are four left/right pairings. Next are four left/right pairings of d&b's Yi12 120-degree-dispersion cabinets. d&b's Yi subwoofer is also deployed, with two on each side of the array. Completing the array is one d&b Y7P two-way passive point source per side. If additional bass gusto is called for, subs can be ground-stacked. A powerful d&b 30D amplifier offers the necessary headroom.
Dillon's installation team included Project Manager Steve Parrott, Team Leader/Lead Technician Mike Richley, CAD Designer Mike Novick, Production Engineer Bryan Weitzel and Dillon as Senior Engineer.
Design Evolution
"In the beginning, we really didn't know what the direction [would be] as far as what kind of program the Gogue Center was going to do, because they didn't have this department or building before," Akustiks' Jordan Lytle began. "So, they hired Executive Director Christopher Heacox. That was a bit of a challenge, because they hired him right in the middle of the design, [but] I think he helped push the university to make a lot of decisions."
Another conundrum was whether to rent or buy the necessary equipment. There was discussion to rent a lot of the system components on a per-need basis. It envisioned a very simple, basic system for lectures and other speech-related use. "Once Chris came onboard," Lytle explained, "he emphasized the need for a permanent system because of the annual programming and usage of the theater." He continued, "We pushed for and got the main d&b arrays. We've been very happy with d&b's product line as a whole, [as well as] the uniformity between the different product lines. We know we can put a Y array series in there with different fill speakers and they'll all work together."
Regarding digital signal processing (DSP), Lytle noted the room is well controlled for live and orchestral music. "We used a couple of the Q-SYS Core 510is for the front-end matrix processing of the d&b system," he explained. "We've been using the Q-SYS quite a bit lately, because it's very flexible." Lytle continued, "And then we have AES and Dante inputs in the system. Depending on what road show comes through, they can patch their own console into the system."
According to Lytle, the 1,202-seat theater "…creates an intimate feeling. I think the architect and the theater consultant did a great job. It's [outstanding] for performers and the audience. [It's] a great seat, no matter where you're sitting." He added, "The 90-foot-wide stage is a pretty big space. You can bring in the walls to shrink the size of the stage for smaller performances. The proscenium height is adequate from its 35-foot top."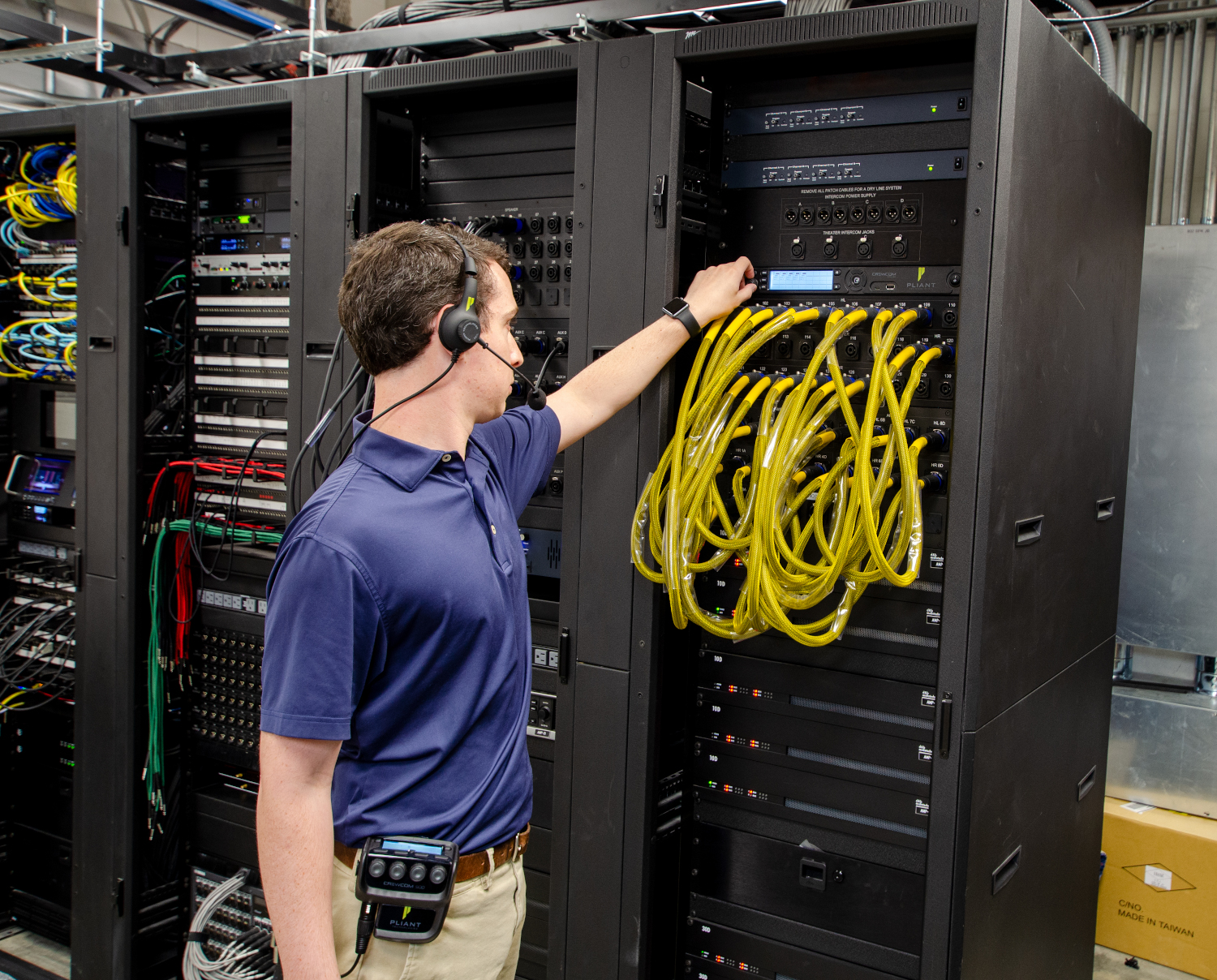 Acoustic Treatment & Tuning
"The room is a true multi-dimensional theater in that it can present everything from orchestral performances, to Broadway productions, to dance," Akustiks' Russ Todd declared. He helped oversee the acoustic treatment and tuning for the Woltosz Theatre. "And," he added, "it has a fully adjustable room acoustic capability to do all that."
With careful acoustical design, reverberation and sound absorption can be controlled to deliver maximum audio quality. For example, the architectural boundaries of the room are sonically widened via wooden slats on the sidewalls. "We actually 'grow' the acoustic volume beyond the architectural boundaries of the room," Todd said with evident enthusiasm.
According to Todd, the Gogue Center's gala opening is a perfect example to cite. An opera singer, Renée Fleming, was being accompanied by the Gogue Center's Bösendorfer 280VC Vienna Concert grand piano. The acoustics created added resonance and support for the music. By contrast, for other applications, where reverberation would be distracting, the room sound can be absorptive via the use of motorized acoustical banners.
"The room was tuned with the Alabama Symphony," Todd revealed. "They came down and we did several tuning rehearsals with them." In addition to the acoustical techniques already detailed, there's a custom Diva acoustical orchestra shell on the stage. "We adjusted the position, angles and setting of the shell," he added.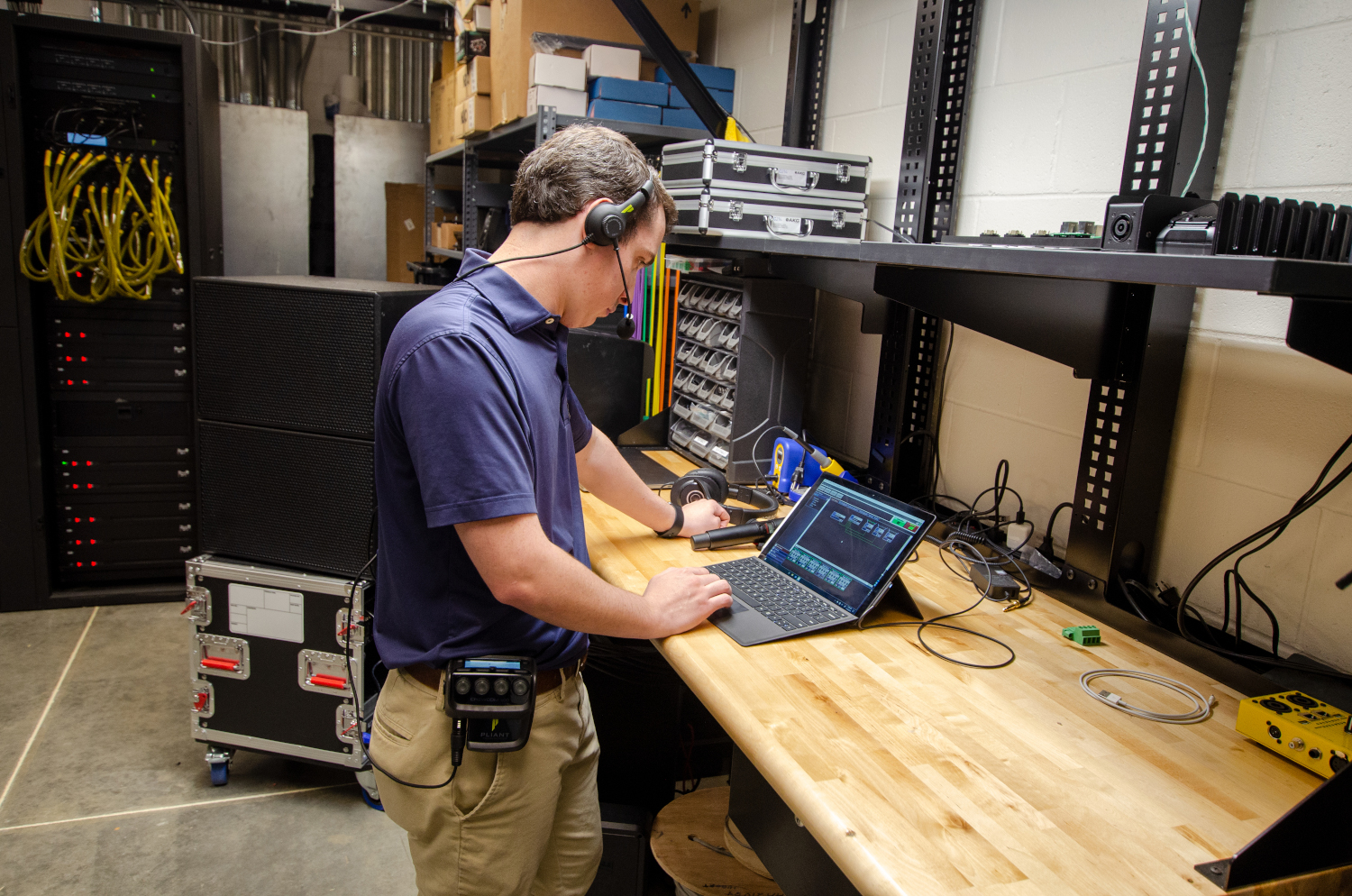 Notably, the shell is equipped with a Lieto LED light fixture, from Wenger, to ensure no unnecessary noise is generated. According to Todd, "When we present an orchestra, opera or other highly critical, full-dynamic-range acoustical performance, we need to create a really quiet place."
The tuning conductor was Chris Blair, Todd's partner at Akustiks. The tuning process allows the maestro to come down off the podium and actually listen to the sound in the theater. The process, typically occurring during a project's commissioning phase, traditionally involves adjusting movable acoustic elements, including reflector panels and absorption curtains, to optimize sound quality both for audience members and for performers. Sometimes, it can be a trial-and-error process. Most of the top-level performing-arts acousticians, like those from Akustiks, perform this service.
"Highly amplified performances require acoustics that are much more controlled," Todd explained. That was the case for Béla Fleck and the Flecktones, who recently graced the stage. "In this case," he continued, "one of the acoustical devices employed are bass traps to create low-frequency absorption, preventing the room from sounding too boomy."
Detailing further, Todd observed, "A lot of effort went into building the room in a way that we keep sound out. There's a second stage—an outdoor amphitheater—in addition to the main Woltosz Theatre inside the Gogue Center. Those two spaces are completely isolated from each other physically with an acoustical isolation joint, and sonically with grout-filled masonry."
Todd noted that Akustiks toured other high-end performance facilities to make informed design decisions for the Gogue Center. Other venues toured included the Tobin Center (San Antonio TX), the opera house in Dallas TX and the Charleston Gaillard Center (Charleston SC).
The Gogue Center is a sterling example of what happens when a motivated client hires the right professionals—the top people in their respective fields—and those professionals develop a strong, collaborative relationship. And, when the COVID-19 pandemic ends and people are ready to gather once again to take in live entertainment and performances, the Gogue Center will remain one of the southeast's premier choices.
Poignancy & Purpose

At the time of this writing in early May, the AV world and the world at large await the end of the novel coronavirus (COVID-19) pandemic. Similarly, the magnificent Gogue Performing Arts Center at Auburn University awaits the opportunity to serve the community at large once again.
What follows are reflections on the times, as well as how to cope with them, offered by Russ Todd, Principal-In-Charge and Lead Acoustical Designer, Akustiks, LLC. He shared these insights while I was setting up my phone interview with him.
"It's more poignant now because it's been taken away," he said. "The [venue] opened about a year ago to a large reception. The community just loved being a part of all that. Then, this happened…. It's a great reminder of how important the arts are for our society, [as well as] how important it is to do things together."
"Art is an important way to bring people together. We miss it now that we're all…at home," he continued. "But I feel that family and being at home is important. I read a book a while back called "Voluntary Simplicity," by Duane Elgin, that talks about the fact that we have a short time window here. That reminds us not to waste time on things that aren't important…to really value the moment that you have. So, whether it's petting your dog or taking that hike, you have a greater sense of how truly special that is."
The time will come once again when we can join in a shared performance experience. Until then, though, it's a time for reflection—and staying six feet apart.
EQUIPMENT
ASSISTIVE LISTENING
2 Listen Technologies LA-122 universal antenna kits
4 Listen Technologies LP-41-072-01 intelligent DSP 72MHz RF receiver bundles
1 Listen Technologies LT-800-072-01 stationary RF transmitter
BACKSTAGE & LOBBY PAGING, PROCESSING
1 Joemeek threeQ channel strip
1 QSC Core 110f Q-SYS unified core
1 QSC I/O-8 Flex Q-SYS channel expander
1 QSC MD-110 media drive
1 QSC TSC-47W-G2 4.7″ small-format touchscreen controller
1 QSC TSC-7w wall touchscreen controller
2 Shure QLXD2/SM58 handheld transmitters w/SM58 capsules
2 Shure QLXD4 digital wireless receivers
4 Shure SB900A rechargeable lithium-ion batteries
1 Shure SBC200 dual-docking recharging station
1 Shure VP89M modular shotgun mic
BACKSTAGE & LOBBY SPEAKERS
2 AtlasIED AT100 100W, single-gang, stainless-steel, 70.7V commercial attenuators
2 AtlasIED AT35 35W, single-gang, stainless-steel, 70.7V commercial attenuators
14 AtlasIED AT35-PA deluxe-priority, plate-mounted 35W attenuators w/priority relays, 3dB steps
66 QSC AC-C4T 4.5″, full-range, 140° conical ceiling speakers
43 QSC AC-C6T 6.5″, 2-way, 110° conical ceiling speakers
8 QSC AC-C8T 8″, 2-way, 100° conical ceiling speakers
3 QSC AC-S6T 6.5″, 2-way, 130° conical surface-mount speakers
1 QSC CXD8.8Q networked amp w/analog inputs and network connectivity
CONSOLES
1 Yamaha CL5 digital mixing console
1 Yamaha QL5 digital mixing console
3 Yamaha Rio3224-D2 32×24 Dante stage boxes
EQUIPMENT RACK
1 Extreme Networks X440-G2-24P-10GE4 Ethernet switch
2 Extreme Networks X440-G2-48P-10GE4 Ethernet switches
4 Middle Atlantic BGR-4538 BGR Series racks (45RU, 38″D)
4 Middle Atlantic BGR-552FT-FC fan tops (552 CFM, w/controller)
4 Middle Atlantic BGR-ISO-Z4 seismic brackets, isolating
2 Middle Atlantic BSPN-45-38 side panels (45RU, 38″D)
2 Middle Atlantic D3LK drawers (3RU, anodized, w/locks)
2 Middle Atlantic D4LK drawers (4RU, anodized, w/locks)
3 Middle Atlantic SS sliding rackshelves (1RU)
3 Middle Atlantic UPS-2200R-IP Premium Series UPS rackmount power (8 outlet, 2150VA/1650W, web-enabled)
4 Middle Atlantic VFD-45A vented front doors (45RU racks, curved)
INSTALLED SPEAKER SYSTEM
5 d&b audiotechnik 10D amps
4 d&b audiotechnik 24C column speakers
2 d&b audiotechnik 4S speakers
6 d&b audiotechnik 8S speakers
2 d&b audiotechnik E12X subs
6 d&b audiotechnik E5 speakers
9 JBL Control 47LP low-profile ceiling speakers
PORTABLE SPEAKER SYSTEM
2 d&b audiotechnik 15m speaker cables
5 d&b audiotechnik 30D amps
4 d&b audiotechnik MAX2 monitors
4 d&b audiotechnik MC12SD cables LKS19 F/M
2 d&b audiotechnik touring carts
5 d&b audiotechnik touring cases
4 d&b audiotechnik Y flying frames
2 d&b audiotechnik Y7P speakers
6 d&b audiotechnik Yi subs
8 d&b audiotechnik Yi12 speakers
8 d&b audiotechnik Yi8 speakers
2 d&b audiotechnik YP swivel brackets
1 Whirlwind SK525G12 Speakon to Speakon speaker cable (12-gauge, 25′)
4 Whirlwind SK550G12 Speakon to Speakon speaker cable (12-gauge, 50′)
PRODUCTION INTERCOM
12 Clear-Com CC-300-X4 single-ear headsets w/4-pin XLR-F connectors
8 Clear-Com CC-400-X4 double-ear headsets w/4-pin XLR-F connectors
2 Clear-Com PS-704 4-channel intercom power supplies
2 Clear-Com RM-704 4-channel remote intercom stations
12 Clear-Com RS-701 single-channel beltpacks w/XLR-3 connectors
4 Clear-Com RS-702 2-channel analog intercom beltpacks
1 Pro Intercom Blazon 180 signal light
1 Pro Intercom HH10A intercom handset w/push-to-talk switch
1 SKB 1SKB-R2U 2RU roto-molded rack case
4 Whirlwind MK4PP50 stereo mic cables dual XLRF to dual XLRM (50′)
20 Whirlwind MKQ30 quad cables (30′)
8 Whirlwind MKQ75-Blue quad low-Z mic cables (75′)
SPEAKER MATRIX
4 QSC CAES4 AES-3 digital input/output cards
1 QSC CDN64 Dante audio bridge card
2 QSC CIML4 mic/line analog input cards
1 QSC Core 510i Q-SYS integrated core processor
1 QSC TSC-7t tabletop touchscreen controller
STAGE MANAGER RACK
1 Audio-Technica U855QL cardioid dynamic gooseneck mic
1 Clear-Com RM-704 4-channel remote intercom station
1 Denon Professional DN-312X 12-channel line mixer
1 Denon DN-500CB CD/media player w/Bluetooth/USB/aux inputs and RS232C
1 QSC I/O-8 Flex Q-SYS channel expander
1 QSC TSC-47W-G2 4.7″ small-format touchscreen controller
1 SKB 1SKB-R6U roto-molded rack case
WIRED & WIRELESS MICS
1 Audio-Technica AT8647QM/S mic shock-mount plate
1 Audio-Technica U857QL cardioid condenser quick-mount gooseneck mic
8 Countryman B3 omnidirectional lavalier mics
8 Countryman H6 omnidirectional headsets
1 DPA 4099 CORE instrument mic stereo pair
1 Electro-Voice RE320 cardioid dynamic broadcast mic
2 Radial ProAV2 stereo multimedia direct boxes
6 Radial ProDI passive direct boxes
2 Sennheiser e 609 Silver supercardioid dynamic guitar mics
2 Sennheiser e 835 cardioid dynamic vocal mics
2 Sennheiser e 945 supercardioid dynamic vocal mics
3 Shure BETA 52A kick drum mics
1 Shure BETA 91A kick drum mic
1 Shure KSM137/SL Stereo cardioid instrument mic
4 Shure MX202B/C Microflex condenser overhead mics
4 Shure SM57-LC cardioid dynamic mics
4 Shure SM58-LC cardioid dynamic vocal mics
2 Shure SM81 condenser instrument mics
12 Shure ULXD2/KSM9 digital handheld transmitters w/KSM9 capsules
12 Shure ULXD1 digital bodypack transmitters
3 Yamaha digital wireless receivers
WIRELESS INTERCOM
1 Pliant Technologies CCU-44 CrewCom 4plus4 control unit
1 Pliant Technologies CHB-8C-02 CrewCom 8-port copper hub
6 Pliant Technologies CRP-44-900 CrewCom 900MHz 4-vol/4-conf radio packs
3 Pliant Technologies CRT-900 CrewCom 900MHz radio transceivers
1 Pliant Technologies PAC-RMK-S single 1RU half-rack mount kit
6 Pliant Technologies PHS-SB11L-4F SmartBoom LITE single-ear Pliant headsets w/4-pin XLR female connectors
List is edited from information supplied by various project participants.
To read more installation features from Sound & Communications, click here.