Flexible signal routing and room combining offer limitless setup options at CAESARS FORUM.
Las Vegas NV has long been one of the world's most popular destinations for meetings, corporate events and trade shows, as well as for weddings, concerts and music festivals. The city boasts an array of world-class venues for hosting these types of events. Many of them are equipped with state-of-the-art audio, video and lighting (AVL) systems. The CAESARS FORUM conference center is Las Vegas' latest marquee event venue, and its AVL systems and modular design provide an unparalleled level of flexibility for events of all types and sizes.
CAESARS FORUM encompasses 550,000 total square feet, including 300,000 square feet of flexible indoor event space and a 100,000-square-foot outdoor event plaza that is located in the shadow of the LINQ Hotel's towering High Roller Ferris wheel. The conference area features, according to Caesars Entertainment, "the two largest pillarless ballrooms in the world." Each of these boasts 110,000 square feet of flexible meeting space. (These two ballrooms can each be divided into as many as 39 smaller rooms, allowing for hundreds of possible configurations.) The venue also includes two smaller 40,000-square-foot flexible ballrooms (each of which can also be divided into as many as 22 smaller rooms) and six boardrooms.
To provide the level of flexibility that such a modular space requires, CAESARS FORUM features a Dante digital audio system built on two QSC Core 5200 Enterprise Processors, plus AV signal routing through Crestron's NVX AV-over-IP system. In addition, CAESARS FORUM is equipped with a sophisticated, Pharos Architectural Controls-provided lighting system that features 4,500 individually controllable DMX lighting fixtures. Control of the lighting system is integrated into the venue's Crestron control system. (This also controls the audio and video systems.)
National Technology Associates (NTA) designed CAESARS FORUM's AV systems in consultation with Caesars Entertainment and Encore. The lighting
systems were designed by John Levy Lighting Productions and Pharos Architectural Controls. Pulse Group programmed the system's graphical user interface (GUI), and Bombard Electric installed all systems. Event production is managed by Encore, which also handles the end user's AV needs for each individual event.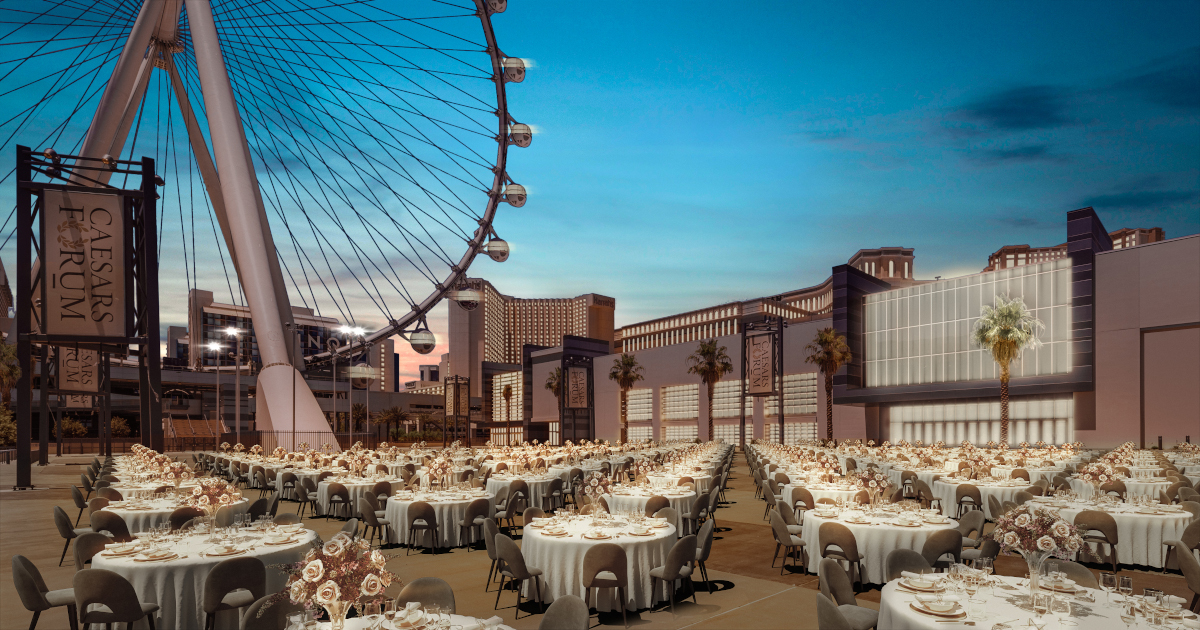 Flexible Room Combining
According to Steven Padgett, Encore's Director of Event Technologies at CAESARS FORUM, providing a high degree of flexibility was the key design principle guiding the entire project. "It is all about flexibility and functionality," he said. "Having the two largest pillarless ballrooms in the world is such a remarkable selling point, [so] we had to make sure that the AV systems to manage the space would provide our clients unlimited capabilities while keeping the design of the space intact."
He added, "Technology is always evolving, and we knew that our AV systems for CAESARS FORUM not only had to allow for unlimited connectivity and signal routing today, but also allow for scalability to be able to manage the needs of our clients in the future." Nevin Edwards, Founding Partner for NTA, explained that, although the actual use cases of CAESARS FORUM's AVL systems are pretty typical for an events space, the flexibility of the systems is what truly sets it apart from similar venues. "I don't think they were looking to do anything that was completely outside of the box, but they needed the ability to do large-scale events in there. So, we gave them the ability to basically send audio anywhere, send video anywhere, control all the lights, do all the room combining," he explained.
The ballrooms can be physically divided into smaller rooms using airwalls. The Encore staff divides the venue's AV systems into independent "rooms" based on how the physical space is broken up. System control and room combining is done via Crestron C# Custom Programming by Pulse Group. The user interface includes controls for the Crestron NVX AV-over-IP system, as well as the QSC digital audio system and the Pharos lighting system.
Encore personnel can control the systems via the main AV control room, via Crestron TSW touchscreens mounted in CAESARS FORUM's 10 intermediate distribution frame (IDF) closets, or via a number of dedicated Microsoft Surface Pro tablets that are used as mobile devices in the field. (An additional 100-plus Crestron TSW touchpanels mounted throughout the venue can be used for limited local control of lighting and audio settings. However, since these are accessible by end-user clients, they cannot be used for room combining.)
"One of the things that isn't so much a guest-facing technology, but I think we did a good job with, [was the work we did with] Pulse Group in giving [Caesars] a very good control interface to be able to easily combine and uncombine rooms, route audio, and route video," Edwards said. "Pulse Group is a Crestron certified programmer here in Las Vegas. We work with them quite extensively on a lot of projects, and they have the ability to do a lot of custom-type work. So, they put together a graphical interface for the Microsoft tablets. Basically what you're looking at is a map, and if you want to uncombine and combine rooms, you just touch the rooms, and the colors match up; [for example,] they all go to red when you've got them combined. All the audio and video routing is located on there, with scrolling lists of inputs and outputs. [A Crestron] PRO3 is doing all that processing work."

The actual process of combining the smaller "rooms" into bigger "rooms" is done using a series of Bittree patchbays and custom patch panels located throughout the ballrooms. "You have all these different patch panels in all the rooms, and they go back to patchbays," Edwards described. "We gave them the ability to select all the rooms, select all the outputs that they would want—whether it's a floor box or a wall box—and they could then export that [information] and send that via email to a [technician] who's going to go around and run into the IDF rooms. [The technician] basically [receives an] email [with] a printed-out patch-panel list [that says], 'OK, you need to patch this to this and this to this.' So, [Encore] would select all the rooms: 'That's how we want to combine. These are the outputs that we need. These are the inputs that we need.' And then they could send that [information in an] email to the tech onsite, and the tech could then go to the IDF room and patch everything that needed to be patched."
The IDF closets allow for long-distance digital signal routing throughout the venue's massive ballrooms. "We have 10 IDFs and one main AV room. Distribution goes from that main AV room out to the local TRs. So, the IDFs are basically where all the cabling goes back to for each of the ballrooms, because of the distance limitations. And then the main AV room is where we are doing all our main NVX encoding," Edwards said. "We did 32 channels of NVX encoding. There are 24 DirecTV receivers, and then eight channels for whatever they want."
CAESARS FORUM also features a fully redundant independent network built using Ruckus network switches. "So, if one half of it goes down, they still have the ability to
route video, route audio and route control around the venue," Edwards said. "That's one of the things that we felt was probably pretty critical, especially if you've got a large event—110,000 square feet. Having the ability to make sure things stay up is obviously key, if somebody's [investing a lot of time and money to create an event]."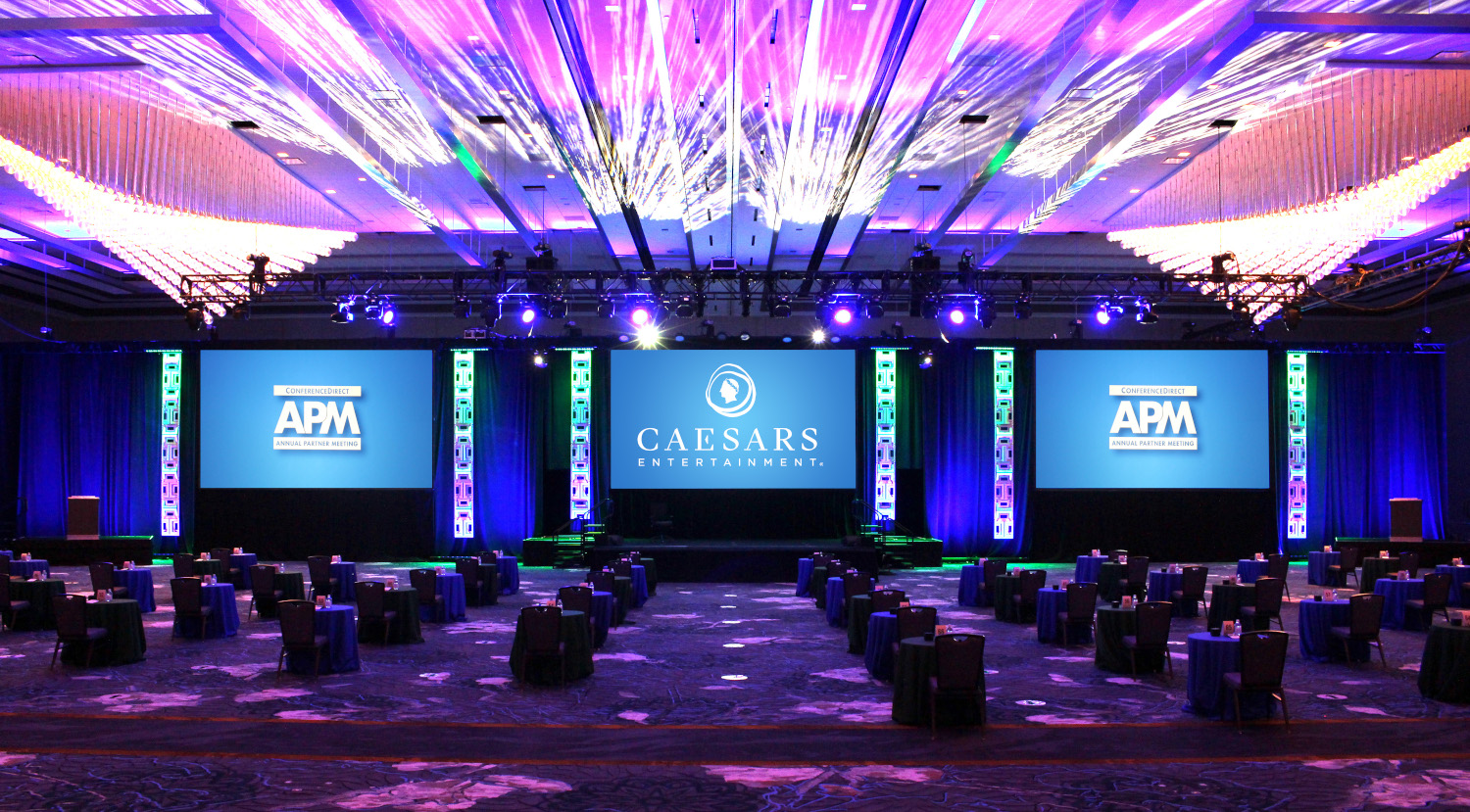 AV-Over-IP Distribution
A Crestron DM NVX Director virtual switching appliance allows for distributing audio and video feeds to supplemental displays that can be placed throughout the venue. "We've provided a fully distributable NVX system, and we have NVX decoders and NVX encoders as loose pieces of equipment," Edwards described. "So, if they needed to distribute video to multiple displays that would be set up around one of the ballrooms, we basically gave them a bunch of loose encoders and loose decoders that we have pre-programmed, and they could take those and patch those into the system through dedicated switch ports that were pre-patched at the switch."
Because of the modularity of the meeting spaces, each client who plans a conference or event works with Caesars Entertainment on all the aspects of the meeting and with Encore for all technical needs. Using the NVX AV-over-IP system, Encore can easily set up additional cameras, displays and other AV equipment throughout the venue's various meeting spaces, then add these components to the AV-over-IP system. Basically, Encore can simply attach one of the loose NVX encoders to an input device, then attach the loose NVX decoders to any output devices, and then use the NVX Director software to activate those pre-programmed encoders and decoders and route the signals to the appropriate endpoints.
"Encore could take an encoder, plug it into a camera, and the camera feed is then encoded," Edwards described. "And then they have loose decoders that they could install onto the back of TVs and spread those TVs around the ballroom, cache those decoders into the NVX network, and they would come up automatically. Then, on the touchpanel [or tablet], they would [indicate], 'I just used encoder number one, and I want to route it to decoders one through ten, or one through twenty,' or however many decoders they need."
CAESARS FORUM also features an Optocore Route 66 32×32 SDI-to-fiber router. This router enables the placement of SDI cameras throughout the space. "We used a SATA fiber solution to be able to route the SDI, because, obviously, you have distance limitations on SDI. So, we put in a fiber-to-SDI solution that allows the technicians to plug in an SDI camera and be able to route it pretty much anywhere they need to," Edwards said.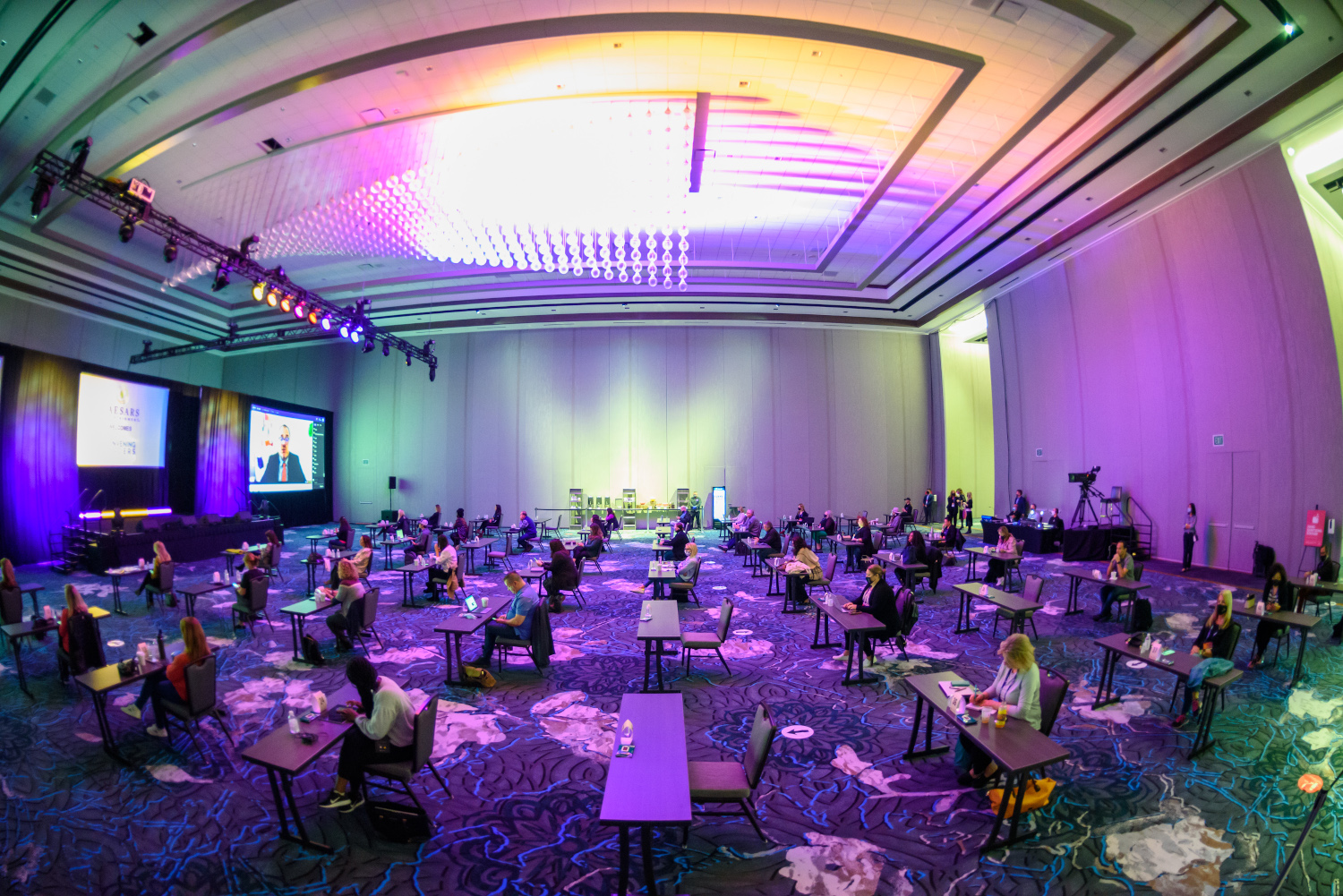 Digital Audio
CAESARS FORUM's audio system is built on two QSC Core 5200 digital signal processors (DSPs). "We split the venue into two sides," Edwards described. "So, you had the two 110,000-square-foot ballrooms that run on one QSC system, and then the other two ballrooms run on the other QSC system. The Cores are located in the main AV room." QSC CXD8.8Q amplifiers power the speakers in each of the ballrooms. There are six of these for each of the larger ballrooms and four for each of the smaller ones.
Control of the digital audio system is integrated into the control system GUI that Encore personnel use to control the rest of the AVL. The sheer amount of possible setup options enabled by the venue's room-combining system called for a ton of intricate programming for the DSP, so NTA enlisted QSC to handle the job.
"I would say that QSC was a big hand in all this, due to the overall size of [the project]," Edwards said. "Our engineer, Scott Marcellus, was working on this probably the better part of five months trying to put together all these shop drawings, because we had to deal with as-built conditions that were in the field. So, we reached out to QSC, and they actually did the DSP programing for us. It's a paid service, but I had never done that before, where a manufacturer stepped in to do the actual programing. So, that was a huge, huge help. The interface and the GUI in there, it's really nice and clean, well labeled, color coordinated. They did a really good job."
All audio signals are sent via a Dante digital audio network. Edwards explained how the network allows for flexible audio-signal routing across the massive ballrooms. "Because the ballrooms have four separate TRs, if you had your front of house position at one end of the ballroom, you would patch into the system through a floor box or a wall box that would then go back to an IDF room," he described. "And then from there, [the signal] would ride the network over to the other IDF room where your main PA is. And then you would pull it back out at the main PA location via the patch panel in the floor. So, your signal flow is front of house, into the floor, floor to the TR, TR to the network, to the other TR, out of that TR to a patch panel in the floor or in a wall, and then out from there."
Audio endpoints include hundreds of JBL speakers that are installed throughout the venue. These mainly include Control 226CT in-ceiling loudspeakers (there are more than 600 in the four ballrooms alone). However, a large number of Control 45CT, 322CT, 67HC and 128W/T speakers are in use, as well. These installed speakers serve as the main outputs for the audio zones that can be created via the roomcombining system.
In addition, CAESARS FORUM is equipped with rigging to allow for supplemental sound systems to be flown, if necessary. "The rigging grid that is installed in the meeting space consists of points that are rated at 2,000lb. each and are 18 feet, six inches from each other in any direction," Padgett said. "The amount of rigging points and the weight rating allows for extremely large and complex productions to be designed for the ballrooms without the limitations that other ballrooms in Las Vegas have."
CAESARS FORUM does not feature any permanently installed mixing consoles or microphones. Encore typically rents these to the client on an event-by-event basis.

Forum Plaza
The 100,000-square-foot, open-air Forum Plaza, with the High Roller towering above, offers an appealing option for outdoor events. In fact, it nearly served as the setting of the 2020 NFL Draft. (Unfortunately, the in-person event was canceled in the wake of the novel coronavirus pandemic.)
The plaza's sound system features Danley SH69HT-AT outdoor speakers powered by Danley DNA 10K4 PRO amplifiers. "There are six big, triangular-shaped towers out there, and on those towers we have the Danley speakers," Edwards said. "They have the ability to plug in out there via patch panel. [The signal] comes back analog into the main AV room, and then from there, it can be sent either just to the Danley stuff outside, or it could be converted and sent via Dante to any of the ballrooms inside the venue."
Digital Signage
CAESARS FORUM is equipped with a Janus digital-signage system. It works like most digital-signage platforms. Content is sent from a central server to media players that are connected to dedicated displays. The content mix includes ambient graphics and Caesars Entertainment branding, as well as curated content for each individual event,
such as meeting times, event and company branding, themed graphics for weddings and parties, etc.. The digital-signage system includes a variety of LG flatscreen displays
mounted on Peerless-AV wall mounts. In addition, CAESARS FORUM features two rather unique digital-signage applications.
The first is a 103'x27.5′ corner-mounted LED wall composed of LG LAE LED units. It is located in the building's pre-function area. This is a lobby that attendees walk through on their way to their meetings. According to Edwards, the corner LED wall would be the most eye-catching AV feature for most attendees. That's because of its size, shape and location in a high-traffic area. "That's probably the most impactful guest-facing item," he said.
The second is a projection-based application that uses a Panasonic PT-RQ32K 26,000-lumen projector to display content above a set of escalators. According to Caesars Entertainment, "It's a high-visibility area for meeting planners to showcase their brand or their sponsors."
Edwards described how the projection solution was finalized during construction of the venue. "There's a skybridge that connects CAESARS FORUM with Harrah's Las Vegas and the LINQ Hotel & Casino. A set of escalators takes you from level two down to level one, where the conference space is located. As you come down those escalators, there's a huge soffit, so they wanted to put something up there," he said. "They were originally thinking an LED wall. Then, during the construction process, we had a Panasonic rep bring out a 32K projector. We set up the 32K projector with all this construction disaster going on around us—dust and noise and everything else—and projected up onto that soffit with the 32K. They loved it, so we put that in there. And that's being fed with marketing content."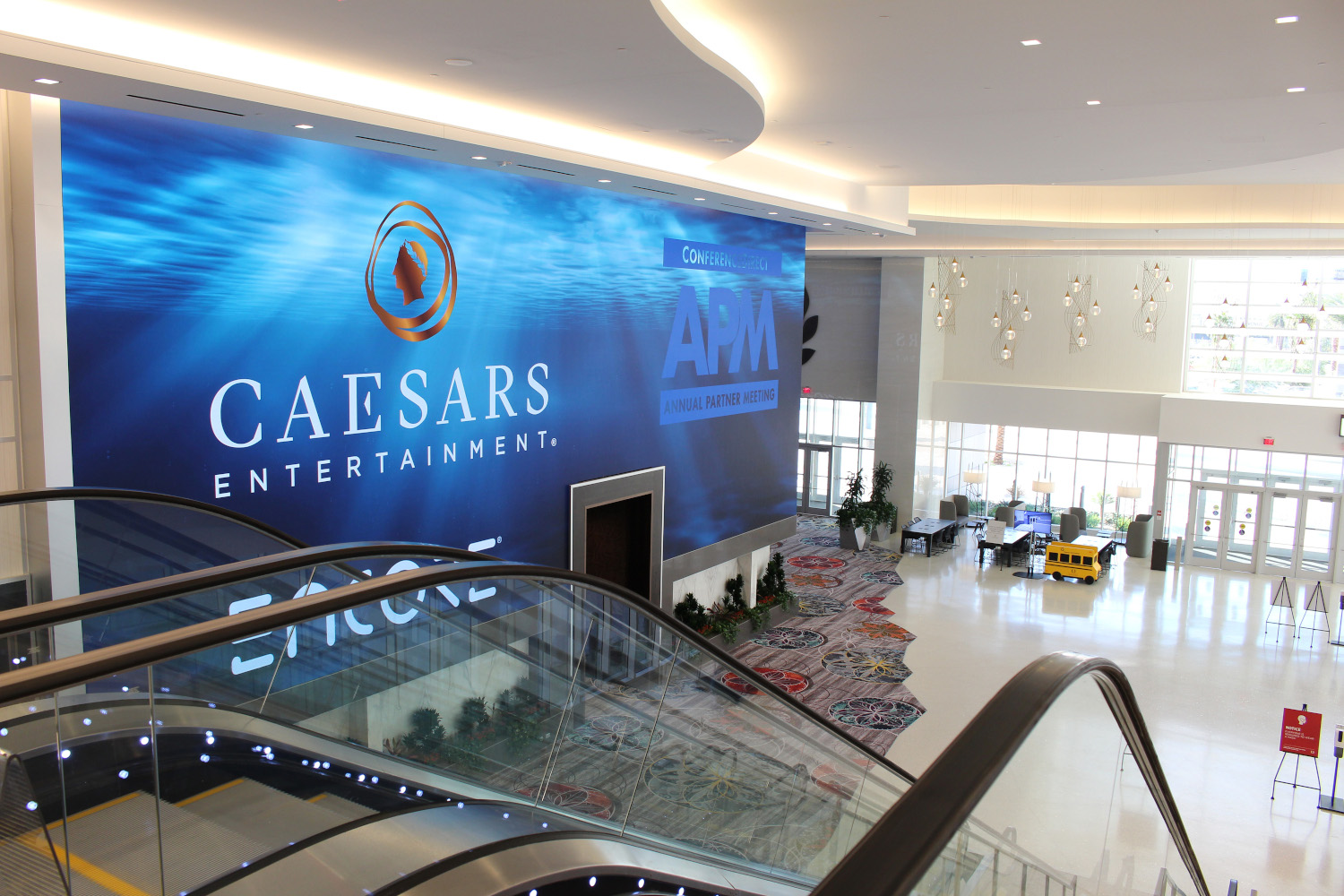 DMX Lighting
CAESARS FORUM's 4,500 controllable DMX lighting fixtures are one of the main features of its AVL system that allows Encore personnel to work the kind of behind-the-scenes production magic that subtly enhances the attendee experience at any event. "The ability to control every lighting fixture in all the ballrooms and foyers allows for the ultimate flexibility to design and implement the necessary ambiance for any production situation," Padgett said.
"The ability to change the color temperature on all the fixtures ensures that any lighting design vision is achievable." Thomas Ladd, International Sales Director for Pharos Architectural Controls, provided a detailed breakdown of how the DMX lighting system works. "The system is composed of an Ethernet network backbone that interconnects all lighting and control equipment," he described. "Seven separately programmed Pharos systems contain all the data on the DMX-controlled equipment. The ballrooms use Pharos Large LPC X units, while other areas use small LPC 2 units. Crestron processors drive the frontend AV control system that the customer interfaces with. Crestron [also] operates both DMX lighting via Pharos and 0-10V loads via Crestron panels."
Ladd continued, "Pharos designed a grouping system of lights where the lights were grouped by area; [this includes] ballrooms one through four, pre-function, boardrooms and exterior. That formed the basis of the seven Pharos systems. Then, inside each system, using the ballrooms as an example, lights were grouped by each partitionable area, and then by zone and/ or fixture purpose. Each group exposes intensity and CCT controls to Crestron. In the Pharos Designer software, we used a template to place each fixture into one of 11 zones when rooms got combined, like zones grouped up to operate as a system of the new combined space."
Achieving this level of functionality through the Crestron control system required a concerted programming effort on many fronts. "Crestron talks to the various Pharos systems via a comprehensive Ethernet API [application programming interface] that was developed by Pharos, NTA and Pulse," Ladd said. "The API allows Crestron to manage the room-combine system and send commands to operate required groups in a single command. Pharos is very much a slave in this regard and not aware of room status, but operates in a Last Action system. Commands dictate which rooms, which zones, a new intensity value, a new CCT [correlated color temperature] value and a fade time of how long to execute the crossfade; this is used for changes on the fly. A second API call handles scene control."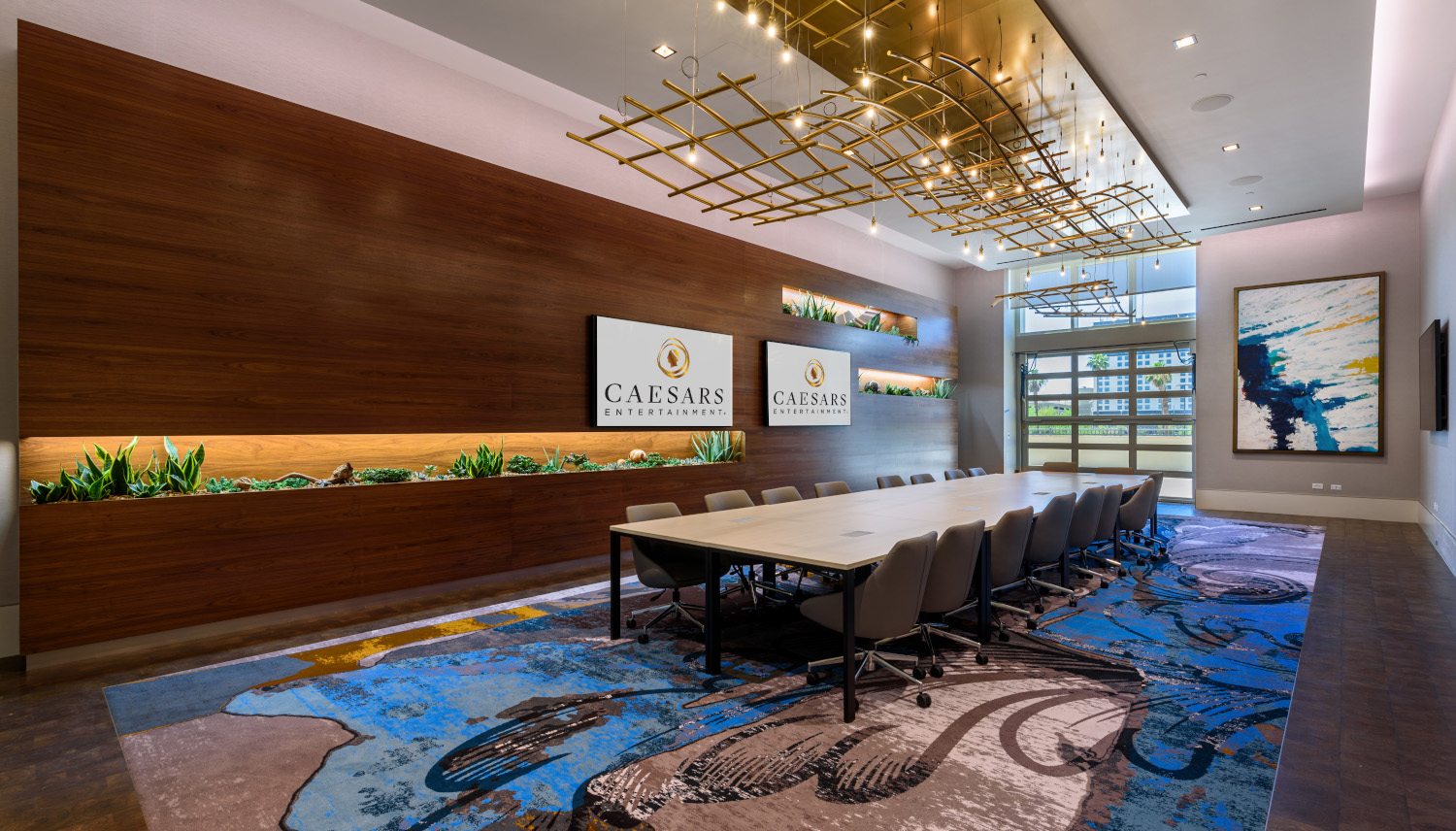 Remote Commissioning
The CAESARS FORUM project wrapped up just as the COVID-19 pandemic came to a head in the US. So, although the health crisis didn't affect the installation itself, it impacted the training and commissioning process.
"Right when COVID-19 hit is when we were more or less handing the system over," Edwards recalled. "So, most of the training for the Encore guys was done by NTA. They shadowed us the last couple of weeks of the job as we were doing final system commissioning. But there was no real manufacturer training [because] nobody was going to be traveling anywhere."
Fortunately, NTA had set up extensive remote-management capabilities for the system. These allowed NTA personnel to troubleshoot problems with the AV system without being onsite. They also enabled all the system's stakeholders to participate in an efficient remote commissioning process.
"We have a VMware server, and we set up multiple virtual desktop PCs for all the different systems—for QSC, Crestron, the DMX lighting, for everything, basically," Edwards said. "During the commissioning process, if we only had one computer [set up], you're going to have all these different people trying to fight over the one computer that's connected to the system to commission everything. So, having all these different virtual machines allowed my lighting guy and Pharos to go in on the DMX side, have the Pharos software on there, connect to the system, and commission things that way. And then the Crestron guys had their virtual PC with all the Crestron software. And the QSC guys, we set them up with a virtual machine that they could log into and do the QSC commissioning and integration. That's actually one of the key features that allowed us to integrate this system in a pretty efficient fashion."

The ongoing effects of the pandemic have necessitated continued restrictions on public gatherings. However, CAESARS FORUM has seen some use since its completion. The venue's flexibility also leaves it well equipped to host a wide variety of events.
"Back in October, ConferenceDirect's Annual Partner Meeting took place at CAESARS FORUM, and both Caesars Entertainment and the Encore team had the opportunity to put everything into practice. The lighting and sound systems worked beautifully," Reina Herschdorfer, Caesars Entertainment's Director of Marketing, National Meetings and Events, said. "Then, in early January, planners from around the country came for the Professional Convention Management Association's Convening Leaders Regional Hub. CAESARS FORUM can accommodate small meetings with 50 attendees or more than 10,000. The space is incredibly flexible."
"Our integrated systems offer limitless communication capabilities for our clients," Padgett said. "The audio, video and lighting systems are able to be controlled from multiple IDF closets using touchpanel monitors [or] via tablets, [so] the technical staff can make adjustments on the fly no matter where they are in the building. Being able to do all this remotely puts the Forum's AVL systems well ahead of virtually all other conference centers in Las Vegas."
To read more from Sound & Communications, click here.