What have traditionally attracted us to sports are the simple and unchanging elements of the games we love, which hark back to the very origins of human competition. Even as sports fans find their seats in modern arenas, like Philadelphia PA's popular Wells Fargo Center, our attraction to the games is much the same today as it was when watching hockey played on a frozen pond, or watching basketball in Naismith's gym. There's one important distinction, though: The constant evolution of both arenas and AVL technologies have made sports accessible to increasingly larger audiences. Today, as aging arenas face heated competition from newer facilities, as well as broadcast and streaming media, AVL technology is changing the game by transforming being a spectator in an arena to enjoying an entertainment experience.
More Than Sports
The 21,000-seat Wells Fargo Center, home to the Philadelphia Flyers NHL franchise and Philadelphia 76ers NBA team, first opened its doors in 1996. To say a lot has changed since then would be an understatement. Today's sports fans are looking at their tickets not only for a reserved seat at the game, but also for the entertainment value. Plus, arenas are important venues for concert and other high-profile events. Taken together, these trends demand that what was once simply a sports arena must now be a dynamic facility that boasts modern amenities and best-in-class AVL technology.
Comcast Spectacor, which owns and manages the Wells Fargo Center, is committed to doing more than just keeping the landmark South Philadelphia arena in top shape as a sports arena. Although a flow of redesign projects in recent years have addressed improvements in the functionality and safety of the arena, the most dramatic updates are now solidly focused on upgrading the customer experience—our industry's newly discovered central mission.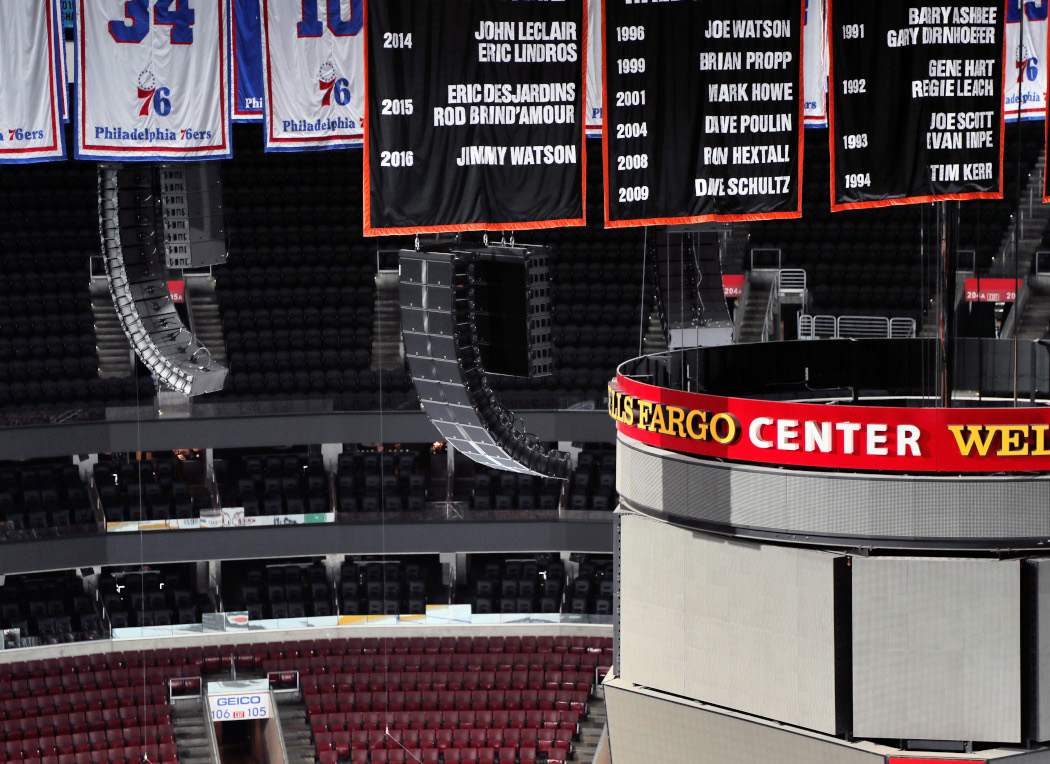 Among the marked improvements to the arena are dramatic physical updates to the common areas, including two distinctive, open-air lounges designed by Philadelphia's SCI Architects (SCIA), a specialist in sports and entertainment design. The new lounges are strategically located in the southwest and northeast corners of the arena to provide picturesque views of the Philadelphia skyline. In these upscale spaces, guests can meet for drinks or a meal—and just to socialize—all with technology to keep them connected to the in-arena excitement.
More than a dozen game-action LED screens strategically installed in each of the new lounges communicate the action from the arena floor; however, the most unifying factor for maintaining the excitement of a live event throughout an arena is perhaps the sound. A new sound system was required to provide concert-quality audio for every seat in the arena's bowl, as well as in the new lounge settings, private suites and throughout all the common areas.
Enter Diversified
For a best-in-class arena sound system, Comcast Spectacor looked to global consultant and technology integrator Diversified, which is headquartered in Kenilworth NJ. "Arena ticket buyers today have a very clear expectation for concert-quality sound," Diversified's Justo Gutierrez, Director of AV and Sound, Sports and Live Events, said. "Working with the arena, our goal was to design and implement a best-in-class sound system for the bowl that would surpass expectations and stimulate excitement throughout the arena."
The Diversified team—it also included Lead Engineer Andy Prager and Project Manager Keith Pintner—faced three considerable challenges in replacing the arena's previous sound system: (a) finding the right manufacturer to meet the demands of contemporary arena audio, (b) designing a best-in-class replacement for an older facility, and (c) developing a plan to install the new system that would work around the arena's always-busy schedule of events.
Choosing the right manufacturer was key to meeting the quality demands of the arena's expert audio staff. Also weighing on the choice was the need to be reconfigurable to address the arena operations staff's need for frequent reconfiguration. "The system design had to support not only sports events," Gutierrez noted, "but also an end-stage design for concerts and different seating configurations."
Working closely with the Wells Fargo Center's operations staff and experienced audio engineers, the Diversified team explored various alternatives to meet the arena's varied needs before landing on an L-Acoustics K2 system. "The audio staff at the arena is very knowledgeable," Gutierrez affirmed. "They were with us every step of the way, and they communicated their expectations very clearly. For this project, choosing the right system was certainly a group effort."
System Design
System design began with collecting measurements from the arena bowl space and seating areas. That effort was complicated by changes to seating sections over the past 20 years, as well as the fact that few of the original drawings from the arena's original design were still available. Measurements of areas for sound coverage were taken, where necessary, to augment existing drawings; critical dimensions were input into EASE (Enhanced Acoustic Simulator for Engineers) software and analyzed by Diversified's engineering lead, Prager. The design was subsequently imported into L-Acoustics Soundvision software to facilitate the final system design work. Soundvision software offered audio designers accurate acoustical and mechanical simulations that considered the unique properties of L-Acoustics' Wavefront Sculpture Technology (WST) used in the K2 line-array enclosures.
Prager worked closely with Dan Palmer, Business Development Manager, Sports Facilities – USA and Canada, at L-Acoustics and the L-Acoustics Application Team, which included Andre Pichette and Jesse Stevens, on the design for the arena. "It was important that the design for the Wells Fargo Center provide high-impact, high-SPL capabilities and full-range system response suitable for professional sports and entertainment," Palmer remarked. "In addition, the installation needed to be capable of customized zoning to provide for multi-use functionality to make the arena more flexible for a variety of seating configurations." The Wells Fargo Center's K2/K1-SB system design provided added benefits by being lightweight as well as by having a compact footprint.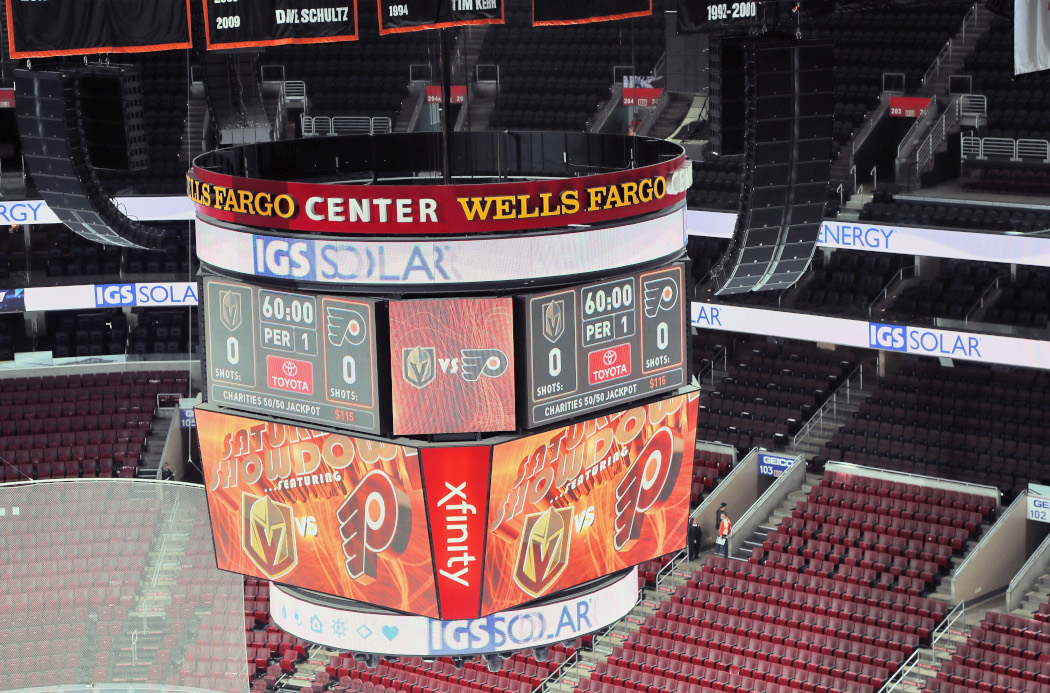 The relative size of the K2/K1-SB system provides significant advantages for new arena installations, new stadium installations and renovations. As video takes up more and more real estate, the main sound system has to be compact enough to maintain sightlines, while still delivering the coverage, distribution and SPL targets that the venue requires. Newer systems like K2, which boast compact size and a light weight, are not only more versatile and easier on rigging grids, but also offer major performance advantages over older exploded cluster and point-source systems.
To verify both concept and system design, Diversified engaged sports design consultant Wrightson, Johnson, Haddon and Williams (WJHW) of Dallas TX. Specializing in state-of-the-art design acoustics and noise control, audio and video aspects of large venues, Mark Graham, Associate Principal at WJHW, reviewed and endorsed the concept and design decisions for the new audio system at the Wells Fargo Center.
Planning
To ensure the newly designed audio system could be installed efficiently, Gutierrez and Pintner had to find windows in the arena's busy schedule that could accommodate the install team's efforts. They also had to consider the many issues inherent in replacing a system that had been in service for more than 20 years. Among the proactive measures taken by Diversified was to investigate options for cable reuse carefully, to revamp an existing amp room for new gear, and to schedule the complete demolition and redesign of the existing audio control room. "This upfront work was a very collaborative effort," Gutierrez stressed, "with much of the critical work happening in parallel."
To implement a more efficient control room design, new cabling was required to accommodate a relocated mix position. Just as significant for the install, however, was the team's work to remap and verify existing wiring throughout the facility. Although many common-area speakers could be upgraded "in place," the main array wiring had to be remapped from the locations of new clusters to the amp room. "With over 150 new amp channels," Gutierrez began, "it was a painstaking process to ring out every line, but absolutely necessary so our installation would go smoothly."
The Diversified team worked closely with arena operations staff and audio engineers to understand their current needs, as well as potential future demands that would be made of the new audio system. Recognizing the importance of control systems in arena operations, careful consideration was given to how to remap audio efficiently to support a diverse range of event types. As a result, system configurations were preprogrammed using QSC's Q-SYS control platform.
Installation
Main bowl system arrays were flown as two arrays (east and west) of 12 L-Acoustics K2 three-way, full-range enclosures covering each short side and four arrays (northwest, northeast, southwest and southeast) of 13 K2 enclosures covering long sides. The K2 enclosures are variable-curvature WST line sources that have evolved from the K1 system design and been rescaled into a 12-inch compact format. They are completely acoustic and rigging compatible with the K1 and K1-SB subwoofer.
Contributing to the accuracy of the system's design were the K2 enclosures' precise vertical and horizontal coverage, along with L-Acoustics' WST technology, which maintains line-source integrity and results in coherence in sound traveling to targeted seating areas.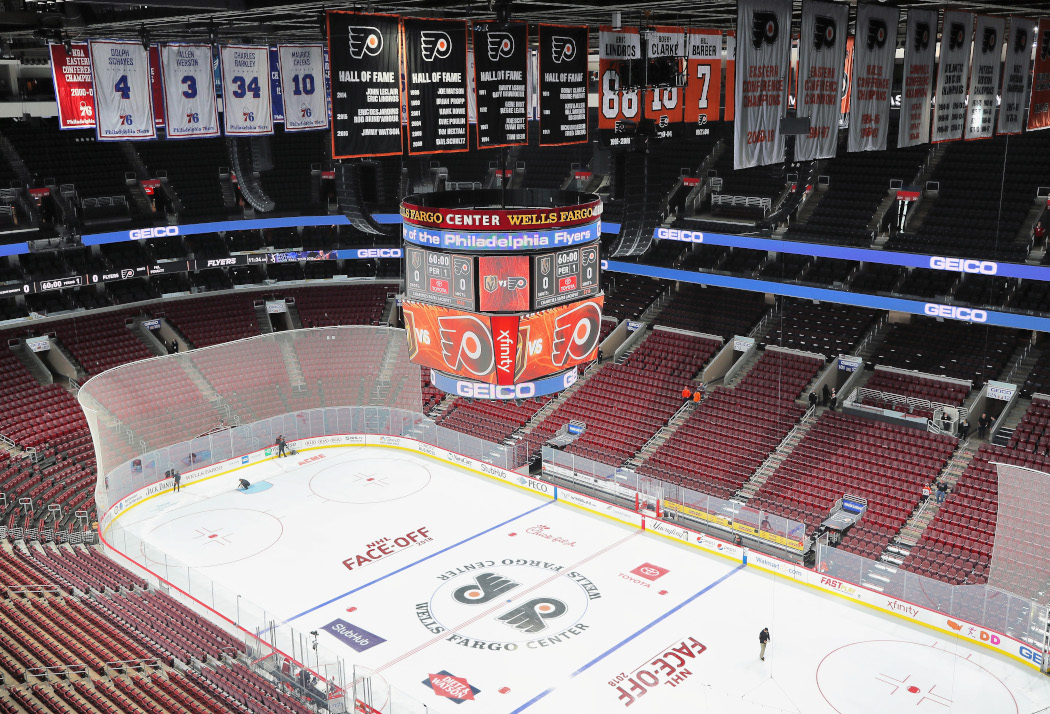 Six arrays of four K1SB subwoofers were flown in an end fire configuration behind each K2 array to support low end in the large venue. The K1SB sub offers high power handling, low distortion and thermal power compression, along with progressive vents for increased SPL, laminar airflow and minimal turbulence noise. For optimal performance, subs were precisely spaced and time sequenced to provide in-phase addition on the forward side and out-of-phase rejection on the rear.
Two arrays of ARCS WiFo enclosures were hung to provide even fill on the bowl floor. Each fill array is composed of three ARCS Focus enclosures with one ARCS Wide enclosure. Where acrylic glass and dasher board systems provide safety and optimum viewing for spectators, three fill positions were deployed at each end of the floor. Each of those fill deployments consists of three ARCS Focus enclosures. ARCS WiFo enclosures offer a constant-curvature line source optimized for medium-throw applications with scalable directivity from 15°x90° (up to 360°x90°) in 15-degree or 30-degree increments, ideal for these demanding fill locations. "These fills are rigged in positions to maintain sight lines," Palmer offered, "and, because of their design, they perform remarkably well."
The new K2/K1SB line-source arrays are precisely positioned in the arena using motorized hoists. Unlike the arena's previous dead hung clusters, individual groups of speakers can now be quickly flown out to the grid or dropped back into play position to improve sight lines or support various venue configurations.
Control Room
At the heart of the redesigned audio control room is a DiGiCo SD9 mixing surface that offers 24 touch-sensitive motorized faders and function buttons to access options quickly. A major feature of the console's work surface is its 15-inch, high-resolution TFT LCD touchscreen with backlit display. The new console represents both an increase in channel count for the arena sound engineers and an improvement in digital signal quality. Each input and output channel supports channel delay, single- and multi-channel presets, dual insert points, high- and low-pass filters (24dB/octave), four-band parametric EQ with band curve selection and dual insert points, along with DiGiCo's DYN 1 (compressor, de-esser or multi-channel compressor) and DYN 2 (gate, compressor or ducker). Additional effects are provided with Waves plugins that offer a full range of sound shaping and treatment options.
I/O and digital conversion for the console is provided by three DiGiCo D-Racks, which each offer 32 microphone inputs. For the Wells Fargo Center installation, both primary and backup D-Rack units are expanded from eight to 16 modular outputs, with an additional eight-channel analog output card, and equipped with dual PSUs for redundancy. Digital Cat5e cable connects D-Racks to the SD9 work surface to eliminate hum and noise. A DiGiCo Orange Box was installed to increase audio format conversion options with DiGiCo multi-channel interface (DMI) cards.
Two QSC Core 510i integrated DSP processors equipped with a full complement of Dante, AVB and I/O cards provide audio engineers a full-featured control environment and robust toolkit for configuration and signal processing with the new system. The team also designed and implemented a Q-SYS control panel using the Q-SYS plugin for direct user control and emergency communications. "Even though this control package is highly advanced, it provides the arena engineers with a system that is simple to operate," Palmer affirmed. Ease of use is an important feature for arena management where the venue might have to host a sports event one night and a concert the next. "The arena staff counts on the new system to be flexible," Gutierrez stated, "but the arena also needs to change over quickly. A major benefit of this system is that it's designed to be easy to reconfigure."
Power, Control & Monitoring
Power, control and monitoring for the K2-K1SB audio system are provided by 37 L-Acoustics LA12X amplified controllers that provide 4×2,600W RMS at four ohms and two L-Acoustics LA4X amplified controllers that provide 4×1,000W RMS at four ohms, all integrated using an L-NET Ethernet-based network. L-NET's high-speed data transfer protocol of 1Gbit/s provides a reliable network path for control and monitoring in real time by LA Network Manager software. An Avnu Alliance-certified AVB digital audio network is implemented, along with redundant analog fallback for failsafe reliability.
To carry sound through the common areas of the arena and its suites, 83 Community D8 eight-inch, high-output, two-way coaxial ceiling speakers were installed as under-balcony delays and in exterior suites. Similarly, 82 Community D6 six-and-a-half-inch, high-output, two-way coaxial ceiling speakers were deployed in suite interiors. Meanwhile, 78 Community IC6-1082/26 eight-inch, high-output, two-way 120×60 speakers with 200W transformers were deployed for suite exterior delay. Additionally, 58 AtlasIED C803AT167 eight-inch, in-ceiling coaxial speakers with 16W 70V transformers were deployed in common areas. Power for ceiling speakers throughout the area is provided by seven QSC CXD4.5Q-NA Q-SYS network amplifiers that produce 1,000W/channel @ 70V.
Wireless Connectivity
Solid wireless microphone technology is essential for many arena events, so Diversified's audio upgrade included Shure wireless gear, such as the company's AXT600US spectrum manager for wideband UHF spectrum scanning, spectrum analysis and compatible frequency coordination. The unit can scan the global UHF spectrum (470MHz to 952MHz) in approximately one minute and provides backup frequency monitoring in real time. A Shure UA845UWB antenna distribution system is for use with three Shure AD4QUS-A four-channel wireless receivers that work with ADX2/SM58, ADX2/B58 and ADX2/B87A ShowLink-enabled handheld mic transmitters, along with ADX1 ShowLink-enabled bodypack transmitters, WBH53B condenser headsets and WL185 lavalier microphones. For improved wireless microphone connectivity, Shure AD610 wireless access points, UA874US active directional antennas, AXT644 direction antennas and HA-8089 helical antennas were deployed to strategic locations in the arena.
Great Sound/Flexible System
Gutierrez reported that arena guests at the Wells Fargo Center are impressed with the improved sound quality that the new audio system delivers, and that the arena's audio engineers are equally pleased with its ease of use and flexibility for different events. He feels that solid planning and follow-through from the team from Diversified, working closely with Palmer at L-Acoustics and the arena's experienced rigging and sound crews, were key to the ultimate success of the project.
Palmer offered that one of the reasons that the new audio system performs so well is its extensive headroom. "The system breathes very well at nominal levels, unlike many sports venue systems," he said. "It is also very flexible and rider friendly, so it has the ability to supplement major tours as a delay system for hard-to-reach sections in end stage concert setups. A system this versatile is a plus for sports fans and for concert goers alike."
Audio Rigging At Wells Fargo Center
To increase the versatility of the new L-Acoustics audio system at the Wells Fargo Center, Diversified reached out to rigging experts, Proof Productions of Sewell NJ to design and fabricate rigging components for a system of motorized hoists that could position the new arrays in the arena 'bowl'. To make audio system reconfigurations as efficient as possible, the riggers deployed a system of 12×1-ton Columbus McKinnon dual-brake motors with 125-foot lift and a multi-point control system developed by Motion Laboratories, Cortlandt NY. In addition, the install included a complete chain hoist wiring package, an encoder and wire harness package, chain bags and hardware.
Using the control system's handheld, touchscreen remote, the arena's audio clusters can be quickly and safely reconfigured into positions for storage (high and out of the way for concert events), positioned to provide optimal sound for hockey events, repositioned for basketball events, or completely lowered for convenient maintenance. It is critical that the hoists reposition audio clusters exactly in order to provide optimal sound performance and coverage to all seating areas. A similar hoist system is used to precisely locate and align the arena's powerful projectors.
"It's important that the arena has great sound, and the precise positioning of the arrays is essential for that," says Proof Productions' Owner, Stephen McEntee, "but it's more important to be safe." To ensure safety when moving the arena's large arrays, McEntee and his team included a "watchdog" system in their rigging design that employs Kinesys Libra load cells. These weight-measuring shackles report load information in real time to a control unit that analyzes the data as clusters are being repositioned. In the event of a load anomaly, the system can instantly stop all motors until the cause is determined.
Proactive planning and advanced rigging control systems, as seen with the Wells Fargo Center audio upgrade, make it possible for arenas to maintain pristine, concert-quality audio for a wide array of event types, as well as optimize their schedules with shorter set-up times between events. Intelligent rigging systems can not only provide increased safety and versatility for audio systems, but provide other economic advantages, as well, like the ability to quickly transform arenas into more intimate spaces. That, in turn, can increase revenue by creating opportunities for the venue to be sold for different types of events. Smarter control systems also significantly minimize costs by reducing labor and the expenses associated with temporary or rental audio setups to accommodate atypical or smaller events.