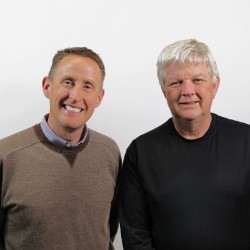 Williams AV, global designer and manufacturer of wireless communication technology and provider of video annotation technology, appointed Rob Sheeley to the position of President and CEO. The company also announced the concurrent appointment of Tom Mingo as Executive Vice President of Sales and Marketing.
Sheeley and Mingo are AV industry veterans and Williams AV board members. They are the co-founders of Vaddio, a Minnesota based designer and manufacturer of video equipment used throughout the AV marketplace. Sheeley is a serial entrepreneur who holds numerous hardware and software patents, with extensive expertise in new product development. Mingo formerly led sales for Vaddio, and will assist Williams AV in expanding its sales and marketing efforts to support the company's next stage of growth.
Sheeley commented, "A year ago, I began consulting with Williams Sound on product development and strategic direction. Since then, we've acquired Pointmaker, and developed two new products…When asked to lead the combined companies, I was thrilled at the opportunity to re-enter the industry and grow this business to the next level."
Mingo added, "I look forward to this continued partnership with Rob and to working more closely with the entire Williams AV team. Both Williams Sound and Pointmaker are customer-focused and solution-oriented organizations. Going forward, we will expand on this, successfully blending audio and video expertise into new and exciting technology solutions for our customers. With these blended offerings and more, we move ever closer to our ultimate goal: becoming a leading solutions provider in the AV collaboration marketplace."
In the official announcement, Williams AV thanked Paul Ingebrigtsen for his contributions as President and CEO of Williams Sound for more than 40 years. Ingebrigtsen will retire from day-to-day operations, effective immediately, but will remain as a Williams AV board member and major investor.