Mobile County sets the standard for modern school security using audio, video and lighting tech.
Security is a top concern in American schools. One obvious reason comes to mind: The frequency of school shootings has created a reality in which active-shooter drills are almost as common as fire drills. But schools also deal with other forms of violence, including hazing incidents, harassment and bullying. And administrators must also protect students and staff from other hazards, such as fires and natural disasters. With no national template for how to safeguard schools against such a wide range of threats, finding new, innovative approaches to school security has become a major priority for parents, administrators and government agencies.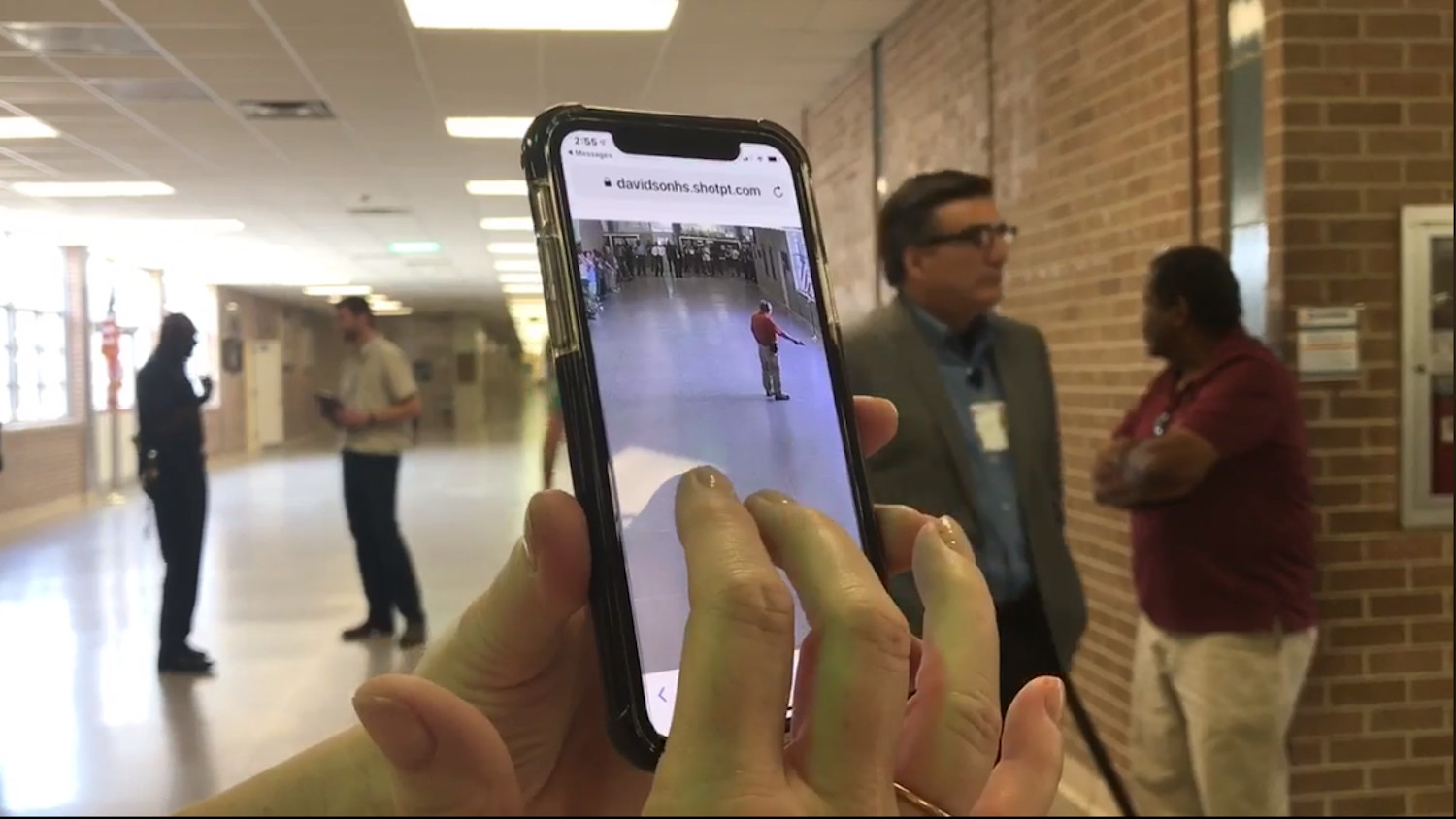 With its newly designed security system, Alabama's Mobile County Public School System (MCPSS) is looking to set the standard on school security for the rest of the country. MCPSS has designed a scalable solution that relies on AVL technology to trigger security protocols automatically and send alert messages to first responders, students, teachers and administrators during a wide range of potential incidents. The system also gives law enforcement remote access to a school's security-camera feeds and intercom systems; moreover, it provides access control to first responders, allowing them to move freely throughout the campus—even during lockdown situations.
As a proof of concept, MCPSS installed a version of the system in Mobile AL's W. P. Davidson High School. The system was designed by MCPSS' Telecommunications/Web Manager Tracye Mathis and Executive Director of Information Technology David Akridge, in collaboration with consultant Henry Zeigler of the Moore-Zeigler Group, along with IT/AV integration firm Information Transport Solutions (ITS), a Uniti division, whose Michael Williams led the installation team for this project. The project was mostly paid for with funding from the federal Office of Community-Oriented Policing Services (COPS) through the School Violence Prevention Program, with the remaining portion paid for by the school district.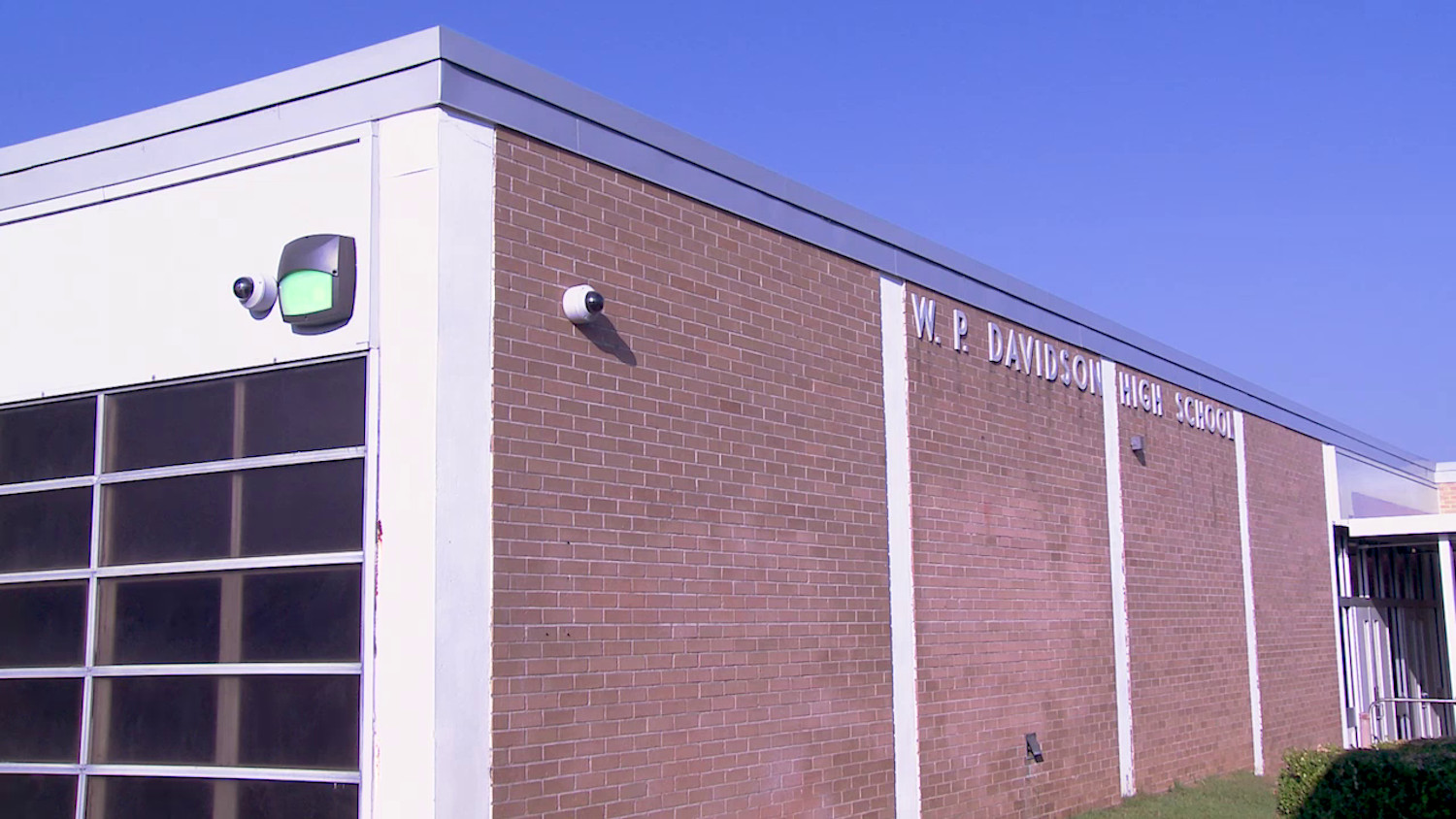 Automated Incident Response
According to MCPSS personnel, the district decided to ramp up its approach to school security after an incident at one of its other high schools, during which a student fired a gun to cause a distraction on campus. Although it was not a true active-shooter situation, the incident understandably caused a panic at the school and throughout the greater community. For MCPSS, it highlighted the need for more instantaneous activation of security protocols and a smarter approach to alert messaging throughout all the district's schools.
"Each school would have to remember, depending on the incident, what they had to do, and that list was as long as my arm," Mathis explained. "You had to consider who you had to call. Make sure your students were somewhere safe. Make sure your teachers knew what to do. In some situations, you had to make sure that the doors were locked, or that they were unlocked. You had to notify parents. There were too many pieces there that were manually having to be performed, and a lot of it was falling through the cracks. You couldn't expect a principal and a few staff members to remember to do all that, especially in the case of a shooting or anything like that going on in a school."
Mathis envisioned a system that would initiate a range of predefined security protocols at the press of a button, or automatically in response to an alarm being triggered. "So, if it was a code-red lockdown situation, the principal would push the red button and it automatically calls 911. It sends out an alert in the school through the intercom system and the lighting system. [A voice-messaging system] instructs people on what to do, parents are notified, every camera in the school begins to record, and the local police department is able to log in from their command center or from their police car and see what's going on inside the building," she described.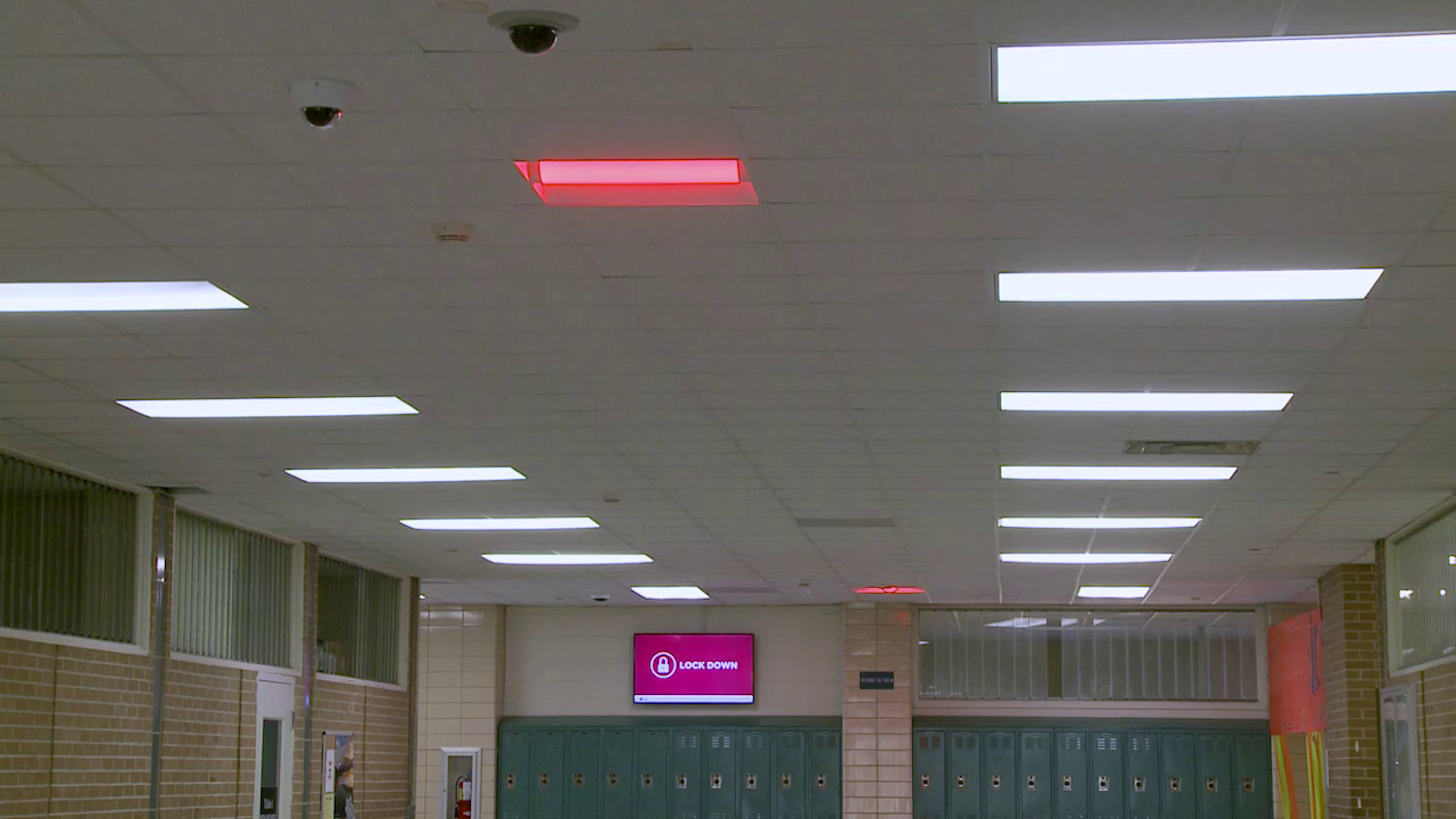 Williams added, "They also wanted the security system to be modular, so they could add on to it later or use different manufacturers' equipment. Their idea is to retrofit this solution into multiple schools where the existing gear they want to leverage won't always be the same."
The solution that MCPSS devised leverages Davidson HS' existing Singlewire InformaCast mass-notification software, runs completely on Power-over-Ethernet (PoE), and relies on Extron control and Cisco network switches to integrate the various components. The result is a system that is responsive and instantaneous enough to save lives in an emergency.
According to Zeigler, one of the major challenges on this project was finding vendors who were willing to program custom solutions to make all the pieces work together. "There was a lot of back-end support, because a lot of this [technology] didn't even exist yet," he explained. "A lot of this was in Tracye's head. David came up with the drawings, [and] we had to take that to the vendors, and the vendors had to actually write code from scratch. You get a lot of vendors who will tell you, 'Our product works with this product, [and] this API does this and this API does that,' but a lot of that's not really true when it's time for things to work. So, a lot of my job was to work on the back end and make sure these vendors worked well together. Cisco's API had to talk to Extron, which had to talk to Singlewire and other products that really have never worked together before."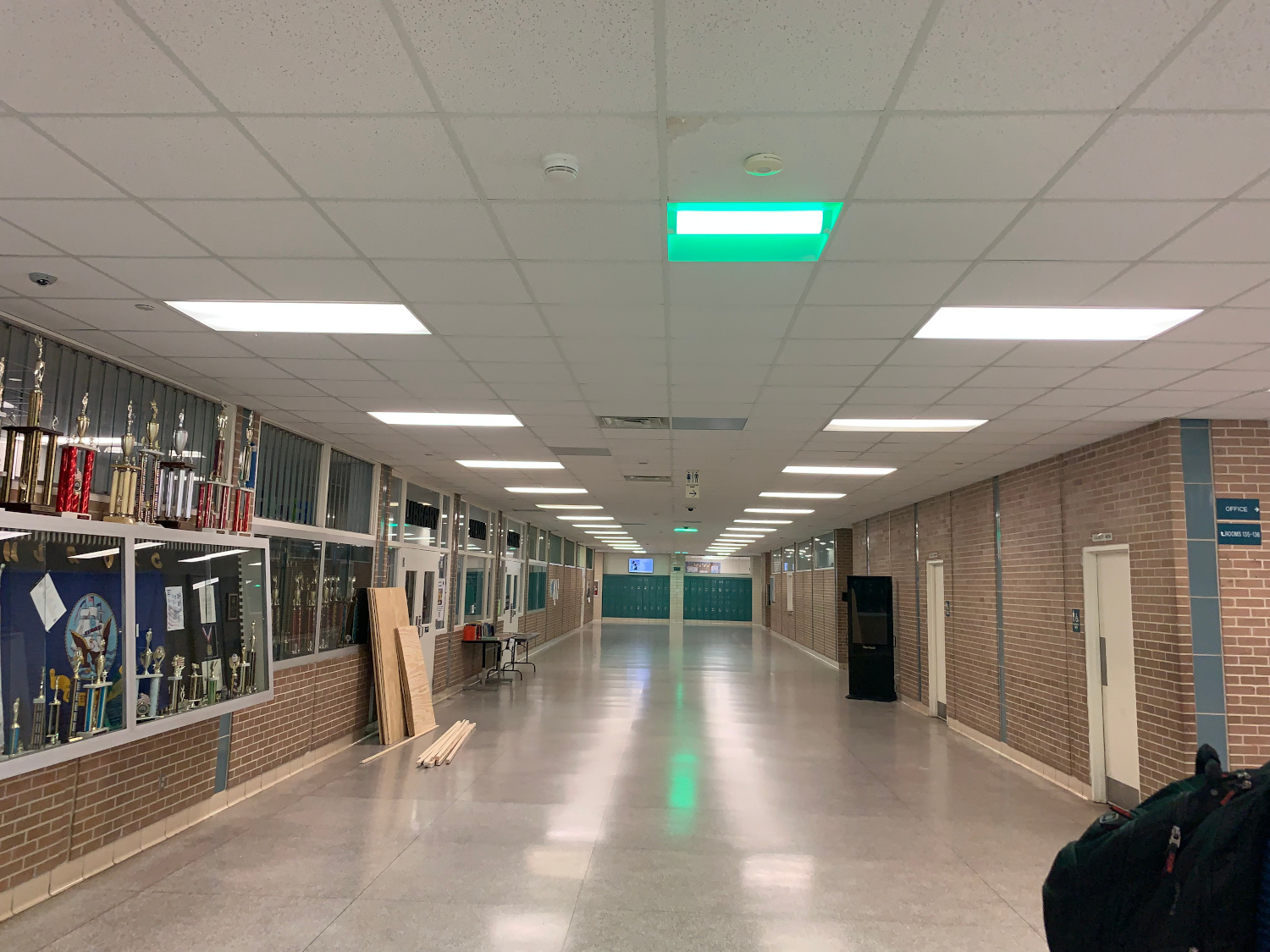 Campus-Wide Alerts
Campus-wide alerts are triggered via Extron TLP Pro 1022T touchscreens, which are located in the principal's office, at the front desk and in a counselors' suite; these alerts can also be triggered by select school personnel via an Extron mobile app. The alerts are color-coded: solid red signals a shelter-in-place lockdown, flashing red is for evacuations, amber is an "on-alert" status, yellow signals a temporary hold-in-place order, purple is for fires and blue is for severe-weather events.
Two Extron IPL Pro control processors (one of which serves as a backup) function as the brains of the system, sending signals through the Cisco network to trigger various events via InformaCast and other software. According to both MCPSS and ITS, Extron developed a number of custom drivers to allow the system components that handle the campus-wide alerts to work together.
"Extron was able to create a driver for us to communicate with Singlewire InformaCast, so we can communicate directly with their server to trigger prerecorded messages," Williams explained. "When we tell it to kick off those InformaCast events, prerecorded messages play over the speakers and IP phones, and messages go out to the classroom SmartBoards. It also sends SMS text messages and notifies the local police precinct. IP clocks equipped with a built-in display and speaker play announcements and display alert-message text." All the audio messages that play out over the various speakers and IP phones are synchronized by InformaCast to reduce echoes, thus ensuring the emergency messages are clear and intelligible.
InformaCast also sends an alert message to all network-connected PCs on the campus. "Every PC has Singlewire's InformaCast desktop client, which receives alert messaging text and the audio feed," Williams described.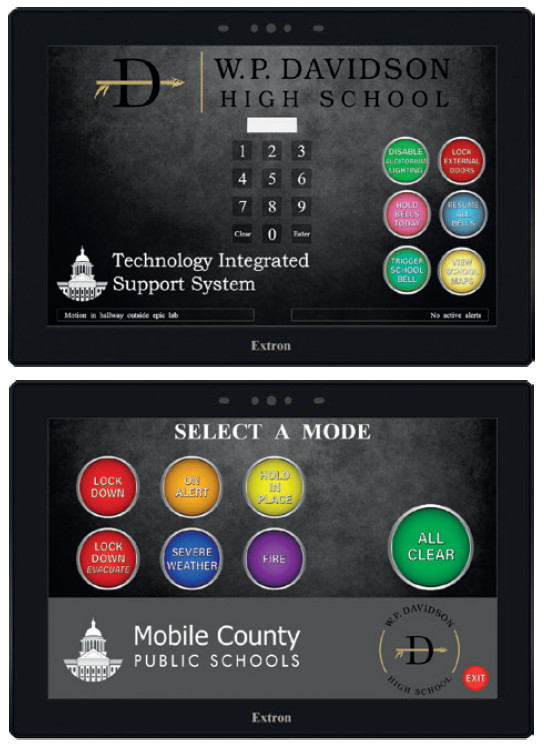 More than 140 Igor RGB lighting fixtures are installed around the school, in the hallways and classrooms. These change color to signal the various color-coded alerts. (By default, the lights display a green "all-clear" signal.) "Extron created an API driver for Igor's lighting gateway," Williams noted. "It allowed us to drag and drop colors we want the lights to change or pulse depending on alert type."
The campus-wide alerts also take over the school's digital-signage system. The school district's longtime digital-signage provider is Industry Weapon; Davidson added 15 of the company's P1 Series digital-signage players to its system as part of this project. "Industry Weapon helped us with an integration that monitors a generated RSS feed from InformaCast, resulting in signage content automatically updating when a change is detected," Williams explained.
The campus-wide alerts also activate the security cameras. To supplement the existing cameras, 150-plus Cisco cameras were installed throughout Davidson as part of this project. In addition, a dedicated command center for security personnel was constructed. It features a 2×2 videowall composed of four ViewSonic CDE5010 displays that shows a multi-view of the camera feeds. This room also houses the Cisco network servers; two are used for the system front end, whereas three are used as data servers.
Gunshot Detection
Although the campus-wide alerts can be triggered via the Extron touchscreens or via the mobile app, the alerts can also be automatically triggered in certain instances, such as when a fire alarm is tripped. And, because active-shooter events are front of mind in any discussion of school security these days, MCPSS included a way for the system to react automatically in the event of a shooting on campus. The system features Databuoy's Shotpoint gunshot-detection sensors, which can pinpoint the location of any audible gunshot fired within range of the sensors and trigger a code-red alert.
"If someone fires a gun in the vicinity, those sensors triangulate where that gunshot happened," Williams explained. "We loaded a map of the school into Databuoy's software. If someone fires a gun, [a list of] contacts immediately receives a text message that shows 'gunshots fired,' with a link that will pinpoint those locations on the map. The Extron controllers are tied into those sensors, enabling a red alert to be triggered automatically."
The Databuoy sensors are also tied to the camera system to make sure the shooter is captured on video. "Databuoy wrote an integration for Cisco's camera system allowing them to pull video clips of nearby cameras," Williams said. "The alert text also contains a link to view those recorded clips, allowing you to see what happened just before, during and after the shots were fired."
MCPSS worked with the Mobile Police Department (MPD) to test the gunshot-detection system. "Tracye did a demo where she brought a police officer in who shot a .38 in the hallway," Akridge described. "We were all standing there in the hallway, and the system went off in a matter of, like, a second. It turned everything red—the digital signage and the computers in the school. It locked the exterior doors. It triangulated where the shooter was and followed him on video. It called 911 to alert the police. It was just amazing. And no one touched anything."
Akridge added, "I've been involved since Tracye first had the idea for this system and we started putting stuff together. And when I saw the officer shoot the gun and I saw everything happen, I went 'Wow!' I'm somebody who's been there at the ground level, [and I] could envision the system [and] see it come to fruition, but it still was awe inspiring to see that system work the way it did."
Testing the gunshot-detection system was far from the MPD's only contribution to this project; in fact, the school district has been working in close coordination with the MPD on school security for years. MCPSS was awarded another COPS grant about 10 years ago, which was used to lay the groundwork for a system that would give first responders remote-viewing access to the security-camera feeds inside the county's public schools. Thanks to the second round of COPS funding, that system is now fully realized, with additional features that allow for even more coordination between the school district and the police.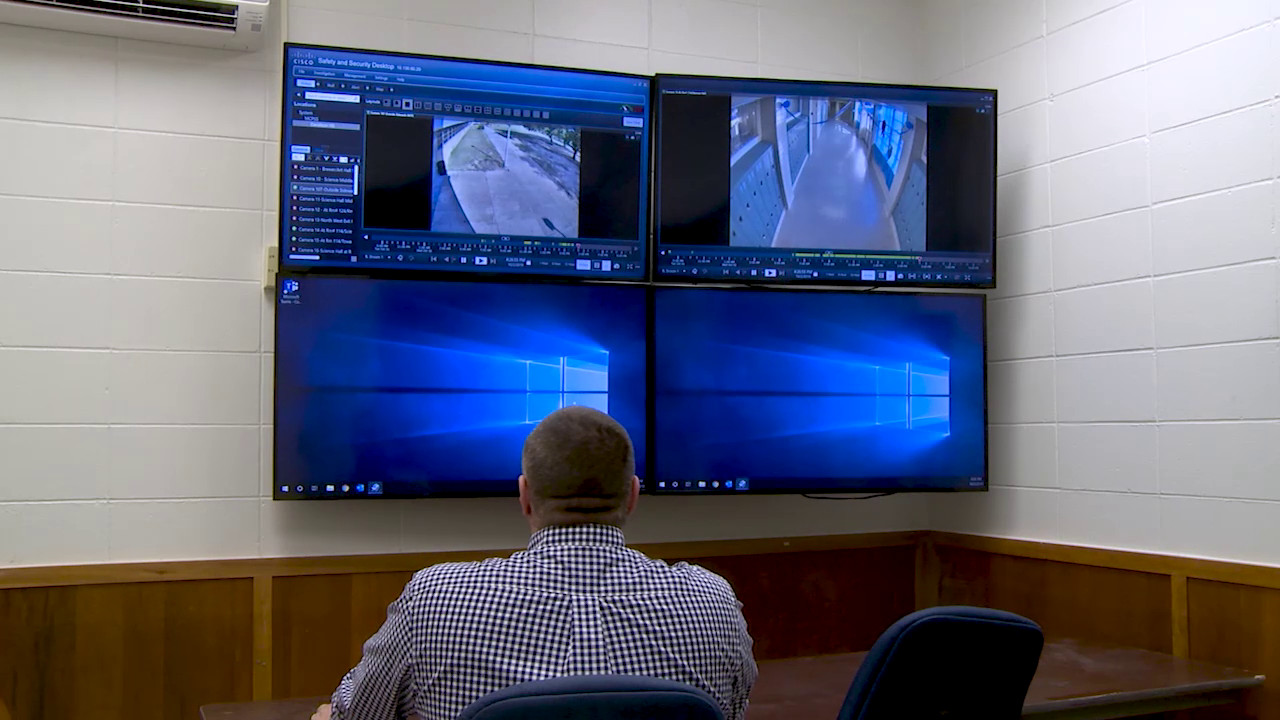 "We gave the local police precinct access to the school's camera system," Williams said. "We installed the surveillance software on a PC they have connected to a large monitor, allowing them to view multiple camera feeds remotely. If the school initiates a lockdown, the precinct gets a prerecorded phone call and can immediately connect to the school's cameras to see what's happening."
Most of the security system's emergency protocols involve sending a notification to the local police. The police are also notified if the gunshot-detection system is triggered; they receive the same recording of the shooter and the same location data that the school administrators receive, showing where the shots were fired.
"Police officers can dial a phone number and enter a PIN to be connected to the school's intercom system," Williams said. "They can also mirror the school's touchscreens to trigger a school-wide alert remotely, managing the system as if they are inside the school."
Mathis also worked with the MPD to ensure that its officers would have access control throughout the Davidson High School campus via RFID badges. This was an important part of the project because some of the campus-wide alert protocols automatically trigger the school's door locks to prevent unauthorized personnel from entering the building. More than 700 police officers can use their badges to unlock doors in the school in case of an emergency, and they can also view a map of the school that shows which doors are currently locked and unlocked. The police also have access to the school's command center/server room in case they have to view the camera feeds onsite.
In addition to campus-wide alerts that can only be triggered by select personnel, the system also has a "teacher-assist" function that can be triggered at any time in any classroom. Each classroom is equipped with a wall-mounted Extron MLC Plus 100 MediaLink Plus controller; that panel is used to control some basic classroom-AV functions, and it's also used to trigger the "teacher-assist" mode.
"In an emergency situation—whether it be a fight or a medical emergency—the teacher-assist button can be pressed and held down for three seconds," Mathis described. "From the time it's pressed and held in, the camera in the classroom begins to record. And, it backs up about 45 to 50 seconds prior to the button being pushed to record what's going on and what went on in the classroom. And an open call is made to the front office."
Although the function is called "teacher assist," students are also encouraged to use the function if the situation requires them to do so. "We've talked to every student in the school, and we've explained this button to them and that, if they push the button, they're going to be recorded," Mathis said.
Zeigler added, "Tracye told me they're not really having any discipline issues with students pressing that button, which is amazing. You'd be surprised at how seriously students take safety in a school."
MCPSS leadership was concerned that there might be some pushback to installing cameras in all the classrooms, but that has not proven to be the case. "We were worried about installing these cameras in the classrooms and what the teachers would say about Big Brother watching," Mathis said. "But what we've heard is the opposite. The teachers want to run the cameras all the time. They find a sense of security [from] knowing that there are cameras in there that can help with documentation, as far as having problems or discipline issues with students."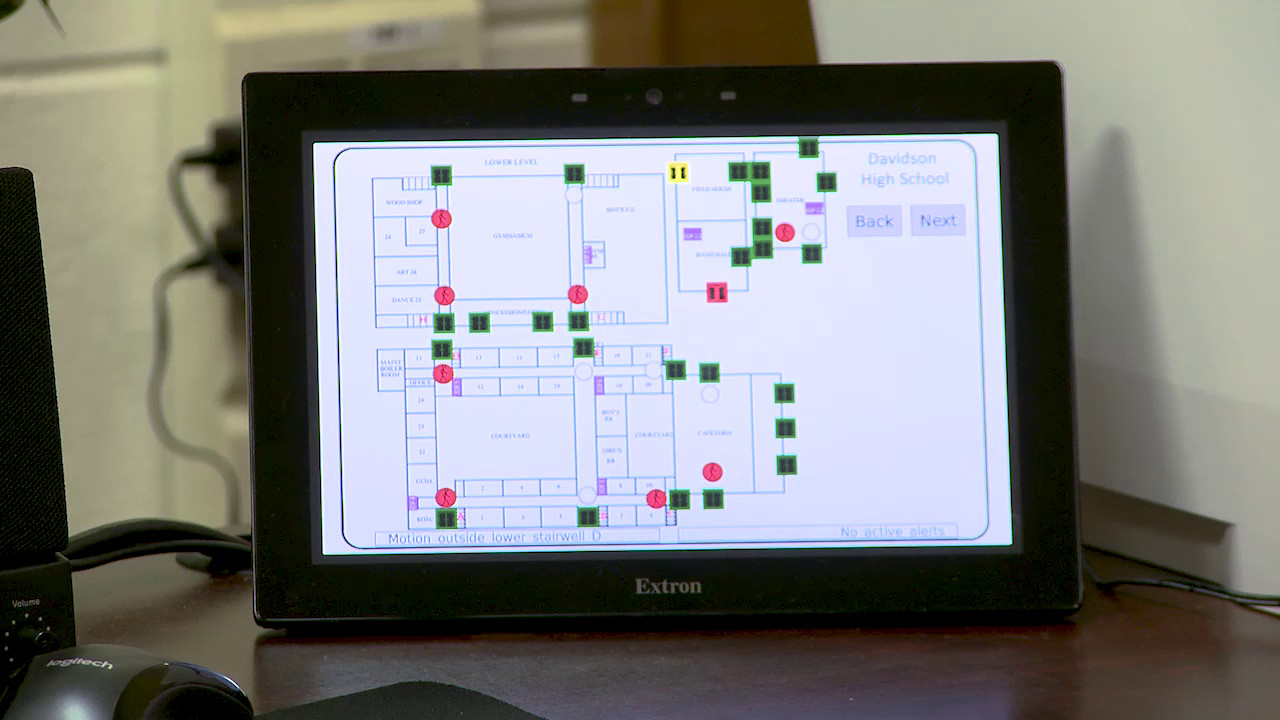 All told, the teachers and staff, as well as the students and parents, all seem to have had a positive reaction to the new security system. And, according to Mathis, had MCPSS not chosen its vendor partners wisely, the system might not have been as successful. "If you're a school district looking at doing something like this—a system that works independently by a single push of a button— then you really need to be very careful when you talk to vendors," she said. "[You have to] make sure their APIs can talk to other companies' APIs and other software—not just what they produce."
Zeigler affirmed that the project was only possible because of the manufacturers' willingness to assist with the hard work of integrating the various system components. "As David likes to say, 'We don't do vendors; we do partners,'" Zeigler said. "Singlewire and Extron were pretty much the hub for all communications, and they worked tirelessly to deliver on the vision that David and Tracye created for Mobile County public schools. And ITS was definitely important because this project took a lot of flexibility, and there was just a lot of integration. Everybody else was pretty easy to work with. But, without Extron and Singlewire, this would not have happened, to be honest. They're the ones who really broke down the silos."
EQUIPMENT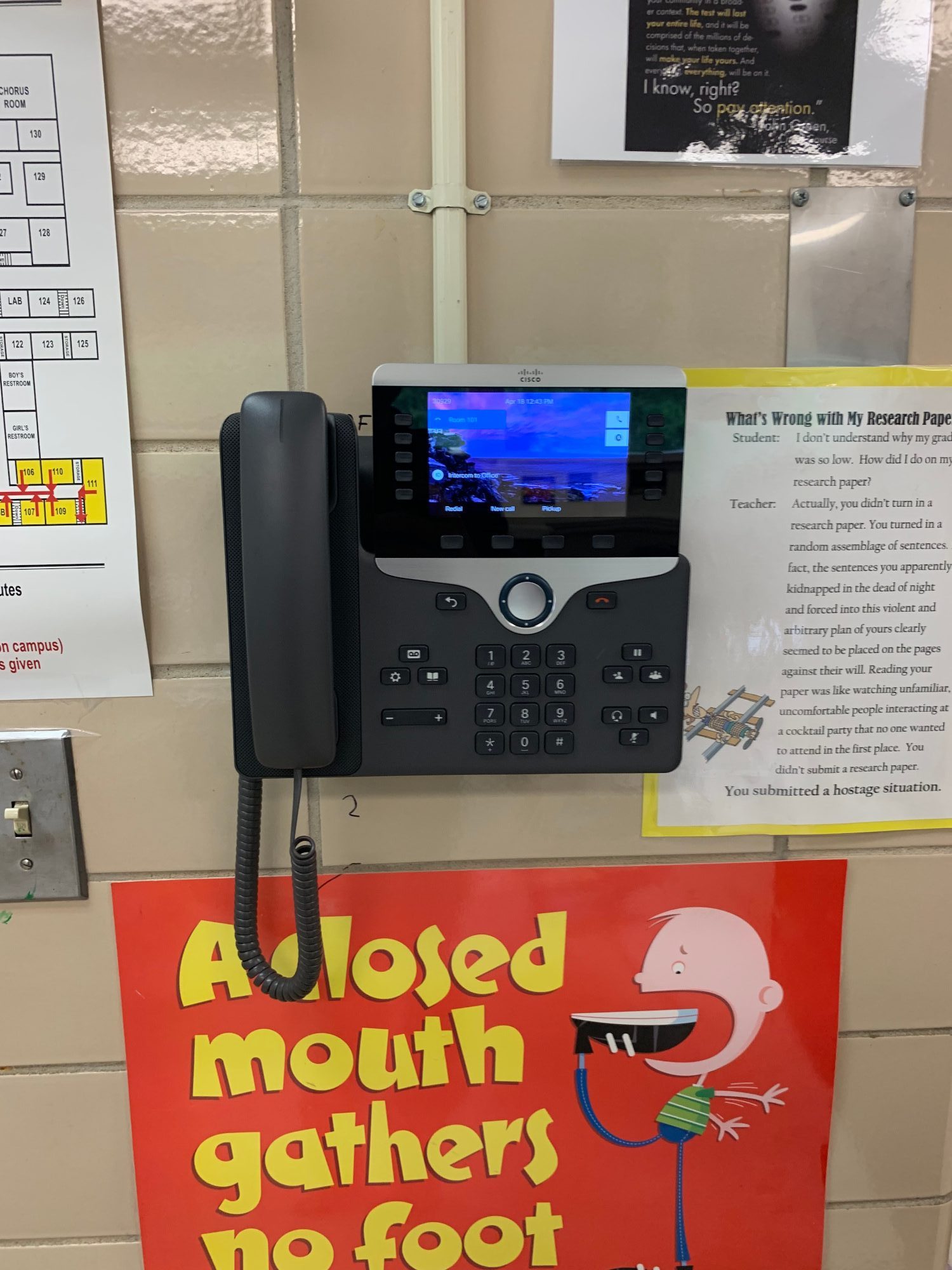 3              2N IP Force IP intercoms
1              Alarm Controls TS-2 single-gang stainless-steel wallplate
24           Altronix ALT-BT124 rechargeable batteries
6              Araknis Networks 110V–9VDC power supplies
70           Banner Engineering K50L2RGB7 beacon lights
9              Cisco Catalyst C9300-24U-A switches
6              Cisco Catalyst C9300-48U-A switches
4              Cisco Catalyst CDB-8U Ethernet switches
100         Cisco IP Phone 8841s
6              Cisco IP Phone 8845s
3              Cisco Media Servers
47           Cisco Video Surveillance 8030 IP cameras
94           Cisco Video Surveillance 8070 IP cameras
3              Cisco Video Surveillance 8400 IP camera
2              Cisco Video Surveillance 8930 IP cameras
2              Cisco Video Surveillance Media Servers
1              Control By Web X-332 web-enabled advanced I/O controller
1              Databuoy FU61-NUC Sensor Fusion Module
2              Databuoy QA-EEI Acoustic Indoor Sensors
6              Digital Acoustics IP7-STx half-duplex IP intercoms
70           Extron 50′ projector control cable
2              Extron DMP 128 Plus C V 12×8 ProDSP processors w/AEC and VoIP
70           Extron EWB 102 2-gang external wall boxes (white)
2              Extron IPL Pro CR88 IP Link Pro control processors
70           Extron MLC Plus 100 MediaLink Plus controllers
2              Extron RSU 126 universal rackshelf kits for 6″ deep products
2              Extron TLP Pro 1022T 10″ tabletop TouchLink Pro touchpanels
62           Hanchett Entry Systems 2005M3 SMART Pac III in-line power controllers
62           Hancett Entry Systems 9600-630-LBM windstorm-rated electric strikes (1-3/4″x3/4″x9″ (WxDxH)
1              Identiv Global Services active directory integration
1              Identiv Global Services global command set
1              Identiv Global Services point-level email
1              Identiv Hirsch Velocity software
7              Identiv ICPAM-KBD-RDR= TS network keypad readers
9              Identiv ICPAM-MX-4 door controllers
13           Identiv ICPAM-MX-ALM8 MX controller accessories, alarm expansions
13           Identiv ICPAM-MX-RLY8 MX controller accessories, relay expansions
1              Identiv ICPAM-WALL-RDR-M TS physical access reader  (wall mount)
4              Identiv ICPAM-WALL-RDR-MT TS physical access readers (wall mount; no network terminal)
25           Igor 75S-4-P72/RGBA BEACON-AF-POE-N 4′ narrow LED strip light fixtures w/remote network max nodes; RGB beacons
4              Igor 96-2-P7/RGBA-HIAFR-WET/1-POE-N 2′ VaporTight wet-location fixtures w/remote network max nodes; RGB beacons
19           Igor Custom Engineering-CAR-RGB-Ethernet 14″ square wet-location fixtures w/remote network max nodes; RGB beacons
4              Igor ENGRAVING-ULT 5-button station custom engraving
1              Igor Gateway software
119         Igor LT-22-P7/RGBA-AF-POE-N architectural 2'x2′ fixtures w/network max nodes; RGB beacons
2              Igor LT-24-P65/8TW/P14/RGBA-AF-POE-N architectural 2'x4′ fixtures w/network max nodes; tunable white and RGB beacons
7              Igor LT-24-P65/8TW-AF-POE-N architectural 2'x4′ fixtures w/network max nodes; tunable white (3,000K to 5,000K CCT)
1              Igor LUXSTATLS indoor photocell
1              Igor S-1-C Gateway software connectivity package
2              Igor SWX-221-1 PIR/acoustic ceiling sensors, small motion
2              Igor ULTS2-10A10-WHT-G-008 2-gang plates w/2 5-button switches; white w/green LED indicator lights
15           Industry Weapon P1 Series digital-signage players
1              Interlogix RCR-REX-W dual technology request-to-exit motion sensor
10           LifeSafety Power FPO150-C8E1 8-door access controls
5              LifeSafety Power FPO75-C4E1 4-door access controls
70           Louroe Electronics ceiling-mount mics
2              Singlewire InformaCast Fusion Server appliances
5              Tripp Lite BP48V24-2U external 48V, 2RU rackmount battery-pack enclosures and DC cabling for select UPS systems
2              Tripp Lite BP72V28RT-3U external 72V, 3RU rack/tower battery packs for select UPS systems
5              Tripp Lite SU1500RTXLCD2U 120V, 1,500VA, 1.35kW double-conversion UPSes (6 outlets)
8              Tripp Lite SU2200RTXLCD2U 120V, 2,200VA, 1.8kW double-conversion UPSes (7 outlets)
8              Tripp Lite BP48V27-2US external 48V, 2RU rack/tower battery packs for select UPS systems
2              Tripp Lite SUINT3000LCD2U 208/230V, 3,000VA, 2.7kW double-conversion UPSes (10 outlets)
25           Valcom V-1036C 1-way, 15W high-efficiency horns
72           Valcom V-9022A 2'x2′ 1-way lay-in ceiling speakers
20           Valcom VP-2124D 2-amp filtered 24V digital power supplies
15           ViewSonic CDE4803 48″ full-HD commercial displays
4              ViewSonic CDE5010 50″ 4K commercial displays
10           Wahsega Labs IP intercom systems
List is condensed and edited from information supplied by Information Transport Solutions, Inc.
For more installation features from Sound & Communications, click here.