Forty years ago, I responded to an ad for a production manager at a small audiovisual company in Orange NJ (not very creatively named "Creative Productions"), and I began an odyssey through the world of film, video, and multi-image production and staging, eventually leading to several decades of trade journal writing and, eventually, an AV consultancy.
Along the way, I learned how to press skating records, find a zero-hour substitute for a bankrupt staging company in Alaska, witnessed a fistfight on the floor of a hotel in Quebec between an audio engineer and a bandleader, posed as a 1920s-era railroad conductor, recorded a thunderstorm in the desert with cows mooing in the background, and hosted 10 consecutive Super Bowl HDTV parties in my house.
And it all happened by accident.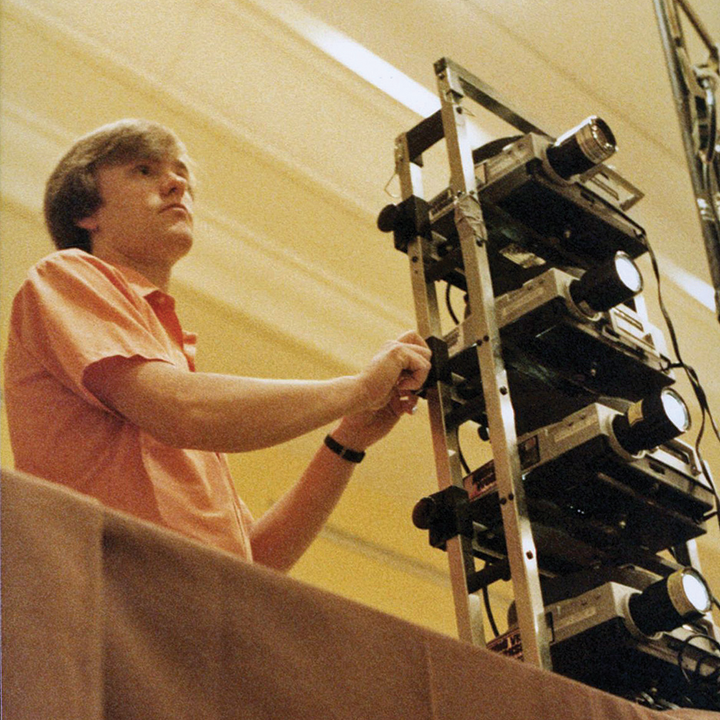 In September 1977, I was a newly minted graduate of the Masters of Science program at Syracuse University's Newhouse School, holding a degree in television, film and radio production. I, like so many others my age, had planned to head out west to make my fortune in Hollywood. An offer was on the table to become a videotape machine operator at ABC, traveling around the world to cover sports and news, and maybe even become a technical director or an actual director someday.
However, I needed to start making money right away, so I did a few freelance photography jobs around home and on the west coast, all the while checking the "Help Wanted" ads for promising positions. (Remember "Help Wanted" ads?) Right around Christmastime, that production manager classified appeared. I interviewed and got the job, which was pretty funny because I didn't know the first thing about what I was supposed to do.
No matter! I was on my way, and Hollywood was becoming a fading dream. Because of the low wages paid and high employee turnover, I quickly found myself filling in as a jack-of-all-trades. I learned how to process color slide (E6) and color negative (C41) film, shoot slide duplicates and 16mm animation on a Forox stand, prepare photostats from Varitype machines and do paste-ups for 35mm slide graphics (the predecessor to PowerPoint).
I also spent a lot of time running the house recording studio, recording narrations and mixing mono, stereo and even four-track tapes. I got pretty good at duplicating audiocassettes for medical clients, not to mention mastering and cutting skating records. (You know…the music that plays behind ice skaters, as they go through their routines.)
Perhaps the biggest eye-opener was when I learned how to program multi-image 35mm slide programs, using Audio Visual Laboratories' Show Pro equipment. We would set up racks of projectors, load up trays of pin-registered slides in Wess mounts, cue up a four-track reel-to-reel tape on a TASCAM player, and go to work for customers like American Cyanamid, International Paper, Warner Lambert and a host of Fortune 200 companies that either no longer exist or were absorbed by someone else.
By the end of 1978, I had become quite the jack-of-all-trades, and I decided I was grossly underpaid. Perusing the want ads again, I responded to a listing in the New York Times from a large corporation that turned out to be American Express in New York NY. Amazingly, I got the job, which entailed working in its creative services department to create more of those 35mm slide graphics and do some still photography along the way.
But there was a second part to the job—running all the AV gear in the corporate boardroom. Granted, that was pretty primitive stuff: a few 35mm slide projectors with high-brightness lamps, a 16mm film projector and a couple of video monitors on carts for the occasional ¾-inch tape. Not long after I arrived, a work order came in to upgrade the facility and add multi-image equipment.
So, it was purely by chance that I found myself part of the design team for the new AV gear, working with a long-gone integrator from New Jersey. And I kept cranking out the slides, shooting still photos, and running to and from film labs, and I frequently found myself sitting in a large, darkened projection/AV booth for hours as various corporate groups would review slide decks (and often leave for the night without telling me).
As the year wore on, I got engaged and was married, moved into a nice apartment and became somewhat disenchanted with my job. Although it paid more than my first job and had better benefits, I was severely overworked and, often, I came home late in the evening. Having determined that it would take two people to do my job, I presented my conclusions to management—to no avail.
After a succession of freelance producers came through the department and told me I'd be better off working on my own, I finally got up enough nerve to quit my job in December 1979 (but made sure to get an American Express card first!). I didn't have a game plan. I just knew I needed to get out of that environment.
After sitting on my hands for a couple of weeks, I heard the phone ring. It was the facilities coordinator at American Express, asking if I could come in on a freelance basis and run the boardroom, as I had done before—and for much more per hour than I had been making. With my new bride providing medical coverage and insurance through her corporate job, it was now or never to hang out my own shingle, which I did.
Thirty-eight years later, my company has undergone several name changes and changed focus numerous times. Computer graphics killed off the 35mm slide business, although I did programming and staging for 15 more years before throwing in the towel. The hardware end of things became more important in the 1990s, which was (coincidentally) when my writing career really took off. AVL, Forox and Wess were replaced by Macromedia, PowerPoint, Photoshop and WordPerfect. (Well, three out of four ain't bad….)
Most of those 35mm slide projectors, trays, light boxes, glass mounts, reel-to-reel and cassette recorders, and dissolvers from AVL, Multivision and Arion were sold through classifieds. In their place came VGA, composite, S-video and component distribution amplifiers and switchers, driving LCD and DLP video projectors. A seven-inch CRT projector soon graced my home theater, driven by a $700 DVD player. (OK, OK…stop laughing!)
And that was just 20 years ago!
The journey continues, bringing us up to the present day…
I started writing for AV trade publications way, way back in 1987. And it all came about because a now-gone monthly publication I received ran a feature article about multi-image projection and staging that contained several technical and factual errors. Back before email, although fax machines were somewhat exotic items for a small office, I had one—and I put it to work with a long letter to the editor, pointing out all the flaws in same article.
No sooner had I sent the last page than my phone rang. It was the editor, who basically said, "A critic, eh? So, you think you could do a better job?" and challenged me to write up a feature on the same topic—which, of course, I did in just two hours. And then, I printed it out and faxed it back to his office that evening. (How did we ever survive before Word, Acrobat and email?)
And that's where it all started. Before long, I was contributing features and columns, along with an ever-increasing number of product reviews. By the mid-1990s, I was cranking out a feature and a product review almost every month. Not long after, my editor-in-chief departed for a different publishing group, and dragged me along. Soon, I was writing for three different trade magazines in three different markets: TV and film production, AV systems integration, and video and multimedia design.
About that time, I made my first trip to InfoComm in Anaheim CA, ostensibly to review the infamous Projection Shoot-Out. Trips to Comdex, NAB and Show West were soon added to my calendar, with the Consumer Electronics Show close behind. The result? I found myself making as many as five trips a year to Las Vegas NV by the end of the decade.
Around my third InfoComm, I was invited to participate in a panel discussion about projection technologies. That apparently constituted my first stint as an InfoComm instructor, and it didn't take long before I was creating my own classes for the show. Being highly motivated, I passed the Certified Technology Specialist (CTS) exam when it was first offered in the late 1990s as a 110-question multiple-choice test.
The growth of solid-state projection in the 1990s, and the transition to high-definition digital TV, along with the introduction of flat-screen plasma and LCD/DLP rear-projection TVs, had me working overtime to review products. My office became a mess of cabling, racks, test pattern generators, and all kinds of set-top receivers, DVD players, and rudimentary signal switchers and distribution amplifiers.
I love building systems and always have, going back to my days as a ham radio operator in the 1970s. Now, I found myself resurrecting a lot of my acquired knowledge about RF and wireless. Specifically, I was testing and installing antennas to pick up HDTV broadcasts for myself, and for family and friends. That culminated in my first Super Bowl HDTV Party in 2000, where I invited over friends to watch the game on a projection screen with a Sony VPL-VW10 LCD projector and a Princeton AF3.0HD 30-inch HDTV monitor.
Those parties became legendary, as I filled up the house with TVs and projection systems. At its peak, 70 guests could watch the game on 14 different plasma, LCD and projection HD screens—some as small as seven inches (an LED projector) and as large as 30 feet. (I projected the game onto the snow in my front yard from an upstairs window, using image-warping software to correct for skew and focus.) After 10 years of those, I decided to call it quits. HD just wasn't a big deal anymore by 2010.
The trips to Las Vegas continued, though. By my count, I've visited Sin City 86 times for trade shows, manufacturer tours and sales meetings, and I'll likely be there three more times this year. Some of the hotels I've stayed in have been demolished, whereas others have undergone name changes and extensive remodeling. But it's still Las Vegas, after all….
What's changed the most over the past four decades is the technology. I remember paying nearly $700 for a JVC top-loading VHS recorder/player back in 1985 (stop laughing!) to drive my 26-inch Hitachi color TV through its composite video input. In the mid-1980s, Japan was completing its takeover of the US television-manufacturing business and cable TV was a rudimentary system for delivering hard-to-receive channels to the home.
Ten years later, I forked over almost the same amount of money for a Sony DVD player. At InfoComm 1994, the hot product was something called a "line doubler," which converted interlaced video into progressive-scan formats for driving projectors. They only cost $5,000 to $15,000 (at least, the good ones did), which was about half the cost of a good CRT projector.
In the late 1990s, a 50-inch plasma monitor (not a TV) with 1366×768 resolution would set you back as much as $30,000. Fifteen years later, the last plasma factories began to shut down as LCD displays and TVs swept into the market. And today? You can buy a 55-inch Ultra HDTV with basic high dynamic range support for around $500. The scaling chips needed to get from full HD (1080p) to ultra HD can be built into an HDMI plug.
But the biggest change of all is the migration to solid-state "everything." When I first started in the AV industry, much of the AV hardware we used was very mechanical in operation (slide projectors, filmstrip projectors, 16-millimeter movie projectors, cameras, vinyl records, cassettes and reel-to-reel tape recorders). By the mid-1990s, much of the mechanical stuff was gone, having been replaced by computers. MP3 audio was in its infancy, as was optical disc media. Hard drives were starting to serve up video and audio, and anything with tubes in it could see the writing on the wall. Solid-state projection technologies (LCD, DLP, LCoS) were sweeping through our industry.
Today, I pause to marvel that I'm writing this column on a laptop that doesn't even use a hard drive or a disc drive. I have 256GB of solid-state storage built in and an additional 500GB to 2TB on external drives for archiving. I can record and edit video, stream TV programs, log into my home network and monitor it, and send this column to my esteemed editor over a 50Mb/s internet connection.
The migration to solid-state everything has accomplished four things: First is the commoditization of hardware that I discussed in my November column. Second is the movement of just about everything AV to a network infrastructure for signal management, distribution and control. Third would be the current movement to solid-state illumination (aka light-emitting diodes) for everything from room lighting to projectors and videowalls.
And the fourth thing? Portability and accessibility. We're redefining the concept of presentation rooms (think huddle spaces), presentation platforms (think smartphones and tablets), and presentation creation and storage (think cloud servers). Video, audio and metadata are all at your fingertips to be viewed, saved, edited and sent to anyone you want, anywhere, anytime you desire.
The AV world in 2018 couldn't possibly look more different from how it did at my first job in 1978, and I've enjoyed the ride, even with all its ups and downs. Can't wait to see where my journey takes me from here….