Discovery Church, based in Orlando FL, recently established a new broadcast campus to serve as its flagship for years to come. The new, 26-acre Sand Lake Campus encompasses a 12,000-square-foot, 1,350-seat auditorium, as well as additional spaces devoted to student ministry, community outreach and religious instruction. The auditorium's AVL systems pack more than enough punch to provide a memorable in-venue worship experience, and the venue's video-production and streaming capabilities left the church well equipped to meet the challenges posed by the novel coronavirus (COVID-19) pandemic.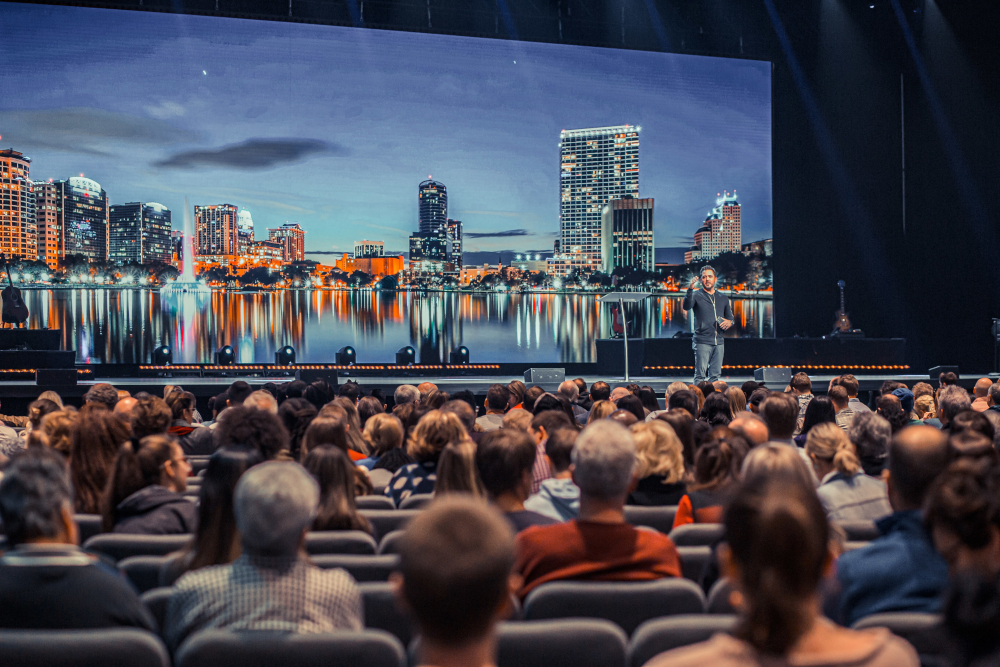 The Sand Lake Campus represents the culmination of a multi-year process to find a new central hub for Discovery Church's ministry. "Our leadership announced the 'All In' campaign in the fall of 2017 to raise funds so that we could move into a new facility debt-free," Robby Schlegel, Tech Lead at Discovery Church, recalled. "We purchased 26 acres approximately five miles from our previous location and began renovating an old sporting goods store into what is now our central broadcast venue. The 14-foot roof of the sporting goods store was demolished, and a new roof was constructed at 45 feet to allow ample height for HVAC [heating, ventilation and air conditioning], AVL, rigging and future technology support."
An extensive renovation process and AVL installation transformed the former sporting-goods store into a prototypical example of a modern broadcast campus. The installation was completed by Pro Sound, a Solotech Company, whose team included the following: company President Kelly Prince, who took point on client meetings and handled sales for the project; Project Manager Jason Cooper; Lead Engineer Craig Compton, who was responsible for AV system design, engineering and programming, as well as CAD renderings; Jason Tart, Site and Project Manager for lighting, truss and rigging systems; and Fabrication Manager Pete Suarez. Pro Sound and its frequent partner, acoustical design firm Edward Dugger + Associates, designed the audio system; the latter company also designed the auditorium's architectural acoustics.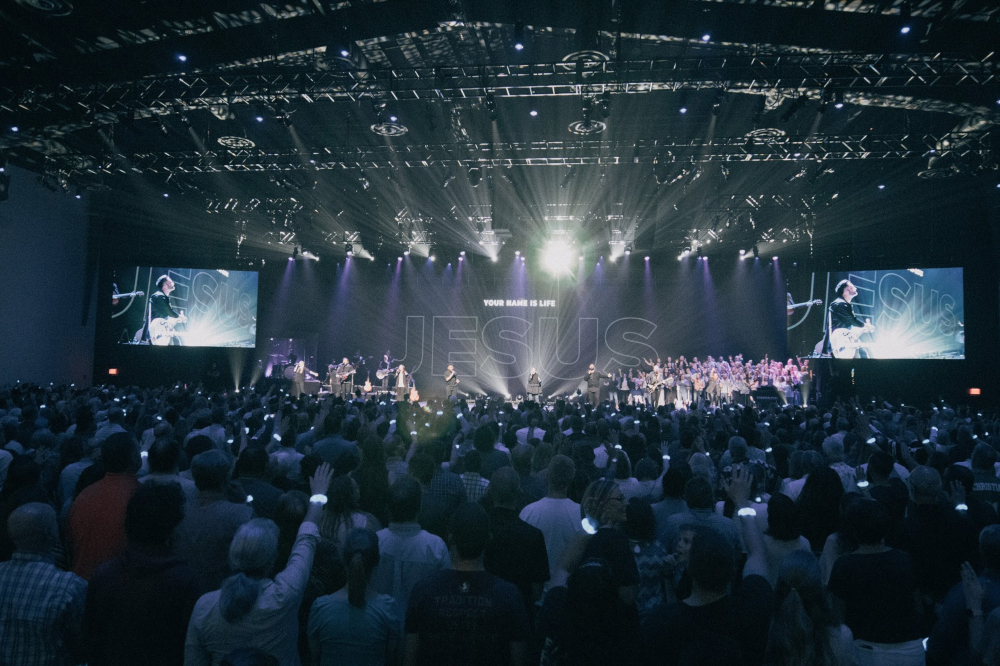 Schlegel and his fellow Tech Lead, Zack Howes, described Discovery Church's expectations for the Sand Lake Campus' audio systems. "Speaking from an audio perspective, the desire was to have matched consoles at FOH [front of house], monitors and broadcast," Schlegel said. "This allows for cross-training with volunteers and ease of patching. DiGiCo SD-12 quickly rose to the top of our list as the best option for large patch flexibility thanks to its OPTOCORE backbone. For the PA, Meyer Leopard was the recommended option for the auditorium space from the integrator, and met all our needs as far as speech intelligibility, SPL [sound pressure level] requirements, etc."
On the video side, "We sought to create a 3G end-to-end video broadcast facility, with the hope of handling our live video requirements for years to come. 1080p60 is our plant format, and the higher frame rate adds that extra-clean look to video," Howes said. "We desired a central control system for our distributed audio and IPTV [internet protocol television] system—something we've lacked in our other facilities. Finally, we value volunteer-friendly systems in smaller event spaces and classrooms. Extron and Atlona switchers and QSC's Q-SYS control platform have delivered on those fronts."
Video Production & Distribution
As is typical of multi-site churches, video was already a large part of Discovery Church's AV repertoire, and with the new campus, the church has greatly expanded its video capabilities. In addition to offering in-venue image magnification (IMAG) and recording content for later on-demand viewing online, the church also streams content from the broadcast campus to its two satellite campuses each week, and sometimes vice versa.
"On a typical weekend, we broadcast a message-series bumper and the Pastor's message to the satellites," Howes described. "However, there have been some weekends and special services where the live band or synchronized video content is transmitted. [And] our Lead Pastor occasionally teaches live from [one of] the satellites, and we broadcast a return feed to the other two campuses."
Howes continued, "We embed eight channels of audio into our video feed to provide a stereo program feed, isolated pastor mic, click track, guide and a band mix when necessary. We synchronize the message video segment with local services using Renewed Vision's ProVideoServer [PVS] application, giving us time-slip DVR functionality. We built three identical computer systems for PVS using upper-spec Apple Mac Minis, Sonnet xMac mini server chasses and Blackmagic Design SDI [serial digital interface] capture cards."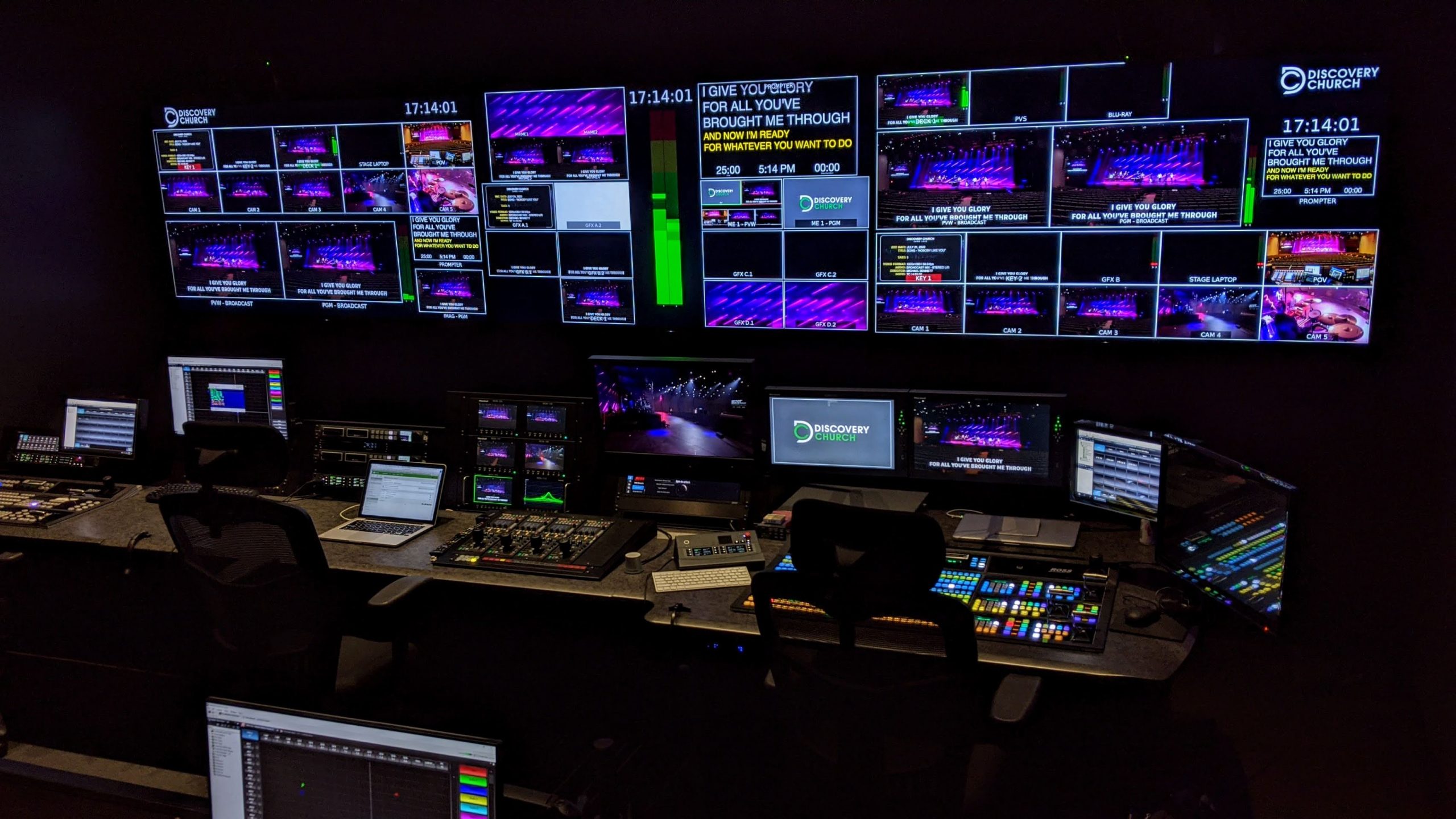 The bulk of the video-production equipment lives in the Sand Lake Campus' video control room, as well as an audio-for-video control room where the team produces the audio feeds for the various video streams. There is also a video-production station for running graphics and monitoring feeds located at FOH. The video-production system centers on Ross Video's Carbonite Black switching system.
"The Ross Carbonite is fully loaded," Pro Sound's Craig Compton explained. "It has 3ME, and it can also do four mini-MEs. [The video-production room has] a 3ME panel and a 2ME panel. They can work independently, so they can switch to broadcast if they want to, and then switch from the room for IMAG if they want to have two different TDs [technical directors] working."
Sony and Marshall cameras capture the production feeds. A Ross Ultrix-FR5 router handles multiviewer video signal routing, and the production team has three Ross Ultriscape software licenses at its disposal.
"There are three multiviewers, each on their own 75-inch panel," Compton described. "There are individual monitors for each [camera control unit,] plus a Sony OLED PVM shading monitor for [camera] painting and shading. The main control switcher, the 3ME, also has independent 17-inch screens for the preview program, so whoever is cutting doesn't have to look at the multiviewer, because multiviewers always have a slight image processing propagation delay to them. There are live SDI feeds so they can stay right in time." Compton continued, "The Ross Ultrix router is loaded up. It's 112 square, and it has the multiviewers built into it. Everything goes through the routers, and those multiview [feeds] come back into the router themselves."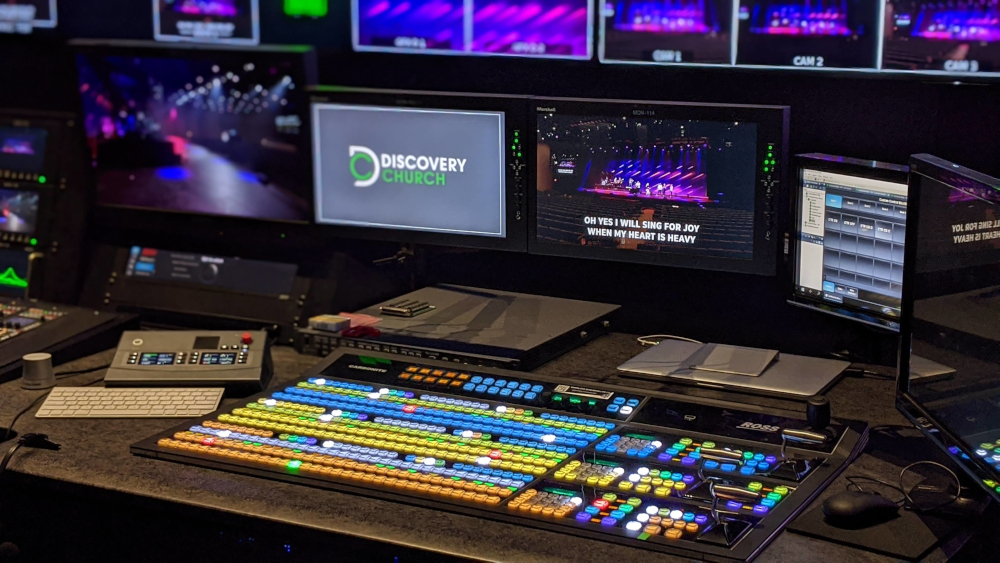 The production team can use the facility's Aurora VLX AV-over-IP system to send audio and video content to various displays located throughout the campus. "[The] IPTV system has six available streams; three of them have SDI-to-HDMI converters. And that's all [done via] Aurora VLX. From there, they can send three different SDI streams from their switching system to any of the TVs they wish to just by basically telling the TV what stream to look at," Compton said. "The other three [IPTV streams] are used for graphics and things like that. They've got Mac Minis going to them directly, so they can run ads or do independent things on those if they want to."
Discovery Church's preexisting Evertz 10-gig fiber system sends broadcast feeds to the satellite campuses. "The Evertz system takes in the clock and the video signals from our system, and then sends those over to the other systems, so everything's in time," Compton said.
Discovery Church also prepares feeds for online distribution, a facet of its service offering that has become even more essential in light of the pandemic. "We have extensive OTT [over-the-top] offerings to multiple social media platforms and private content-delivery networks," Howes said. "Our primary webstream encoder is an Apple iMac loaded with Telestream's Wirecast Pro, with ingest happening through a Sonnet card chassis and Blackmagic Design capture card."
The production team communicates via a Riedel Artist matrix intercom system that is integrated with a preexisting Bolero wireless system. The campus also features a G&D ControlCenter-Compact 32 KVM system. KVM stations are located in the video control room, at FOH, onstage and at the monitor position; these allow the production team to run the engineering, audio and graphics computers from pretty much anywhere in the venue.
Video Capture & Display
The Sand Lake Campus' heavy investment in video is immediately evident in its main auditorium. The dominant features of the room are its three large LED walls. The center screen is composed of 450 Vanguard P4 Rhodium cabinets, and the two side screens comprise 162 Vanguard P2.85 Rhodium cabinets each.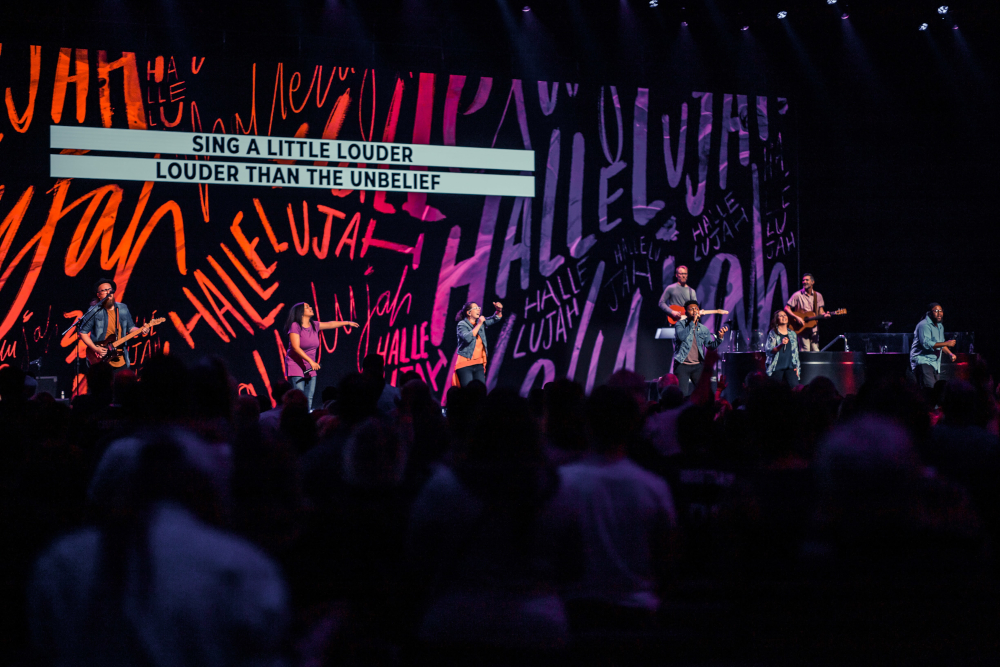 "[The] two 10'x18′ 2mm LED side screens flanking the stage are used for walk-in announcement loops, IMAG of worship and communicators onstage, and announcements or other video rolls," Schlegel explained. "On the upstage edge of the stage is an 18'x64′ 4mm LED wall which becomes the focal point of the room. This wall serves as the backdrop for the band and anyone else onstage. We use high-energy lyric videos, motion loops and various nature imagery during worship to help the audience engage with what is being sung. During announcements or sermons, the wall features a static backdrop image which can be anything from current message series branding to a virtual set placing the communicator in various spaces around the world."
Schlegel continued, "Our communications team creates all sermon graphics, series titles and branded collateral. For worship, we use a combination of animated and still content produced in-house and from subscription services such as danstevers.com, Church Motion Graphics and Igniter Media."
A Ross Carbonite Mosaic video processor and three NovaStar NovaPro UHD Jr video controllers feed content to the LED walls.
"The main output for the room goes to the Ross Mosaic. It's basically a switcher that has 10 mini-ME outputs, and they can be stitched together any way you want to. They use that to stitch the output to the LED screens," Compton explained. "Technically, the [center screen] is two HD screens. It's 4K wide, but only HD height of 1080, so it acts as four 1080 stitches together. You can move content anywhere you want to across all the screens seamlessly. They use that to do overlays and graphics directly from the graphics machines or right from the switcher itself." He added, "[The produced video feeds] go out to three NovaStar units. One lives onstage to power the big wall because of the distance of the category cable going to the panels, and the other two live in the central machine room."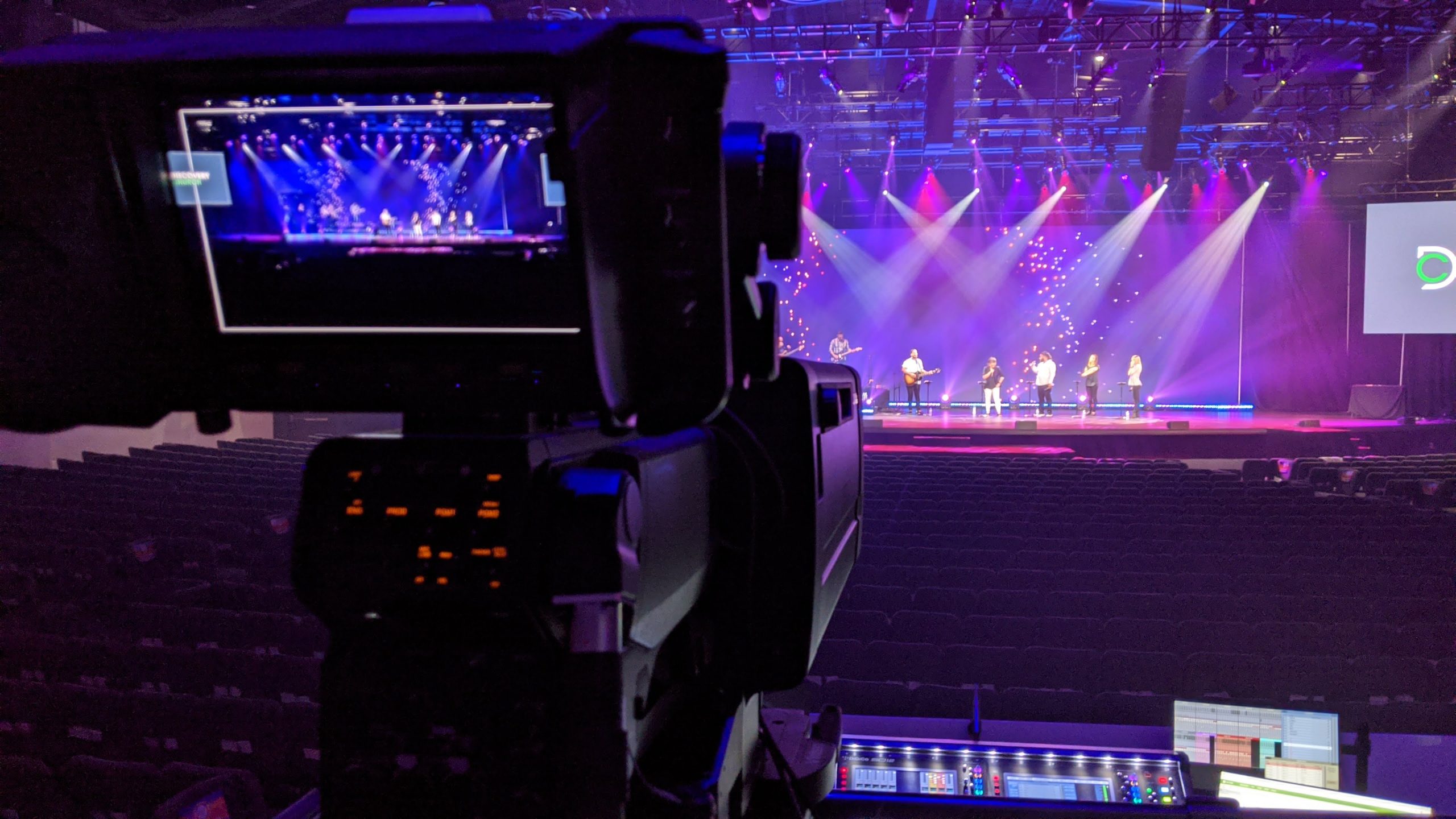 "The Ross Mosaic processor gives us lots of flexibility on how content is shown on the LED walls," Schlegel said. "Everything is fed from one of four different ProPresenter machines utilized at any given moment of service. One is dedicated for side screens and broadcast in 16×9 ratio, one is driven from lighting via DMX, one is triggered from Ableton running on a different computer onstage for the band's backing tracks and click, and one serves as a backup for any of the above machines. We also have a computer dedicated to PVS, which is useful for videos streamed from one of our satellite campuses."
The main auditorium also features a Barco F80-Q9 projector that fires on the rear wall to serve as a confidence monitor for the performers and worship leaders onstage.
For cameras, Pro Sound specified four Sony HDC3100L units. Two are positioned on a specially constructed camera tier at the FOH location and equipped with long-range Fuji lenses (namely, a 77x zoom lens and a 55x zoom lens).
"The need to capture video for rebroadcast to satellite campuses fundamentally influences how we shoot, and thereby our camera positions as well," Howes said. "We have two centerline cameras with box lenses on the second tier of our front-of-house booth, one handheld stage camera with a wide-angle lens, one Marshall drum cam and a third studio-configured kit on a four-foot portable riser that can be repositioned for specific services. The centerline cameras typically provide close and loose follows during an in-person service. The [center] LED wall is wide enough that it provides a backdrop to nearly any onstage video shot."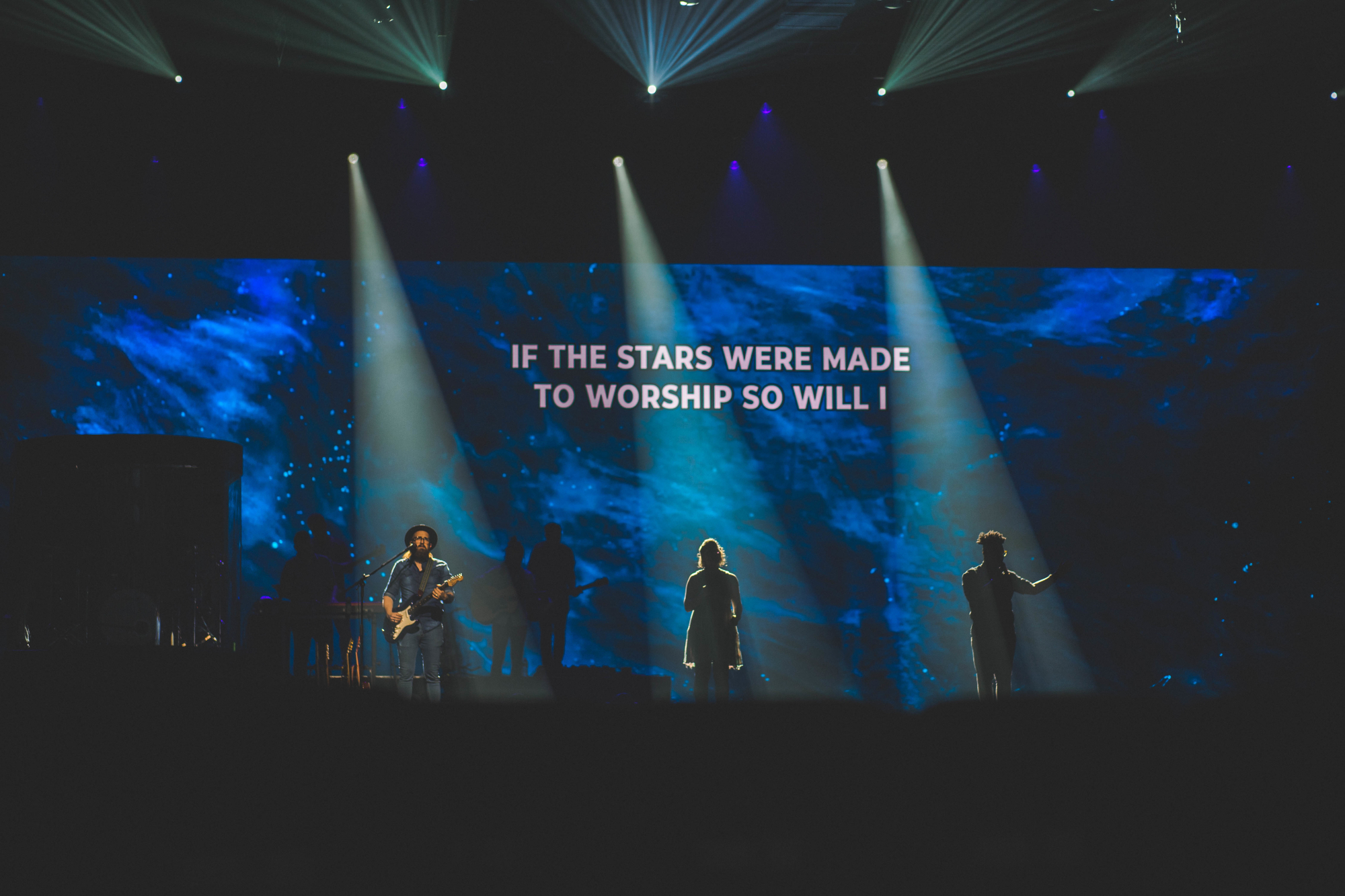 The camera system is designed for flexibility, with numerous connection points located throughout the campus. "Everything's running on SMPTE [Society of Motion Picture and Television Engineers] hybrid fiber connections. There are 17 opticalCON SMPTE camera connections in the building: one at each stage location, several around the room, at the back camera location and then one in the lobby. So they can put their cameras in a lot of places," Compton said. "The CCUs [camera control units] and the shading station are back in the main video control room."
The auditorium also features a sophisticated lighting system. "Power and architectural control were provided by ETC. AC Lighting provided a variety of products from their brand family. Luminex provided network switches and nodes. PROLIGHTS America provided all stage lighting fixtures—static and movers—and Chroma Q provided 72 Inspire XTs for house lighting," Howes described.
In-Venue & Broadcast Audio
The Sand Lake Campus' audio system centers on three DiGiCo SD-12 digital consoles: one at FOH, one at the monitor location and one in the audio-for-video room.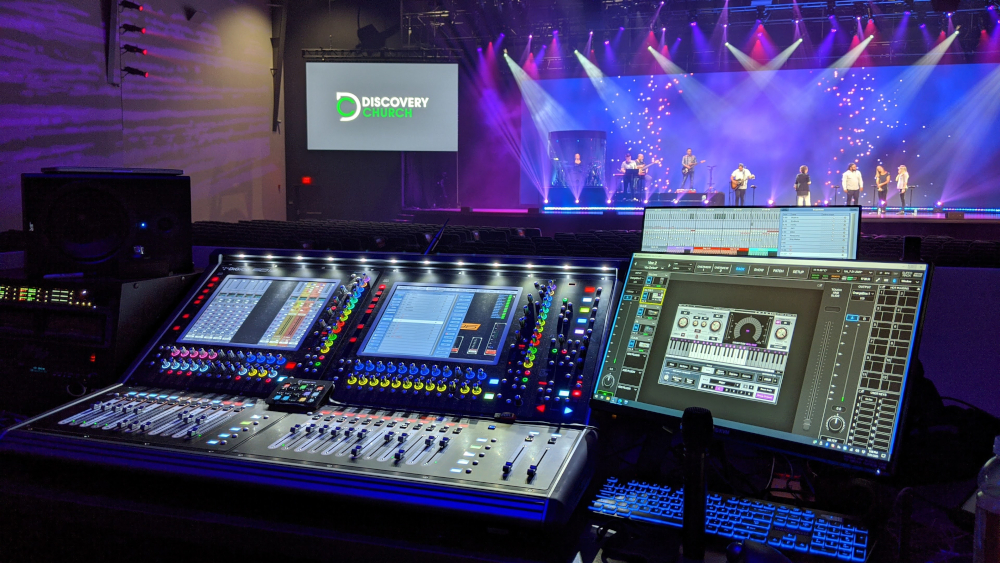 "There are three SD-12s with 96-channel upgrade packages included, each with [Waves SoundGrid DMI cards]. The system is running on an OPTOCORE network," Compton said. "There is an SD rack at the stage location. And in the video room, for audio, there is a 4REA4 system [that] has the OPTOCORE parts installed to put it on the network. From that system, it runs to the Meyer system."
The bulk of the sound reinforcement for the auditorium is handled by a pair of Meyer Sound Leopard line arrays comprised of eight units apiece. "[They're flown] 12 degrees on the bar, and they taper down from there and hook down to cover the front seats," Compton said. "They are separated into six signals, so you can control and shape the high frequency on the top or bottom if need be—usually the bottom for the closer seats. They are separated off center about 20 feet. And then they angle out five degrees on each side."
Two Meyer Sound Ultra-X42 speakers are used as fills for the sides of the room, and eight UPM-1XP speakers serve as front fills. For the low end, Pro Sound specified eight Meyer Sound 900-LFC subwoofers. Six of these are flown in the middle of the ceiling (three pairs flown back to back), and the remaining two are floor subs. Two Galaxy 816 processors are used for loudspeaker management.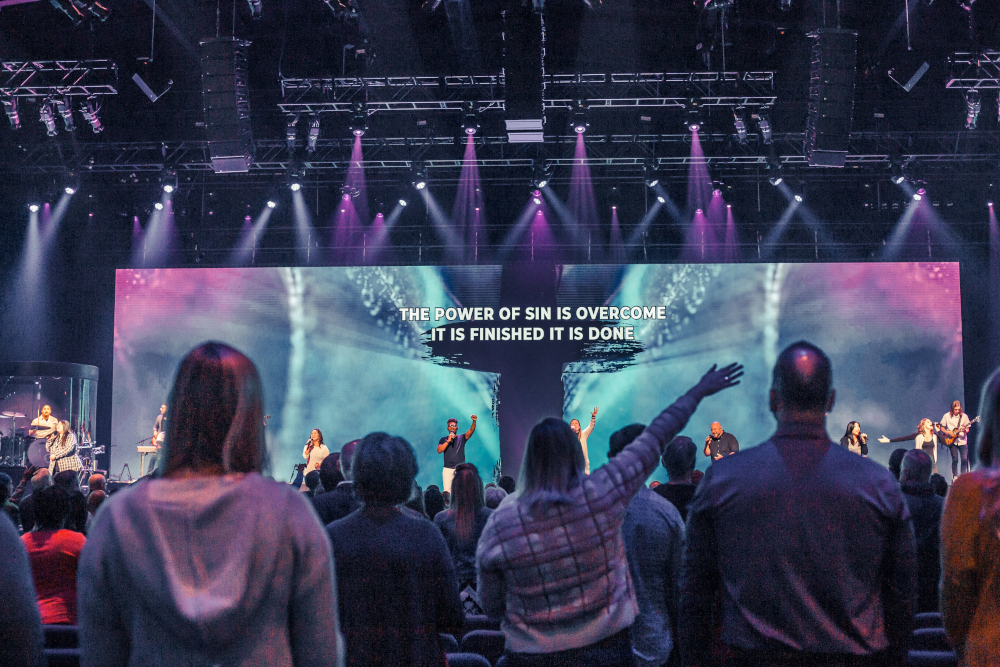 For stage monitoring, Discovery Church's choice was the KLANG:fabrik-B system. There are four units running at 96K. "One of the biggest priorities from our MD [music director] was an upgraded monitoring experience for the band and vocal teams," Schlegel shared. "KLANG quickly rose to the top of our list of 'must-haves.' We are thrilled with the ability for musicians and vocalists to have control of their own mixes during rehearsals via iPads we supply onstage. With the KLANG:fabriks connected to the DiGiCo SD-12 at monitors, our monitor engineer can focus on clarity and tone for the mixes. Once service starts, the iPads are collected from stage to create a clean stage environment, and the monitor engineer then builds off the mixes created during rehearsal."
Pro Sound provided custom input panels throughout the space. "We have a panel shop in Miami, so we make all the panels ourselves. The stage has four main panel locations. Each one of those has 16 mic inputs and four returns. It also has fiberoptic multi-mode and single-mode for video and audio via network and MADI [multichannel audio digital interface]," Compton said. "They come back to patch panels, either in the video [control room] or [in the stage racks]. Everything's on Bittree patchbays. You can pick up additional inputs in the [control room] from the 4REA4 if you need to, because we have patches between those two rooms, and the 4REA4 and the SD-12 [at monitors] have Dante cards in them."
All the inputs also go to the audio-for-video mix room. "We have an SD-12 in there built into an ARGOSY console with Genelec monitors," Compton said. "Anything from playback can go through the Ultrix video router out of the MADI ports, and on to the OPTOCORE system directly."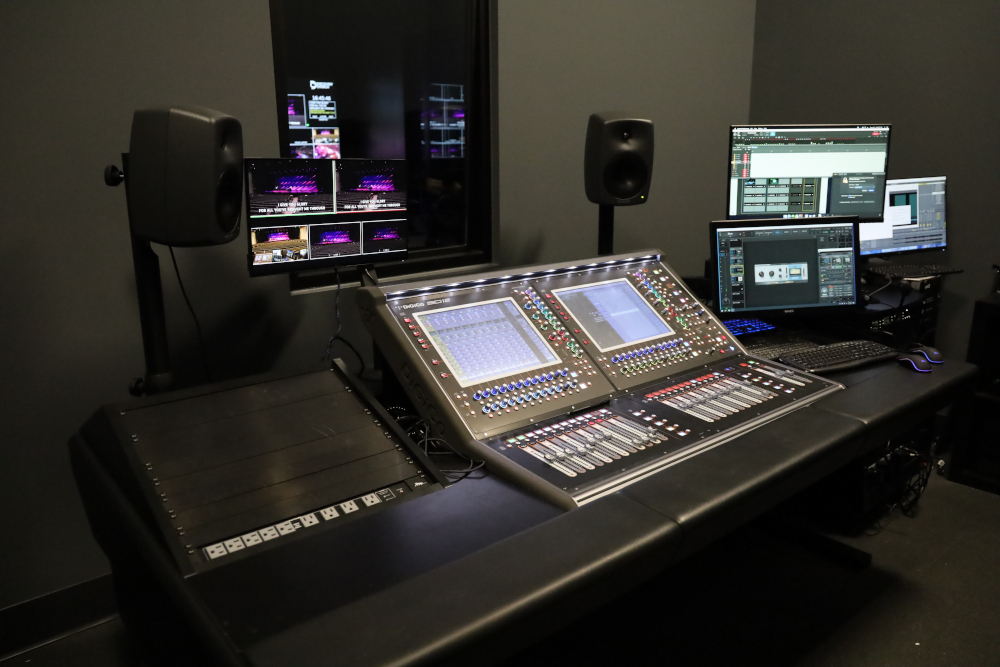 Flexibility In Mind
The Sand Lake Campus was designed with flexibility in mind, because Discovery Church plans to use the campus to host events other than weekly worship services. This flexibility includes everything from the auditorium's seating area—which is flat, rather than sloped like most auditoriums, allowing the seats to be set up in a variety of ways—to the venue's AVL systems, which prioritize ease of use for a variety of potential users.
"A large part of the building design and AVL systems was to not only serve our weekend services and special events, but also to hold events for other ministries in the church, as well as outside events such as conferences and concerts," Schlegel said. "For small groups and ministries that use the system during the week, we leaned on systems like DiGiCo's 4REA4 for small fader banks in multipurpose rooms and even a portable system that can be patched into the main OPTOCORE network as needed. This gives control of a predetermined selection of channels such as wireless handhelds, BGM [background music] and video playback computers on a small eight-fader bank that is less intimidating than that of a full audio console. This makes training very easy and keeps our main systems untouched. Q-SYS is also situated around the building for easy touchpanel control of projectors, microphones and BGM."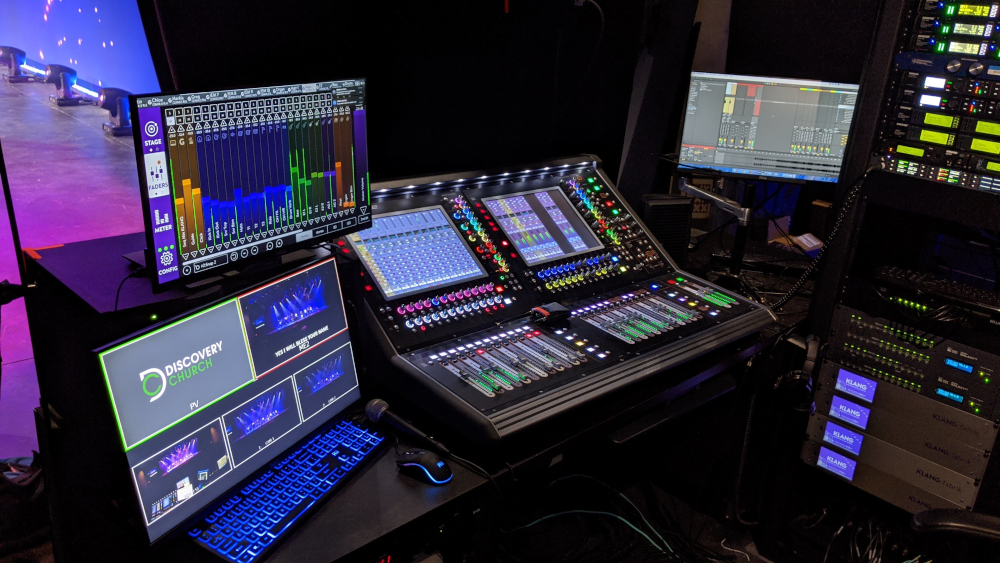 The AVL system allows for easy connection of additional systems for touring acts, etc. "For the auditorium, we made sure to have plenty of power available, not only for our equipment, but also for any touring or rental systems that were brought in for special events," Schlegel described. "Lighting has a 400-amp feed for the installed lighting systems and an additional 400-amp camlock disconnect for additional lighting needs. On the other side of the stage, a 200-amp transformer-isolated audio/video camlock disconnect also stands ready for any additional PA or touring systems that may be brought in."
The power-management system for the videowalls was also configured to allow the LED panels to be rearranged into different shapes. "The entirety of the LED wall systems are powered from four separate Starline Busbar power-distribution bars. They allow us to string power for the LED wall in a very clean and organized fashion while giving us unprecedented flexibility with where power drops land. This will prove invaluable once we start reconfiguring the LED wall into different arrangements and configurations to fit the creative team's vision for special events," Schlegel said.
Discovery Church received training on the new systems from Riedel Communications, Ross Video, Sony and Group One/DiGiCo. "With the addition of Klang and 4REA4 in the same system, Kyle McMahon from Group One/DiGiCo flew out for our first rehearsals in the space before our grand opening," Schlegel recalled. "The support he and the entire DiGiCo team provided ended up being absolutely essential. We were the first installation of 4REA4 of its kind, and the configuration to meet our needs was quite in-depth. The DiGiCo UK technical-support team worked with Kyle over the phone to set up our system and get us going."
Final Thoughts
According to Discovery Church, the Sand Lake Campus has been a big hit with the technical team, worship leaders and both remote and in-person attendees. "From the audience perspective, the center LED wall is a definite crowd pleaser. It gives so much flexibility on how we frame the stage and has given us an almost infinite amount of creative possibilities for our worship experiences and special events," Schlegel said. "Behind the scenes, integrations with DiGiCo 4REA4, Q-SYS, IPTV, two separate Dante networks, Paradigm lighting control and Riedel comms allow us to have enormous flexibility around the facility. We can send audio and/or video almost anywhere around campus and have schedules and presets for lighting that make it easy for volunteers to work our services, classes, small groups and any other use of our facility as a whole."
Howes added, "[The Sand Lake Campus] has essentially created the new standard by which we now intend to upgrade our satellites campuses as we build them out in the future. Some of these new standards include the migration to DiGiCo audio consoles, Chroma-Q Inspire LED house lights, QSC Q-Sys control and Meyer Sound speakers."
Although in-person services have been affected by the pandemic, the new broadcast campus has allowed the church to improve and streamline its video production, which has helped to keep its community connected in the era of social distancing. "To slow the spread of COVID-19, we pressed pause on our in-person services back in March. This has given us the opportunity to refine our service creation workflow and expand our online service offerings," Howes shared. "Church leadership have expressed the blessing it has been to have upgraded our AVL systems just prior to COVID-19. The new AV systems have allowed us to more easily adapt to the challenges of multiple weekly shoots for our prerecorded service content and a better-quality product delivered to the end user."
Discovery Church's Lead Pastor Don Cousins echoed the praise for the new systems. "The clarity, quality and sheer power of what was seen and heard went far beyond what anyone expected…including me," he said. "When the pandemic forced us to go online with our weekend services, we were especially thankful for our new system, as we were able to produce a very high-quality experience that would not have been possible with our old system. Simply put, we are [now] on par with Disney World, which is saying something."