Controlling sound reflections and expanding audio to additional spaces.
The traditional challenge of audio installations within the house-of-worship market has involved solving issues that architectural flourishes precipitate. Worship spaces are locations in which impressive design and unique materials, such as ornate wood, glass and marble, can lead to significant challenges when designing and deploying an effective loudspeaker solution. Generally, hard surfaces with low absorption coefficients are the main contributing factor leading to poor intelligibility. To solve this, we
must ensure that audio within a space is placed where you want it most—that is, on the audience.
The requirements for good intelligibility are basic and straightforward: The system must have adequate bandwidth, an adequate signal-to-noise ratio and an adequate direct-to-reverberant ratio, and it must be devoid of interfering reflections. If I were writing this article prior to 2020, its primary focus would be on specific tools and solutions that you can use to design a system that considers these types of architectural peculiarities.
However, I am writing this article post-2020. As houses of worship look to return to safely resuming in-person services, the professional-audio world is now experiencing new and unique demands for on-premises audio. We must now look at ways to both improve audio clarity within the main worship space and meet worship teams' new asks. To be specific, those teams want to expand audio to more onsite locations and ensure that the audio is adequate for remote viewers.
The core concept remains the same: The precision placement of audio is key. That said, one might wonder which solutions can solve multiple challenges in a way that will ensure short-term and long-term success. Which solutions can be put in place that will work regardless of social-distancing guidelines (or the lack thereof) in the future? Let's look.
The Traditional Challenge
As already mentioned, the main goal of an audio upgrade in a house of worship is to improve spoken-word clarity and live-performance audio quality. To do those things, the system should be expertly designed. Much research has been done to quantify the requirements for intelligible speech, considering both the sound system and room acoustics.
The most effective way to achieve intelligibility is to deploy digitally steerable arrays that are designed to focus the direct sound—and, via advanced and proprietary algorithms, less of the reverberant sound—on the listener using an easy-to-deploy software platform.
The alternative is to remediate reverberant spaces by hanging copious amounts of sound-deadening material. One of the big issues with that approach, however, is the fact that hanging treatments could have adverse aesthetic consequences; after all, many of these types of spaces were not designed for amplified sound.
The Digital Challenge
Of course, worship is no longer taking place just onsite. When the novel coronavirus (COVID-19) pandemic first required us to stay at home, we saw the worship market swiftly pivot to online-streaming offerings. Using everything from mobile devices to live-production systems with pan-tilt-zoom (PTZ) cameras, worship teams used livestreaming to ensure that services could continue even when congregations couldn't physically gather.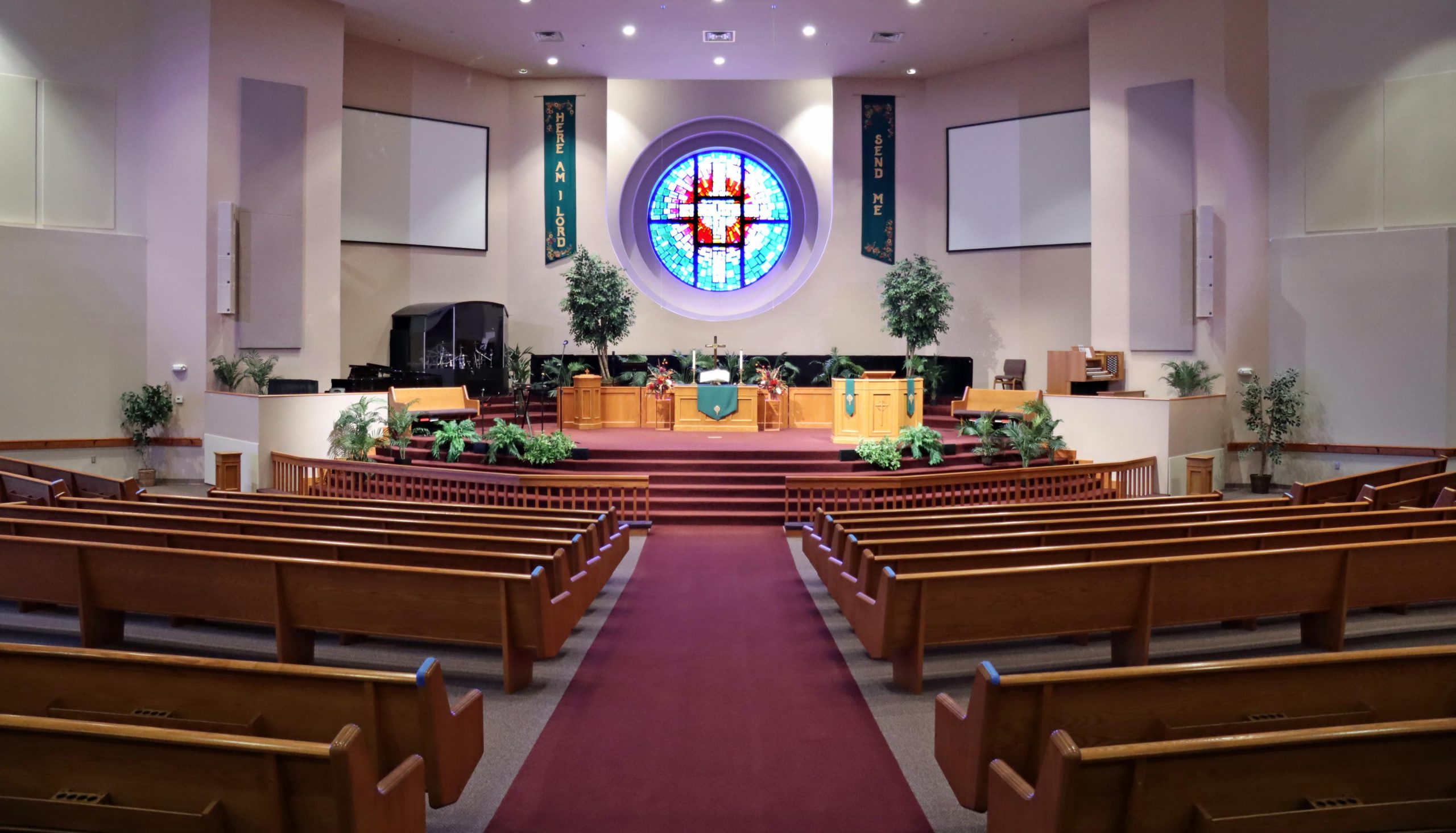 Enabling Connection
Those capabilities are unlikely to go away as people return to in-person worship. They enable connection with additional members of the congregation, and the overhead to operate them is relatively low. That said, as people have slowly returned to worship spaces, even as social distancing continues and worship leaders observe capacity restrictions, a discovery has been made: Onsite audio systems are starting to drown out the audio on the video feed. The mix of direct and reverberant sound being fed through the microphones that feed the streaming service is causing this.
Luckily, a solution such as digitally steerable loudspeakers can fix that problem, too. Reducing the reflective sound quickly solves the on-video audio-quality problems. For many churches that have returned to in-person services, a quick upgrade to steerable loudspeakers solved both onsite needs and those for remote services.
Worship leaders are also increasingly looking to expand AV to more locations. These might be outdoor areas, foyers, or other classrooms and worship spaces common in modern worship facilities. If worship leaders expand AV offerings to more spaces, they can welcome more people back to the campus safely.
The most effective and efficient way to achieve such an expansion is to utilize AV-over-IP technologies. For professional audio, that usually means Dante. Dante not only works with the loudspeakers previously identified but also is interoperable with other audio devices. Furthermore, houses of worship that utilize network infrastructure can expand audio systems at a far lower cost than those that utilize traditional cable runs.
Right Size For The Job
Demand for audio in additional rooms raises the question of how to find the right tools for the job—specifically, how to find the correct loudspeakers. Luckily, digitally steerable technology has been democratized. Solutions now exist that can be permanently installed as part of a new system or deployed on a temporary basis as a portable solution, with a single loudspeaker, subwoofer and mounting pole.
Agility & Flexibility Win
Although I have yet to say it outright, the message of what churches need is clear: They need flexibility. If you design a flexible system that can scale up or down based on in-person and remote use, you will ensure that a house of worship is prepared for whatever might be ahead. Designing a flexible system will enable agility, which is typically understood to be the capability to repurpose spaces for many uses. Providing those capabilities can instill confidence.
The truth is that we don't know what the future holds. But we do know that we can design systems that are ready for 100-percent in-person attendance and that are also ready for hybrid uses that involve livestreaming. We know that we can effectively expand the footprint of AV by using easy-to-access technologies such as audio- and control-over-IP. We know that we can bring sensational sound to all spaces—as well as to those livestreaming—with swift and intelligent solutions.
The best advice is to engage an expert. Anyone can crank up a PA system, but it takes a professional to design an intelligible one. If a system sounds great in one venue, that doesn't mean it's right for another. Many will evaluate systems with music as a program source and the human hearing system as the only test instrument. That design approach has clouded the division between sound-system engineering and music reproduction as an art form. Although there's a place for both, we must remember that they are two completely different things.
Finally, we must offer houses of worship systems that highlight various plans for the future—near term, long term, hybrid use, remote use and "return to normal." By doing so, we will instill confidence. That's a strong way to begin a partnership between end user, integrator, system designer and manufacturer.
To read more from Sound & Communications, click here.