Austin TX fancies itself "The Live Music Capital of the World," which is splashed up in lights in several places in Austin-Bergstrom International Airport and on signs across the rest of the city. The other slogan embraced by the Austinites is "Keep Austin Weird." Many small businesses in the surrounding area do their best to be more interesting than your usual retailer is. Vegan taco wagons, clothing-optional hippies, and a variety of music and art festivals intersect here, creating a culture that is truly vibrant…and distinctively Austin.
As a public utility, Austin-Bergstrom International Airport was involved in discussions about its expansion starting before 2012. The plans went through a number of committees and elections in Austin before finally getting to the point at which portions could go out for various contractors to bid. (Naturally, the process of collecting and reviewing bids was rather lengthy. In addition, any changes related to newer specifications of just-released equipment had to be reviewed thoroughly.)
After the typically intensive process for public works, project design and architecture was awarded to Gensler. The design giant, which is headquartered in San Francisco CA, comfortably made more than $1 billion in revenue each year for the last five, and the company operates offices in 46 cities in 16 countries. According to its website, "Gensler is a global design firm that partners with clients to create more livable cities, smarter workplaces and more engaging leisure destinations." Sounds like a match for Austin's ethos!
A Wide View
There's plenty of audiovisual technology to discuss across the Austin-Bergstrom International Airport campus. But, before we delve into digital signs, paging systems and so forth, let's take a wider view of the overall master plan, including its non-AV-centered elements.
Robert Mercado, Project Manager and Architect with the city of Austin Department of Aviation, is helping to oversee this major undertaking, which, although well on its way, has not been entirely completed. He explained that the plan, which includes adding nine new gates, would accommodate a projected 15 million travelers annually—a 36-percent increase over the airport's existing capacity.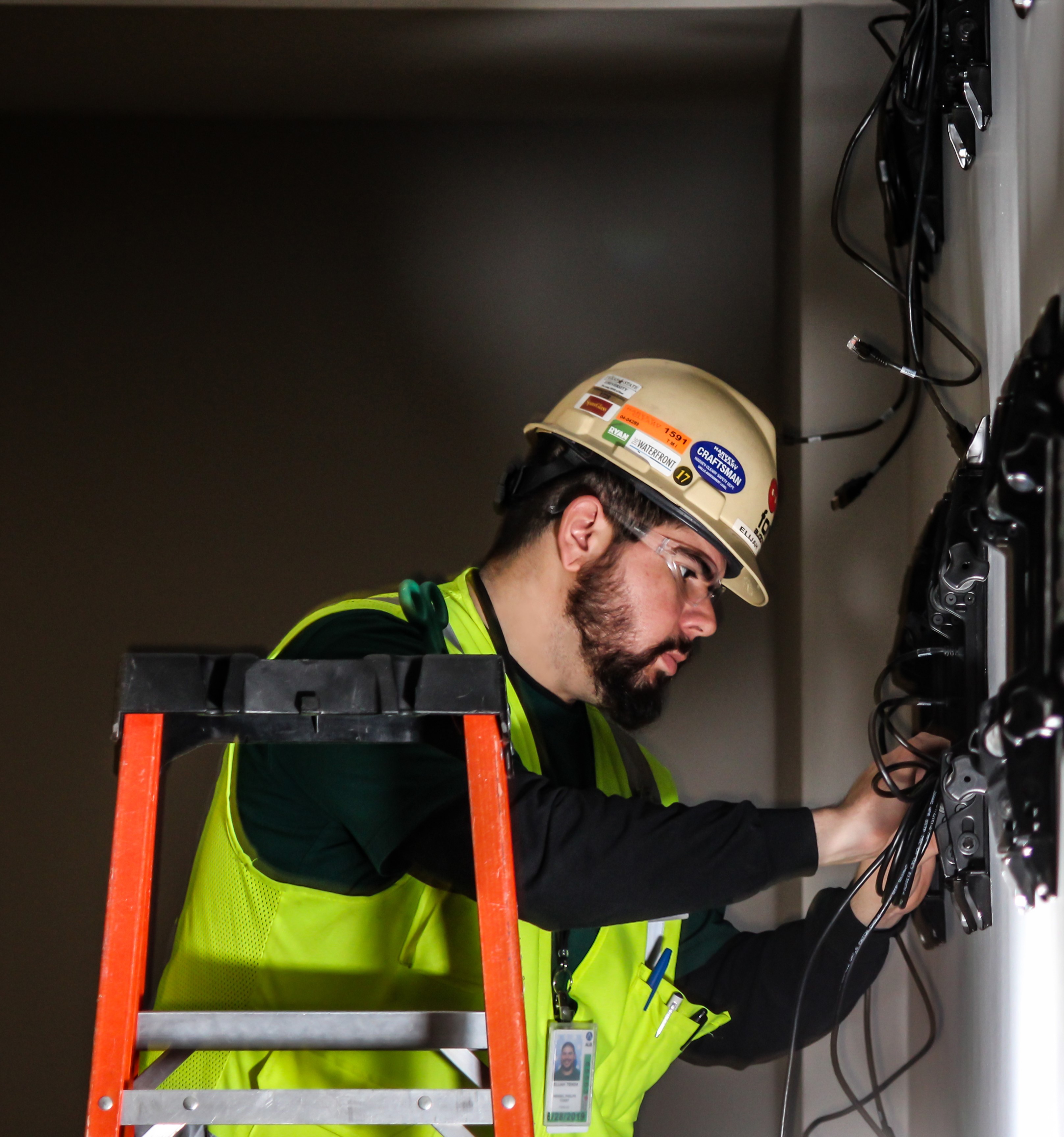 In addition to the new gates, the project entails a 70,000-square-foot extension that contains 19,000 square feet of retail space, an outbound baggage area, various airline offices and additional passenger amenities. Project planners also envision a large, outdoor observation deck, pet-centric spaces, a variety of improvements on existing structures and upgrades across the terminal to enhance the passenger experience. The vision outlined is beyond reproach, but one of the challenges in achieving it has been the fact that the airport has had to remain fully operational throughout. (More on that shortly.)
Apart from the obvious, what else is expected from an airport renovation and expansion these days? Befitting its city culture, Austin-Bergstrom includes elements such as music-performance areas and artistic spaces. New terminal items also include a variety of informational screens that inform travelers about, for example, which are the quickest security lines to get through, improving the passenger experience by cutting wait times. There are also information screens to inform inbound travelers about wait times for customs and baggage claim, as well as other vital information.
Clearly, this story is now transitioning to the AV "sweet spot." To keep things digestible, we'll focus on three different AV-related aspects of the overall project, taking each in turn.
PA System
Julien Peterson PMP, CTS-I, Project Manager with Ford AV, a widely known AV integrator with headquarters in Oklahoma City OK, took the lead with respect to installing the airport's new PA system, which is centered on a mix of AtlasIED speakers and amps, JBL speakers and QSC surface-mount speakers.
"Everything having to do with the PA system was taken out and replaced with digital equipment," Peterson affirmed. "Overall, there were about 1,000 new speakers put up, and all the microphones were replaced with much better equipment." He continued, "Fortunately, we could use some of the past conduiting that was in the existing parts of the airport, but, naturally, the new installs for the nine new gates needed entirely new gear."
Let's turn first to the speaker side. From AtlasIED, Ford AV specified 547 FA138T167 eight-inch coaxial speakers with 16W 70.7V transformers, as well as 20 FAP82T eight-inch coaxial in-ceiling speakers with 60W 70/100V transformers and ported enclosures. From JBL, the complement included the following: 137 AC16 ultra-compact, two-way loudspeakers with 6.5-inch LF transducers; 84 CSS-1S/T compact, two-way 100V/70V/8-ohm loudspeakers; 13 Control 29AV-1 premium indoor/outdoor monitor loudspeakers; and nine Control 24CT background/foreground ceiling loudspeakers.
Additional speakers from QSC included a whopping 634 AD-S4T surface-mount models. AtlasIED power amplifier cards include 95 IEDT6302L class D, dual-channel, 600W, 70V; 20 IEDT6152L class D, dual-channel, 300W, 70V; and 18 IEDT6602L class D, dual-channel, 1,200W, 70V. On the microphone side, the AtlasIED complement is as follows: 44 IEDA528HDT-H 528 Series digital communication stations; 34 IEDA528SK-H Sidekick four-button expansion stations; 14 IEDA528HDT-G Ethernet microphone stations; and an IEDA528SRMEH Ethernet microphone station.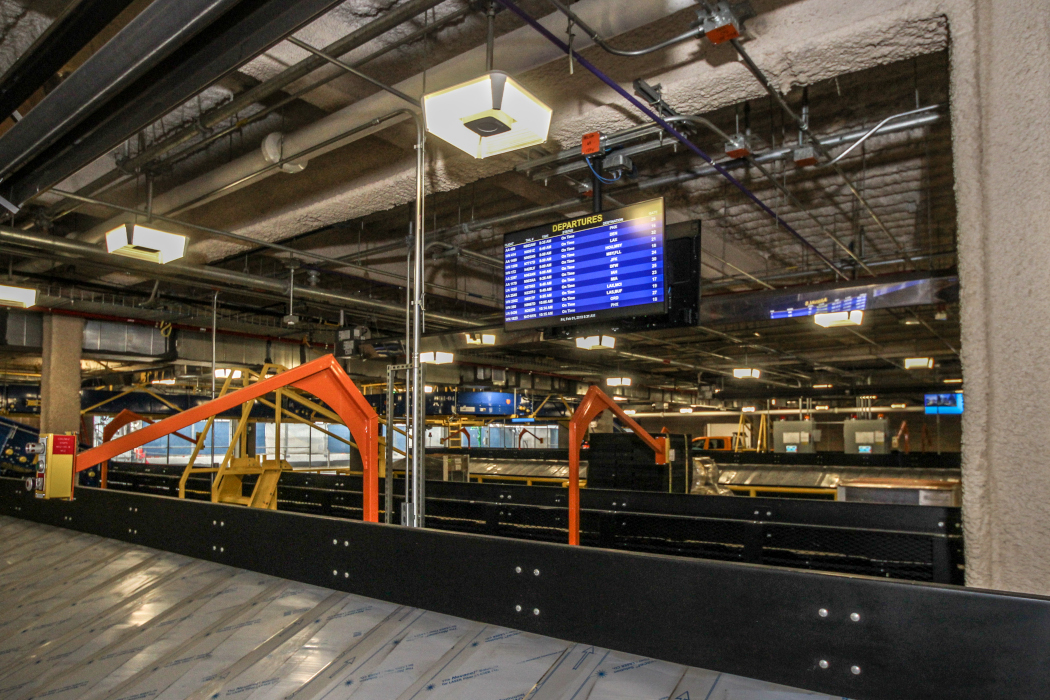 As intimated earlier, Peterson affirmed that the biggest challenge for this aspect of the project was definitely the continuous high-traffic situation of a busy airport—particularly when dealing with scissor lifts, heavy equipment and mounting components. And that's despite the fact that work hours were scheduled for when air and foot traffic were at their lowest levels. "Sometimes, we would need to wait to complete a section by returning later in the evening, when traffic would be less of an obstacle," he explained.
Peterson continued, saying, "We used a scissor lift, which needed a plywood base under it for every move. Additionally, a canvas cover was necessary to protect the floor surfaces." And, for some aspects of the job, the Ford AV team had to put out event notices weeks in advance, so everyone else inside and outside the terminal could plan accordingly.
In light of the extensiveness of the project—as mentioned, more than 1,000 new speakers were installed—executing the design was no simple task. As always, though, Ford AV was up to the job, having integrated countless "A"-class projects over the decades. According to Peterson, "I had a well-trained and thorough crew, so we could do equipment moves and overhead installs as rapidly as safety allowed. Our speed and efficiency meant we could get done in good time."
He elaborated in much greater detail, saying, "It took our crew of three to five people about a year to complete this job. It wasn't difficult to do the actual AV work, as that was fairly straightforward. The complexity came from the size of it all. Each part needed to be checked out thoroughly before moving forward." He added, "And, I had to make sure we were in compliance with Occupational Safety and Health Administration (OSHA) regulations. For instance, when we drilled into the cement for the outside installs, we needed the silica attachments on the drills for our workers not to be inhaling that cement dust and that sort of thing." He noted, "I know some contractors are not too particular about things like that, but we want to take care of our workers."
Curbside Signage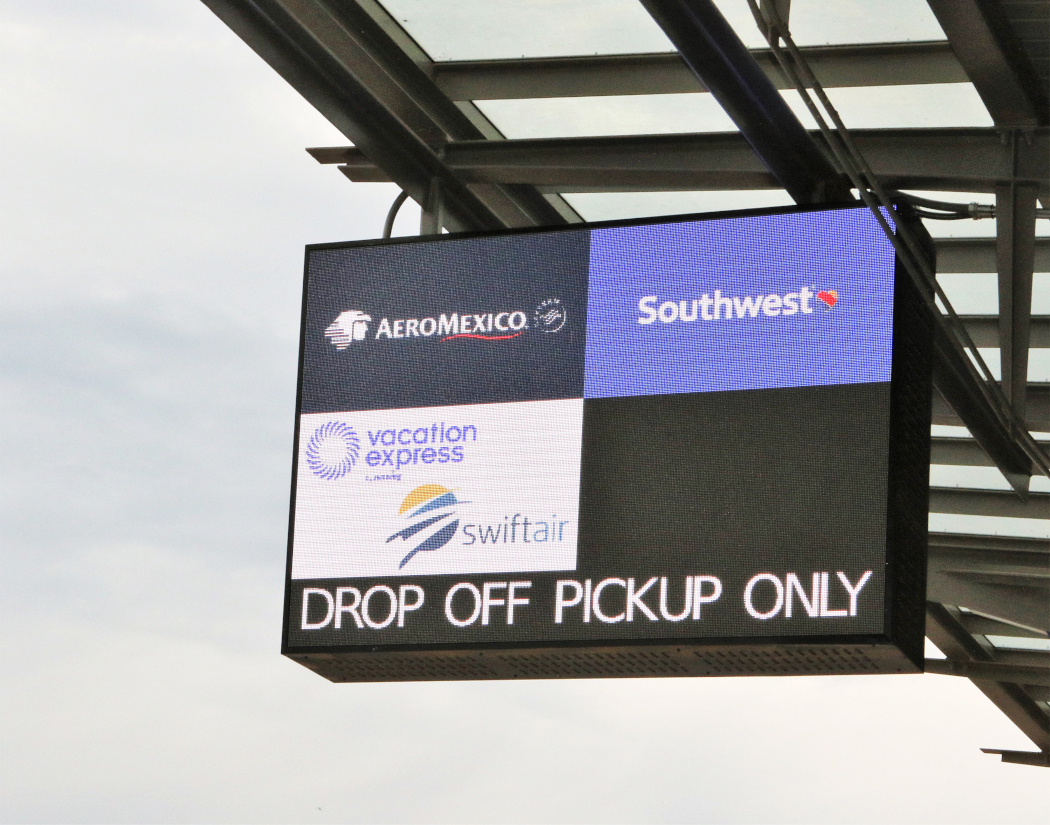 Another interesting part of the broader project at Austin-Bergstrom centered on six double-sided LED walls—totaling 12, all together—that were placed outside, curbside. The first order of business was to get special plans drawn up for the metal superstructure that holds the signs, which have to be able to withstand winds of up to 120mph. Austin Commercial, one of the largest, most diversifi ed builders in the US, produced the frameworks. When the overarching structure was put up, the AV implementation could begin.
Mayo DeLeon, Business Development Manager, Visual Innovations, shared details about the hardware installation. The 12 LED walls are composed of 72 Delta Products SX-6MF outdoor, 6mm, 768x768mm (WxH), front-serviceable LED tiles. Each LED wall is composed of six panels and weighs just less than 400lb. Each wall, in total, is approximately 7'6″Wx5'H. The LEDs rotate through information and require periodic updating. The screens' purpose is to alert travelers where each airline is located and to inform motorists where standing and drop offs are permitted.
The installation process required the use of a small forklift for the actual lifting and installing. The Delta panels were fit together with the help of Gene McCutchen, Project Manager with BryComm, as well as Benjamin Stewart, Electrical Engineer with Delta Products. With the previous experience the team had, the install went extremely smoothly. The Delta panels fi t into the newly made steel enclosures, and were daisy-chained to achieve seamless messaging.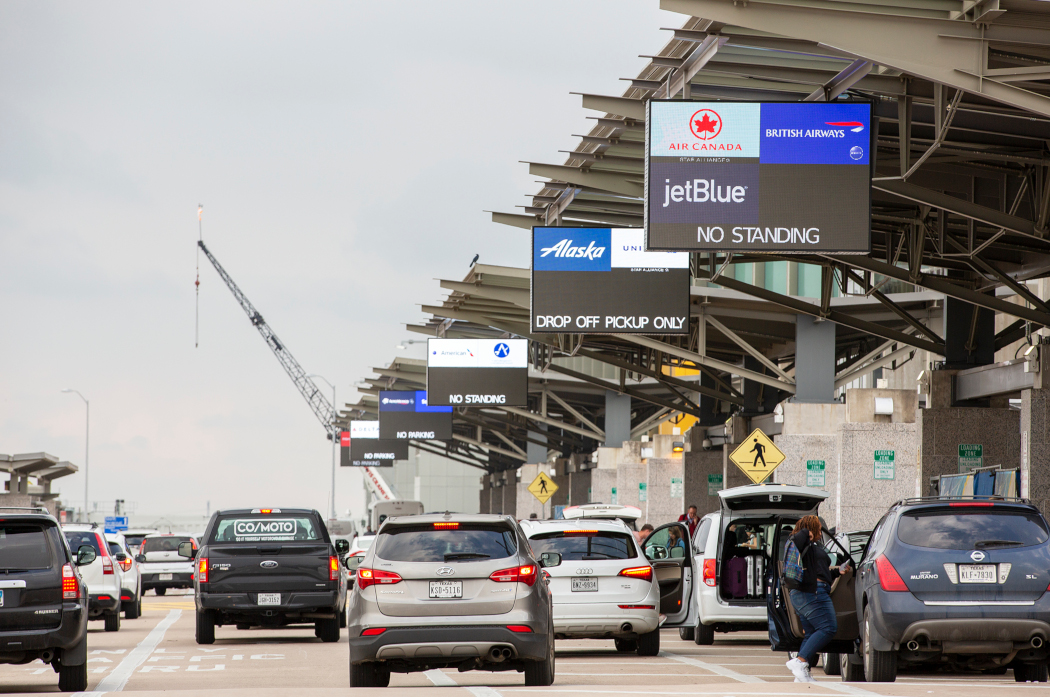 DeLeon from Visual Innovations worked with Shaun Davis, the IT Department Systems Architect with the city of Austin, to manage the software side. Part of Visual Innovations' scope was to install the Scala digital signage software on the client-provided server and media players and to provide software integration to allow the client data to be programmed into the displays, while also assisting in the initial setup and scheduling of the playtime. Visual Innovations also provided Scala certified training and custom script software integration. Davis related that, just as the team had completed the hardware installations and software integration, a new airline was commencing service through Austin- Bergstrom. Davis pressed for a trial the night before the newly arriving airline went "live." The LED walls and software were put through their paces and everything worked perfectly. The next morning, the entire system, complete with the new airline, went into operation seamlessly. The entire crew was delighted!
Incidentally, within a few weeks, a major weather event brought winds exceeding 100mph. As predicted, the LED walls that Visual Innovations brought to life withstood the high wind velocities and slashing rain.
Cell Phone Waiting Lot
Turning to the last aspect of Austin-Bergstrom we'll cover in this report, a new cell phone waiting lot is making life easier for everyone who's arriving to pick up someone by car. The spacious parking area is serviced by a well-stocked convenience store that boasts a Peerless-AV 49-inch UltraView outdoor TV, which shows a real-time listing of flight data. It's supported by a Chief flat-panel mount. A Dell WYSE 3030 N03D DDR3 SDRAM Intel dual-core 1.58GHz thin client offers access to a live feed from the airport information system.
The actual installation location is on the front of the convenience store, adjacent to the front door and shielded from the weather. Austin Commercial electricians and BryComm prepped the area for the install. The airport building maintenance team installed a piece of 3/4-inch plywood and the Chief mount for the Peerless-AV 49-inch display. Then, a two-person team attached the outdoor TV to the mount. The monitor's height measures 7.5 feet at the center point.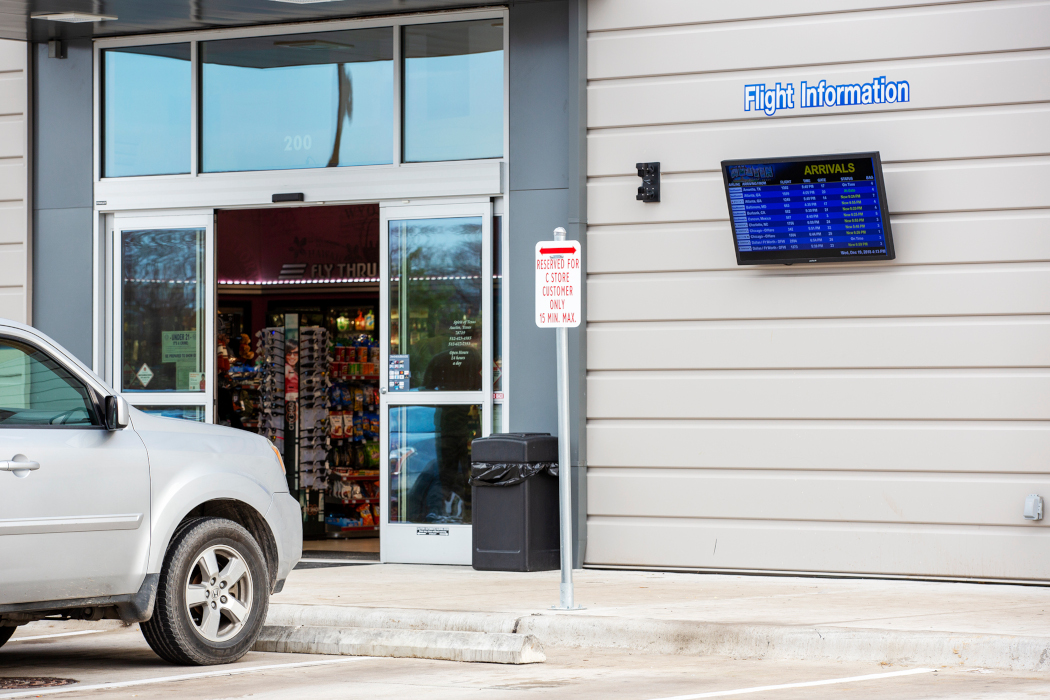 According to John McCoy, IT Systems Analyst in Aviation with the city of Austin, "This install was easy to do, because the early preparations were done well and [everything was] ready for us. The cabling and other items were put in by BryComm with the oversight of Benjamin Stewart," who, he said, worked on a number of projects for the airport. Shaun Davis was also involved in this portion of the overall renovation. McCoy added, "He had to get the IT working together with the airport information system, plus the airport personnel [had] to know how to run it correctly."
Very shortly after the installation of the display, a historical weather event occurred, which, unfortunately, took out the monitor that had been installed. Because of the severity of the weather event, the display's seal was breached and water got into the interior. Happily, because of the simple but effective infrastructure put in place, it took staff members literally 10 minutes to replace the TV and get the complete system back online.
Davis summed up a feeling that virtually every participant in this project—and in this story—expressed. He said that morale was high throughout and everyone was a team player, focusing on getting the job completed. "We own whatever we do," he concluded. "There's a great deal of cooperation on this. We all work together, and, even if it's not part of our job, we help other sections to get things done."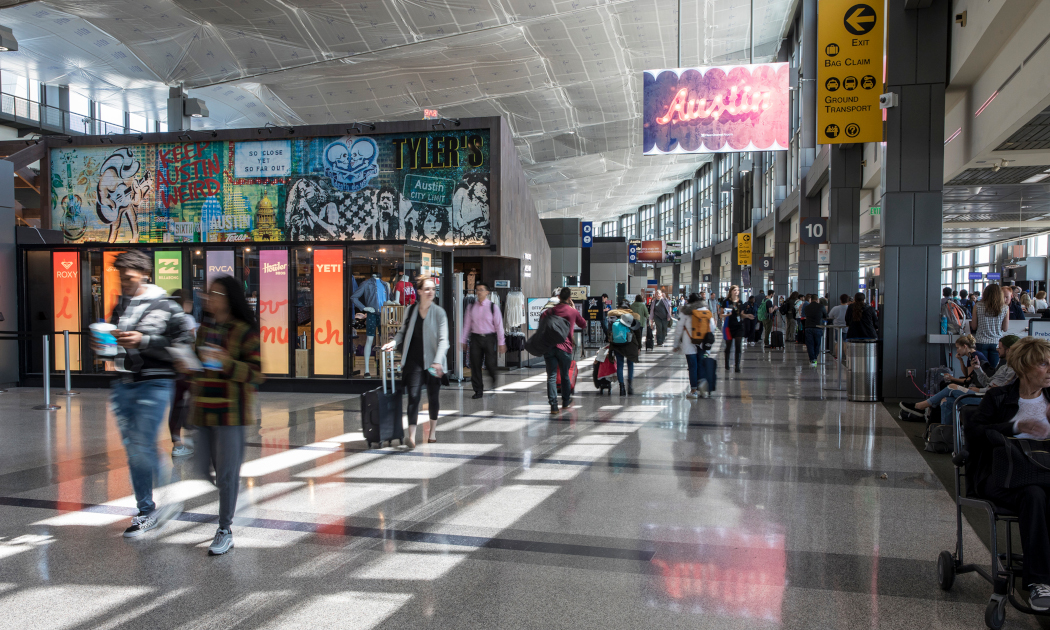 PA System Equipment
2 Ashly Audio TRA-2150 2-channel, convection-cooled, rackmount stereo power amps
1 AtlasIED 1502AI InX2 CobraNet audio input interface
8 AtlasIED 1502AO OutX2 CobraNet audio output interfaces
417 AtlasIED 61-8W decorative steel baffles (8″, white)
1 AtlasIED 62-8 general-purpose steel baffle (8″)
44 AtlasIED IEDA528HDT-H 528 Series digital communication stations
14 AtlasIED IEDA528HDT-G Ethernet mic stations
34 AtlasIED IEDA528SK-H Sidekick 4-button expansion stations
1 AtlasIED IEDA528SRME-H Ethernet mic station
547 AtlasIED FA138T167 8″ coaxial speakers w/16W 70.7V transformers
20 AtlasIED FAP82T 8″ coaxial in-ceiling speakers w/60W 70/100V transformers
2 AtlasIED IP108-D-CS announcement control systems
20 AtlasIED IEDT6152L class D, dual-channel, 300W, 70V power amp cards
95 AtlasIED IEDT6302L class D, dual-channel, 600W, 70V power amp cards
18 AtlasIED IEDT6602L class D, dual-channel, 1,200W, 70V power amp cards
7 AtlasIED IEDT9032NS ambient analysis sensor collectors
137 JBL AC16 ultra-compact, 2-way speakers w/6.5″ LF transducers
24 JBL CBT70J-1 Constant Beamwidth Technology 2-way columns w/asymmetrical vertical coverage
9 JBL Control 24CT background/foreground ceiling speakers
13 JBL Control 29AV-1 premium indoor/outdoor monitor speakers
84 JBL CSS-1S/T compact, 2-way 100V/70V/8-ohm speakers
634 QSC AD-S4T surface-mount speakers
PA equipment list is edited from information supplied by Ford AV.